Italian-style strata recipe made with flaky fillo (phyllo) crust. Not your average breakfast casserole! Be sure to see the video and the step-by-step tutorial below the recipe!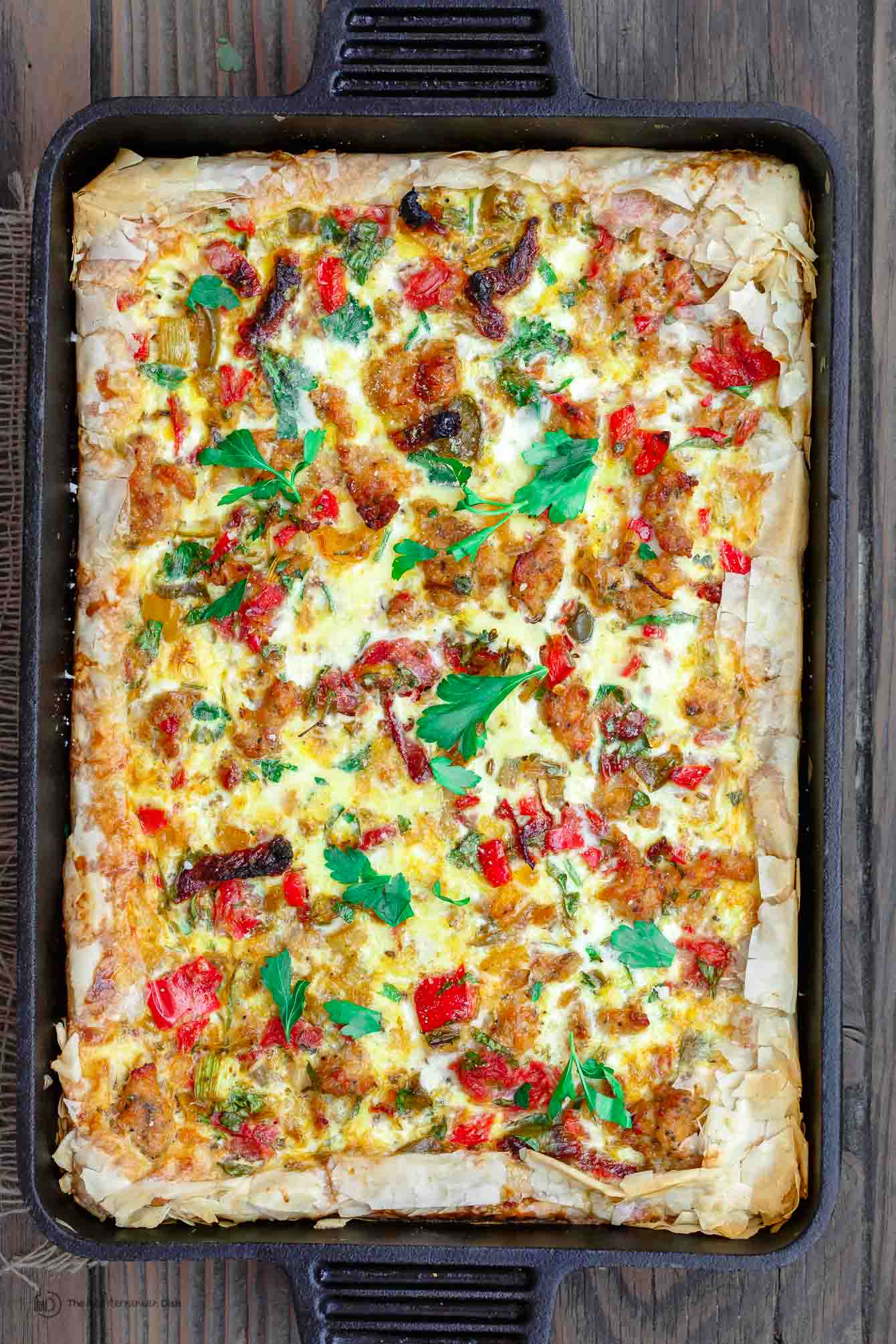 This would be a good place to unabashedly admit how much I enjoy large brunch gatherings.
When I do host brunch (and I wish I did more often), an egg casserole of sorts is likely on the menu.  And if it's this Italian-style strata recipe, it immediately takes center stage, and it's usually gone in a matter of minutes!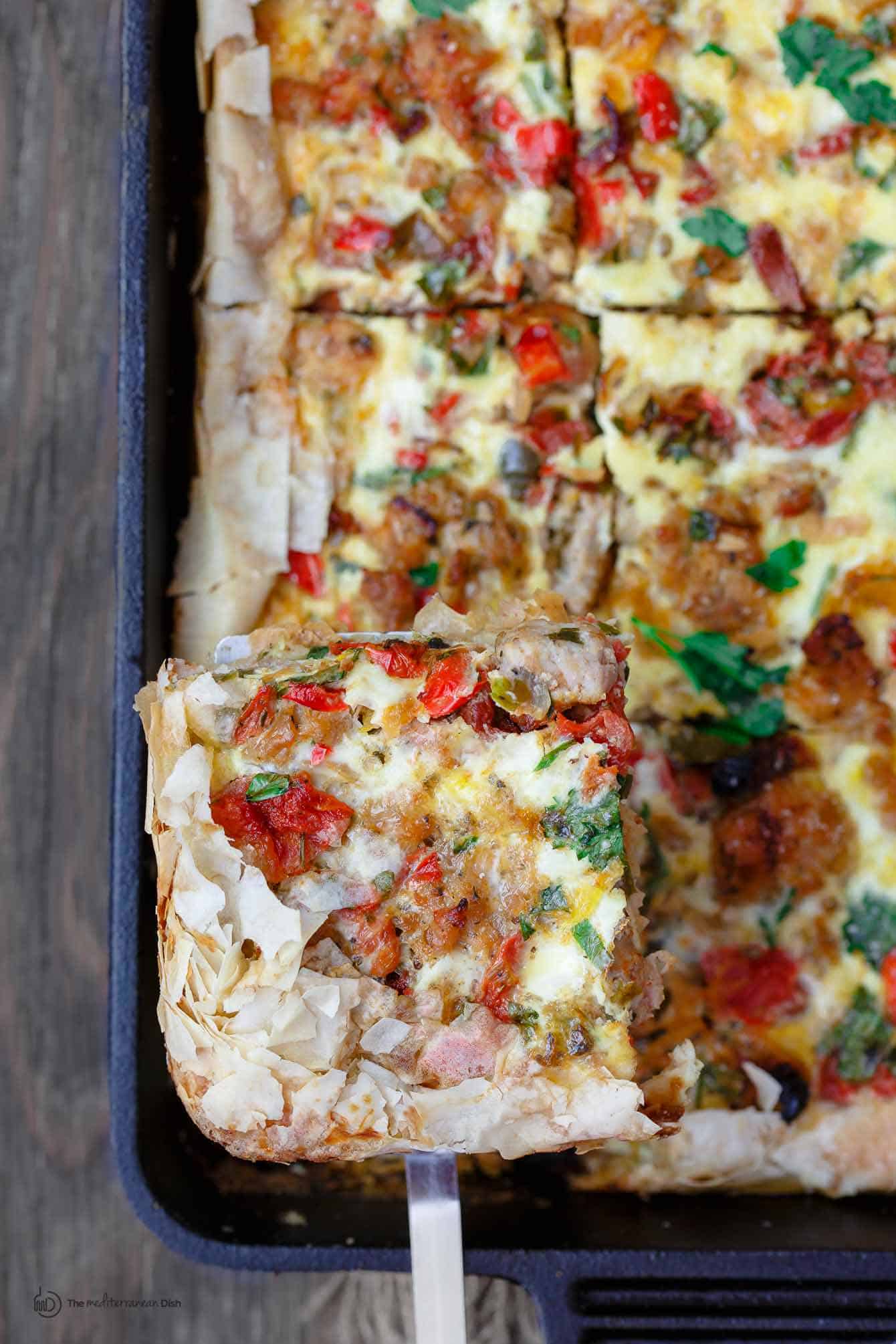 What is Strata?
Strata is basically a layered egg casserole. It typically involves eggs, milk, and some cheese. For crust, day-old bread.
The filling in a strata recipe varies depending on what vegetables or proteins I have on hand. This time, it's an Italian-style strata with colorful bell peppers, sundried tomatoes, and fresh parsley. To keep it light, I used lean chicken sausage and only a little grated Parmesan cheese.
The biggest difference, and pretty much the best part about this strata recipe, is the crust.

Why Fillo (Phyllo) Dough in Place of Bread?
I have no big intention to fancy this strata recipe up too much. But using fillo (phyllo) dough in place of stale bread dramatically transforms it. Every bite as satisfying, but in my opinion, far tastier than the average bread-crusted strata.
Instead of a dense breakfast casserole, we get a lighter, more "airy," strata with a crispy, flaky crust!
For best results, I use quality organic fillo dough from The Fillo Factory. It's vegan and contains no preservatives; no cholesterol; and no trans fat. And one big thing for me as a cook, The Fillo Factory dough always comes in good condition, which makes it easy to work with.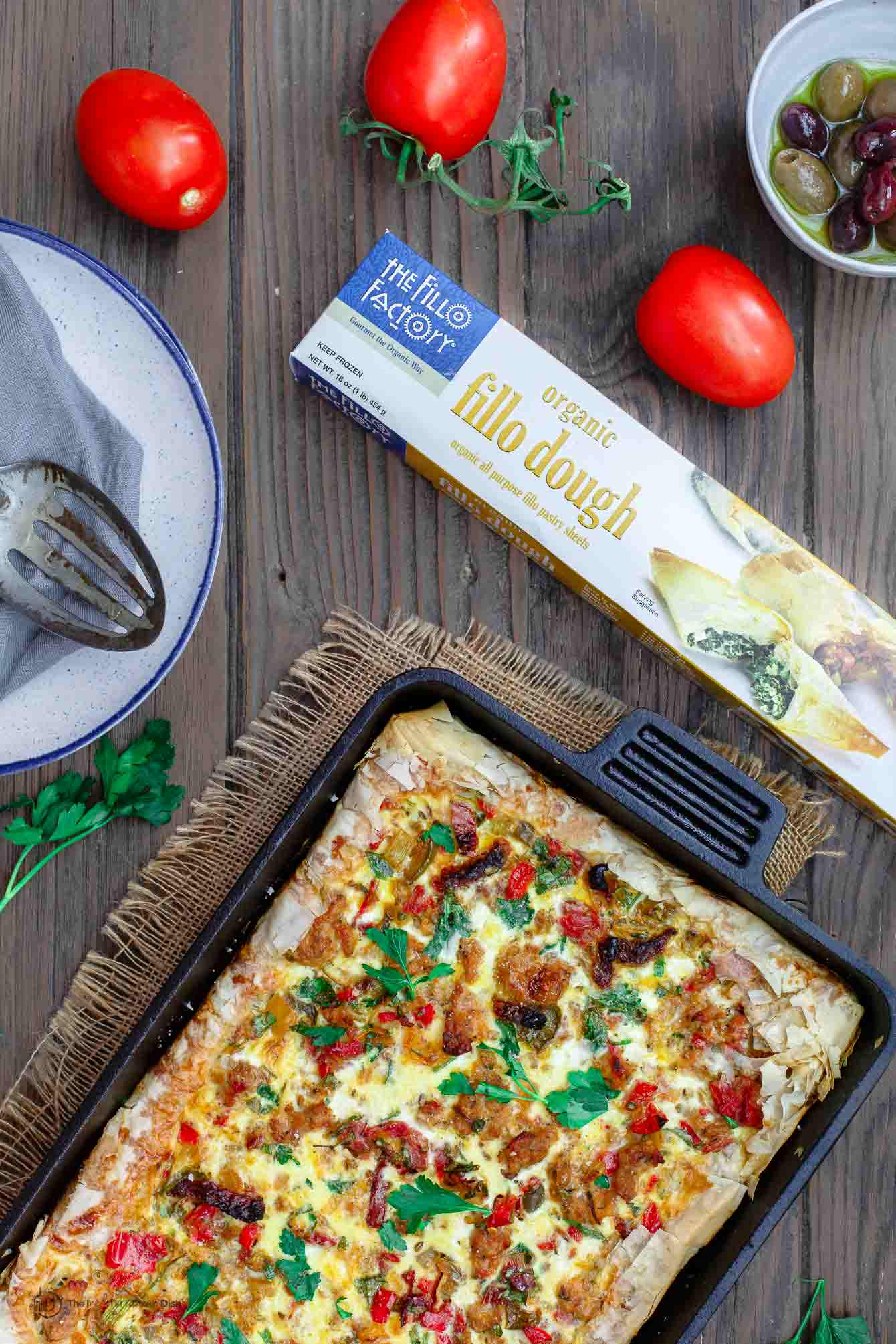 I've shared my tips for working with fillo when I posted this Spanakpita recipe, but a couple in particular bear repeating.
Fillo (or phyllo) dough must be thawed properly. Too much moisture will make the fillo dough sheets sticky and hard to manage.  When thawing, do not remove the fillo from the package, place it in the fridge 12-14 hours before using.
And, before you begin assembling the strata, be sure to roll the fillo sheets out carefully on a damp towel. If needed, depending on the size of your baking dish, trim slightly with a pair of scissors, and cover with another lightly damp towel. This helps keep the fillo sheets from breaking too much as you work.
Still, some of the fillo sheets will tear or break. IT HAPPENS. And IT's OKAY! The fillo package comes with more sheets than you need for this recipe.
Be sure to scroll down for the step-by-step photos below the recipe.
Print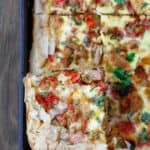 Italian-Style Breakfast Strata Recipe with Fillo Crust
---
Author:

Prep Time:

15 minutes

Cook Time:

50 minutes

Total Time:

1 hour 5 minutes
Ingredients
3/4 lb low-fat Italian chicken sausage, casings removed
Private Reserve Greek extra virgin olive oil
1 cup chopped yellow onions
2 cup chopped bell peppers (I used a mixture of green bell pepper, red bell pepper and yellow bell pepper)
2 celery ribs, chopped
1 tsp dried oregano
pinch salt and black pepper
1/2 cup sundried tomato bits
1/2 cup chopped fresh Italian parsley leaves
2/3 cup canned diced tomato
6 eggs
3/4 cup skim milk
2 tbsp butter
16 sheets The Fillo Factory Organic Fillo Dough, thawed overnight in fridge
1/2 cup grated Parmesan cheese, optional
---
Instructions
First make the strata filling: Heat a large heavy skillet over medium-high heat and add the chicken sausage. Saute until browned, breaking it up into small bite-sized pieces (about 7 minutes). Transfer the sausage to a large bowl and set aside for now.
In the same skillet, or a different one if you prefer, heat 1 tbsp extra virgin olive oil over medium-high heat. Saute the chopped onions, peppers and celery for about 4 minutes. Add dried oregano, salt and pepper. Transfer to the same bowl with the chicken sausage. Set aside to cool briefly, then add add the sundried tomato bits, parsley, and diced tomato. Mix everything together until well-combined.
In a separate bowl whisk the eggs and milk together, set aside for now.
Preheat the oven to 350 degrees F.
Place the butter in a smaller bowl and melt briefly in the microwave. To the melted butter, add 3/4 cup extra virgin olive oil and mix with a fork.
Prepare a 9″ X 13″ heavy baking pan like this one or something similar. Brush the pan with a bit of the butter-oil mixture.
Place 16 sheets of The Fillo Factory Fillo Dough on a clean and lightly damp kitchen towel. Trim the fillo sheets slightly with a pair of scissors, and cover with another clean and lightly damp towel. Keep the fillo covered as much as you can while working.
Now, line the baking pan with 1 fillo sheet. Brush generously with the butter-oil mixture. Fold in excess fillo. Repeat with next 7 sheets.
Sprinkle the top of the last fillo sheet with grated Parmesan cheese.
Lay the next 8 sheets of fillo, one sheet at a time. Brush each sheet with the butter-olive oil mixture, but do not fold. Instead, drape any excess fillo to make a "nest" for the strata filling.
Now spread the strata filling evenly across the pan lined with fillo dough. Pour in the egg-milk mixture,and fold the excess fillo in to "encase" the strata filling.
Bake in the 350 degrees F heated-oven for 30-40 minutes or until the eggs dry and the strata filling puffs up. Remove from heat; wait 4-5 minutes and cut into 12 squares. Serve warm with your favorite salad.
Notes
– See step-by-step photos below
– Easy salads to serve with this strata: 3-Ingredient Mediterranean Salad; Mediterranean Fresh Herbs and Tomato Salad
– Prepare ahead option:
1) You can prepare the strata filling (sausage and vegetables mixture) a night or two before. Place in a bowl or container, and cover and refrigerate until ready to assemble the strata.
2) Another option is to cook the strata a day in advance and simply re-heat in a 300 degree F oven for a few minutes watching carefully. In this case, however, the strata egg portion is not as fluffy.
Step-by-step photos for this Italian-Style Strata Recipe:
Cook the chicken sausage.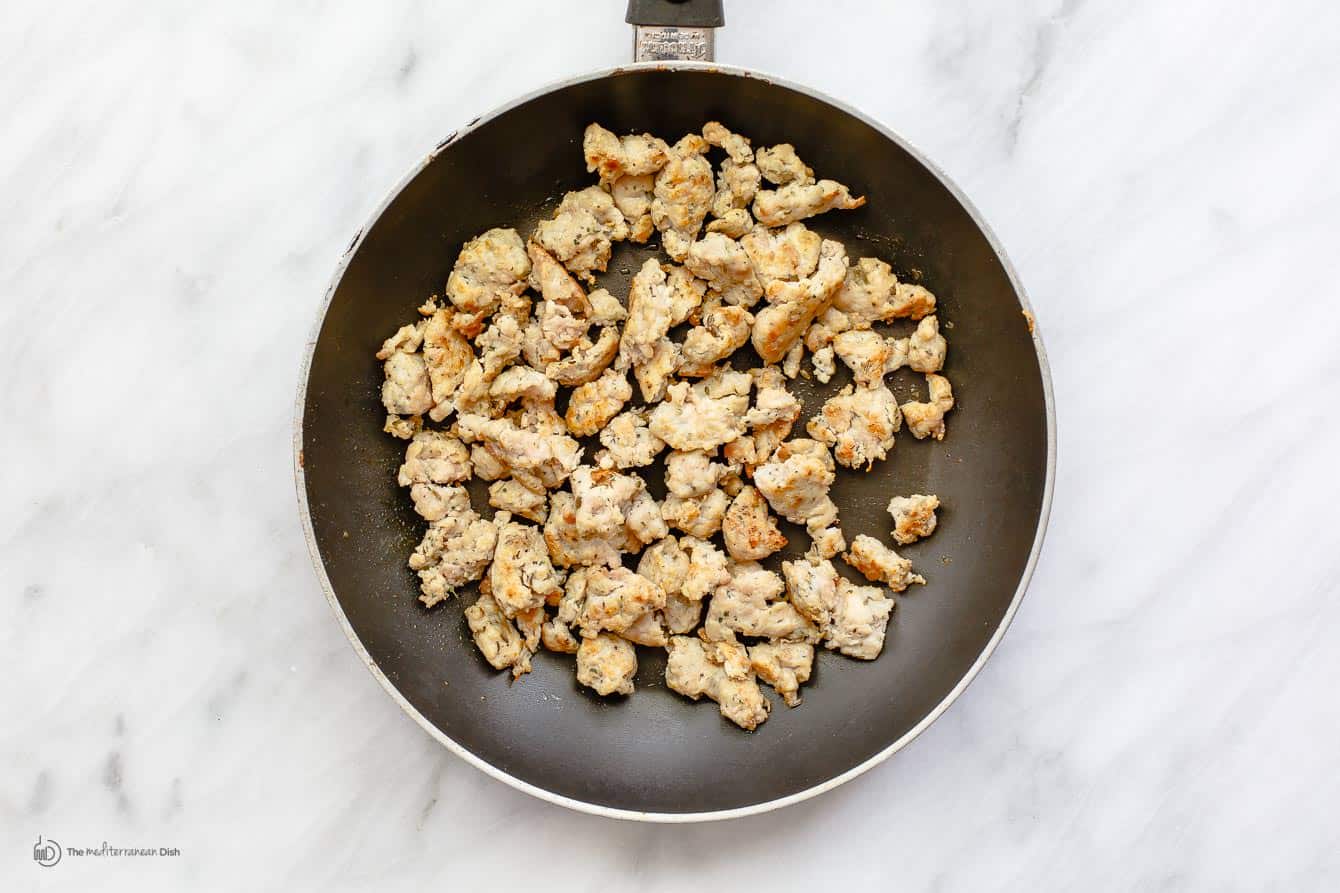 Cook the vegetables.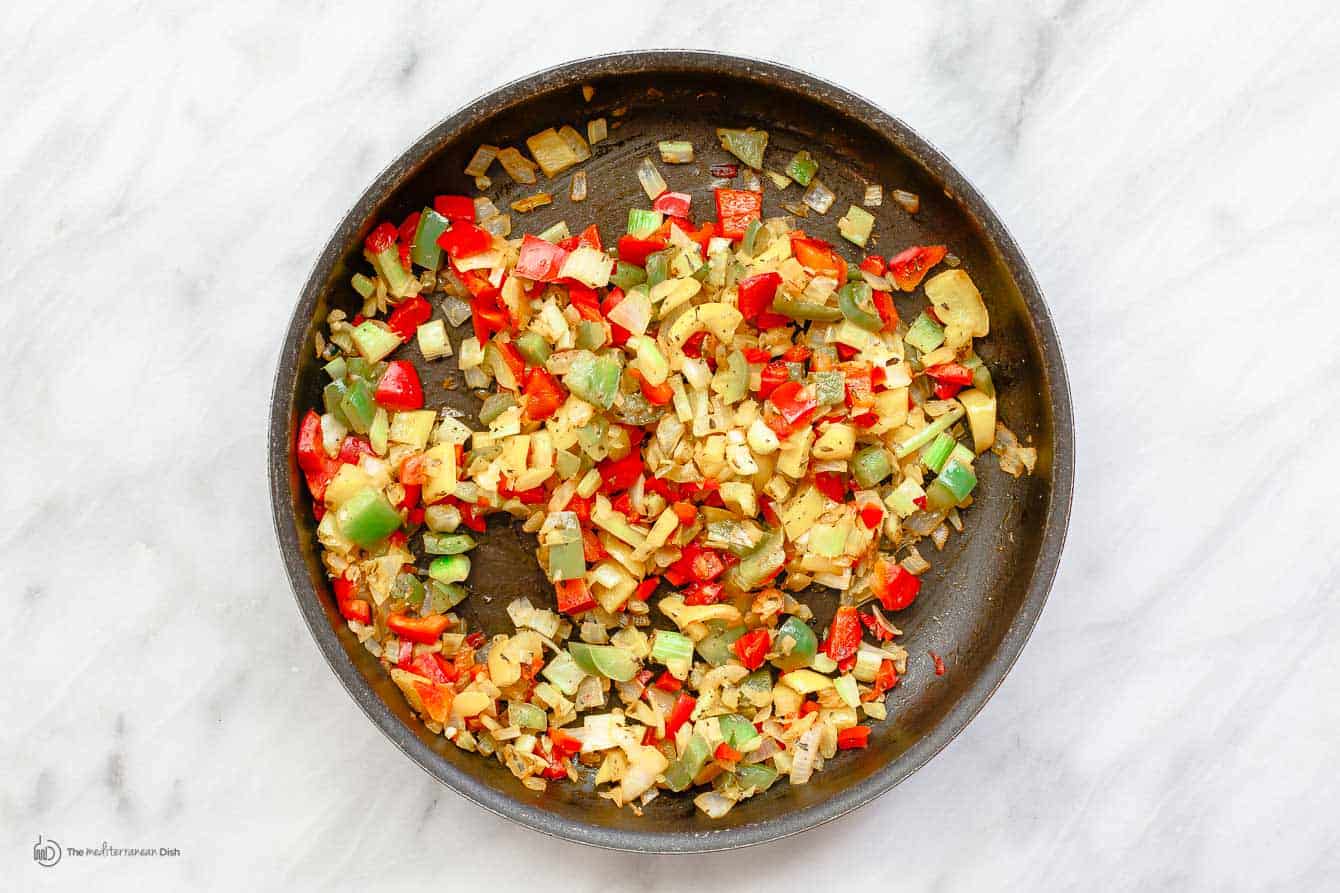 Combine sausage, vegetables,  sundried tomato bits, parsley, and diced tomato. Set aside.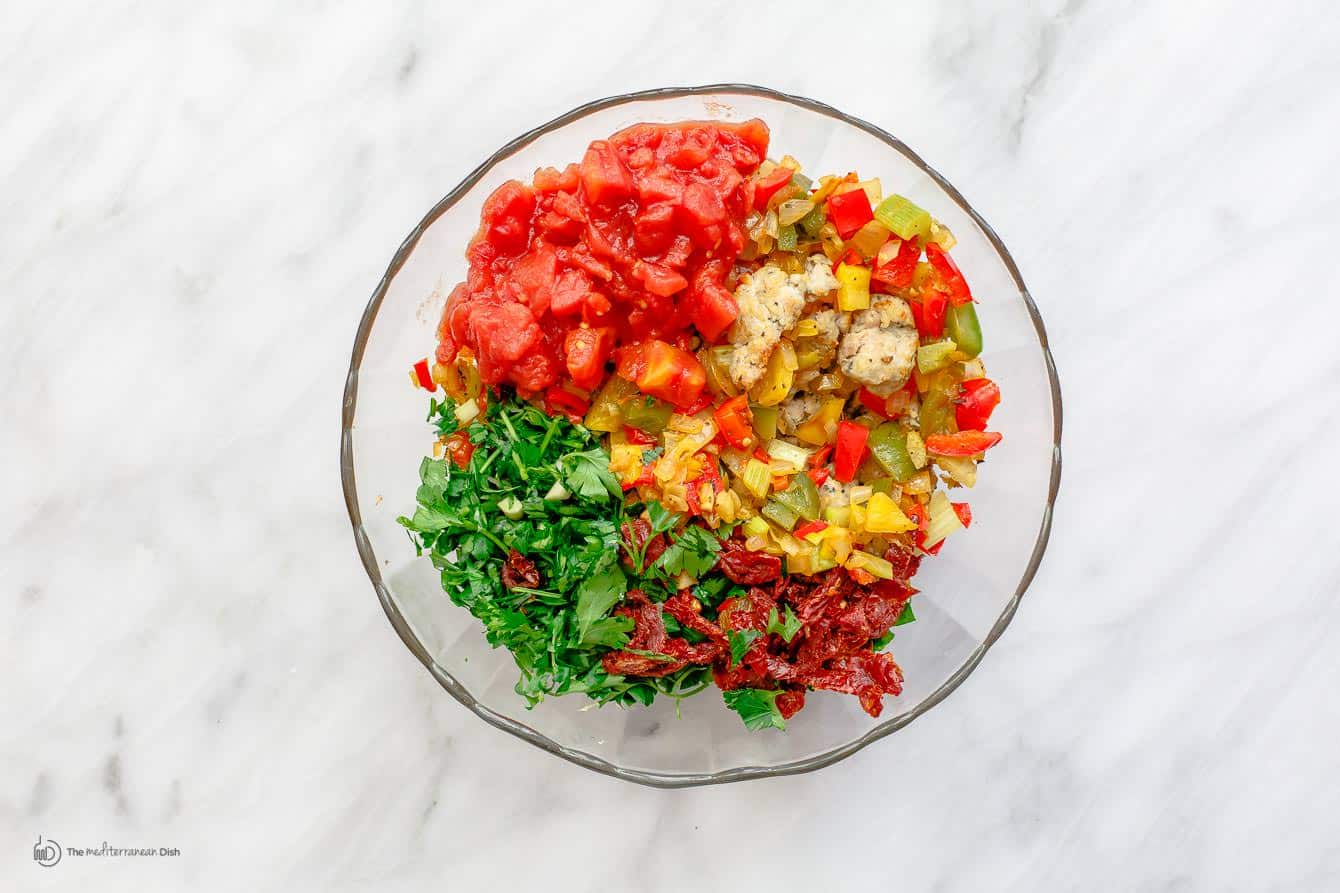 Mix eggs and milk. Set aside.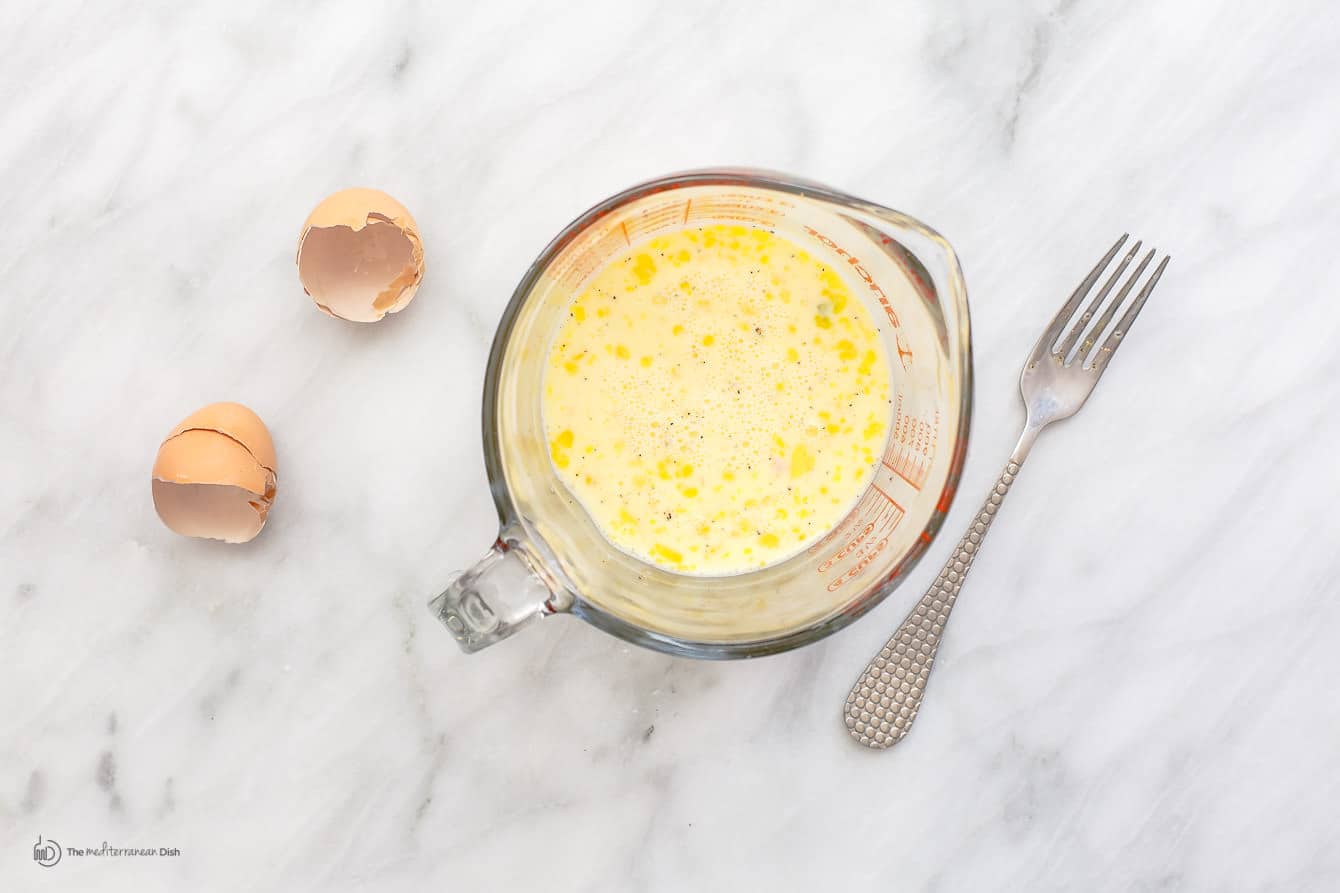 Preheat oven to 350 degrees F.
Take the fillo out of the package and unroll it carefully on a damp towel. Trim slightly using scissors. Lay another lightly damp towel on top.
Now, lay first 8 sheets of fillo, one-sheet-at-a-time. Brush each sheet with butter and olive oil mixture. And fold the extra fillo in. Top the very last sheet with grated Parmesan.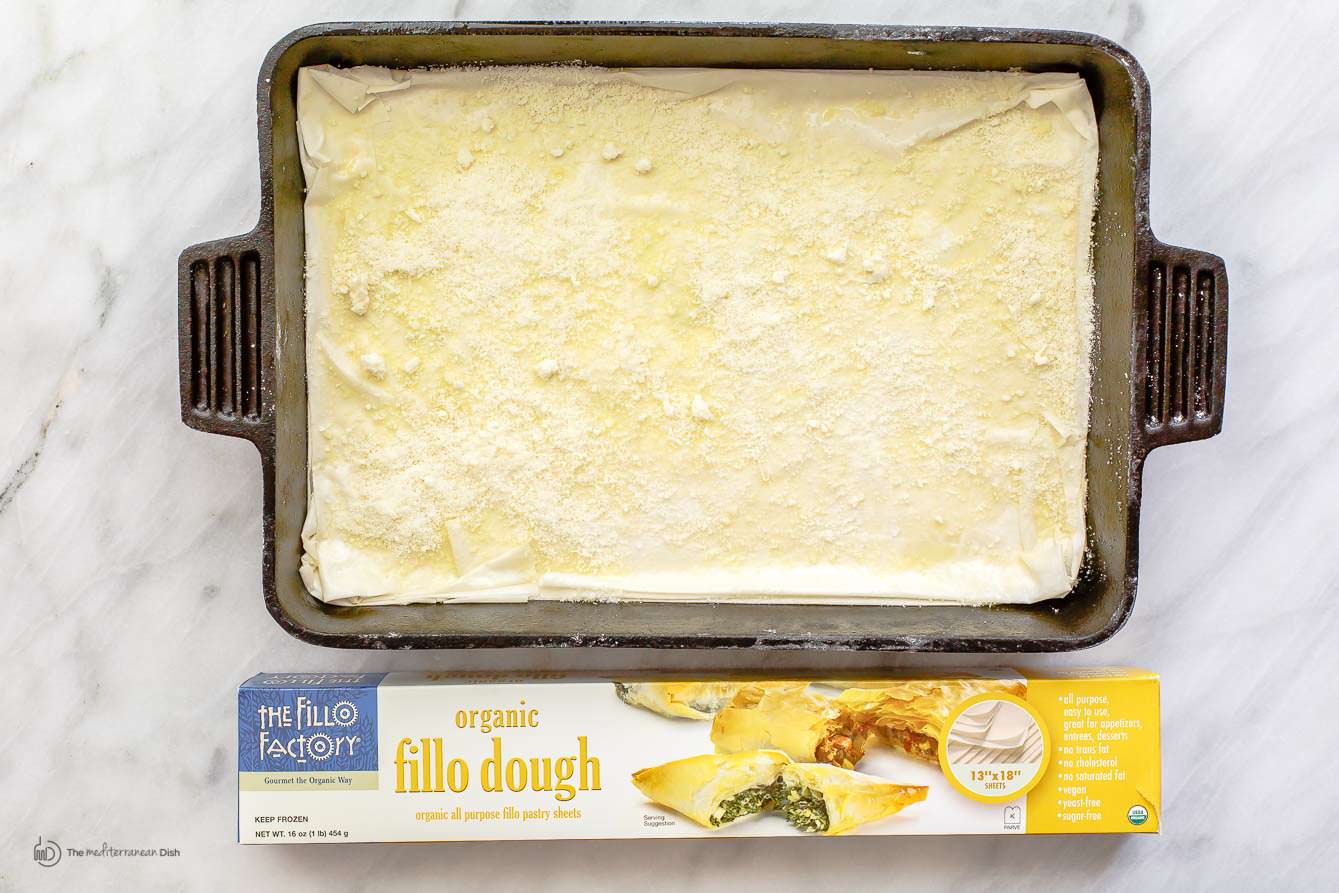 Lay the next 8 sheets of fillo, one-sheet-at-a-time. Again, brush each sheet with the butter and olive oil. This time, leave the excess fillo "flaps" out and do not fold it.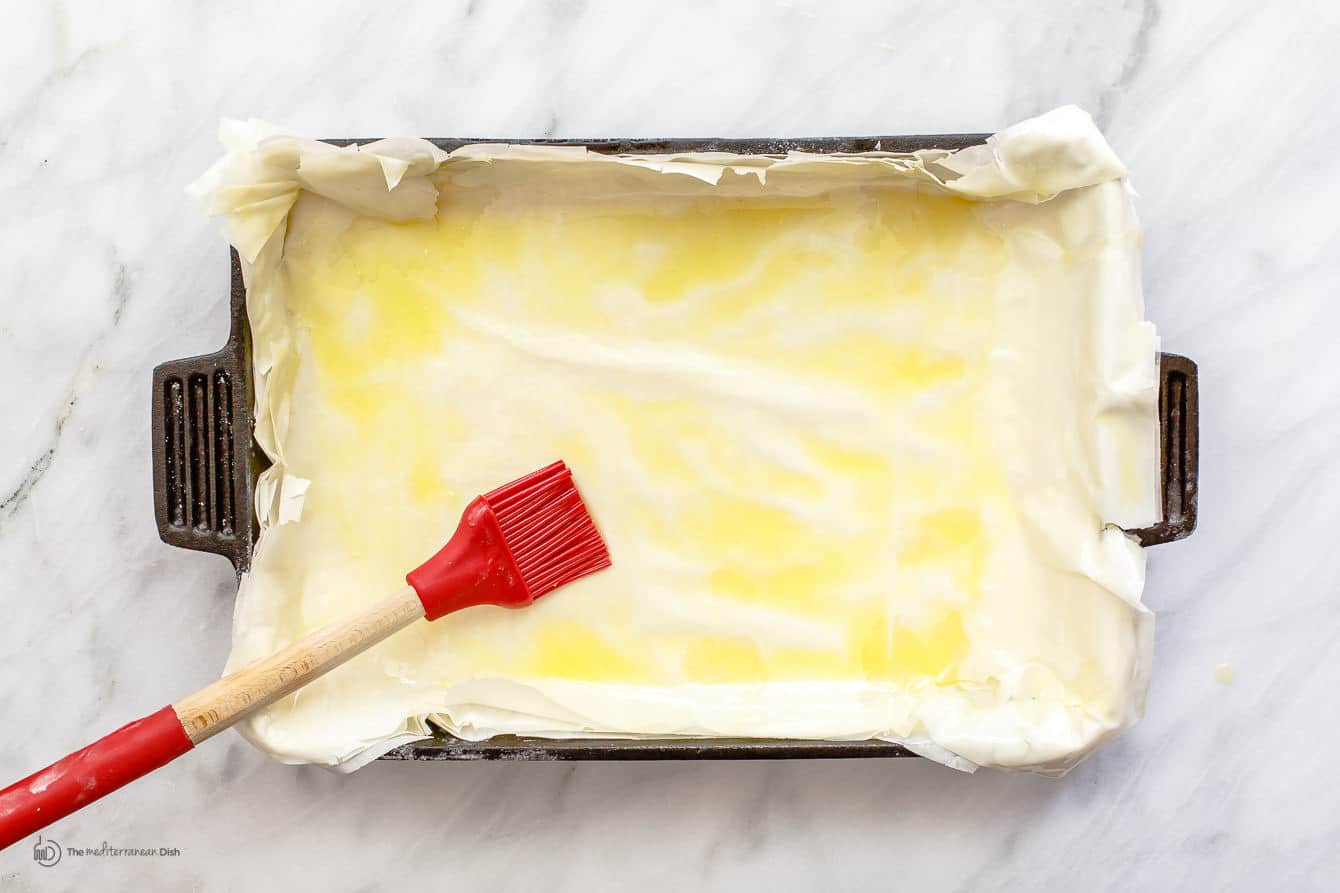 Spread the strata filling evenly across.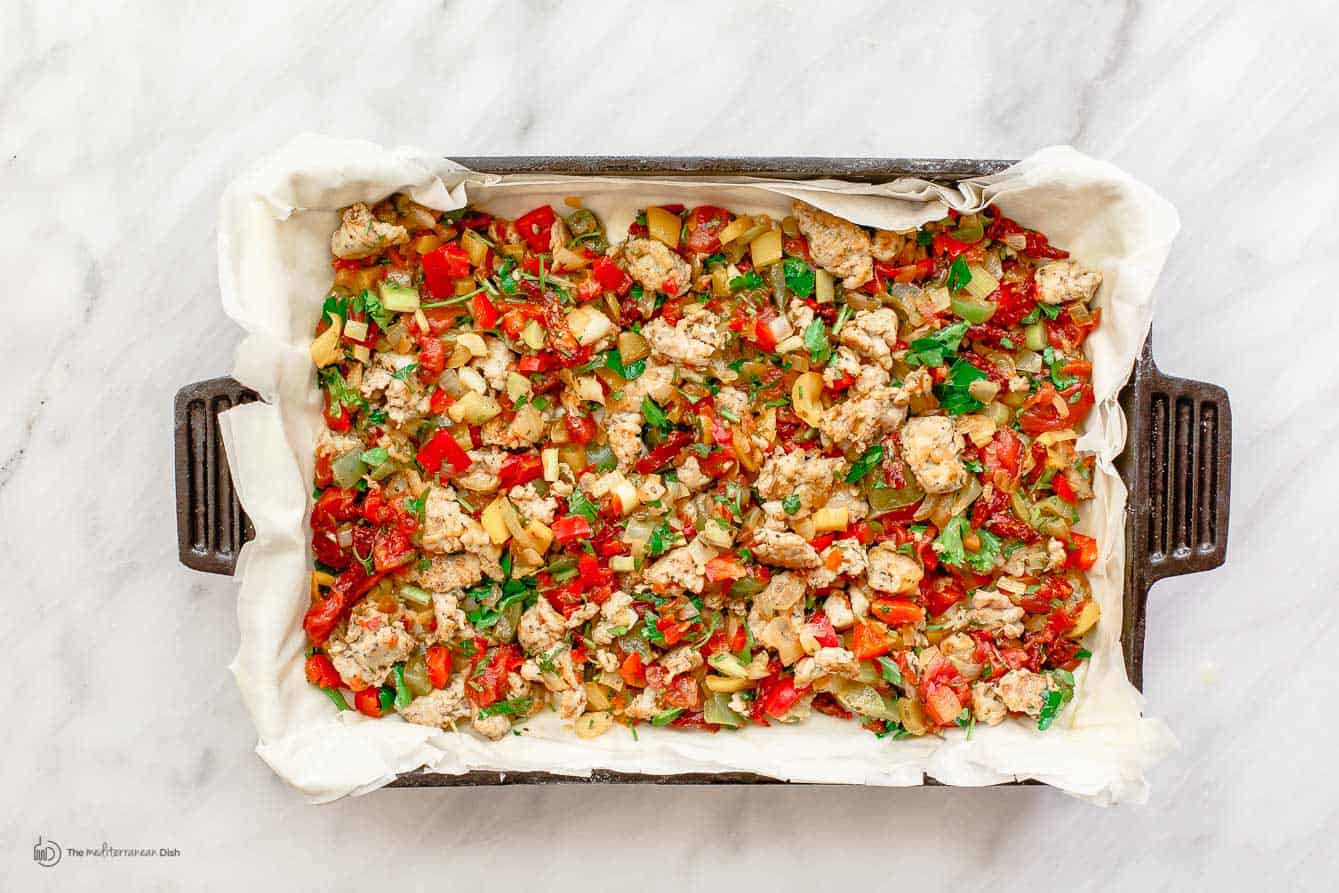 Pour in the eggs and milk mixture.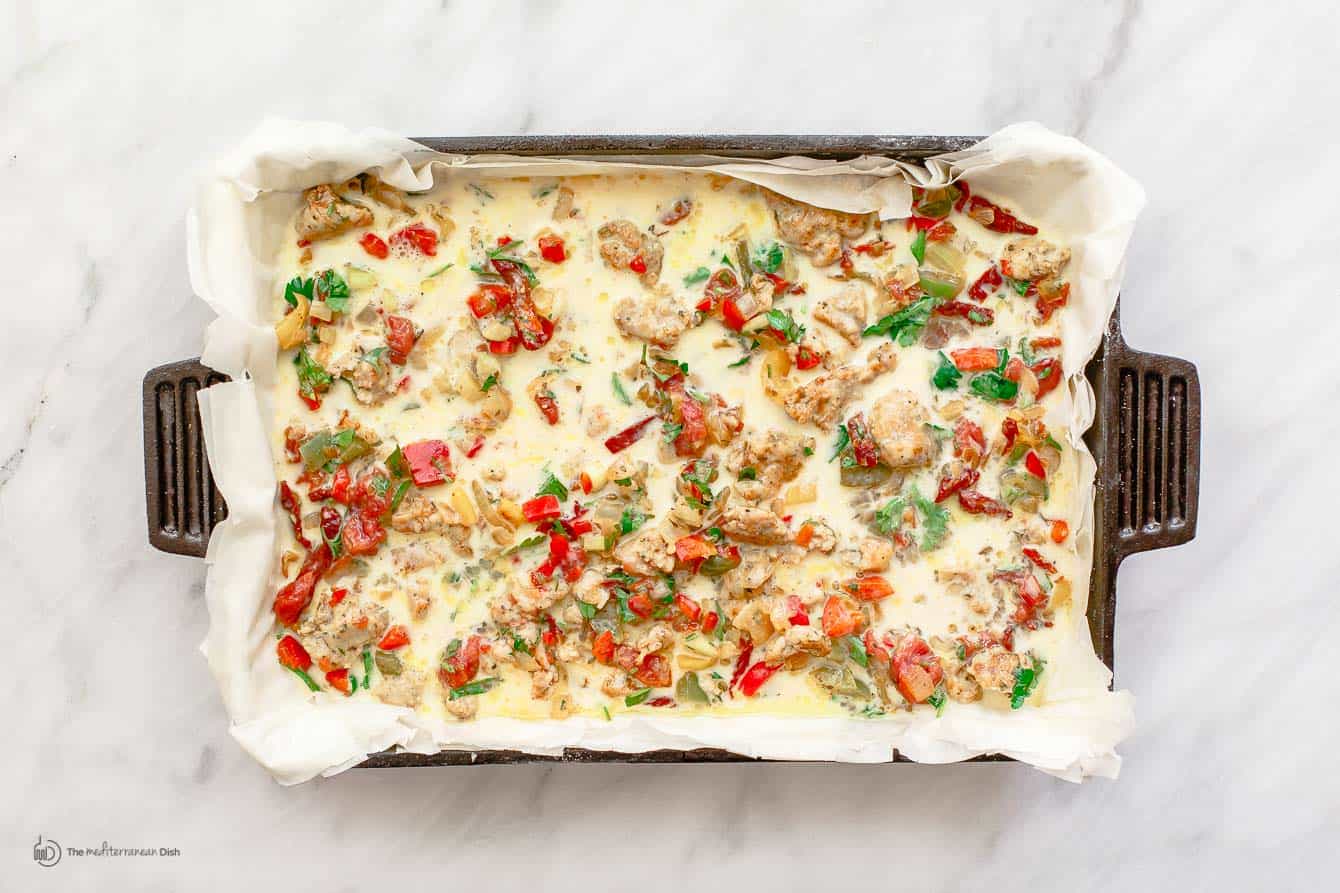 Now, fold the fillo "flaps" in to encase the filling and egg mixture.
Bake in the 350 degrees F heated oven for 30-40 minutes until the egg mixture is fluffy and the fillo crust turns a light golden-brown.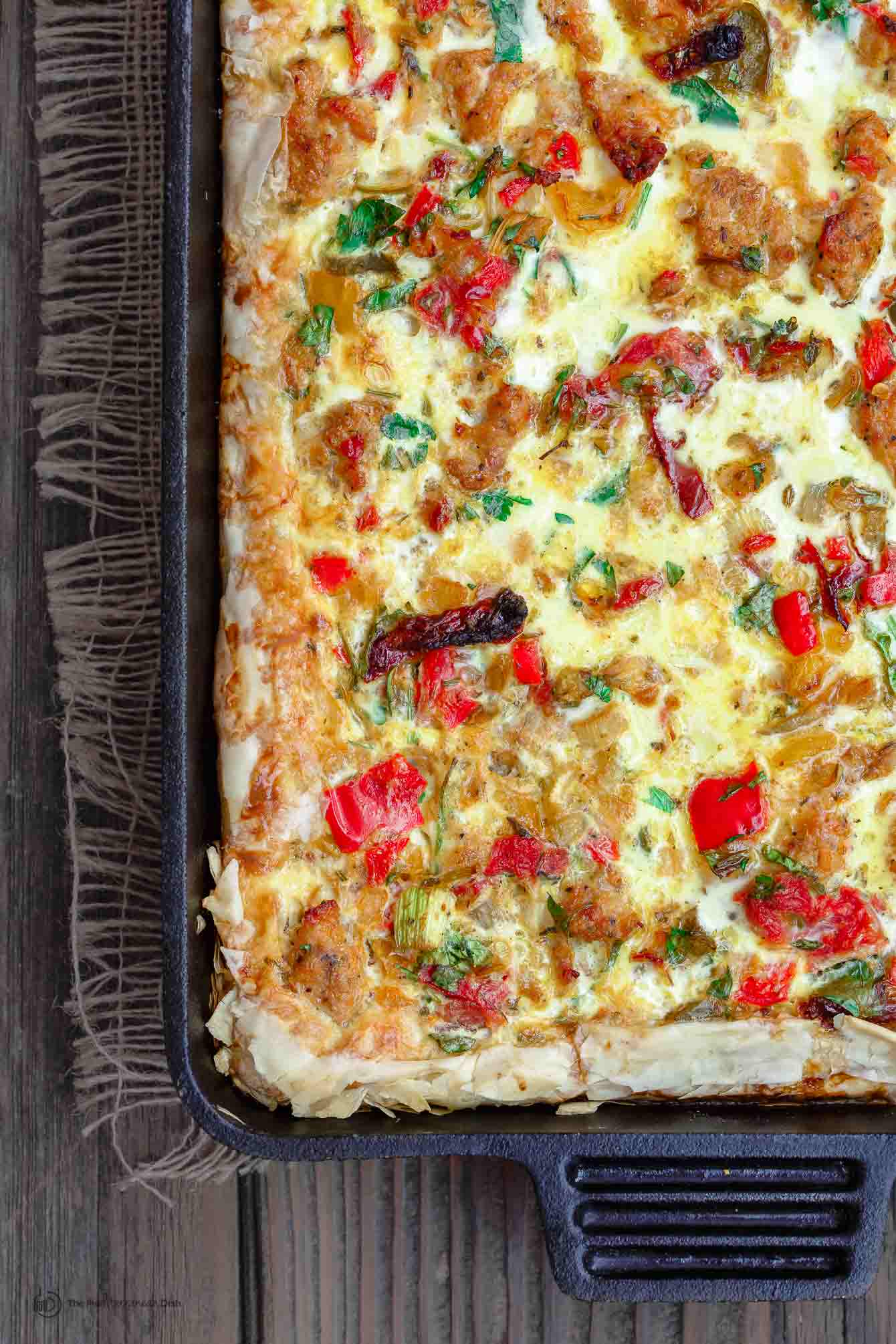 Wait 5 minutes and cut into squares. Enjoy hot! (See suggested side salads in the recipe notes)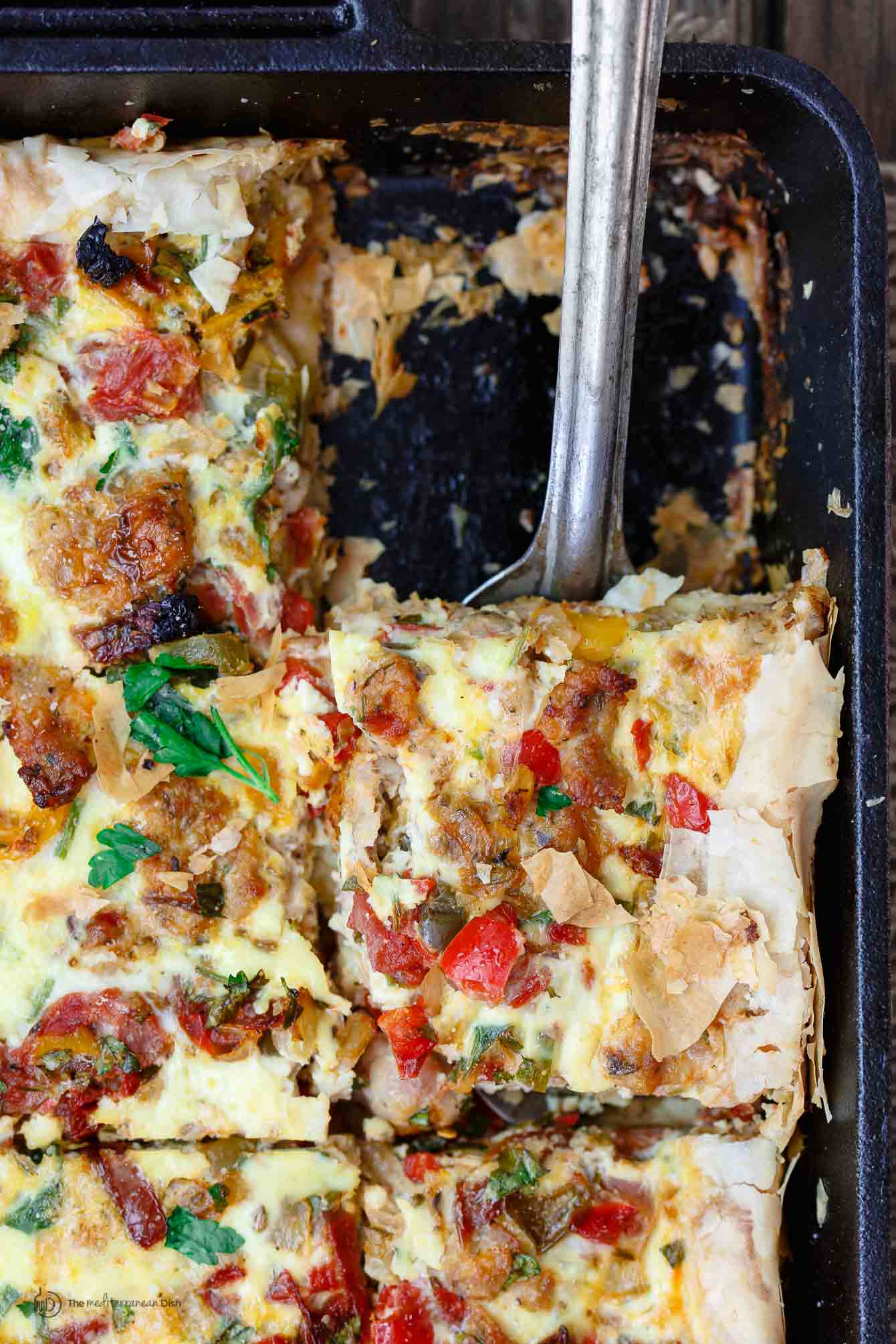 *This post is sponsored by The Fillo Factory, makers of quality, gourmet fillo dough. The Fillo Factory dough can be found in different sizes and in Organic White Wheat; Organic Spelt; and Organic Wheat. Vegan; no preservatives; no cholestrol; no trans fat. Available at grocery stores nationwide; click here to find a retailer near you. All opinions are my own. Thank you for supporting brands that make this site possible.
This post may contain Amazon affiliate links. Learn more on our Privacy Policy page. Browse Amazon here.
Other Recipes to Try:
Spanakopita: Greek Spinach and Feta Pie