Buttery,  honeyed, melt-in-your-mouth cinnamon cookies. Today's easy cinnamon cookie recipe is from my friend Irvin Lin's new book Marbled, Swirled, And Layered. I've included step-by-step photos below the recipe. 
Growing up, particularly during the holidays, my mother made small, bite-sized cinnamon cookies. Perfectly buttery, melt-in-your-mouth treats. In Egypt, they are called, "Petits Fours bi Kerfa." I don't know why they are called petits fours, they're cookies not little cakes. But they are, dare I say, sinfully delectable.
So when my friend Irvin sent me a copy of his new book Marbled, Swirled and Layered, among his glorious cakes; bars; and goodies, guess which recipe caught my eye first?! These cinnamon cookies! With the scrumptious cinnamon filling perfectly swirled in, these cookies sure look far fancier than my mother's. But they are easy to make even for a novice baker.
This recipe makes 48 cookies or more, but I ended up freezing some of the dough for later. I don't own a stand mixer yet, but I was able to use my electric hand mixer just fine.
For more on Marbled, Swirled and Layered and to enter the book giveaway, be sure to scroll to the bottom of this post. 
Print
Honey Bun Cinnamon Cookies + Giveaway!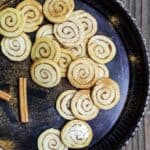 Author:

The Mediterranean Dish

Prep Time:

15 mins

Cook Time:

12 mins

Total Time:

27 minutes

Yield:

Makes 48 cookies or more
Ingredients
Cookie Dough
1 1/2 cups powdered sugar, sifted
1 cup unsalted butter, at room temperature
1/2 tsp kosher salt
1/2 tsp baking powder
2 tsp vanilla extract
1 large egg
2 1/2 cups all-purpose flour
Cinnamon Filling
6 tbsp unsalted butter, at room temperature
1/4 cup packed dark brown sugar
3 tbsp all-purpose flour
1 tbsp honey
1 tbsp ground cinnamon
1/2 tsp ground nutmeg
Glaze
2 tbsp honey
1 tbsp whole milk
1 tsp vanilla extract
1/2 to 3/4 cup powdered sugar, sifted
Optional
Ground cinnamon for dusting
Instructions
Make the cookie dough. Combine the powdered sugar, butter, salt, and baking powder in a large bowl. With a hand mixer, start mixing on low speed and slowly increase the speed to medium until the butter looks creamy and starts to cling to the sides of the bowl (about 2 minutes).
Add the vanilla and beat on medium speed until incorporated. Add the egg and beat until Incorporated. Add the flour and mix on low speed, then slowly increase to medium speed until the flour is incorporated and a dough forms. The dough will be soft.
Scrape the dough out onto a clean, floured surface and shape into a ball. Flatten into a circle and then square off the edges. Roll out the dough into 13 x 14-inch rectangle with a long side facing you (you will need to occasionally add more flour to the top and bottom of the dough so it doesn't stick)
Make the cinnamon filling.In another bowl (or you can use the same bowl if you like), combine the butter, brown sugar, flour, honey, cinnamon, and nutmeg. Beat together until the filling is uniform in color, fluffy, and light, about 2 minutes. Scrape the filling out onto the rolled-out dough and spread to cover the entire surface (you may need to use your fingers for this, as the filling will need to be spread thinly). Tightly roll up the dough starting from the bottom edge (you may need to use a little more flour here again so the dough does not stick). Wrap the dough with plastic wrap and freeze for 1 hour.
Preheat the oven to 350 degrees F and line baking sheets with parchment paper.
Remove the dough from the freezer and unwrap. Carefully slice 1/4-inch-thick cookie disks from the rolled log, slicing straight down (do not saw back and forth). Place on the baking sheets, spacing the cookies about 1 1/2 inches apart.
Bake until the edges of the cookies start to turn golden brown (12 to 14 minutes). Let cool on the baking sheets for 5 minutes, then transfer to a wire rack to cool completely. Repeat with the remaining dough.
Make the glaze. Combine the honey, milk, vanilla and 1/2 cup powdered sugar in a bowl and stir together. If the glaze looks too thin, add more powdered sugar, 1 tbsp at a time, until it has thickened to the right consistency. Brush the glaze onto the cooled cookies with a pastry brush. Once glaze has settled, you can dust the cookies lightly with more ground cinnamon (optional).
Notes
*Make sure the butter for the cinnamon filling is truly at room temperature or even slightly warmer than that. It makes spreading the filling so much easier.
*You can make and freeze this cookie dough for future baking. Once it's been frozen for an hour, place the log in a labeled zip-top plastic bag. Slice and bake cookies at your convenience. The dough should keep for up to 2 months in the freezer.
*Recipe from Marbeled, Swriled, And Layered with permission from author Irvin Lin.
Step-by-step photos for cinnamon cookies:
Make the the dough adding each ingredient in the order listed in the recipe. Mix as instructed all is combined and a dough forms.
Scrape dough onto a floured surface and form a ball then flatten into a disc, then roll out the dough so that you have a large 13 x 14 rectangle (photo below).
Make the scrumptious cinnamon filling. Simply mix the filling ingredients in a bowl using a stand mixer until you have a light, fluffy cinnamon filling.
Spread the filling thinly on the entire dough that's been rolled out.
Roll the dough tightly from the end closest to you to form a log. (I ended up cutting my log into 2). Wrap the dough in plastic wrap and freeze for 1 hour. (I left the second log frozen for future baking)
Carefully slice the dough into 1/4 inch-thick cookie discs.
Arrange cookie discs on baking sheets lined with parchment paper. Bake in 350 degree F heated-oven for 12-14 minutes.
Once the cookies have cooled completely, brush with the glaze. Dust with cinnamon later, if you like.
Of Marbled, Swirled And Layered, David Leite says, "Between its sinfully delicious covers are recipes for some of the most luscious, tempting desserts ever!" And I completely agree! It is also a valuable resource for veteran and novice bakers alike.
Discounted copies of Marbeled, Swirled, And Layered, are available here on Amazon.