Foolproof, easy biscotti recipe. Perfectly dense, crunchy biscotti flavored with pistachios and a hint of cardamom. This recipe makes 24 pieces, and they will keep well for a while! Be sure to read through for important tips and watch the video below!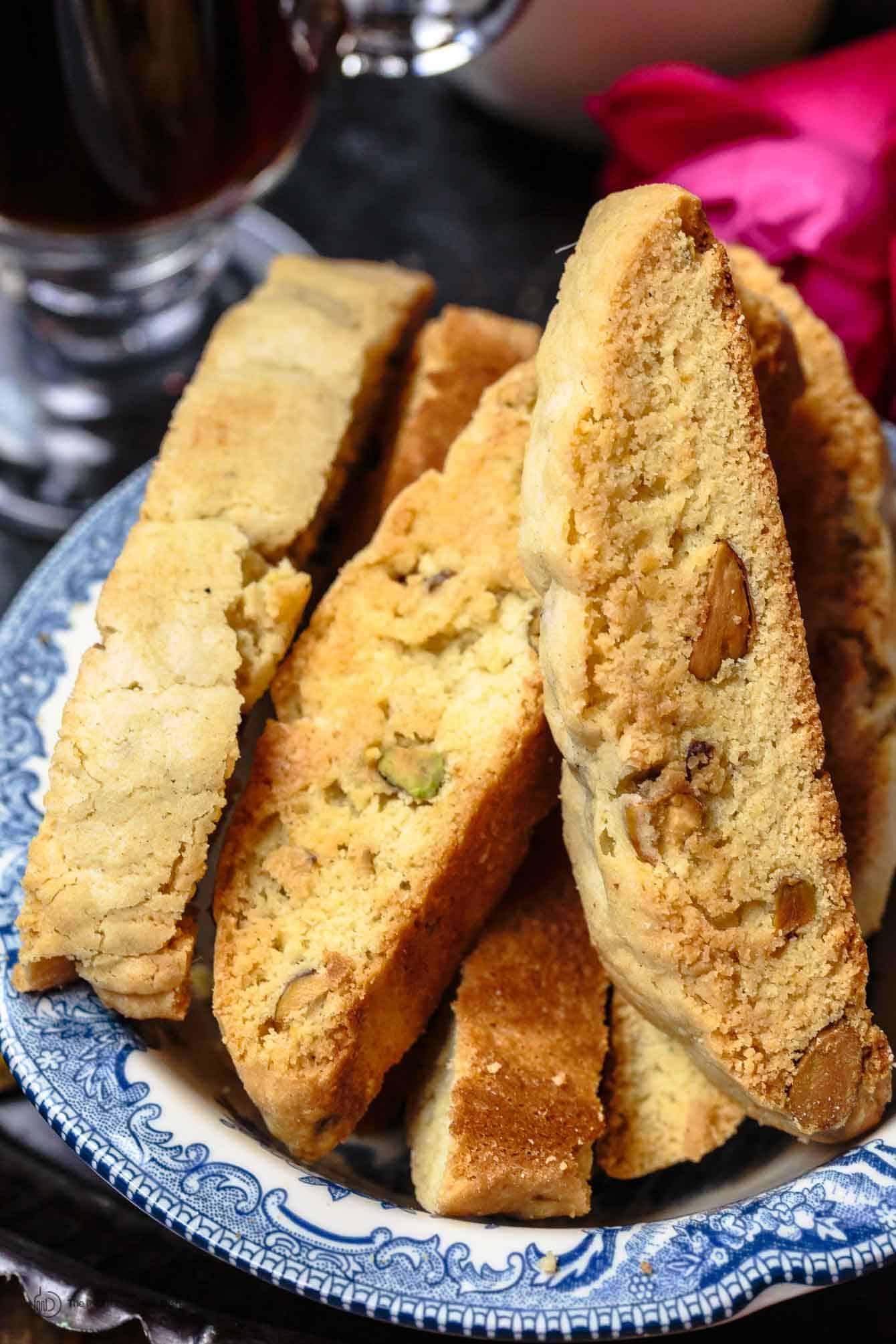 Biscotti
You may think of them as hip, individually wrapped cookies, found normally at local coffee shop.
You are not wrong. But let's try this...
Biscotti: centuries-old Italian cookies which derive their name from the Latin "biscoctus," meaning "twice cooked or twice baked." The dough is first formed into logs, baked, cooled, and baked again.
What qualifies for the best biscotti?
Let's just agree that the best biscotti out there meet three criteria:
Dense
Perfectly crunchy, but never too hard to bite on
Flavorful
My mom makes a mean Italian anise biscotti, and she also makes an equally tasty version flavored with orange zest. And I must confess, she kinda ruined my enjoyment of all the neatly packaged stuff at the coffee shop.
So, I've set out to make my own version of mom's perfectly crunchy biscotti, except with a different flavor combo: pistachios and a hint of fragrant cardamom. (You can also add some dried fruit like dried cranberries if you want to add a festive touch). Enjoy biscotti with a drink like Carajillo (spiked coffee), Arabic mint tea or this thick, and totally indulgent Italian Hot Chocolate.
Is biscotti better with oil or butter?
Should biscotti have butter? Some purists will tell you that they should only be made with oil. But, step aside from tradition for a second and you might find it helpful to use a little bit of butter, which may be the difference between perfectly crunchy biscotti and ones that may be too hard to bite on.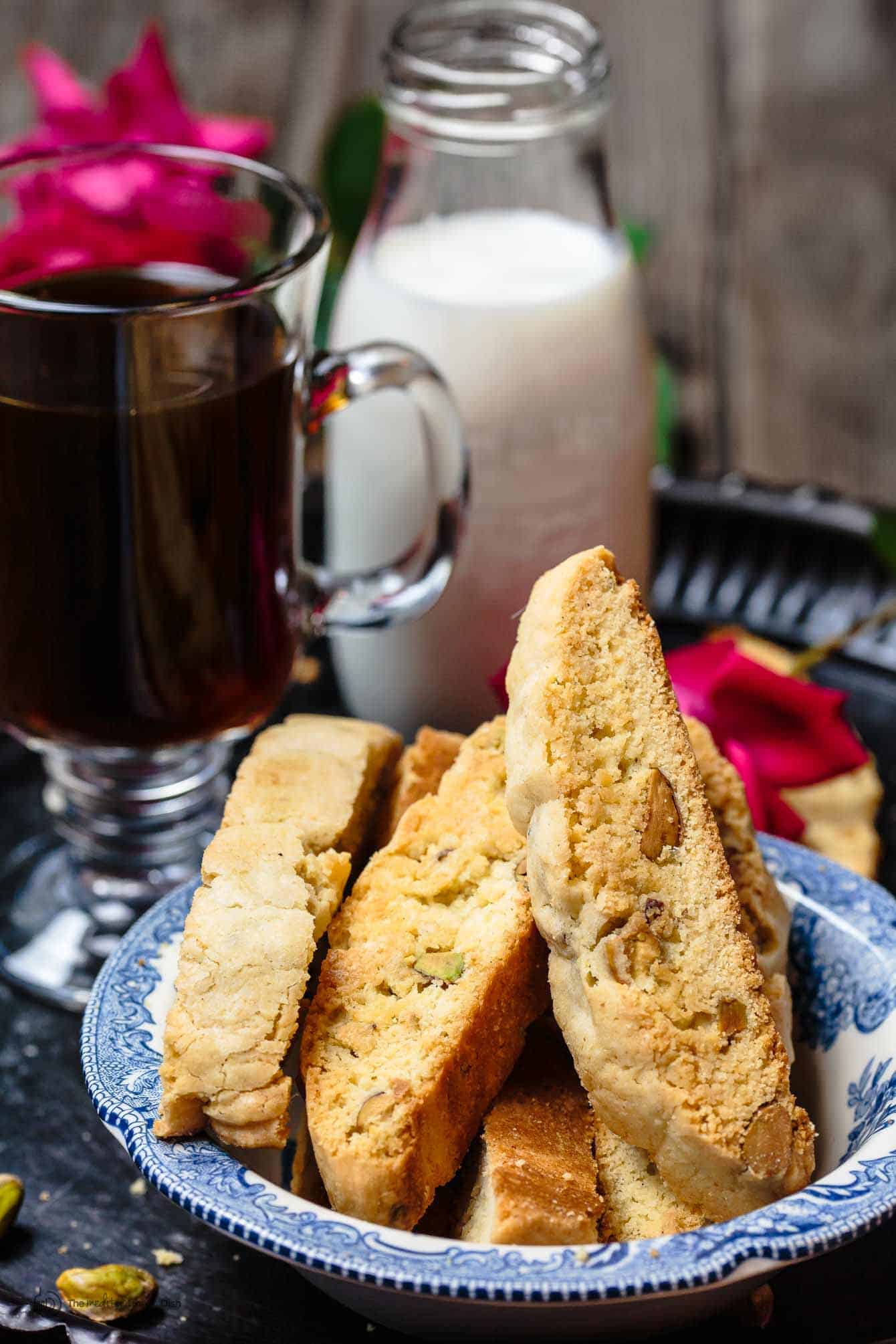 How do you make biscotti from scratch?
The process is pretty straight forward. Make a batter, chill it, then bake it twice in two different forms. Here is how:
Make the batter
Here you'll mix the dry ingredients of all-purpose flour and baking powder using a whisk. Then, with the help of a hand mixer, you'll mix the butter and sugar in a large bowl until nice and fluffy. Add in one egg at a time, beating on a lower speed until combined.
You guessed it, add the dry ingredients to the large bowl with the wet ingredients.
Fold in the pistachios, cardamom, and vanilla extract.

Chill the batter
Because the dough can be sticky and hard to form, it's important to chill the batter for a good 30 minutes before baking the first time.
Prepare a baking sheet and line it with parchment paper then dust it with a little flour. Transfer the batter to the baking sheet and chill in the fridge.
Form the batter into a log
It helps to dust your hands with a bit of flour. Begin to form the chilled dough into a 12-inch long log. It does not need to be perfect, the dough will spread a bit when it bakes.

Bake
The first round, you will bake the log of batter for about 25 minutes at 350 degrees F. The dough will still be soft when you take it out.

Slice the once baked log
Let it cool for 10 to 20 minutes, then using a serrated knife slice up the log into ½-inch slices

Bake a second time
Now, reduce the oven heat to 275 degrees F. Arrange the slices flat on your large baking sheet lined with parchment paper. Bake for 30 to 35 minutes, making sure to turn the biscotti over part-way through so that both sides crisp up.

Cool completely
It helps to arrange the baked biscotti on a wire rack to allow them to crisp completely
How do you cut biscotti without crumbling?
Two things help with this:
First, when you begin to cut the dough after the first bake, it is important that you allow the dough to cool for 10 to 20 minutes (set a timer for this). If you leave it too long, the dough will be too hard to cut into. But if you begin to slice while the dough is quite hot, they will crumble.
And, always use a serrated knife and cut the biscotti cookies in a sawing motion. This will help reduce crumbling.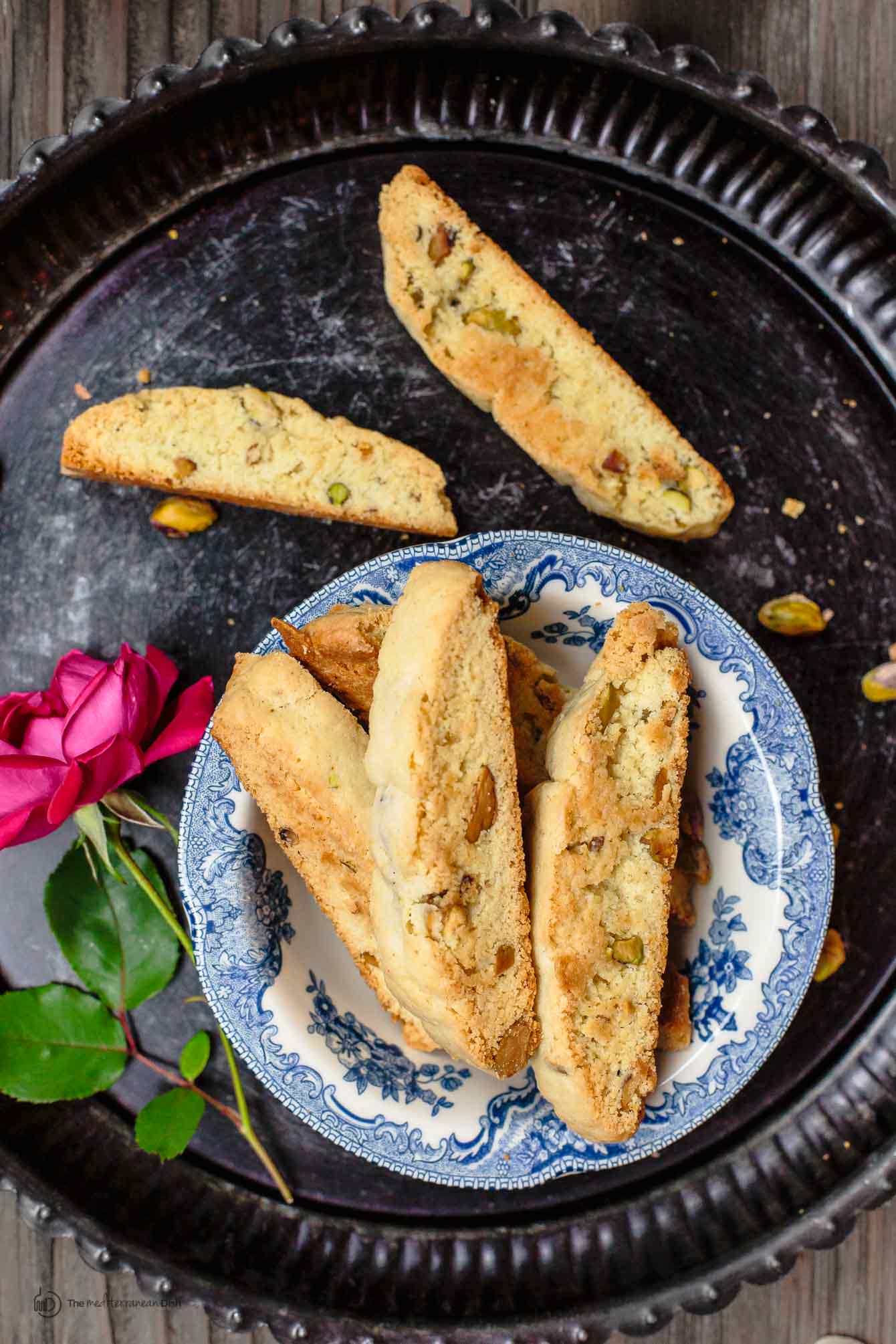 How thick should they be?
Ideally, you should cut the biscotti to be about ½ inch in thickness. But you can go slightly thicker if you like.
How long will homemade biscotti last?
Since this recipe makes 24 pieces, it's the perfect batch to make for when you have company or to simply store for later use. As with other Italian classics like Potato Gnocchi, it's a great way to get ahead yet still impress at a party.
If stored properly, homemade biscotti will last anywhere for 10 days to 2 weeks. And if you're really after the best way to store them so that the biscotti will remain crunchy, here are a few tips:
First, be sure the biscotti are completely cooled before storing (use a wire rack to cool them so that the cookies will crisp well on both sides)
Store biscotti in a loosely covered glass jar or tin (metal) container (what the container is made of makes a difference)
Line the jar or container with paper towel, this is optional but it does help
Like chewy pieces of Turkish delight, or decadent chocolate covered dates, biscotti makes a perfect addition to holiday dessert trays.
How do I keep them crunchy?
Let's say that after you followed instructions for storage your biscotti still lost a bit of their crunch, there is a way to help that!
Stick them in the oven for a few minutes at a lower temperature.
Heat the oven to 300 degrees F. Stand up the biscotti on your baking sheet so the cut sides are fully exposed to the hot air. The hot air circulating on both sides of the biscotti will help dry them as they bake again briefly.
More baking recipes to try
Browse our collection of Italian recipes! All Mediterranean recipes.
JOIN MY FREE E-MAIL LIST for weekly meal plans and more!
Easy Biscotti Recipe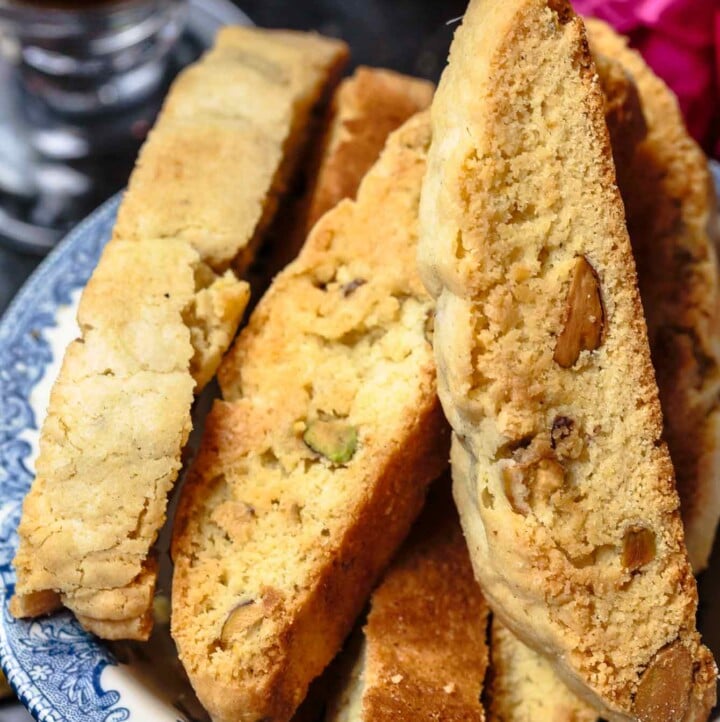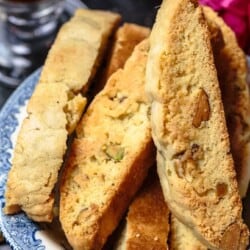 Foolproof, easy biscotti recipe with pistachios and cardamom. Just as they should be, these are perfectly dense, crunchy Italian biscotti!
Ingredients
2

cups

all-purpose flour

1

teaspoon

baking powder

4

tablespoon

unsalted butter

softened

¾

cup

sugar

2

eggs

¾

cup

salted

shelled, chopped pistachios

¾

teaspoon

ground green cardamom

1

teaspoon

vanilla extract
Instructions
Prepare a baking sheet lined with parchment paper

In a small bowl whisk flour and baking powder.

Place the butter and sugar in a large mixing bowl. Using a hand mixer like this one, beat the butter and sugar at medium-high speed until light and fluffy. Reduce the speed to low and add one egg at a time, beating gently until combined.

Add the pistachios, cardamom, and vanilla extract. Mix with a spoon until combined.

Stir in the flour mixture until just combined.

Dust the lined baking sheet with flour. Spoon the dough on top. Refrigerate for 30 minutes.

Heat your oven to 350 degrees F, adjusting a rack in the middle.

Take the dough out of the fridge. Using floured hands, form a log that's about 12 inches long (it doesn't need to be perfect. The dough will spread during baking).

Bake for 25 minutes, or until the dough is slightly golden, rotating the baking sheet halfway through.

At this point, the dough should still be quite soft. Remove from the oven and let cool for 10 to 20 minutes. Take a serrated knife and cut the log into ½-inch slices. Arrange the biscotti slices flat in one layer on the baking sheet, keep them about ½ inch apart.

Reduce the oven heat to 275 degrees F. Bake for another 30-35 minutes, turning the biscotti cookies over halfway through until crisp. Remove from the heat and transfer to a wire rack to cool.

Once cooled completely, you can store the biscotti in a loosley covered glass jar or container.
Notes
Pro-Tip: the addition of a small amount of butter, although not traditional, produces a richer, more cookie-like texture.
Pro-Tip: Don't skip refrigerating the biscotti dough for 30 minutes before baking the first time. This helps a lot as the dough can be sticky and hard to form
Pro-Tips for Storing: Be sure biscotti are completely cooled before storing. Store in loosely covered glass jar or tin container (what the container is made of makes a difference). This is optional, but it does help, line bottom of jar or container with paper towel
Nutrition
Calories:
136
kcal
Carbohydrates:
14.3
g
Protein:
1.6
g
Saturated Fat:
5
g
Cholesterol:
34
mg
Sodium:
76.7
mg
Potassium:
17.9
mg
Fiber:
0.3
g
Vitamin A:
256.2
IU
Calcium:
17.1
mg
Iron:
0.6
mg