Italian-inspired skillet chicken cooked in a delicious garlic and white wine sauce with tomatoes and mushrooms. It comes together in 30 minutes! Be sure to watch the video for how to make this pan-seared chicken breast recipe, and read on for important tips.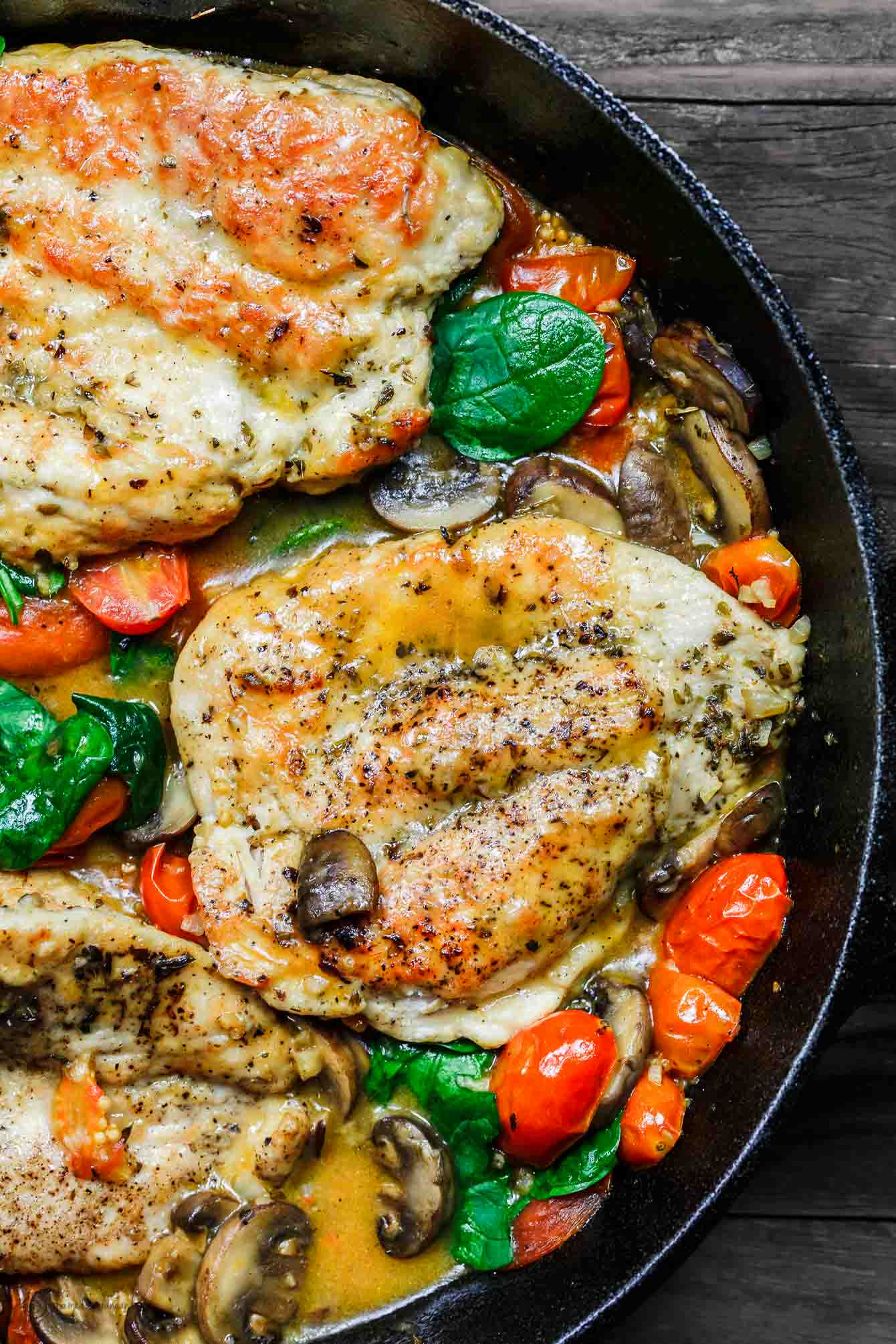 Not your average skillet chicken breast recipe!
Boneless, skinless chicken breasts are a staple item in most households because they are versatile and healthy. Plus, the ways you can dress up chicken breasts are endless!
In this recipe, chicken cutlets (breasts) are bathed in a silky, garlicky olive oil and white wine sauce that helps to keep them juicy while also adding depth of flavor to the dish. For a quick one-skillet meal, throw in some mushrooms, tomatoes and a handful of spinach.
How to cook chicken breast without drying it out?
For safety reasons, chicken has to be well-done before serving. Unfortunately, with chicken breasts, there is a fine line between "well-done" and "tough and dry". In fact, many struggle to know how to cook chicken breast in a skillet without drying them out. There are a couple of things to help with that:
Slice the chicken breasts into thinner cutlets. One of the main issues is that chicken breasts are typically larger and uneven--there is always a side that is far thicker than the other. So when people cook the chicken breasts as is, they likely have to cook them long enough for the thick side to fully cook, which means the thinner side of the breast will have dried out by then. The solution: turn your chicken breasts into cutlets.I found that cutting chicken breasts into ¼-inch cutlets made them much easier to cook quickly and evenly! Some stores sell chicken cutlets already packaged, which is fine to use but far more expensive. It is easy to slice your own chicken breasts into cutlets (see my detailed instructions below)
Sear quickly over high heat, finish cooking in the sauce over lower heat. Once you have your cutlets, you'll want to give them a quick sear in the skillet. Then, make a delicious white wine and olive oil sauce, in which the chicken will finish cooking, covered, over lower heat, which will infuse the chicken with flavor while keeping it moist.
When in doubt, use a meat thermometer. Chicken is fully cooked when the internal temperature reaches 165 degrees F at the thickest part. Remember, chicken will continue to cook even after you pull it off the heat, so keep that in mind when measuring the temp.
How to slice chicken cutlets from a chicken breast?
Place the chicken breast flat on a clean cutting board.
Place your non-dominant hand on top to hold it in place.
Using a sharp knife, cut the breast horizontally from the thick end to the thin end into ¼-inch thin pieces.
If needed, you can also use a kitchen mallet to flatten the chicken.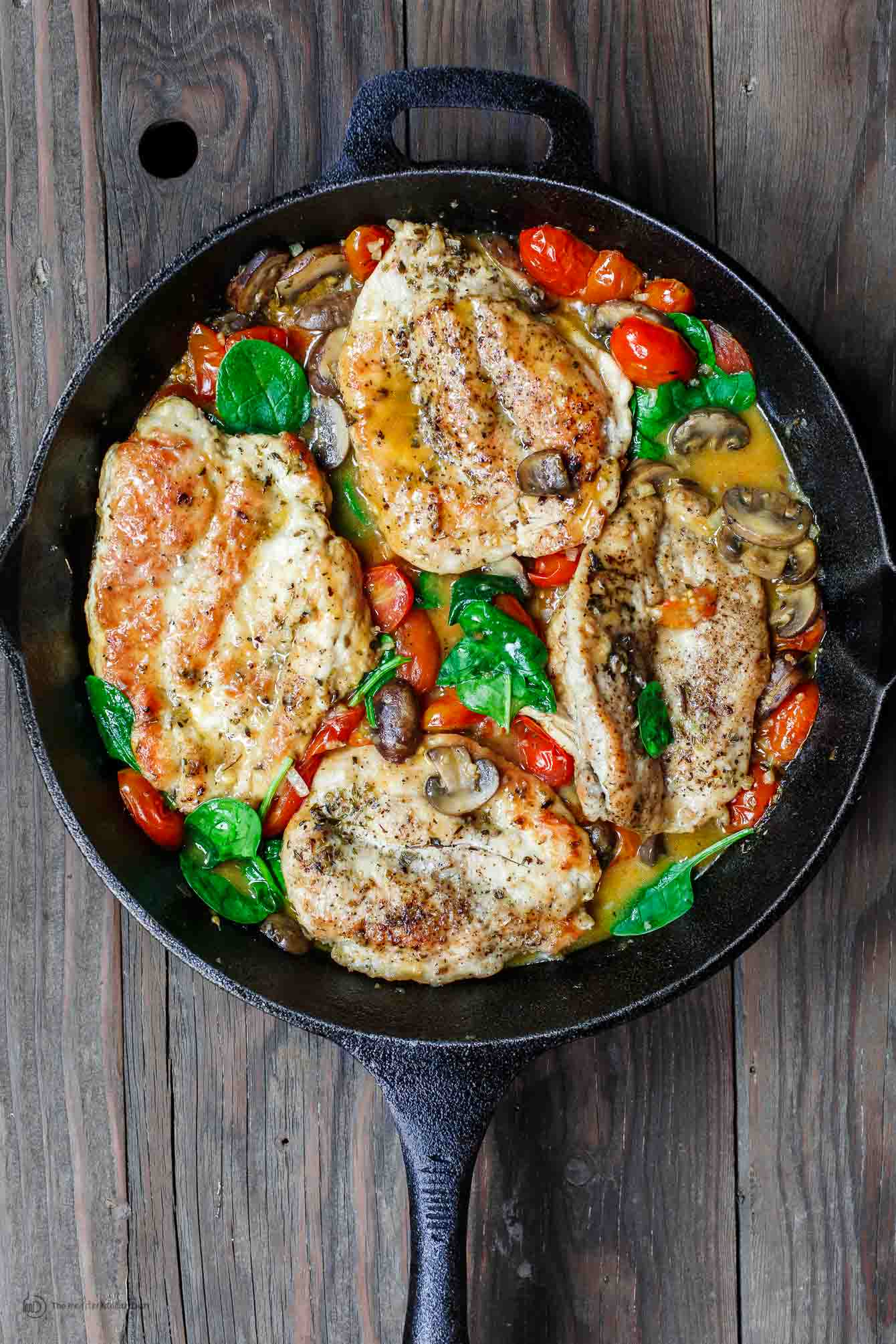 What you'll need to make this recipe
These pan-seared chicken cutlets require just a few ingredients to yield a dish that is succulent and garlicky, with just a hint of lemon. Here is what you will need to try this recipe:
Chicken cutlets: It is easy to slice boneless skinless chicken breasts into cutlets, but store-bought will work just fine!
Seasoning: I used dried oregano and garlic to up the flavor ante and give it an Italian twist
All-purpose flour: Coating the chicken lightly in flour gives them a beautiful color when you brown them. Flour also helps to thicken up the sauce.
Baby bella mushrooms, grape tomatoes, and spinach: The veggies add both bulk and vibrant color to the skillet chicken. And you can change the veggies up according to what you have on hand.
White wine sauce: Inexpensive dry white wine of your choice, lemon juice, and chicken broth. These form the base of the sauce that the chicken breasts will cook in, adding both flavor and moisture.
How to cook chicken in a skillet?
This recipe for tender pan-fried chicken breasts comes together in no time! And it is so simple and quick to make, even though it tastes like it took hours! Here's the quick summary of how to make it:
Season and brown the chicken: Season the chicken (I used a bit of dried oregano with salat and pepper) and dust with a light coating of all-purpose flour, and brown in a cast-iron skillet (this is a great way to create texture and flavor immediately) for about 3 minutes. Transfer to a plate.
Saute the vegetables: In the same skillet, saute the mushrooms, tomatos and garlic in some extra virgin olive oil. Don't forget to season with the same seasonings you used for the chicken!
Make the sauce: Add the white wine and reduce, then pour in the chicken broth and lemon juice.
Cook the chicken: Return the chicken to the skillet and cook. Cooked chicken, covered, over low heat for a few more minutes until its internal temperature reaches near 165 degrees F.
Add spinach (optional): If you have some spinach that needs to be used up, simply stir it in at the end.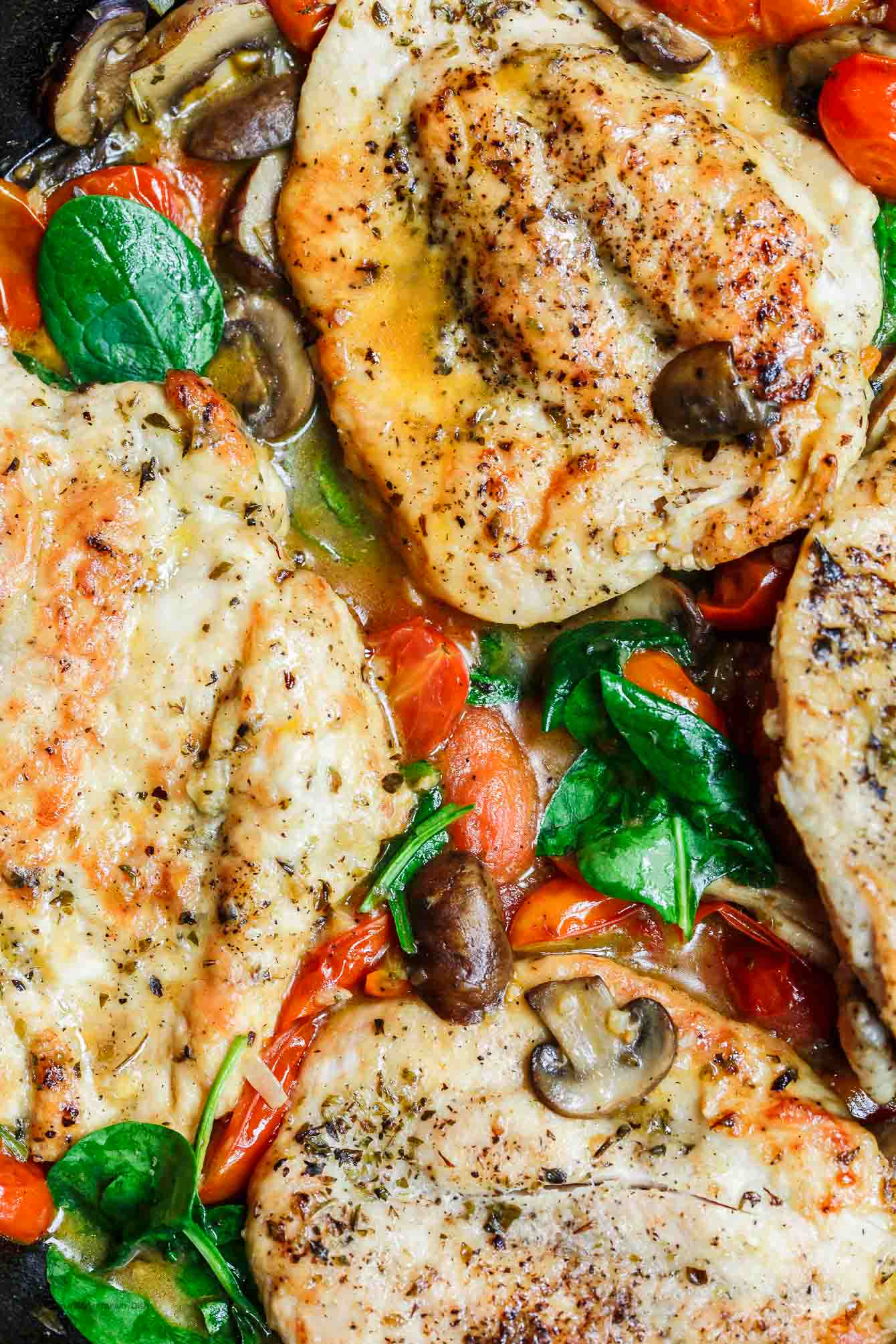 Make ahead tips for skillet chicken cutlets
From start to finish, this recipe comes together in about 30 minutes. But if you want to save even more time, here are some make ahead tips:
Cut the chicken. You can cut the chicken breasts into cutlets the day before and store in an airtight container in the fridge.
Slice the mushrooms and veggies. Trim and slice the mushrooms and prep any other veggies you're using a day in advance and store in a container in the fridge until you are ready to cook.
What to serve with it?
Since this is a skillet chicken with veggies, you don't need to cook additional sides other than your favorite pasta or maybe rice or herby boiled potatoes. If you like, add a hearty salad such as Mediterranean white bean salad.
Additional Recipe FAQs
How long to cook skillet chicken breast?
Chicken breast cutlets are quicker to cook in a cast iron skillet, they can take as little as 8 to 10 minutes. In this recipe, you'll them a little differently to ensure even cooking while keeping the chicken moist. You'll start with high heat to sear the chicken for about 3 minutes or so, and then you'll finish cooking the chicken over medium-low heat in the sauce for another 8 minutes or so.
What kind of pan to use for pan-seared chicken breast?
A large 12-inch cast-iron skillet with a lid is what I use often to make this recipe.
What can I use instead of chicken cutlets?
You can also use boneless, skinless chicken thighs instead of chicken breast cutlets in this recipe. Unless they are fairly large, you will not need to cut the chicken thighs for this recipe.
How to store leftovers?
Cooked chicken can be stored in the fridge for up to four days. Reheat in a skillet on the stove over medium heat. To avoid drying the chicken out, add a little bit of liquid to the skillet and cover to reheat.
More Chicken Recipes to Try
Browse more Italian recipes. Browse more Mediterranean recipes.
Italian-Style Skillet Chicken with Tomatoes and Mushrooms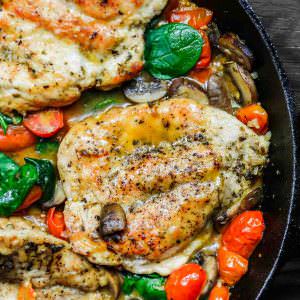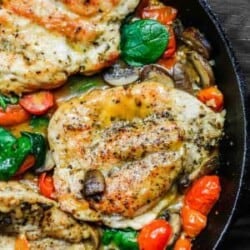 Easy, flavor-packed skillet chicken dinner with an Italian twist! Chicken cutlets, pan-seared and finished in a white wine sauce with garlic, tomatoes, mushrooms! Ready in 30 minutes or less.
Ingredients
4

large chicken cutlets,

boneless skinless chicken breasts cut into ¼-inch thin cutlets

1

tablespoon

dried oregano,

divided

1

teaspoon

salt,

divided

1

teaspoon

black pepper,

divided

½

cup

all-purpose flour,

more for later

8

oz

Baby Bella or white mushrooms,

cleaned, trimmed, and sliced

14

oz

grape tomatoes,

halved

2

tablespoon

chopped fresh garlic

½

cup

white wine

1

tablespoon

freshly squeezed lemon juice,

juice of ½ lemon

¾

cup

chicken broth

Handful baby spinach,

optional
Instructions
Pat chicken cutlets dry. Season on both sides with ½ tablespoon dried oregano, ½ teaspoon salt and ½ teaspoon black pepper. Coat the chicken cutlets with the flour; dust off excess. Set aside briefly.

In the same skillet, add more olive oil if needed. Add the mushrooms and saute briefly on medium-high (about 1 minute or so). Then add the tomatoes, garlic, the remaining ½ tablespoon oregano, ½ teaspoon salt, and ½ teaspoon pepper, and 2 teaspoon flour. Cook for another 3 minutes or so, stirring regularly.

Now add the white wine, cook briefly to reduce just a little; then add the lemon juice and chicken broth.

Bring the liquid to a boil, then add the chicken back in the skillet. Cook over high heat briefly (about 3 minutes), then reduce the heat to medium-low. Cover and cook for another 7 to 8 minutes or until the chicken is fully cooked and its internal heat registers a minimum of 165 degrees F.

If you like, stir in a handful of baby spinach just before serving. Enjoy hot with your favorite small pasta like orzo and a crusty Italian bread!
Notes
Make ahead tips: Cut the chicken breast into cutlets, and clean and slice the mushrooms a day in advance.
Leftovers: Can be stored in the fridge for up to four days. Reheat on the stovetop over medium heat, adding a little water and covering the skillet to reheat gently without drying out.
Visit our Shop to browse quality Mediterranean ingredients including extra virgin olive oils and spices.
Nutrition
Calories:
306.7
kcal
Carbohydrates:
19.5
g
Protein:
39.2
g
Fat:
4.9
g
Saturated Fat:
1.1
g
Trans Fat:
0.1
g
Cholesterol:
108.8
mg
Sodium:
947.7
mg
Potassium:
979.8
mg
Fiber:
2.4
g
Vitamin A:
903
IU
Vitamin C:
21.4
mg
Calcium:
56.1
mg
Iron:
2.4
mg