Watch out Gin and Tonic! There's a new gin cocktail recipe in town. With St-Germain, elderflower liqueur, and just a touch of aromatic orange blossom water, this pretty little sipper perfectly balances sweet, floral, and citrusy flavors for a refreshing–and totally intriguing–twist on the classic G&T.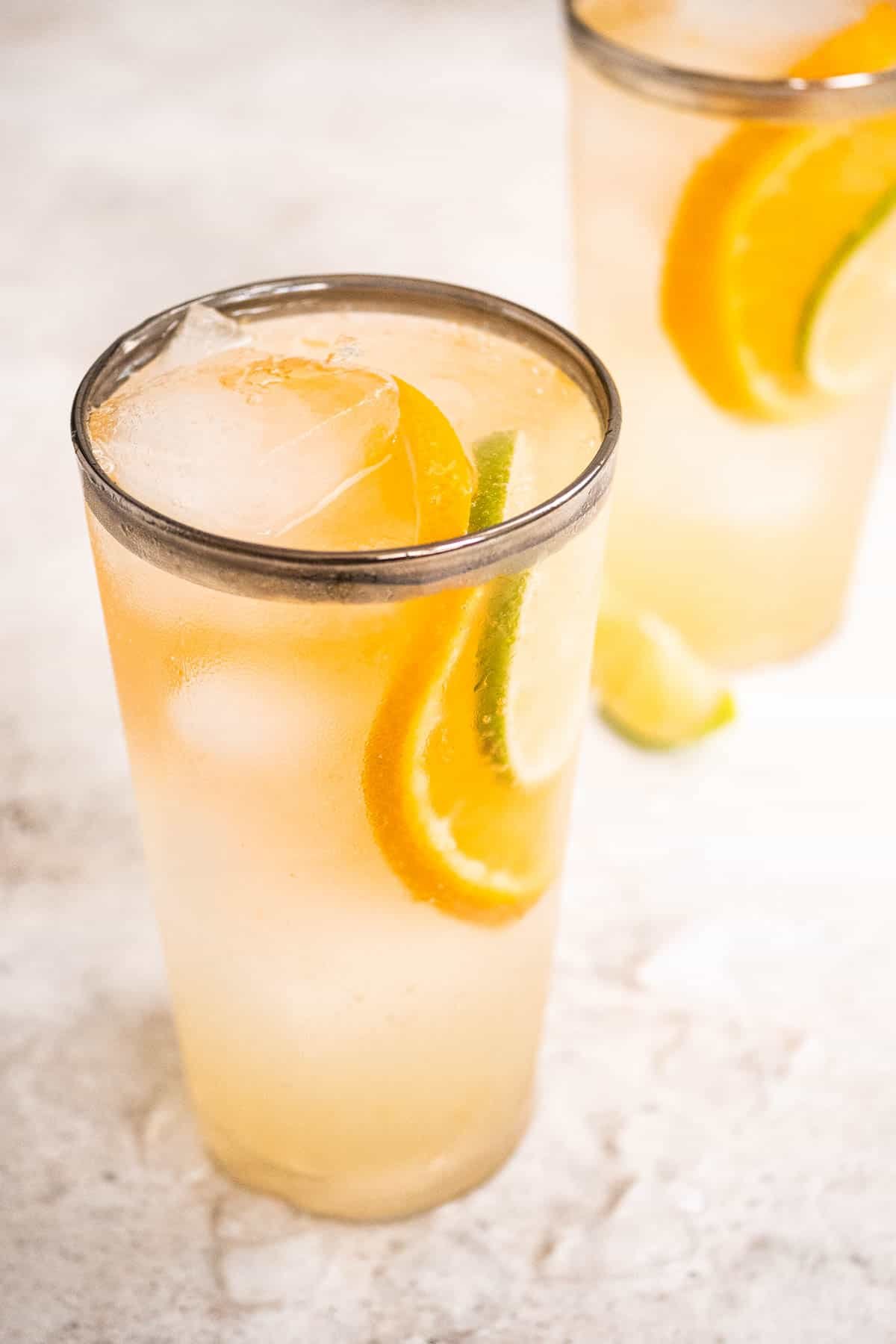 A gin cocktail is the drink my husband Saba often makes for me when I'm wrapping a long long day of writing. You may not know this, but Saba is a bit of a mixologist! We both work from home and when he comes up the stairs with an icy cold drink in hand, the condensation dripping from the glass, it's my cue to turn off the computer and relax. Nine times out of ten it works!
I like my cocktails like I like my food: bold and flavorful, with a little something to keep me guessing. Saba nailed it with this one. It's a celebration of gin's botanical qualities, with delicate and refreshing elderflower and orange blossom notes and a fresh squeeze of lime.
Though this gin cocktail is a total hit in the summer, it shares the Negroni's talent for fitting right in year-round. Try this easy cocktail recipe when you need to wind down after a long day, rain or (eternal) sunshine.
Table of Contents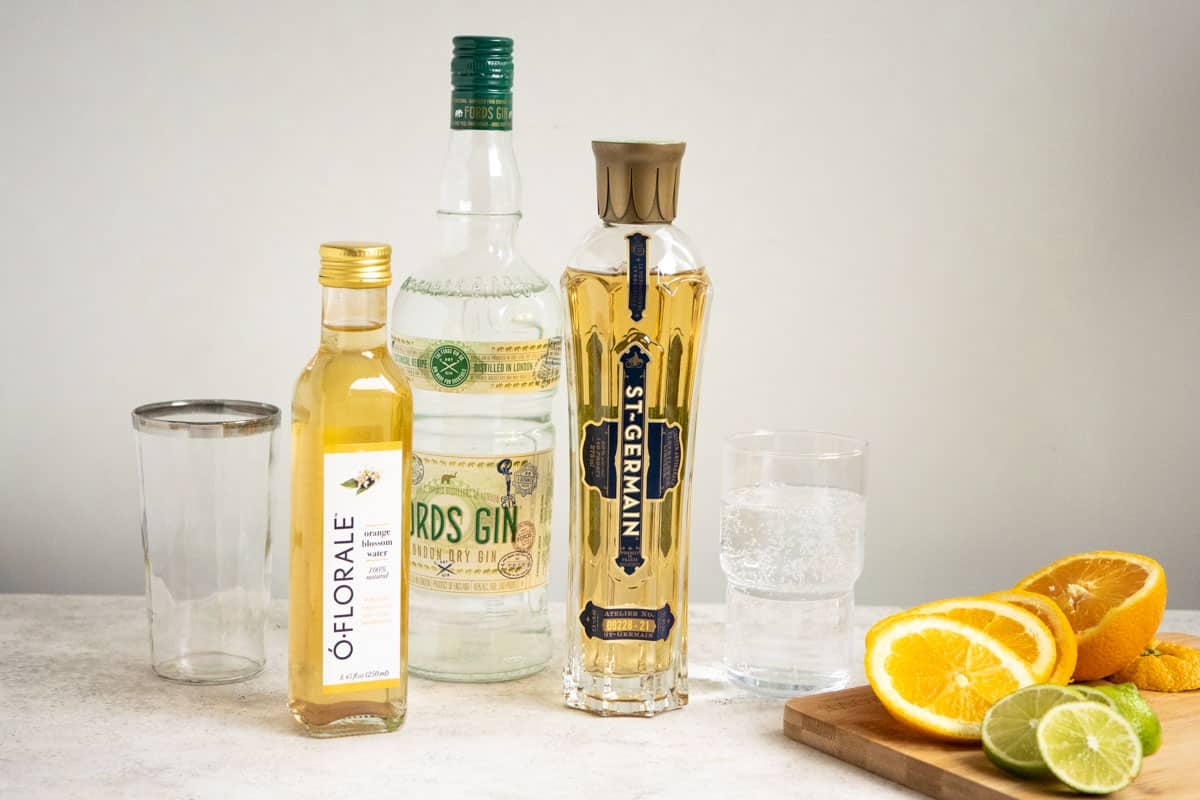 Ingredients for the Eternal Sunshine Gin Cocktail
Though this gin cocktail recipe includes some ingredients you may not have on hand, they're absolutely worth stocking. Just a touch of orange blossom water is all you need to turn a classic G&T into a totally new and exciting cocktail.
Gin: Use a botanical gin, like Japanese Roku (find more tips for selecting gin below). You want something that is more floral over herbal.
St-Germain: A sweet, slightly bitter, and aromatic liqueur made from fresh elderflower blossoms. Delicately floral and silky, it adds complexity and body and sweetness to the drink without overpowering the flavor.
Elderflower tonic: Flavored with elderflower extract, elderflower tonic adds effervescence, florality, and sweetness to the gin cocktail. Find it at many liquor stores, specialty grocers, and online retailers. For the best taste, look for brands that use natural ingredients and avoid artificial sweeteners or flavors, like Fever-Tree or Fentimans. Or, for a drink that's a little less sweet substitute with conventional tonic water.
Orange blossom water: Has a fragrant and floral aroma, with a delicate and slightly sweet flavor that is reminiscent of fresh oranges. Just a touch adds a subtle floral note and distinctly Mediterranean flair (it's used in a lot of traditional regional recipes, like baklava). Find our favorite all natural Lebanese orange blossom water from our shop. Or check your local Middle Eastern grocery store. Look for brands that use natural ingredients and avoid any that contain artificial flavors or additives. A little goes a long way, so this bottle will last in your pantry for a long time.
Citrus: Fresh lime juice balances the sweet and floral flavors, making the drink more refreshing. Orange and lime slices are an optional garnish that adds a pop of color and subtly enhances the other flavors.
How to Make the Eternal Sunshine Gin Cocktail
This gin cocktail couldn't be easier: everything comes in a bottle. In fact, the hardest part is slicing citrus!
Mix the cocktail: Fill a highball or G&T glass with ice. Add 1 ½ ounces of gin, ¾ ounce of St‑Germain, 3 ounces of elderflower tonic, ¼ ounce of orange blossom water, and ¼ ounce of lime juice. Stir gently to combine.
Garnish and serve: To garnish, slide one thinly sliced orange wheel and 1 thinly sliced lime wheel down the side of the glass. Cheers!
What Kind of Gin is Best?
Go for a botanical gin for this recipe. It carries a natural sweetness, so you don't need to add sugar or make simple syrup. And, while a juniper gin can be great for sipping or for a classic G&T, I wouldn't use it in this recipe. The piney flavor doesn't work well with the elderflower and orange blossom water.
As for brand recommendations, I'll let Saba–my resident Gin expert–chime in on this one.

"I prefer botanically infused gins to juniper gins for this recipe, since I want to introduce floral and citrus peel flavors in the drink. I typically use Roku Gin, a Japanese gin with 6 botanicals, combining infused flowers and teas with citrus peel. Another great gin to use in this recipe is Four Peel by Watershed. It's distilled with four citrus peels so it combines perfectly with the orange blossom water and elderflower liqueur."

Thanks for the recs, Saba!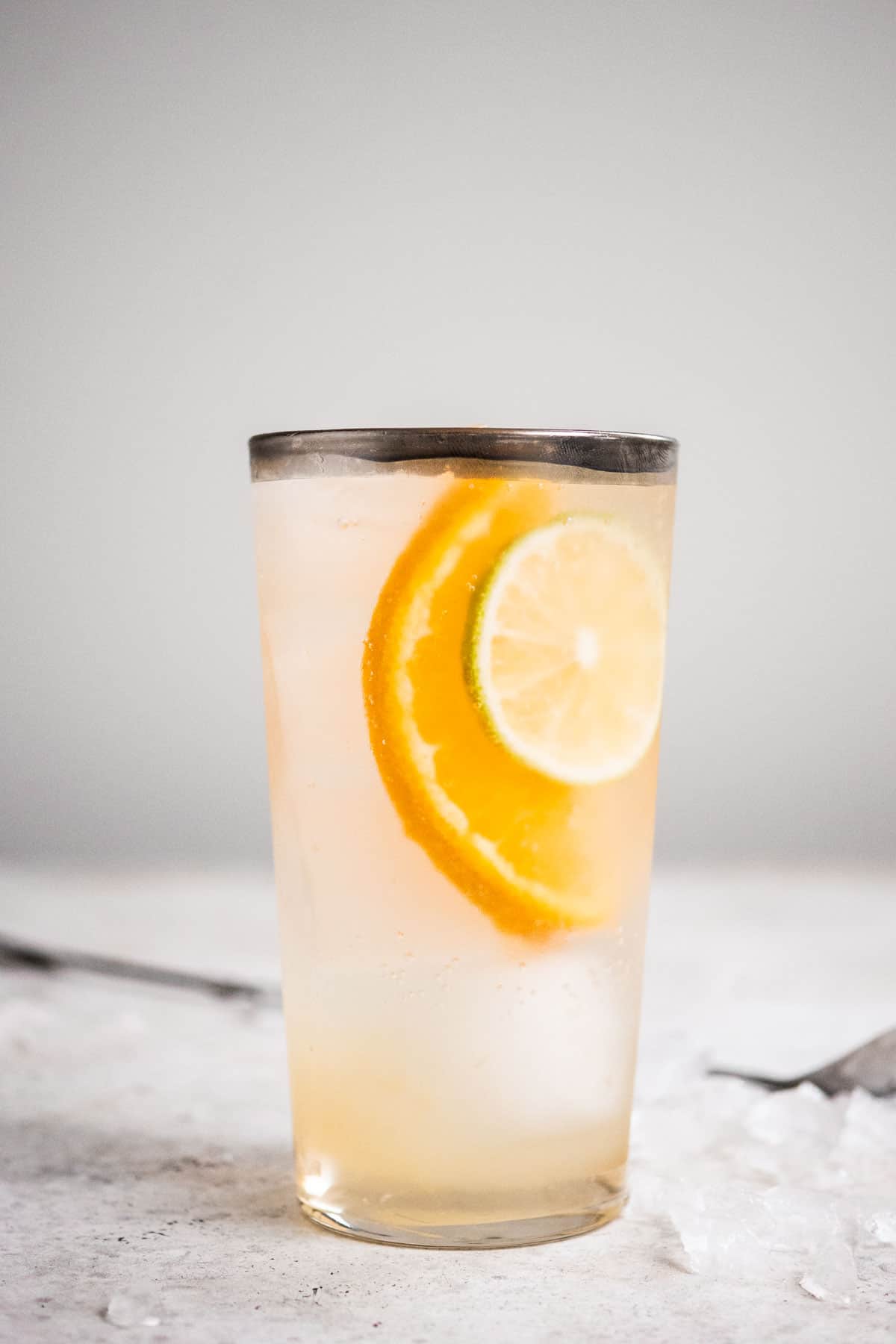 Ways to Mix it Up
This refreshing gin cocktail can be tweaked to fit your preferences. Here are a few ways you can make this gin cocktail recipe your own:
Lower the ABV. If you're looking for a 3 pm backyard sipper situation, you may not want it to be quite as boozy. For a more mellow approach, skip the St-Germain. Or, for an extra low ABV cocktail, skip the gin and use St-Germain as the primary spirit.
Make it less floral. If you're sensitive to floral flavors, use standard tonic water in place of the elderflower tonic.
Make it more herbaceous. Garnish with rosemary, mint or basil to add a herbal, savory note.
Play with the tart, bitter, and sweet flavors to taste. Add a splash of grapefruit juice to increase the bitter bite. Up the citrus, adding more acidity. Or, make it sweeter with a splash of simple syrup.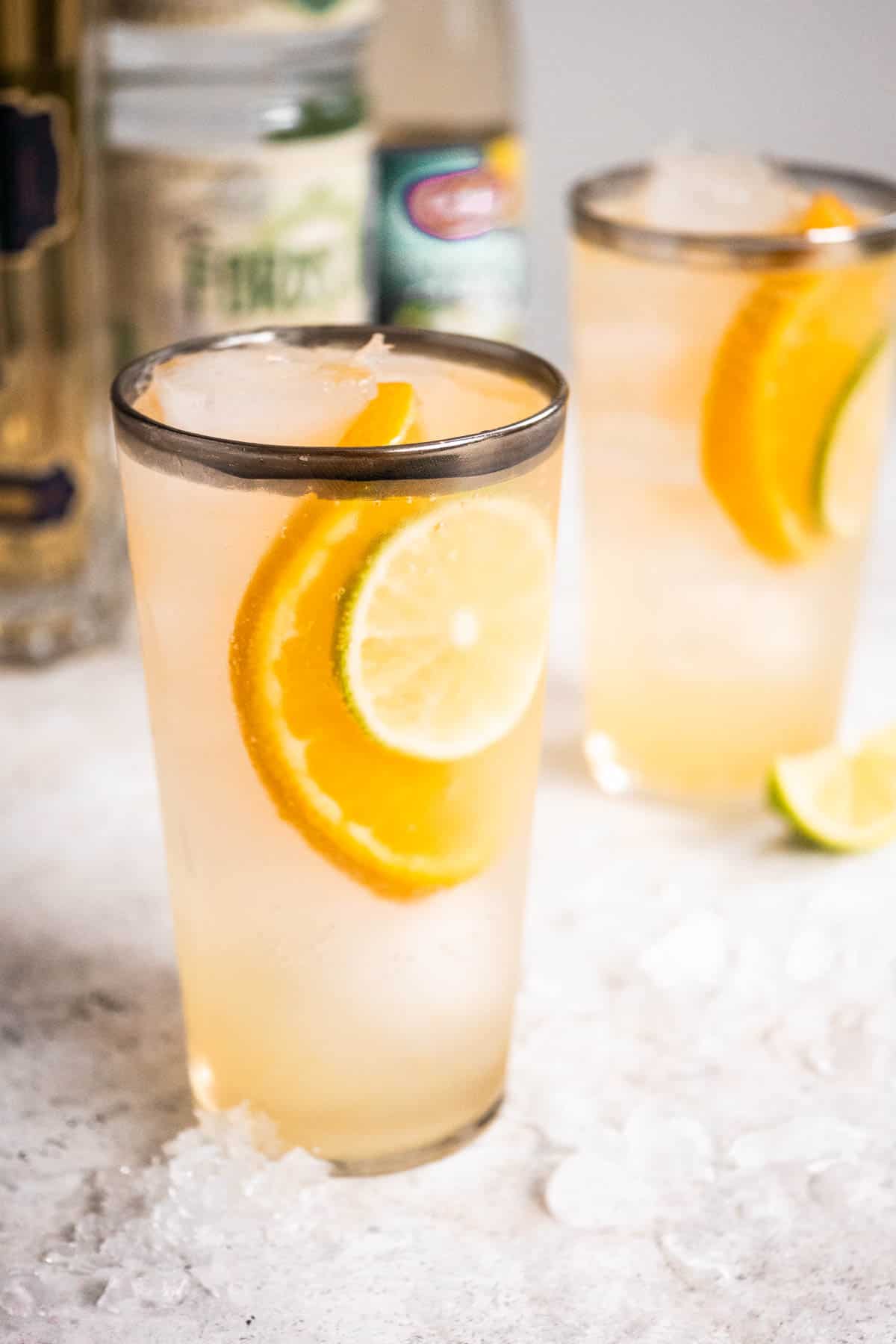 What to Serve with Gin Cocktails
This light and refreshing gin cocktail is absolutely delicious with seafood. Cool down with Shrimp Ceviche and ice-cold Eternal Sunshines on a hot day. The citrusy notes of the gin and ceviche play well together. Or, serve with salty and herbaceous finger foods like Easy Blistered Tomato Bruschetta.
More Refreshing Reasons to Turn In for the Night
Browse all Mediterranean recipes.
Visit Our Shop
Ó•Florale 100% Natural Orange Blossom Water
Made using a time-honored distillation process, a splash adds a delicate and aromatic quality to sweet and savory dishes, from marinades and salad dressings to cocktails and rice pudding.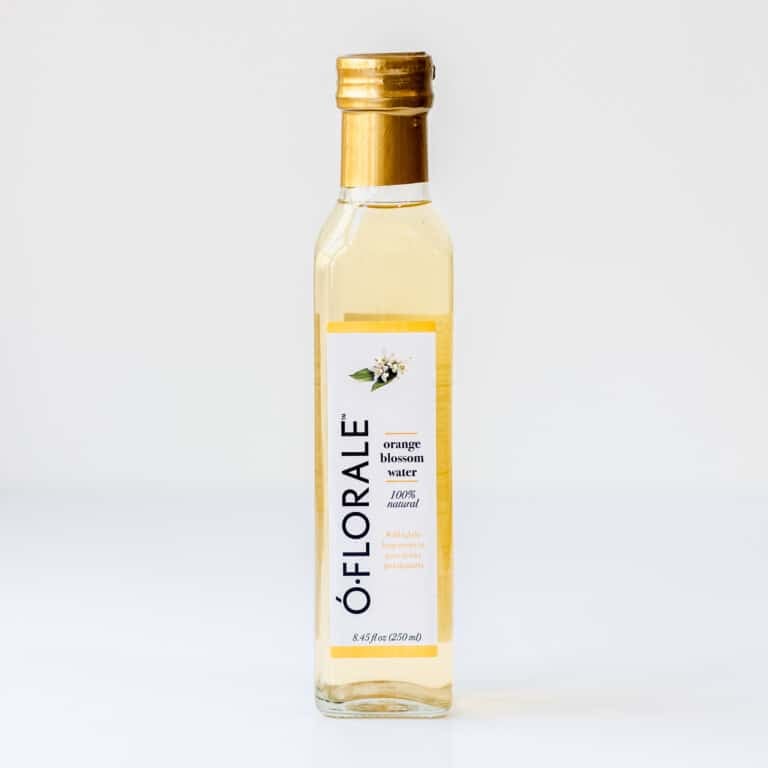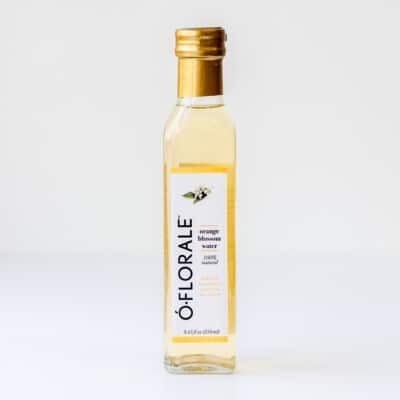 Eternal Sunshine Gin Cocktail Recipe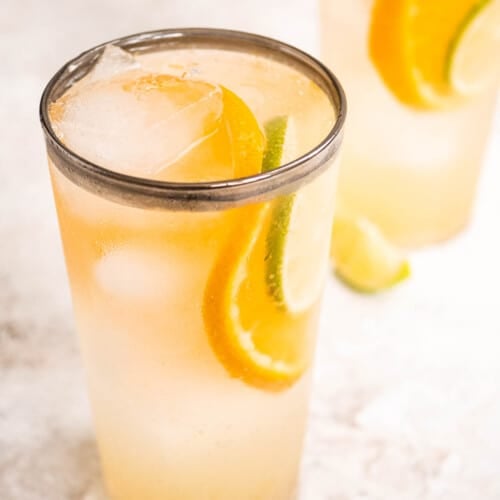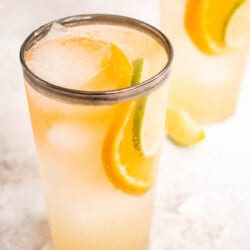 St. Germain, elderflower tonic, and a touch of orange blossom water give this delightfully refreshing gin cocktail recipe a floral twist.
Ingredients
1 ½

ounces

botanical gin

(I use Roku gin)

¾

ounce

St-Germain Elderflower Liqueur

3

ounces

elderflower tonic

¼

ounce

orange blossom water

¼

ounce

lime juice

Orange and lime wheels,

for garnish
Instructions
Mix the cocktail: Fill a highball or gin and tonic glass with ice. Add the gin, St‑Germain, elderflower tonic, orange blossom water and lime juice. Stir.

Garnish and serve: To garnish, slide one thinly sliced orange wheel and 1 thinly sliced lime wheel down the side of the glass. Cheers!
Notes
If you're sensitive to floral flavors, try making this cocktail with standard tonic water.
Stir gently to keep the tonic's bubbles.
Visit our shop to browse quality Mediterranean ingredients including olive oils, honey, jams and spices.
Nutrition
Calories:
177.3
kcal
Carbohydrates:
8.8
g
Protein:
0.03
g
Sodium:
18.4
mg
Potassium:
10.8
mg
Fiber:
0.03
g
Sugar:
8.3
g
Vitamin A:
3.5
IU
Vitamin C:
2.1
mg
Calcium:
5.2
mg
Iron:
0.04
mg