Sausage tortellini soup is a comfort food in a bowl! It's loaded with fresh veggies, hearty Italian chicken sausage, tortellini, and in a rich tomato broth. A quick and cozy dinner you'll love.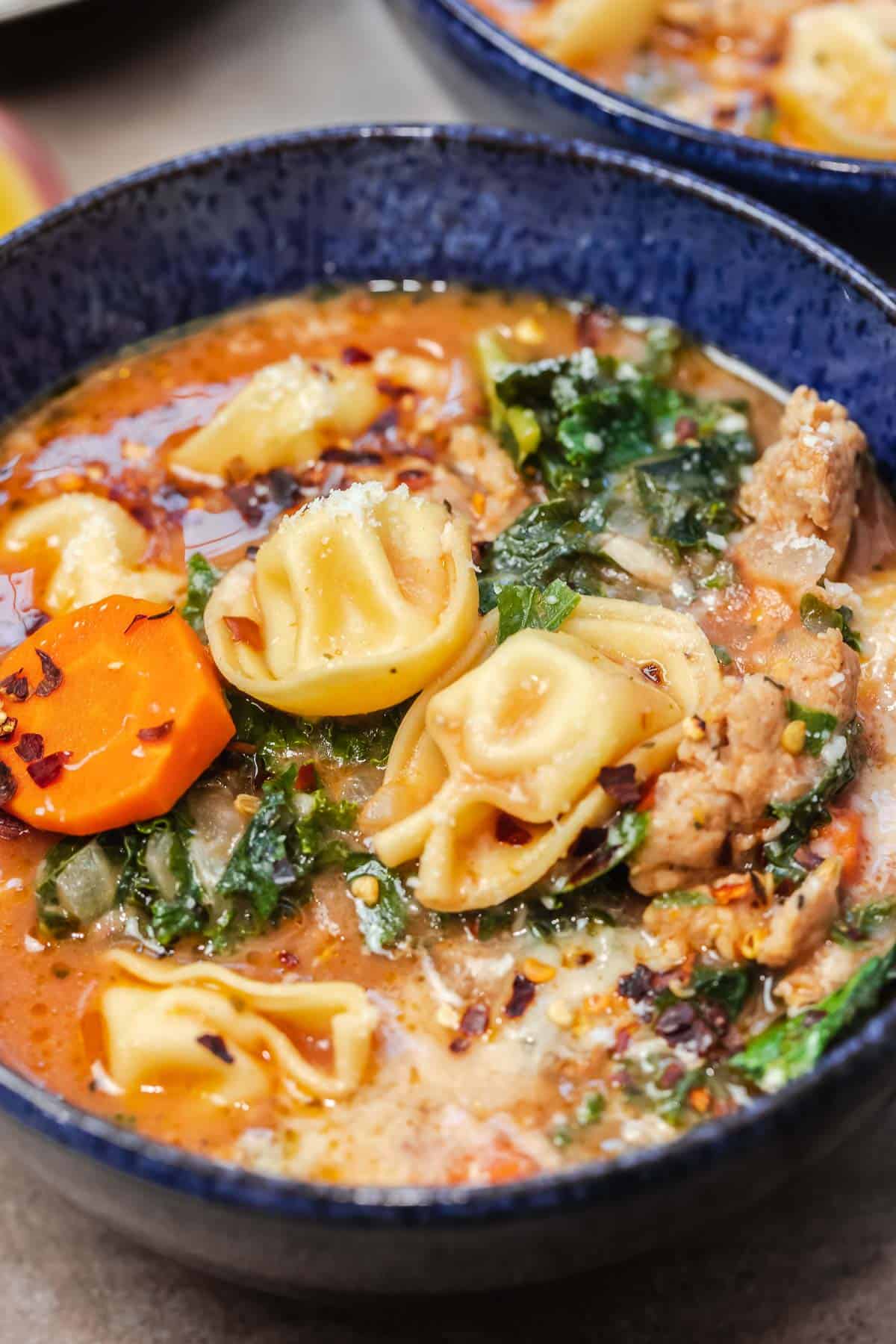 When cold weather is upon us, comfort food calls my name and this sausage tortellini soup is a must in my house!
Made on the stovetop in about 20 minutes this soup has a hint of spice from the Italian sausage (chicken sausage is fine here), a hearty texture from tender bits of cheese-filled tortellini, and a dose of vitamins and nutrients from the kale and veggies (you can use spinach instead if that's more your speed.)
Recently, my Lemon Chicken Orzo Soup and Tuscan Farro Soup have been on repeat on weeknights, and homemade Potato Gnocchi is making for a special weekend treat. However, this creamy sausage tortellini soup is quickly becoming a new favorite and I'm sure you're going to love it too.
Table of Contents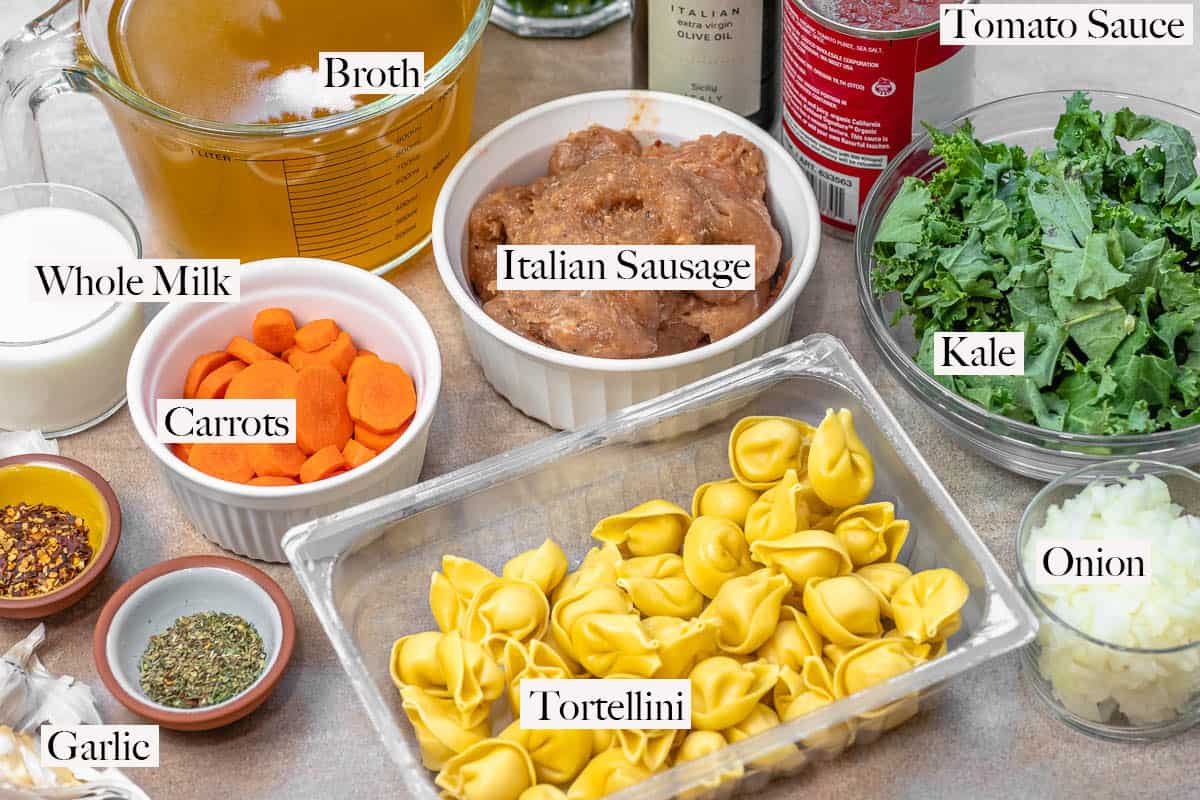 What Is In Sausage Tortellini Soup?
Gather up your favorite pantry staples like garlic, vegetable broth, and tomato sauce along with veggies, and pasta, and this tortellini soup will come together with ease.
Extra virgin olive oil: I love a good medium-intensity EVOO here like our Nocellara Italian extra virgin olive oil. It's mild and peppery in flavor making it the perfect complement to the simple yet stunning flavors of the soup.
Veggies: Plenty of veggies including onion, carrots, and kale are included to add bulk to the soup along with vitamins, nutrients, and fiber to keep you full.
Garlic: 3 minced garlic cloves add the perfect peppery kick.
Italian chicken sausage: Use mild or hot chicken sausage for a boost of protein and just a hint of heat. Just be sure to remove their casings for quick cooking and easy eating. If you can't find chicken sausage then pork sausage will work too.
Tomato sauce: This helps thicken the broth and adds extra savory flavor.
Broth: Use a low-sodium chicken or vegetable broth.
Seasonings: My homemade Italian seasoning is used to elevate the flavors of the soup, and red pepper flakes are added for an optional bit of spice.
Cheese tortellini: Fresh cheese tortellini can be found in the refrigerated section of your local grocery store. If you can't find refrigerated tortellini, then frozen will work too. You may need to cook the soup a little longer.
All-purpose flour: I use a pinch of flour to help thicken the soup.
Whole milk: Full-fat milk works best to create a truly indulgent broth and is used in tandem with the flour to create a sort of roux.
Grated Parmesan cheese: This is the finishing touch that ties together all of the flavors and pairs wonderfully with the cheese-filled tortellini.
How to Make Creamy Sausage Tortellini Soup
This creamy sausage tortellini soup has an incredible appearance that gives the allusion that it requires hours in the kitchen and multiple steps to make. However, combined in a single pot, it's actually quite easy to prepare and is just the kind of recipe I need on a busy weekday!
Sauté the vegetables. Warm 2 tablespoons of olive oil in a large heavy pot or dutch oven over medium-high heat. Then, add in the onions, carrots, and garlic, and cook until the veggies are soft and the garlic is fragrant. This will take about 3-5 minutes.
Cook the sausage. Add the sausage to the pot, cooking for about 5 minutes or until it is browned and heated through. Once the meat is fully cooked, drain any excess fat.
Add the broth, seasonings, tortellini, and more. In the same pot, stir in the tomato sauce, broth, and Italian seasoning. Bring the ingredients to a boil, and add the pasta. Cook according to the package instructions, and stir in the kale leaves before turning off the heat.
Thicken the soup. Whisk the flour and milk together in a separate bowl. Then, slowly stir the mixture into the soup.
Garnish and serve. Portion your sausage tortellini soup into serving bowls, and garnish with Parmesan cheese and red pepper flakes to fit your taste preferences. Serve warm, and enjoy!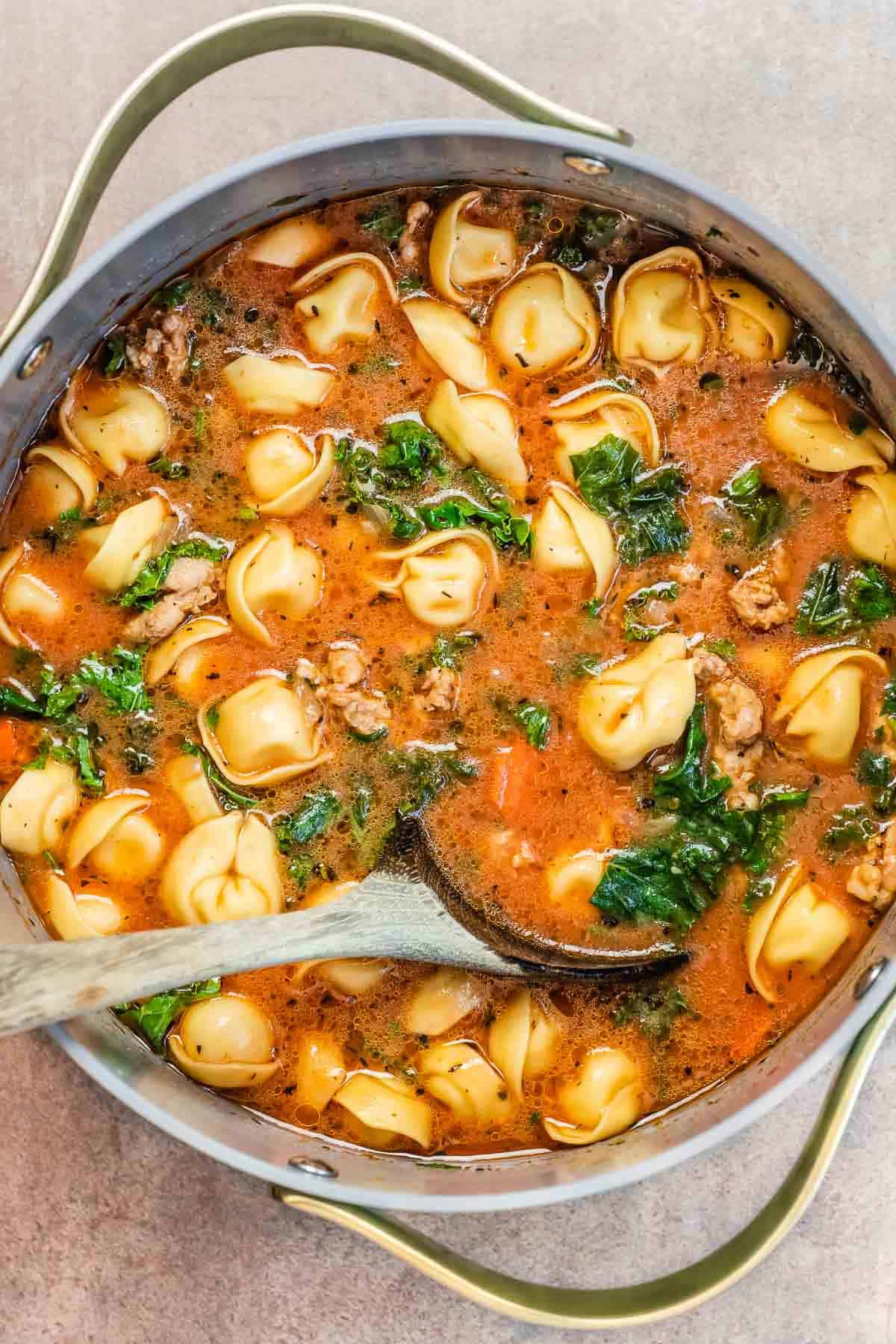 Chicken vs. Pork Italian Sausage
When looking at other tortellini soup recipes, you'll often find that they include pork sausage. Don't get me wrong, it tastes delicious! However, I wanted to make this recipe a little healthier.

I swapped the Italian pork sausage with Italian chicken sausage because you still get the same slightly spicy flavor but with way less saturated fat and fewer calories.

According to the USDA chicken sausage has less than half the calories and only 5 grams of fat compared to pork sausage, which has 25 grams of fat and 296 calories per 100 gram (3.5 ounce) serving.
Swaps and Substitutions
Don't worry if you don't have all the ingredients needed to make this soup! There are so many easy ways you can mix it up and use what you have on hand. Some of my favorite variations include:
Replacing the kale: If you don't have kale or simply don't like the taste, replace it with spinach instead. Kale is generally a bit sturdier than spinach and takes longer to wilt down. However, spinach tastes great and has ample health benefits making it a great option as well.
Add mushrooms: For extra nutrients and plant-based protein, slice up mushrooms into bite-sized pieces and sauteé them along with the other vegetables.
Vegetarian option: To keep this recipe vegetarian, replace the sausage with a vegetarian meat alternative. Or, leave it out completely!
Gluten-free: If you can't consume gluten, look for gluten-free tortellini, and leave out the flour. Or, swap it out with a 1:1 gluten-free alternative instead.
What to Serve with Sausage Tortellini Soup
Made with fresh vegetables, protein, and carbs, this tortellini soup is plenty filling on its own. However, if you're feeding a crowd or just want to go all out for a complete dinner spread, you can never go wrong with a side dish or two.

I love a good bread like Homemade Ciabatta Garlic Bread or Rosemary Focaccia With Roasted Garlic for dipping. However, I can never say no to a good side salad either. While your bread is baking and your soup is simmering, you can easily toss a healthy salad together with whatever ingredients you have on hand.

My Lemon Parmesan Lettuce Salad is an easy option that comes together in just 5 minutes. Or my Roasted Brussels Sprouts Salad is a Mediterranean-diet inspired dish that's guaranteed to be a hit.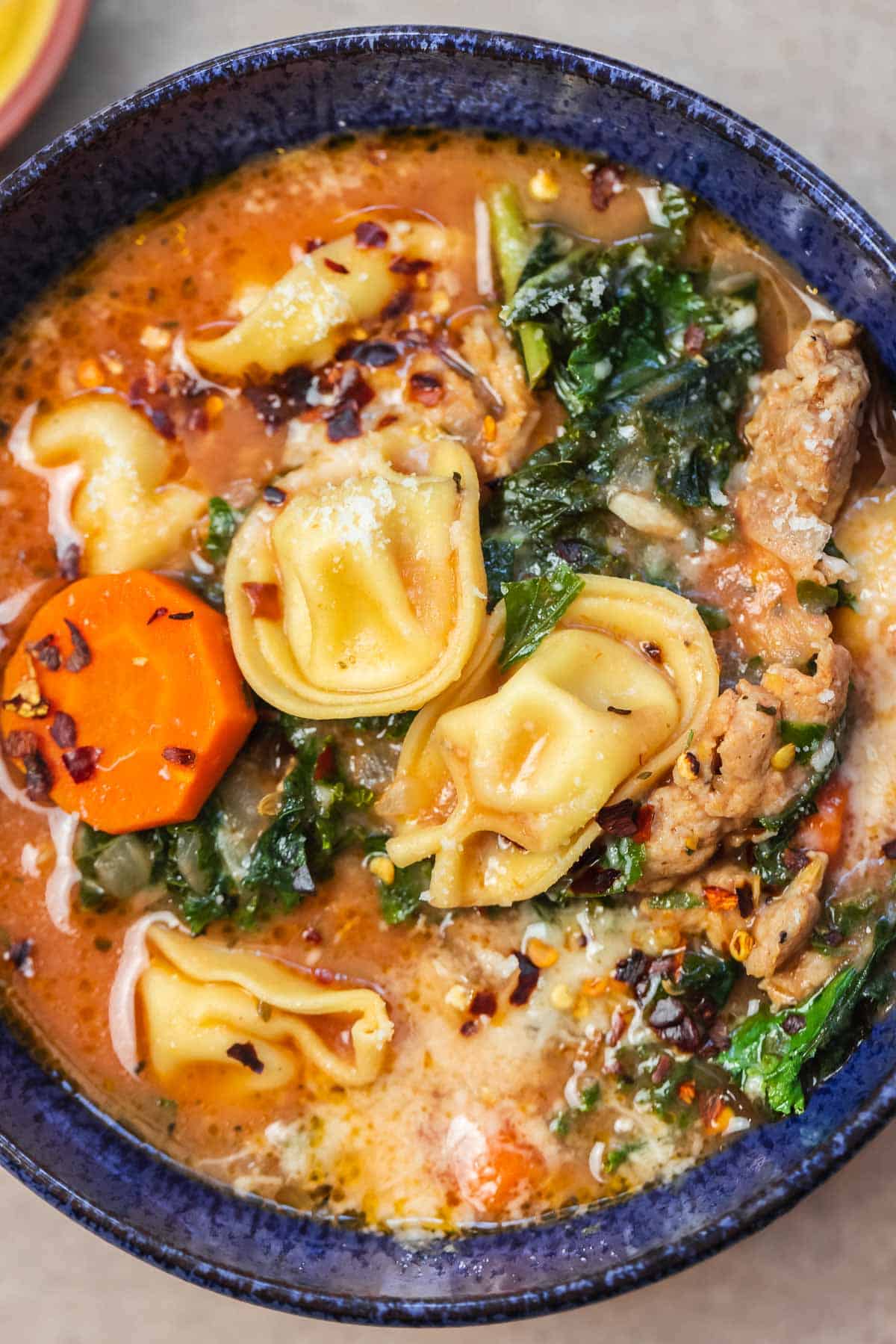 Make Ahead Tips
If you are not planning to serve this soup immediately but want to work ahead prepare the ingredients right up until adding the pasta. Then, when you're ready to serve, heat the soup back up, boil the pasta, and add the rest of the ingredients. Your soup will be ready in minutes!
How to Store and Reheat Leftovers
Tortellini soup is best served immediately while it is still warm. However, if you do have leftovers, they can be stored in an airtight container in the fridge for up to 3-4 days. Just keep in mind that the tortellini may become a bit soggy as it will continue to absorb the liquid.
To freeze sausage tortellini soup,, prepare the ingredients up until adding the tortellini. Once cooled, transfer the soup to a freezer-safe container, and keep it frozen for up to 3 months.
To reheat the soup: Let it thaw in the fridge overnight, warm it back up on the stove, and follow the instructions as listed starting with boiling the pasta.
More Comforting Soups
Browse all Mediterranean recipes.

Visit Our Shop.
Try our Italian Nocellara EVOO in this recipe!
This extra virgin olive oil is produced from hand-picked and cold extracted Nocellara olives, which produce an exquisite medium intensity oil. The results are aromas of freshly-picked tomatoes and vegetables, with a mildly bitter and spicy finish. It's the perfect olive oil for this Italian soup recipe.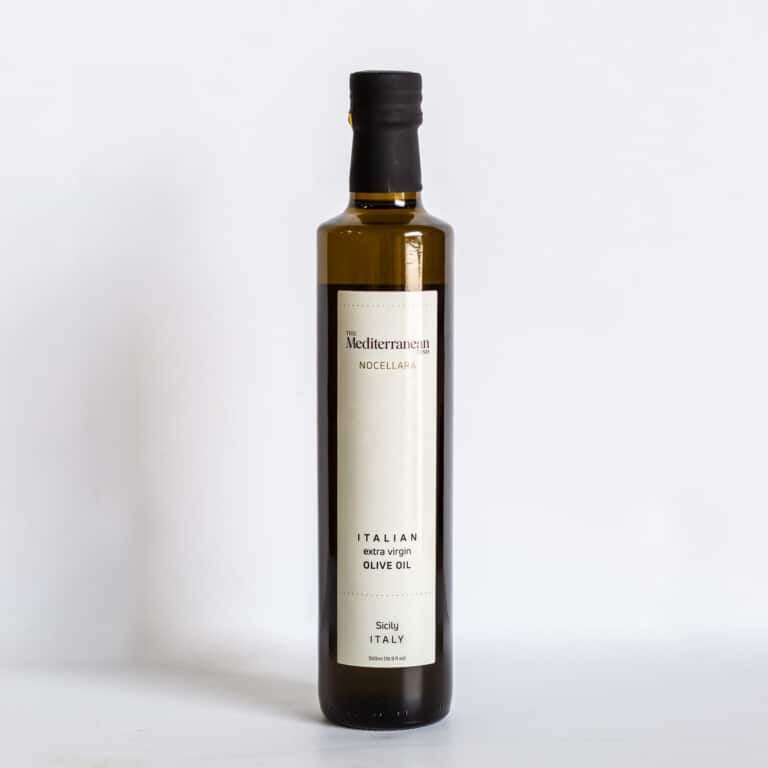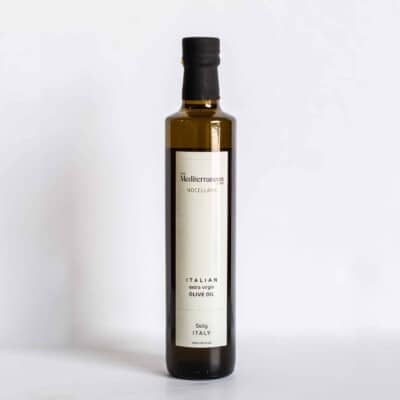 Easy Sausage Tortellini Soup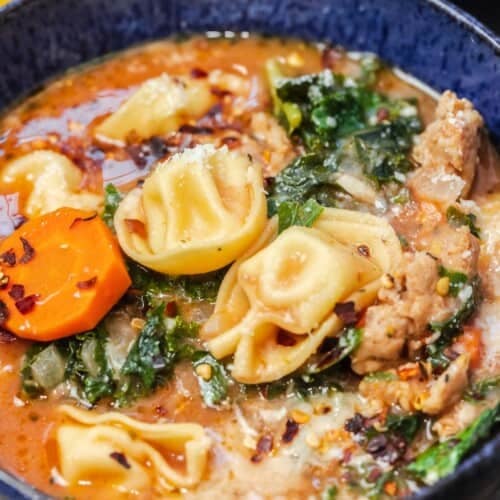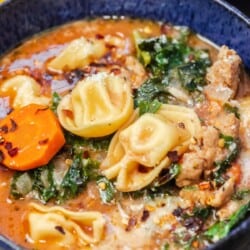 A comforting soup, loaded with fresh veggies, hearty Italian chicken sausage and tortellini in a rich tomato broth. Ready in 20 minutes or so , this is the perfect meal for those busy nights!
Ingredients
2

tablespoons

extra virgin olive oil

1

yellow onion,

chopped

2

large carrots,

peeled and sliced into thin rounds

3

garlic cloves,

chopped

1

pound

Italian chicken sausage,

mild or hot, casings removed

1

15-ounce can tomato sauce

4

cups

low-sodium vegetable or chicken broth

2

teaspoons

Italian seasoning

9

ounces

cheese tortellini

3

cups

packed fresh baby kale leaves or chopped kale,

thick stems removed

1

tablespoon

all-purpose flour

½

cup

whole milk at room temperature

Grated Parmesan cheese,

to taste (optional)

Red pepper flakes,

to taste (optional)
Instructions
Heat the oil and saute the vegetables: In a large heavy pot or Dutch oven, heat 2 tablespoons extra virgin olive oil over medium-high heat until shimmering. Add the chopped onion, carrots, and garlic and cook, stirring frequently, for about 3 to 5 minutes or until the carrots have softened and the onions and garlic are fragrant.

Cook the sausage: Add in the Italian sausage and cook, stirring often for about 5 minutes or until the sausage is cooked. Carefully drain excess fat, particularly if you used pork sausage.

Add the liquids and seasonings: Add the tomato sauce, chicken broth, and Italian seasoning. Stir to combine. Raise the heat and allow the liquid to come to a boil.

Add the pasta and finish the soup: Add the tortellini pasta and cook according to package instructions (about 3 to5 minutes), then stir in the kale leaves. Turn the heat off. Add the flour to the milk and whisk well then slowly stir the mixture into the soup.

Serve: Ladle the soup into serving bowls and finish with grated Parmesan cheese and red pepper flakes to your liking. Serve immediately.
Nutrition
Calories:
399.9
kcal
Carbohydrates:
35.8
g
Protein:
21.8
g
Fat:
20.4
g
Saturated Fat:
4.6
g
Polyunsaturated Fat:
0.9
g
Monounsaturated Fat:
3.6
g
Cholesterol:
72
mg
Sodium:
1334.7
mg
Potassium:
465.2
mg
Fiber:
6
g
Sugar:
8.3
g
Vitamin A:
7362.1
IU
Vitamin C:
40.3
mg
Calcium:
204.7
mg
Iron:
3.4
mg