Pastitsio is a comforting Greek lasagna with layers of pasta, a tantalizing cinnamon-spiked meat sauce, and creamy bechamel. I'm sharing my mom's recipe, and it is a must-try! It is easier to make than you think, and you can prepare it in advance.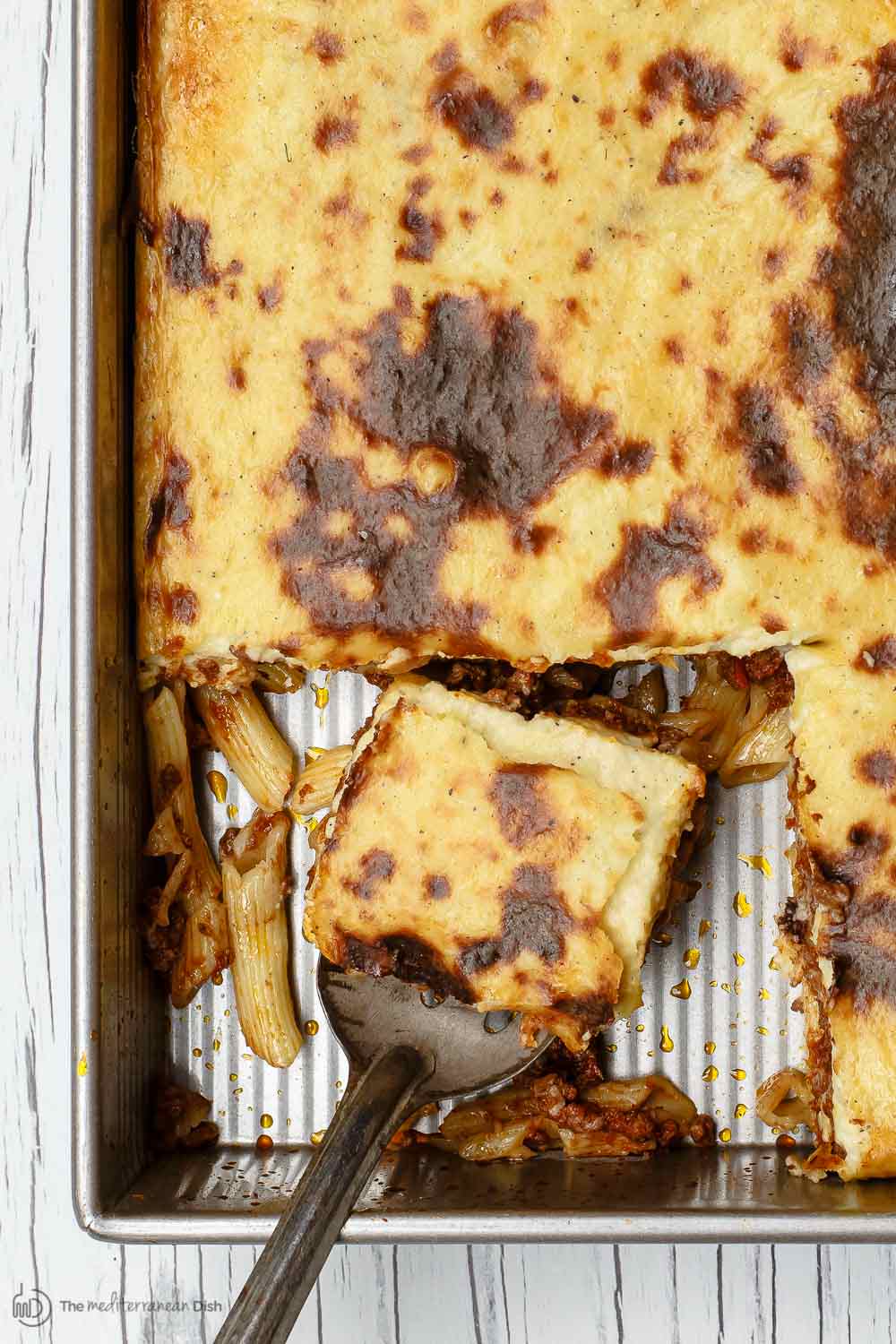 If I were to ask you about a dish that might have defined the holidays for you as a child, what would it be? For me, it's Greek pastitsio, but in our Egyptian household, this casserole was known by a more literal name: macaroni béchamel. And it is all the comfort!
What is Greek pastitsio?
Pastitsio (pastichio/pasticcio/pastizio) is a Greek pasta bake or Greek lasagna made of layers of pasta, a delicious meat sauce, and a topping of creamy béchamel that gives it an extra luxurious silkiness and hearty finish. It's one of those legendary dishes similar to moussaka, but of course there is no eggplant here.
Incidentally, the word pastitsio translates to "hodgepodge." Aren't the best of homemade casseroles basically a glorious hodgepodge?!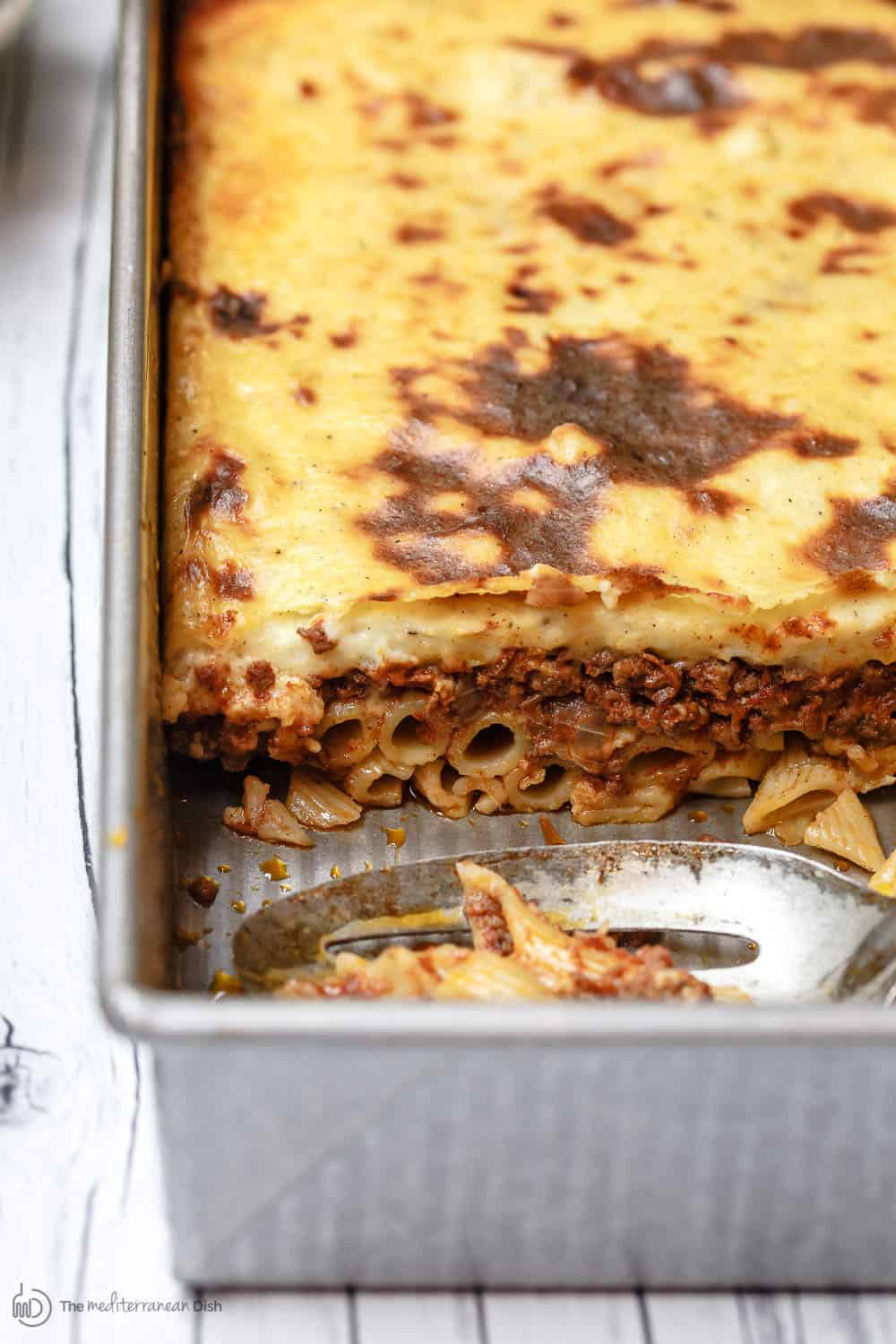 What is in pastitsio?
There are three different components or layers that make up this Greek lasagna recipe:
Pasta. What kind of pasta to use? Traditionally, the pasta used in this dish is a thick bucatini-style pasta that's referred to as "Pastitsio pasta No.2". You can use penne or ziti pasta instead.

Pastitsio meat sauce. The hearty meat sauce for this pastitsio recipe is made of lean ground beef that's cooked in a tomato and red wine sauce with onions, garlic, bay leaves and warm spices like cinnamon, allspice, and a dash of nutmeg (the Greek's use mainly cinnamon)

Béchamel. Basic béchamel sauce is typically made of all-purpose flour cooked in fat and thickened with milk to create a creamy white sauce that serves as the topping for this Greek lasagna. (I used extra virgin olive oil instead of butter)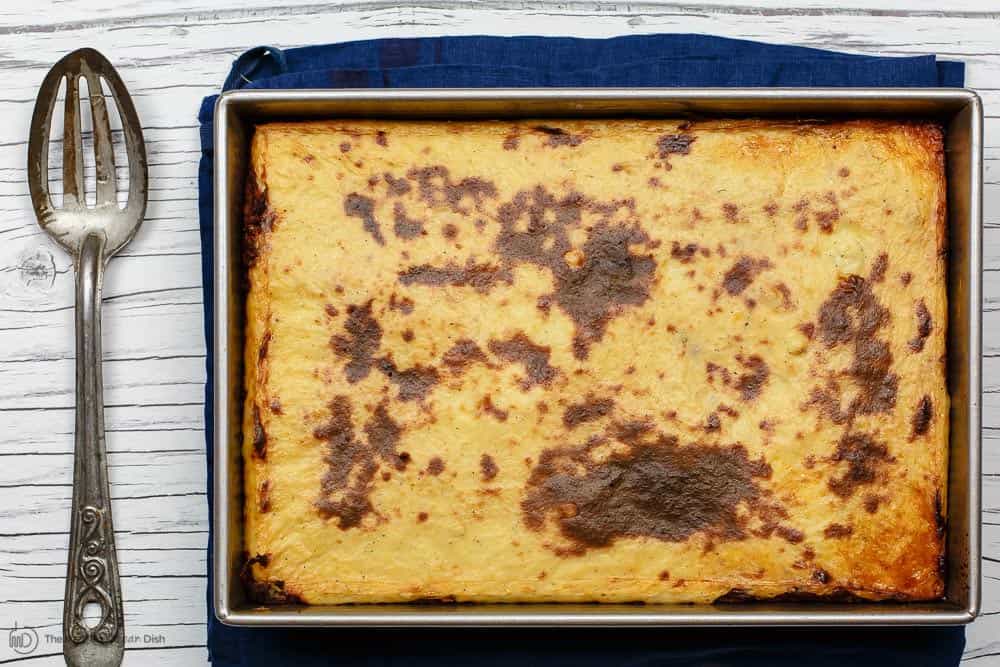 How to make pastitsio (Greek Lasagna):
Making this Greek pasta casserole is similar to assembling a lasagna dish.
First, prepare each component of the Greek lasagna--cook the pasta, make the meat sauce, and make the bechamel.
Use a large casserole dish or a 9 ½ x13 baking dish. Give the dish a quick brush with some good extra virgin olive oil, then assemble the Greek lasagna layer by layer. Spread about one half of the cooked pasta first. Next, add the meat sauce and spread it well. Add the rest of the pasta on top of the meat sauce, then finally spread the bechamel sauce on top.
Bake your Greek pastitsio at 350 degrees F heated-oven for one hour or until the bechamel topping bubbles nicely and turns golden brown. Remove from heat and set aside for 10 minutes before serving.
Important tip: after baking, allow the pasta casserole to sit for at least 10 minutes before cutting it into pieces, the bechamel sauce needs the time to settle a bit.
Can you make it in advance?
If you need to prepare Pastitsio in advance, you can prepare the different components--pasta, meat sauce, and bechamel--the night before. Store separately in the fridge and assemble before baking. Or, you can certainly assemble the pastitsio in your casserole dish, but do not bake. Cover tightly and refrigerate. Bake the next day when you are ready.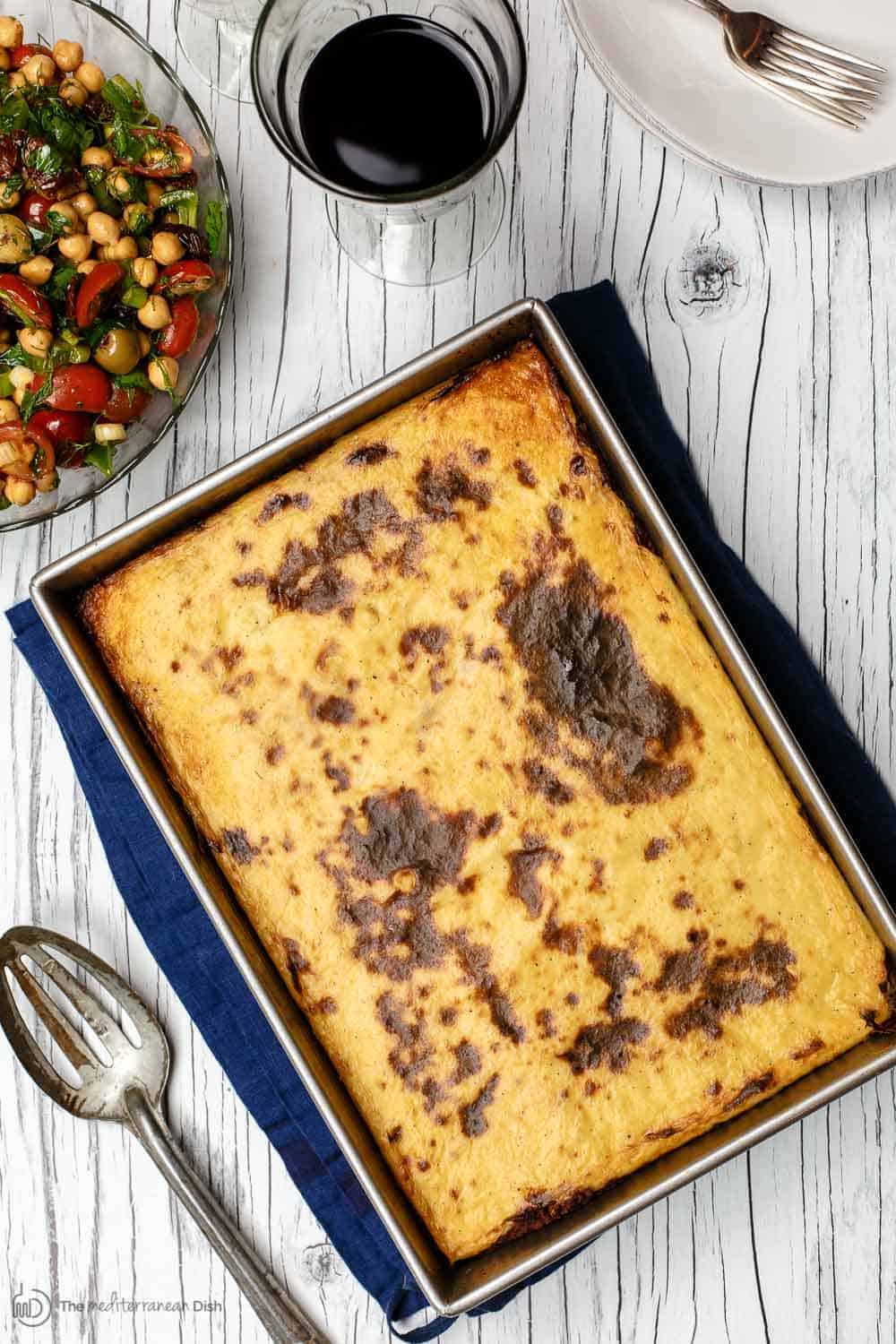 Can you freeze it?
If you end up with leftovers, you can certainly freeze cooked pastitsio in portions and thaw in the fridge overnight. When ready, heat in a medium-heated oven until warmed through.
What to serve along?
You might find this Greek lasagna situation served next to the Easter leg of lamb, but it can be the main dish. You can add a couple of vegetarian small dishes to serve next to it. Here are a few ideas:
Watch the video for this pastitsio recipe
Print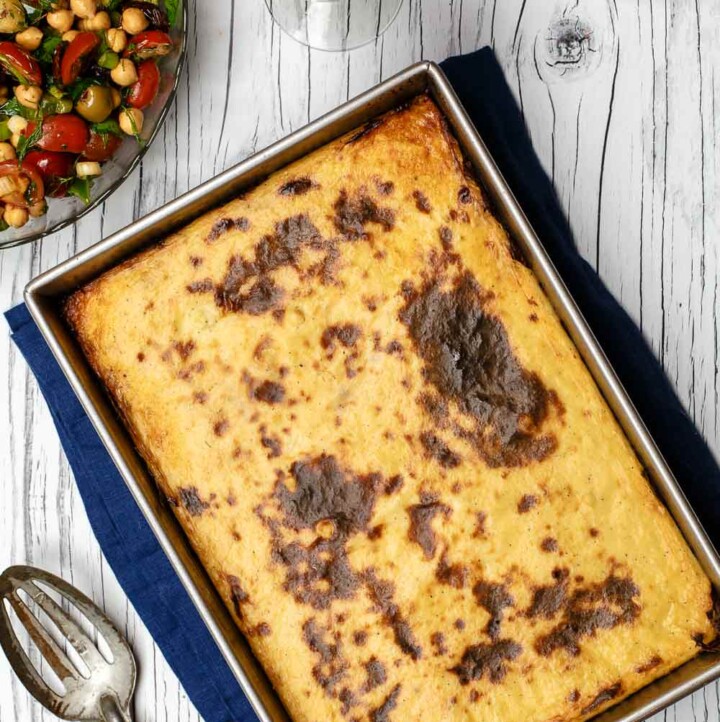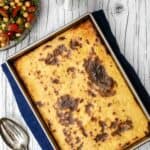 Greek Pastitsio Recipe
---
Description
BEST Greek pastitsio recipe. Delectable and flavor-packed baked pasta with Greek-spiced meat sauce and a "lightened up" golden bechamel topping. A must-try!
---
3 ½ cups

uncooked Penne pasta
Salt
Private Reserve Greek extra virgin olive oil

3 tbsp

grated Parmesan
For Meat Sauce
3 tbsp

Private Reserve Greek extra virgin olive oil

1

large yellow onion, chopped

1 ½

lb lean ground beef

3

garlic cloves, peeled and chopped
Salt

½ cup

red wine such as merlot

28 oz

canned crushed tomatoes

2

dried bay leaves

¾ tsp

ground allspice

½ tsp

ground cinnamon

¼ tsp

ground nutmeg
pinch sugar
For Bechamel
⅓ cup

+

2 tbsp

Private Reserve Greek extra virgin olive oil

⅔ cup

all-purpose flour

½ tsp

salt, more if you like

¼ tsp

ground nutmeg

4 cups

2% milk, warmed

2

large eggs
---
Instructions
Preheat oven to 350 degrees F.
Cook the pasta to al dante according to package instructions. Be sure to add salt and olive oil to the boiling water. Drain and transfer pasta to 9 ½" x 13" baking pan like this one. While still hot, drizzle pasta with a little more extra virgin olive oil and sprinkle grated Parmesan. Toss to combine. Set aside for now.
Make the meat sauce. In a large pan or skillet like this one, heat olive oil over medium-high heat until shimmering but not smoking. Saute onions until just golden, then add lean beef and garlic. Season with salt. Cook until meat is fully browned, tossing regularly and breaking up the meat with your wooden spoon (about 8 to 10 minutes). Carefully drain any excess liquid and return pan to heat. Add wine, crushed tomato, bay leaves, spices and pinch of sugar. Mix to combine. Bring to a boil for 5 minutes, then lower heat and let simmer for 10 to 15 minutes or so. Taste and adjust salt to your liking.
While the meat sauce is cooking, prepare the bechamel. In a large saucepan, heat olive oil over medium-high heat until shimmering but not smoking. Stir in flour, salt and pepper. Cook until golden (if needed, added a little more olive oil). Gradually add the warmed milk, whisking continuously. Continue cooking, stirring occasionally, over medium heat for 5 to 7 minutes, until smooth and thick. Add nutmeg.
In a small bowl, whisk a small amount of the hot bechamel mixture with the 2 eggs in a small bowl. Then return all to the pan with the remaining bechamel mixture. Continue to stir or whisk the mixture bringing to a gentle boil for just 2 more minutes. Taste and adjust salt and pepper. Remove from heat and allow to cool and thicken a little more (you should have a creamy, thick and smooth bechamel sauce).
Assemble the pastitsio. Top the cooked pasta with the meat sauce; smooth with a wooden spoon to fully cover the pasta. Now top the meat sauce with the bechamel topping. Again, smooth with your wooden spoon to cover the meat sauce evenly.
Bake the pastitsio in 350 degrees F heated-oven for 1 hour until golden brown. Remove from heat and set aside for 10 minutes before serving. Cut into square pieces and serve.
Notes
Pro Tips: 1. You can prepare Pastitsio the night before up to step #6. Cover tightly and refrigerate. Bake the next day when you are ready (budget 1 hour for baking per step #7.) 2.This recipe makes a large amount for big gatherings or if you like leftovers! But you can simply cut the recipe in half for a smaller crowd (you'll need to watch baking time). 3. You can freeze leftovers in portions. Thaw in fridge overnight. When ready, heat in a medium-heated oven until warmed through.
Featured Ingredients: Private Reserve Greek extra virgin olive oil (from organically grown and processed koroneiki olives); ground allspice; ground nutmeg.
SAVE! Shop our Greek Olive Oil Bundle and our all-natural and organic spice collections: The Mediterranean Ultimate Spice Bundle; Mediterranean Essentials Bundle; or create your own 6-pack of spices!
Prep Time:

15 mins

Cook Time:

1 hour and 15 minutes

Category:

Entree or Side Dish

Method:

Baked

Cuisine:

Greek
Keywords: Pastitsio, Pastitsio Recipe, Greek Baked Pasta, Pasta Casserole
*This post originally appeared on The Mediterranean Dish in 2017 and has recently been updated with new information for readers' benefit.