Roasted garlic is an easy and inexpensive way to add depth and flavor to any meal. In this guide, learn how to roast garlic (two ways), store it safely, and use it in all of your favorite Mediterranean recipes.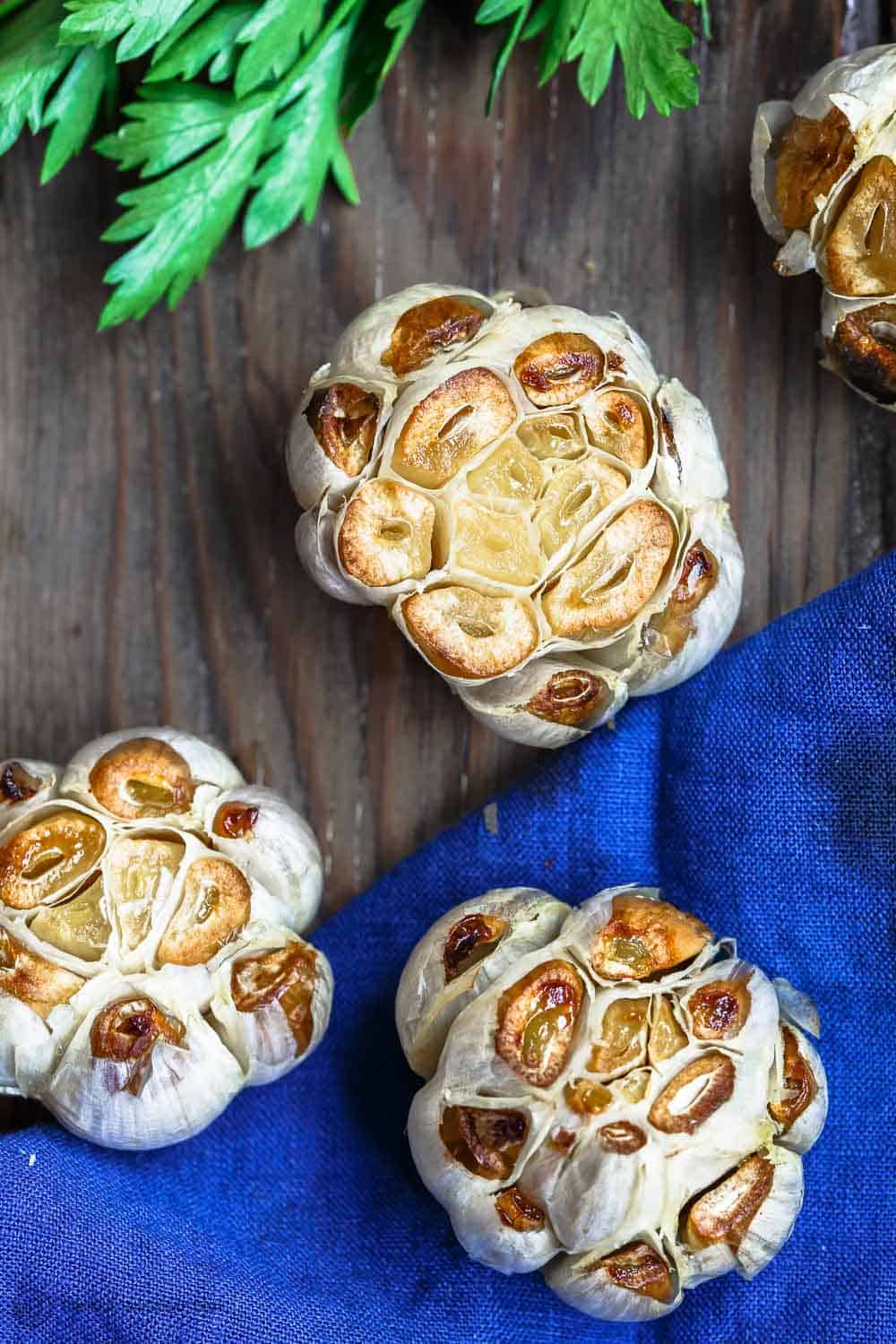 If you've been cooking the Mediterranean way for any amount of time, I'll bet your shopping list almost always includes these three ingredients: olive oil, lemon, and garlic. At least mine always does.
There is just no denying that garlic is a Mediterranean diet secret weapon. When roasted, garlic imparts a soft, smoky, slightly sweet caramelized flavor perfect for spreading over crusty toasted bread, adding to Roasted Garlic Hummus or this Grilled Shrimp with Roasted Garlic Cilantro Sauce.
Roasting garlic is an inexpensive and easy way to add tons of depth and flavor many of your favorite dishes. Once you learn how to roast garlic in foil, a muffin tin (for when you have a lot of garlic), and a quick method for the stove top you'll have every reason to make it again and again!
Table of Contents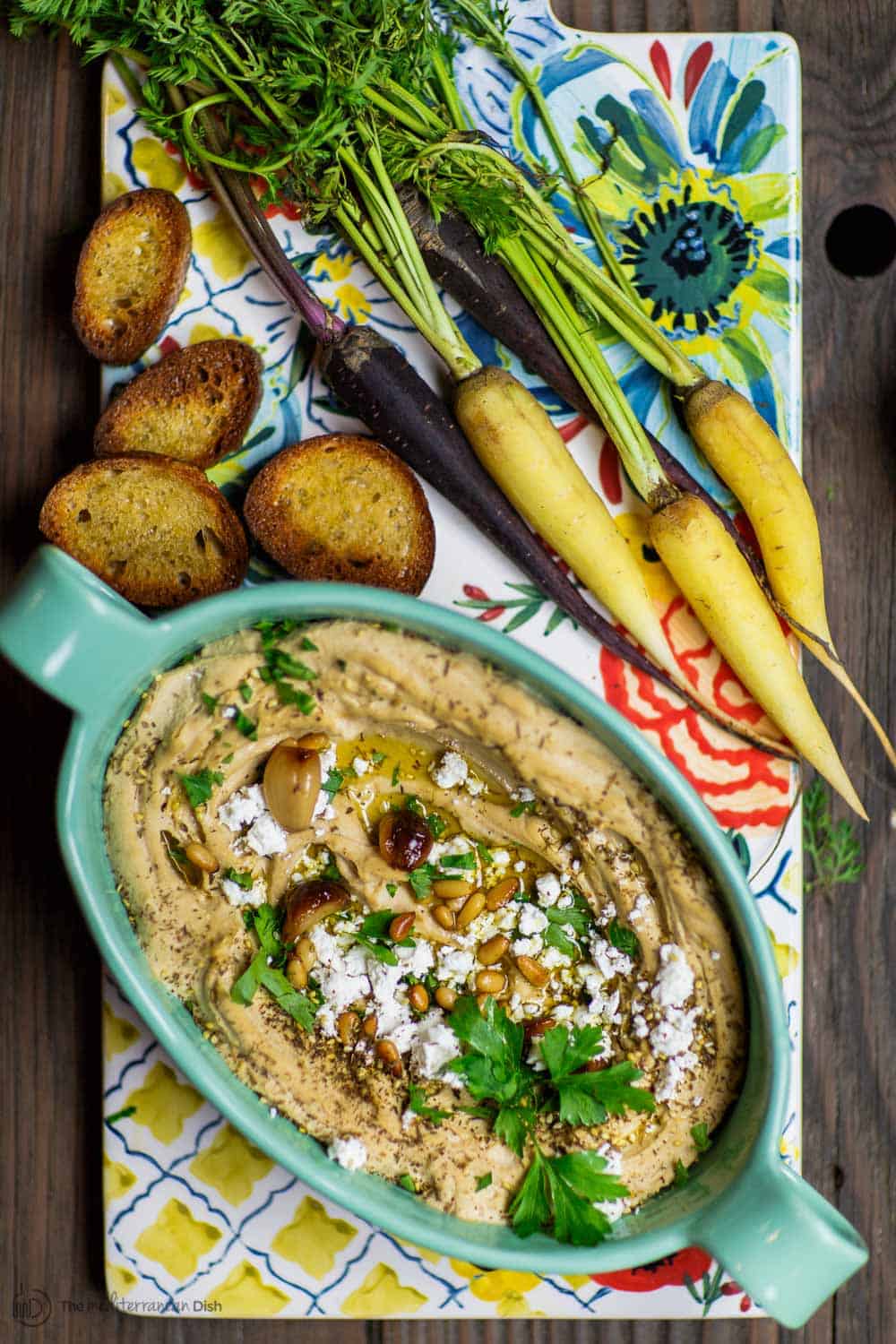 How to roast a lot of garlic (muffin tin method)
This is my favorite method to roast lots of garlic at once. It's easy; it allows you to roast like a dozen garlic heads at once. If you garden and you have a lot of garlic to use up or you're hosting loads of people and need to make a lot of garlic bread. This is the method for you!
Preheat the oven to 400°F.
Remove the loose papery outer skin of the garlic, but leave the tighter paper skin on.
Slice the top ¼ to ½-inch off of each head of garlic to expose the inner cloves.
Put 1 head of garlic in each muffin tin compartment.
Drizzle each head of garlic with olive oil.
Take a second muffin tin and use it like a lid. The top of each muffin tin will touch.
Place in the oven and roast until soft and golden brown.
Olive Oil is Liquid Gold Around Here
Read our Olive Oil Guide to learn more about its varied flavor profiles, how to cook with it, and why it's a gold star ingredient in the kitchen.
How to roast garlic in the oven (foil method)
Now, to roast just one or two heads of garlic, you can utilize the good ol' foil method. This approach works great when you have a small amount of garlic to roast and you want easy clean up.
Preheat the oven to 400°F. Remove most of loose outer papery garlic skin.
Trim top of the garlic head off (about ¼ to a ½ inch from the top of cloves, to expose each individual clove).
Place garlic head in a large enough piece of foil to completely encase it.
Drizzle the cut cloves with olive oil and rub with your hands to cover the garlic to make sure the oil seeps into the cracks and crevices.
Close the foil, and place on a baking sheet or ramekin to catch any possible oil leaks.
Roast garlic in hot oven for 35-40 minutes or so. Let cool before handling.
How to pan roast garlic
In a pinch, if you need to roast just a few loose garlic cloves you can do this on the stove top. You just need a heavy skillet. I like cast iron, but really any sturdy skillet will do.
Heat a pan over medium heat for a couple of minutes.
Pry the garlic cloves way from the head.
Add the individual garlic cloves (skin on) to the skillet and roast for 7 to 8 minutes, turning the cloves over every 2 minutes or so.
The garlic cloves should turn a nice golden brown, even charred on some parts. Remove from pan and let them cool before using. The skins should come right off.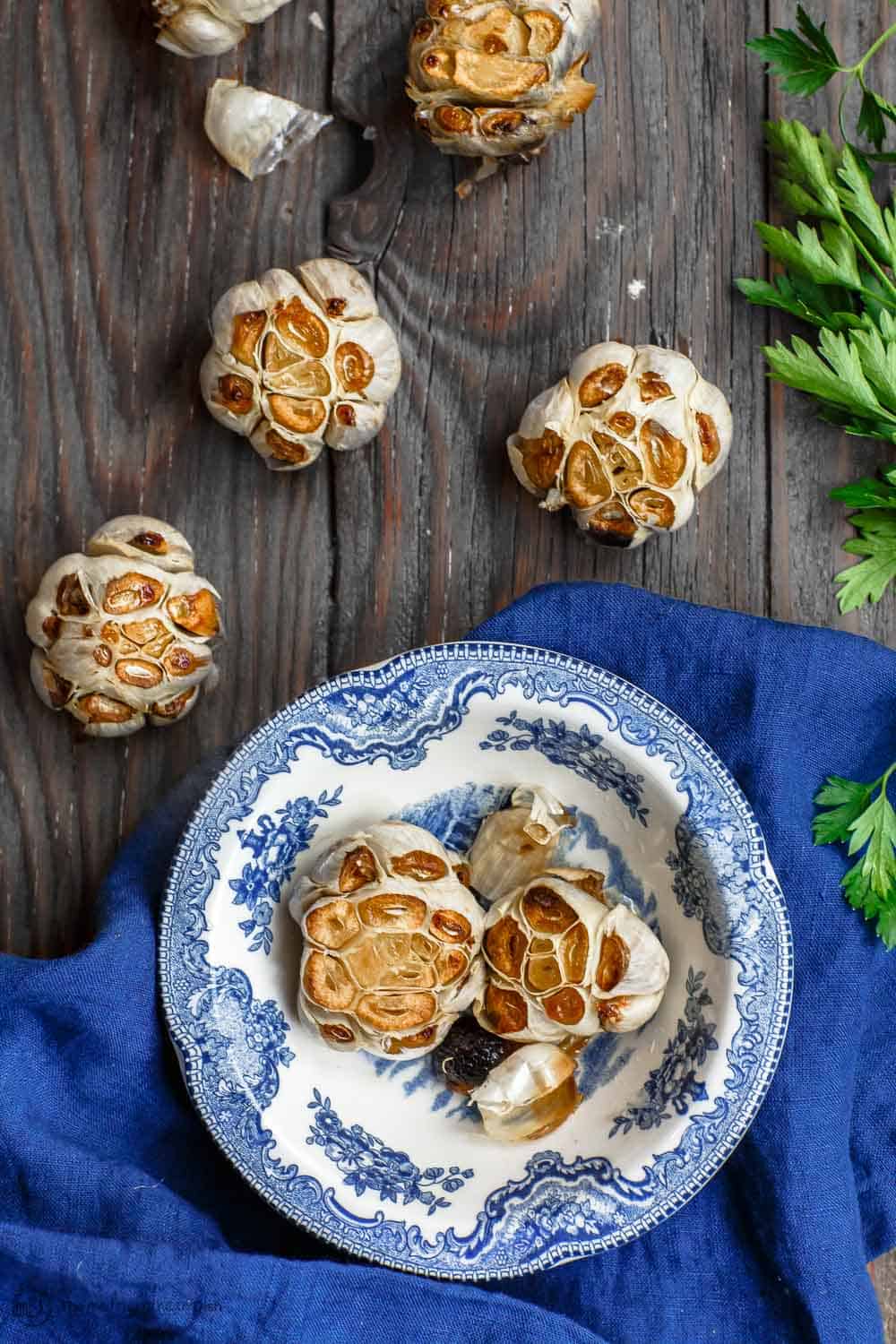 How to use roasted garlic
Roasted garlic is buttery soft, sweet, and utterly addictive. I literally squeeze it out of the skin and eat it as is, but there are loads of ways to use roasted garlic!
Simply spread roasted garlic cloves on some crusty bread, perhaps with a sprinkle of kosher salt.
Use it instead of minced garlic in salad dressings for a totally different flavor. I like it in my creamy green goddess dressing, or added to my lemon honey dressing.
Swap raw garlic for roasted garlic in my pesto recipe for a twist on a classic recipe.
Toss some warm pasta with olive oil, mashed roasted garlic, and some Parmesan cheese for an easy dinner.
Is garlic good for you?
For years, people of the Mediterranean, and other cultures around the world, used garlic for its health and medicinal benefits — from supporting heart health to creating comfort for the common cold. Garlic is also an essential flavor-maker in many Mediterranean recipes.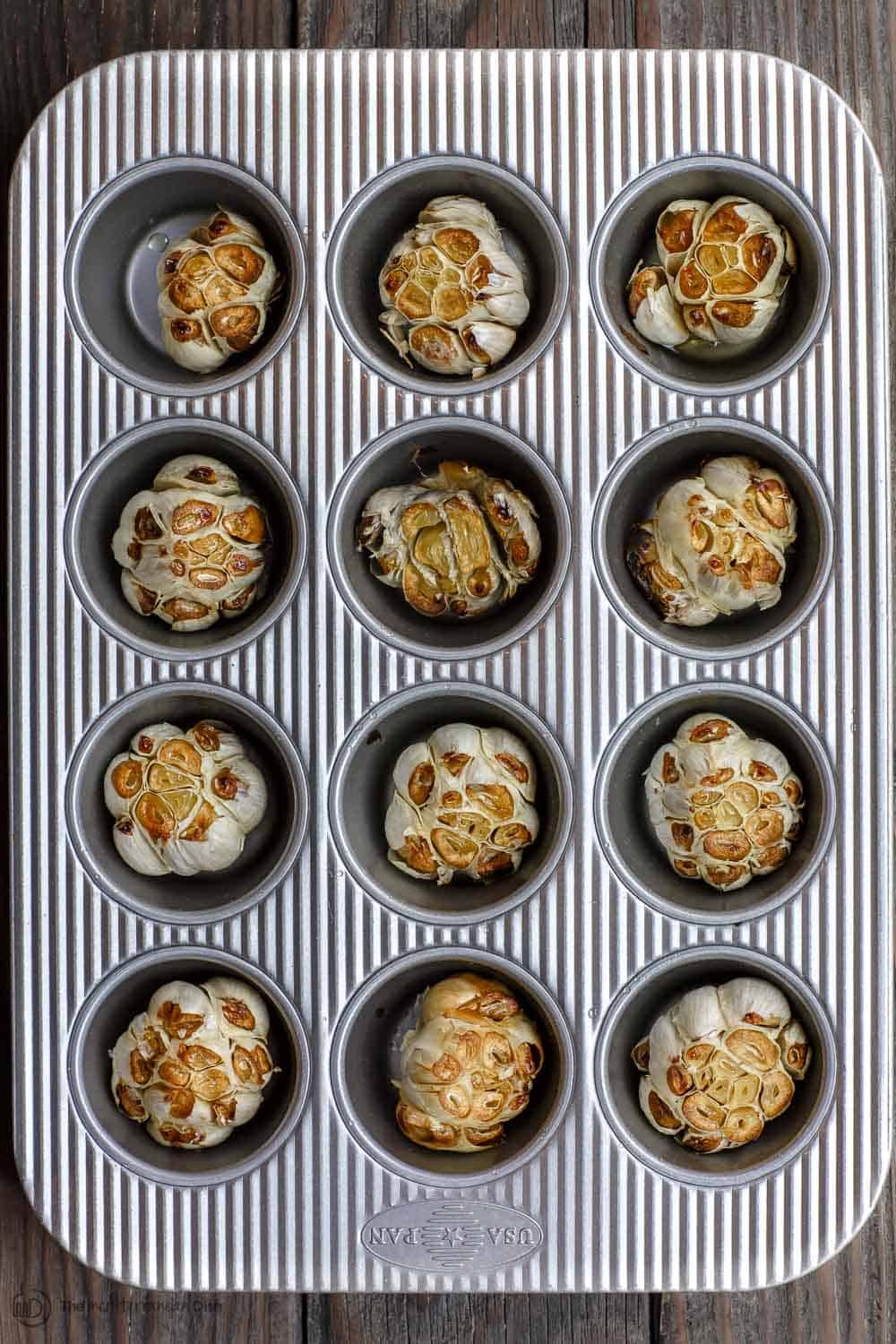 How to store roasted garlic
If you use roasted garlic as much as I do, you probably went for the muffin pan method. Storing roasted garlic is fairly easy. And there are a couple of ways to do it:
To Freeze Roasted Garlic: Once the roasted garlic has cooled, peel off the skins. Arrange the garlic cloves on a baking sheet lined with parchment paper and freeze. Once frozen, you can transfer the cloves to a freezer-safe container or bag and freeze. Roasted garlic will freeze well for 2 to 3 months. You can take out as many cloves as you need at a time. Leave at room temperature briefly to thaw before using.
To Store Roasted Garlic in the Refrigerator: Place cooled, peeled roasted garlic cloves in a clean canning jar. Pour extra virgin olive oil over the cloves. They should be completely covered and submerged. Cover tightly with a lid and store in your fridge. Roasted garlic will keep for up to 2 weeks (no longer) in the fridge if submerged in oil. Why add oil? Olive oil is a natural preservative. It prevents the garlic from spoiling by isolating it from air. Think of it as a way to seal the roasted garlic. This way, it delays oxidation, deterioration, or molding.
IMPORTANT: DO NOT store roasted garlic in olive oil at room temperature. This provides perfect conditions for producing botulism toxin.
More Garlic Recipes
Browse All Mediterranean Recipes.
How to Roast Garlic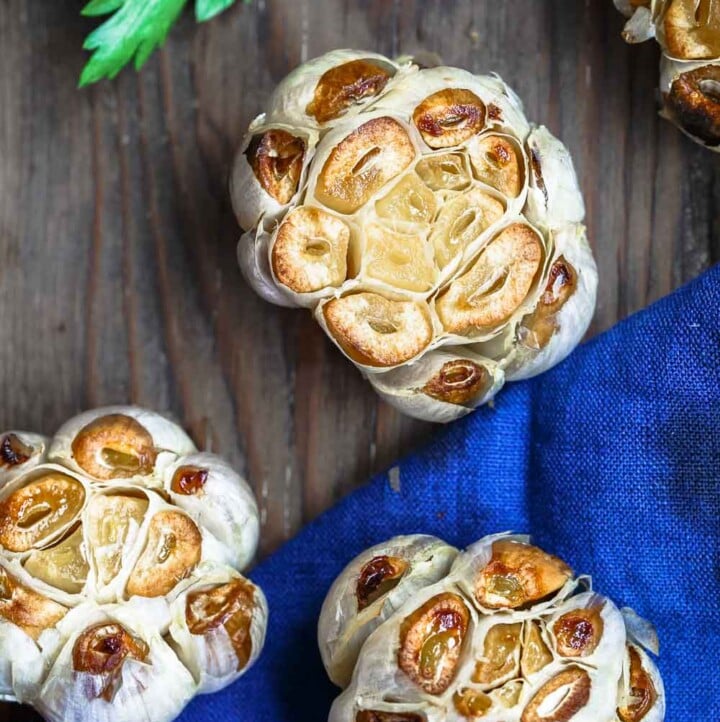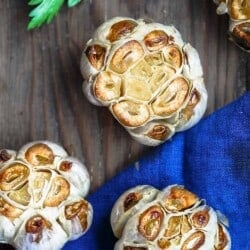 How to roast garlic! This roasted garlic recipe is the perfect way to roast lots of garlic and without using foil. You'll get perfectly soft, smoky, caramelized garlic cloves that you can use immediately or store to use later!
Ingredients
12

heads of garlic,

garlic bulbs

Private Reserve Greek extra virgin olive oil
Instructions
Preheat oven to 400°F.

Prepare the garlic heads for roasting. Peel the outer papery skins, but leave cloves intact. Slice the tops of the garlic heads off (about ¼ to ½ inch from top), leaving the cloves exposed. Make sure all of the cloves have some portion exposed so that they properly roast.

Place each garlic head (exposed garlic surface up) in muffin pan. Drizzle about 2 teaspoon over each head of garlic, and using your hand, massage oil all over the exposed garlic surface.

Cover muffin pan with another muffin pan that is identical in size. Roast in heated oven for 40-45 minutes. Remove from oven and let cool before handling.

When cool enough, push garlic cloves out of their casings and use or store for later. See notes for storage options.
Notes
How to store garlic. As mentioned above you can freeze roasted garlic (first freeze the cloves on sheet pan, then transfer to container and freeze.) You can thaw roasted garlic out for a few minutes at room temperature before using. Or, you can store roasted garlic in the fridge in a clean canning jar. Top the jar with olive oil so that the garlic is submerged. Cover tightly and refrigerate for up to 2 weeks. Do NOT leave garlic and olive oil jar out at room temperature, this provides perfect conditions for producing botulism toxin.
Recommended for this recipe: Private Reserve Greek extra virgin olive oil (from organically grown and processed Koroneiki olives) SAVE! Try our Greek Extra Virgin Olive Oil Bundle!
Visit our store to browse our spices, olive oils and bundles!
*This post was recently updated with new information for the benefit of our readers.