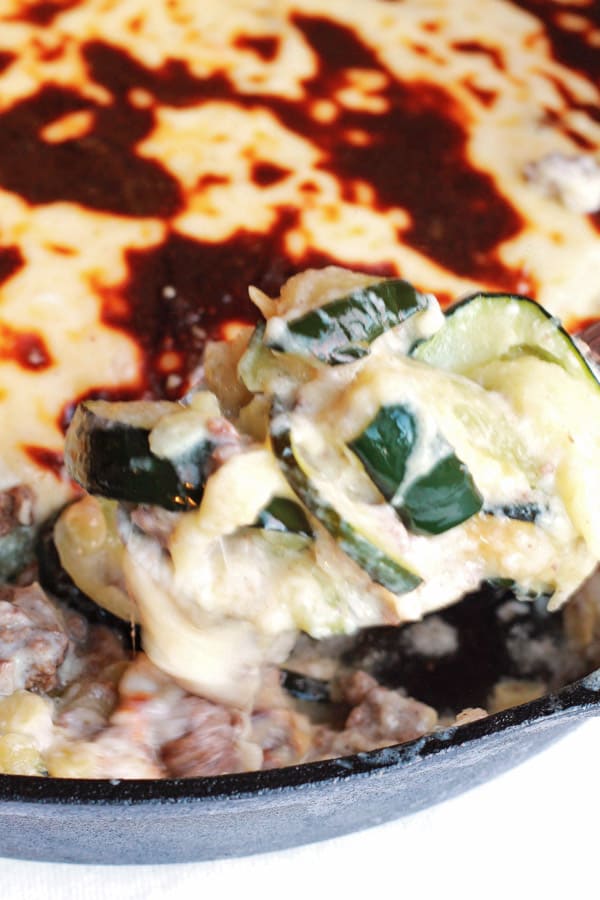 I have always been a fan of casseroles; one hearty dish and you're good to go! One of my faves is a zucchini bechamel that my mom used to make growing up. This is a classic Egyptian casserole recipe with basically four ingredients: zucchini, ground beef, mozzarella cheese (optional), and bechamel sauce (white sauce made of roux and milk). Simple and yummy!
Although this is an Egyptian dish, I think it's origins are actually French. Bechamel is one of the most basic French sauces; my hunch is that a version of this zucchini bechamel was first introduced to Egyptian cooks during the French occupation of Egypt from 1789 to 1801. So I guess today's post celebrates flavors from two Mediterranean countries; here is to France and Egypt!
Before we dig in, I want to thank my friend Wendy for gifting me some giant zucchini from her own home garden. My dish is that much sweeter!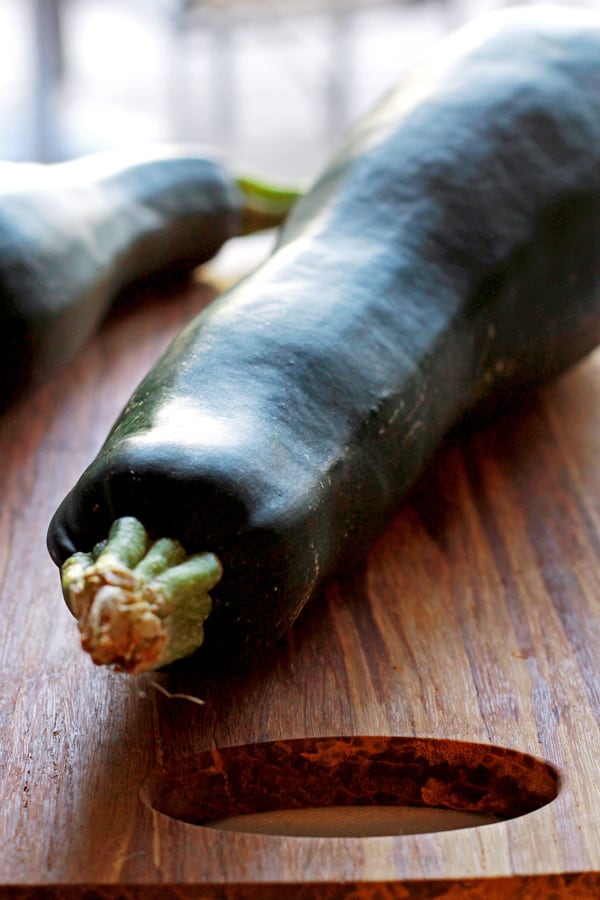 Here is how I made it:
Set the oven to 450F.
I sliced my zucchini in ½-inch rounds. Mine was a giant zucchini, you may use eight store-bought medium zucchini; you can choose to slice lengthwise or in rounds. I oiled some large baking sheets; placed my zucchini in one layer; seasoned with salt and topped with a generous drizzle of olive oil. Once oven was ready, I inserted my zucchini to roast for 15 to 18 minutes or until nicely tender and slightly golden. Do check on your zucchini regularly; and turn them over midway through. Once I removed zucchini from oven, I lowered temp to 350F.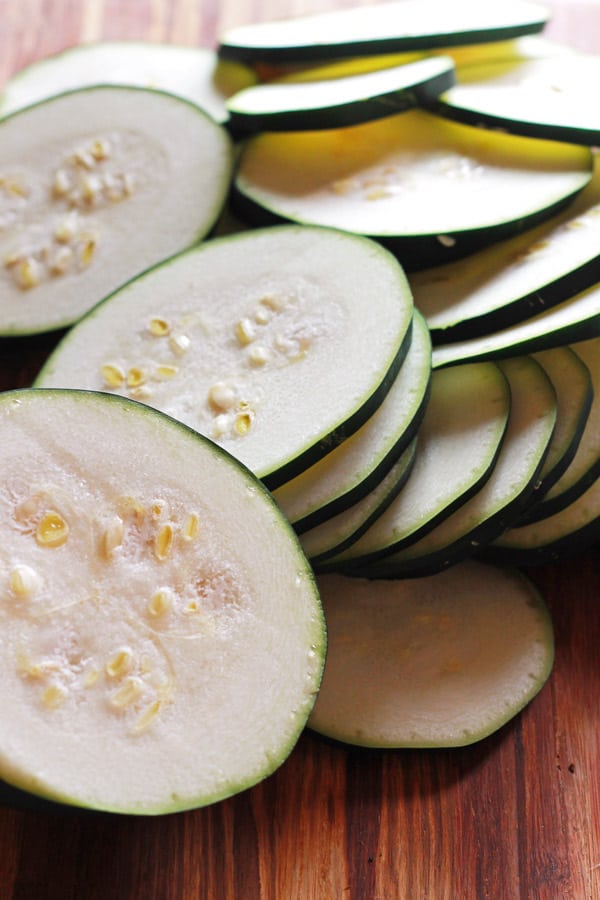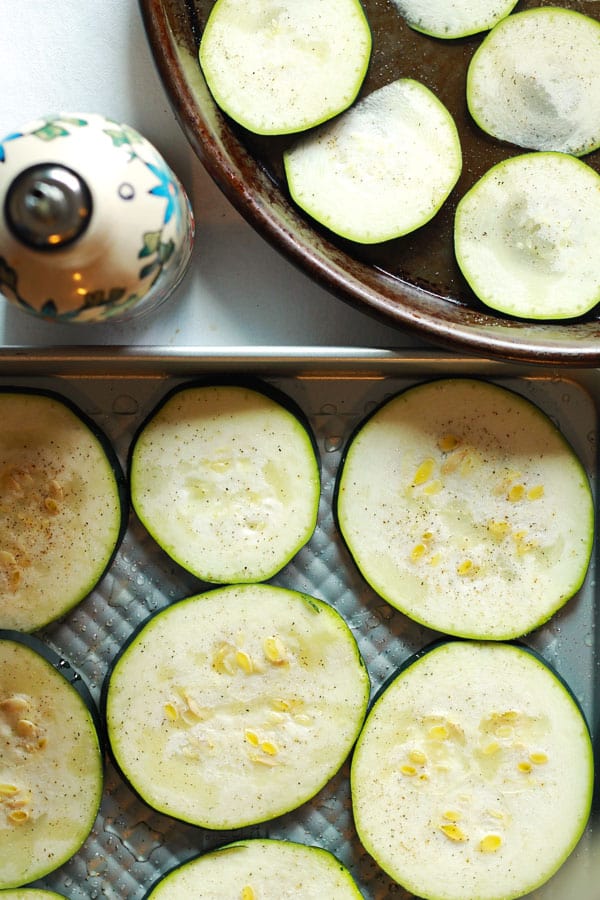 While zucchini was roasting, I proceeded to brown the ground beef in a little olive oil with one small minced onion, allspice, ground cardamom, salt and pepper. Be sure to cook the meat all the way through, it should be nicely browned.
I proceeded to make the bechamel sauce. First, I heated ½ cup olive oil and then added about six tablespoon of all-purpose flour. Stirred together on medium-low for about five minutes until flour was golden. Then increasing heat to medium, I added my first cup of room-temperature milk and began to whisk. Continued to add the remaining three cups of milk, one-at- a-time, and whisked until smooth. Added in salt and nutmeg, and continued to cook for another 7 minutes or so (still watching and whisking as needed). Removed from heat and let sit briefly to thicken into a nice creamy bechamel.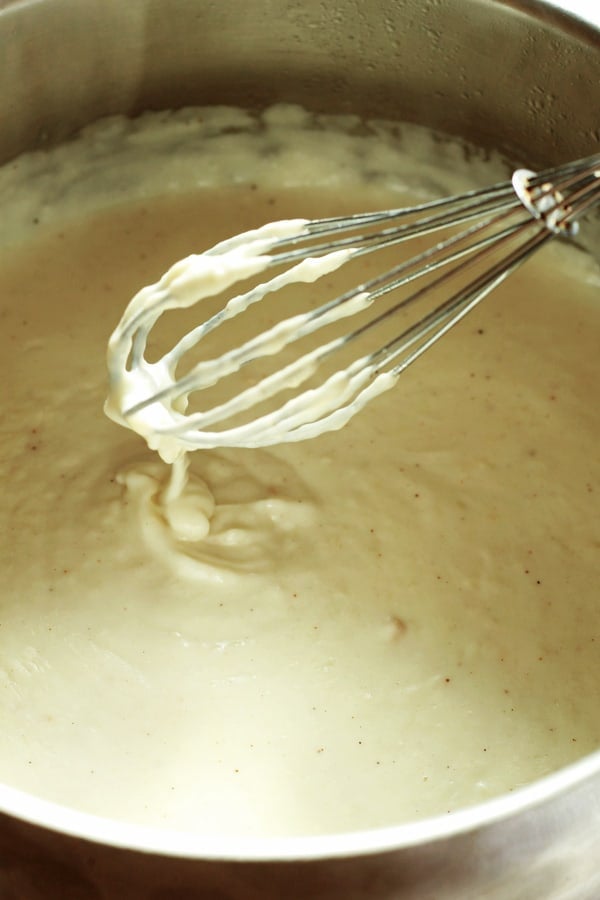 A cast iron skillet or an oven-safe baking dish are good options to assemble the zucchini bechamel casserole (could also do individual-sized ramekins if you prefer).
I oiled my cast iron skillet and added a bottom layer of meat.
Then I added the roasted zucchini, and layered the remainder of the meat and one cup of mozzarella cheese on top.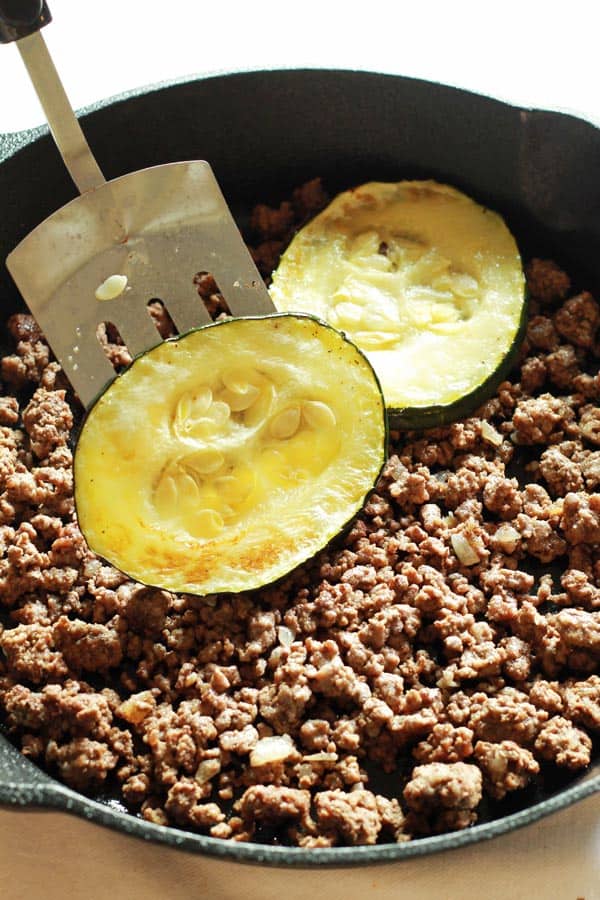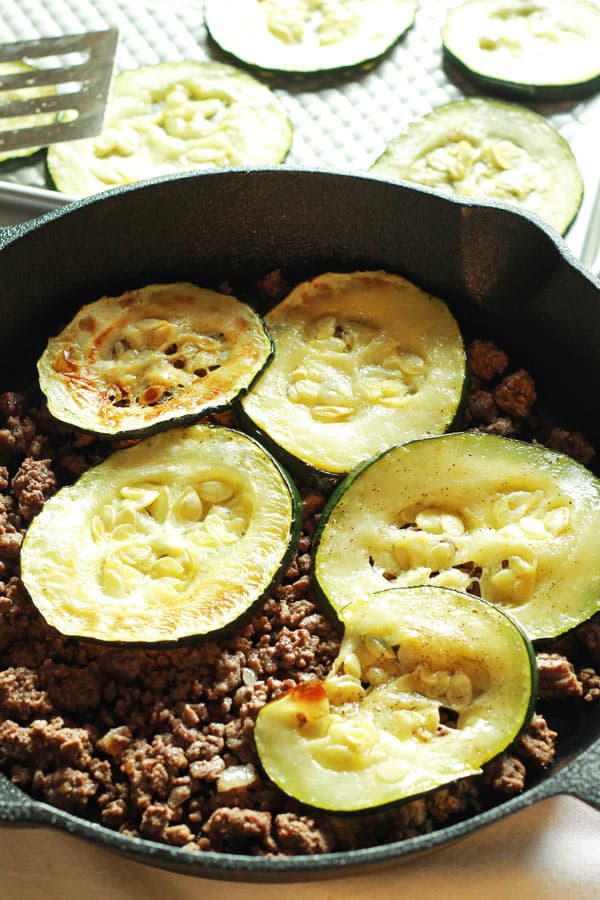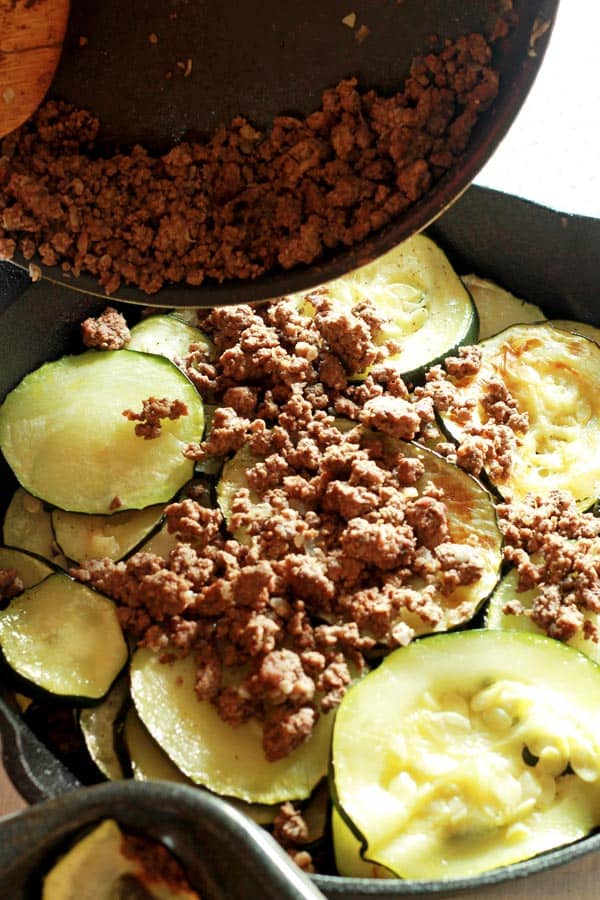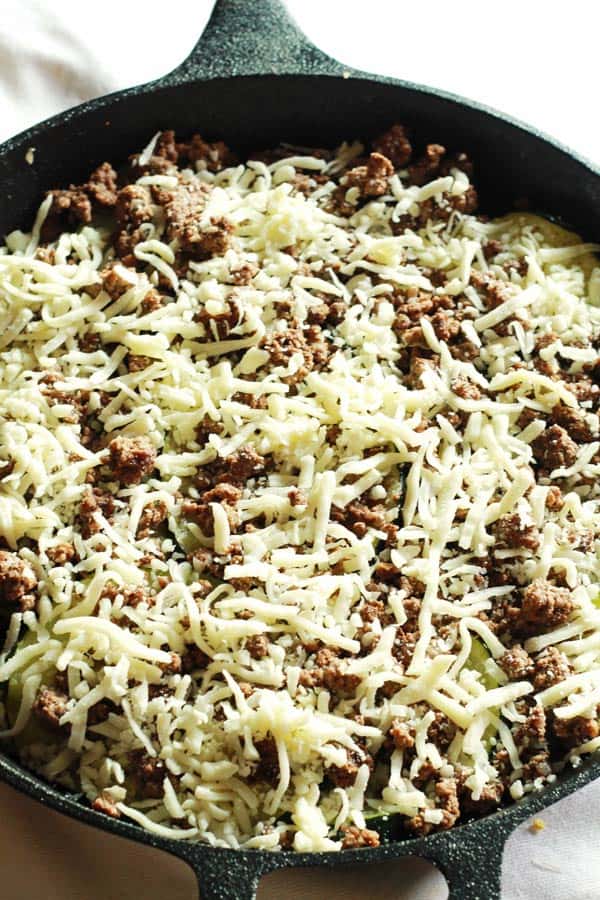 Finally, I topped the casserole with the bechamel sauce and evenly distributed.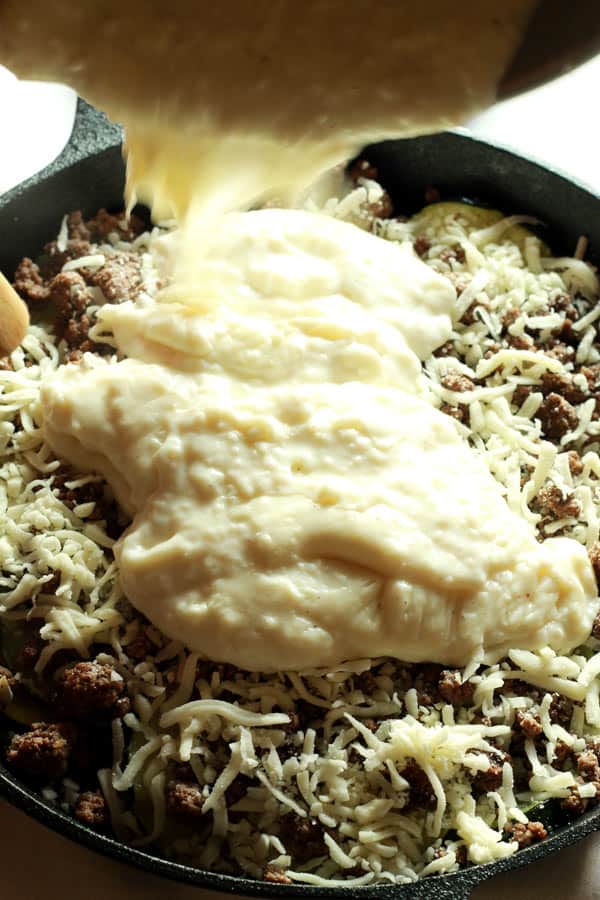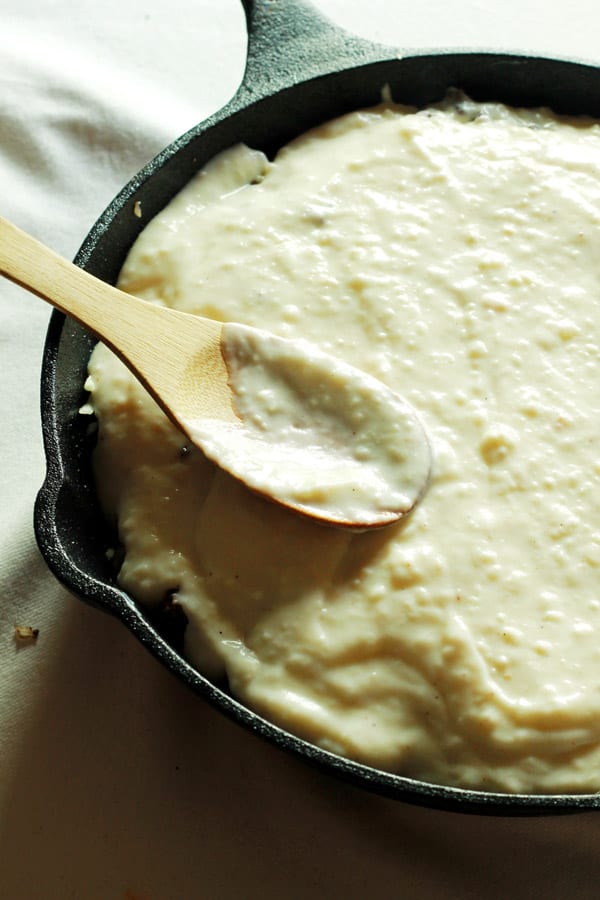 My mom and many other great cooks would typically place a zucchini layer on the bottom, then the meat layer, then more zucchini, cheese and bechamel sauce. I found that since the zucchini has been nicely roasted, I preferred to "protect" it from dissolving, so to speak, in the bottom of the hot skillet.

Once assembled, I placed my casserole in the middle rack of my now 350F oven. Baked for 40-45 minutes, or until the top bechamel layer is golden brown. I let zucchini bechamel casserole sit for five minutes before serving. Delicious!
Consider serving with side salads like our simple Mediterranean Salad or Tabouli.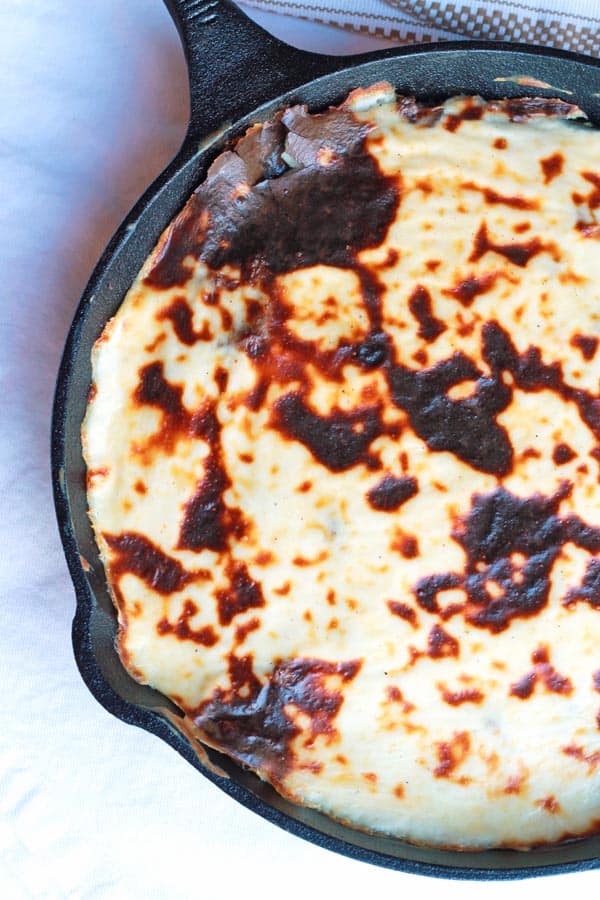 Print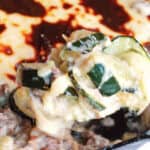 Zucchini Bechamel Casserole
---
Description
A French-inspired Egyptian casserole combining four main ingredients: zucchini, ground beef, mozzarella cheese and bechamel sauce. Easy and hearty! Your friends will beg for the recipe.
---
8

medium-sized zucchini, washed, dried, sliced in rounds or lengthwise

1 ½

lb lean ground beef

1 cup

shredded mozzarella

1

small yellow onion, minced

1 tsp

allspice

½ tsp

ground green cardamom
salt and pepper
For Bechamel Sauce
---
Instructions
Preheat oven to 450F.
Arranged zucchini slices (cut in ½-inch rounds or lengthwise) in one layer in oiled baking sheet. Use two or more sheets if needed, do not crowd zucchini. Season with salt and drizzle with olive oil.
Place in oven for 15-18 minutes, turn over once midway through.When tender and slightly golden, remove from oven. Lower oven temperature to 350F.
Meanwhile, heat one tablespoon of olive oil in a large skillet. Saute minced onion briefly and add ground beef. Season with allspice, ground cardamom, salt and pepper. Cook on medium-high, stirring occasionally, until meat is well-done (about 10 minutes). Sit aside.
Prepare bechamel sauce. Begin with heating ½ cup olive oil. Add flour and cook on medium- low for 5 minutes or until smooth and golden. Raising heat to medium, add milk one-cup-at-a-time and whisk continuously. Cook for another 7 minutes or until mixture is smooth, begins to bubble and thickens a little. Remove from heat and let sit to thicken into a creamy bechamel.
In an oiled baking dish or large cast iron skillet, assemble cassarole. Place first layer of meat, then add two layers of zucchini. Now add meat and one cup mozzarella cheese.Top the casserole with an even layer of the creamy bechamel sauce.
Insert casserole into the now 350F oven for 45 minutes until the bechamel top turns golden- brown. Watch carefully, you do not want a completely browned bechamel.
Remove from heat and let sit about 5 minutes before serving.
For side salads, you may like to add our simple Mediterranean Salad or Tabouli. Enjoy!
Notes
Recommended for this Recipe: Our Private Reserve Greek extra virgin olive oil (from organically grown and processed Koroneiki olives!)
Visit our store to browse our spices, olive oils and bundles!
Prep Time:

10 mins

Cook Time:

45 mins

Category:

Entree

Method:

Baked

Cuisine:

French/Egyptian/Mediterranean
Keywords: Zucchini, Bechamel, Casserole, Egyptian Casserole, French Casserole,
Try these delicious recipes: