This vegan quinoa chili recipe takes one pot to make, two cans of beans, some crunchy veggies and a big splash of lime juice! Not only is this vegan chili nutritious and satisfying, but you'll love the bold flavors from aromatics, warm spices and fresh herbs. Three ways to make it + tips and video below!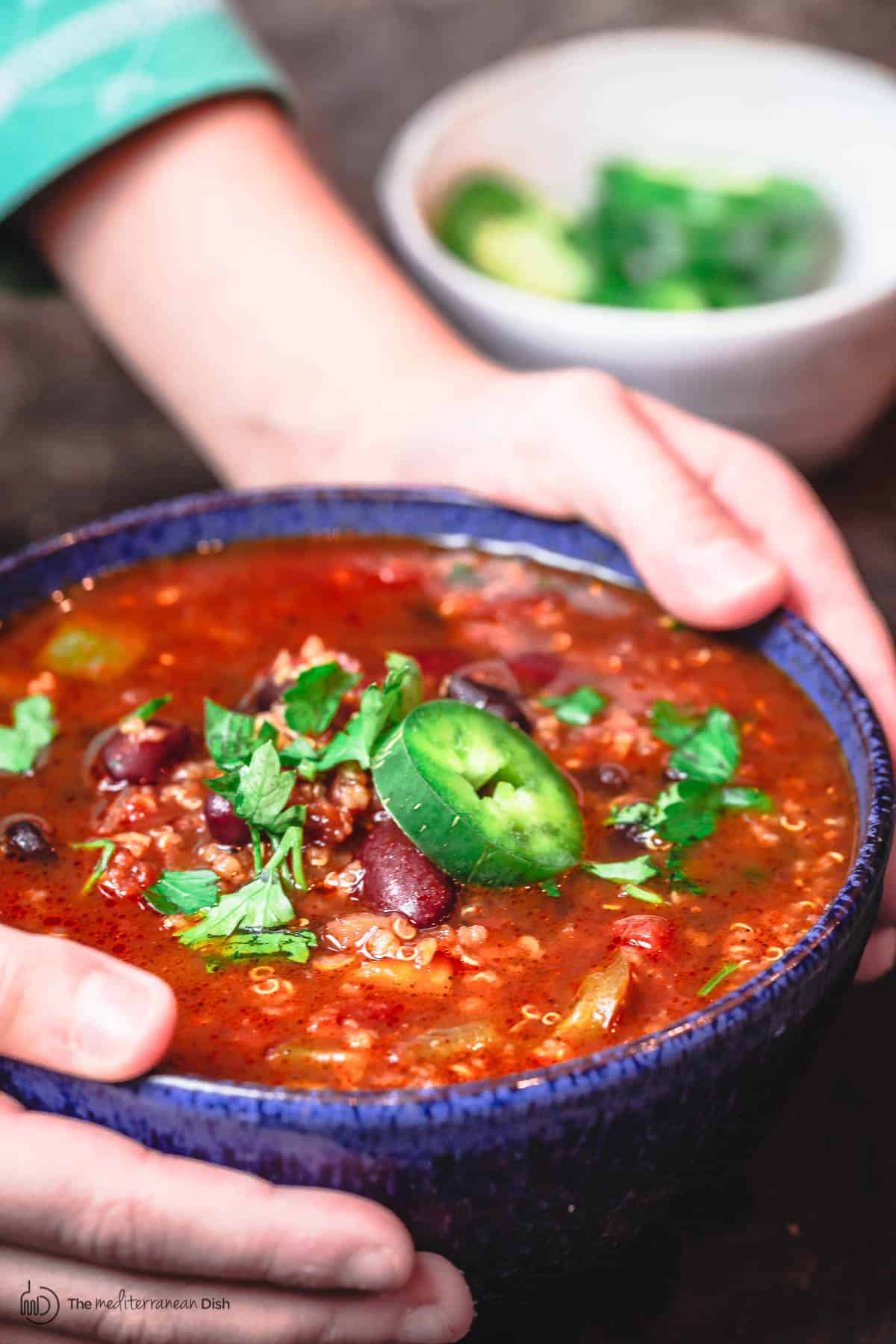 Vegan chili
During the cold winter months a hearty and satisfying vegetarian chili recipe will help keep you warm. And this one borrows a bit of a Mediterranean twist that is delicious and full of protein. You won't miss the meat!
If you've been eating the Mediterranean way for any amount of time, you know that we try to do more vegetarian cooking that includes seeds and grains.
In this vegan chili recipe, we trade the meat out for quinoa. Technically, quinoa is a seed, but we very much use it as a gluten-free whole grain. And just like that, with quinoa added to our beans, we've totally amped up the protein factor, while giving this chili a great, hearty texture! And we pull in good fat from my favorite rich Early Harvest extra virgin olive oil (which we start and finish the dish with).
Aromatics like onions, garlic, and chunks of bell pepper, plus a mix of warm spices including: chili powder, sweet paprika, cumin, and allspice provide loads of flavor.
But don't underestimate that last splash of freshly squeezed lime juice. It makes all the difference!
What ingredients make the best chili?
Because we're keeping this chili vegetarian, it's important to use ingredients that are nutritious and satisfying, while creating that comforting chili flavor profile everyone loves. Let's walk through the ingredient list:
- Quinoa: This is not only a healthy protein, but it's gluten free, full of amino acids, high in fiber and beneficial antioxidants. It's the perfect replacement for meat here. In addition to the health benefits, quinoa add a hearty texture to this chili that make it the perfect comfort food with zero guilt.
- Vegetables: With a sweet yellow onion and fresh garlic cloves, sautéed in extra virgin olive oil, you'll build your base for this vegan chili. Then, carrots and chunks of green bell peppers for some crunch.
- Diced Tomatoes. 1 can of chopped or diced tomatoes adds tons of umami and coloring our chili.
- Vegetable broth: to make sure the chili does not get too thick and has just the right amount of liquid, we add a bit of low-sodium vegetable broth. This dds flavor and also makes its viscosity easier to eat.
- Beans: it's not chili unless there are beans! I love a mix of black beans and kidney beans in my chili; both add depth and a heartiness to the dish with their high fiber and delicious chewiness. Quality canned beans do perfectly well in chili recipes and save a ton of time. And if you're one of those people who like their chili with even more beans, add a third can of your favorite beans.
- Spice & other flavor makers: chili powder, sweet paprika, ground cumin and ground allspice. A splash of lime juice.
How can I make my chili more flavorful?
If we were talking about a meat chili, some things that can enhance the flavor are cinnamon, a dash of coffee or even a couple tablespoons of cocoa powder. These all work to boost the flavor of your meat.
When it comes to this vegetarian quinoa chili, you can still build amazing flavor throughout the cooking process. These are some things to add to really enhance flavor:
Aromatics. To start, aromatics in the form of onions, garlic, and bell peppers, which are sautéed in extra virgin olive oil before adding anything else.
Warm spices. Everyone expects to use chili powder, but for a bolder, more robost pot of chili, think of layering on more warm spices. I used some of my favorites here: sweet paprika, ground cumin and ground allspice, which adds a certain sweet and peppery aroma that really enhances the flavor. Use smoked paprika in place of sweet paprika.
Heat. Add chopped or sliced jalapeno peppers. You can also add a dash of cayenne pepper or Aleppo pepper, which is not too hot but provides a nice subtle sweetness with just enough of a kick.
A splash of lime! A little bit rounds out the flavor beautifully.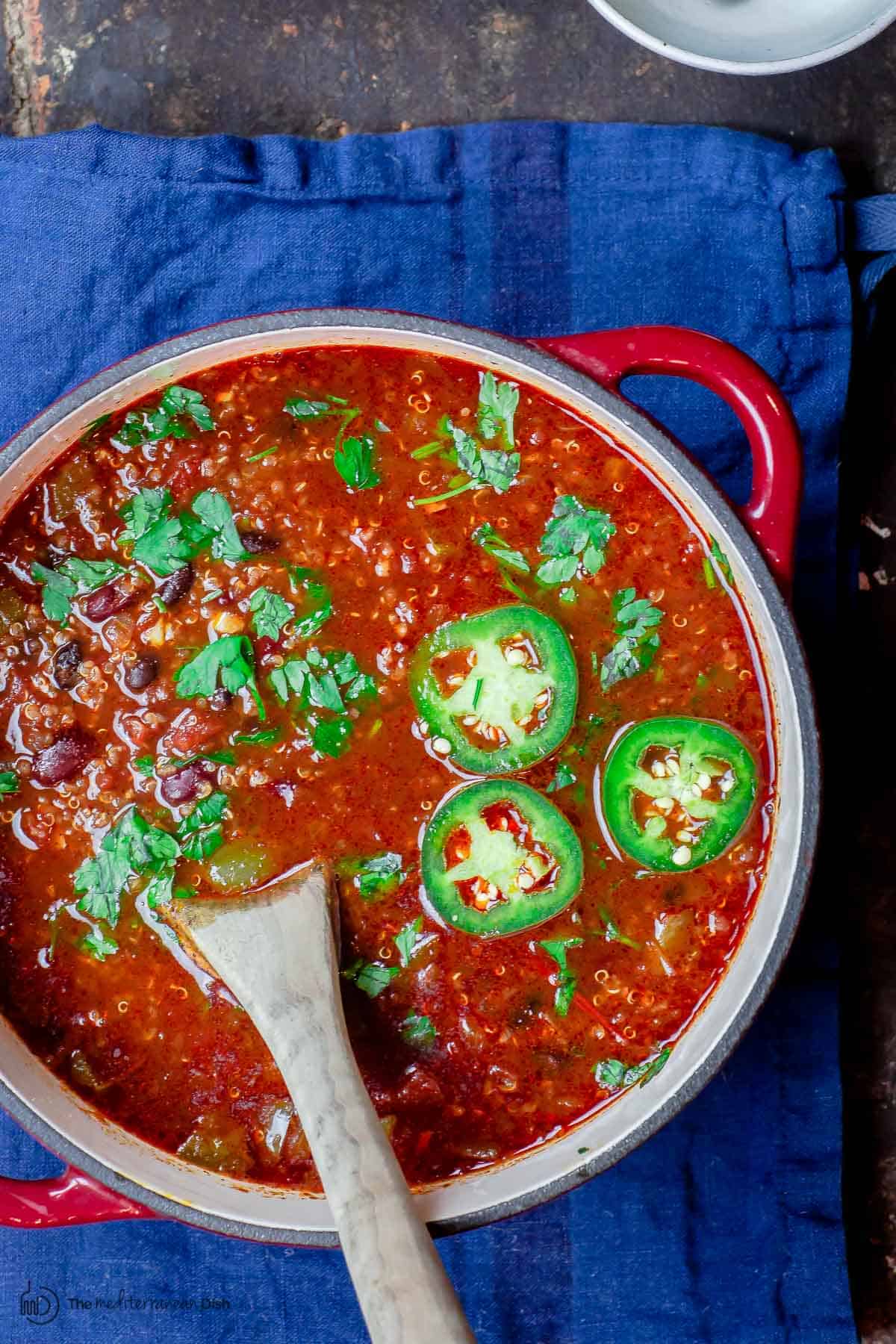 Chili toppings
We all know that it can be tempting to load a bowl of chili with dollops of sour cream and cheese, but trust me, these vegan topping options are just as delicious and will add texture and brightness to this vegetarian chili:
Sprigs of parsley
Freshly chopped cilantro
A squeeze of tangy lime
Sliced jalapeno
Thin slivers of peppery radish
Crunchy sea salt
Chopped avocado or an extra drizzle of Early Harvest Greek EVOO for a bit of good-for-you fat
How do you make vegan chili from scratch? A few tips:
So now you know what my vegetarian chili is made of, l have a few simple tips to follow when making it from scratch (the full recipe is below):
1. Partially cook the quinoa first before adding to the chili. You want the quinoa to be velvety and not hard and crunchy, so if you cook it on its own for a bit before adding to the chili this will ensure the quinoa is properly cooked and will also provide the best texture.
2. Use any canned beans you like. My go-to beans for vegan chili are kidney beans and black beans but you can use other beans like creamy navy beans, fiber-packed pinto beans or grainy Great Northern beans. I use only 2 cans of beans, but if you like your chili packed with the Umami that beans bring you can use 3 cans.
3. If you want to thicken the consistency of your broth, the best thing to do is to let your chili reduce. Let the pot of chili simmer for an additional 45 minutes. Don't let it reach a full boil, but a gentle simmer will help the chili thicken so it's not as "brothy".
4. As far as cooking with a lid goes, "to cover or not to cover" that is the question. I've found that going back and forth between using a lid is the most helpful. That way your chili won't get too thin or too thick. Make sure to also use a wooden spoon to stir when you're cooking without a lid because this will help you reach the bottom of the pot and make sure everything is mixed in and cooked evenly.
5. Draining your beans before putting them in the chili is optional. I usually drain and rinse mine, but if you're using quality canned beans and you like the extra liquid then feel free to add straight from the can to the pot.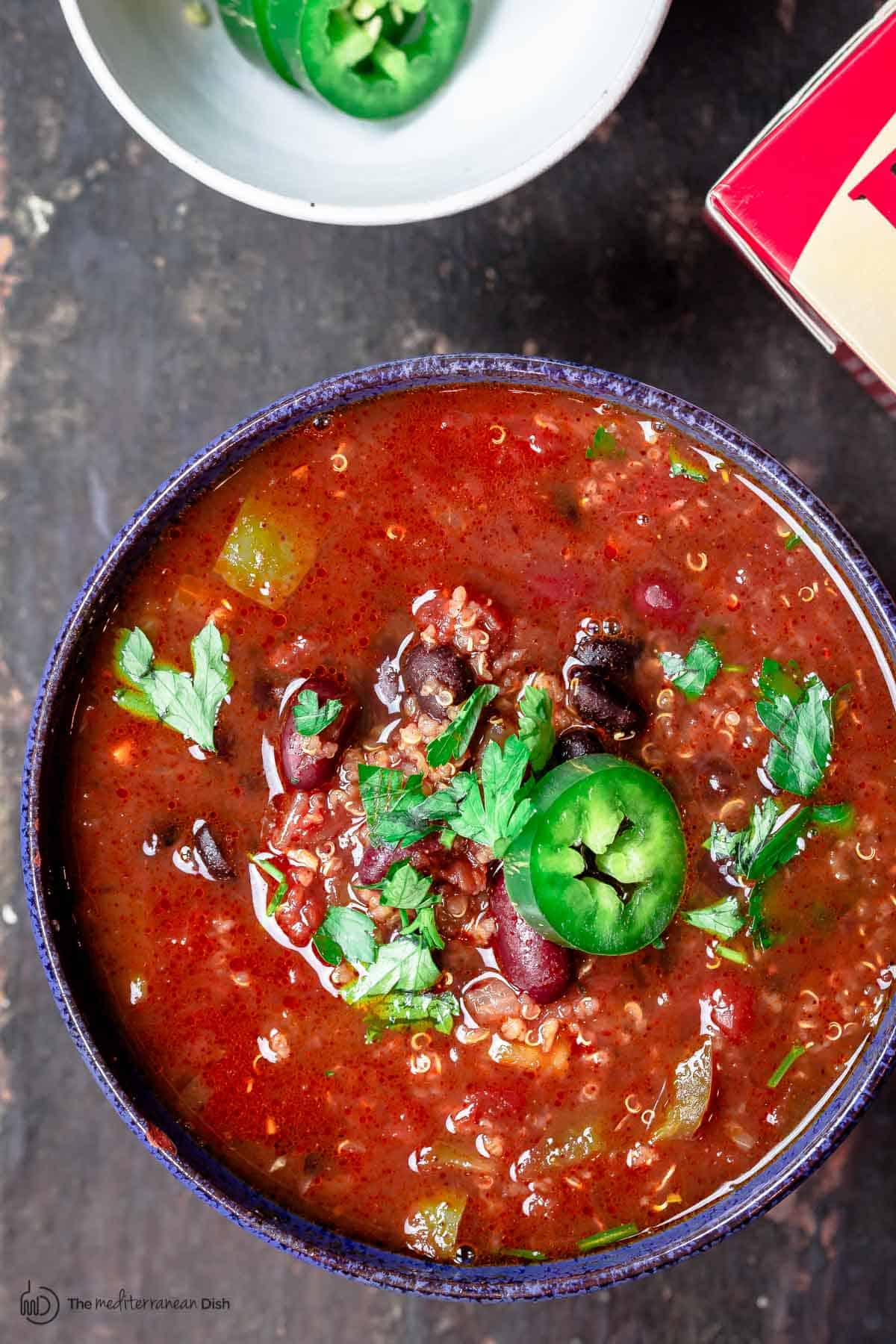 Alternatives to Quinoa
I have some friends who are not fans of quinoa. If that's you, there are a few great alternatives (you'll want to still partially cook any of these before adding to the chili):
Slow cooker option
I find it easy enough to make this recipe on stove-top, but you can also make it in a slow cooker or Instant Pot.
Vegan Chili in Slow Cooker: do NOT pre-cook the quinoa. Simply add all the ingredients to your slow cooker, stir and cook on low for 4-5 hours or on high for 2-3 hours.
Instant Pot: you'll want to sauté your onion and garlic with the spices first via the "sauté" option on the pot. Then you can add the remaining ingredients and select the "pressure cook" option.
How long will this keep? Storage and leftover instruction
I always look forward to leftovers because this vegan quinoa chili is even better the next day!
Before storing, let leftovers cool completely, then add them in a tight-lid glass containers in the fridge. They should keep well for 3 to 4 days.
If you want to freeze your chili, store in a moisture-proof large freezer bag (allow a bit of room in the bag). If it's stored correctly it can be kept in the freezer for around 5 months.
Once you are ready to eat this frozen chili again, take it out of the freezer and thaw in the fridge overnight. Warm on stove-top over medium-low heat, stirring regularly (add a little more liquid as needed).
Related recipes to try
Craving more? Lots more easy vegan recipes. And be sure to view our collection of Mediterranean diet recipes.
BEST Vegan Chili with Quinoa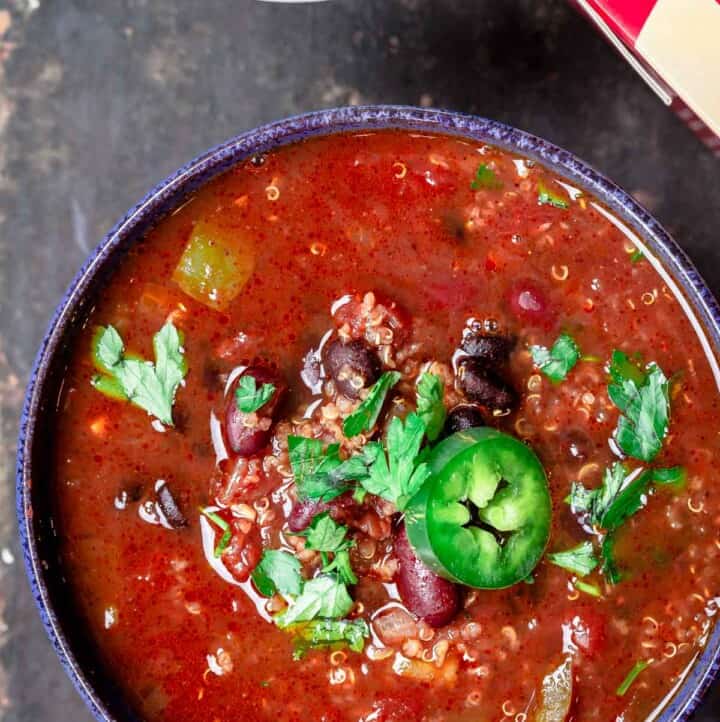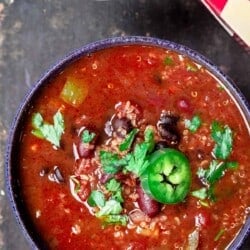 Easy vegan chili with a bold Mediterranean twist! If you'rewondering if chili can be good for you, worry no more, this one-pot meal isnutrition-packed. It includes the protein-powerhouse quinoa, two differenttypes of beans, chopped vegetables and is layered with Mediterranean aromaticflavors, warm spices, fresh herbs, and a splash of citrus! Vegan, Mediterraneandiet friendly, and gluten free.
Ingredients
½

cup

quinoa

uncooked

1

cup

water

Greek extra virgin olive oil

I used Early Harvest EVOO

½

large yellow onion

chopped

5

garlic cloves

minced

2

carrots

peeled and chopped

½

large green bell pepper

chopped

1 16-

oz/453.59 g can chopped tomatoes with juice

4

cups

low-sodium vegetable broth

2 ½

teaspoon

chili powder

1

teaspoon

sweet paprika

1

teaspoon

ground cumin

½

teaspoon

ground allpsice

Salt and pepper

1 15-

oz/425.24 g can black beans

drained and rinsed

1 15-

oz/425.24 g can kidney beans

drained and rinsed

½

cup/25 g chopped fresh cilantro

¼

cup/5 g chopped fresh parsley

1

large lime

juice of

1

jalapeno

sliced (optional)
Instructions
In a small saucepan, combine quinoa and water. Cook over medium heat for about 10 to 15 minutes until the water is absorbed (quinoa will be partially cooked.) Remove from heat and set aside till later.

In large saucepan or pot, heat 2 tablespoon extra virgin olive oil over medium heat until shimmering but not smoking. Add onions, garlic, carrots, and bell peppers. Cook for 4 minutes or so, tossing regularly, until softened.

Add tomatoes, broth, and spices. Season with salt and pepper. Bring to a boil.

Stir in black beans, kidney beans, and partially-cooked quinoa. Lower heat and let simmer for 25 minutes.

Remove from heat. Stir in cilantro, parsley, and lemon juice. Transfer to serving bowls, add a generous drizzle of Early Harvest extra virgin olive oil and jalapeno slices, if using. Enjoy!
Notes
Cook's Tip #1: It's important to partially cook the quinoa before adding to the chili, this ensures the quinoa cooks properly and provides the best texture.
Cook's Tip #2: An important flavor-related note, do not skip adding the fresh herbs and a splash of lime juice towards the end. It does make a huge difference in brightening this chili and adding a complex tough you don't want to miss.
Slow Cooker Option: do NOT pre-cook the quinoa. Simply add all the ingredients to your slow cooker, stir and cook on low for 4-5 hours or on high for 2-3 hours.
Visit our Online Shop to browse quality Mediterranean ingredients including olive oils and spices used in this recipe!
Nutrition
Calories:
344.8
kcal
Carbohydrates:
76.6
g
Protein:
15.4
g
Saturated Fat:
0.4
g
Potassium:
2901.4
mg
Fiber:
18.3
g
Vitamin A:
6292.4
IU
Vitamin C:
149.1
mg
Calcium:
466.1
mg
Iron:
15.2
mg
*This post first appeared on The Mediterranean Dish in February 2019 and has been recently updated with new information and media for readers' benefit. Enjoy!