Simple and bright cauliflower salad, prepared Mediterranean-style with chopped veggies, garlic, and a zippy dressing of fresh lemon juice and extra virgin olive oil. Watch the video and grab my tips below.
This large salad can be dressed a bit in advance, which makes it perfect for entertaining. And leftovers make a great lunch the next day!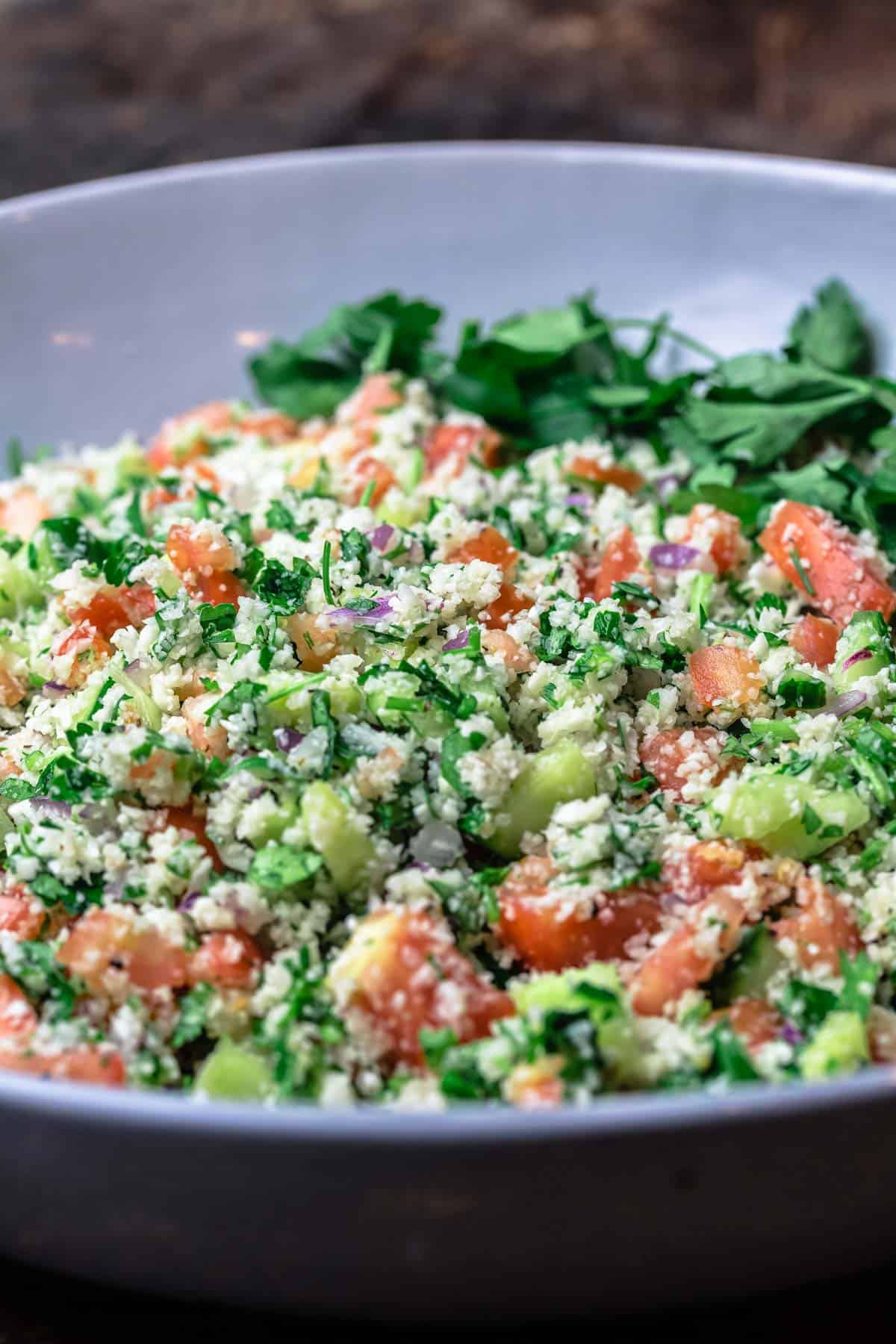 Cauliflower is the name of the game these days, it's healthy, nutritious and there are so many ways to use it!
And anyone who doubts how crazy tasty a head of cauliflower can be, just try roasted cauliflower, my rich cauliflower and chickpea stew with Moroccan-inspired flavors, or today's fresh cauliflower salad!
I can say this healthy cauliflower salad has allowed me to finally enjoy eating raw cauliflower. It's bright, packed with flavor, and just the right texture!
Best part, this salad totally belongs on the list of Mediterranean diet recipes and makes the perfect side dish next to anything I serve (a few ideas below).
Raw Cauliflower Salad
Most salad recipes using cauliflower call for bacon, sour cream or some sort of a cream-based dressing. But this healthy option defies expectations by taking on a Mediterranean twist.
This salad looks and tastes bright thanks to a combination of finely chopped vegetables, fresh parsley, and a zippy dressing of fresh lemon juice and extra virgin olive oil.
For me, what makes this cauliflower salad extra special is its' tabouli-like texture!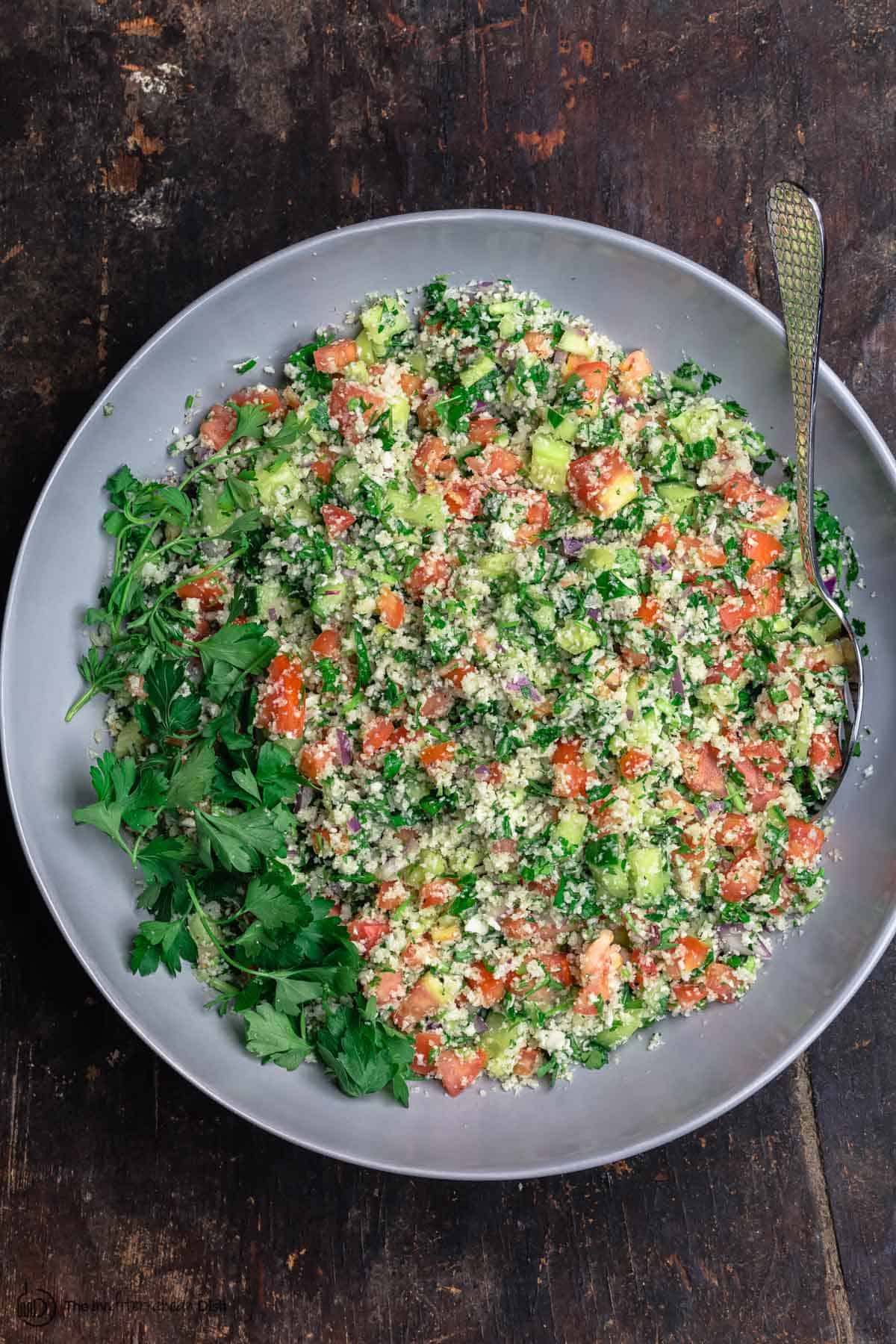 Gluten free tabouli anyone?!
Everything in this salad is chopped real small like we do with tabouli. And even the head of cauliflower is finely chopped into a rice-like consistency that mimics the texture of the bulgur used in tabouli. And cauliflower is, of course, gluten free! So for those of you who are looking for a gluten free tabouli recipe, this one is a great option (although not traditional, obviously).
But there is a reason I actually choose to chop the cauliflower for this healthy cauliflower recipe, and it is not just because I am a big tabouli nut (although obviously I am)!
Big Tip: Finely chop the cauliflower
If you're anything like me and have a hard time eating raw cauliflower salad, this recipe may be your solution.
Raw cauliflower can be unpleasant and bland because it is hard to infuse with flavor, which is why most cauliflower salads employ heavy dressings. But you don't have to!
The trick to a flavor-packed and healthy cauliflower salad is in turning the large florets into a rice-like mixture (so easy! Just put the florets in the food processor and pulse a few times).
The finer rice-like texture allows cauliflower to absorb flavor well and quickly without turning to heavy ingredients.
Option: If you prefer, rather than finely chopping the cauliflower in the food processor, you can use a good knife and simply chop into very small florets.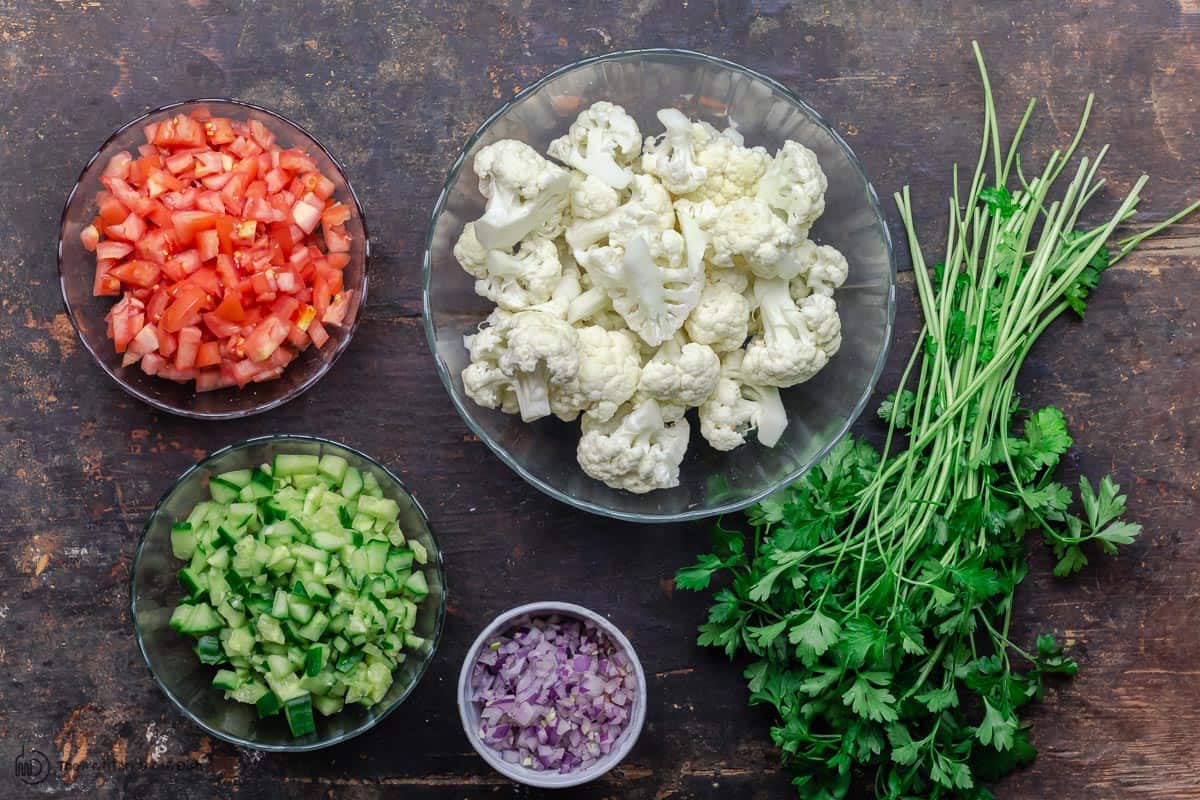 Ingredients & Variations
Cauliflower-1 head raw cauliflower or a 2-pound bag of raw cauliflower florets (do not use frozen cauliflower)
Parsley- 1 large bunch parsley (2 ounces), chopped as fine as you can get it. I only trim just the very end of the stems, that's where all the flavor is. If you'd like to add more herbs, try a bit of fresh mint or dill, also chopped.
Tomatoes- 4 Roma tomatoes, diced very small or chopped
English cucumber-1 large English cucumber (seedless hot house cucumbers), chopped. You can use slicing cucumbers, but you'll need to peel them and
Red Onion- ½ red onion, finely chopped (or about ½ cup or less). You can also use shallots if red onions are too strong for your taste.
Kosher Salt and black pepper- a dash to your liking
Garlic- 1 to 2 garlic cloves, minced
Dressing- juice of 2 lemons and a generous drizzle of a quality extra virgin olive oil (You can find the olive oils I use at our online shop here).
How to make cauliflower salad recipe
Time needed: 20 minutes
Mediterranean cauliflower salad recipe step-by-step (printable recipe below)
Chop the Cauliflower

Put the cauliflower in the large bowl of a food processor fitted with a blade. Close the lid and pulse a few times until cauliflower is fine enough (you're looking for rice-like texture)

Assemble the Salad

Transfer the "cauliflower rice) to a large mixing bowl. Add chopped fresh parsley (a whole big bunch, finely chopped), and finely chopped cucumbers, tomatoes, and red onions.

Season and Dress the Salad

Add minced garlic. Season with kosher salt and black pepper. Toss gently to combine. Add lemon juice (juice of 2 large lemons) and a generous drizzle of extra virgin olive oil. Mix again to combine.

Serve

For best results, allow the cauliflower salad to sit for a few minutes before serving, that way, the cauliflower will have absorbed more of the flavors
This cauliflower salad will feed a small crowd, if you have any leftovers, store in the fridge in tight-lid glass containers. It should keep for 3 days or so.
What to serve this healthy cauliflower salad with?
This salad can make the perfect addition to a Mediterranean meal and will go with most any entree you'll find here. But here are a few options:
Check out my collection of top Mediterranean diet recipes. Find all Mediterranean recipes.
Mediterranean Cauliflower Salad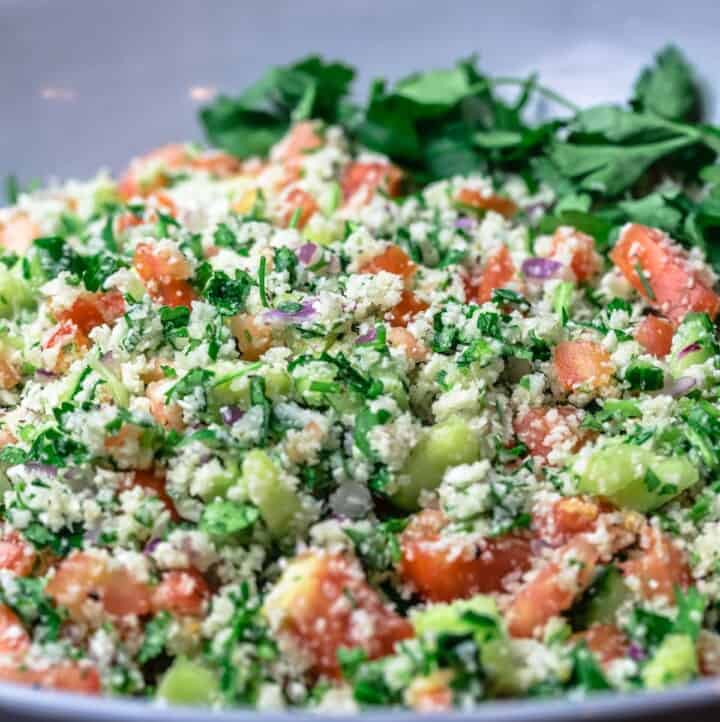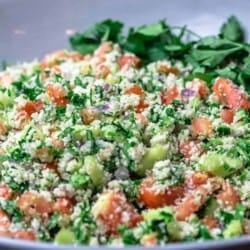 Simple and bright cauliflower salad, prepared Mediterranean-style with chopped veggies, garlic, and a zippy dressing of fresh lemon juice and extra virgin olive oil. This is a great way to gluten free tabouli!
Ingredients
1

head raw cauliflower

cut into florets

1

whole bunch parsley

stems partially removed

3 to 4

Roma tomatoes

very small diced or chopped

1

English cucumber

hot house cucumber, chopped

½

red onion

finely chopped

1 to 2

garlic cloves

minced

Kosher salt and pepper

Juice of 2 lemons
Instructions
Place the cauliflower florets in the bowl of a food processor fitted with a blade. Pulse a few times until the cauliflower turns rice-like in texture.

Transfer the finely chopped cauliflower into a larger bowl. Add the parsley, tomatoes, cucumbers, and onions. Give the salad a quick toss to combine.

Now, add the minced garlic and season with salt and pepper. Finish with fresh lemon juice and a good drizzle of extra virgin olive oil (about 2 tbsp). Give the salad one more good toss to combine.

For best results, set the cauliflower salad aside for a few minutes before serving to allow the cauliflower to soften and absorb some of the dressing. You can also cover and chill for later. Enjoy!
Notes
Option: If you prefer, you can use a knife to chop the cauliflower into very small florets rather than using the food processor to turn it into cauliflower rice. Very small florets should also absorb the flavors and dressing well.
Leftovers: store leftovers in the fridge in a tight-lid glass container. It should last 3 days or so.
Visit our online shop to browse quality Mediterranean ingredients including extra virgin olive oil used in this recipe.
Nutrition
Calories:
31.1
kcal
Carbohydrates:
6.6
g
Protein:
1.9
g
Fat:
0.3
g
Saturated Fat:
0.1
g
Sodium:
23.9
mg
Potassium:
337.4
mg
Fiber:
2
g
Sugar:
2.9
g
Vitamin A:
243.7
IU
Vitamin C:
39.7
mg
Calcium:
26.6
mg
Iron:
0.5
mg