One easy pasta recipe that I make regularly is pancetta pasta and peas, tossed in a simple garlic and olive oil sauce and finished with Parmesan cheese. So good!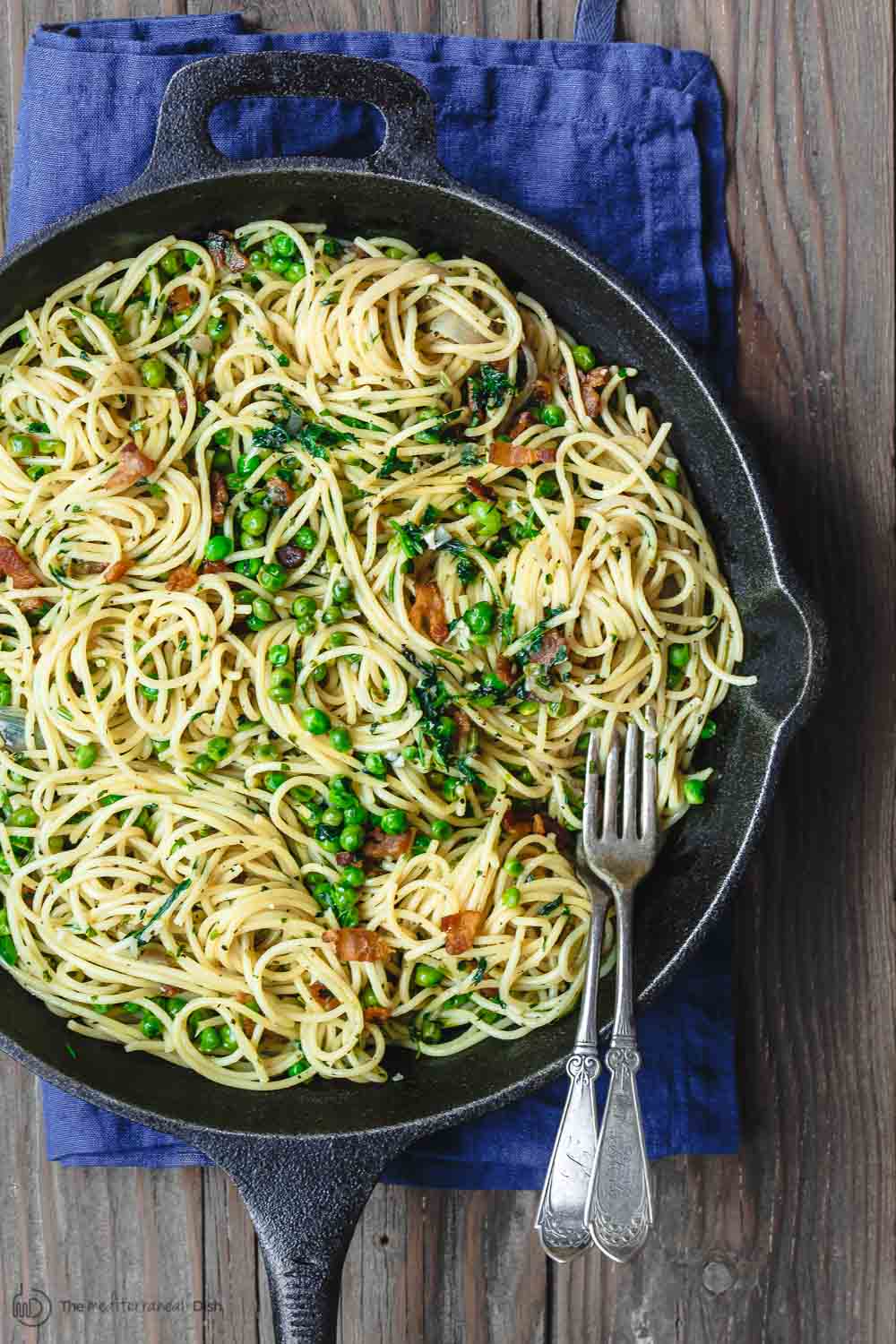 I love all sorts of sauces to dress up my pasta, and I do make a mean homemade spaghetti sauce that everyone loves.
But if there is a sauce I favor, partly because I'm a lazy cook, it is extra virgin olive oil and a good amount of minced garlic, traditionally known as aglio e oilo. It is the simplest of all sauces, and I am telling you, it is the secret to this delicious spring pancetta pasta recipe!
What I love about this pancetta pasta
There is so much about this pancetta pasta with peas that a busy cook will love, such as the fact that it takes one pan and 30 minutes or less to make. But, for me, there are two more reasons that make this an awesome pasta dinner:
Loaded with flavor, thanks to crispy pancetta bites, sweet peas, fresh garlic, olive oil and a good sprinkle of Parmesan cheese! Perhaps the one surprising flavor bomb in this recipe is Aleppo pepper, which is milder pepper of fruity, tangy, red chili flakes. It is not very spicy, but still provides some heat, giving off sweetness akin to the best kind of sundried tomatoes. (Shop our Aleppo-style Pepper.)
It is a lighter and brighter alternative because we skip the use heavy cream-based sauces in favor of a delicious and better-for-you olive oil and garlic sauce, augmented with a bit of the starchy pasta water. Not to worry, we do build just enough of that "comfort factor" by using pancetta and a little bit of grated Parmesan cheese.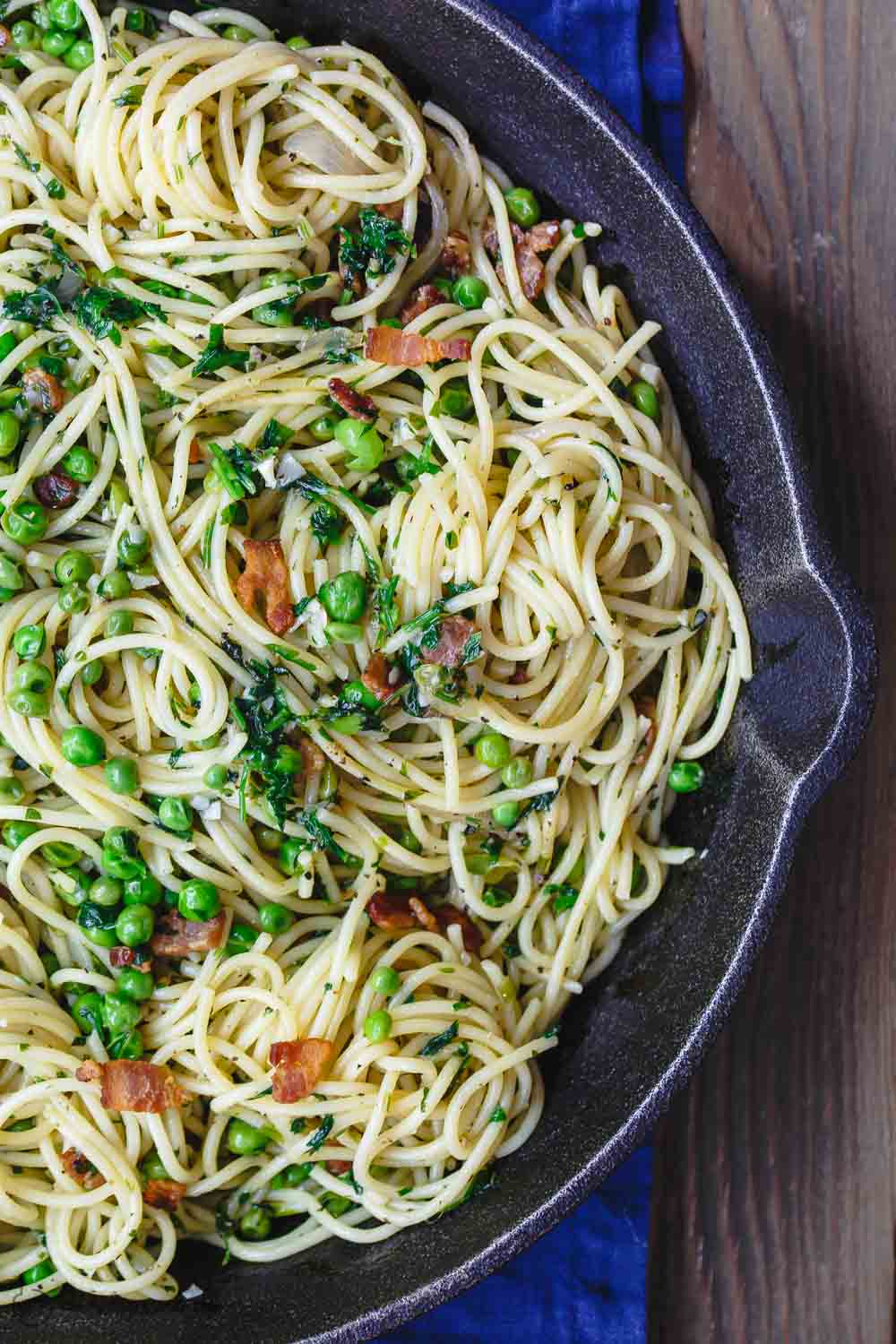 Can you substitute bacon for pancetta?
Cubed pancetta is ideal for this recipe, but the short answer here is yes, you can substitute bacon for pancetta as long as you understand that there will be a bit of a flavor difference.
Both pancetta and bacon are pork products that come from pork belly and are cured for a certain amount of time. Bacon is cured just like pancetta, but the process goes a bit further in that bacon is also cold-smoked after it has been cured. Bacon will have a smoky taste infused with any range of flavors from apple to maple, depending on the wood used in the smoking process.
So, if you're looking for more of a deep, smoky flavor, you can absolutely substitute bacon for pancetta.
And whether you use pancetta or bacon in this pasta and peas recipe, you will have to cut it up into small bits and cook it the skillet before adding to the pasta.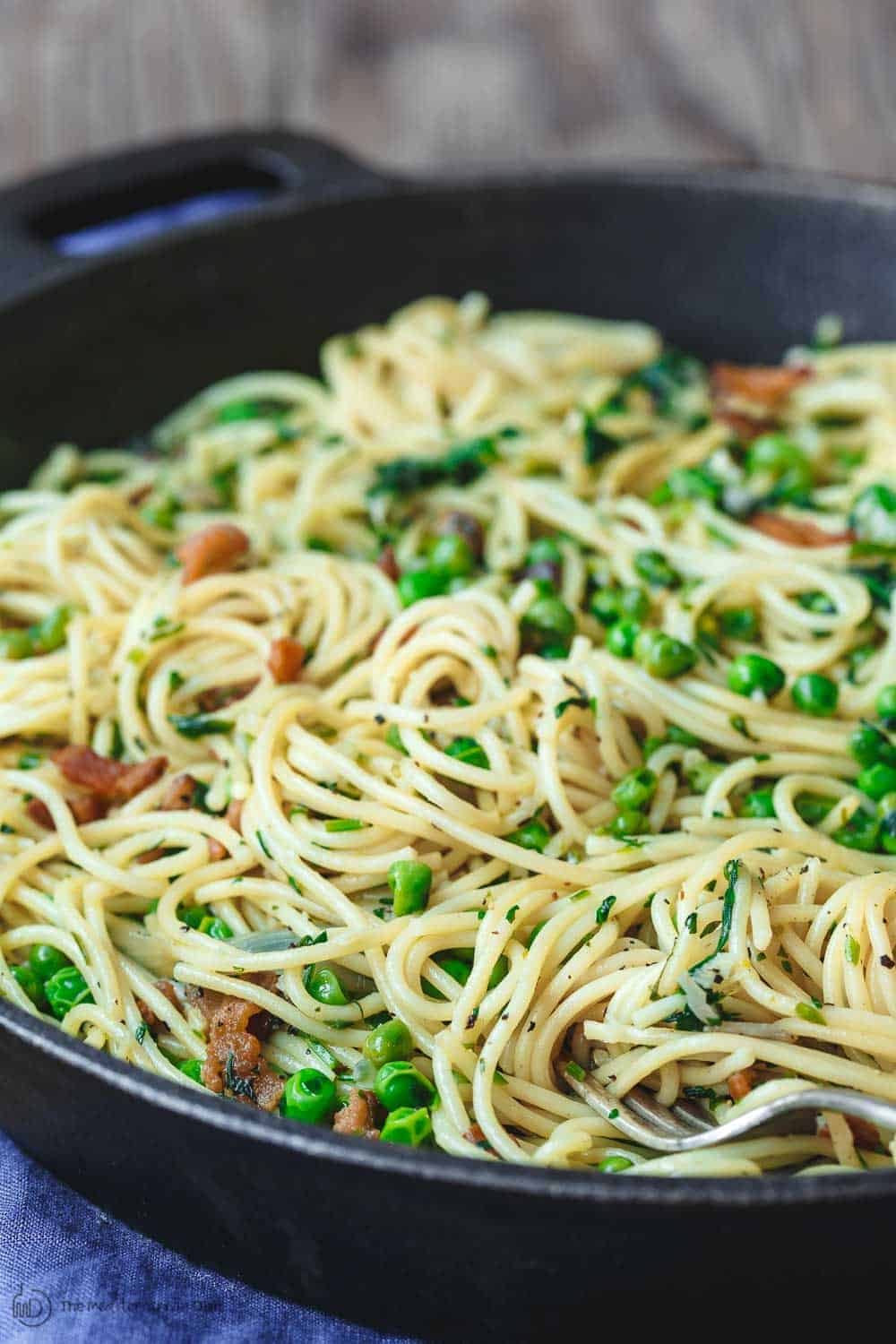 How to cook pancetta for pasta?
If you're using cubed pancetta, cut it up into small bits. Heat heat a large cast iron skillet over medium-high heat. Add the pancetta and cook, tossing regularly, until fully browned.
It is important to drain the pancetta well, and you can do that by simply placing the cooked pancetta over a plate lined with paper towel.
As far as the fat remaining in the pan, you will want to carefully dispose of most of it leaving only a little bit to flavor the pasta. Carefully transfer the pancetta fat to a heat-safe bowl until it has cooled, then you can safely dispose of it from there.
What to serve with this pancetta pasta and peas?
On warm nights, this makes the perfect pasta dinner. I like to add a big salad to start, like Panzanella salad, avocado salad or balela salad.
But if you're looking to use it as a side dish, you can serve this pasta pancetta next to something like baked chicken breast or even pan seared salmon.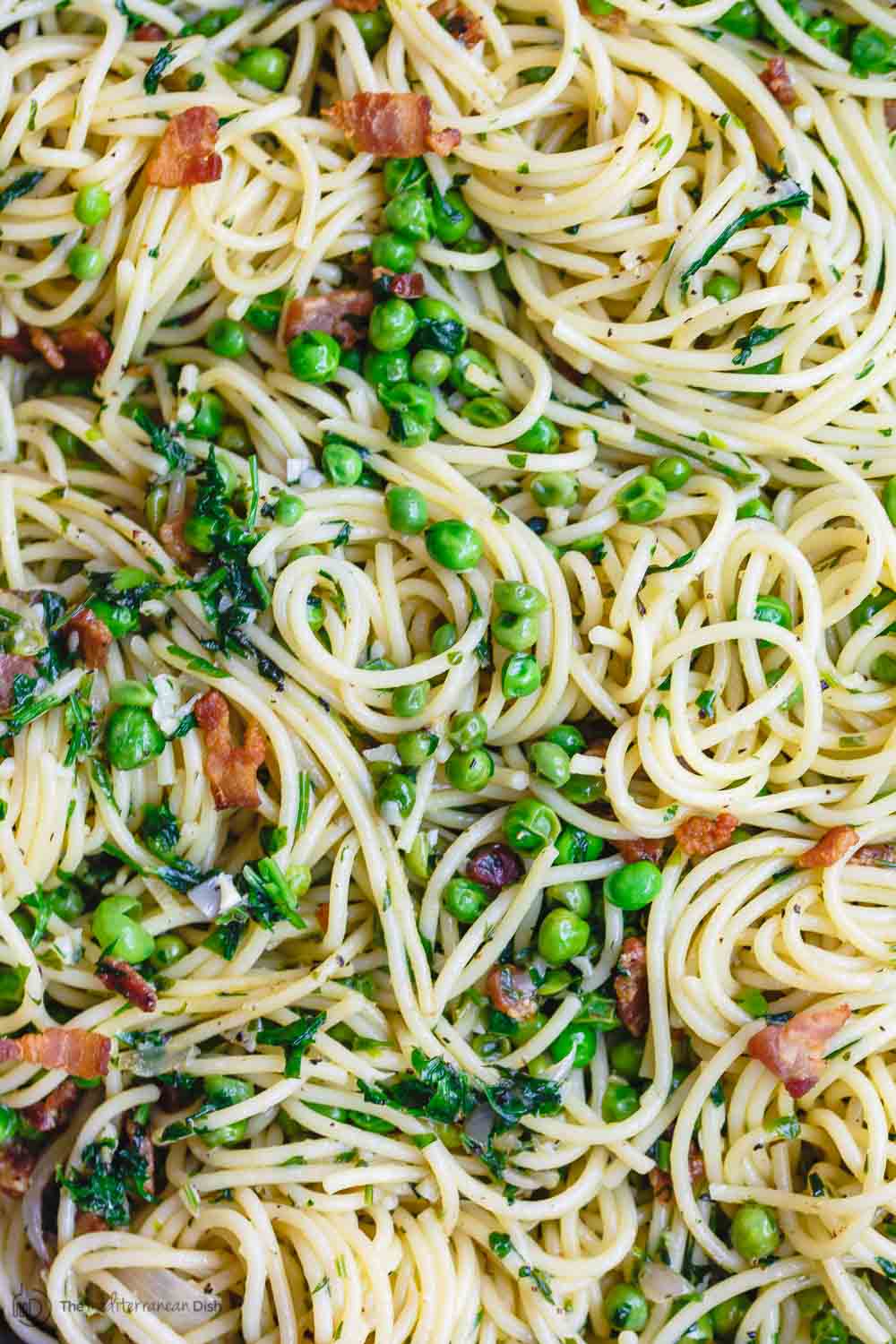 Related recipes to try
Hungry for more? Browse Italian-Inspired Recipes, Top Mediterranean diet recipes, All Mediterranean Recipes
Simple Pancetta Pasta with Peas and Parmesan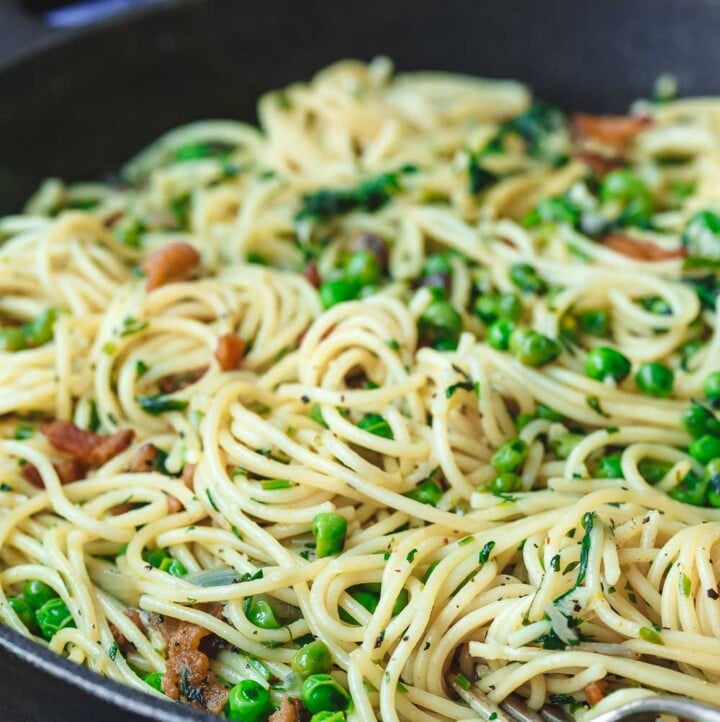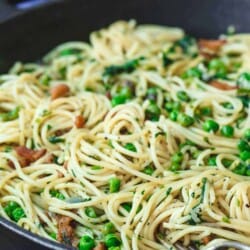 Simple pancetta pasta and peas, tossed in a simple garlic and olive oil sauce and finished with Parmesan cheese. So good!
Ingredients
½

lb

thin spaghetti

or pasta of your choice

Salt

2

shallots,

thinly sliced

2

cups

peas,

thawed if frozen

8

large garlic cloves,

minced

Black pepper

2

teaspoon

Aleppo pepper flakes,

divided

2

cups

packed chopped fresh parsley

1

lemon,

zested and juiced

Grated Parmesan cheese,

½ cup or more to your liking
Instructions
Cook the pasta to al dante in plenty of salted boiling water, consult package for instructions. Reserve 1 cup of the pasta cooking water aside, then drain pasta (some of the starchy pasta water will serve as sauce later)

Meanwhile, heat a large cast iron skillet over medium-high heat. Add the pancetta (or bacon) and cook, tossing regularly, until fully cooked and browned. Remove pancetta onto a plate lined with paper towel to drain. Carefully dispose of most of the pancetta fat leaving just a hint (about 2 tsp) for flavoring.

Set stove top to medium heat and return skillet to heat. To the little bit of pancetta fat, add 4 tablespoon Private Reserve extra virgin olive oil. Heat until shimmering but not smoking, then add shallots, peas, salt, black pepper, and 1 teaspoon aleppo pepper. Raise heat to medium-high and cook for 5 minutes, tossing regularly. Add garlic and parsley and cook for another 3 mins, or until peas are fully cooked through.

Now return cooked pancetta to skillet. Add cooked pasta and ¾ cup of the reserved pasta water. Add the remaining 1 teaspoon aleppo pepper, lemon zest and lemon juice. Toss to combine.

Add grated Parmesan cheese (you might stat with 3 to 4 tablespoon and adjust as needed.) Test and adjust seasoning (salt and pepper) to your liking.

Transfer pasta to serving bowls and enjoy!
Notes
Note: Because this pasta comes together quickly, it's a good idea to work on salads etc. before you begin making the pasta.
Visit Our Shop to browse quality Mediterranean ingredients, including olive oils and spices such as Aleppo pepper used in this recipe.
Nutrition
Calories:
308.8
kcal
Carbohydrates:
50.8
g
Protein:
9.3
g
Saturated Fat:
1.2
g
Sodium:
23.4
mg
Potassium:
395.8
mg
Fiber:
4.1
g
Sugar:
3.5
g
Vitamin A:
2534.2
IU
Vitamin C:
57.1
mg
Calcium:
75.9
mg
Iron:
3.1
mg
*This recipe and post originally appeared on The Mediterranean Dish in 2018 and has been recently updated for readers' benefit.