There are so few dishes that can compete with a comforting bowl of pasta. It's why pasta dinners are so popular in my home and in many others'. One pasta recipe that I make regularly is this simple pasta and peas with pancetta. Sounds indulgent, right? I keep it a bit on the lighter side with a secret sauce.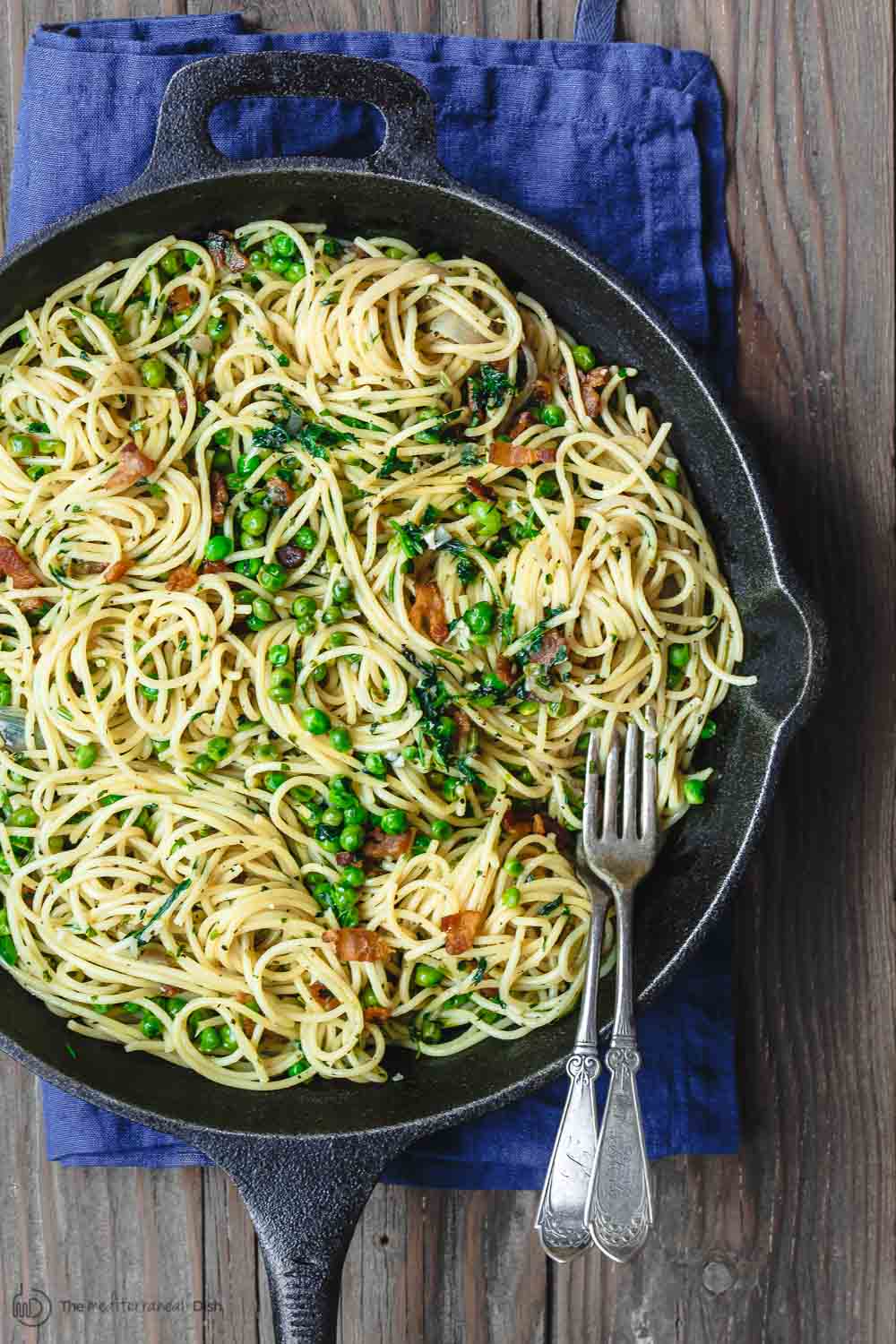 I love all sorts of pasta sauces, but if there is one I favor, it is agolio e olio. It is basically a sauce of garlic and extra virgin olive oil, the simplest of all Italian sauces.
Agolio e olio is pretty much the base of my popular Mediterranean olive oil pasta. But, we go a bit further by adding a whole bunch of parsley and a few Mediterranean toppings like tomatoes, olives, artichokes, etc. The result is a must-try thing of beauty, in my opinion.
VIDEO TUTORIALS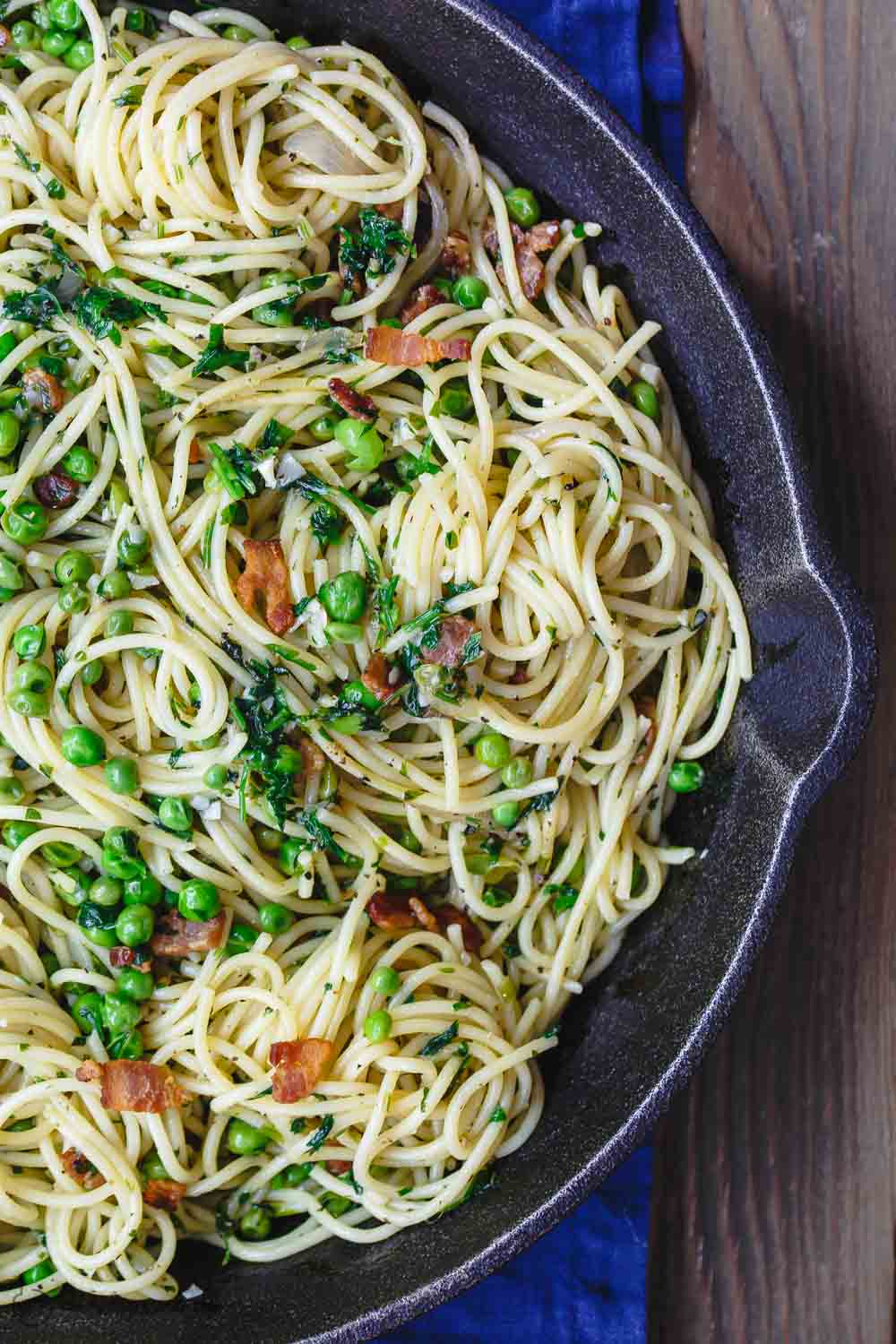 Pasta and peas is another love of mine. But often enough, pasta and peas recipes call for heavier, cream-based sauces. I figured, we can shake things up a bit here.
Why this pasta and peas recipe works?
In this bright pasta and peas recipe, we skip the heavier sauces again in favor of agolio e olio–garlic and olive oil (quality extra virgin olive oil makes all the difference.)
Not to worry, we build just enough of that "comfort factor" by using pancetta or bacon bits and a little bit of grated Parmesan cheese. Note, if you're looking for more of a smokier flavor, you should opt for bacon bits over pancetta.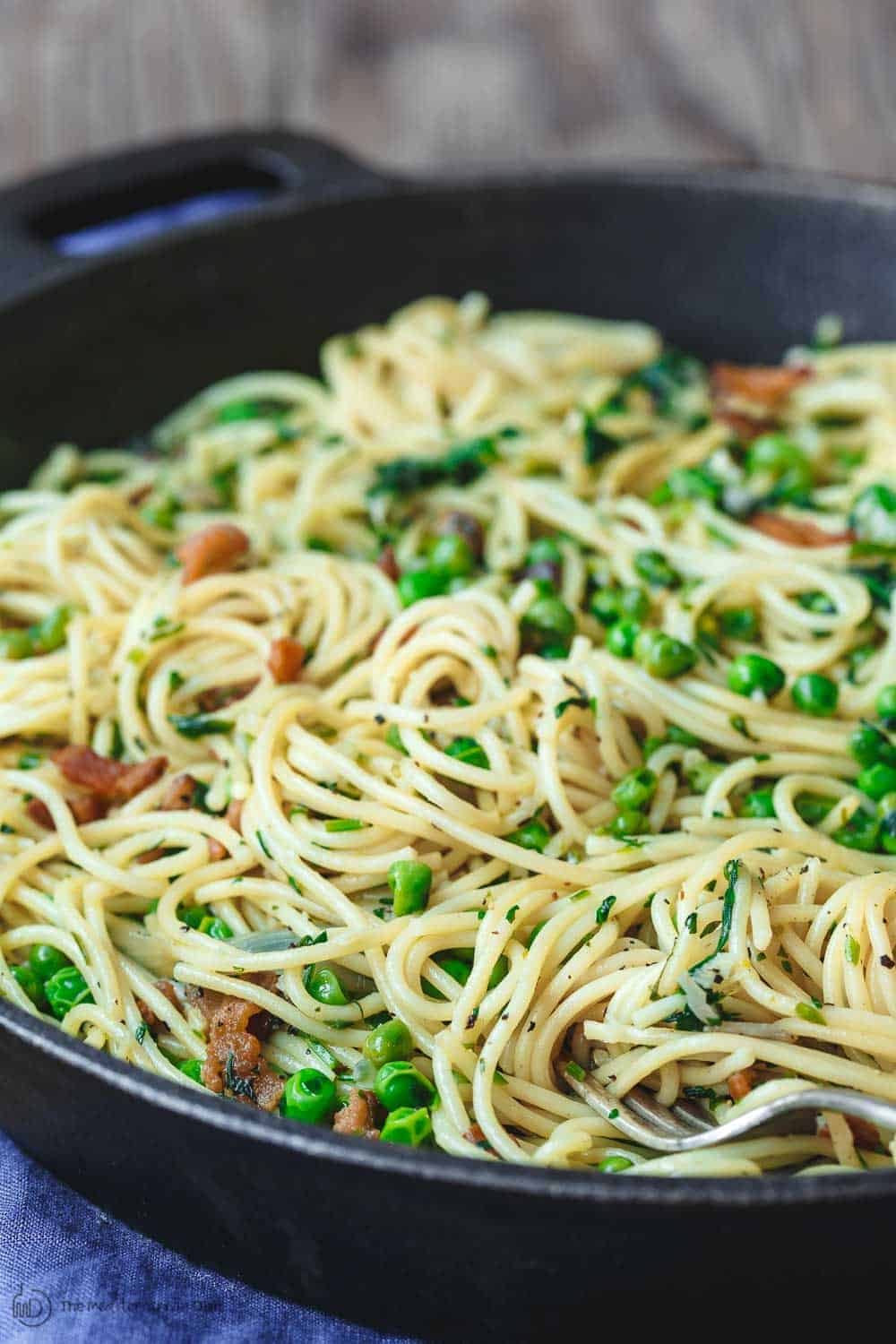 Perhaps the one surprising flavor maker in this peas and pasta recipe is Aleppo pepper.
Aleppo has become my secret weapon. Also known as Halaby pepper, Aleppo pepper is a milder pepper of fruity, tangy chili flakes. It very spicy, Aleppo still provides some heat, giving off sweetness akin to the best kind of sundried tomatoes. I've been experimenting more with it, and I think it's perfect in pasta dishes like this pasta and peas.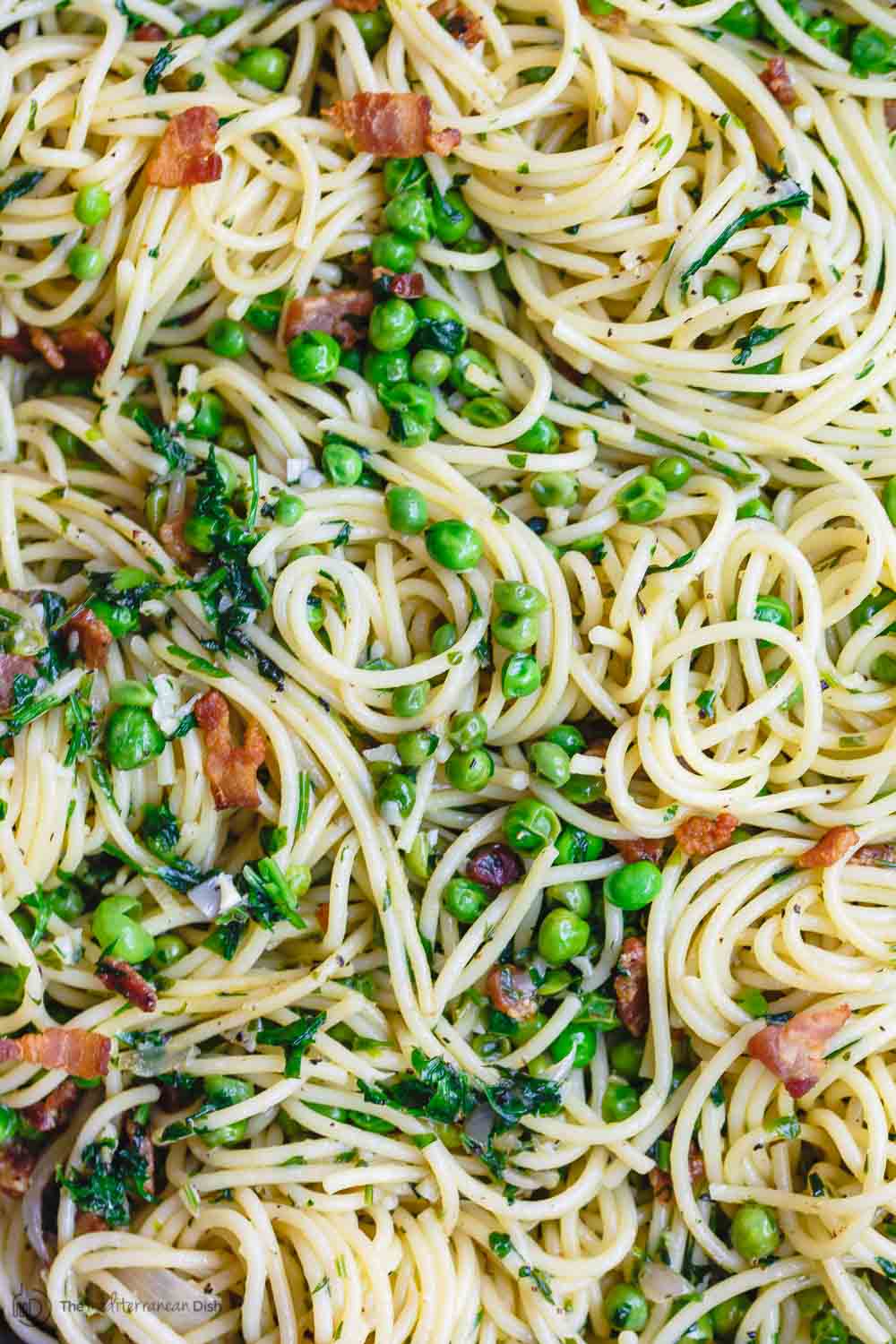 What to serve with this pasta and peas?
For a lighter spring dinner, this pasta and peas is plenty for my family of four. We do often start with a salad like this avocado salad or balela salad. But if you're looking to use it as a side dish, you can add pan-seared salmon; breaded chicken; or this Mediterranean grilled chicken.
Print
Simple Pasta with Peas and Pancetta
---
Author:

Prep Time:

10 mins

Cook Time:

20 mins

Total Time:

30 minutes

Yield:

serves up to 6 people

Cuisine:

Mediterranean
More Recipes to Try:
Vegetarian Lasagna Rolls with Zucchini
Herbed Couscous with Roasted Cauliflower
Egyptian-Style Potato Casserole
Asparagus with Mediterranean Salsa
Mediterranean Skillet Sea Bass with Garlic Bell Pepper Medley