Easy recipe for Tsourike: Greek Easter Bread! Sweet yeast bread that is a bit brioche-like. You'll love this traditional dense braided loaf that's adorned with red-dyed eggs. You can serve it as part for brunch with a little honey and feta, or as part of your dinner feast next to other favorites like this Greek lamb. Be sure to watch the video below for how to make it!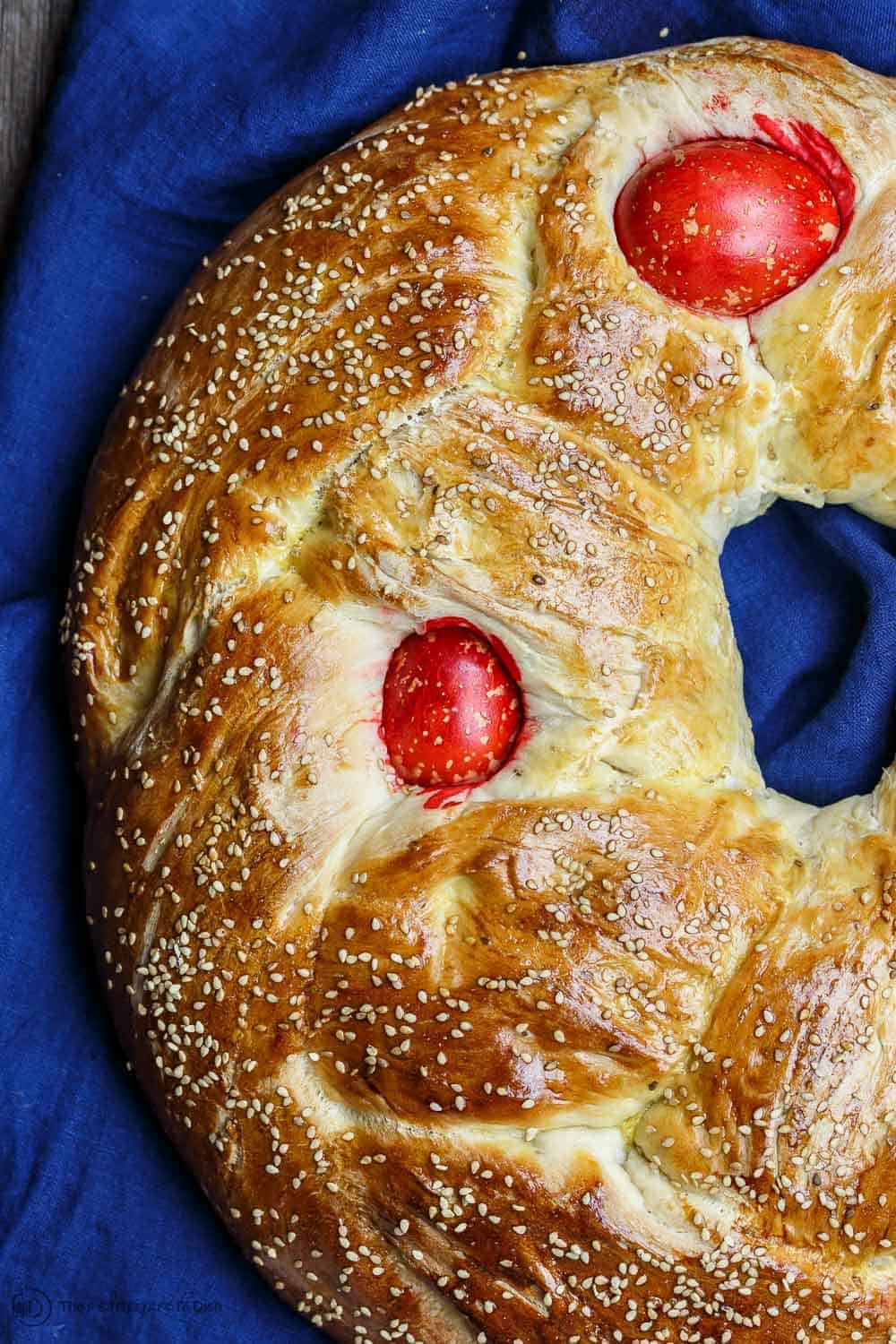 Back in the spring of 2006, I was a part of a group tour to Turkey and Greece. And very fortunately, our time there coincided with the Greek Orthodox Easter.
In Greece, as in many Mediterranean cultures, Easter preparations begin on Holy Thursday with meaningful rituals, including dying eggs in red only--symbolizing rebirth, renewal, and the blood of Christ.
These same eggs are often used as decoration for the popular Greek Easter bread known as tsoureki, which is only one of many Easter breads and baked goods we encountered on our tour. In fact, you'll find similar breads throughout the region to celebrate the holiday, like the Italian version that's seasoned with citrus zest rather than anise and sesame.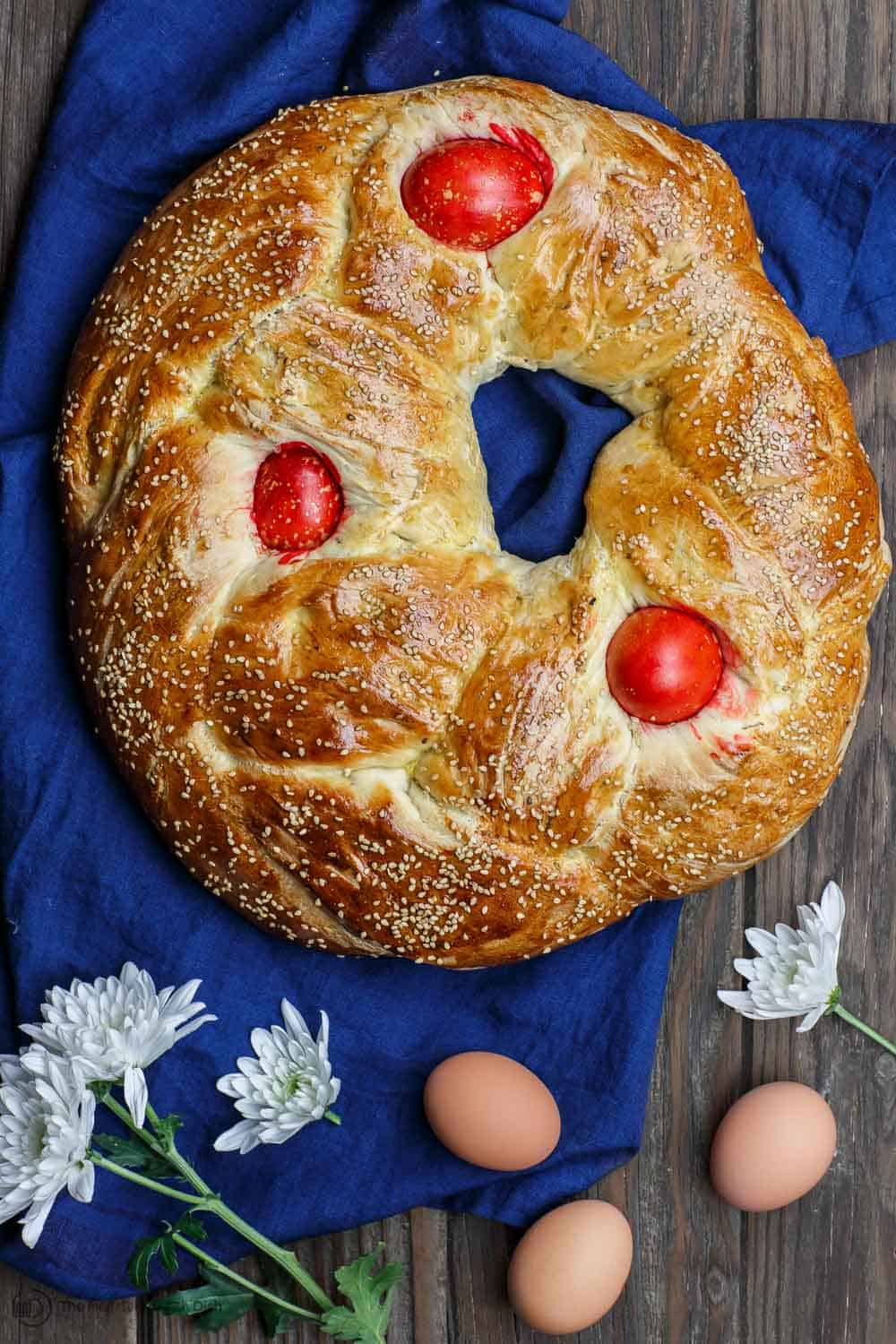 What is Tsoureki Bread?
Tsoureki, Greek Easter bread, is a sweeter brioche-like bread that is enriched with eggs and butter--ingredients that are forbidden during the 48-day long Lenten season.
Traditionally, Greek Easter bread recipes, depend on flavoring from ingredients like mastic and mahleb, which are mostly accessible through the internet or Middle Eastern grocers.
I surveyed several recipes to come up with an easy, more accessible Greek Easter bread recipe. And for flavoring, I borrowed a bit of an Egyptian twist by adding anise seed, which is actually not too foreign to Greek baking. Some recipes also use fennel seed.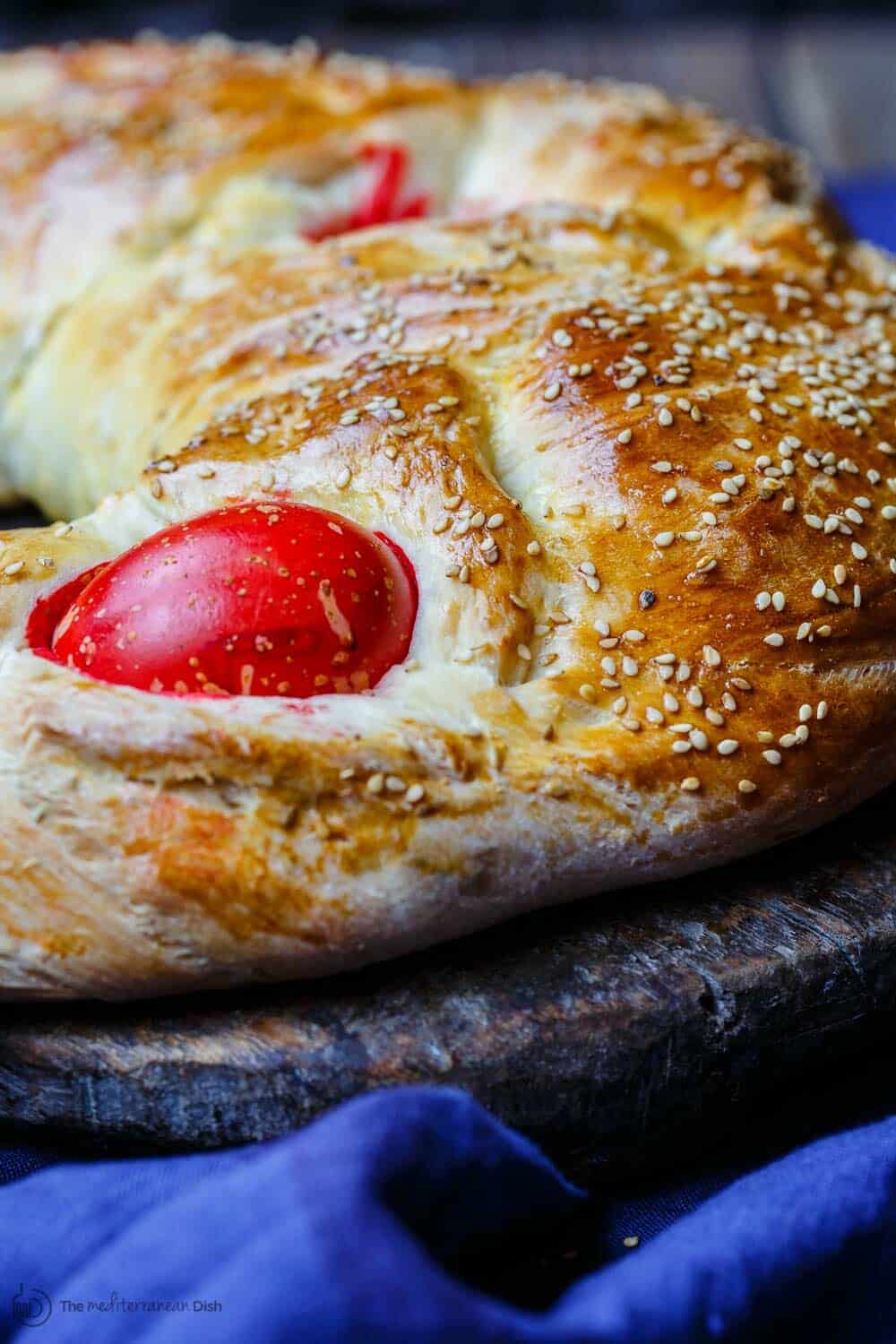 Traditions & Greek Easter Bread
As in many parts of the Mediterranean, Greek Orthodox Christians will celebrate Easter with a special midnight mass. A festive family dinner (or super early breakfast, if you will) follows. The star is typically meat; and many will serve a popular soup called magiritsa, which is made from the organs of the lamb.
The Hinarsises, my friends who supply our Greek extra virgin olive oil, confirmed that Greek Easter bread makes it's appearance on Easter Sunday. It's typically served following lunch-- a big feast in which copious amounts of lamb are served.
And of course, red-dyed eggs are aplenty. As family members crack their eggs against each other in a playful but meaningful manner, one greets the other, "Christos Anesti" (meaning "Christ has risen"). The response, "Alithos Anesti" (meaning "Indeed, he did!")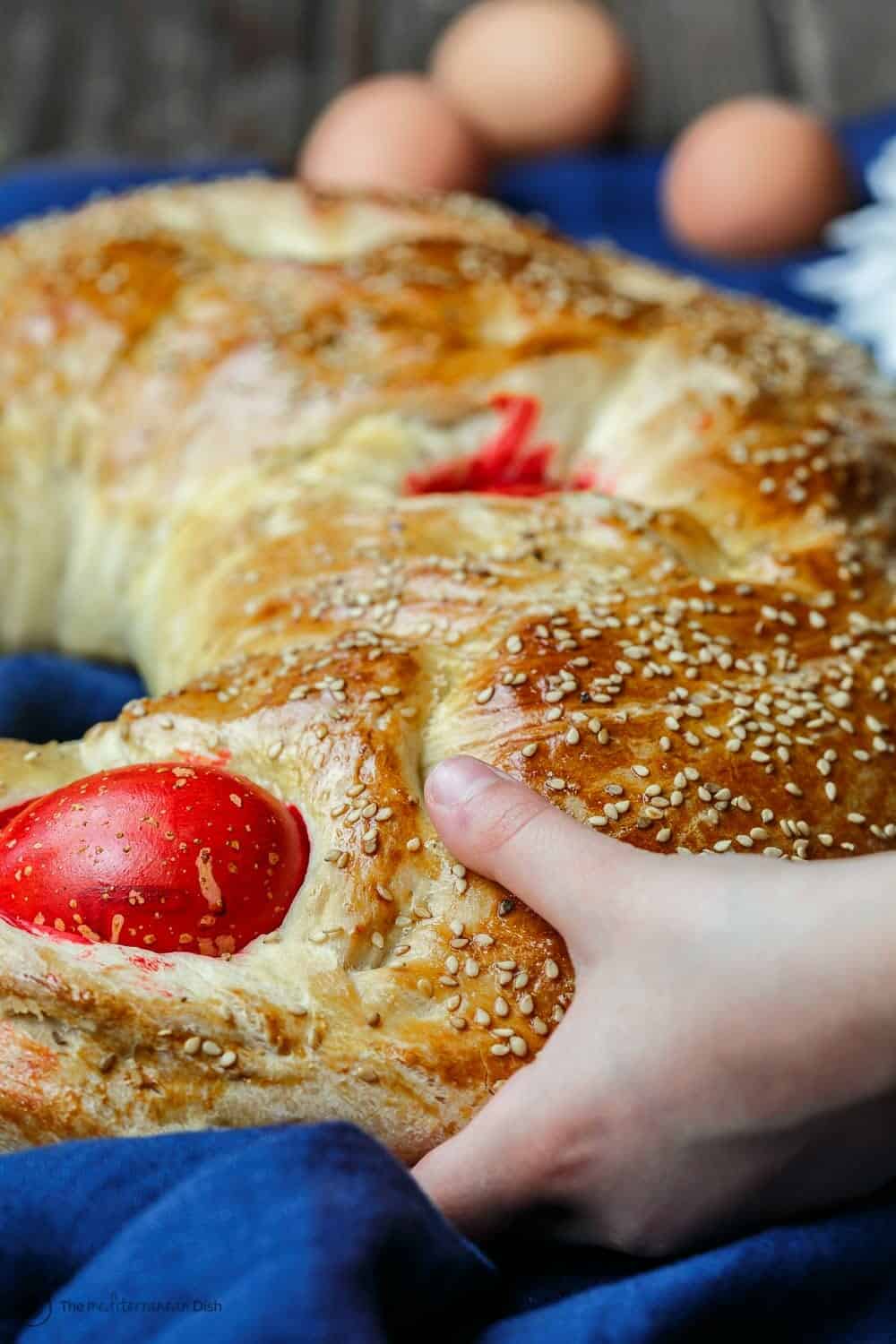 How to Serve It?
Today, Tsoureki is so popular that it's mass produced, packaged, and sold and served almost throughout the year in Greece.
You may be sitting here going, I'm not Greek! But there really is no wrong way to serve and enjoy this Greek Easter Bread recipe. For my family, we will enjoy it for a simple breakfast with more boiled eggs, and feta, or honey.
Watch the Video for How to Make Greek Easter Bread:
Print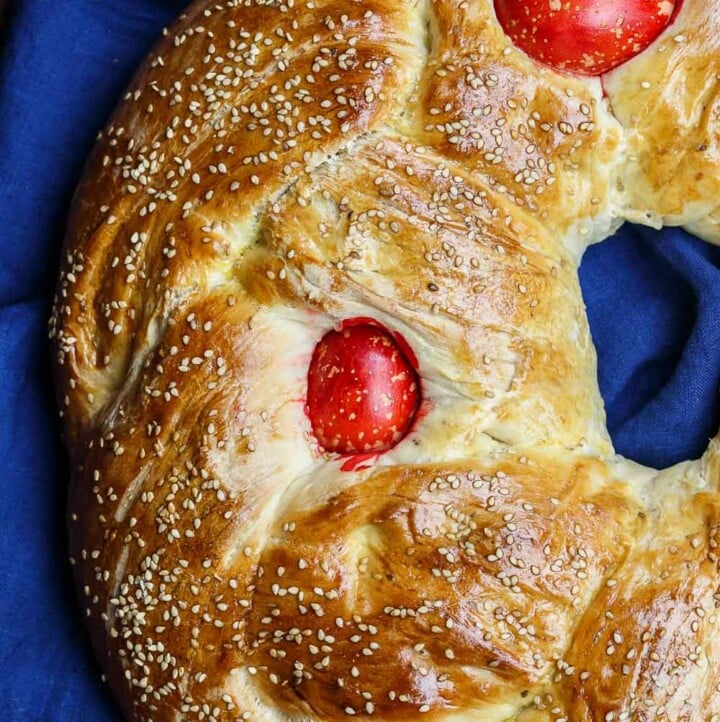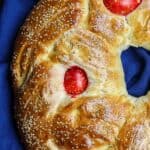 Easy Greek Easter Bread Recipe
---
Description
Tsourike: Greek Easter Bread is a sweet yeast bread that is a bit brioche-like. You'll love this perfectly dense braided loaf that's adorned with red-dyed eggs.
---
2 ¼ tsp

active dry yeast (

1

envelope)

5 ½ cups

all-purpose flour, more for dusting

½ cup

sugar

1 ⅓ cup

milk

5 tbsp

unsalted butter

1 tsp

fine salt

2

large eggs, beaten, PLUS 1 egg beaten with 1 teaspoon water (egg wash)

2 tbsp

anise seed

¼ tsp

vanilla extract

3

hard-boiled eggs, dyed red and fully dried

2

to

4

tablespoon toasted sesame seeds (optional)
---
Instructions
In the bowl of a stand mixer, combine ⅓ cup hot water (about 110 degrees F) with the yeast, 1 tablespoon of the flour, and 1 tablespoon of the sugar. Whisk gently. Cover with a towel and leave aside for 10 minutes until bubbly.
In the meantime, heat the milk in a small sauce pan until the edges begin to bubble, about 4 to 6 minutes. Remove from heat and stir in the butter, remaining sugar and salt. Set aside for 5 minutes to cool.
Using the paddle attachment of your stand mixer, stir the milk mixture into the yeast mixture. While paddle is stirring, add the 2 beaten eggs. Gradually mix in the flour, anise seed, and vanilla extract. Beat unit a soft dough forms. Increase speed to medium (or medium-high if needed) until the dough pulls away from the sides of the bowl.
Transfer dough onto a lightly floured surface (dough will be sticky at this point.) Kneed by hand until very smooth (about 5 minutes), then place dough into a lightly-oiled bowl. Cover and place in a warm, closed space for 1 ½ hours, until doubled in size. (I had heated my oven to lowest temperature, then turned it off a few minutes before placing my covered dough in.)
Punch dough down, and transfer to floured surface again. Cut dough into 3 equal parts, and gently roll each to form a long 16-inch rope. Transfer to a large baking sheet lined with parchment paper. Press ropes together at one end and braid fairly loosely. Form into a circle and press together on the other side. Stretch the circle to about 10 inches across and the hole in the middle about 3 ½ inches wide.
Cover with a clean towel and place back in warm space for 1 hour until doubled in size.
Rub the dyed eggs with olive oil, and buff with paper towel. Select three spots in the dough, evenly spaced, and gently insert the eggs. Cover and return to warm space. Let rise 1 more hour until dough doubles in size.
Heat oven to 350 degrees F. Brush the bread with the egg wash and sprinkle with toasted sesame seeds. Bake about 45 minutes until braided loaf turns a nice deep golden brown (should sound hallow when you tap on it.)
Let cool for about 30 minutes before serving. Serve with more boiled eggs, honey or other breakfast items. Enjoy!
Notes
Cook's Tip 1: Make the boiled eggs and dye them first. Set aside to fully dry before use in this bread recipe.
Are the eggs within the bread edible? We simply sliced around the eggs and did not eat them, they had been boiled then baked with the bread.
Additional Notes: Traditional recipes rely on mastic and mahlab for flavoring. This modern recipe is tailored for the North American kitchen, relying on anise seed for flavor and topped with toasted sesame for added texture. You can use toasted slivered almonds in place of sesame seeds, if you prefer
Recommended for this Recipe: Our Private Reserve Greek extra virgin olive oil (from organically grown and processed Koroneiki olives!)
Visit The Mediterranean Dish store for quality Greek extra virgin olive oils and spices.
Prep Time:

4 hours (3 ½ hours inactive time)

Cook Time:

45 mins

Category:

Bread

Method:

Baked

Cuisine:

Greek
Keywords: Tsourike, Greek Easter Bread, Easter Bread Recipe, Greek recipe, Bread, Holiday Bread
Try these delicious recipes:
Greek Orange Honey Cake with Pistachios