Comfort food doesn't get better than this traditional Greek moussaka recipe with layers of tender roasted eggplant, a rich sauce made with ground lamb or beef, and a creamy bechamel topping. Get all my tips for how to make moussaka perfectly every time.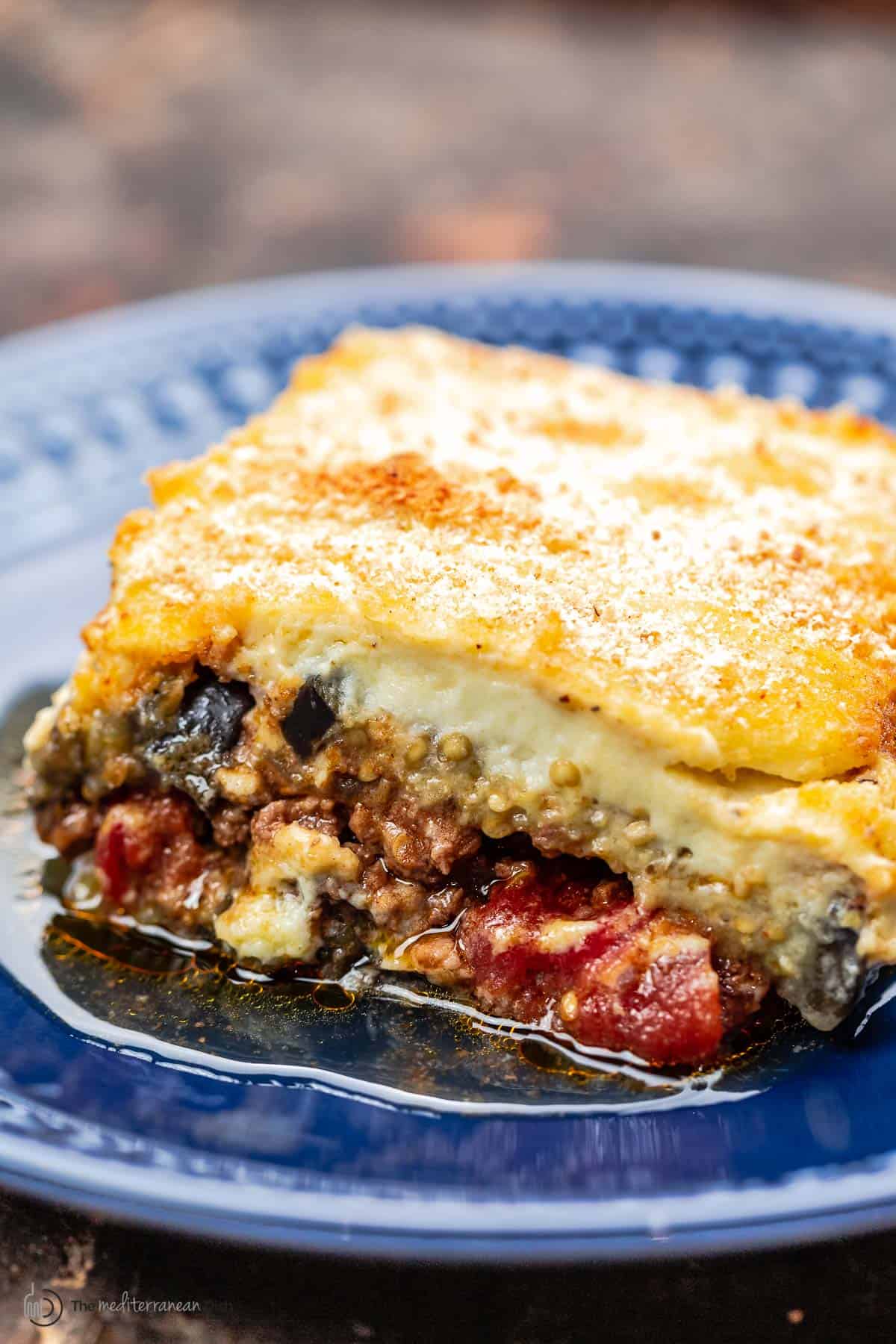 Today we're talking moussaka, a sublime Greek casserole with layers of tender eggplant, a flavorful meat sauce, and topped with creamy bechamel. It's rich, decadent and seasoned with hints of cinnamon, nutmeg, oregano and paprika.
Even though Greek moussaka is not difficult to make, it is a bit time consuming. The good news is, with a little planning, you can prepare it ahead of time and moussaka is one of those dishes where the flavors only get better with time.
It's an excellent make-head option for a weekend gathering or holiday meal. If you've been looking for a comfort food recipe that friends and family will request on repeat, moussaka is the recipe to wow them.
Table of Contents
What is moussaka?
The epitome of Greek comfort food, moussaka (pronounced moo-sa-ka'a) is a hearty eggplant casserole with a flavor-packed meat sauce, and finished with a topping of rich creamy bechamel sauce.

Many wonder what the difference is between moussaka and lasagna, and it's quite simple! Lasagna is made with layers of pasta, while moussaka is made with layers of vegetables.

There are variations of eggplant moussaka, some use potatoes or even zucchini squash. In Egypt, we ditch the bechamel topping and simply serve a deconstructed version with fried eggplant smothered in tomato sauce (it looks something like this vegan fried eggplant recipe).

Today, we're going to stick closer to classic moussaka with all the delicious layers involved.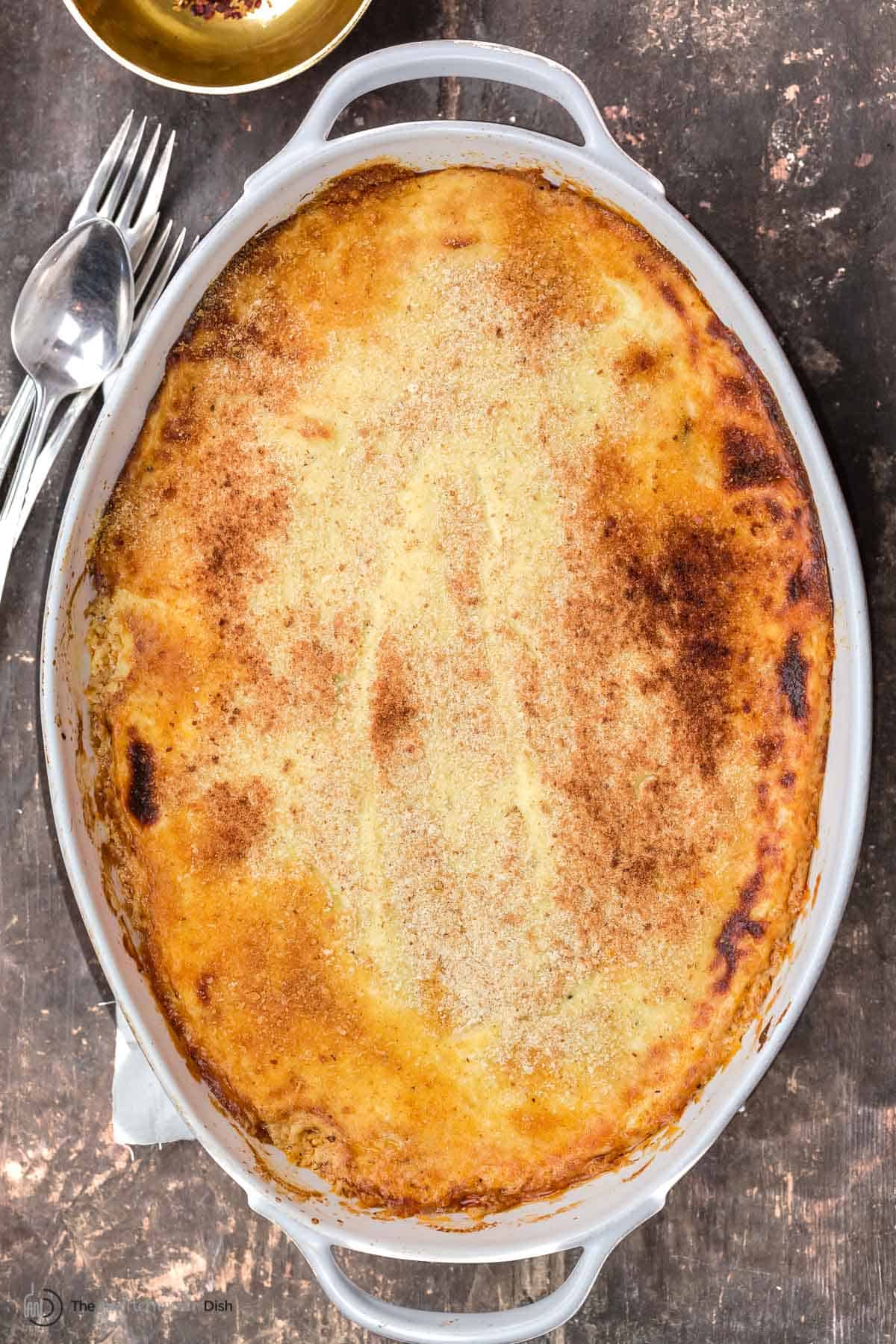 Ingredients to make moussaka
A classic Greek moussaka recipe has three key components: sliced eggplant, the meat sauce, and the bechamel sauce. Here are the ingredients you need to make each of the layers:
For the eggplant layer
Eggplant sliced lengthwise into ¼-inch slices
For the meat sauce layer
Yellow onion
Ground lamb or ground beef
Red wine
Canned diced tomato
Sugar
Beef broth
For the bechamel sauce layer
Extra virgin olive oil
All-purpose flour
Nutmeg
Milk
Eggs
How to prepare eggplant for moussaka?
If I had to choose a favorite vegetable, it'd probably be eggplant. Whether I'm roasting it to tender perfection, making an easy baba ganoush, or layering it with meat sauce and bechamel, like in today's moussaka recipe, I can always rely on my trusty eggplant to deliver on flavor.
Because eggplant is one of the main ingredients in this recipe, preparing it properly is important. Here are some tips for how to prep eggplant for moussaka:
Use large eggplants. Larger eggplants will yield large slices, which make it easier to form layers.
You don't need to peel the eggplant before cutting it.
Slice the eggplant lengthwise into ¼-inch pieces. Place the eggplant on a clean cutting board and hold it in place with your non-dominant hand. Using a sharp knife, carefully cut it into ¼-inch slices and discard the end pieces.
Salt the eggplant for the best flavor.
Broil the eggplant. Broiling the eggplant is a major shortcut because the eggplant will cook quickly. The charred bits from broiling the eggplant result in a great flavor.
Should you salt eggplant for moussaka?
This is a hotly debated topic among cooks, and many do not believe you need to salt eggplant. But there are two reasons I believe salting the eggplant helps:
Salt helps to draw out excess moisture, so that when your moussaka bakes, it won't be swimming in liquid. Salted eggplant also has a nice creamy texture, which works really well in moussaka.
Eggplant can be quite bitter. Salt helps to remove that bitterness, making eggplant more palatable.
To salt the eggplant, simply sprinkle salt onto the slices and allow it to sit for 30 minutes. Then, pat the eggplant dry to remove excess salt and moisture.
Potatoes: Yea or nay?
Yes, you can use potato instead of eggplant in moussaka, or use them both! I have seen recipes where eggplant is omitted completely in favor of sliced potatoes, or potatoes and eggplant are both used for layering. Opt for starchy potatoes like russet or Idaho potatoes and do the following:
Slice the potatoes into ¼-inch rounds.
Place the potato slices on a large sheet pan brushed with olive oil.
Drizzle the potatoes with olive oil, season them with salt, and bake at 350°F for 20 minutes or until tender.
Note that cooking time for the potatoes to be tender will be different than eggplant.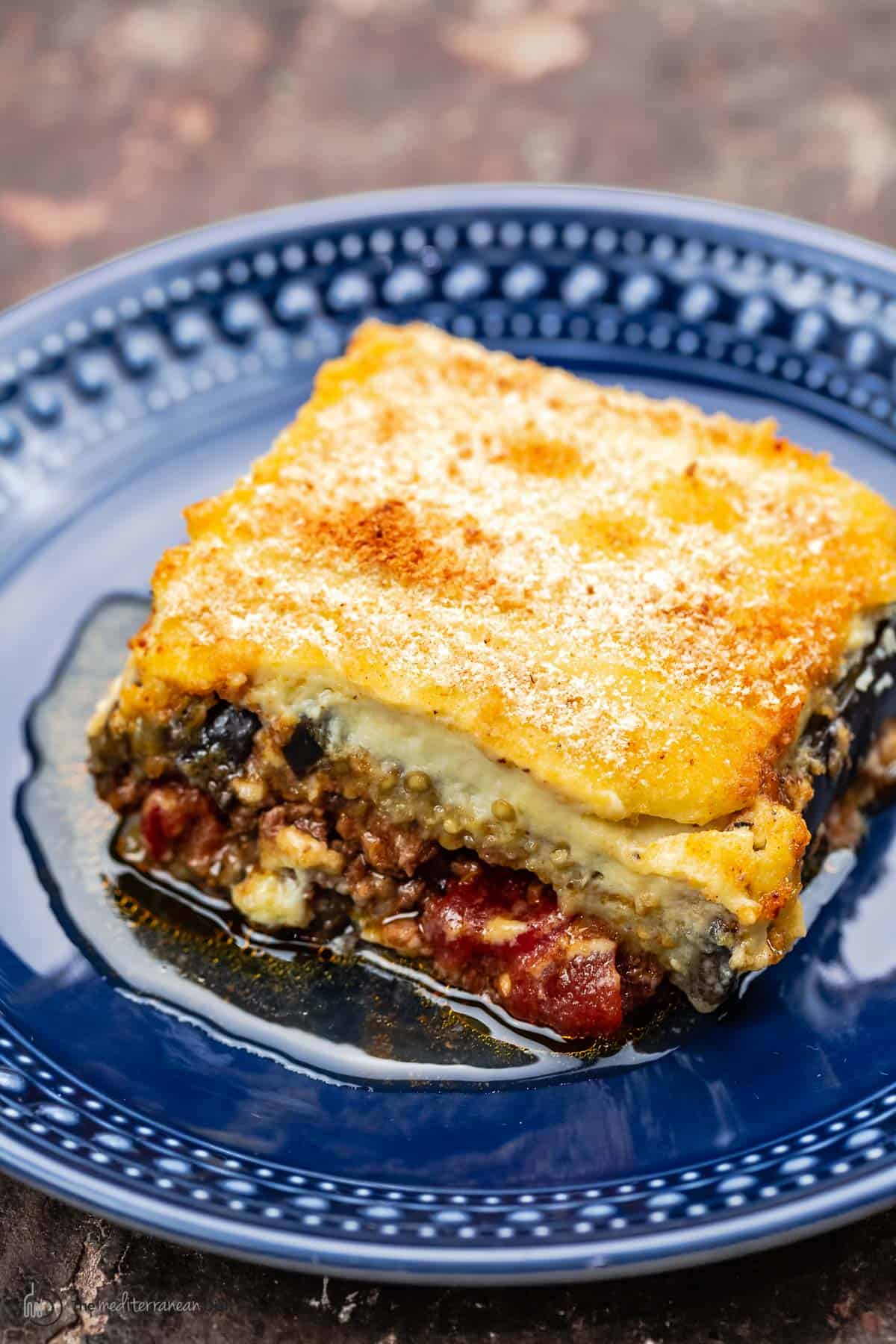 What is moussaka meat sauce?
The rich, thick meat sauce in this moussaka recipe is sure to be a hit in your home! I use ground lamb because it is such a flavorful type of meat, but beef would be a good substitute, and would still yield decadent results.
The ground lamb is spiced with warming cinnamon, nutmeg, paprika, pepper, and dried oregano. For some delicious umami, I add a generous amount of canned tomatoes followed by wine and beef broth – both powerhouses of flavor!
A teaspoon of sugar helps to mellow the acidity but maintains the different levels of flavor in this classic moussaka recipe.
Greek bechamel sauce!
French bechamel sauce (or white sauce) is made with butter, flour, and milk. The result is a gorgeous creamy sauce, thick but still slightly runny.
Greek bechamel or besamel (beh-sah-mel), which is what is used in moussaka contains eggs, which, when baked, results in a sauce that sets firmly. So when you cut your moussaka into slices for serving, the bechamel sauce shouldn't run.
How to make moussaka
Slice and salt the eggplant. Sprinkle the sliced eggplant with salt and allow to sit for 30 minutes. This helps to reduce bitterness.



Broil the eggplant. Brush the eggplant with extra virgin olive oil and broil until it is softened and golden brown.



Make the meat sauce. Brown the lamb, drain excess fat, and add the spices. Pour in the wine and reduce, followed by the tomatoes, sugar, and broth. Let simmer for 20 to 30 minutes.



Make the bechamel. Cook the salt, pepper, and flour in heated olive oil until golden. Add milk in small amounts and whisk continuously to prevent lumps forming, and add nutmeg. Whisk some hot bechamel with eggs and return it to the stove.



Assemble the moussaka. The fun part! Layer half the eggplant slices, the meat sauce, the remaining eggplant, and top with bechamel. Sprinkle the breadcrumbs over the top.



Bake. Bake for 45 minutes on the center rack. For more color, broil for a couple of minutes.



Let rest before serving. After removing the eggplant moussaka from the oven, let it sit for 10 to 20 minutes so that it does not fall apart when you slice it. Cut into squares and serve.
What to serve with moussaka
Moussaka is a complete meal, but if you want to serve it with something light and fresh a simple side salad would do.

When it comes to wrapping up mealtime, I think it's always nice to finish a rich dinner with a coffee cocktail or a sweet treat.

Blend cultures by serving up a Spanish coffee cocktail called carajillo or stick with the Greek theme and offer a dessert like baklava or melomakarona, a cookie scented with orange and cinnamon.
Make ahead tips for moussaka
Eggplant moussaka is not a difficult dish to make, but it is time consuming. You can save time by making the components in advance. Here are some tips for preparing moussaka in advance:
Prepare the eggplant one day in advance. You can slice, sweat out, and broil the eggplant a few days in advance.
Cook the meat sauce one or two days ahead. The meat sauce will keep in the fridge for up to four days, and the flavor only gets better with time. .
Make the bechamel sauce a few days in advance. Bechamel sauce will hold its flavor and texture for up to a week in the fridge. Reheat bechamel over low heat, whisking continuously. If the bechamel has thickened too much, whisk in a little more milk to get it to the right consistency.
Not a meat eater? Try vegetarian moussaka
My vegetarian moussaka recipe is as hearty as this one, with just a couple of key differences. I replaced the meat sauce with an equally delicious lentil sauce and I added layers of potatoes and zucchini for bulk.
How to store and reheat leftovers
Eggplant moussaka will keep well in an airtight container in the refrigerator for up to 5 days. To reheat, transfer the moussaka into an oven-safe dish and place on the center rack of an oven heated to 350°F for about 25 to 30 minutes.
Can you freeze eggplant moussaka?
You can freeze eggplant moussaka, either whole or in individual servings!
To freeze an entire cooked moussaka: Allow it to cool before covering it snugly with plastic wrap and then wrapping it in foil. Freeze for up to 3 months. Remember to remove the plastic wrap before reheating.
To freeze individual servings of moussaka:
Once it cools, cut the moussaka into squares.
Line a large sheet pan with parchment paper and arrange the squares on it, leaving a little space around each slice so they don't freeze together.
Place in the freezer for a few hours until the moussaka is frozen solid.
Transfer to freezer-safe containers and freeze for up to 3 months.
To reheat, thaw slices in the fridge overnight before reheating in an oven as outlined in the section above.
More comforting eggplant recipes to try
Browse all Mediterranean recipes.

Visit Our Shop
Moussaka: Eggplant Casserole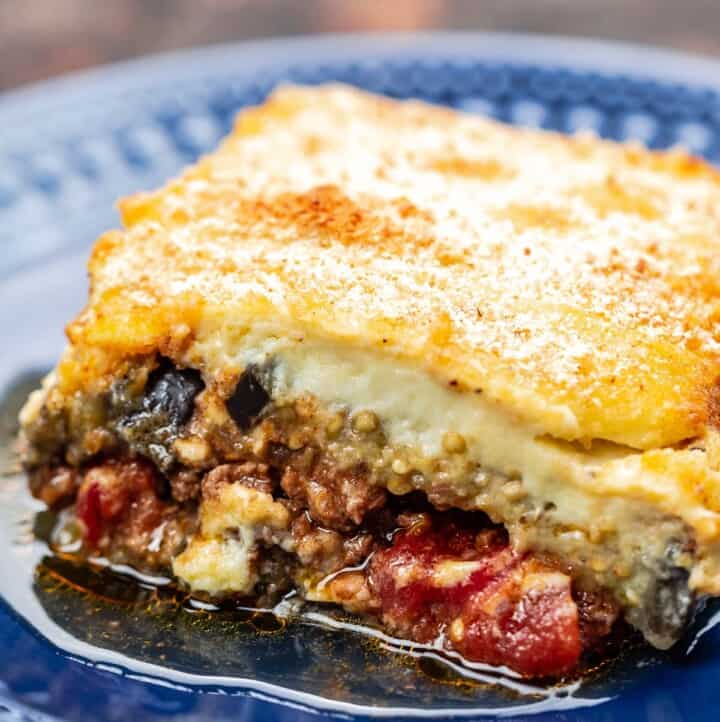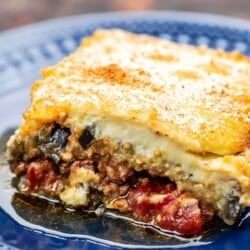 Greek Moussaka is an eggplant casserole with layers of roasted eggplant and spiced meat sauce, topped with creamy bechamel sauce. Once baked, be sure to allow the moussaka a few minutes to rest before cutting through, the casserole needs to settle so it does not fall apart when you slice into it. More tips in the post and recipe notes.
Ingredients
2

large eggplants,

sliced lengthwise into ¼ inch-thick slices, end slices discarded

salt

Private Reserve extra virgin olive oil

4

tablespoon

breadcrumbs
For the meat sauce
For the bechamel
⅓

cup

+ 2 tablespoons extra virgin olive oil

⅔

cup

all-purpose flour

½

teaspoon

salt,

more if you like

¼

teaspoon

ground nutmeg

4

cups

2% milk,

warmed

2

large eggs
Instructions
Salt the eggplant. Spread the eggplant slices in one layer and sprinkle with salt. Let set for 30 minutes to "sweat out" its bitterness.

Turn the broiler of your oven on.

Prepare a large sheet pan or two and brush with extra virgin olive oil. Pat the eggplant slices dry, removing excess salt, and assemble in one layer on the prepared pan. Brush generously with olive oil.

Place the sheet pan about 6 inches away from the broiler. Broil the eggplant briefly, turning over so that both sides are softened and golden brown (do not worry if parts of the eggplant are slightly charred, but watch carefully so it doesn't burn). Remove from the oven and set aside.

Prepare the meat sauce. Heat 2 tablespoons olive oil in a skillet. Cook the onions on medium heat until they turn slightly golden brown, stirring regularly (about 5 minutes). Now add the ground lamb. Cook the lamb until fully browned, tossing regularly. Drain the lamb from any excess fat and return to the skillet. Add the dried oregano, cinnamon, pepper, nutmeg, and hot paprika. Stir to coat the meat with the spices. Add the wine and boil for 1 minute to reduce. Stir in the canned tomatoes, sugar, and broth. Simmer over medium-low heat for 20 to 30 minutes.

Meanwhile, heat the oven to 350°F and work on the bechamel.

Make the bechamel. In a large saucepan, heat the olive oil over medium-high heat until shimmering but not smoking. Stir in the flour, salt, and pepper. Cook until golden (if needed, added a little more olive oil). Gradually add the warmed milk, whisking continuously. Continue to cook, stirring occasionally, over medium heat for 5 to 7 minutes. Add the nutmeg. In a small bowl, whisk a small amount of the hot bechamel mixture with the 2 eggs. Then return all to the pan and stir into the bechamel mixture. Continue to stir or whisk the mixture bringing to a gentle boil for just 2 more minutes. Taste and adjust the seasoning. Remove from the heat and allow to cool and thicken a little more. (You should have a creamy, thick and smooth bechamel sauce.)

Assemble the moussaka. When ready, lightly oil a 9 ½" x 13" oven-safe baking dish. Layer half the eggplant slices on the bottom. Add the meat sauce and spread well. Add the remaining eggplant slices. Pour the bechamel on top and spread to cover all the eggplant, then sprinkle with the bread crumbs.

Bake. Bake the moussaka casserole on the center rack of the heated oven for 45 minutes. If you need to, transfer the baking pan to the top rack and broil briefly so that the top of the moussaka gains a nice golden brown color (watch carefully).

Remove from the heat and let the casserole sit for 10 minutes before cutting through into squares to serve. Enjoy!
Notes
Make ahead tips: You can prepare and broil the eggplant and meat sauce a day or two in advance. The bechamel sauce can also be made a few days ahead (it can hold texture for about 1 week, although you should count some days for leftovers). If you prepare the components of this eggplant casserole ahead of time, keep them each in the fridge in separate tightly-closed containers. If the bechamel thickens too much, you may need to reheat it gently before using over low heat, adding a little more milk and whisking to make sure the mixture is. not lumpy.
Let the moussaka rest before serving: After removing the eggplant moussaka from the oven, let it sit for 10 to 20 minutes so that it does not fall apart when you slice it, the bechamel sauce in particular needs to settle.
Leftover storage tips: moussaka will keep well in the fridge for about five days (although you need to count any make-ahead days).
Can you freeze eggplant moussaka? Cooked moussaka can be frozen. Once it cools completely, simply cut the moussaka into pieces and freeze them (you can store the pieces in separate freezer-safe containers or wrapped tightly with parchment then foil . This way, you can reheat individual slices at a time.
Recommended for this recipe: Private Reserve Greek extra virgin olive oil. SAVE! Try our Greek Olive Oil Bundle.
Recommended for this recipe: Sweet paprika and nutmeg. SAVE! Try our ultimate Mediterranean Spice Bundle or Create your own 6-pack or 3-pack from our all-natural or organic spice collections.
Nutrition
Calories:
309.9
kcal
Carbohydrates:
19.4
g
Protein:
12.3
g
Fat:
20
g
Saturated Fat:
6.4
g
Monounsaturated Fat:
10.5
g
Trans Fat:
0.1
g
Cholesterol:
61.2
mg
Sodium:
259.4
mg
Potassium:
510.7
mg
Fiber:
3.5
g
Vitamin A:
225.7
IU
Vitamin C:
5.6
mg
Calcium:
141
mg
Iron:
2
mg
*This post has been recently updated with new information for readers' benefit.