A healthier, rustic sweet potato gratin with pears. Simply spiced and roasted to perfection, then finished with a drizzle of warmed honey and lemon juice.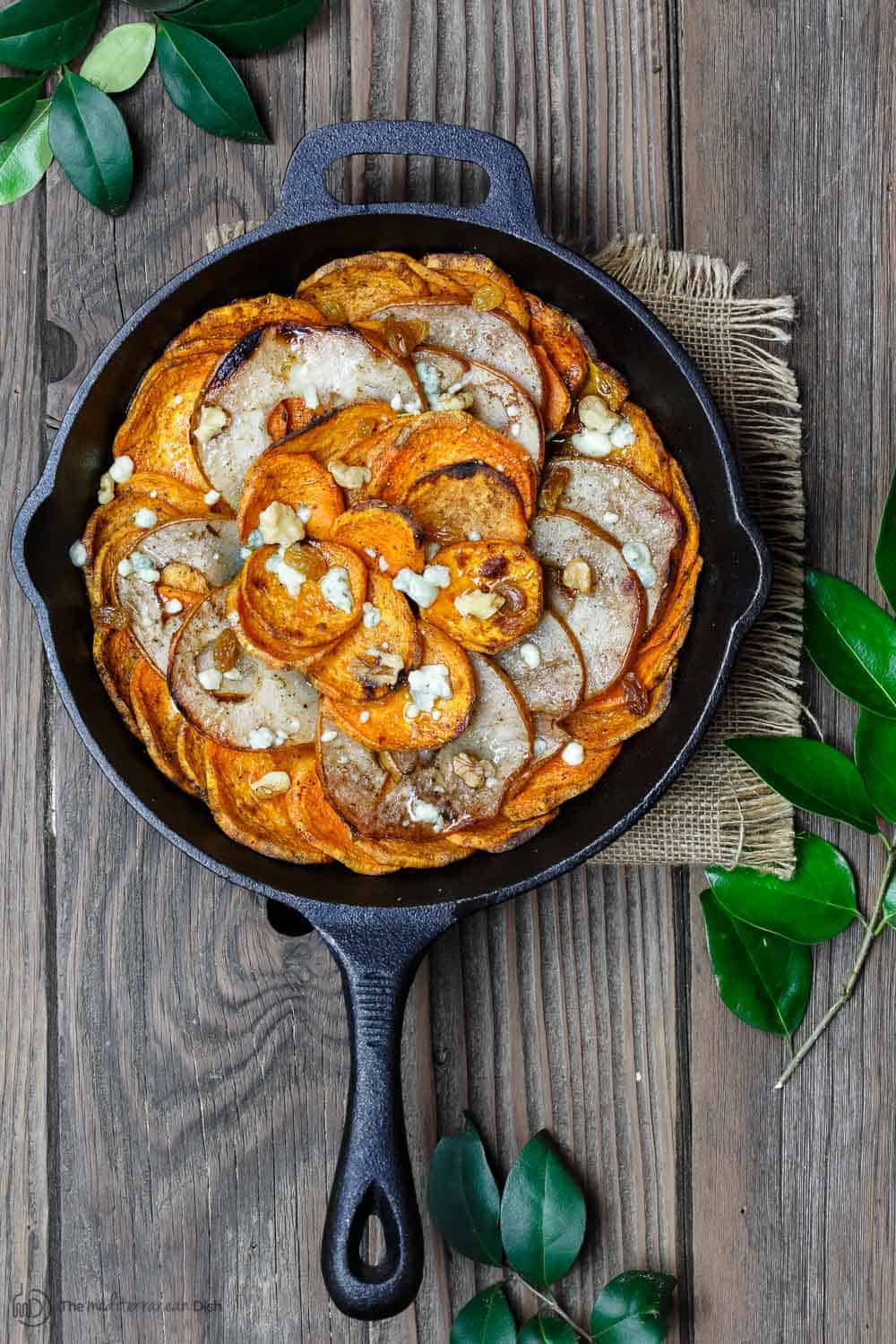 Way back, I posted this simple roasted mashed sweet potato recipe. A sweet potato dish bare of the familiar marshmallow topping; it took inspiration from Batata Mashwaya (Egyptian roasted sweet potatoes of my childhood).
And today, in this sweet potato gratin, again I intentionally ditch the marshmallows!
VIDEO TUTORIALS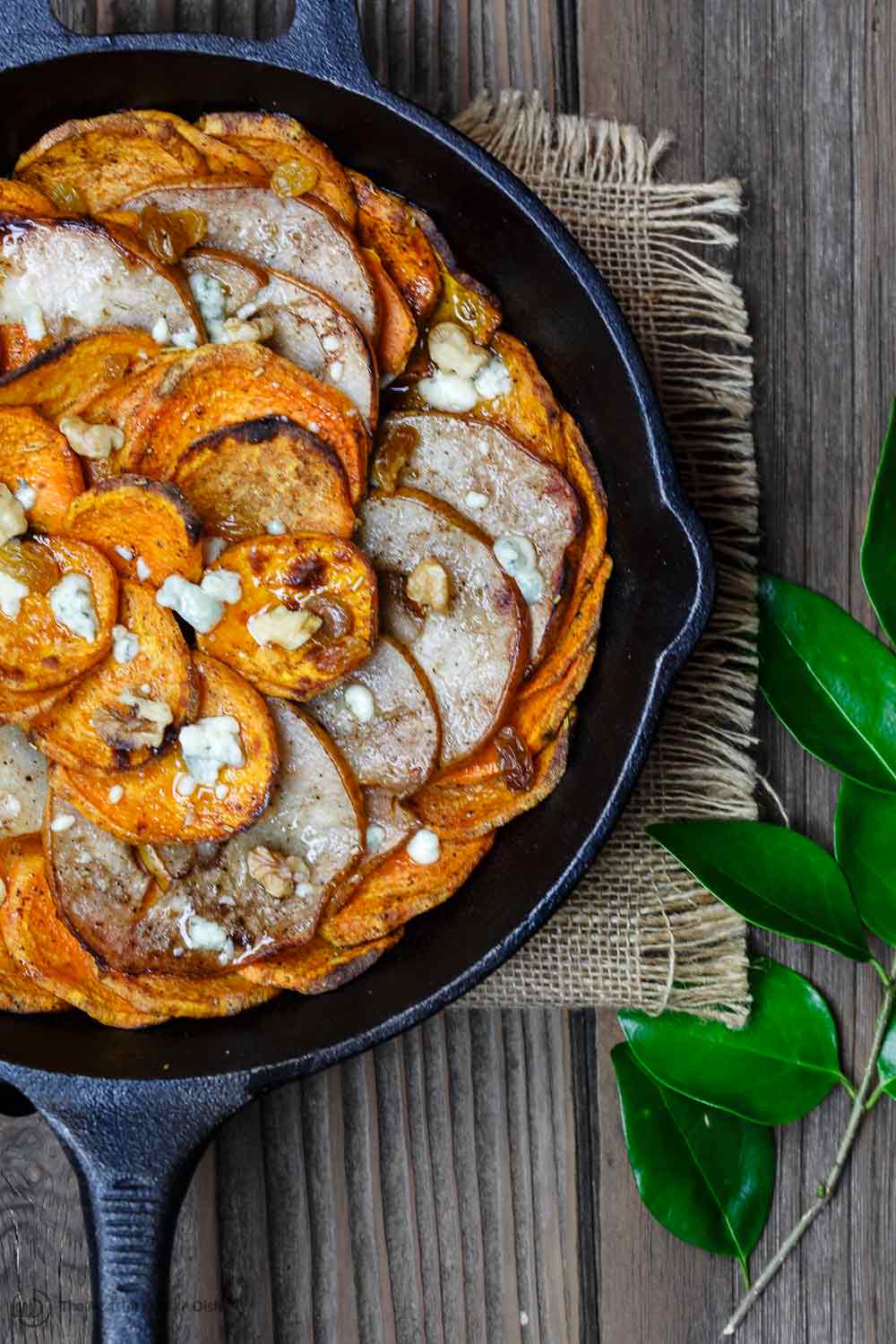 Sweet, almost honey-like, pears marry wonderfully with earthy sweet potatoes. And as the two roast together, natural sugars are drawn out. Magic happens!
The gist of this sweet potato gratin
Pears and sweet potato slices are tossed together in extra virgin olive oil (and a little melted butter) and seasoned with rosemary, nutmeg and cinnamon.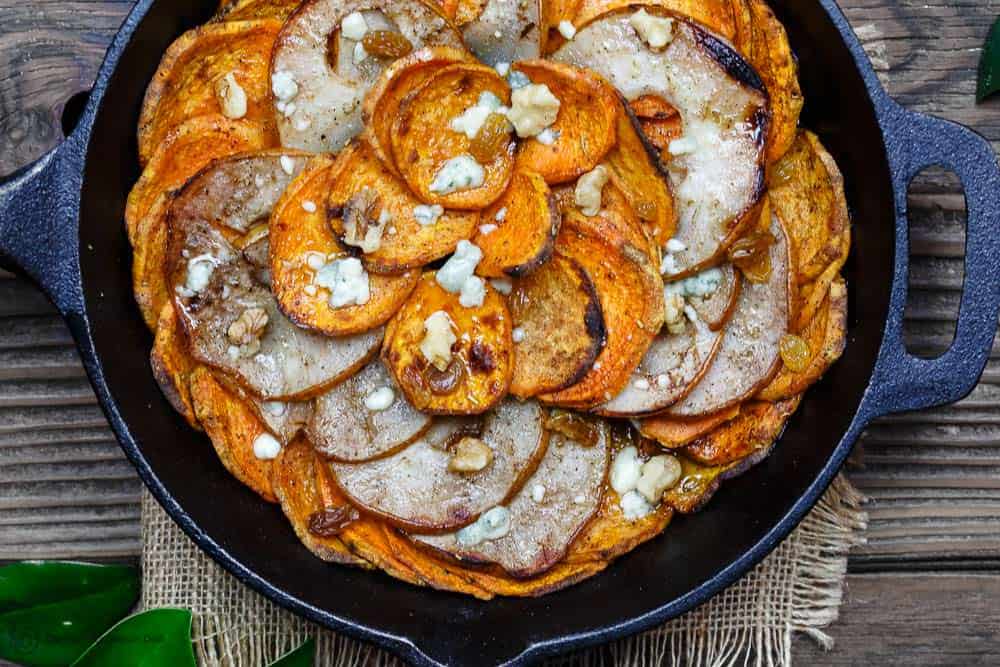 You can arrange them in a gratin dish however you like, making sure not to crowd the dish. I like to arrange them in my cast iron skillet in circles following the shape of the skillet.
Once roasted to fork tender, I finish the sweet potato gratin with a simple drizzle of warmed honey and lemon juice, crumbled Gorgonzola, walnuts, and raisins.
Print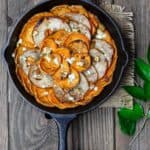 Pear and Sweet Potato Gratin
---
Author:

Prep Time:

10 mins

Cook Time:

45 mins

Total Time:

55 minutes
Ingredients
2 large sweet potatoes, peeled and sliced into 1/4-inch-thick-rounds
1 large Bosc pear, cored and sliced into 1/4-inch-thick-rounds
3 tbsp Private Reserve extra virgin olive oil 

combined with

1 tbsp melted butter
Salt and pepper
1/2 tsp dried rosemary
1/2 tsp ground nutmeg, more for later
1/2 tsp ground cinnamon, more for later
3 tbsp quality honey
1/2 tsp lemon juice
2 ounces crumbled Gorgonzola cheese
Toasted walnuts or peacons, a handful
Raisins, a handful
---
Instructions
Preheat the oven to 350 degrees F.
In a large bowl, combine the potato and pear slices. Add the olive oil and melted butter mixture. Season with salt, pepper, rosemary, nutmeg and cinnamon. Toss to combine
Arrange the seasoned potato and pear slices in a gratin dish or large cast iron skillet.
Bake in the heated oven for 45 minutes, or until potatoes are fork-tender. Remove from oven.
Place the honey in a small bowl and warm briefly in the microwave (about 20 seconds or so in 50% power). Stir lemon juice into warmed honey, then drizzle all over the pear and potato gratin. And if you like, sprinkle a tiny pinch of nutmeg and cinnamon.
Add Gorgonzola cheese and a handful of toasted walnuts and raisins. Enjoy!
More Recipes to Try:
Roasted Mashed Potatoes with Thyme and Molasses
Mediterranean Lentil Pumpkin Soup 
Za'atar Baked Sweet Potato Fries