Gnocchi alla Sorrentina, or baked gnocchi, is a soul-satisfying vegetarian dish that takes potato gnocchi to the next level. Fluffy gnocchi are baked in savory tomato sauce with fresh basil and creamy mozzarella until everything is melted and bubbling. It's a classic Italian comfort food you and your family will love.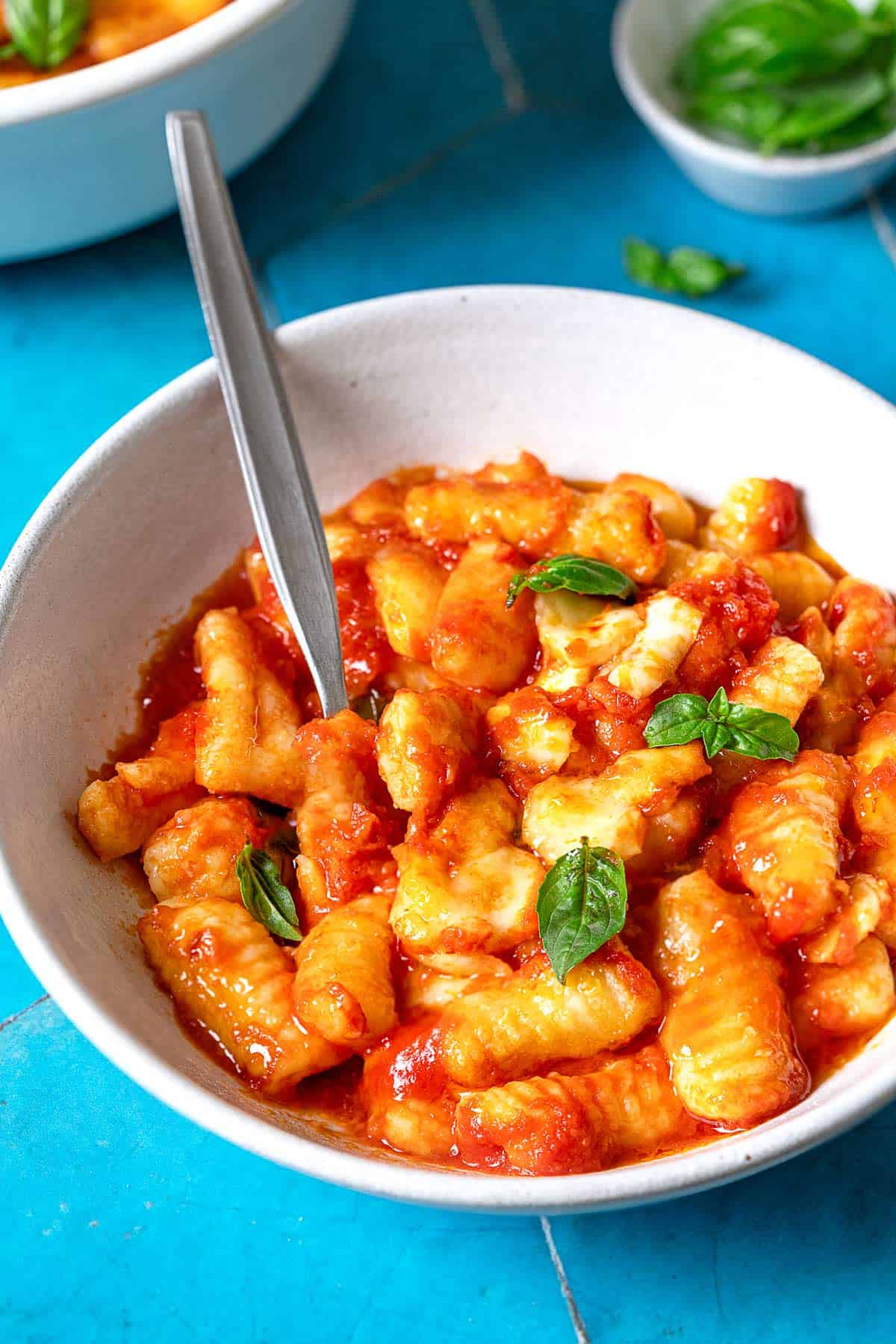 Photo Credits: Mariam Hamdy
Gnocchi alla Sorrentina has become famous in recent years, but it has long been a favorite in southern Italy where it originated.

This classic baked gnocchi recipe highlights some of Italy's most loved ingredients—sweet tomatoes, fresh basil and creamy fior di latte, or cow's milk mozzarella. Everything comes together in a baking dish to make one of my favorite easy and comforting dinners. This simple baked gnocchi recipe is sure to bring authentic Italian flavor to your home table!

With a handful of pantry staples and a batch of homemade or store-bought potato gnocchi, you can make this nourishing dish in less than an hour. Plus, I'm sure you'll have no trouble finding something to do while it bakes.

An Italian cocktail, like a Negroni or Aperol Spritz is perfect for sipping while this recipe melds and bubbles in your oven.
Table of Contents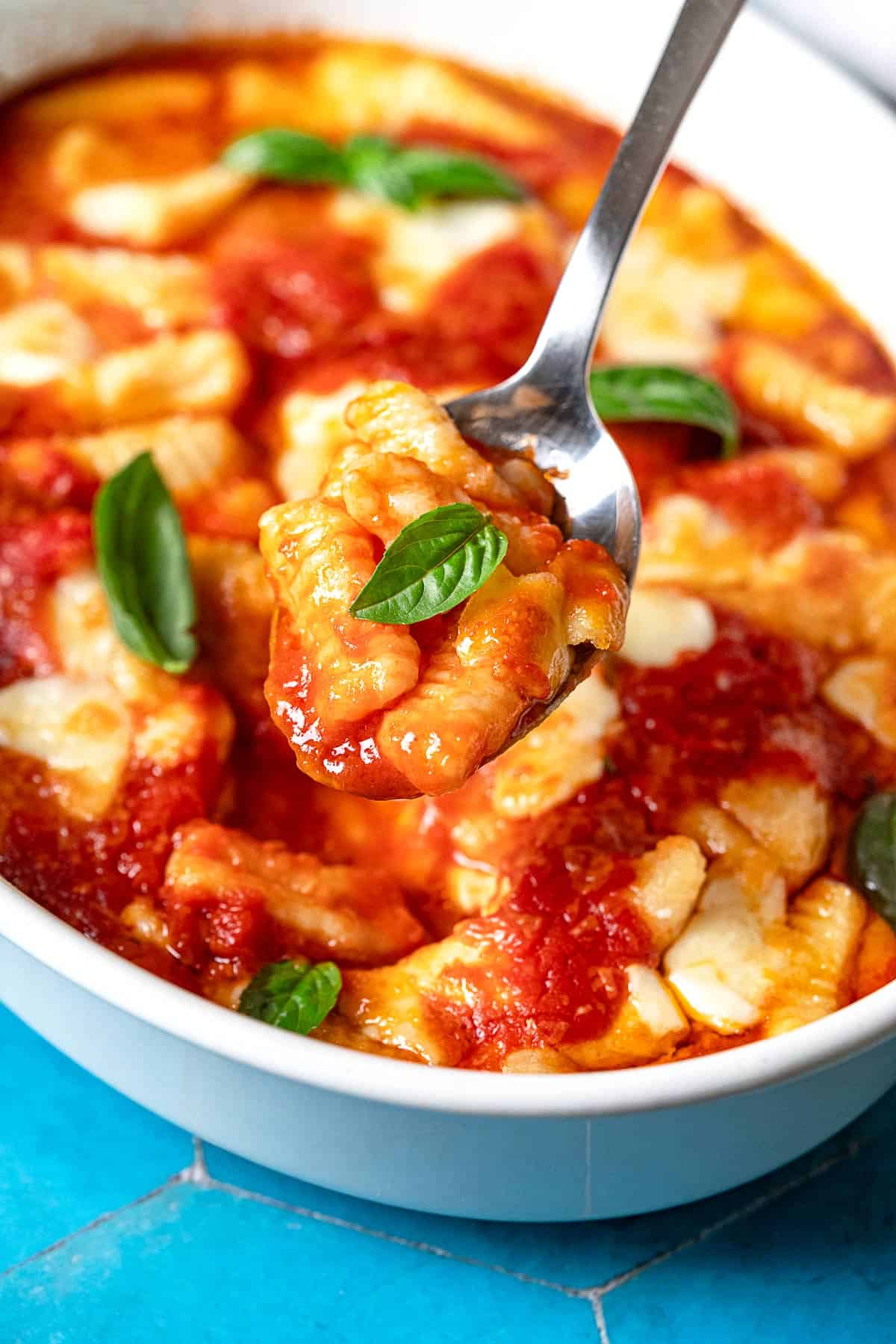 History of Gnocchi alla Sorrentina
Like many Italian dishes, Gnocchi alla Sorrentina is named for the place where it originated: Sorrento. This colorful city south of Naples is built on a steep hill overlooking the Mediterranean Sea. It is famous for its sunny climate and for the enormous, sweet lemons used to make Limoncello.

Italians give credit to a 16th-century Sorrento chef for creating this baked gnocchi recipe. The tavern chef was experimenting with potatoes and tomatoes, two "New World" ingredients that were still relatively unknown in Italy. The winning combination of potato gnocchi with tomatoes, fresh mozzarella cheese, and basil was a touch of genius that locals embraced immediately.

Five centuries later, Gnocchi alla Sorrentina is just as popular today, in Italy and beyond. Store-bought gnocchi work well in this dish, but homemade gnocchi are best in my opinion. Channel your inner Italian nonna and make your own with my potato gnocchi recipe.

To give yourself a head start, make the gnocchi ahead of time and freeze them. Then, when you're craving Italian comfort food for dinner, use your frozen gnocchi to make this Gnocchi alla Sorrentina. Or, for an easier version of handmade gnocchi, try substituting with homemade ricotta gnocchi.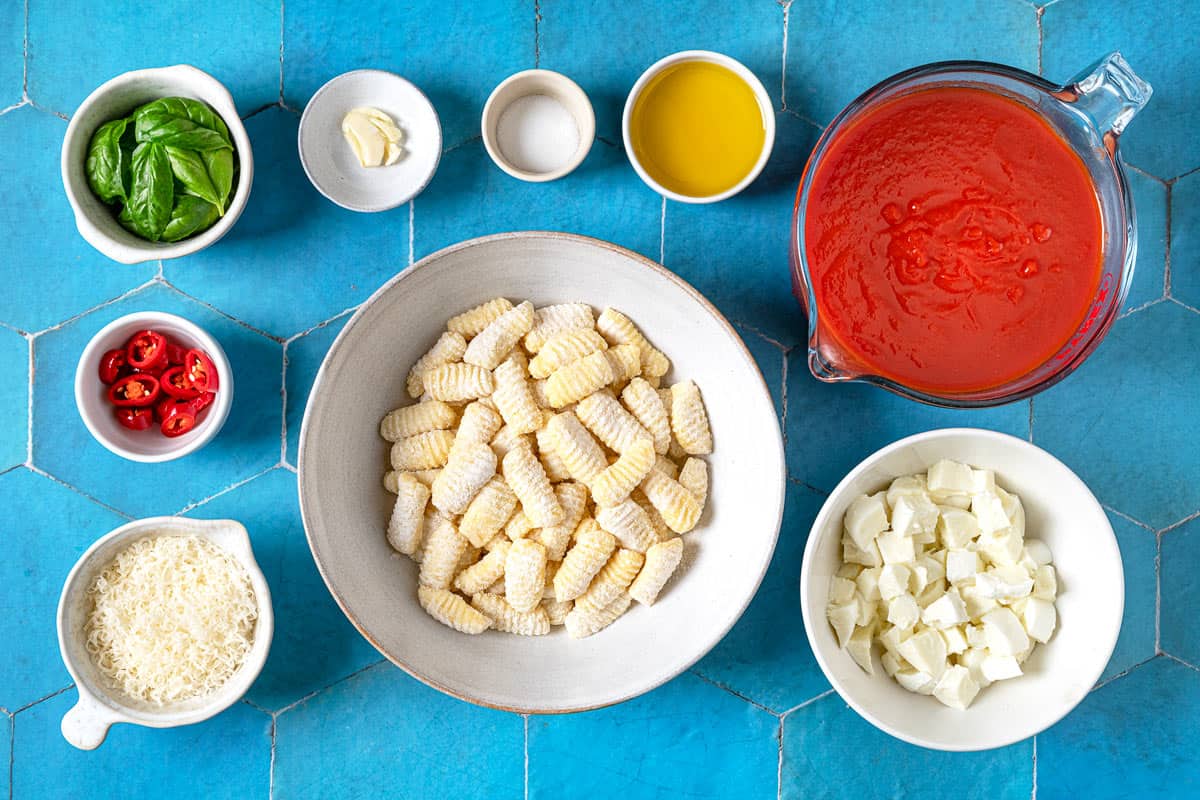 Ingredients for Gnocchi alla Sorrentina
This baked gnocchi recipe features a quick and very flavorful tomato sauce that I turn to often. With a batch of gnocchi at the ready this dish is on your table in under an hour.
Extra-virgin olive oil: I like a good, peppery olive oil for this quick, fresh-tasting sauce. Our Hojiblanca will give you that peppery kick, or you can opt for a smooth Italian variety like Nocellara.
Garlic: One clove, lightly crushed, is all you need to perfume your sauce with a mild garlic flavor.
Chili flakes: I grow several types of hot pepper in summer, which I dry at the end of the season. It's easy to snip them up with scissors right into sauces, soups, and stews for a little spice. If you don't have whole fresh or dried chili, a generous pinch of dried red pepper flakes will do the trick.
Tomatoes: I prefer tomato passata (purée) for this sauce, rather than diced or whole tomatoes. There's plenty of texture between the gnocchi and the mozzarella, so I feel a smooth sauce works best for this dish. Use a high-quality brand of passata that tastes fresh and not pasty. If canned tomatoes are all you have on hand, pass the tomatoes through a food mill or blend and strain very well to make passata.
Salt: A pinch of salt throughout the cooking process brings out the flavor.
Fresh basil: A handful of fresh basil leaves brightens the flavor of the sauce.
Gnocchi: I make a 1-pound batch of potato gnocchi for this recipe. Use 1 pound of store-bought gnocchi or ricotta gnocchi as a substitute.
Mozzarella: Use good-quality cow's milk mozzarella. Slightly drier mozzarella melts better than milky mozzarella. For mozzarella packaged in brine, remove it from the brine and let it drain on paper towels for about 30 minutes. Pat off any excess moisture.
Parmigiano-Reggiano cheese: A generous sprinkling of freshly grated Parmigiano cheese adds an extra level of richness.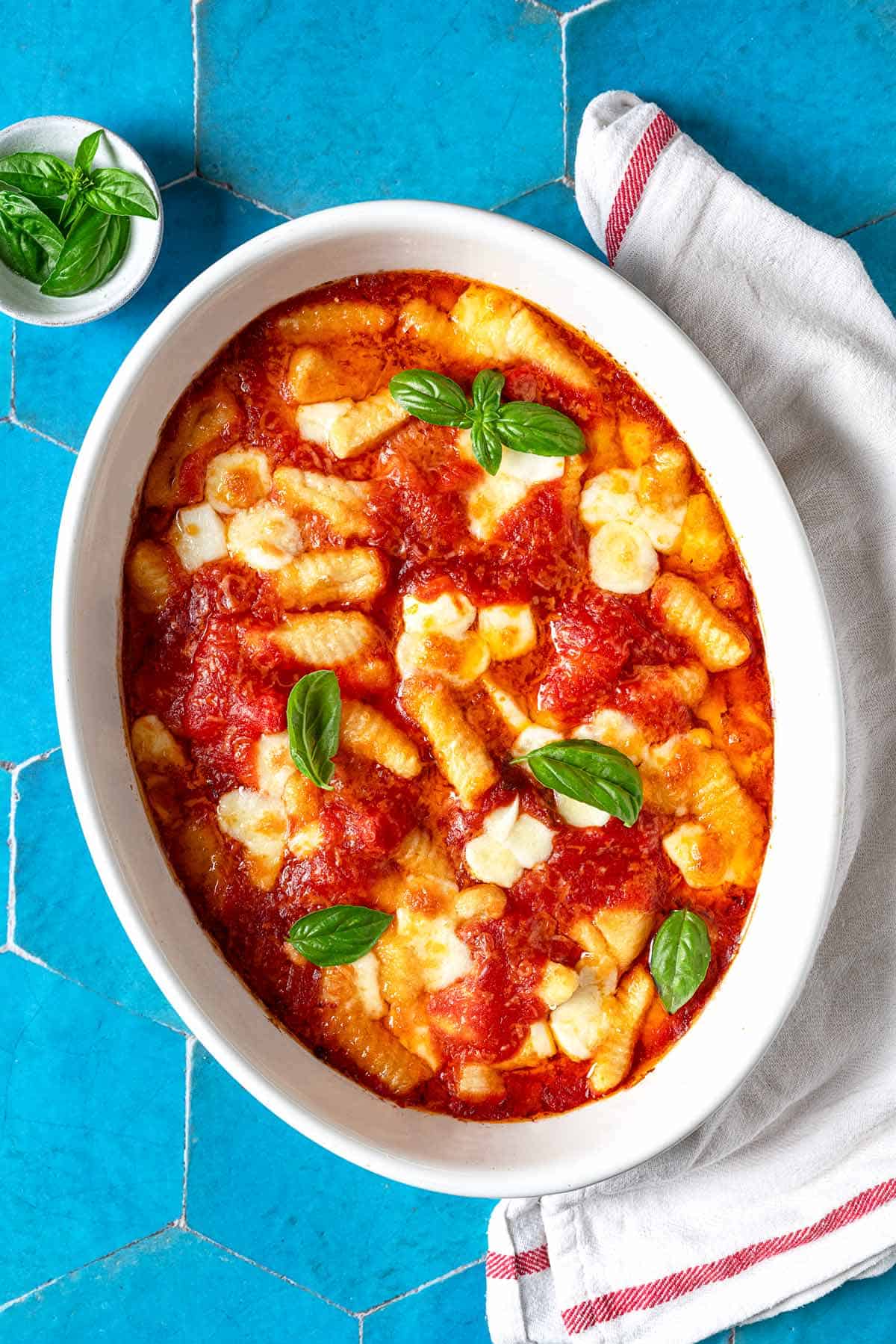 How to Make Gnocchi alla Sorrentina
My family loves this baked dish of fluffy gnocchi nestled in a bubbling tomato-cheese sauce. It's special enough to serve on Sunday, but if you have a batch of frozen gnocchi stashed away, it makes a great weeknight dinner.
Add the tomatoes: Pour in 4 cups of tomato passata (or tomato purée). Raise the heat to medium-high to bring to a boil. Once boiling, lower the heat and cook the sauce at a gentle simmer until the sauce has thickened and deepened in flavor, about 25 minutes. Season with salt to taste.
Make the tomato sauce: Lightly crush and peel one garlic clove. Add the garlic to a large saute pan, along with 2 tablespoons of olive oil. Set over low heat and cook until fragrant without letting the garlic brown. You just want to perfume the oil with the aroma of garlic. Stir in a good pinch of chili flakes.
Add the basil: Once the sauce has finished cooking, tear up a handful of basil leaves, turn off the heat. and spoon out the garlic. Cover the pan to keep the sauce warm.
Get ready: Fill a pot ⅔ full of water and bring it to a boil over medium-high heat. Generously season the water with salt once it comes to a boil. Arrange a rack in the top third of the oven and turn the oven on to 425°F. Next, prepare your baking dish. Coat an oven-proof baking dish lightly with olive oil and spoon a thin layer of sauce into it. Once that is done, dice 8 ounces of mozzarella.
Cook the gnocchi: If you're using store-bought gnocchi, boil 1 pound according to package instructions. If you're using homemade gnocchi, boil in batches for about one minute, just until they float to the surface of the water.
Layer: Use a spider or slotted spoon to transfer them to the prepared baking dish. Spoon a little sauce on top. When you've added about half the gnocchi to the baking dish, scatter half the mozzarella cheese on top, followed by more sauce. Top with the remaining gnocchi as you cook them. When all the gnocchi have been layered into the baking dish, scatter the remaining mozzarella on top, and cover with a final layer of sauce. Sprinkle grated Parmigiano cheese over the entire surface.
Bake: Bake for 8 to 10 minutes, just until the sauce is bubbling and the mozzarella is melted. If you want to brown the top, turn on the broiler and broil for 1 to 2 minutes. Remove the baking dish from the oven and let it rest briefly. Garnish with whole basil leaves and serve.
Tips for Gnocchi alla Sorrentina
This is a simple dish to make, especially if you have already made (or bought) gnocchi. It helps to have all your ingredients and equipment ready at hand and prepped.
Use drier, rather than soft, milky mozzarella. Creamy mozzarella is delicious to eat fresh, but it doesn't melt as well as mozzarella that is a few days old and slightly drier in texture.
You can even make the sauce the day before and store it in the refrigerator. Or, make it a week (or more) ahead and freeze it. Heat it to a simmer before using.
Bake the gnocchi just until the sauce is bubbling and the cheese is melted. A brief slide under the broiler will brown the surface nicely.
For a little color, garnish the Gnocchi alla Sorrentina with a few whole basil leaves once it comes out of the oven.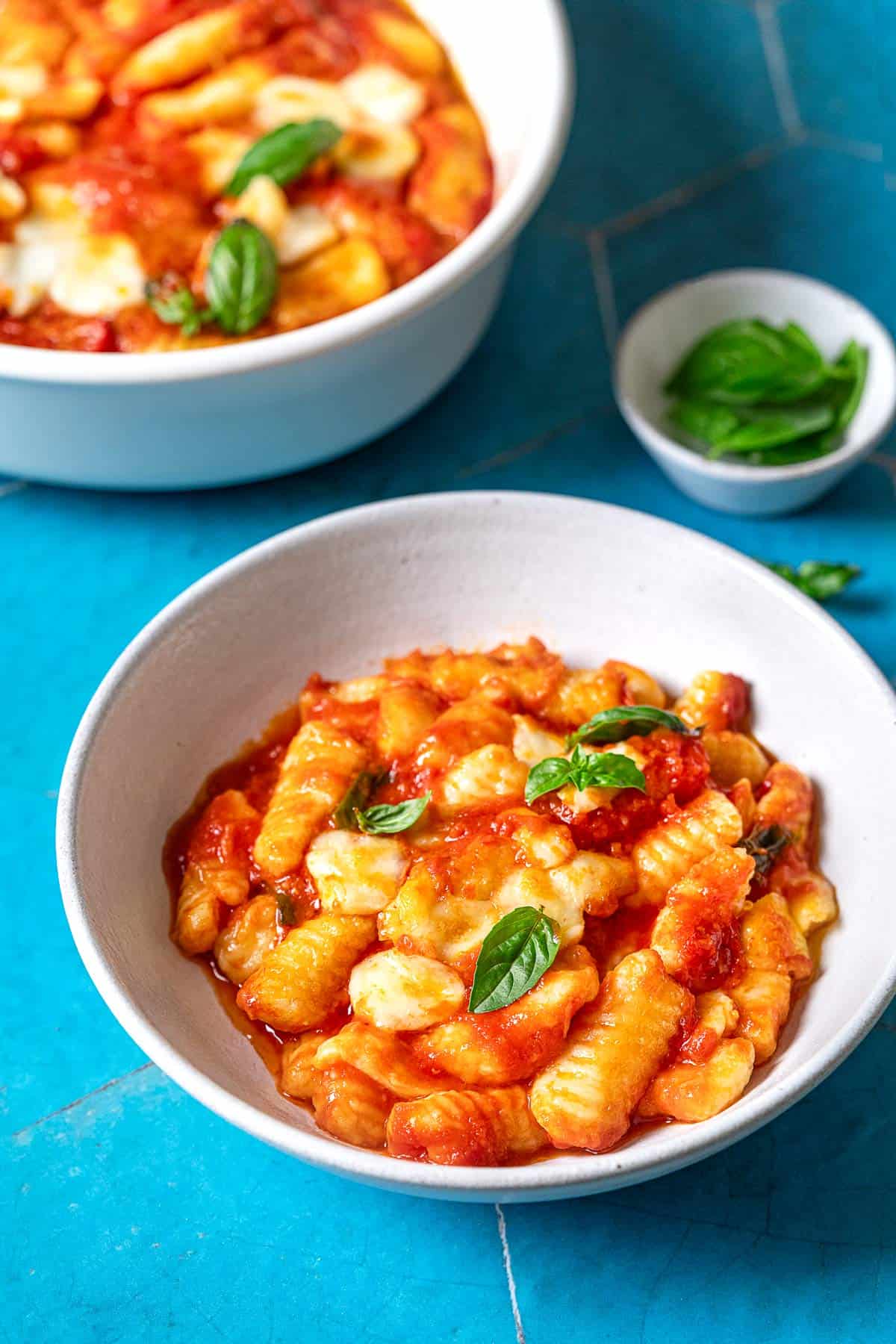 What to Serve with Gnocchi alla Sorrentina
Gnocchi alla Sorrentina is rich, so choose a simple side as an accompaniment. I like Easy Blanched Asparagus, dressed simply with fresh olive oil and a sprinkle of flaky sea salt. Or, this simple Parmesan Lettuce Salad recipe.
More Classic Italian Dinner Recipes
Browse all Mediterranean recipes.

Visit Our Shop.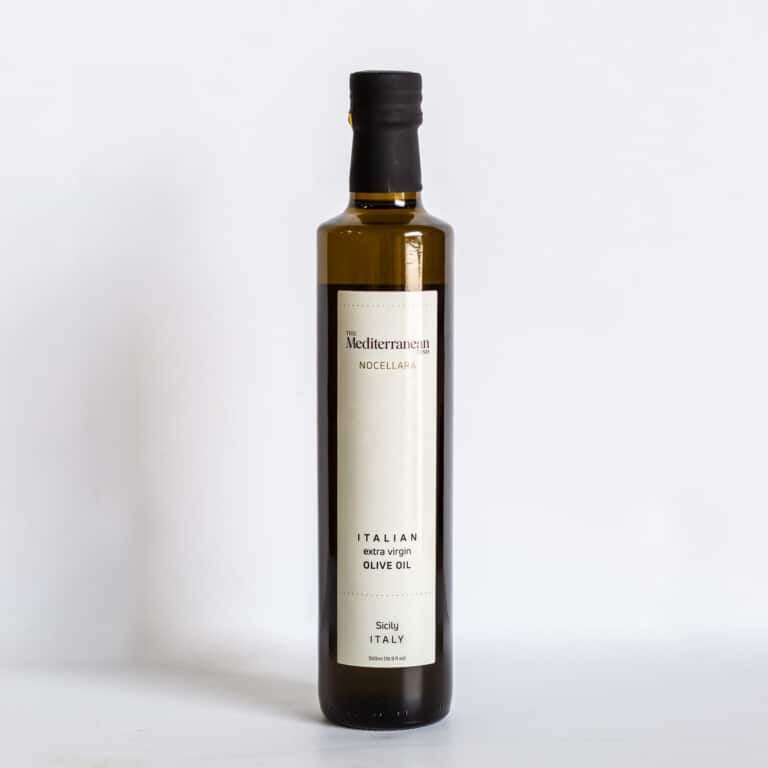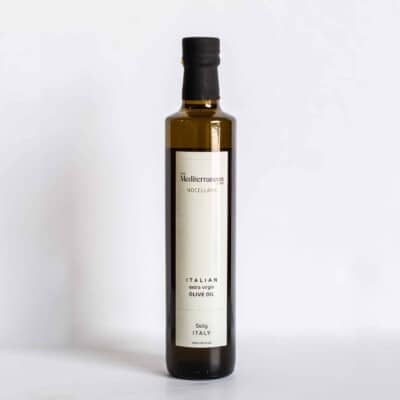 Try our Nocellara-Italian Extra Virgin Olive Oil!
This EVOO is produced from hand-picked, cold-extracted Nocellara olives. High in polyphenols with aromas of fresh tomatoes and vegetables with a mildly spicy finish.
Gnocchi alla Sorrentina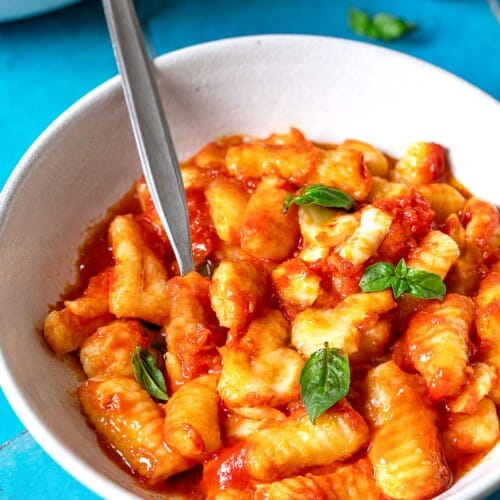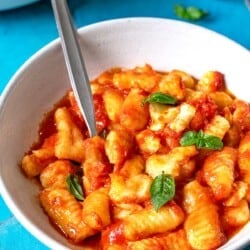 You can make this classic Southern Italian dish of baked gnocchi in just a few steps. Cooked homemade or store-bought gnocchi are gently tossed in a quick tomato sauce and layered with mozzarella. Then, everything is baked in the oven until bubbly. Serve hot, while the cheese is still oozy and delicious!
Ingredients
2

tablespoons

extra-virgin olive oil,

plus more for coating

1

clove

garlic,

lightly crushed and peeled

Generous pinch dried red pepper flakes

4

cups

passata or tomato purée

Fine salt

Two sprigs basil

1

(8-ounce) ball mozzarella,

diced

16

ounces

potato gnocchi,

homemade or store-bought

Freshly grated Parmigiano-Reggiano
Instructions
Make the tomato sauce: Put the olive oil and garlic in a large heavy-bottomed saucepan. Set over medium heat. Cook, pressing on the garlic a couple of times, until it begins to sizzle and release its fragrance. Don't let it brown. Stir in the chili pepper, then add the passata (or tomato purée) and a pinch of salt. Bring the sauce to a boil, then lower the heat to medium-low. Let the sauce simmer gently until thickened and flavorful, 20 to 30 minutes.

Finish the sauce: Taste and add more salt if necessary. Tear up a handful of basil leaves and stir them into the sauce. Turn off the heat and remove the garlic. Cover to keep the sauce warm.

Get ready: Set an oven rack in the top third of the oven and preheat the oven to 400°F. Bring a large pot of water to a rolling boil and season with salt. Coat a large oven-proof baking dish in a thin layer of olive oil. Spoon a ladleful of sauce into the dish and set near your stove.

Cook the gnocchi: Gently drop the gnocchi into the boiling water, in batches if necessary. They should float to the surface within 30 to 45 seconds. Using a large skimmer or slotted spoon, transfer half the gnocchi to the prepared baking dish. Spoon a layer of sauce on top.

Layer: When half the gnocchi are in the baking dish, spoon more sauce on top and sprinkle with half of the mozzarella. Finish cooking the gnocchi, adding them to the baking dish as you go. Spoon more sauce on top and scatter on the remaining mozzarella. Finish with a layer of sauce and sprinkle with a handful of Parmigiano cheese.

Bake: Bake for 5 to 8 minutes, just until bubbly. To brown the top, turn on the broiler and slide the baking dish under the broiler for 1-2 minutes. Serve hot.
Notes
Opt for dry mozzarella cheese if you can, as it melts better. Mozzarella cheese will work if it's what you have on hand. I recommend letting brined mozzarella drain on paper towels for 30 minutes and patting very dry before using.
Optionally, you can garnish with fresh basil for a pop of color and added flavor.
Visit our shop to browse quality Mediterranean ingredients including olive oils, honey, jams and spices.
Nutrition
Calories:
341.2
kcal
Carbohydrates:
42.8
g
Protein:
14.1
g
Fat:
14
g
Saturated Fat:
6
g
Polyunsaturated Fat:
0.9
g
Monounsaturated Fat:
5.9
g
Cholesterol:
29.9
mg
Sodium:
540.1
mg
Potassium:
762.4
mg
Fiber:
4.9
g
Sugar:
8.4
g
Vitamin A:
1105.6
IU
Vitamin C:
17.8
mg
Calcium:
237
mg
Iron:
5.9
mg