Easy Greek meatballs recipe, also known as Keftedes! Flavor-packed tender meatballs with a crispy crust and a lemony sauce. This recipe can serve a crowd as an appetizer, but see our serving suggestions for a Greek-style dinner bowl!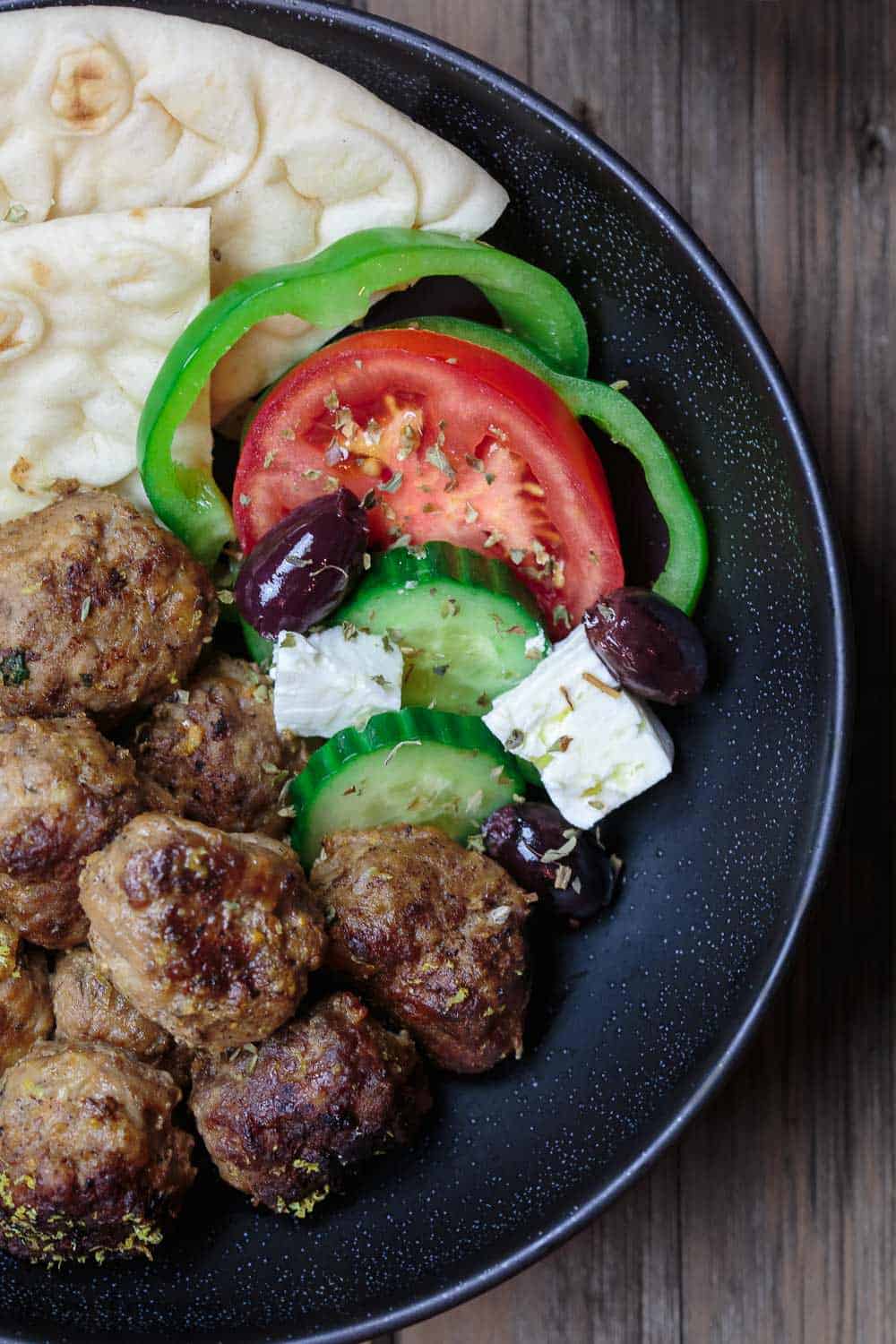 Keftedes, Kofte, or Kofta. Whatever the name, they all represent exquisite Eastern Mediterranean variations on meatballs. A mixture of ground meat infused with spices and flavors of whatever region they come from.
Formed into patties then baked as in this Turkish version. Grilled, kabob-style. Or pan-fried in extra virgin olive oil--then finished in a lemony sauce--as in today's Greek meatballs.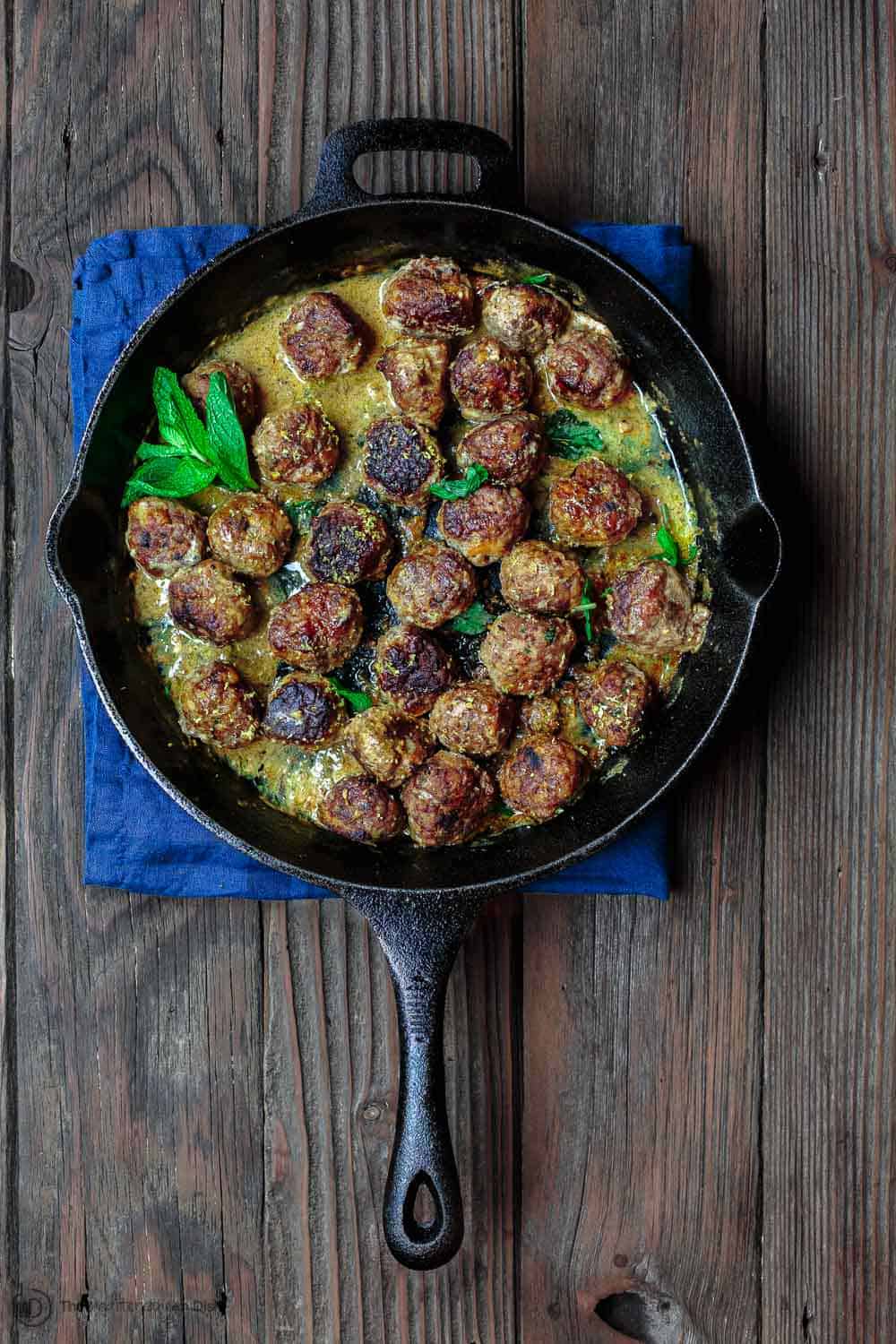 This recipe is a very lose interpretation of Yiayia Helen's Greek meatballs.
Helen and I met at a local Greek festival last year. A feisty grandma with a binder full of Greek recipes. Pages worn out and stained with olive oil. She had no problem sharing about her famous Greek meatballs. "I make for a minimum of 50 people at a time," she announced as she pointed to the recipe.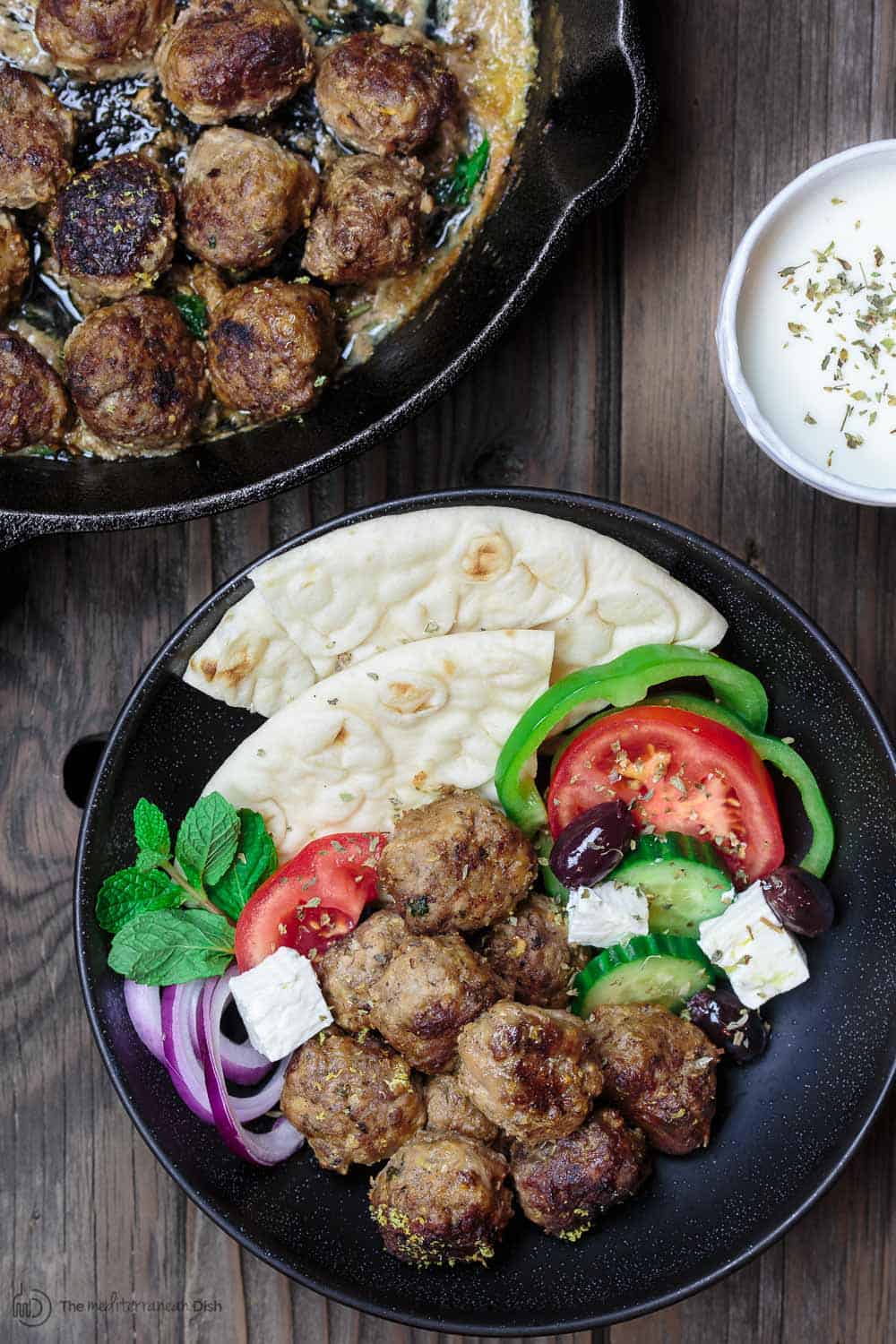 Her keftedes meat mixture is flavored with fresh mint and spices like coriander, cumin, nutmeg and oregano. Yiayia Helen insisted on using Greek oregano, of course.
Tips for the best Greek meatballs
Every cook seems to have their own technique for creating the juiciest meatballs.
Helen's trick? Add a bread-based paste (or mush) made by soaking day-old bread or pita into milk. You wring out the excess milk, then add the resulting piece of mushy bread into the keftedes mixture. This prevents bits of meat from binding to each other, keeping the patties tender.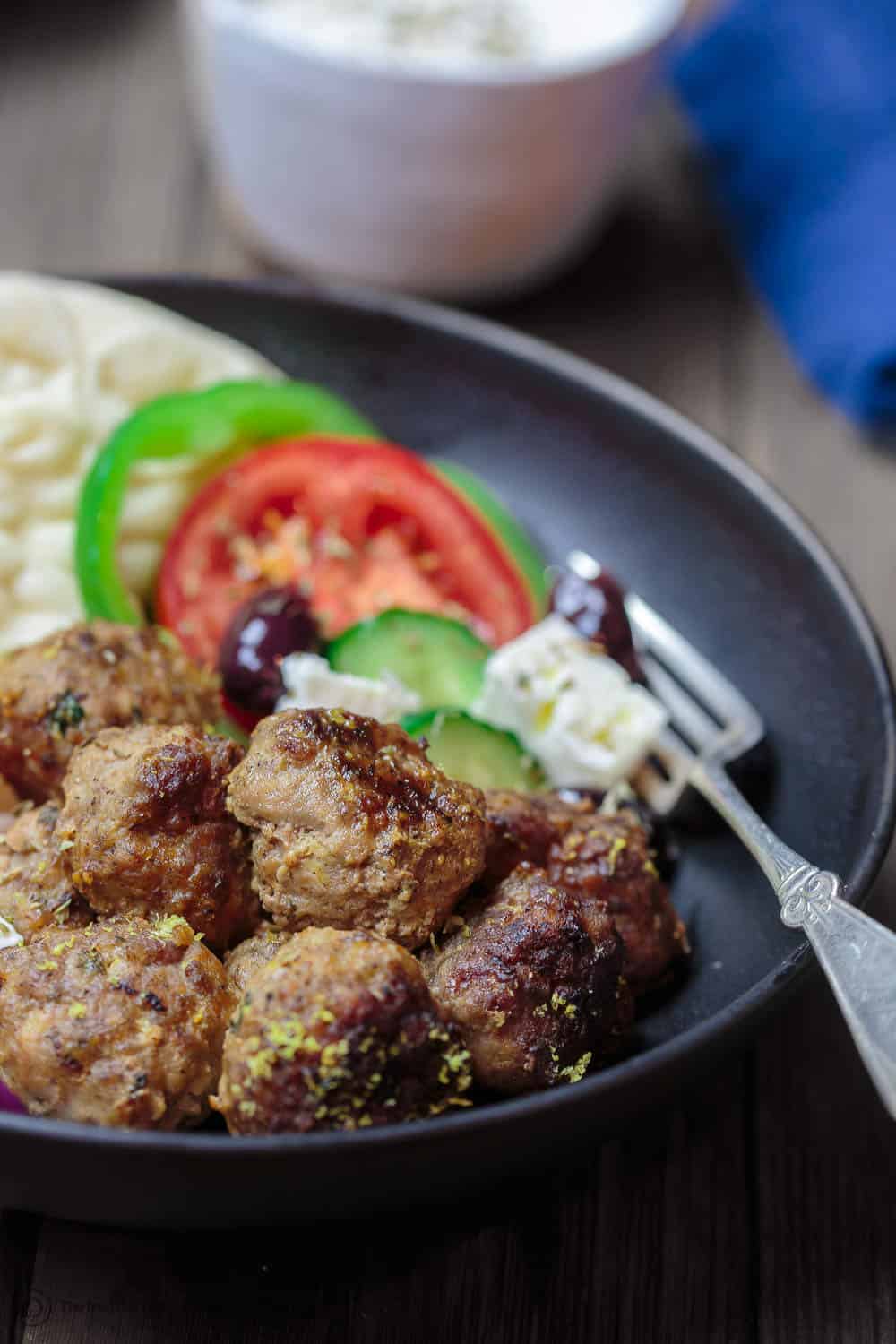 And to achieve a crispy crust, it's best to pan-fry the Greek meatballs in olive oil before adding the sauce.
Some versions of Greek keftedes call for red sauce, but I prefer this version with a lemony broth that's been thickened with egg yolk.
What to Serve with Greek Meatballs
This keftedes recipe makes about 32 meatballs. If you have a large crowd, you can simply serve load them up on a platter as an appetizer. But for dinner, I like to serve a few Greek meatballs in a bowl with pita bread, Greek salad, and Tzatziki sauce for dipping. Of course, you can simply make pita pocket sandwiches too.
Print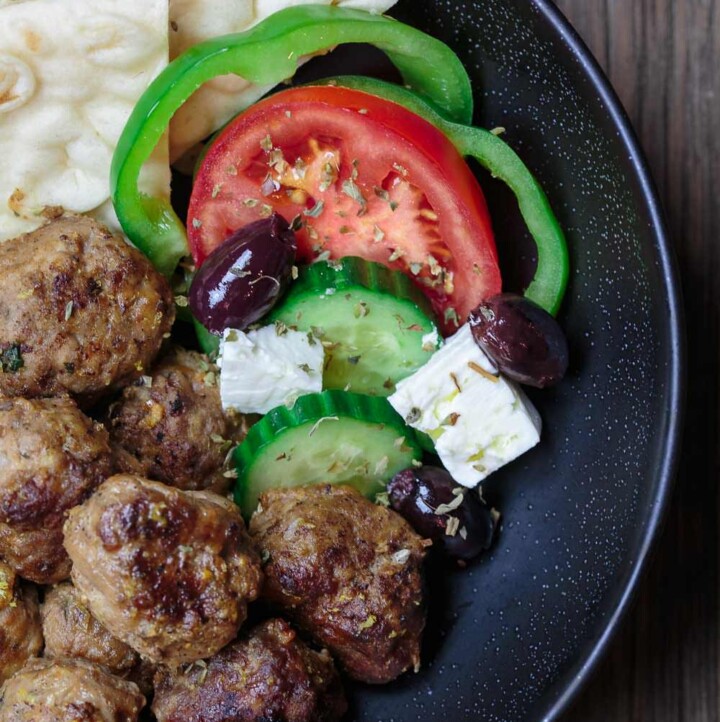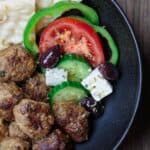 Koftedes Greek Meatballs
---
Description
All-star keftedes Greek meatballs recipe. Tender on the inside, crispy on the outside. Flavor-packed with fresh mint, spices and a lemony Greek sauce!
---
1

medium yellow onion, grated

3

garlic cloves, minced
Private Reserve Greek Extra Virgin Olive Oil (click here to purchase)

1

slice, day old bread, cubed and soaked in milk (you can use pita bread, if you like)

1

lb lean ground beef

½

lb ground lamb or pork

1

large egg PLUS 1 egg yolk, divided

¼ cup

chopped fresh mint leaves

1 tbsp

organic ground coriander

1 tsp

dried oregano, preferably Greek oregano

1 tsp

organic ground cumin

½ tsp

ground cinnamon

¼ tsp

ground nutmeg
Salt and pepper

3

lemons, zested and juiced
Flour for dredging

1 ¼ cup

chicken broth
To Serve
---
Instructions
If serving in bowls as suggested in this post, first prepare the Greek salad according to this recipe (dress salad later, if you prefer) and Tzatziki sauce according to this recipe. Set aside or refrigerate for now.
In a large skillet like this one, heat 2 tablespoon Private Reserve olive oil over medium heat. Add onions and garlic and cook until golden and translucent, stirring regularly. Transfer the onions and garlic mixture to a large mixing bowl to cool. Set skillet aside for later.
Wring the excess milk out of the soaked bread. Add the bread to the mixing bowl.
To the mixing bowl add the ground beef and lamb (or pork), 1 egg, fresh mint, spices, salt and pepper, and 1 tablespoon lemon zest. Mix by hand until until mixture is fully incorporated.
Form the meat mixture into balls (each the size of a heaping tablespoon.) Roll meatballs into the flour to lightly coat and place them on a large tray for now.
In the large skillet you used earlier, add ¼ cup Private Reserve olive oil. Heat over medium-high. Turn heat to medium and add the meatballs to cook (do this in batches if you need to.) Cook meatballs for 10 minutes or so, turning occasionally, until fully cooked and well-crusted on all sides.
With a slotted spoon, remove meatballs from skillet onto paper towels to drain any excess fat. Meanwhile, carefully discard most of the cooking fat from skillet (best to dump into a tin can until cooled). Return skillet to stove-top over medium heat.
Whisk the 1 egg yolk with the chicken broth and lemon juice. Add to cooking skillet with the remaining lemon zest, then add the meatballs back in. Cook over medium heat for another 5 minutes until the lemon sauce thickens.
Serve hot in bowls with pita bread, Greek salad and Tzatziki sauce. Or serve in pita pockets as sandwiches, if you prefer.
Prep Time:

15 mins

Cook Time:

20 mins

Category:

Entree

Cuisine:

Greek
Keywords: Koftedes recipe, Greek meatballs recipe
Other Recipes to Try
Easy Greek Chicken and Potatoes Dinner
Stuffed Eggplant with Ground Beef and Bulgur
Mediterranean Wine-Braised Lamb Shanks