This whipped feta dip recipe makes the perfect party appetizer in like 10 minutes! Topped with a decadent dried fig Marsala sauce, chopped pistachios, and fresh mint!
Here is a fun tidbit I recently came across: dried figs were the choice high-energy food for ancient Greek Olympians! (Pre-workout snack, anyone?)
Mediterraneans' undeniable affinity for figs goes thousands of years back. We love fresh succulent figs, of course. But when dried, figs take on a different, more intense flavor, which makes them such a versatile ingredient. You'll see dried figs in Mediterranean sweet and savory dishes--from pastries and cakes, to roasts and hearty stews! And they are often a part of the important, and never-to-be-rushed, mezze or social hour!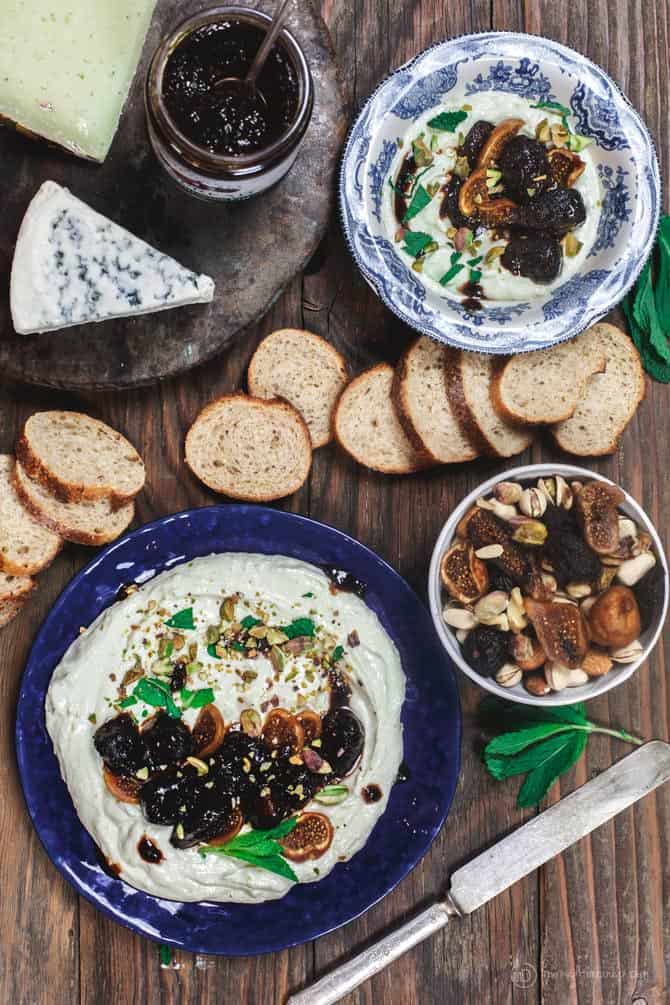 Living in the US, I keep a variety of quality California Dried Figs from Valley Fig Growers on hand. I use them on the regular! They typically find their way into a bowl of Mediterranean-style trail mix with my favorite nuts. And when entertaining, I'll often use them as part of a cheese board, or in a quick appetizer like my favorite baked brie or today's whipped feta dip.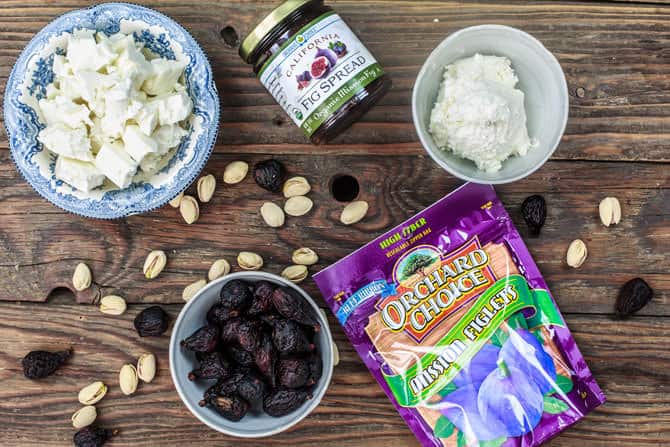 This quick feta dip is not one I had to think about too hard. The star ingredients are salty, creamy feta cheese + sweet, dried figs. We already know that's a winning combination!
But what takes this feta dip to a new level of decadence is, without a question, the dried figs and Marsala sauce on top! The crushed pistachios and fresh mint garnish didn't hurt either. If you ask me, this is definitely a holiday-worthy appetizer!
Print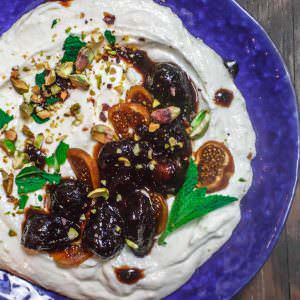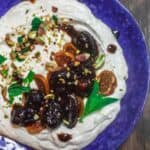 Whipped Feta Dip with California Figs and Marsala Sauce
---
Description
An all-star quick whipped feta dip recipe! Topped w/ a decadent dried fig and Marsala wine sauce. Comes together in like 10 min! Gluten free party appetizer.
---
For the Fig Marsala Sauce
For the Feta Dip
8 oz

quality feta cheese, crumbled

4 oz

cream cheese

1 tsp

honey

2 tsp

lemon zest

¼ cup

olive oil
Handful dried golden figs (Blue Ribbon Orchard Choice or Sun-Maid California Golden Figs)

2 tbsp

chopped shelled pistachios
Fresh mint leaves for garnish
Crostini, pita chips, or crackers to serve
---
Instructions
In a heavy saucepan, combine the mission figs, Marsala wine, and fig spread. Bring to a boil, stirring occasionally. Reduce heat and simmer until the wine turns into a thicker syrup-like consistency. Remove from the heat and let cool.
To make the feta dip, place the feta and cream cheese into the bowl of a food processor fitted with the steel blade. Pulse until the cheeses are mixed. Add the honey, lemon zest, and olive oil. Blend until well-combined and the cheeses are whipped into a smooth dip.
Transfer the feta dip to a serving plate or two. Top with the fig Marsala sauce. Add golden figs, chopped pistachio and mint leaves for garnish. Serve with crostini, pita chips, or crackers!
Notes
- I used the bite-sized Blue Ribbon Orchard Choice Figlets for the sauce, but if you end up using the larger figs, you can cut them in half if you like smaller bites. - To complete a simple cheese board as in the pictures, add your favorite firm or semi-firm cheese, blue cheese, more fig spread, and a bowl of dried figs and nuts.
Cook Time:

10 mins

Category:

Appetizer

Cuisine:

Mediterranean
Keywords: Mediterranean feta dip,
Recommended equipment for this recipe: heavy saucepan ; small food processor
*This post is sponsored by Valley Fig Growers, Home of Blue Ribbon® Orchard Choice® and Sun-Maid®California Dried Figs! And makers of quality, delicious, and nutrition-packed dried figs. Learn how they grow and process their figs here. Valley Fig Growers products are available nationwide, click here to find a store near you. All opinions are my own. Thank you for supporting brands that make this site possible.