Barbecue chicken thighs take on a delicious Persian twist with a quick, all-natural marinade. A simple tomato-avocado salata (salad) tops it. Fire up the grill for this easy, unfussy recipe!
This recipe is brought to you in partnership with Wild Garden. All opinions are my own.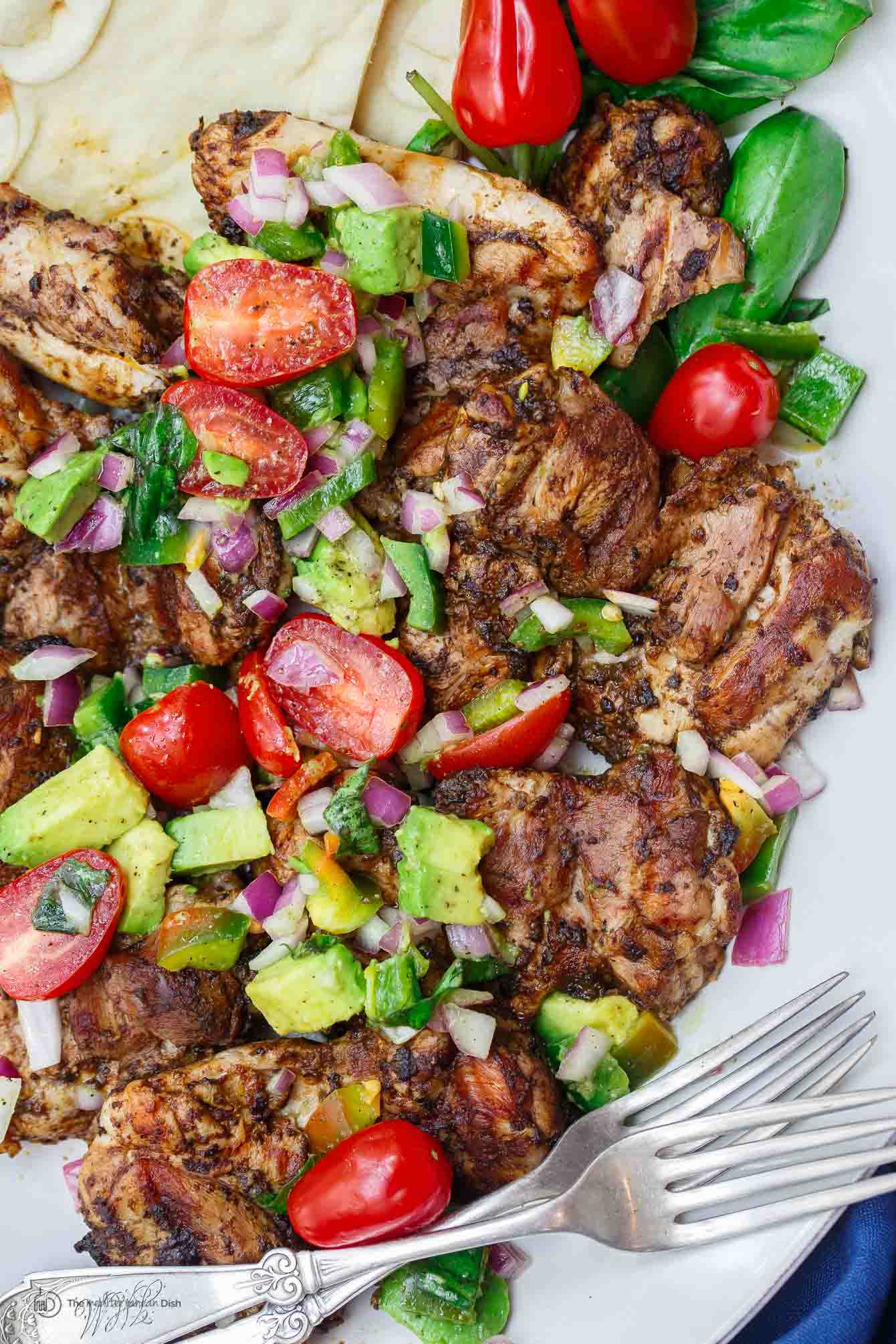 During warmer months–which are plenty here in the south–nothing gets more use than our little Weber.
And for me, a self-confessed grilling novice, boneless, skinless chicken thighs are a safe place. In fact, they're top of my favorite-to-grill list. While they offer the benefits of boneless chicken breasts–convenience and fast cooking–there is almost zero chance of drying them up. Good news!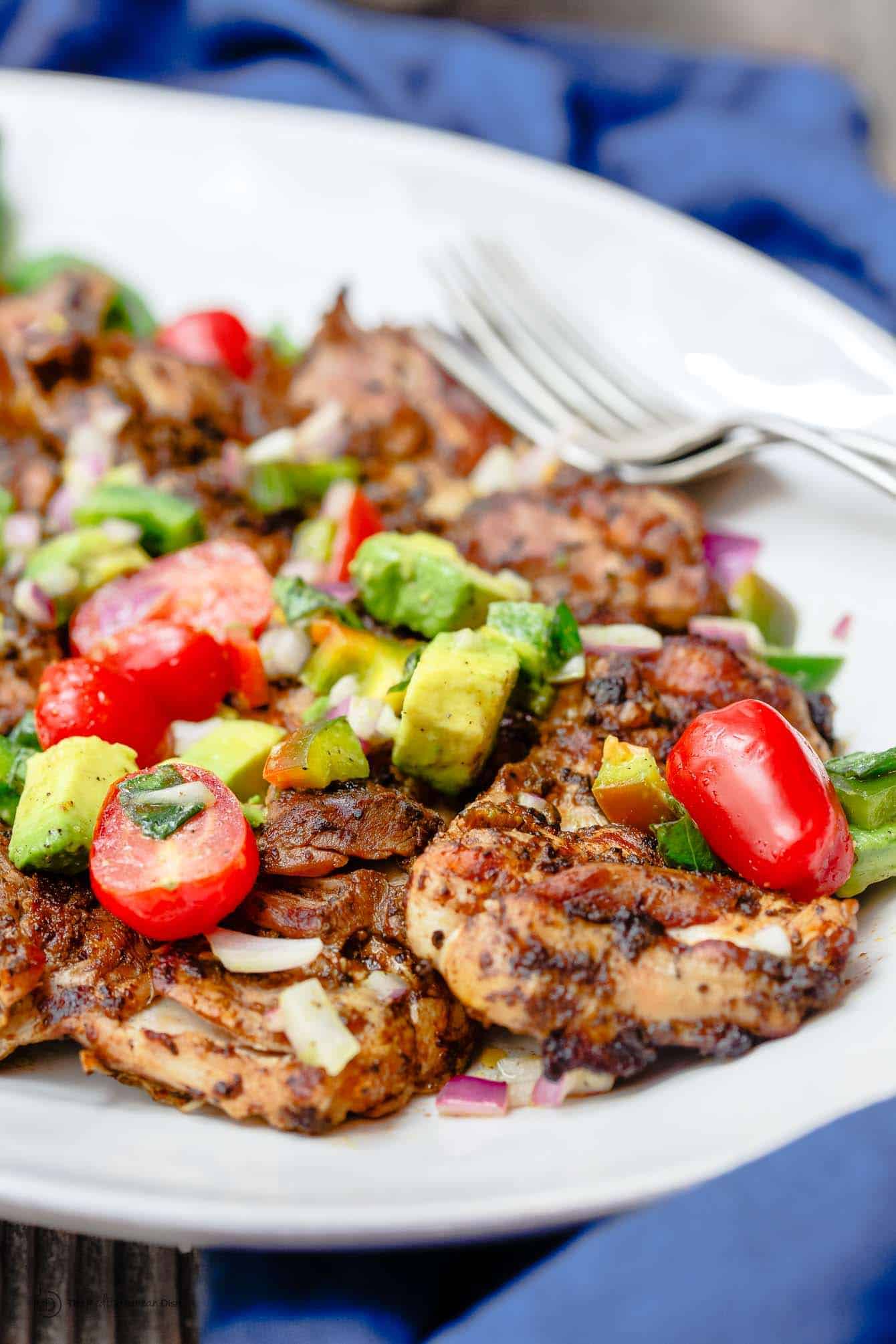 Today's barbecue chicken thighs recipe takes on a delicious Persian twist. And if we were to compile a list of "ridiculously easy recipes," this one would likely make the top!
Here, I reached for one of my favorite new finds, this healthy, all-natural Persian marinade from Wild Garden. This is a delicious, velvety, thick marinade with fragrant Persian notes including citrus, garlic, sumac, and fennel!
All there is to do is pour the marinade to coat the chicken. And if you don't have time, you can absolutely throw the chicken on the grill immediately. No need to marinate for hours!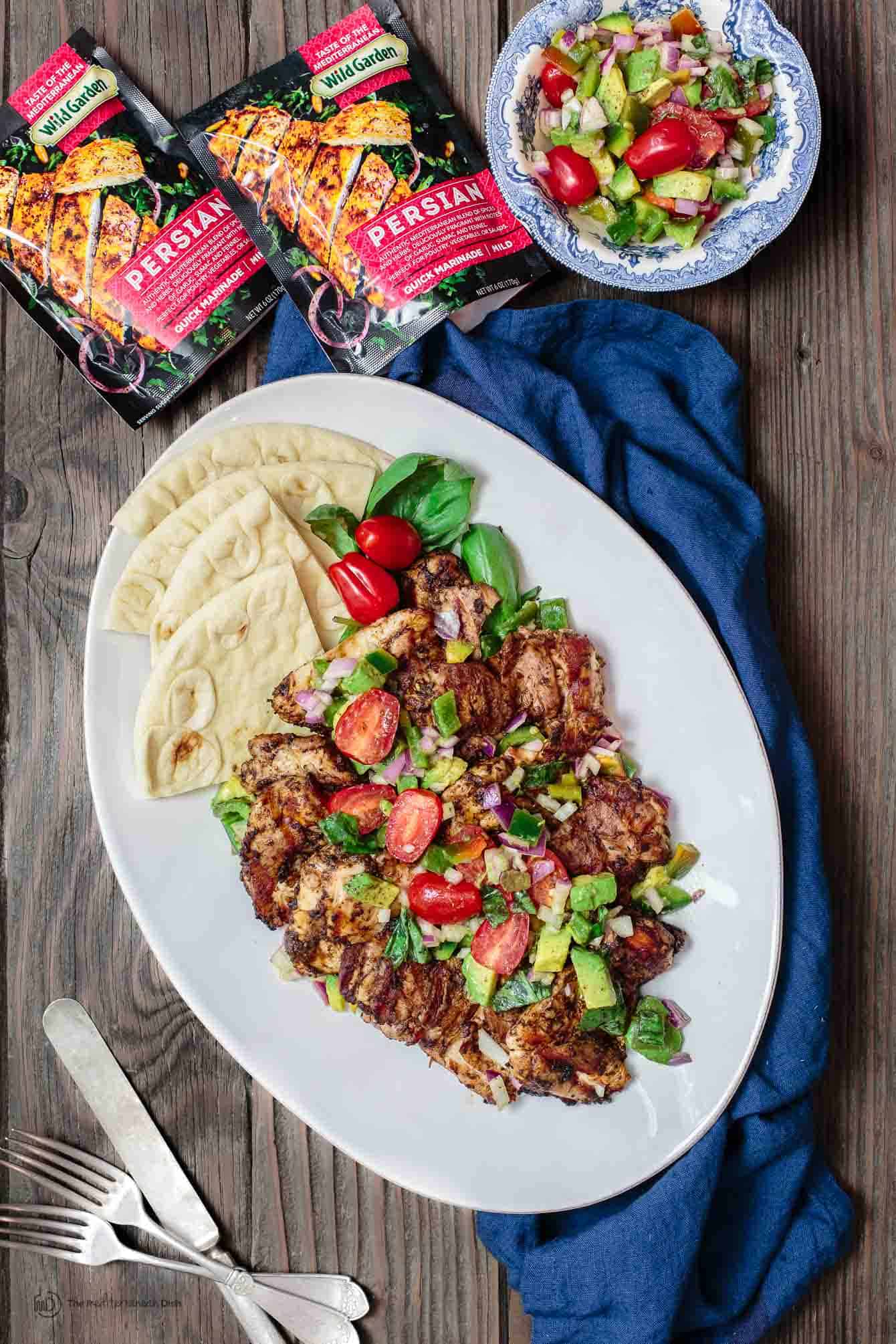 What to serve with Persian Barbecue Chicken Thighs
To serve, I like topping the barbecue chicken thighs with a quick, citrusy tomato and avocado salata (salad). Add a side of warm pita bread and some homemade Tzatziki sauce!
If you're up for more, here are a few favorite sides: roasted red pepper hummus; baba ganoush;  fattoush salad; couscous salad; or one of Wild Garden's heat-and-serve pilafs.
Print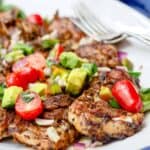 Easy Persian-Style Barbecue Chicken Thighs
---
Author:

Prep Time:

10 mins

Cook Time:

8 mins

Total Time:

18 minutes

Yield:

8-10 pieces
Ingredients
For Chicken
For Tomato Avocado Salata (salad)
1 green pepper, cored, chopped
1 1/2 cup cherry tomatoes
1/2 cup chopped red onion
1 avocado, peeled, pitted, and diced
Salt and pepper
1 tbsp lemon juice
2 tbsp extra virgin olive oil
Big handful basil leaves, torn
---
Instructions
Pat the chicken thighs dry and place in a wide deep dish. Pour in the Wild Garden Persian marinade. Coat the chicken completely with the marinade. Set aside at room temperature for 15 minutes or so.
Meanwhile, lightly oil your outdoor grill grates and preheat.  You'll want the grill to be very hot.
Once the grill is ready, lay the chicken down on the grill grates. Close the lid, and leave the thighs alone for 3 – 4 minutes. Turn the thighs over, and you should see the cooked side nicely seared, with dark grill marks. Allow the second side to cook for another 3 – 4 minutes with the lid closed. The thighs should be cooked through (to be sure, use an instant read meat thermometer. Internal temp should be between 165 degrees F and 170 degrees F). Remove from heat and place on a serving platter to rest for 5 minutes before serving.
In the meantime, prepare the tomato avocado salata. Place all the salata ingredients (except the basil) in a medium bowl. Toss gently to combine. Add the basil and give it one more toss.
Top the chicken with the tomato avocado salata, and add warm pita bread for an easy side! Enjoy!
Notes
To find Wild Garden marinades at a store near you, click here for the store locator.
In case you need to feed a larger crowd, the Wild Garden marinade can cover up to 3 lb of boneless chicken thighs. And you can simply double the salata recipe.
See suggested sides and salads in the post under "what to serve with Persian Barbecue Chicken Thighs."
Recommended for the salad Early Harvest extra virgin olive oil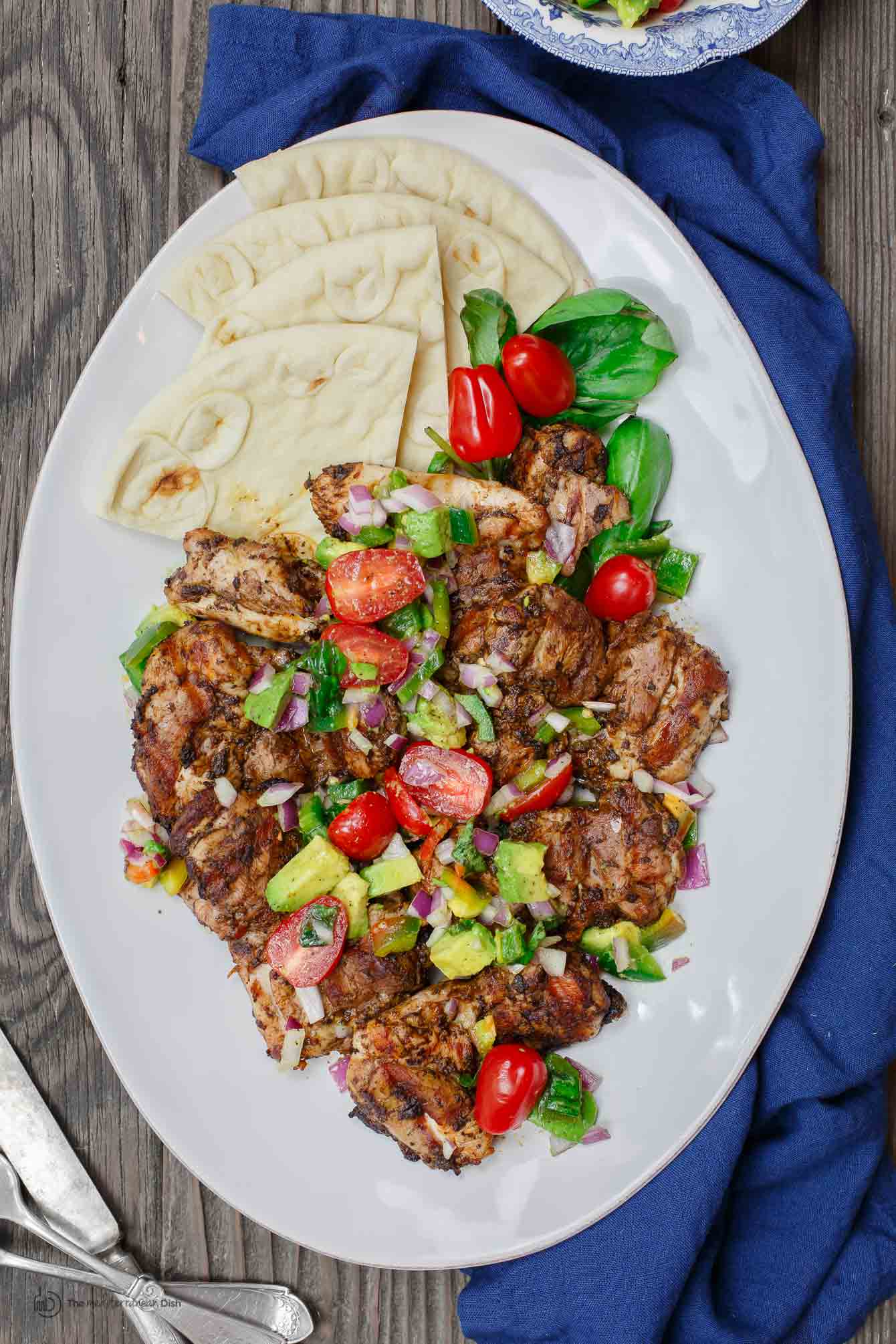 This post is brought to you in partnership with Wild Garden. To learn about Wild Garden Taste of The Mediterranean Products, go here. To locate a store near  you, go here; or purchase online here.