Flavor-packed meatballs with loads of aromatics, fresh parsley, and a special blend of spices, including ground cumin and a touch of cinnamon baked in a rich tomato sauce! I'm talking about Soutzoukakia, football-shaped Greek meatballs.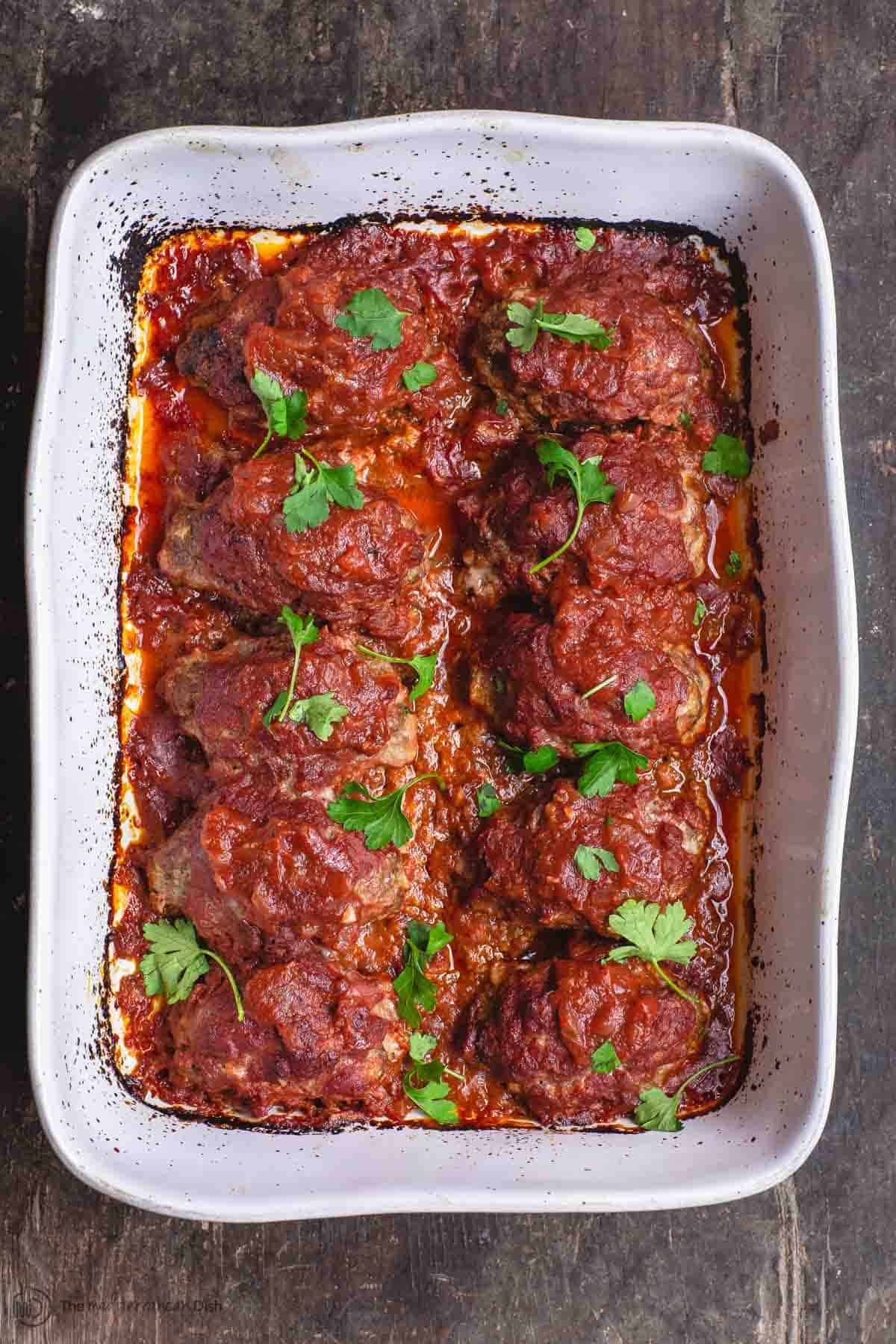 What is soutzoukakia?
Soutzoukakia! Say it with me, "soot-zoo-KAH-kee-ah"! Or you can call them izmir köfte. Izmir, a city in Turkey, is actually where these delicious meatballs originated, making their way to Greece sometime in the 20th century.
Soutzoukakia are delicious football-shaped meatballs made with ground beef, onions, garlic, fresh herbs, and a unique spice combination, the star of which is cumin! The cumin's warm and distinctive flavor with bitter, lemony undertones provides a great earthy base here. Adding to the flavor is the epic tomato sauce scented with bay, garlic and a touch of cinnamon.
The meatballs are baked in the sauce to create a dish that is comfort food at it's finest! Serve soutzoukakia with other Greek dishes like green bean salad or briam for a healthy well-rounded dinner. You guys, you're gonna love this!
Table of Contents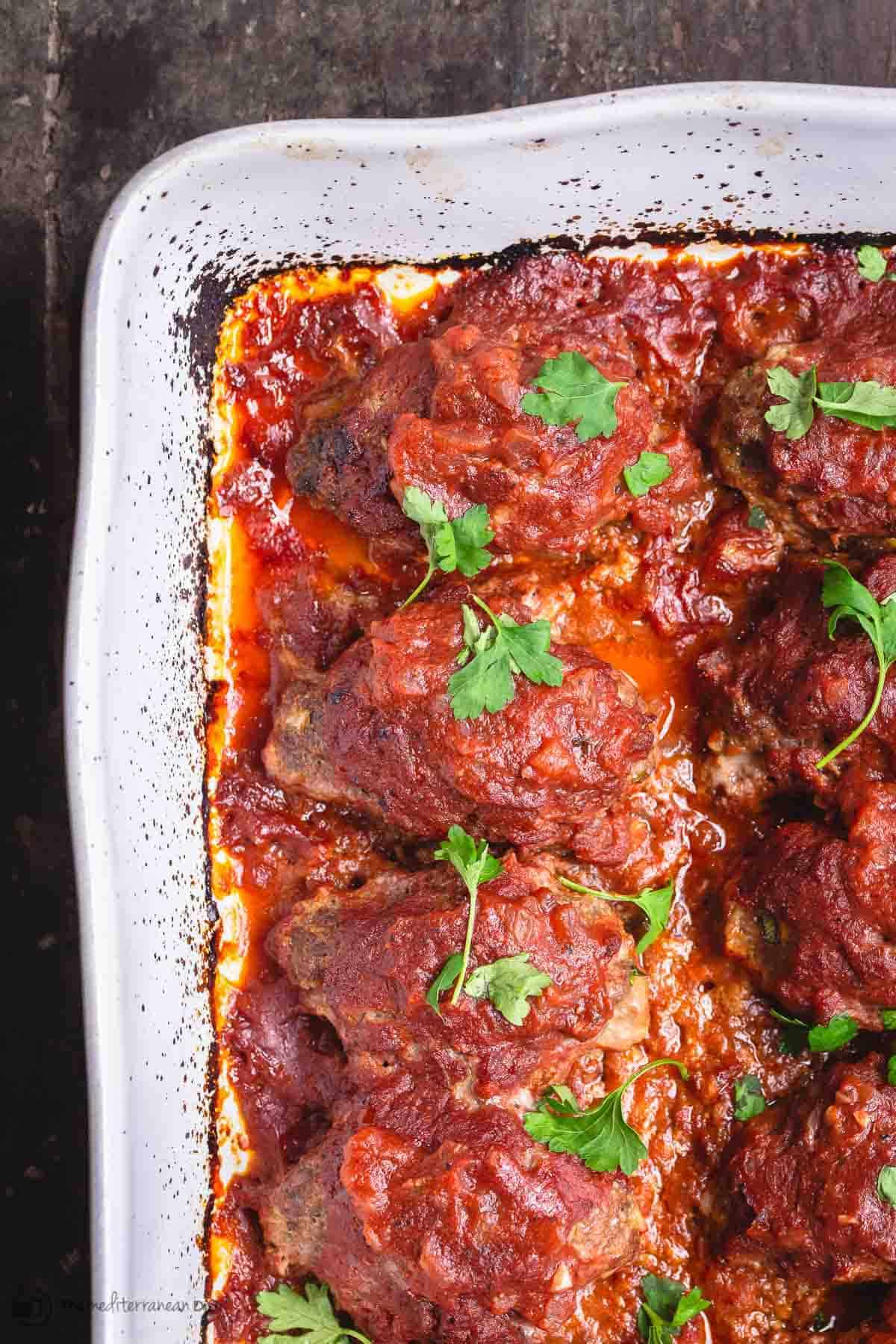 The secret to making good meatballs
These baked meatballs are extra tender and juicy thanks to adding pieces of milk-soaked bread and using a light hand when mixing and forming the meatballs.
First, let's talk about this soaked bread business. This is a trick I learned from Yiayia Helen, and it's one I always use when I make keftedes or Lebanese-style meatballs. If you need to, use gluten free bread but do NOT skip this step!
Here's how to do it:
Toast 2 slices of whole wheat bread. You can use a toaster or the stovetop, whichever you prefer.
Place the toast in a shallow bowl with about ⅓ cup milk.
Allow it to soak for 5 to 10 minutes.
Wring the excess liquid from the toast. You'll be left with what is basically toast mush, which is what you'll use in the meatballs.
Second, let's talk about mixing meat. If you've ever had a tough meatball chances are it was just overmixed and got a little too warm in the process. When combining ground beef with other ingredients you want to do it as gently as possible so the fat and the protein in the meat can bind together.
If you overwork the dough you can break that bind (kind of like when a sauce splits) resulting in dry, tough meatballs.
So the secret to flavorful, moist and tender meatballs is to:
Use bread soaked in milk
Keep the meat cold
Combine the ingredients just until they are mixed
Shape them gently
Do this and you'll have tender, juicy meatballs everytime.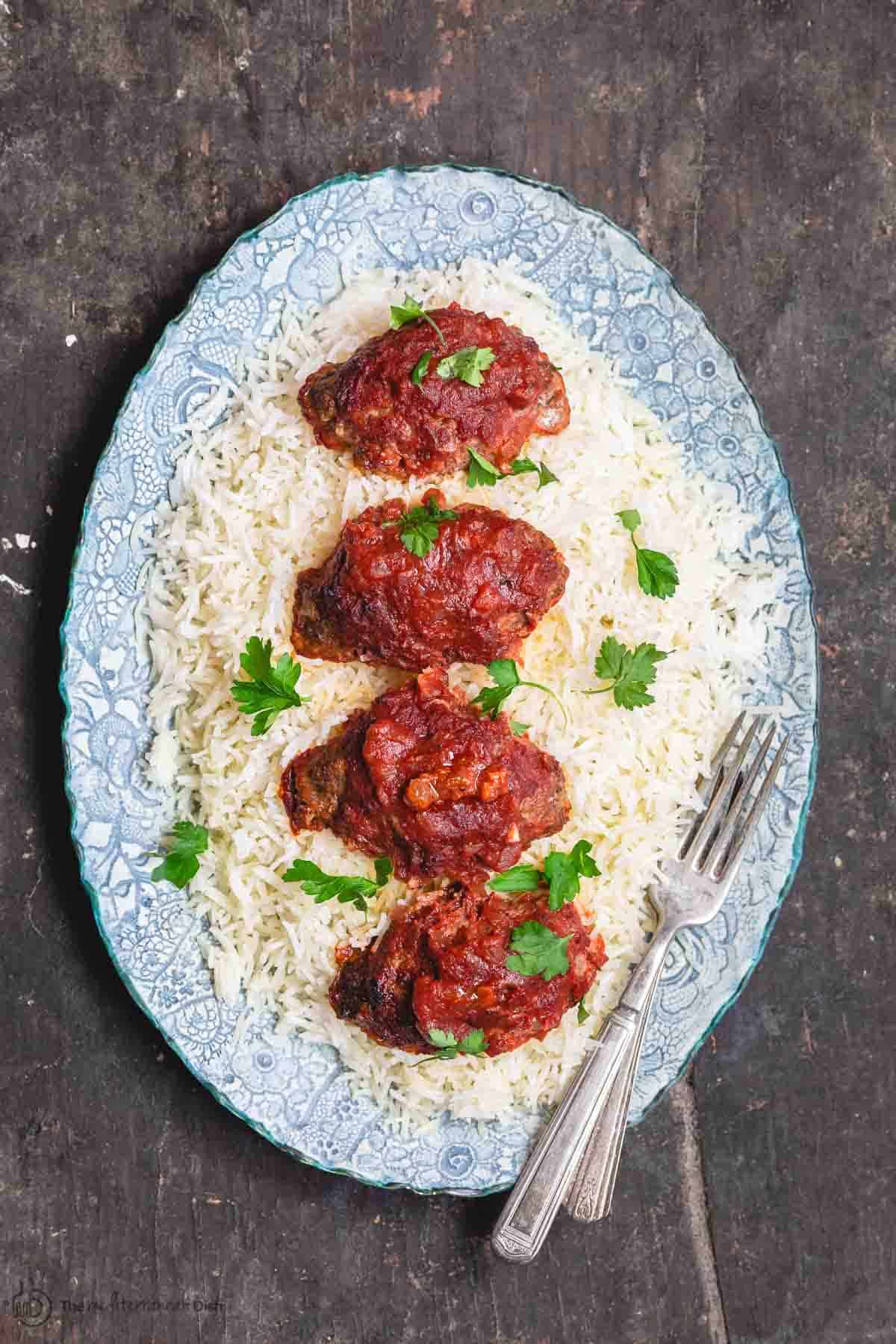 Ingredients for Greek baked meatballs
Soutzoukakia consists of 2 main parts: The signature oblong-shaped meatballs, and rich red sauce. Here's what you'll need for both:
Meatballs
Whole wheat bread: You'll need 2 slices. Use your favorite gluten-free option if you cannot tolerate gluten.
Milk: You'll need about ⅓ cup milk. You can also use water.
Ground beef: I use either 85 or 90 percent lean ground beef. Since the meatballs cook in a sauce, I wasn't worried about them turning out dry. For a fattier option, use equal amounts of lean ground beef and ground pork.
Aromatics: Chopped yellow onion and minced garlic.
Eggs: Eggs help to bind the meatballs so they don't fall apart.
Herbs and spices: Cumin, cinnamon, dried oregano, and flat-leaf parsley.
Tomato sauce
Extra virgin olive oil: I like using a Greek EVOO here, like our Private Reserve or Early Harvest oils.
Aromatics: Chopped yellow onion and minced garlic.
Red wine: Use a dry wine like a Cabernet Sauvignon or Pinot Noir.
Canned tomato sauce: You'll need two 15-ounce cans.
Herbs and spices: Bay leaf, cumin, cinnamon, and sugar.
How to shape soutzoukakia
Now, when you think of meatballs, you probably picture something small and spherical, with a serving size of 4 to 5 meatballs per person. Not the case here. This recipe yields 16 meatballs, and can serve up to 8 people, which is about 4 ounces of meat per person. Here's how to form Greek football-shaped meatballs.
If you want each meatball to be exactly the same size, start by weighing the total meatball mixture and dividing that by 16. That will give you the weight of each meatball. (Optional.)
If you are not too worried about being super precise, scoop 2 ½ tablespoons at a time to make the meatballs.
Wet your hands slightly so the meat doesn't stick.
Grab one meatball's worth of meat and shape it into a football shape using your palms. (Roll the meat mixture gently between your palms until it turns into an oblong.)
Don't sweat the shape too much. The meatballs will taste wonderful regardless!
How to make soutzoukakia
If you've ever wanted to get more people involved in making dinner this recipe is a good one for that. One person can build the tomato sauce, while someone else shapes the soutzoukakia. Here's how to make it.
Soak toasted whole wheat bread. Toast 2 slices whole wheat bread and place them in a shallow bowl with ⅓ cup milk. Allow to soak for about 10 minutes, then squeeze out excess liquid.

Gather Greek baked meatball ingredients. To a large bowl, add 1 ½ pounds lean ground beef, soaked toast, 1 small chopped yellow onion, 3 minced garlic cloves, 2 eggs, 1 teaspoon ground cumin, ½ teaspoon each ground cinnamon and dried oregano, and ½ cup chopped flat-leaf parsley.



Make the meatball mixture. Use your hands to bring the ingredients together until they are just combined. Then cover and refrigerate while you work on the sauce.



Make the sauce. Heat 2 tablespoons extra virgin olive oil over medium heat, then add 1 finely chopped yellow onion and cook for 3 minutes. Next, add 2 minced garlic cloves and cook for a minute, stirring regularly. Pour in ½ cup dry red wine and let it cook down by about half, then add 30 ounces canned tomato sauce, 1 bay leaf, ¾ teaspoon cumin, ½ teaspoon cinnamon, and ½ teaspoon sugar. Bring to a boil, then lower heat and simmer for 15 minutes.



Shape the meatballs. Form the meat mixture into football-shaped meatballs (oblong shape) and arrange them in a large lightly oiled baking dish.



Bake the meatballs. Pour the red sauce on top, then bake in a 400°F oven for 40 to 45 minutes. About halfway through, check and see if there is enough liquid in the dish. If not, add a little water (maybe about ¼ cup). Serve.


Make ahead tips for Greek baked meatballs
Soutzoukakia is a convenient make-ahead meal! You can make both the sauce and meatball mixture a night in advance. Here's how:
Make the sauce a night ahead and store it in a glass container (to prevent staining) in the refrigerator.
Mix the meatball mixture and keep it in the fridge for up to one day in advance.
When you're ready, form the meat into oblong shapes, place them in an oiled baking dish, and pour the sauce over. Bake and serve.
Serving suggestions
The wonderful thing about meatballs in sauce is that they go well with so many things. Here are some ideas: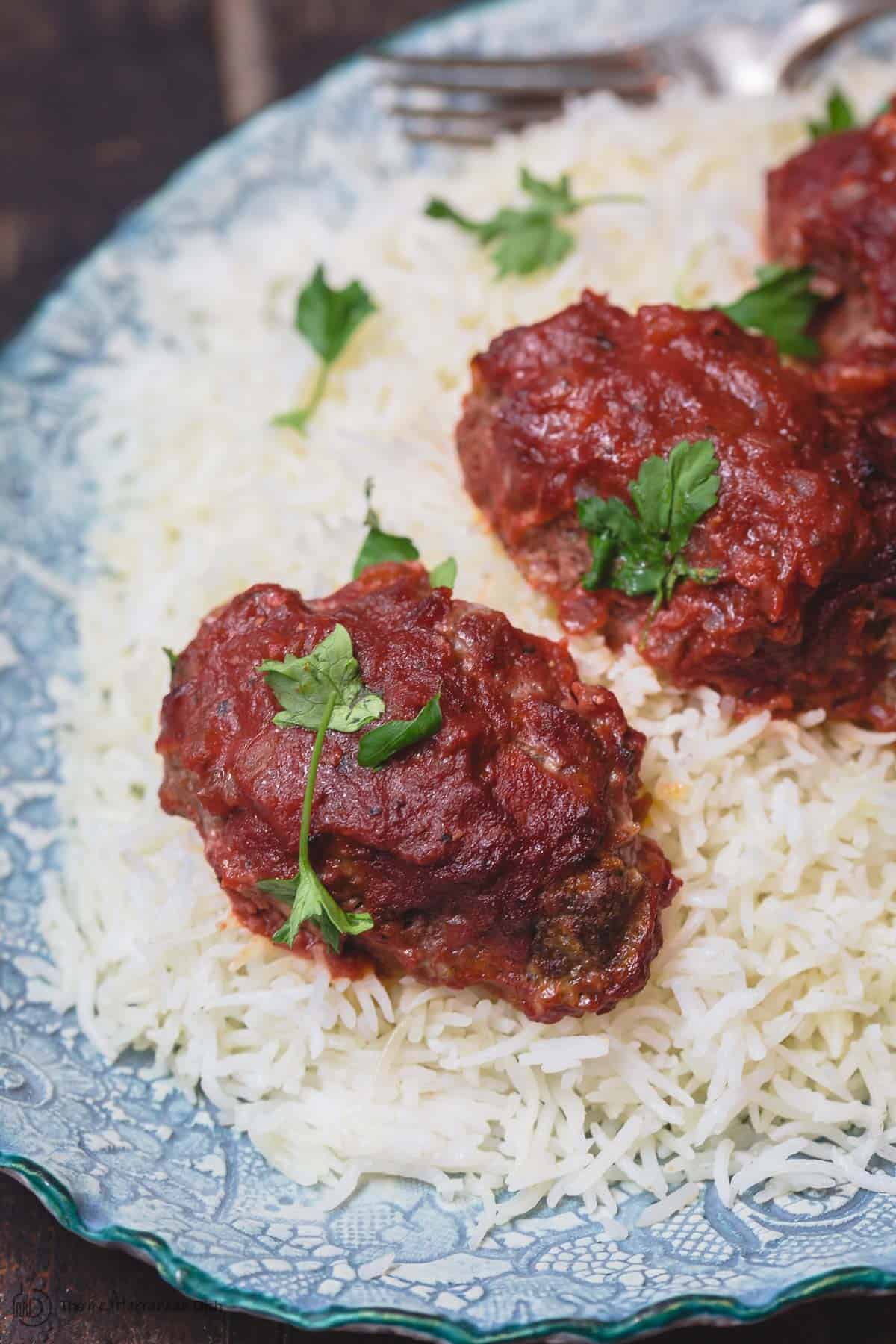 How to store and reheat leftovers
Leftover soutzoukakia will keep well in the refrigerator for up to 4 days. Reheat the meatballs and sauce in a skillet with some extra virgin olive oil over medium heat until warmed through.
Can you freeze soutzoukakia?
I often make a double-batch of Greek baked meatballs and freeze half before baking them, so that when I'm in the mood for soutzoukakia, all I need to do is whip up the rich red sauce. Here's how to freeze uncooked Greek meatballs:
Arrange the meatballs in a single layer (with a little space between them so they don't freeze together) on a parchment-lined baking sheet and place in the freezer for a few hours.
Once they're frozen solid, transfer to a deep container layered between sheets of parchment paper or a ziptop bag.
They will keep for up to 2 months.
Thaw them in the fridge overnight and bake the next day.
If you like, you can also freeze the cooked dish. Allow the meatballs and sauce to come to room temperature and transfer to a freezer-safe bag or container. Freeze for up to 2 months. Thaw overnight in the fridge and reheat on the stove. You'll likely need to add a little water while the soutzoukakia reheats.
More meatball recipes
Browse All Mediterranean Recipes.

Visit Our Shop.
Soutzoukakia (Greek Baked Meatballs)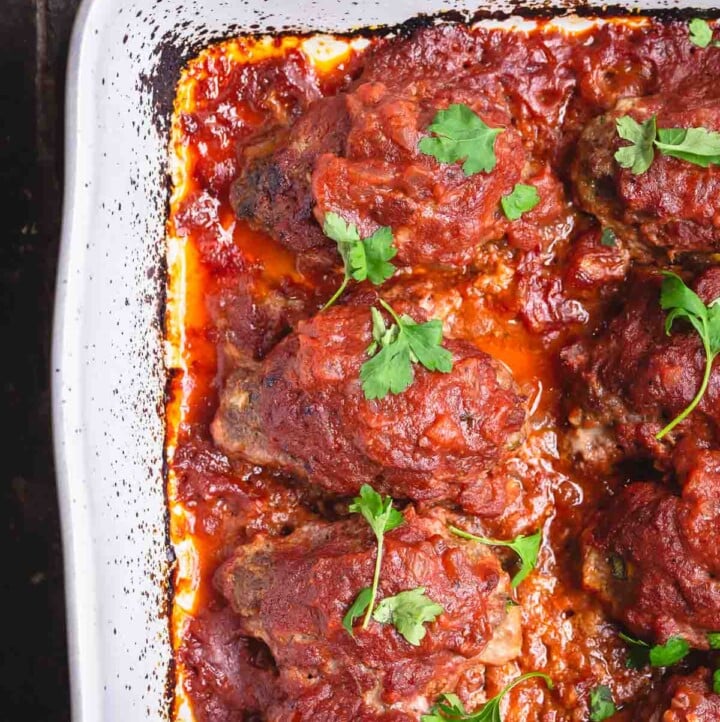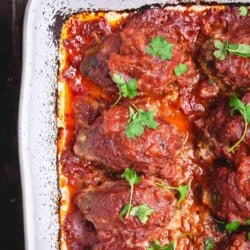 Perfectly tender baked meatballs, prepared Greek-style with onions, garlic, spices like cumin and cinnamon, and fresh herbs in a special red sauce. Soutzoukakia taste delicious with sides like Greek salad, or over a bed of rice. Check out all my tips and tricks for the best Greek baked meatballs! This recipe makes 16 meatballs, which serves up to 8 people.
Ingredients
For Meatballs
2

slices

whole wheat bread,

toast-size, toasted to a medium-brown (or use gluten free bread if you need)

⅓

cup

whole milk

1.5

pounds

lean ground beef

1

small yellow onion,

chopped

3

garlic cloves,

minced

2

medium eggs

1

teaspoon

ground cumin

½

teaspoon

ground cinnamon

½

teaspoon

dried oregano

½

cup

chopped fresh parsley

Kosher salt and black pepper

Extra virgin olive oil,

to grease the baking dish
For Red Sauce
1

medium yellow onion,

finely chopped

2

garlic cloves,

minced

½

cup

dry red wine

30

ounces

canned tomato sauce,

that's 2 15-ounce cans of sauce

1

bay leaf

¾

teaspoon

ground cumin

½

teaspoon

cinnamon

½

teaspoon

sugar

Kosher salt and black pepper
Instructions
In a small bowl, place the toasted bread and cover with milk (or water) to soak. When bread is soft and well-soaked, squeeze the liquid out completely and discard remaining milk if any.

Transfer the bread to a large mixing bowl. Add round beef and remaining meatball ingredients. Knead well until well-combined. Cover the meat mixture and rest in the fridge for now.

While oven is heating, prepare the sauce. In a sauce pan or large skillet, heat 2 tablespoon of extra virgin olive oil over medium heat until shimmering but not smoking. Add onions and cook for 3 minutes or so. Add garlic and cook for another minute, stirring regularly. Now add red wine and cook to reduce by about ½, then add tomato sauce, bay leaf and remaining sauce ingredients. Bring to a boil, then lower heat and simmer for 15 minutes.

Prepare a large baking dish and lightly oil the bottom with extra virgin olive oil.

Take the meat mixture out of the fridge. Wet your hands and scoop portions of about 2 ½ tablespoon of the meat mixture and form into large elongated meatballs (football-shaped.) You should have 15 to 16 meatballs or so. Arrange meatballs in the papered baking dish and top with the sauce (be sure to have removed the bay leaf from the sauce.)

Place the baking dish on the middle rack of your heated oven. Bake for 40 to 45 minutes or until the meatballs are well cooked through (check part-way through to make sure sauce is not dry, and if needed, add a little bit of water to the bottom of the baking dish.)

Remove from oven and add another drizzle of EVOO. Garnish with parsley and serve over

rice

or orzo.
Notes
Toast and soak bread: Do not skip this step; it gives you the juiciest meatballs!
What meat to use: You can use lean ground beef, or a mixture of lean ground beef and ground pork.
Prepare-ahead tips: If you want to get a head start on this recipe, you can make the sauce one night in advance. You can also mix the meat mixture one night in advance of cooking; store in the fridge in a glass container with a tight lid.
Tips for leftovers: These Greek meatballs will keep for 4 days in the fridge. Store in tight-lid glass containers.
What to serve along? These meatballs are great over Lebanese rice or plain orzo. Turn this dinner into a Greek feast by adding a side of Greek Salad along with Greek Green Bean Salad or Briam!
Visit Our Shop for quality Mediterranean ingredients including extra virgin olive oils and spices.
Nutrition
Calories:
138.5
kcal
Carbohydrates:
6.9
g
Protein:
10.8
g
Fat:
7.1
g
Saturated Fat:
2.3
g
Polyunsaturated Fat:
0.6
g
Monounsaturated Fat:
3.4
g
Trans Fat:
0.3
g
Cholesterol:
48.7
mg
Sodium:
380.4
mg
Potassium:
357.9
mg
Fiber:
1.4
g
Sugar:
3.1
g
Vitamin A:
431.1
IU
Vitamin C:
7.6
mg
Calcium:
39.4
mg
Iron:
2
mg
*This post was recently updated with new information to make it even better!