I think of Kuku Sabzi as the Persian's festive, herby, and flavor-packed take on frittata or omelet (in this case, baked omelet). I'm excited to share this version from the cookbook Milk Street: The New Home Cooking. More about the book and a great giveaway below!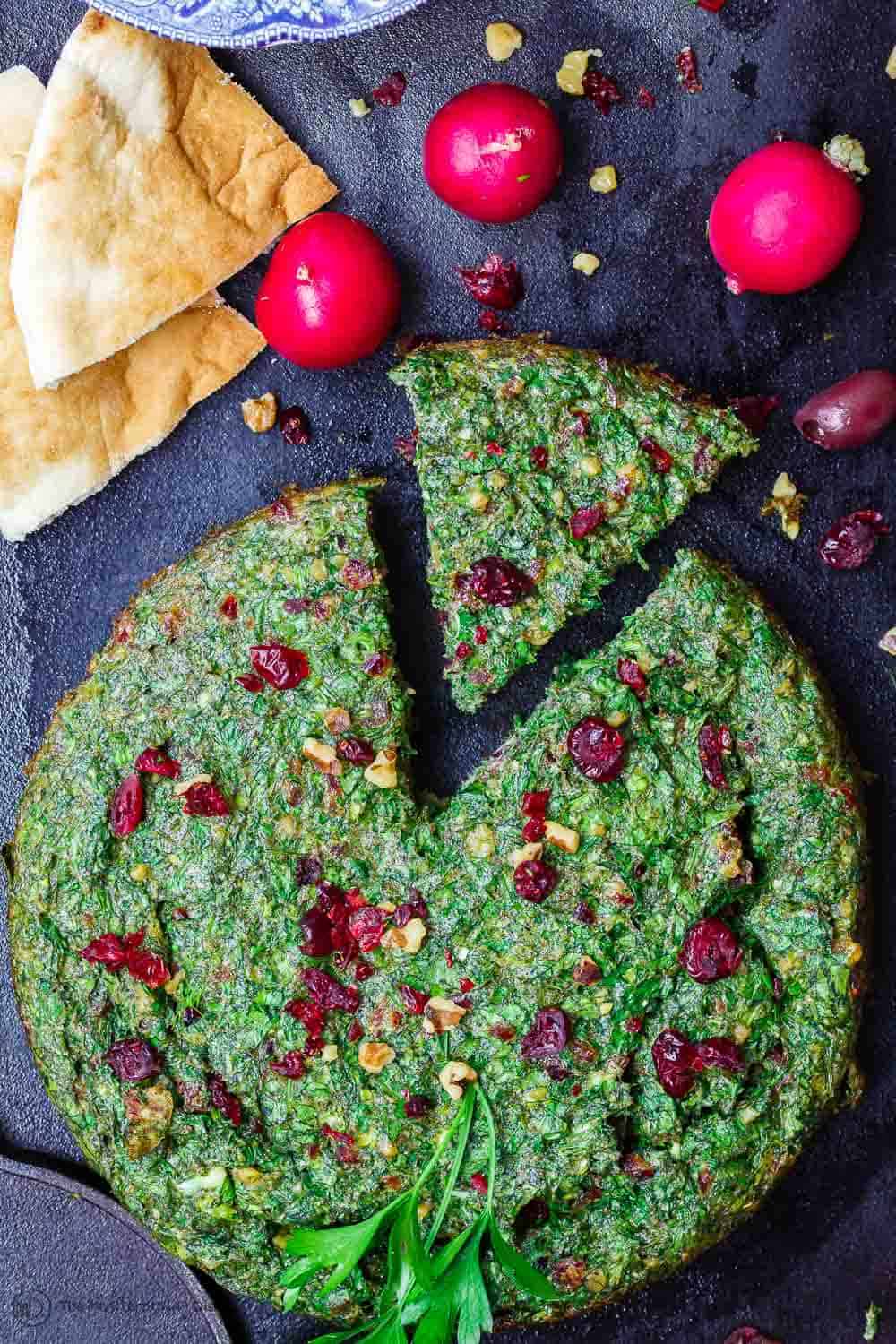 I've always enjoyed the flavors of Persian food, which aren't too far from the Mediterranean and Middle Eastern flavors I grew up with. So, when I came across an easy recipe for Kuku Sabzi in the new Milk Street cookbook, I knew I had to make it!
What is Kuku Sabzi?
Kuku Sabzi is a traditional Persian omelet typically served at Nowruz (Persian New Year) --the herbs symbolizing rebirth, and the eggs symbolizing fertility.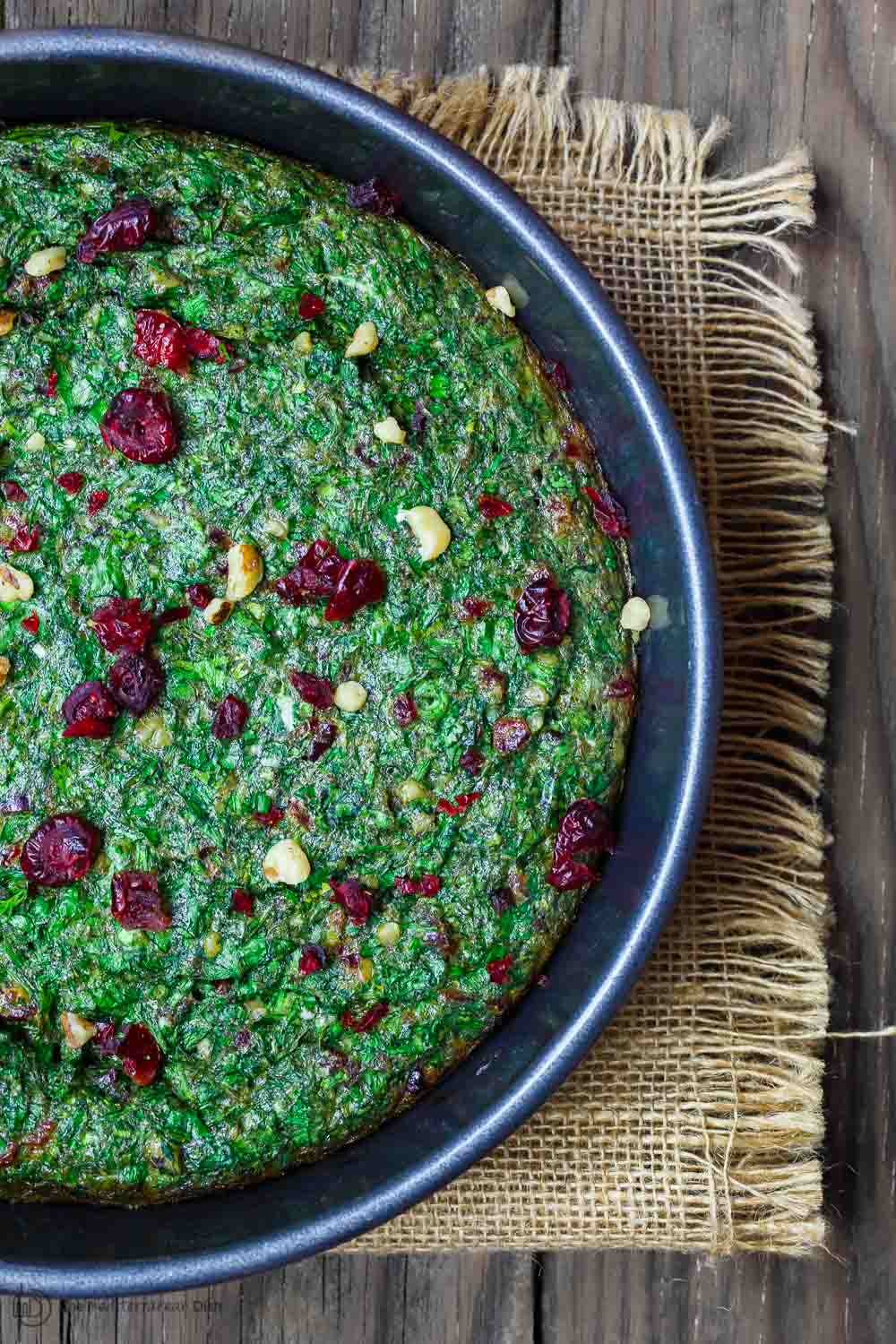 If its deep green color is any indication, kuku sabzi has loads of greens! In fact, the ratio of greens to eggs is heavily skewed towards the greens. In this recipe, it's heaps of parsley, cilantro, dill and scallions; there are just enough eggs to bind them together!
Why this Kuku Sabzi Recipe works?
This kuku sabzi recipe is one heck of a solution to those fresh herbs wilting in your fridge. And you can certainly throw in other greens like baby spinach.
While kuku sabzi is traditionally prepared stovetop, I love the ease of baking. Helped by a little baking powder, you get an even lighter, fluffed-up omelet. Cranberries (in place of Persian barberries) and toasted walnuts add a little texture and welcomed flavor.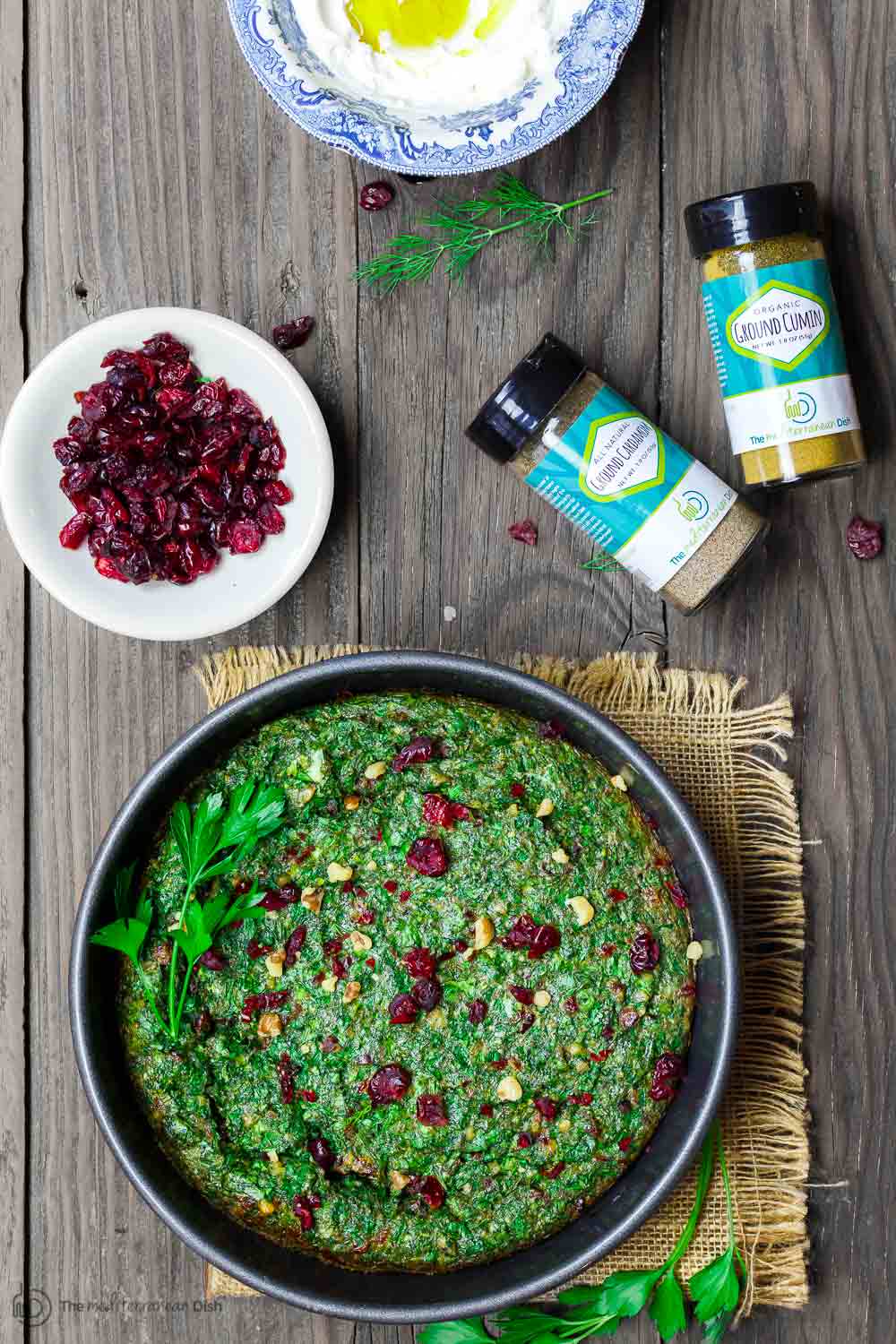 I appreciate this one note from the Milk Street cookbook: Don't use less than 2 tablespoon of extra virgin olive oil to grease the pan. The oil should pool at the bottom and generously coat the sides. This crisps up the edges and boosts the omelet's flavor. I couldn't agree more!
You guessed it, I chose to use our Private Reserve Greek extra virgin olive oil. An exquisite buttery oil with fruity aroma and a low acidity of less than 0.4%. You'll notice hints of fresh green herbs, a mild bitterness and a peppery finish, which makes Private Reserve the perfect oil to compliment the flavors in this herby omelet.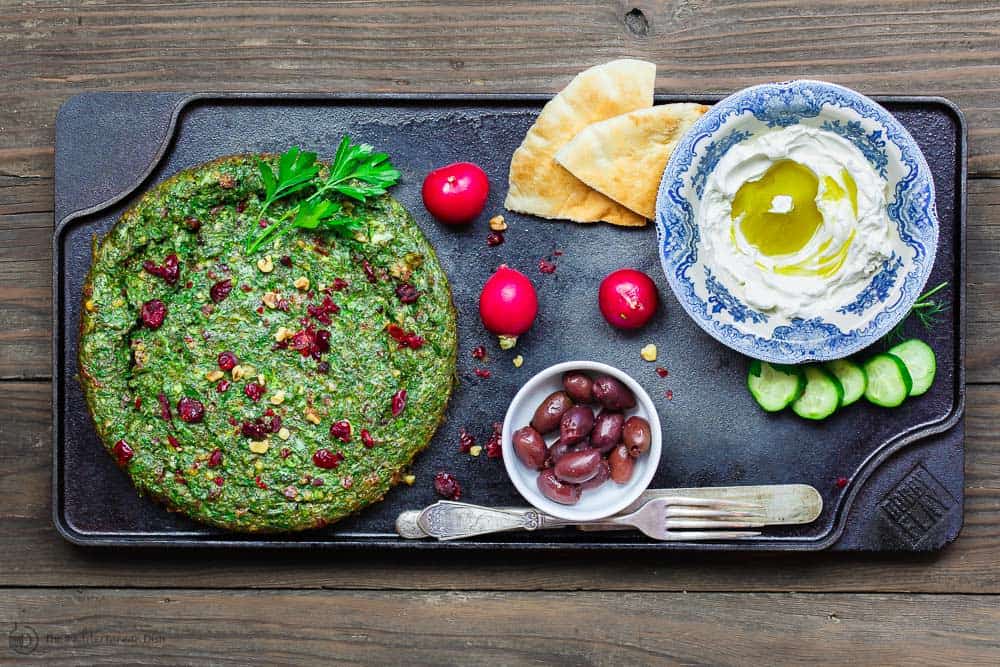 What to serve with this Kuku Sabzi (Baked Omelet)?
Both Milk Street and Samin Nosrat, who is a renowned chef and cookbook author of Persian origins, suggest serving Kuku Sabzi with a side of yogurt.
But if you're in my shoes, and you've just made a fresh batch of homemade labneh (yogurt cheese), you should totally serve it along! Like yogurt, Labneh offers the balance of acidity next to this baked omelet. To complete the little feast, add fresh vegetables, olives and pickles.
Print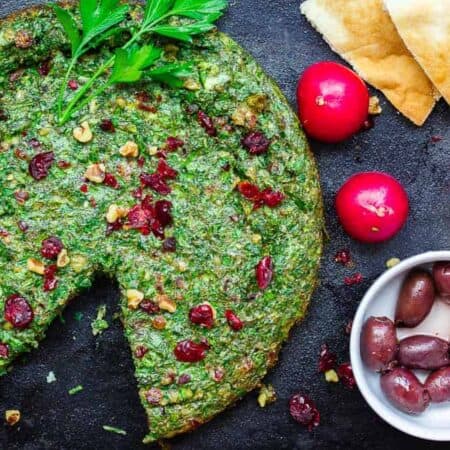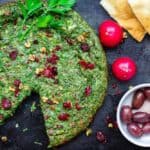 Kuku Sabzi: Baked Persian Herb Omelet
---
Description
Kuku Sabzi is a light, flavor-packed Persian baked omelet. This is an all-star, easy recipe with loads of fresh herbs! Perfect for your next brunch!
---
5 tbsp

Private Reserve Greek extra virgin olive oil

2 cups

flat-leaf parsley, leaves

2 cups

cilantro, leaves and tender stems

1 cup

roughly chopped fresh dill

6

scallions, trimmed and coarsely chopped

1 ½ tsp

baking powder

1 tsp

kosher salt

¾ tsp

ground green cardamom

¾ tsp

ground cinnamon

½ tsp

ground cumin

¼ tsp

ground black pepper

6

large eggs

½ cup

walnuts, toasted and chopped (optional)

⅓ cup

dried cranberries, coarsely chopped (optional)
---
Instructions
Position an oven rack in the upper-middle position and heat oven to 375 degrees F.
Trace the bottom of an 8-inch square pan or 9-inch round cake pan on kitchen parchment, then cut inside the lines to create a piece to fit in the bottom of the pan.
Coat the bottom and sides of the pan with 2 tablespoon extra virgin olive oil, turning the parchment to coat on both sides (the oil should pool at the bottom and generously coat the sides).
In a food processor, combine the parsley, cilantro, dill, scallions and the remaining 3 tablespoon extra virgin olive oil. Process until finely ground (now, I like my herbs less fine, so I stopped the processor at my desired texture). Set aside for now.
In a large bowl, whisk the baking powder, salt, cardamom, cinnamon, cumin and pepper. Add 2 eggs and whisk until blended, then add the remaining eggs and whisk until just combined. Fold in the herb-scallion mixture and the walnuts and cranberries, if using. Pour into the prepared pan and smooth the top.
Bake in 375 degrees F heated-oven until the center of the egg is firm, about 20 to 25 minutes. (The egg mixture will rise, but will go down once you set it aside to cool.)
Let the kuku cool in the pan undisturbed for 10 minutes. When ready, run a thin knife around the edges to loosen the kuku. Invert onto a plate and remove the parchment from bottom, then re-invert on another serving plate or a cutting board so the top of the kuku is facing you. Slice into wedges and serve warm or at room temperature.
Serve with a dollop of yogurt. See more suggestions in the post under "what to serve with kuku sabzi."
Prep Time:

20 mins

Cook Time:

20 mins

Category:

Breakfast

Cuisine:

Persian
Keywords: Persian baked omelet recipe, healthy brunch idea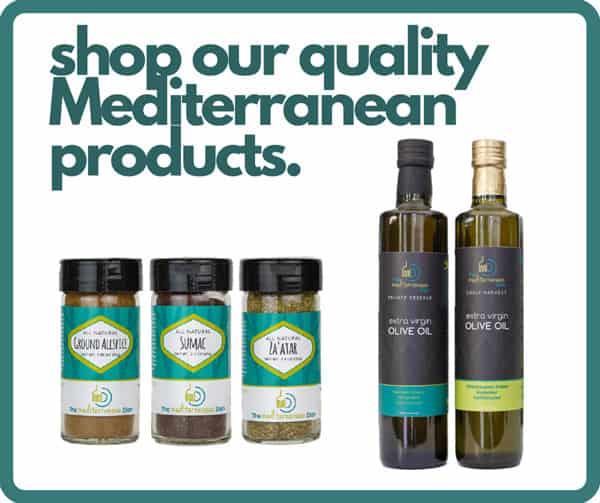 It's hard for a foodie not to be a fan of Christopher Kimball's! I've followed his work for a while, more recently, his Milk Street Radio (podcast).
Milk Street: The New Home Cooking is a cookbook every cook should have. As only Christopher Kimball and his capable team can do, they've put together a great resource for home cooks. What I appreciate most about it is its global approach to food--searching the world for bold, simple recipes, and then adapting them for home cooks. You'll find 125 recipes --from the Middle East to Spain, Korea, Sweden and many more--all presented clearly and beautifully. If you're looking to change things up in the kitchen, you'll want a copy of this book!
To purchase a discounted copy of the book, head over to Amazon here.
Enter the giveaway below for a chance to win a copy of the book, courtesy of Little Brown.
Giveaway
U.S.A residents who are at least 18 years of age may enter this giveaway. Please read the terms and conditions in full before entering.
More Recipes to Try:
Homemade Labneh (Lebanese Yogurt Cheese)
Keftedes: Greek Meatballs Recipe
*Disclosure: No compensation was received in exchange for this post or giveaway. All opinions are my own.