Ready for the BEST white bean and kale soup you'll ever try? With the added chicken, this is one comforting and satisfying pot to feed a hungry crowd! And you'll love the flavors from warm spices, a hint of Parmesan, and a splash of bright lemon juice! Stovetop and crockpot instructions included.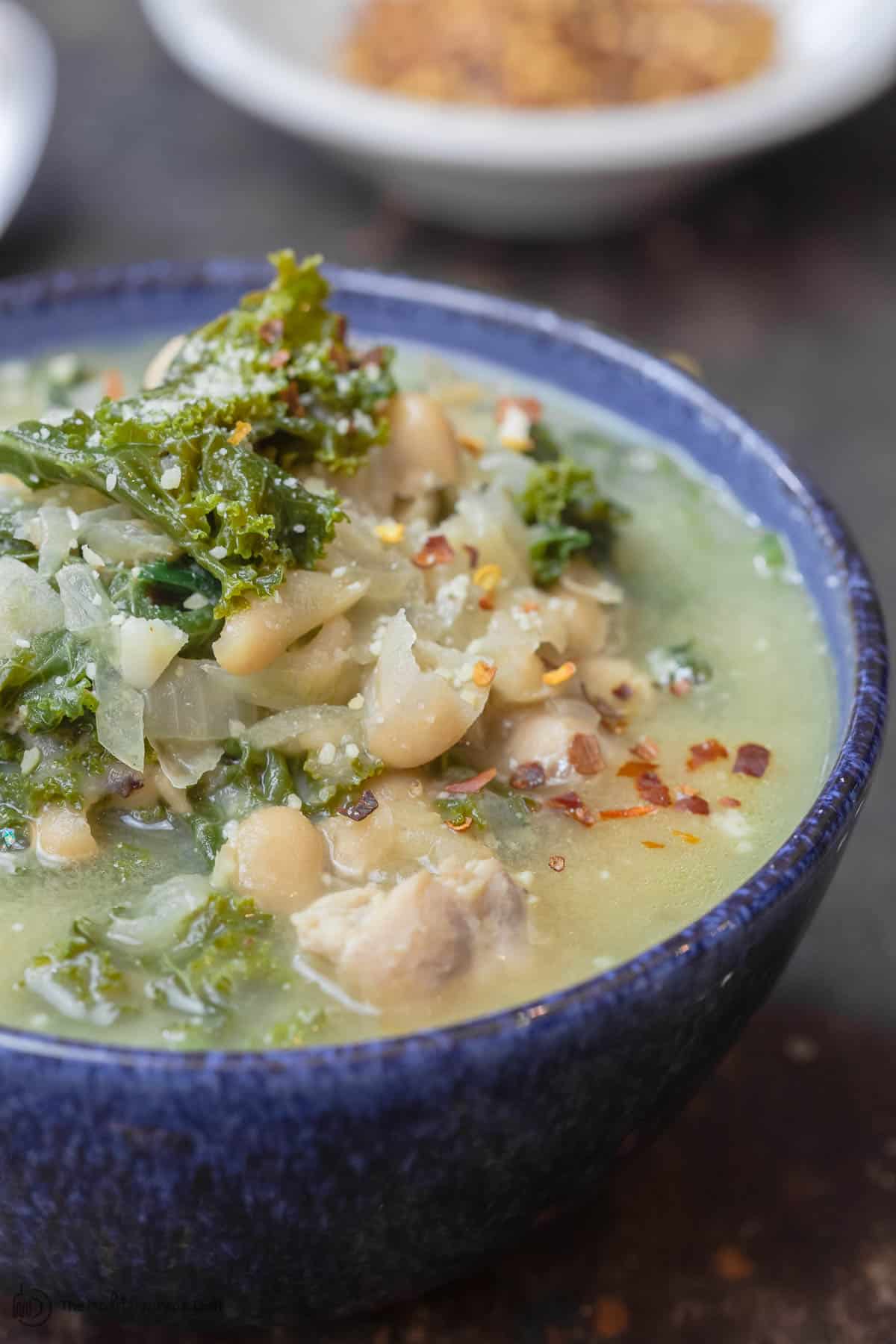 Because we eat the Mediterranean way around here, beans are a staple in my kitchen (whether canned or dry.) Lucky for us, they are affordable; easy to use; and super satisfying.
Beans, like other legumes, are also a great source of plant-based protein, fiber, and iron. That's why I use them regularly in things like bean and broccoli pasta; bean soup with tomato pesto; or Greek Fasolada (all three are worth a try at some point, but first, today's white bean chicken soup!)
In today's recipe, two humble cans of white beans are transformed into a delicious one-pot dinner: white bean and kale soup with chicken. This is a satisfying weeknight dinner, and you'll love all the flavors.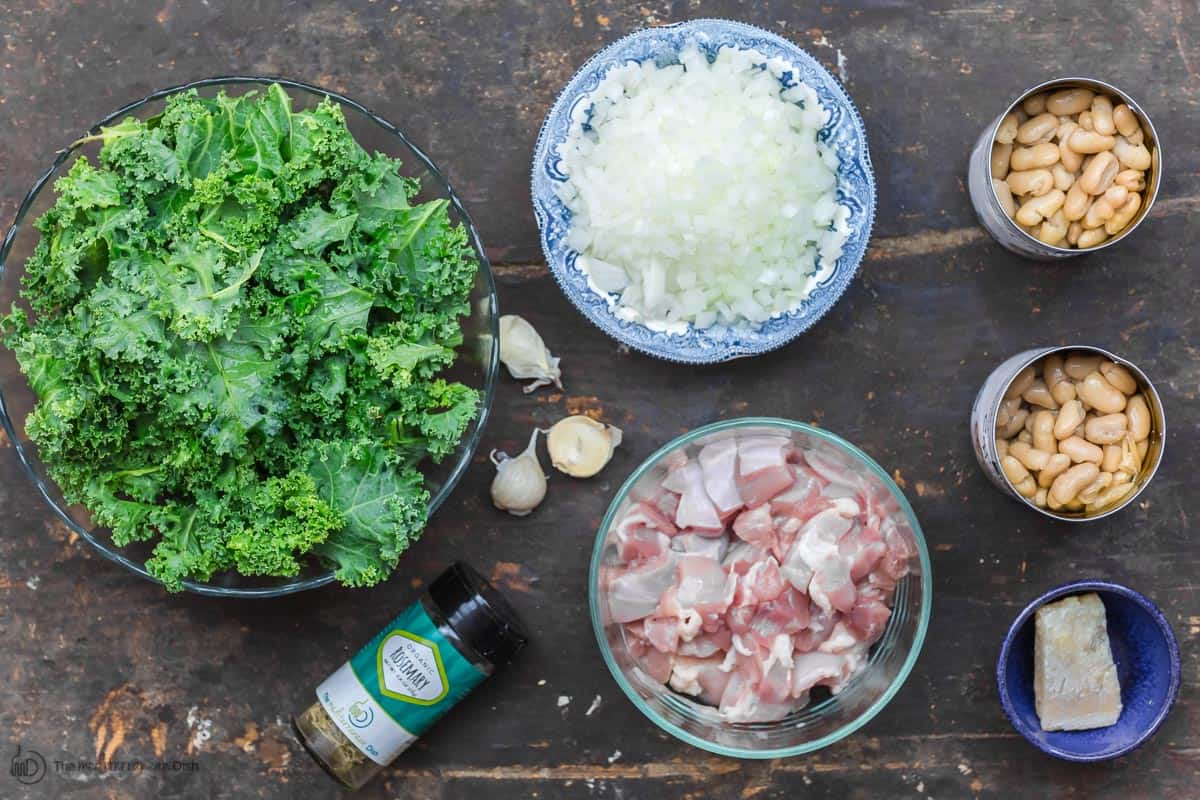 Ingredients: What you need for white bean soup
A few simple, easy-to-find ingredients come together in this one-pot white bean soup:
White Beans. What kind to use? Either great northern or cannellini beans will work here, but I find cannellini beans to have more of a nutty taste and a creamier, more tender texture. For a shortcut, I used canned beans here, but if you have the time and want to start with dry beans, you certainly can (I have the instructions for how to soak and cook dry beans below.)

Kale (or another leafy green). White beans and kale are a great match! You'll need about 8 ounces of kale in this recipe, and I like to trim the thick stems, then chop the kale into thin strips. If you don't love kale, I think a handful of baby spinach will work (just throw them in toward the end of the cooking time, baby spinach don't need a ton of time to cook).

Boneless Chicken. You'll need just around one pound of boneless, skinless chicken. You can use either thighs or breast meat. Because chicken breasts alone can be bland and won't add any richness or flavor to this soup, I like to use a bit of thighs as well. Cut the chicken up into small bite size pieces before cooking. And the first step I take with this bean chicken soup is to actually brown the chicken in a little extra virgin olive oil; a great way to develop flavor right off the bat.

Spices and aromatics to flavor your white bean soup. This is no plain bean soup; there is a ton of flavor going on here thanks to onions, garlic, spices--coriander, cumin, rosemary, and a pinch of red pepper flakes. But the secret ingredient that brings all the umami and richness to this soup is a small Parmesan cheese rind. Since I last used a small cheese rind in this minestrone soup, I've been keeping those last bits of Parmesan cheese for such soupy occasions. So good!

Citrus and olive oil to finish. A squeeze of fresh lemon juice to round out the flavor, adding just enough zing to wake everything up. And, once the soup is transferred to serving bowls, I like to add a drizzle of this Early Harvest extra virgin olive oil for that added bit of velvety, rich finish.
Can I use dry beans instead of canned beans?
Yes! If you have some dry white beans that you'd like to use here instead, by all means! One 15-ounce can of beans = ¾ cup of dry beans, which means you will need 1 ½ cups of dry white beans to replace the canned beans in this recipe. To use them in this recipe, you will need to cook the dry beans first, which you can do in advance (the beans can be stored in the fridge for up to 3 nights before using in this recipe).
How to cook dry beans?
Whether you're cooking white beans or another kind of dry beans, the process is pretty straight forward. It takes two simple steps:
Soak the dry beans overnight
Start with soaking 1 cup of dry white beans in a large bowl filled with water and leave it overnight. The dry beans will expand in size as they soak. Drain before cooking.

Cook the dry beans
To cook, place the beans in a large pot and cover with water by about 2 to 3 inches. Bring to a boil, skimming any foam that bubbles up to the top. Turn the heat down and let the beans simmer, partially covered, for 2 hours or until the beans are tender.
Once the beans are cooked, you can use them in place of canned beans in this recipe.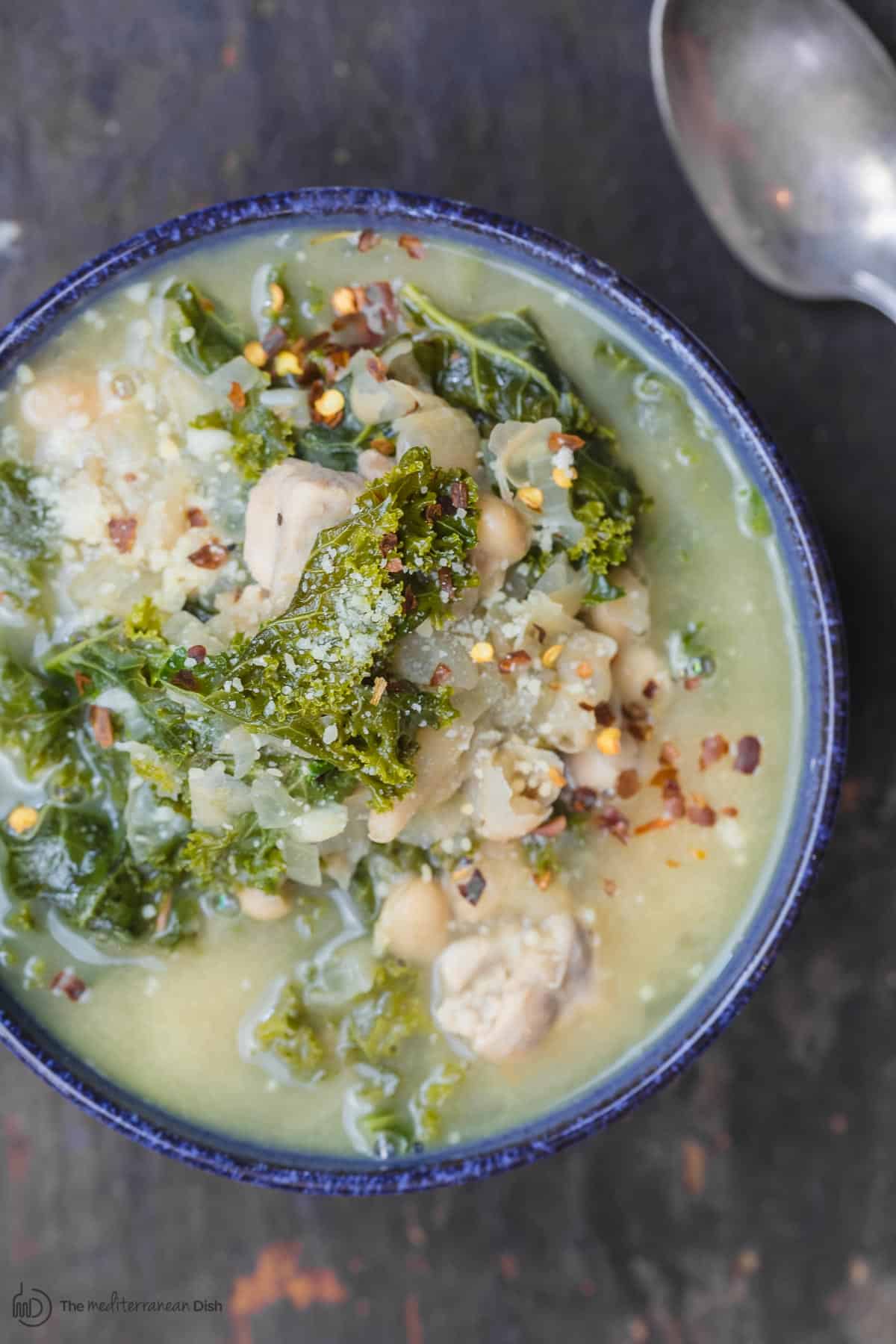 How to make white bean and kale soup on the stovetop
I almost always make this soup on the stovetop because it literally takes 30 minutes or less. Here is how (print-friendly recipe below):
Brown the chicken
In a large Dutch oven heat about 2 tablespoons of extra virgin olive oil. Cook the chicken in the EVOO, tossing regularly until the chicken is browned (about 7 minutes). Season with Kosher salt and a dash of black pepper. Set the chicken aside for now so you can use the pot.



Get the aromatics going
This step creates the flavor base for this soup. In the same pot, cook the onions for a bit until softened, then add the garlic, red pepper flakes, coriander, cumin and rosemary. Get this party cooking, while you stir constantly for like 30 seconds.
Add in the chicken, beans, kale and liquid and cook
Put back the chicken you browned and add the white beans (I like to smash some of the beans to help thicken the soup), chicken broth, and kale. Add a good 2-inch piece of Parmesan cheese rind (so much flavor!). Bring the soup to a boil, then lower the heat and cover only partway through. Let the soup simmer for about 25 minutes or so.



Finish and serve!
Remove the cheese rind before serving (although a good bit of it will have dissolved in the soup). Test and adjust seasoning. Add the lemon juice (this will transform the soup and give it some extra brightness). Transfer to serving bowls and finish with a drizzle of good extra virgin olive oil.
Slow cooker instructions
To make this chicken and white bean soup in the slow cooker, here is what you do:
Brown the chicken pieces in a little bit of extra virgin olive oil and season with salt and pepper.
Transfer the chicken to your crockpot or slow cooker. Add the remaining ingredients (EXCEPT the kale). Give things a quick stir. Cover the slow cooker and cook on HIGH for 3 to 4 hours or on LOW for 6 to 8 hours.
About 45 minutes before you're ready to unplug the crockpot, stir in the kale and cook till tender.
What to serve along
The whole idea of a one-pot dinner is that one doesn't have to add much else to it. For me, a good piece of crusty bread next to this white bean soup seals the deal. But it's never a bad idea to start with a little salad like this simple Mediterranean salad or Greek salad.
Tools you may need for this recipe
For the stovetop method, I used a large oval Dutch oven
For the slow cooker method, I like a large Crockpot
Find spices and excellent olive oils at our online shop
You may also like
Mediterranean-Style Turmeric Lemon Chicken Soup
Fasolada: Greek white bean soup
Browse our Italian recipes. Top 50+ Mediterranean Diet Recipes. All Mediterranean Recipes
BEST White Bean and Kale Soup with Chicken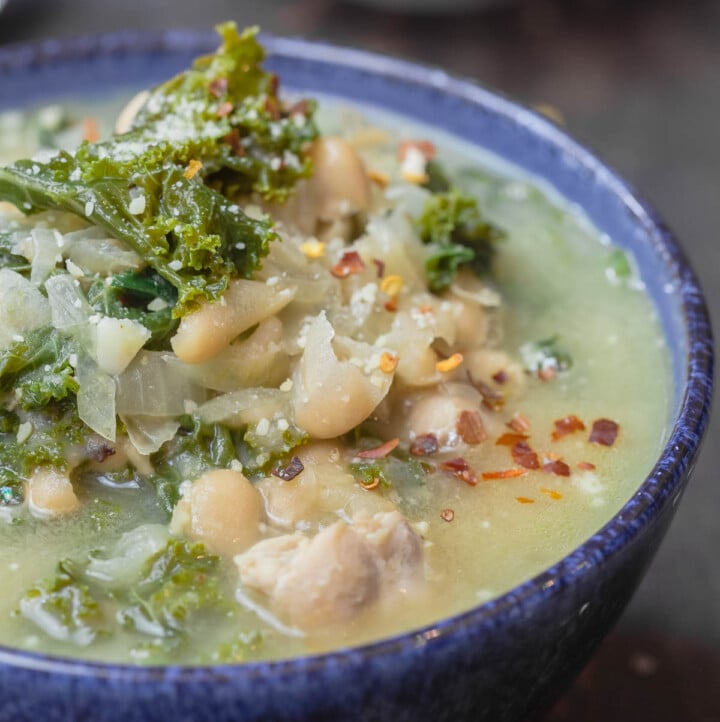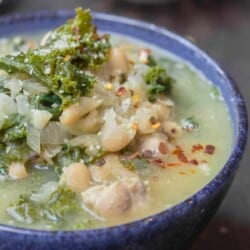 With the added chicken, this is white bean and kale soup is one comforting and satisfying pot to feed a hungry crowd! And you'll love the flavors from onions, garlic, warm spices, and a hint of Parmesan. A splash of lemon juice adds just enough zing and rounds out the flavor beautifully!
Ingredients
1

lb

boneless chicken

cut into small bites

Kosher salt and black pepper

2

medium yellow onions

chopped

3

garlic cloves

minced

½

teaspoon

red pepper flakes

more for later

¾

teaspoon

ground coriander

½

teaspoon

ground cumin

½

teaspoon

dry rosemary

2 15-

oz

cans white beans

drained and rinsed, smash contents of 1 can for texture

8

cups

low-sodium broth

chicken or vegetable broth will work here

8

oz

kale leaves

cut into ½ inch strips (no thick stems)

2

inch

piece Parmesan cheese rind

1 to 2

teaspoon

fresh lemon juice
Instructions
In a large pot, heat 2 tablespoon extra virgin olive oil. Add the chicken. Cook, tossing regularly until browned (about 5 to 7 minutes). Season with kosher salt and black pepper. Transfer the chicken to a side plate for now.

In the same pot, add onions and saute for about 4 minutes over medium heat, tossing regularly until softened (if needed, add a little more extra virgin olive oil.) Add the garlic, red pepper flakes, coriander, cumin, and rosemary. Stir to combine. Cook, stirring regularly, for 30 seconds to 1 minute over medium heat (watch to make sure the garlic does not burn.)

Return the chicken to the pot, add the white beans (both the whole and smashed beans), broth, kale, and cheese rind.

Raise the heat and bring to a boil for 5 minutes (make sure to skim any foam that bubbles up on top.) Turn the heat to low. Partially cover the pot, leaving a small opening for the soup to breath. Cook for 25 minutes or until everything is cooked through and the kale softens to your liking.

Remove the cheese rind. Test and adjust seasonings, adding more of any of the spices used to your liking.

Finally, stir in the lemon juice. Transfer to serving bowls and add a drizzle of good extra virgin olive oil. Serve with your favorite crusty bread.
Notes
Slow Cooker Instructions: follow instructions for browning the chicken (step 1), then transfer to your crockpot. Add the remaining ingredients EXCEPT the kale, and cook on

high

for 3 to 4 hours or on

low

for 6 to 8 hours. Be sure to stir the kale in about 45 minutes or so before soup is done cooking.
Tip for using dry beans instead of canned beans in this recipe: If you have some dry white beans that you'd like to use instead, you will need just over 1 cup of dry beans. Start with soaking them in plenty of water overnight. Drain and rinse well with cold water. To cook the beans before using in this recipe, place them in a large pot and cover with water by about 2 to 3 inches. Bring to a boil, skimming any foam that bubbles up to the top. Turn heat down and let simmer, partially covered, for 2 hours or until beans are soft. Use cooked beans in this recipe by following instructions above. (If you're making your white bean soup in the crockpot, it's still a good idea to soak the dry beans overnight, but you can through them in the crockpot from there with the rest of the ingredient and let cook until the beans are fully tender.)
Nutrition
Calories:
286
kcal
Carbohydrates:
25.1
g
Protein:
28
g
Saturated Fat:
1.1
g
Cholesterol:
48.4
mg
Sodium:
409.5
mg
Potassium:
1527.4
mg
Fiber:
8
g
Vitamin A:
3852
IU
Vitamin C:
52.5
mg
Calcium:
205.6
mg
Iron:
6.2
mg
*This post first appeared on The Mediterranean Dish in 2019 and has been recently updated with new information for readers' benefit