Cucumber tomato salad is an all-star recipe with just three key ingredients and a lemony dressing. Enjoy this Mediterranean salad on its own, or to bring brightness and fresh flavor to everything from Chicken Shawarma to Feta And Spinach Frittata.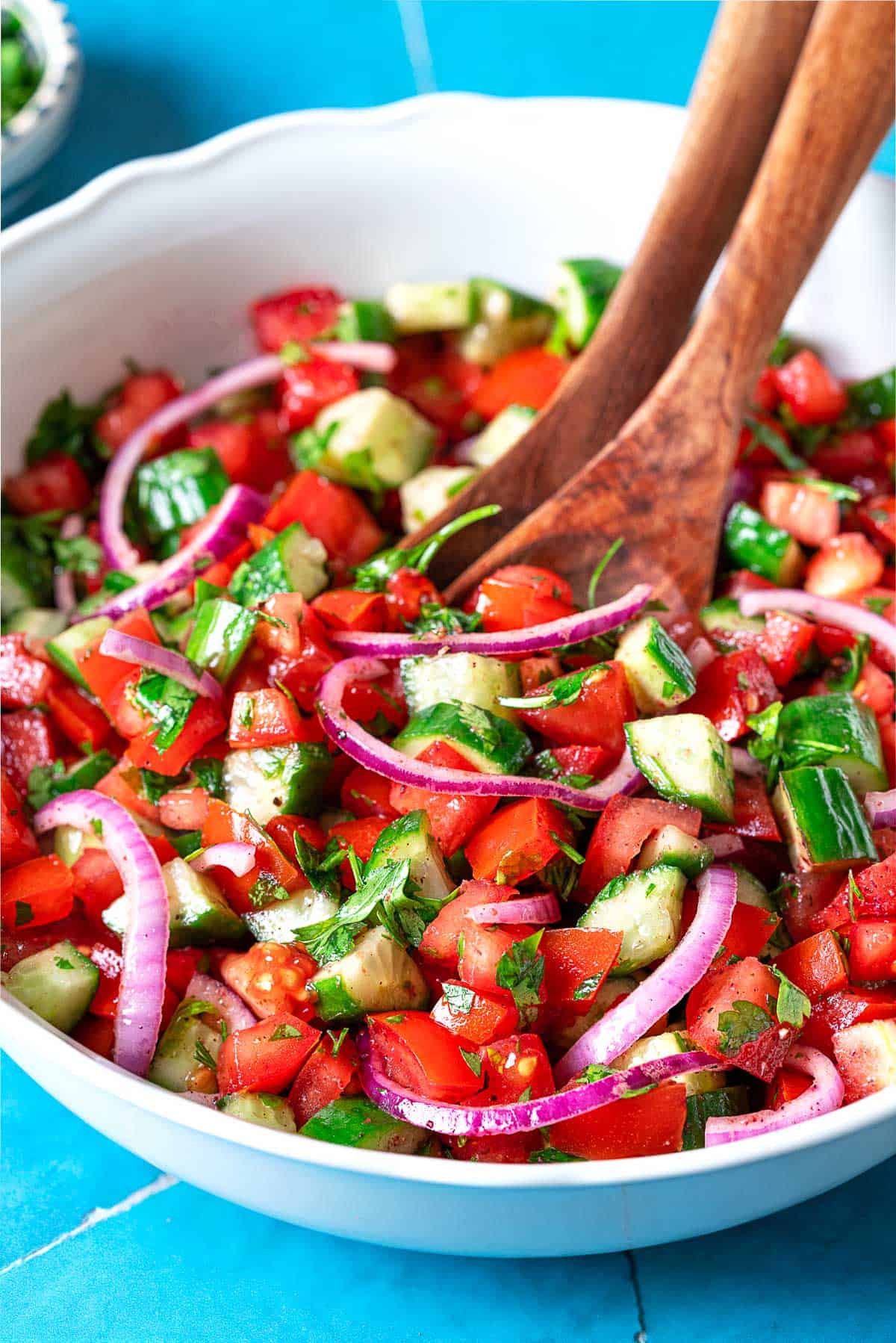 Cucumber tomato salad goes by a different name where I grew up in Egypt: salata! It is an everyday Mediterranean salad made of three main ingredients: tomatoes, cucumbers, and parsley. It's seasoned simply with kosher salt, though I like to add sumac for a little tang and depth.

This simple Mediterranean salad is as traditional as they come. It's very representative of the regions' agricultural roots and the fresh flavors we continue to love to this day. It where salads like fattoush or tabouli derive inspiration. You can dress it up by adding some red onion, as I do here, or toss in some feta cheese for a little salty goodness. Let inspiration be your guide.
Table of Contents
Ingredients for Cucumber Tomato Salad
This simple salad uses easy to find ingredients that need little embellishment. Just some seasonings and a simple dressing bring out all the lively flavors.
Tomatoes: Roma tomatoes are firm even when they're ripe, so they help keep this salad fresh for a few days. Any ripe flavorful tomato, like heirloom or cherry, can be substituted.
Cucumber: Go for cucumbers with a thin, delicate skin, like English or hot-house. If the big standard slicing cucumbers are all that's available, consider peeling the skin as it tends to be bitter.
Parsley: Brings freshness and a Mediterranean flavor to this simple salad. Opt for flat leaf or Italian parsley if you can, as curly parsley is typically tougher and more bitter.
Seasonings: Salt and black pepper enhance the flavor. Sumac, a spice made from dried and ground berries of the sumac shrub, is optional. It adds an extra layer of brightness. If you don't have any on hand you can find it at most grocery stores or order our favorite sumac from our shop. Of, a pinch of finely grated lemon zest can be used in its place.
Extra virgin olive oil: Use a robust yet smooth olive oil, like Greek Early Harvest or peppery Hojiblanca Spanish EVOO.
Lemon juice: A fresh squeeze of lemon juice bridges the gap between the fresh vegetables and rich olive oil.
How to Make Cucumber Tomato Salad
Cucumber tomato salad is a staple of the Mediterranean diet, and not just because of its bright, fresh flavor. It's one of the simplest salads you'll make, coming together in just a few minutes. It's a great go-to for when you need something green on your table but don't have time to fuss. Here is how it goes:
Prepare the tomatoes, cucumber, and parsley: Dice 6 Roma tomatoes. Dice one large English cucumber into small cubes or pieces. Chop a good bunch of parsley, about ¾ bunch. Don't worry about picking all the leaves, the tender stems near the leaves impart great flavor. Combine everything in a large mixing bowl.
Add kosher salt. Season the salad with a good pinch of kosher salt and set aside for about 5 minutes. The vegetables will expel some of their water, which we'll use to help lightly dress the salad.
Add the dressing. The traditional Mediterranean salad dressing here is a good drizzle (about 2 tablespoons) of quality extra virgin olive oil and the juice of one lemon (or at least 2 teaspoons of lemon juice). Add ½ teaspoon freshly grated black pepper and mix to combine. Optionally, I like adding 1 teaspoon of sumac for depth and tang.
Taste and serve. Taste the salad and adjust the lemon, salt, and pepper to your liking. Serve immediately, or set aside for 15 minutes to let the flavors get friendly with each other.
Variations
This basic Mediterranean salad has several variations throughout the Mediterranean and the Middle East, and you can change it up to your liking. Here are a few ideas:
Add finely chopped aliums. Red onions, shallots, or green onions would add some bold yet sweet oniony flavor.
Add protein. Canned or boiled chickpeas, white beans, or kidney beans work well with as a vegan protein and turn this salad into a satisfying meal. Grilled meats, like grilled chicken thighs or kofta kebab would also be hearty and delicious. If you're feeling fishy, grab a can of tuna from your pantry.
Use more fresh herbs! In addition to parsley, you can add some chopped fresh mint or dill.
Toss in some feta cheese! Just like with classic Greek salad or herby tomato feta salad, creamy, tangy feta adds another layer of deliciousness to this cucumber tomato salad.
Make one cup of cooked couscous and toss it in this salad for a simple lunch. You'll want to adjust seasoning and olive oil.
What to Serve with Cucumber Tomato Salad
This versatile salad goes with just about any Mediterranean dinner menu. It's a classic topping for Chicken Shawarma or vegetarian Spicy Cauliflower Shawarma, where the salad juices and tahini sauce combine in the most fortunate way.

Or, serve this simple salad as a side for simple weeknight dinners, like Greek-Style Braised Eggplant or Pan Seared Trout. A bite here and there of the bright salad brings a lightness to rich, deeply savory dishes.
Fresh and Simple Salad Recipes to Try!
Browse all Mediterranean recipes.

Visit our Shop.
Try our All-Natural Sumac!
This tangy spice is just what you need to add that extra layer of brightness to your favorite salads.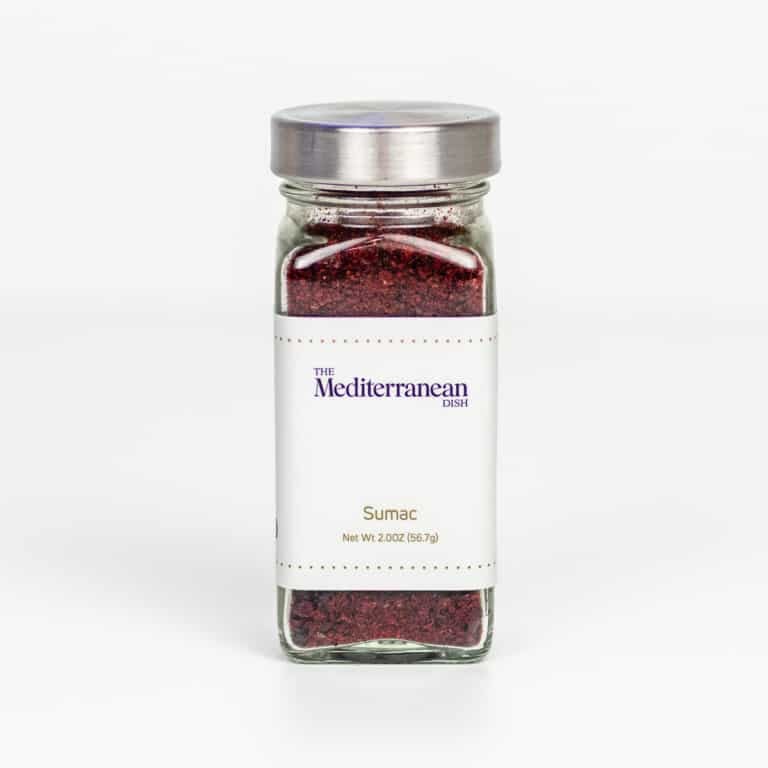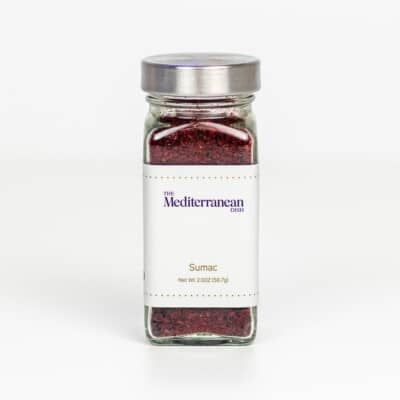 Mediterranean Cucumber Tomato Salad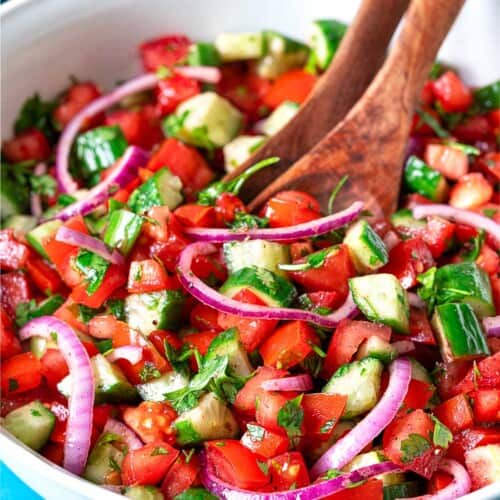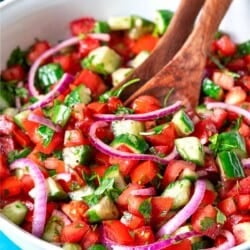 You'll love this everyday cucumber and tomato salad, with just a handful of ingredients and no cooking involved. You can change it up by adding feta cheese, chickpeas, or even a cup of cooked couscous to turn it into a meal!
Ingredients
6

Roma tomatoes,

diced (about 3 cups diced tomatoes)

1

large English or hot-house cucumber,

diced

½

small red onion,

thinly sliced, optional

¾

bunch

parsley,

leaves and tender stems chopped (about ½-3/4 cup chopped leaves)

Kosher salt,

to taste

½

teaspoon

black pepper

1

teaspoon

ground Sumac

2

tablespoon

extra virgin olive oil

2

teaspoon

freshly squeezed lemon juice,

plus more to taste
Instructions
Mix: In a large mixing bowl, gently combine the tomatoes, cucumbers, and parsley. Season with kosher salt and toss. Set aside for 5 minutes or so.

Season: Add the sumac, olive oil, and lemon juice. Give the salad a gentle toss. Taste and adjust the seasoning to your liking. Enjoy!
Notes
For best flavor, set the salad aside for a few minutes before serving. This will give the flavors time to meld.

This salad will keep for up to three days. Store covered in the refrigerator.

Visit Our Shop for quality Mediterranean ingredients, including extra virgin olive oil, spices and more!
Nutrition
Calories:
66.9
kcal
Carbohydrates:
5.8
g
Protein:
1.2
g
Fat:
4.9
g
Saturated Fat:
0.7
g
Polyunsaturated Fat:
0.6
g
Monounsaturated Fat:
3.5
g
Sodium:
8.6
mg
Potassium:
277.3
mg
Fiber:
1.4
g
Sugar:
3
g
Vitamin A:
1170.4
IU
Vitamin C:
20.7
mg
Calcium:
27
mg
Iron:
0.8
mg
*This post was originally published in 2017 and has recently been updated with new information and media for the readers' benefit.