An impressive, show-stopping appetizer does not have to be fussy or require much work at all. I mean, serve a warm, runny-centered baked brie, and watch it disappear in just a few short minutes! And if you want a bit more of a wow factor, give this easy baked brie recipe with jam and nuts a try. Best part, this baked brie recipe comes together in 15 minutes!  See my tips and watch the quick video below.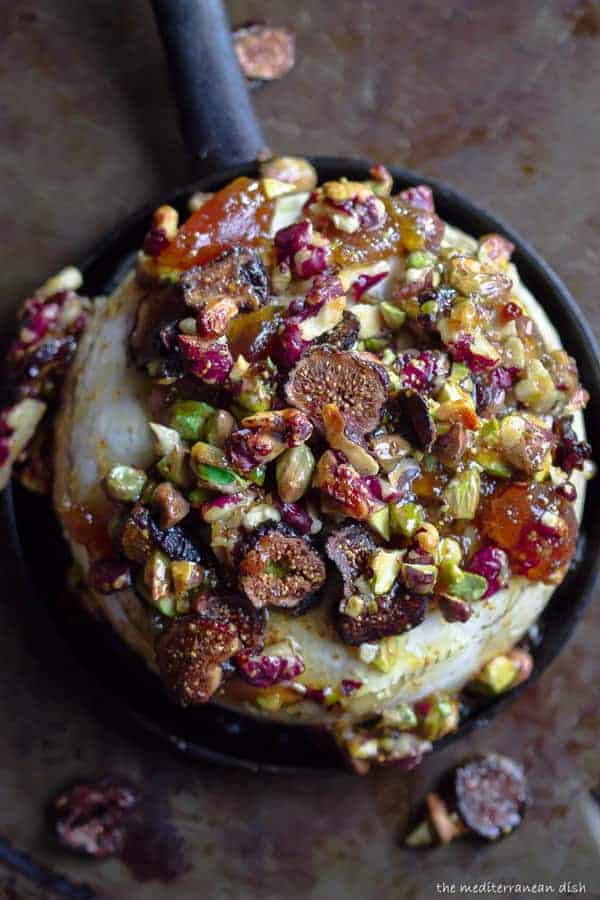 Why this Baked Brie Recipe Works
One mistake people make when it comes to cheese is that they don't let it come to room temperature before serving. At room temperature, the aromatics and complex flavors of cheese are much more realized. So much tastier.
I like room-temperature brie, but I much prefer it baked. Baked brie delivers a unique intensity of flavor, even though still a pretty mild cheese. Plus, why wouldn't we show off its  gooey, extra melty texture?!
If you're ready to take your baked brie game a few notches up, add your favorite jam, dried fruit, and nuts on top. This creates a great contrast both in flavor and texture.  And, you'll instantly have a beautiful centerpiece everyone will gather around. Who can resist digging in?!
Best part, you can make this baked brie recipe in 15 minutes (no one has to know how).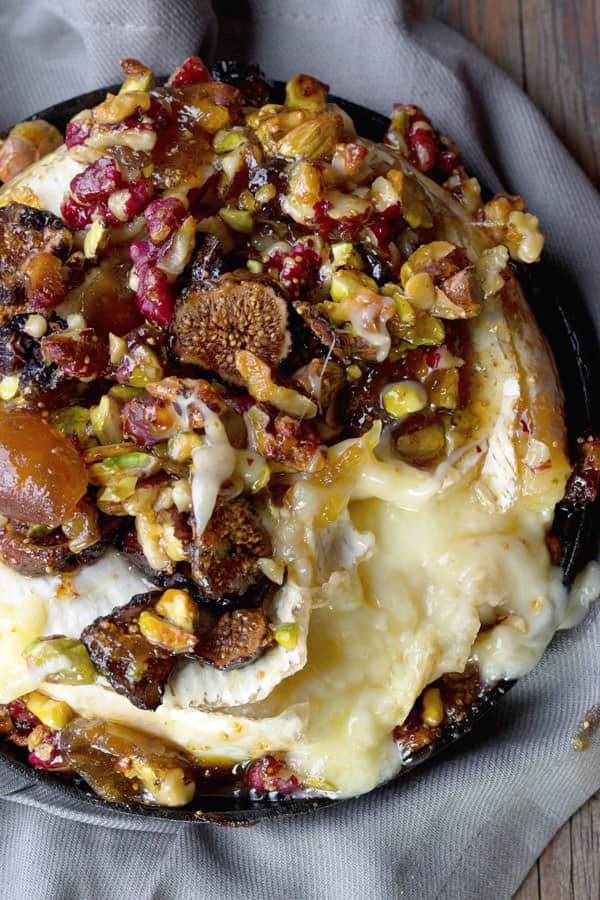 Tips for How to Make This Baked Brie
1- While a wedge of brie works fine, I think round looks better. Don't spend the time or money on buying brie at an expensive cheese shop. Use what you find at your local grocery store; I often buy mine at Costco.
2- Brie rind is edible. I leave it here mainly for looks, to hold the cheese together and to carry my toppings so they are nice and visible. You can remove the top rind, if you like, you just won't have as much surface to spread your jam.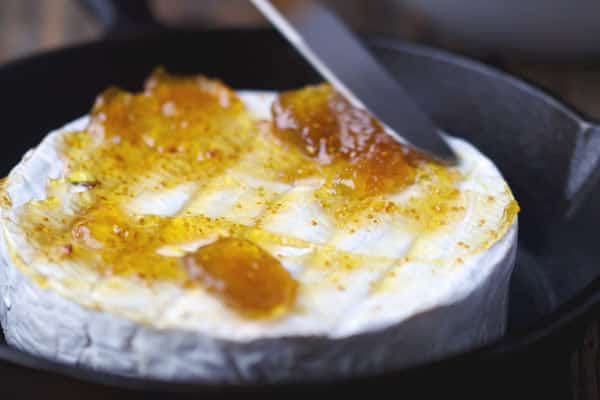 3- You can get creative with your baked brie toppings. Choose a favorite jam to spread on top (and I also use a bit of jam to give the nuts a bit of a coating, which helps protect them in the oven.) I like fig jam, apricot or orange marmalade; they tend to be a little more tangy. Quality honey would work as well. Any mixture of nuts you like will work, I like walnut hearts and salted pistachios for a good balance of flavor.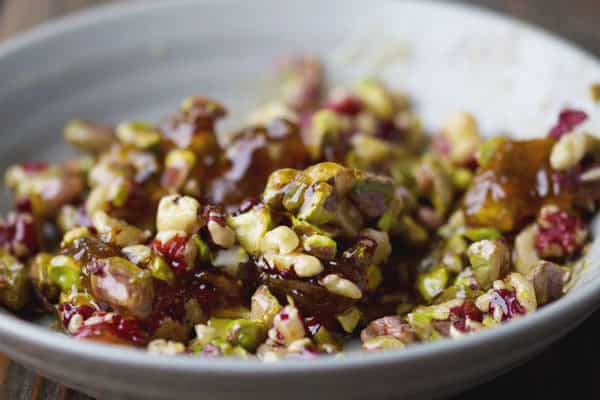 4- To bake, I like to use a small cast iron skillet; a ramekin will work as well. An important thing to remember for safe and clean handling, place the skillet or ramekin containing the brie on a sheet pan before baking. This will allow you to easily pull the brie out of the oven, and should any of the toppings fall, they'll have a place to go rather than burn at the bottom of your oven.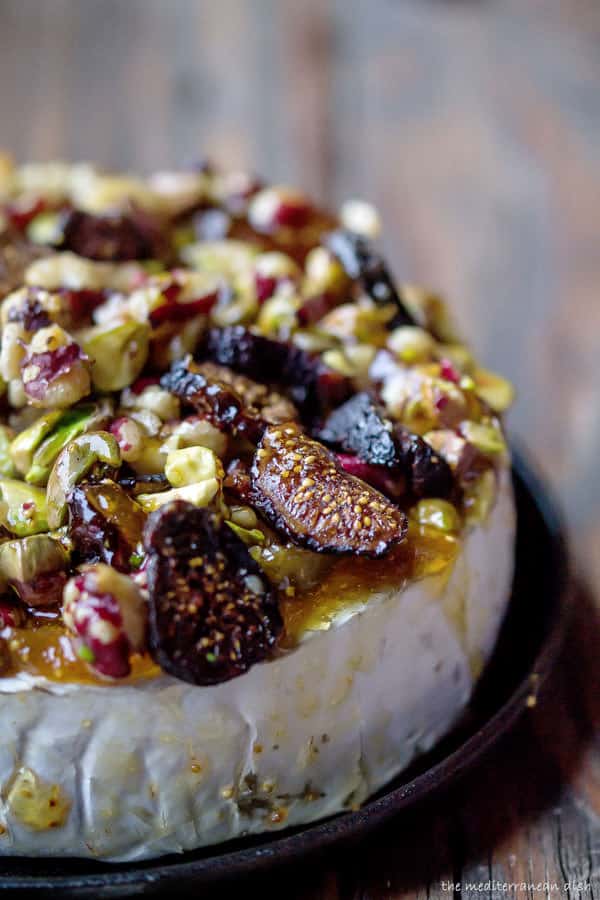 5- Once baked, let brie sit for 5 minutes or so to settle before slicing through. You can add it as part of a large cheese board, or simply serve it with your favorite crackers. Keep a small knife handy to allow guests to slice through.
Watch the video for how to make this easy baked brie recipe:
More Recipes to Try
Last-Minute Mediterranean Feta Dip
Wine Braised Chicken with Mushrooms
Print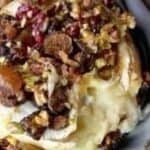 Baked Brie Recipe with Jam and Nuts
---
Author:

The Mediterranean Dish

Prep Time:

5 mins

Cook Time:

10 mins

Total Time:

15 minutes

Yield:

Serves

10

or so

1

x
Description
Easy Baked Brie Recipe with Jam and Nuts! An impressive and un-fussy appetizer for any party. Comes together in 15 minutes.
---
Scale
Ingredients
3 tbsp

fig jam or honey, divided

1/4 cup

to 1/3 cup dried mission figs, sliced

1/4 cup

to 1/3 cup shelled pistachios, roughly chopped

1/4 cup

to 1/3 cup walnut hearts, roughly chopped

13

-oz round French brie
---
Instructions
Preheat the oven to 375 degrees F.
Place the fig jam in a microwave-safe dish. Microwave for 30 seconds to soften.
In a small bowl, combine the sliced dried figs with the nuts. Add half of the fig jam and mix well to coat the nut mixture.
Place the round of brie in a small cast iron skillet or oven-safe dish. Using a small knife, coat the brie with the remainder of the jam (or honey.)
Top the brie with the fig and nut mixture.
Place brie skillet or dish on top of a baking sheet. Bake in 375 degree F-heated oven for 10 minutes (or until brie softens a lot and starts to ooze).
Remove from oven and let brie sit for 5 minutes. Serve warm with your favorite crackers!
---
Notes
Pro-Tip: Use an expensive brie from your local grocery store. Works just as well as what you'd buy at an expensive cheese store
Pro-Tip: You can mix the toppings however you like. If fig jam is not available to you, you can use honey, apricot jam, or orange marmalade. I like walnut hearts and pistachios here, but you can also change those up using pecans, almonds, or other nuts you like. Same with the dried figs, other dry fruit like apricots, cranberries or raisins will work.
Pro-Tip: Brie rind is perfectly edible. I leave it on here for looks…it will hold the melted brie together and keep the toppings nicely on top. But you can, if you prefer, remove the top rind
Pro-Tip for Safe Handling: Always place the dish holding the brie on top of a sheet pan or baking sheet. This will help you easily remove the baked brie from the warm oven, and it will also catch any falling toppings/nuts or oozing cheese.
Pro-Tip: Let baked brie sit for 3 to 5 minutes to settle before slicing or pocking at it.
Keywords: Baked Brie, Baked Brie Recipe, Baked Brie with Jam and Nuts
*This post has been updated with new information for readers' benefit.