Busy cooks, you'll love this easy sheet-pan dinner with Italian Baked Chicken Meatballs, tomatoes and red onions. The secret is in the super juicy meatball mixture bursting with Italian flavors!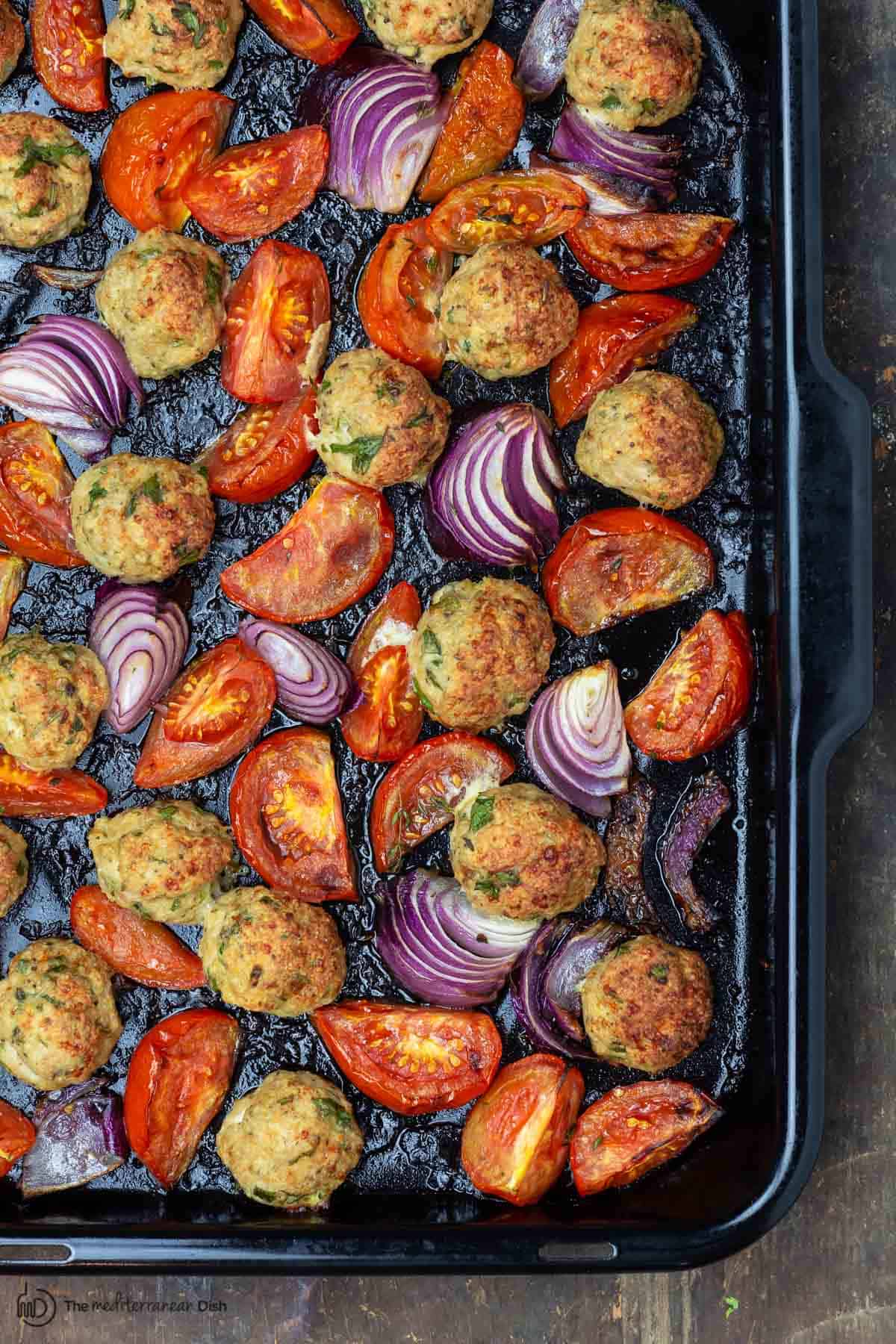 If you've made my baked meatballs or my Italian baked chicken recently, you'll want to try these chicken meatballs. An awesome new riff that my family has been absolutely loving!
I think of these baked meatballs as an "anytime" type dinner. You can make them any night of the week, and serve them up however you like--straight form the pan; with your favorite grain or pasta (I have a killer spaghetti dinner idea below). Or, for sandwich night, make Italian meatball subs!
What I love about this ground chicken meatballs recipe
1. Easy Sheet-Pan Dinner. Anytime I can toss everything on one sheet pan or baking sheet for a quick bake is a win! You may have seen some of my earlier dinners: sheet pan chicken and veggies; bajed eggs; sausage and peppers; baked shrimp, you name it!
2. Delicious. The secret is in the chicken meatball mixture with loads of Italian flavors (more on this later!)
3. Meatballs Made with Ground Chicken. Don't get me wrong, I will eat beef meatballs for sure! But like my earlier turkey meatballs, this recipe is a great alternative if you're looking for something different or a little lighter.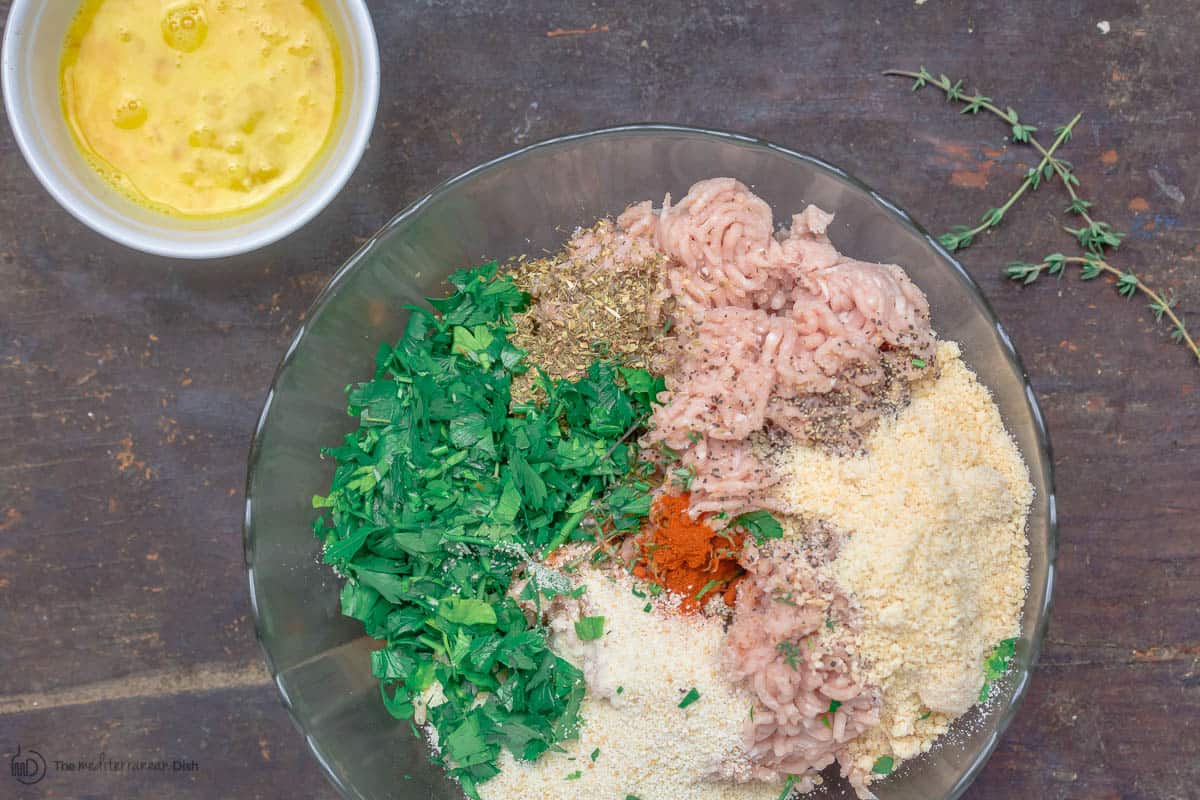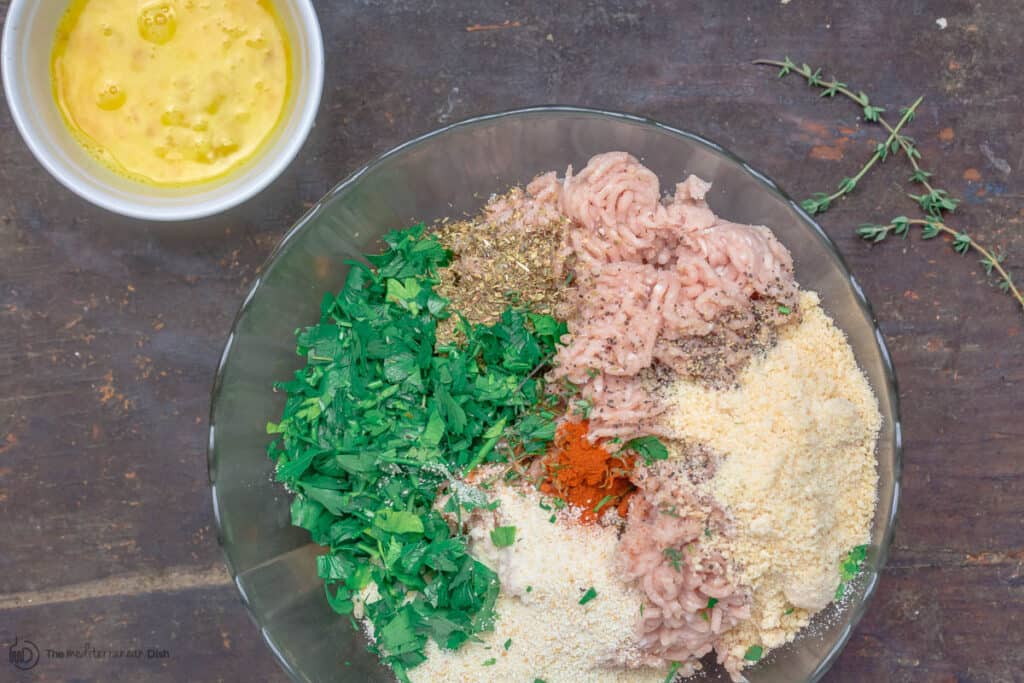 Meatball Mixture for Italian Chicken Meatballs
Okay, so what's in the flavor-packed mixture for this chicken meatball recipe? Clearly a meatball recipe starts with ground meat, and here the choice is ground chicken (or turkey). And as you guessed, some eggs and bread crumbs are used for binding. But there is more...Let's talk flavor makers!
Flavor Makers: We're talking Italian-style baked chicken meatballs, so the flavor-makers are decidedly Italian--a combination of garlic, fresh thyme and parsley, dried oregano and just a hint of paprika for depth. And yes, a little freshly ground Parmesan cheese! If you like heat, add a pinch of red pepper flakes.
Pro Tip: If you're looking for juicy chicken meatballs (or turkey meatballs) help the meatball mixture with some extra virgin olive oil. Quality Extra virgin olive oil is a healthy and important source of fat here, adding a bit of depth and moisture to the chicken meatballs.
But in addition to what goes in the meatball mixture, I love adding a little more Italian to the sheet-pan in the form of red onions and tomatoes. And why not roast the veggies with the chicken meatballs at once?!
How do you make chicken meatballs from scratch?
Making chicken meatballs from scratch takes one large bowl, one baking sheet or sheet pan (affiliate link), and four main steps:
Prepare the meatball mixture. We talked about what's in this mixture already--ground chicken and a combination of spices, herbs, a little Parmesan cheese, bread crumbs and an egg which helps bind everything together. Ground chicken is lean, so adding a good drizzle of extra virgin olive oil as noted above helps lend it some fat and moisture. With clean hands, mix everything together until well incorporated (a pair of disposable gloves comes in handy here) .
Shape the mixture into balls. The easiest way to arrive at the same size meatballs for even cooking is to use a tablespoon to scoop up 1 or 2 tablespoons of the mixture at a time and form into balls. Once you pick a size, stick to it.
Arrange on lightly oiled baking sheet. If you're already baking the chicken meatballs, you might as well do as I have and add tomatoes and onions to the same baking sheet. I give the tomato and onion wedges a quick toss with some extra virgin olive oil and some seasonings before adding them to the sheet pan, then I add in the meatballs one by one making sure everything is arranged in one layer without crowding the pan. Should you use parchment paper to line the baking sheet? You can, but I find that it helps to expose the meatballs directly to the heat of the pan, as long as the pan is oiled so they don't stick.
Bake! What temperature and how long to bake chicken meatballs? I heat my oven to 400 degrees F and the meatballs along with the tomatoes and onions will bake for about 30 minutes. And if you're like me and want to add color and a little extra crisp to your baked chicken meatballs, take the pan out and give the tops of the meatballs a brush of extra virgin olive oil, then return to the oven and bake at 450 degrees F for 5 minutes or so (but watch carefully, you don't want the meatballs to turn too dark or burn).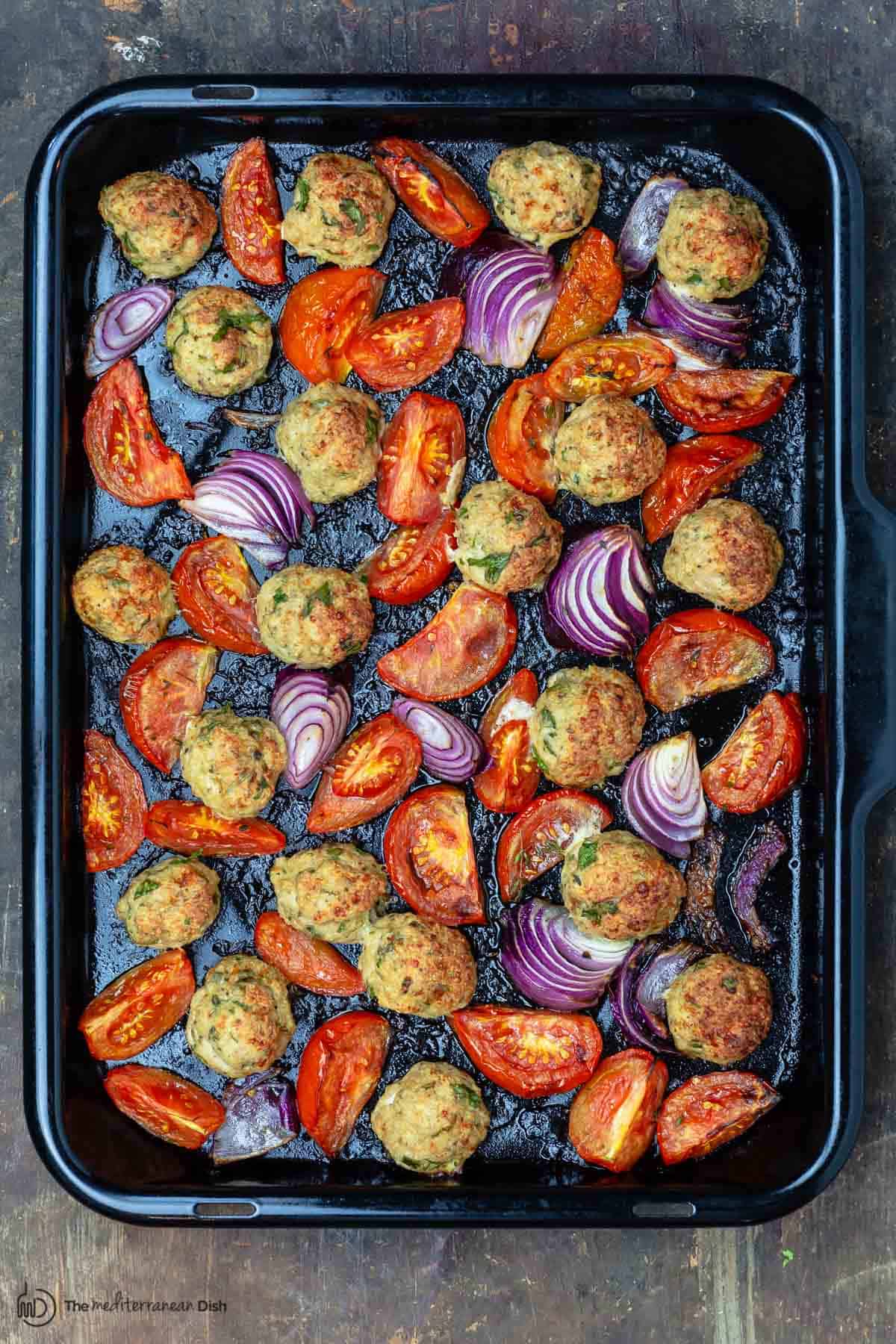 What can I serve with meatballs besides pasta?
I love this sheet-pan meal! You can eat the meatballs and veggies right out of the pan with for a low-carb meal. Add a salad or another side like these baked zucchini sticks!
OR serve them over your favorite grain. For sandwich night, you can simply make Italian subs using these baked meatballs and veggies! My simple tomato panzanella salad would make a great addition to start!
But if you really want an epic meatball and spaghetti dinner, here is what you do:
Cook spaghetti according to package and drain. While warm, toss spaghetti with more extra virgin olive oil and a bit of grated Parmesan cheese. Add the baked chicken meatballs with the tomatoes and onions and toss some more to combine. So good!
Gluten Free Option
For the gluten free option of this chicken meatball recipe, simply replace the bread crumbs with cornmeal. My friend who specializes in gluten free meals thinks cornmeal is the best option because it has a way of keeping the meatballs nice and tender. You can use maybe less cornmeal than the recipe requires for bread crumbs (about ¼ cup or so is okay.)
Similar Recipes to Try:
You may also enjoy 50+ Top Mediterranean diet recipes. For all recipes, visit us here. JOIN MY FREE E-MAIL LIST HERE.
Easy Italian Chicken Meatballs Recipe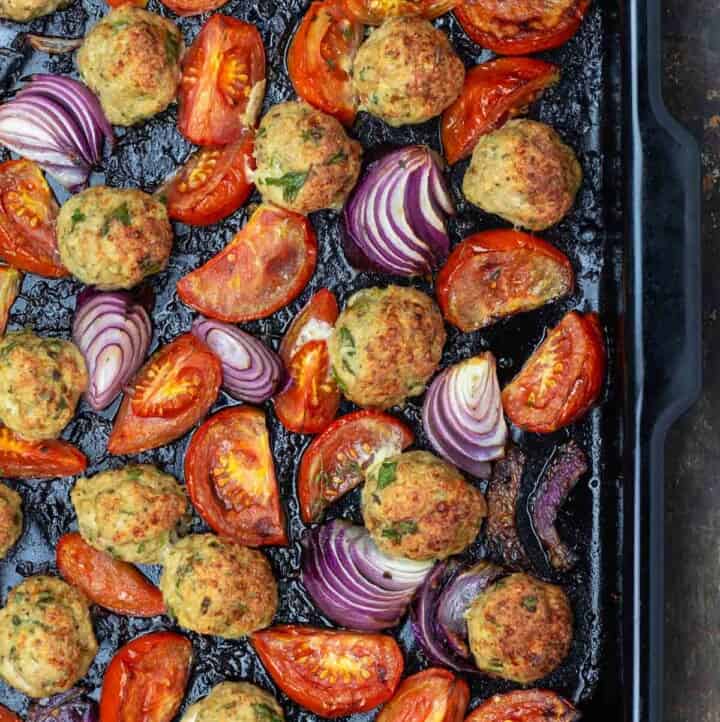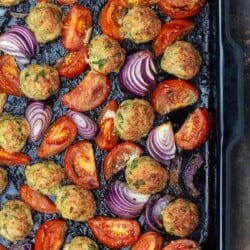 You'll love these easy sheet-pan dinner with Italian baked chicken meatballs, tomatoes and onions. Loads of flavor in the meatball mixture from fresh herbs and spices to a bit of grated Parmesan. A drizzle of extra virgin olive oil to keep the meatballs nice and juicy!
Ingredients
1

large red onion

cut into wedges

6 to 7 to

Tomatoes

Roma or tomatoes on the vine, quartered or cut into wedges

3

teaspoon

fresh thyme leaves

divided

Extra Virgin Olive Oil I used this Private Reserve olive oil

Kosher salt

1 ½

lb

ground chicken

or ground turkey, if you like

3

garlic cloves

minced

1

raw egg

beaten

½

cup

freshly grated Parmesan cheese

⅓

cup

plain bread crumbs

see notes for gluten free option

2

teaspoon

dry oregano

½

teaspoon

sweet paprika

black pepper

1

cup

fresh chopped parsley
Instructions
Preheat the oven to 400 degrees F. And lightly brush a large sheet pan with extra virgin olive oil.

In a large mixing bowl, add the sliced onions and tomatoes. Sprinkle with kosher salt and about 1 ½ teaspoon fresh thyme (leave the rest of the thyme for later). Drizzle a bit of extra virgin olive oil and toss to combine. Transfer to the prepared sheet-pan and spread well.

In the same mixing bowl, now prepare the chicken meatball mixture. Add ground chicken, garlic, egg, remaining 1 ½ teaspoon thyme, Parmesan cheese, and bread crumbs. Add oregano, paprika, pinch of salt and black pepper, and 1 cup fresh chopped parsley. Drizzle a bit of extra virgin olive oil. Using clean hands (remove any rings, of course), mix well until the chicken meatball mixture is well-combined.

Form the mixture into small chicken meatballs about 1 ½ tablespoon each (whatever size you choose, stick to it for even cooking.) Arrange the chicken meatballs on the same sheet pan with the tomatoes and onions (nestle them in between the veggies, making sure not to crowd the meatballs.)

Bake for 30 minutes or so, or until meatballs begin to turn a beautiful golden brown and the tomatoes collapse. (If after they've baked, you'd like a little more "crust" or color to your meatballs, you can remove them from the oven briefly and brush the meatballs with extra virgin olive oil. Turn oven heat up to 450 degrees F and return the meatballs to the oven for 5 more minutes or so, watch carefully.)
Notes
Cook's Tips for Serving: You can serve these beautiful meatballs on top of your favorite grain or plain orzo pasta. If you'd like to turn it into a big chicken meatball and spaghetti dinner, cook spaghetti according to package and drain. Place warm spaghetti in a large serving bowl and add a generous drizzle of good extra virgin olive oil and some freshly-grated Parmesan cheese. Toss to combine. Add the baked chicken meatballs with onions and tomatoes on top, and mix again to combine. Enjoy!
Cook's Tip for Gluten Free Chicken Meatballs: You can obviously blitz a piece of gluten free bread in a food processor to make GF bread crumbs. A friend of mine who specializes in gluten free cooking mentioned cornmeal. She found that it made lean chicken and turkey meatballs surprisingly tender and flavorful. You can try just ¼ cup of cornmeal in this recipe.
Leftovers? Store cooled leftover chicken meatballs with tomatoes and onions in tight-lid containers. Refrigerate for up to 4 days. Warm over medium heat, tossing as needed (adding a little liquid to your heating pan will help.)
Visit our Shop to browse our collection of excellent extra virgin olive oils and all-natural and organic spices.
Nutrition
Calories:
79.4
kcal
Carbohydrates:
4.1
g
Protein:
7.9
g
Fat:
3.9
g
Saturated Fat:
1.3
g
Cholesterol:
39.6
mg
Sodium:
75.3
mg
Potassium:
300.2
mg
Fiber:
0.9
g
Sugar:
1.3
g
Vitamin A:
627.3
IU
Vitamin C:
10.1
mg
Calcium:
44.1
mg
Iron:
0.9
mg
This post originally appreciated on The Mediterranean Dish in 2019 and has been recently updated with new information and media for readers' benefit. Enjoy!