This zucchini chips recipe will change your snack-time routine! Extra crispy and absolutely addictive. Just a few tips ensure the best baked zucchini chips. And you can make them ahead and store for later, or add them as a fun side next to things like Greek burgers or lemon chicken.
Be sure to watch my video tutorial below!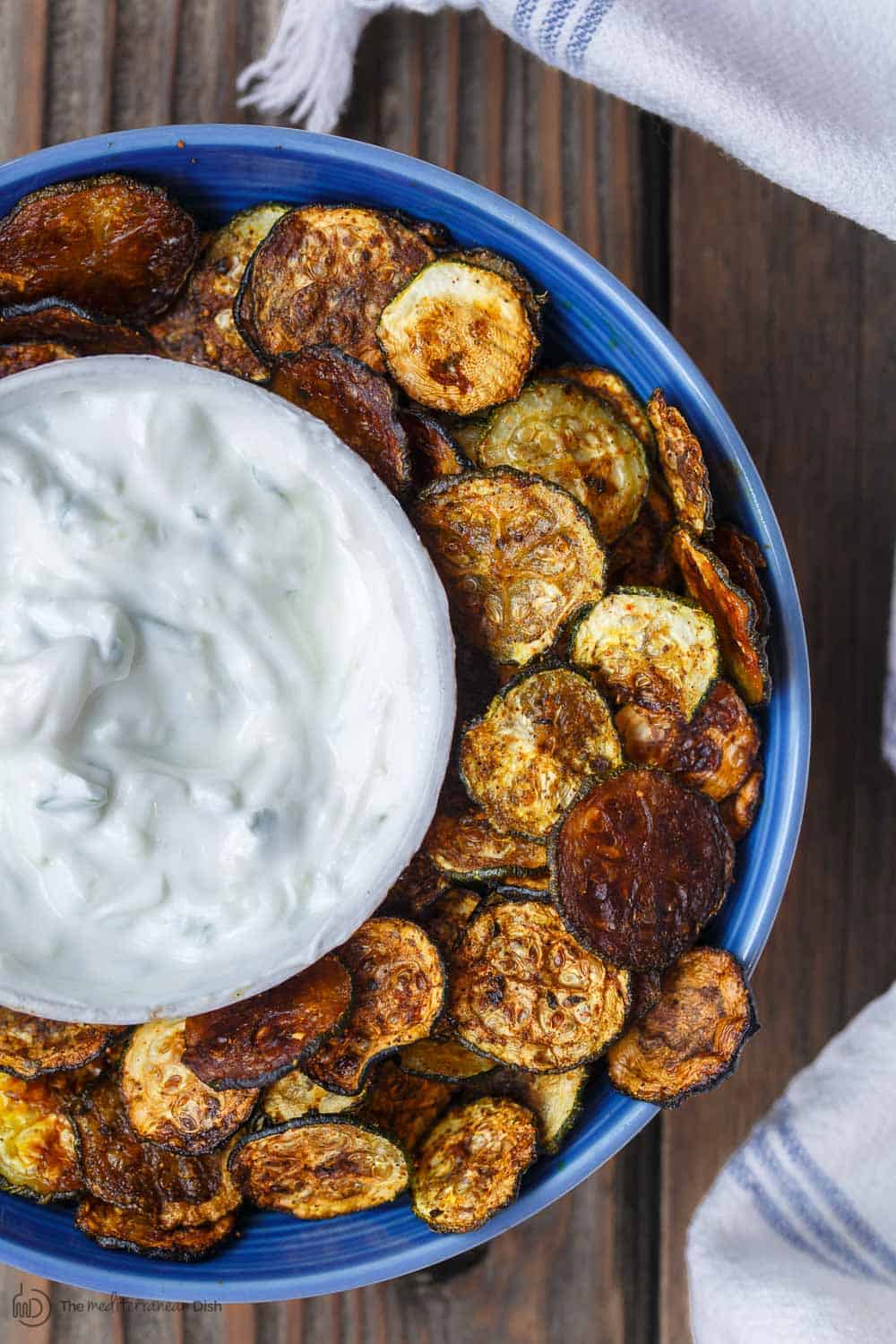 Green is a prominent color in my cooking. And it seems zucchini is a prominent ingredient, particularly during the summer months. From a simple grilled zucchini salad (adorned with herby greens); to baked zucchini sticks with Parmesan, or quick skillet zucchini for the perfect side. And when I'm feeling fancy, then it's mom's stuffed zucchini.
The other day, I had a few zucchini tucked in my vegetable drawer, so I decided to use them in a healthier, low-calorie snack: zucchini chips!
Here is the thing about a chip. It must be crispy, right? But zucchini has a high water content, so how do we arrive at perfectly crispy baked zucchini chips? A few simple tips...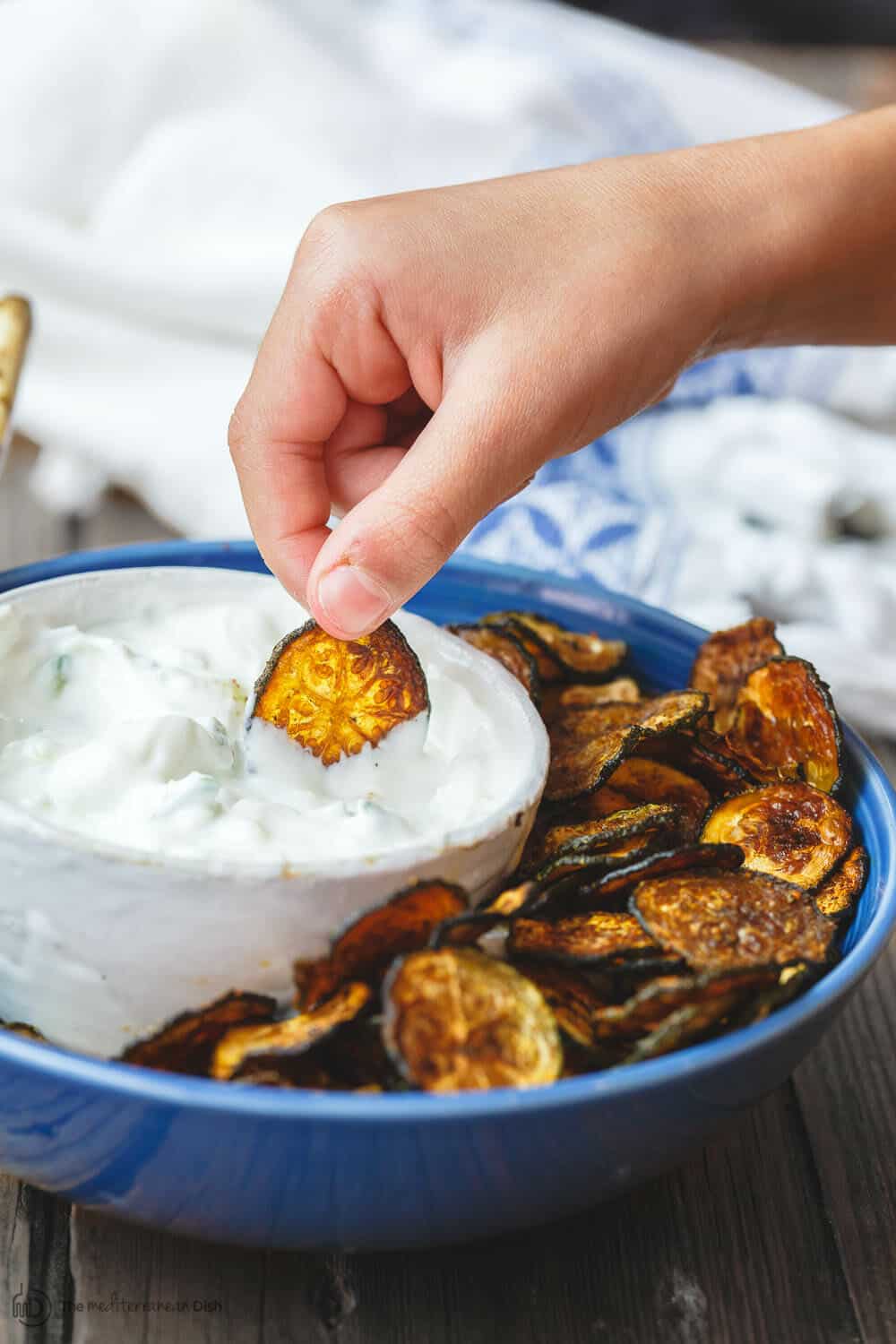 Tips for Best Zucchini Chips
First, the most obvious step is to slice your zucchini thinly and uniformly. To achieve this, I always use a mandoline.
Secondly, and this is so important, do everything you can to rid the zucchini slices of moisture. You can do two things here: 1) once zucchini slices are arranged on paper towel (the moisture has to be absorbed by something, right?), sprinkle them with kosher salt. The salt will draw moisture out through osmosis. 2) Top salted zucchini with another layer of paper towels AND a sheet-pan weighted with something (I used a cutting board). And LEAVE for 15 to 20 minutes so that the salt and weight will work together to draw as much of the moisture out as possible.
Bake the zucchini slices in a lower-degree heated oven. It's a slow bake that ensures crispy zucchini chips without burning.
How to Season Zucchini Chips
Simply salted zucchini chips make a great snack. But if you're like me and want to jazz things up a bit, you use other seasonings such as this harissa.
Harissa is an all-natural North African spice blend with three types of mild chili along with sumac, caraway, fennel, cumin, coriander, garlic and peppermint (find harissa at our shop here.) Totally optional but worth a try!
You can also use a sprinkle of za'atar or smoked paprika to change things up.
If you like to dip your chips, like I do, I highly recommend this easy Greek Tzatziki Sauce!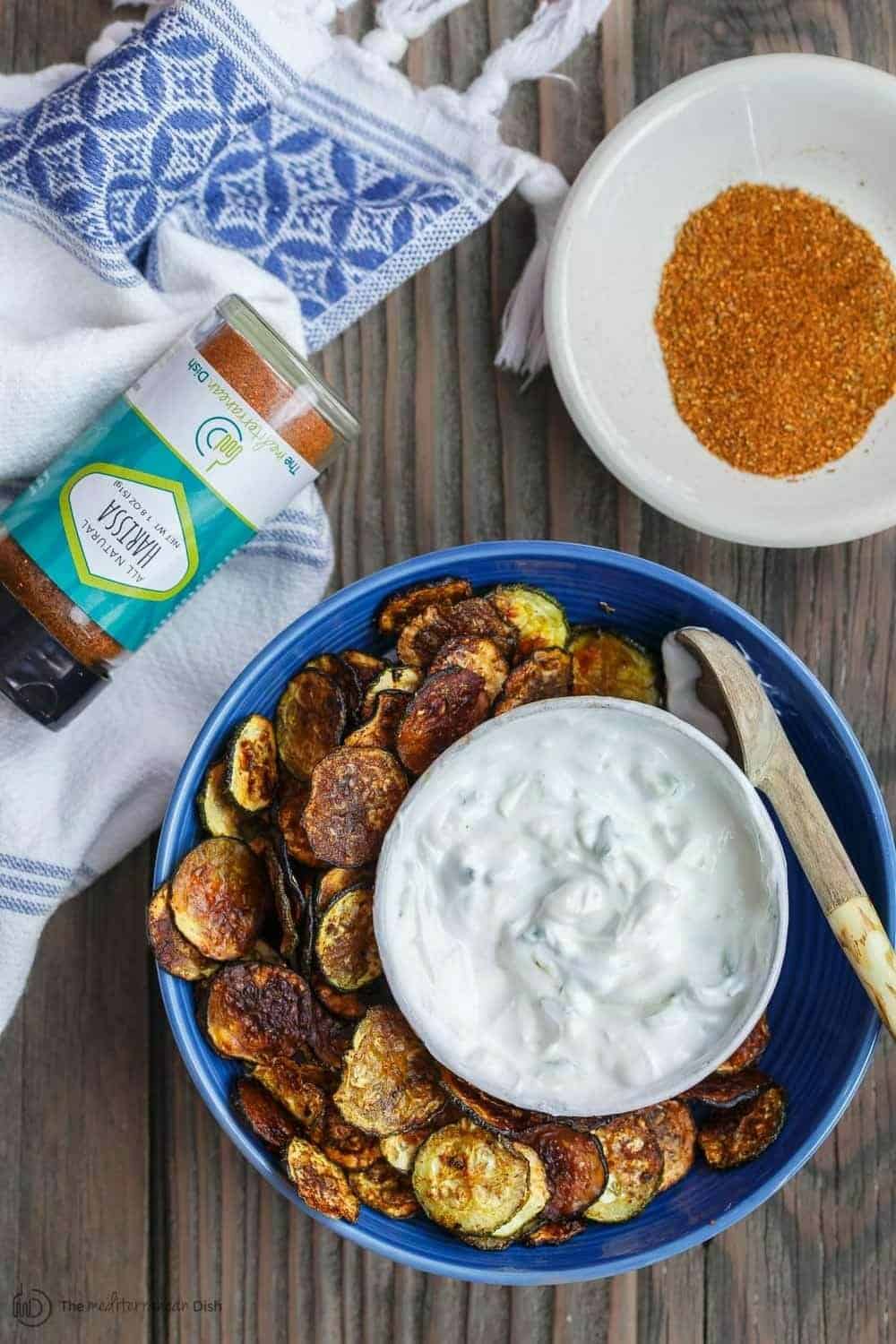 How to store baked zucchini chips
This zucchini chips recipe will serve up to eight people, and I hardly doubt the chips will last long enough to store. But, you can store them in zip lock bags for a couple of weeks in a dry pantry.
Watch the Video for How to Make Zucchini Chips
Looking for more Healthy Snacks?
Check out this list of Mediterranean-diet friendly snacks
SHOP OUR ONLINE STORE FOR QUALITY OLIVE OILS, ALL-NATURAL SPICES AND MORE
Print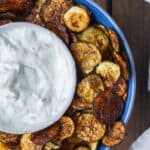 Crispy Baked Zucchini Chips Recipe
---
Description
Perfectly crispy baked zucchini chips! Tasty, healthy, low-calorie, vegan, gluten-free snack that everyone loves. And if you like to dip your chips, make tzatziki sauce to go along!
---
---
Instructions
If you plan to have a dip for your zucchini chips, make Greek Tzatziki sauce according to this recipe. Cover and refrigerate for now.
For zucchini, again make sure they have been sliced thinly and evenly to about ⅛-inch rounds. Using a mandoline is the best way to do this.
Spread zucchini slices on large sheets of paper towel. Sprinkle zucchini with kosher salt, then cover with more paper towel. Now, place a sheet pan on top of covered zucchini and add a plate or a cutting board to weigh the sheet pan down (the idea here is to squeeze out any excess water from zucchini.) Leave for 15 to 20 minutes.
Preheat oven to 245 degrees F (anywhere from 225 degrees F to 245 degrees F will work depending on your oven.)
Line large sheet pan (or two sheet pans if needed) with parchment paper. Brush parchment lightly with extra virgin olive oil. Arrange zucchini slices on top of parchment in one single layer.
Brush zucchini lightly with extra virgin olive oil. Sprinkle harissa spice blend on top (optional, but adds great flavor!)
Bake in heated oven for 1 ½ to 2 hours until crisp and golden. If some of the zucchini chip are still damp, remove the ones that have crisped up, and return sheet pan to bake until all zucchini is nice and crispy.
Serve warm or at room temperature with a side of Greek tzatziki sauce.
Notes
Storing instructions: you can store zucchini chips in zip lock bags for a good couple of weeks.
Recommended for this recipe: Private Reserve Greek extra virgin olive oil (from organically grown and processed Koroneiki olives), and our all-natural Harissa Spice Blend (a unique spice blend of three types of chili along with sumac, caraway, fennel, cumin, coriander, garlic and peppermint.)
SAVE! Try our Greek EVOO Bundle and our Exotic 4 Spice Bundle! Or create your own 6-pack or 3-pack from our all-natural or organic spice collections!
Prep Time:

10 mins

Cook Time:

2 hrs

Category:

Sides

Method:

Baked

Cuisine:

Mediterranean
Keywords: crispy baked zucchini chips, zucchini chips, vegetable chips, crispy veggie chips, veggie chips,