You'll love these quick roasted tomatoes with garlic and thyme. Roasted in a high-heated oven until super tender and bursting with intense, concentrated flavor. Make them ahead and use as needed as a delicious vegetarian side; tossed with pasta; or served bruschetta-style like I do below. Heck, they even go well with homemade pita chips.
Read on for tips and watch the video for how to roast tomatoes.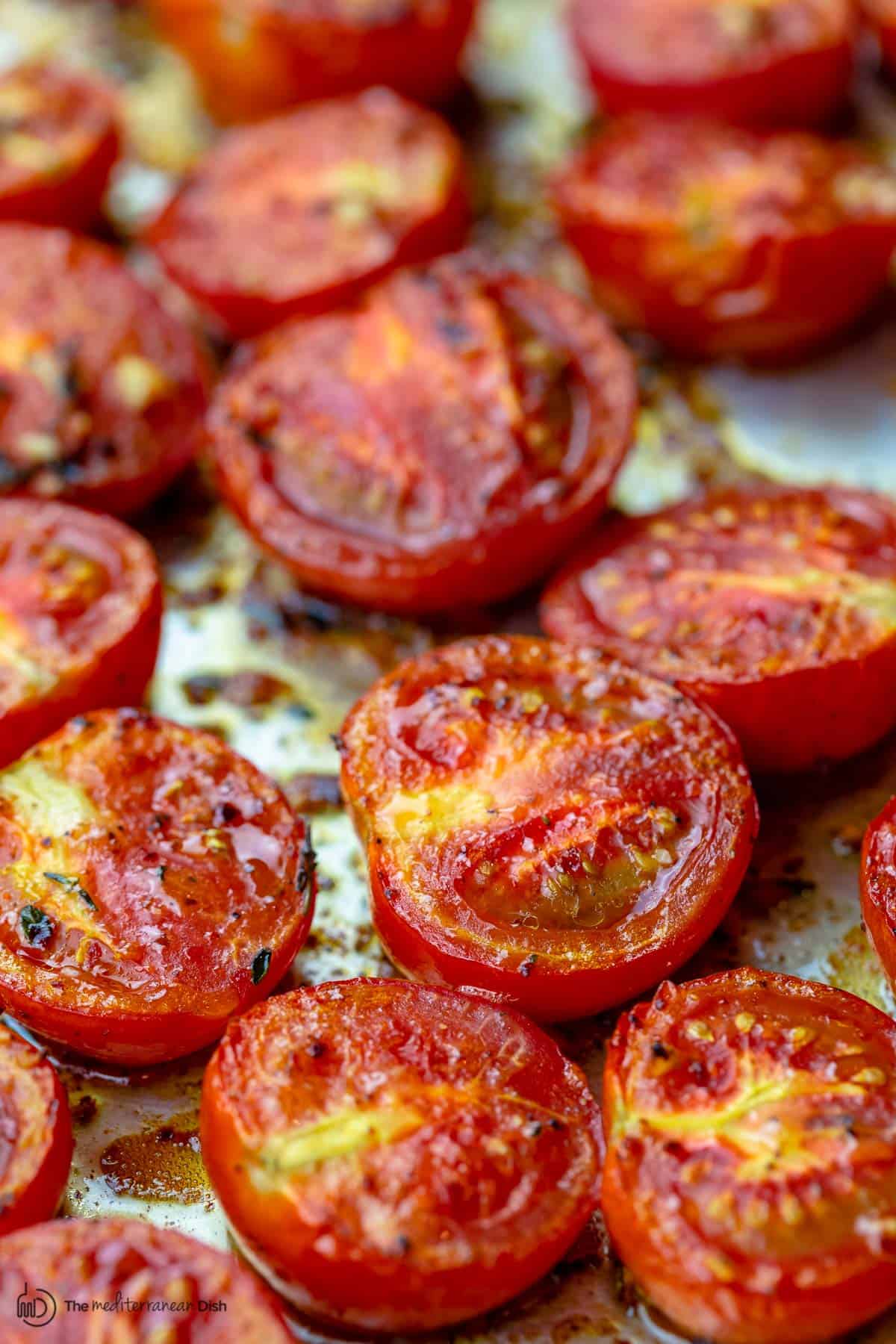 There is not a truly Mediterranean kitchen that doesn't frequently use tomatoes. Fresh; canned; roasted; stewed, whatever form they come in, tomatoes are a prominent ingredient in Mediterranean cooking and the Mediterranean diet.
Being of Mediterranean blood, I just can't help but love tomatoes. In my book, there is nothing like biting through a beautiful, perfectly ripe tomato in the summer time--panzanella salad and this Mediterranean tomato salad are two of my favorite ways to enjoy the fresh sweet fruit. If nothing else, I'll just dress a few tomato slices with a bit of kosher salt and a drizzle of quality Greek extra virgin olive oil. So good!
Then there is roasted tomatoes, intense and bursting with flavor, and a great way to get your tomato fix any time of the year!
You can make oven roasted tomatoes ahead and store them for later use. And even dull winter tomatoes can get a wonderful face-lift when roasted in a high-heated oven.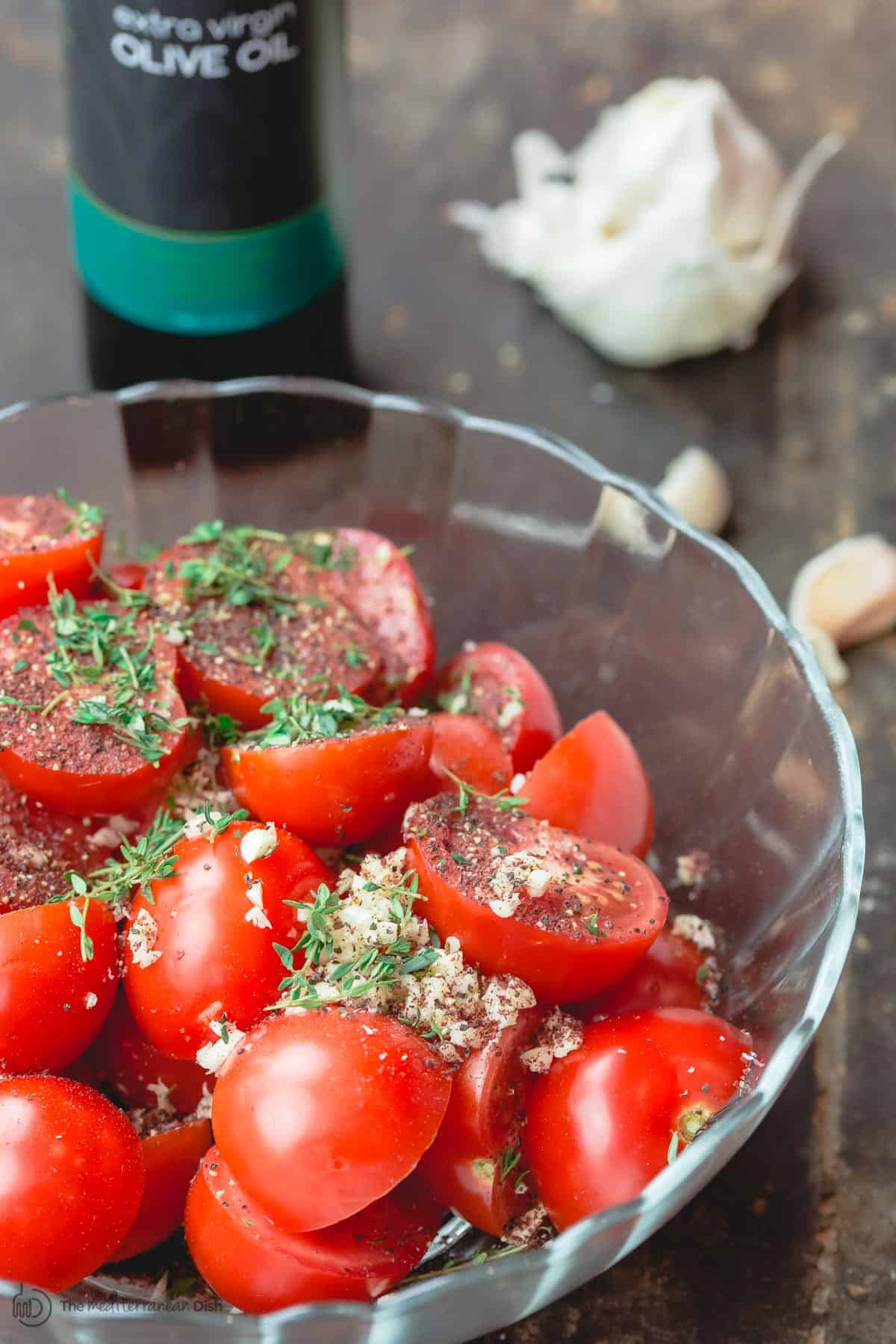 Why roast tomatoes?
If you haven't already been roasting your tomatoes, let me give you just a couple more reasons why you should.
Roasting tomatoes is a sure way to coax out all the flavor. Oven roasted tomatoes are so much more concentrated and intense in flavor, making them useful in so many ways (like with vegan tomato basil soup and more–lots of ideas below). And like I said earlier, when you can't eat winter tomatoes, roast them for a much tastier option.
Research shows that cooking tomatoes comes with extra health benefits. Heat processing enhances the nutritional value of tomatoes since it increases the availability of lycopene, one of the main antioxidants in tomatoes.
How to roast tomatoes? The quick way
I've always admired people who followed the low-and-slow method for roasting tomatoes. It is a lovely process that can take a whole day to essentially dry the tomatoes into something so sweet akin to candy.
But if you're anything like me, you may be looking for a faster way that perhaps won't dry up the tomatoes but will still break them out of their skin, perfectly concentrating their liquid and their sweet flavor. We're not talking hours here. Just 30 minutes or so in a high-heated oven.
Here is what you do to make my oven roasted tomatoes recipe:
Set your oven on high heat (mine is set on 450 degrees F).
Cut the tomatoes in halves or quarters, depending on the size. I used Campari tomatoes here, so they only needed to be halved.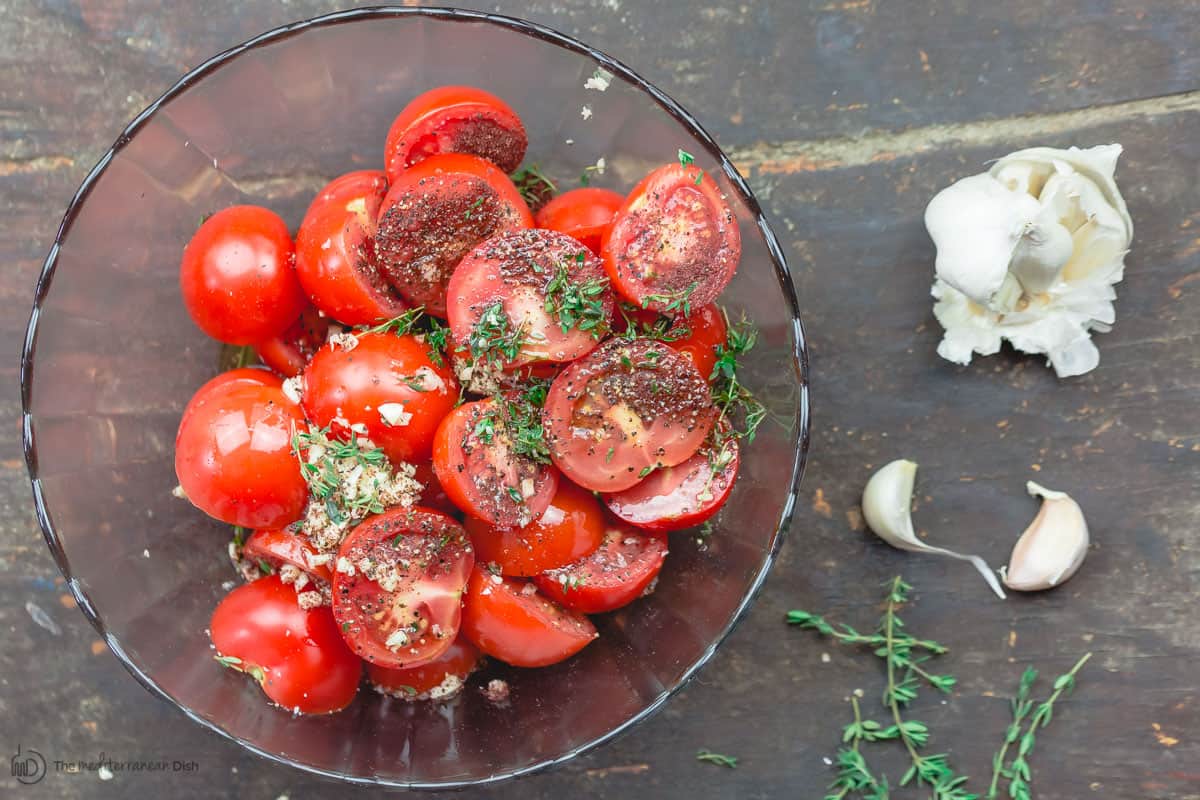 In a large bowl, toss the tomato halves with a good drizzle of quality extra virgin olive oil, kosher salt and black pepper, a couple of minced garlic cloves, fresh thyme, and spices of your choice (I used 1 teaspoon of sumac and ½ teaspoon of Aleppo chile pepper flakes). Using a bowl in this step gives me better leverage to mix the tomatoes until they are well coated.
Spread the seasoned tomatoes, flesh side facing up, on one large sheet pan (be sure to arrange them in a single layer). Tip: do not line the pan with parchment paper, the tomatoes need to have direct contact with the hot pan.
Roast for 30 minutes or until the tomatoes are tender and done to your liking.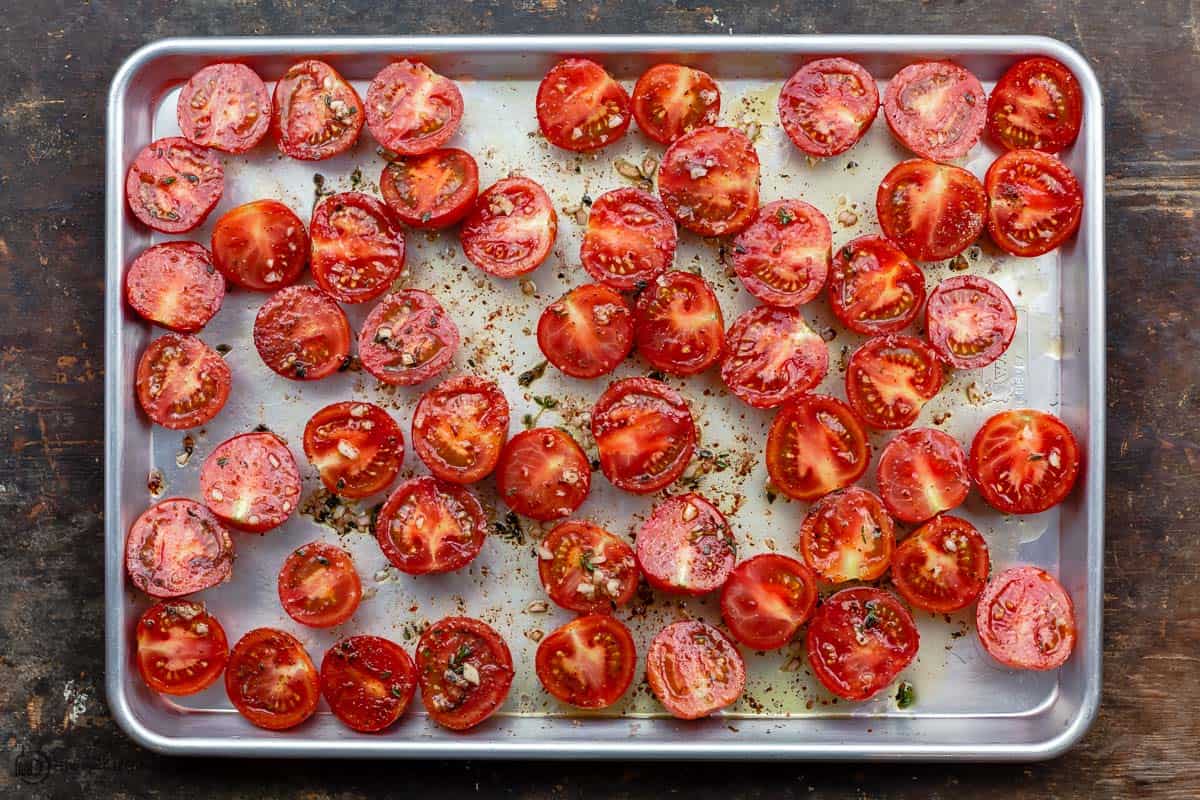 If you're serving them right away, feel free to add a few fresh thyme leaves and a garnish of feta cheese (I love the salty, creamy bite it adds). But hold the feta, if you're planning to save them for later.
Which kind of tomatoes are good for roasting?
Just about any variety of tomatoes can be roasted; although I typically avoid large steak tomatoes. Some good candidates are:
Campari tomatoes. These are my personal favorite for roasting because they are inherently sweeter
Roma tomatoes
Plum tomatoes
Cherry or grape tomatoes. Can be roasted whole, if you prefer.
With campari, Roma, or plum tomatoes, it's a good idea to cut them in half. If you use tomatoes that are on the larger side, you may also cut them into quarters for this recipe.
Do you
How to store and use roasted tomatoes
Another beautiful thing about roasted tomatoes is that they will keep well for a good bit. Bring them to room temperature before storing. From there, you have a couple of options:
In the fridge: Store in a tight-lid mason jar with their juices in the fridge for 3 to 5 days.
In the freezer: Transfer to freezer-safe bags or freezer-safe containers and freeze for 4 months or so.
I love the idea of stocking up on summer tomatoes and roasting several batches to freeze to use during the winter months!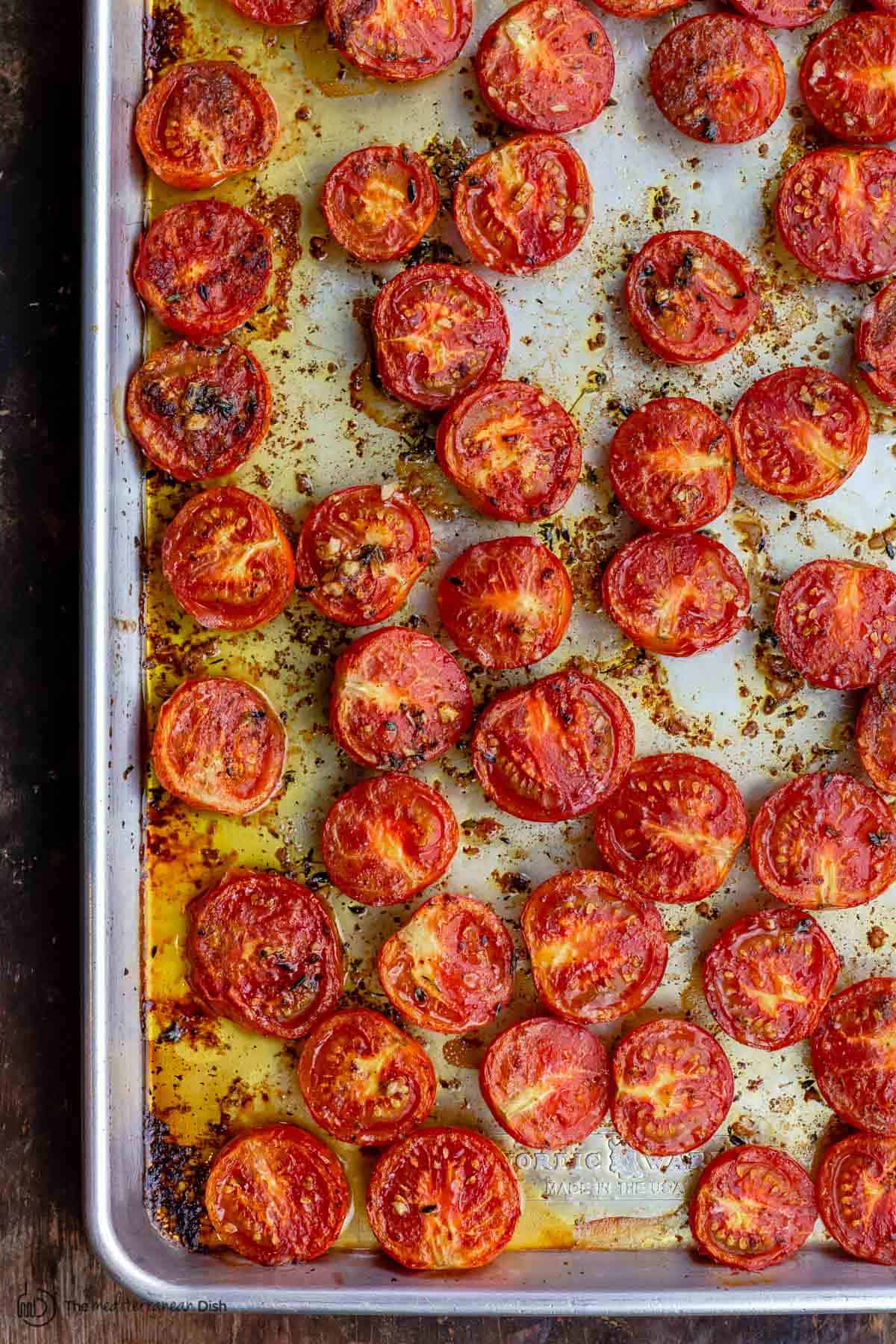 Ways to use your roasted tomatoes
The possibilities are endless! Use them as a simple side, served hot or at room temperature with a little pesto or dukkah to finish. As an appetizer, piled up over toast or crostini for the perfect bruschetta. Toss them in pasta (if you don't feel like making spaghetti sauce). Add them to a hearty stew or something like this vegetarian lentil soup!
Maybe your next recipe will be this creamy vegan roasted tomato basil soup! You'll love the balance of flavors, plus because it does not contain cream, it's a tomato soup that you can freeze for later!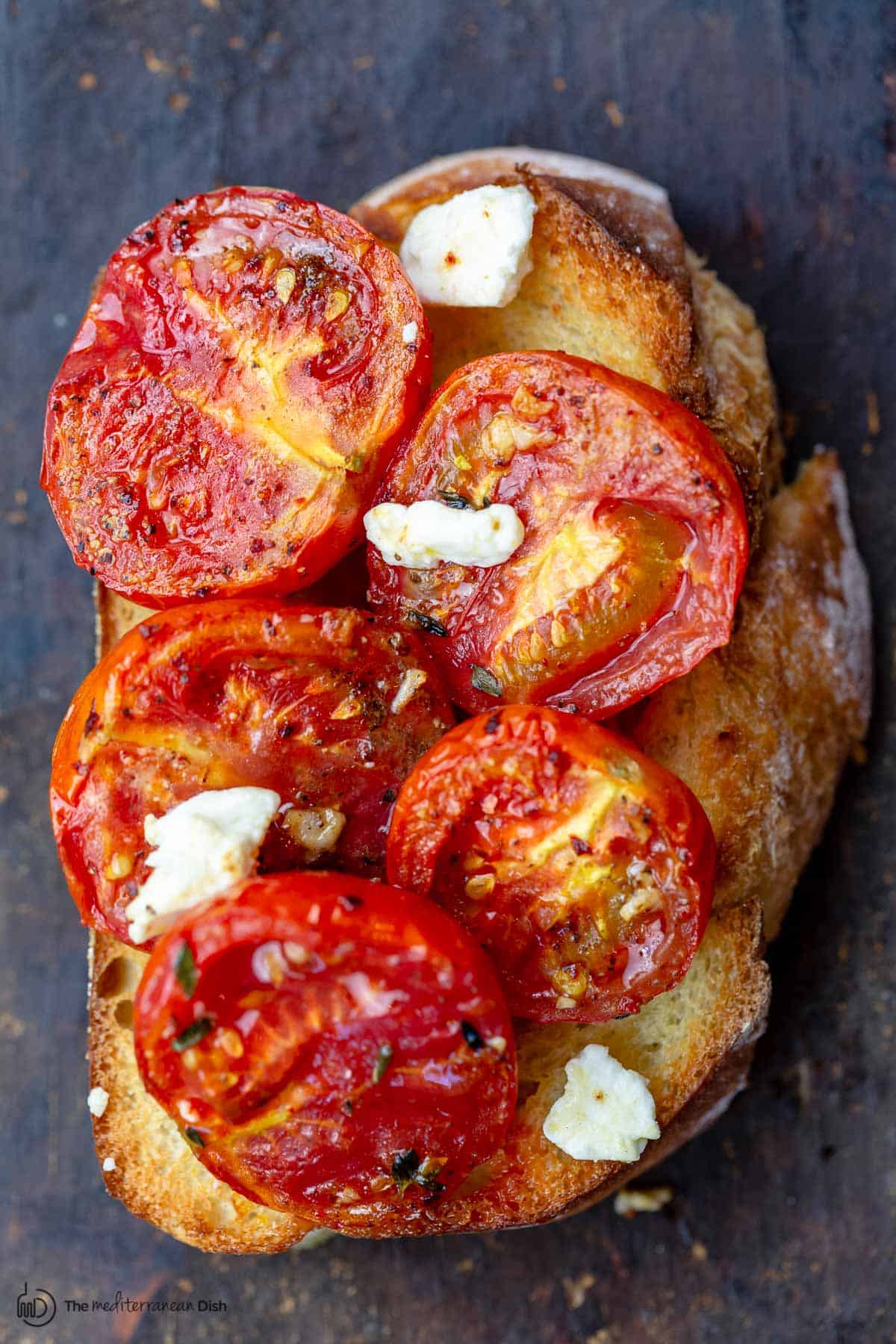 Similar recipes to try
Italian Skillet Chicken with Tomatoes and Mushrooms
Greek Stuffed Tomatoes: Gemista
You may also enjoy 50+ Top Mediterranean diet recipes. For all recipes, visit us here. JOIN MY FREE E-MAIL LIST HERE.
Quick Oven Roasted Tomatoes Recipe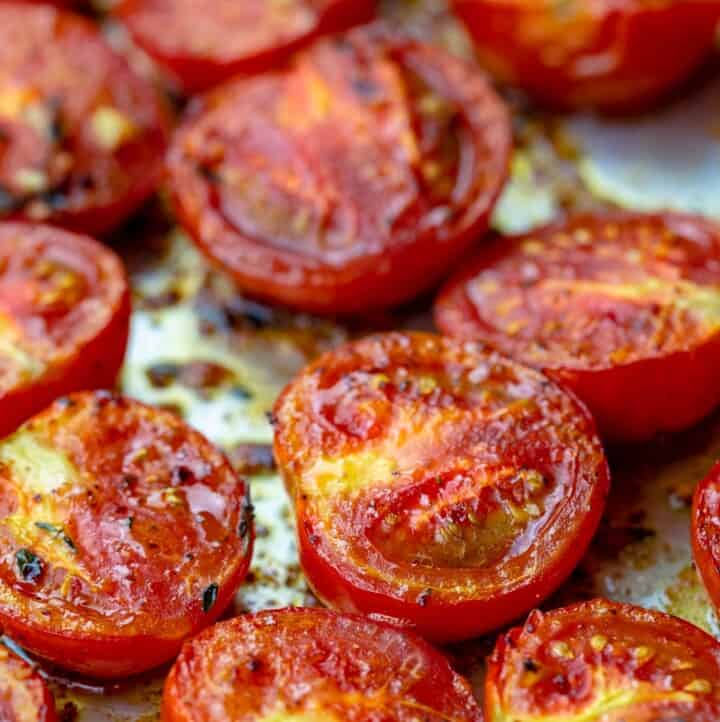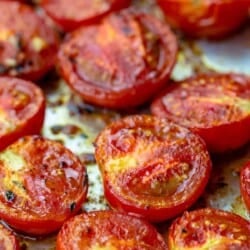 Tomatoes, tossed with garlic, fresh thyme, and spices, then roasted in a high-heated oven until super tender and bursting with intense, concentrated flavor. There are so many ways to use up roasted tomatoes--as a delicious side; tossed in pasta or soup; or served bruschetta-style on top of your favorite toasted bread. Heck, you can serve them with homemade pita chips.
Ingredients
2

lb

Smaller Tomatoes,

halved (I used Campari tomatoes)

2 to 3

garlic cloves,

minced

Kosher salt and black pepper

2

teaspoon

fresh thyme,

stems removed

1

teaspoon

sumac

½

teaspoon

dry chili pepper flakes, I used Aleppo Pepper which is milder
Extra virgin olive oil, I used Private Reserve Greek extra virgin olive oil

Crumbled feta cheese,

optional
Instructions
Preheat the oven to 450 degrees F.

Place the tomato halves in a large mixing bowl. Add minced garlic, salt, pepper, fresh thyme, and spices. Drizzle a generous amount, about ¼ cup or more, quality extra virgin olive. Toss to coat.

Transfer the tomatoes to a baking sheet with a rim. Spread the tomatoes in one single layer, flesh side up.

Roast in your heated oven for 30 to 35 minutes or until the tomatoes have collapsed to your desired doneness.

Remove from heat. If you are planning to serve it soon, feel free to garnish with more fresh thyme and a few sprinkles of feta cheese. Enjoy warm or at room temperature.
Notes
What kind of tomatoes to use? You can use a different tomato variety in this recipe. I typically avoid using larger steak tomatoes, but you can use Roma tomatoes, smaller vine-ripe tomatoes and the like. Just be sure to cut them in halves or quarters as needed depending on their size. If you use smaller tomatoes such as cherry or grape tomatoes, you can leave them whole or you can also reduce the oven heat to 400 degrees F for those.
Make extra to store. You can simply double or triple this recipe if you plan on storing the roasted tomatoes for later use. You may need to go a little bit longer in the oven, just watch for the tomatoes to get super tender and begin to release their juices.
How to store. Do not add the feta cheese if you plan to store the roasted tomatoes for later. Bring them to room temperature and store in fridge in a tight-lid mason jar for 3 to 5 days. You can also freeze them in freezer bags for up to 4 months! Thaw in fridge overnight before use.
Visit our Shop to browse quality Mediterranean ingredients including olive oils and spices used in this recipe.
Nutrition
Calories:
30.4
kcal
Carbohydrates:
5.6
g
Protein:
1.4
g
Fat:
0.5
g
Saturated Fat:
0.1
g
Sodium:
201.5
mg
Potassium:
358.3
mg
Fiber:
1.8
g
Sugar:
4
g
Vitamin A:
1272.1
IU
Vitamin C:
21.5
mg
Calcium:
16.9
mg
Iron:
0.5
mg
*This post first appeared on The Mediterranean Dish in 2015 and has been recently updated with new information and media for readers' benefit