A delicious, festive fall salad, perfect for entertaining! Shaved Brussels sprouts pair beautifully with peppery arugula, crunchy bell peppers, and sweet apples. Add some dried cranberries, raisins, walnuts, and feta cheese for color and texture. A simple honey-citrus dressing brings everything together.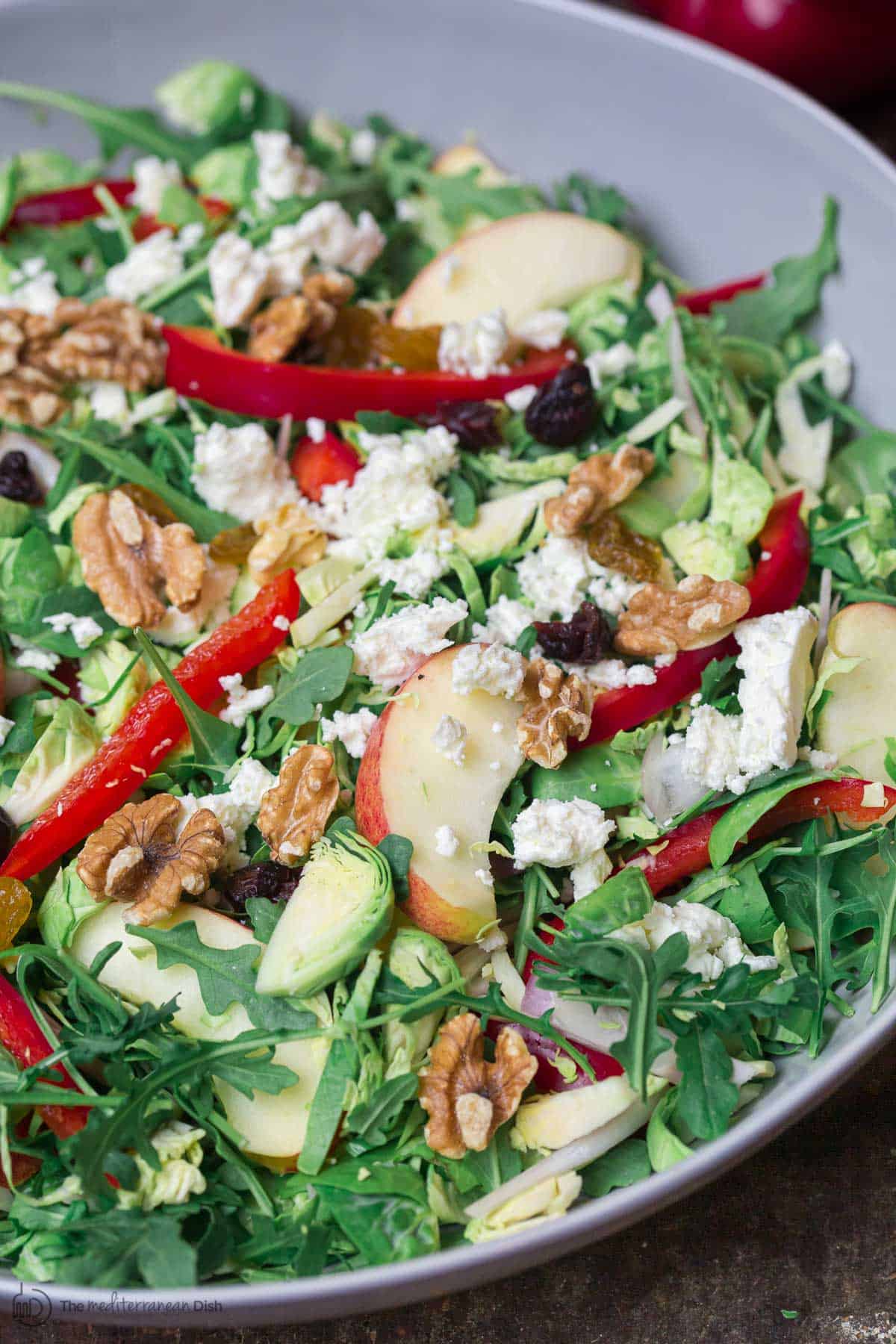 A beautiful fall salad!
This gorgeous Brussels sprouts salad has tons of layers of texture and flavor. The perfect combination of leafy, sweet, nutty, and a little salty!
Brussels sprouts get a bad rap sometimes for being dull, but they're one of my favorite vegetables to dress up! Whether I roast them, fry them until crispy, or shred them and use them in a salad, like in this recipe, Brussels sprouts are never boring in my house!
I won't say that this salad is a Mediterranean recipe, but it sure carries tons of bright Mediterranean flavors and follows the Mediterranean diet to the letter.
Table of Contents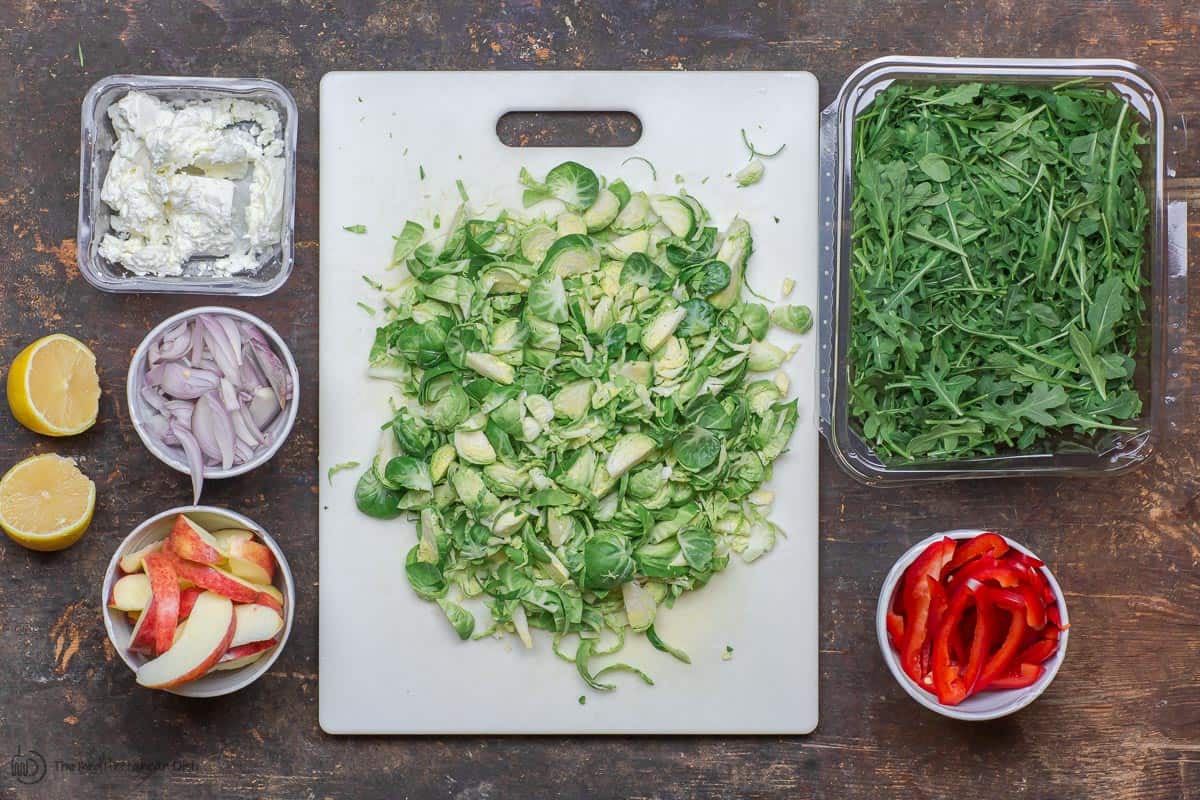 Ingredients for Brussels sprouts salad
We start by making a simple honey-citrus dressing with a tart kick from sumac, then it's as simple as shredding Brussels sprouts and combining it with arugula, bell peppers, and gala apples.
I like adding walnuts for crunch, a small handful of raisins or dried cranberries for some sweetness, and salty feta cheese to round out the flavors.
Ways to make this salad your own
Use your imagination when you make this salad! There are so many ways to customize it. Here are some ideas:
Swap out the arugula for spinach or kale.
For a sharper, more intense flavor, use red onions instead of shallots.
If you prefer tart salads, use a Granny Smith apple in place of a gala apple.
Use yellow or orange bell pepper; you don't need to stick with red.
For even more crunch, slice an English cucumber into spears.
Instead of walnuts, use almonds, pecans, or hazelnuts.
Chop up some dried apricots or dried figs and use them rather than raisins.
If feta is too strong for you, a milder option like goat cheese also works well.
For a vegan shaved Brussels sprouts salad, simply leave out the cheese altogether.
The honey-citrus dressing
What pulls this all together is an easy but super bright honey-citrus dressing. Here's what I used to make it:
It starts with good extra virgin olive oil. I like a robust oil in salad dressings, like our Early Harvest Greek EVOO or Hojiblanca Spanish EVOO.
For the citrus component, I used the juice of 1 lemon and a little bit of apple cider vinegar. There is enough tang here to tame the raw Brussels sprouts.
I only use 1 tablespoon of honey, but if you like your dressing on the sweeter side, you can add more.
Minced garlic is necessary for a slight kick and to amp up the flavor of the dressing.
Sumac adds tartness and color, but you can leave it out if you don't have any on hand.
The beauty of this dressing is it works on a variety of salads, like my berry and burrata salad or orange beet salad. It's also delicious on roasted vegetables, like roasted cauliflower and roasted delicata squash! Drizzle it over the veggies while they are still warm so they can absorb all the flavors.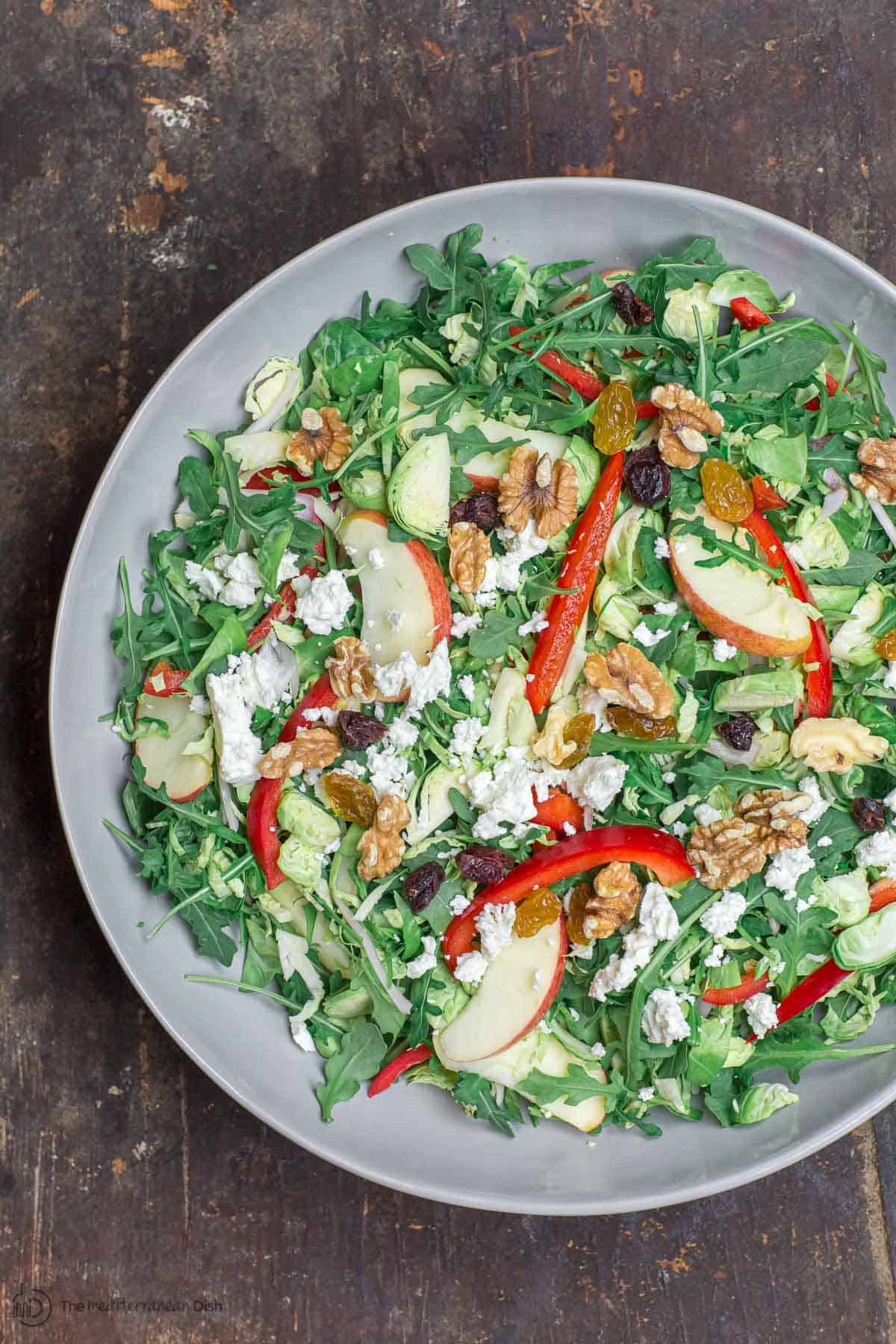 How to shred Brussels sprouts
Shredding or shaving Brussels sprouts can take a little time which is why I want to give you as many options as possible so you can find the sprout-shredding technique that suits you best. The sooner you shred the quicker you get to eat this salad!

Whichever method you choose, begin by trimming the stem and removing any bad leaves. From here, I like to give the Brussels sprouts a rinse and pat them dry very well with paper towels. You do not need to remove the core. Here are three simple ways you can shred Brussels sprouts for this salad:
1. Using a food processor
Probably the quickest option for how to shred Brussels sprouts is the food processor fitted with the slicing attachment. Drop the trimmed Brussels sprouts in and pulse a few times until they are sliced to your liking. If needed, do this bit in batches.
2. Using a sharp knife
It takes me about 15 minutes or so to cut 1 pound of Brussels sprouts using a knife. Start by cutting the Brussels sprouts into halves. Turn them cut-side down on your cutting board to give you better stability. Then simply thinly slice.
3 . Using a mandoline
A mandoline is a sharp cutting tool that can help you get ultra thin slices of Brussels sprouts. Take extra caution to protect your fingers when using a mandoline. Use the guard piece that comes with your mandolin slicer or stick a fork to the root-end of the sprout and hold it from there. Position the Brussels sprout against the mandolin and shave.
All this said, if you really just don't feel like shredding your own Brussels sprouts, you can go ahead and buy a bag of pre-shredded ones at the store. But be sure to pick bags that look vibrant and crisp as some of the pre-packed salad options can be way past their prime.
How to make shredded Brussels sprouts salad
The only slightly time-consuming part of this fall salad recipe is when we shred the Brussels sprouts. Aside from that, we whip up a quick dressing and simply slice a few vegetables! Here's how to make it:
Make the honey-citrus dressing. In a small bowl or mason jar, whisk (or shake) together ⅓ cup extra virgin olive oil, the juice of 1 lemon, 1 to 2 tablespoons apple cider vinegar, 1 tablespoon honey, 1 minced garlic clove, kosher salt and black pepper to taste, and ½ teaspoon sumac (if using). Set the dressing aside while you work on preparing the salad.



Shave 1 pound Brussels sprouts. My favorite way to shred Brussels sprouts is in the food processor. See my tips above for how to rinse and shred them. Once sliced, you can rinse the veggies again and drain very well to remove as much moisture as possible. If you need to, use a salad spinner.
Assemble the shaved Brussels sprouts salad. Place the prepared Brussels sprouts in a large bowl. Add 6 ounces baby arugula, 1 sliced red bell pepper, 2 thinly sliced shallots, and a thinly sliced apple. Whisk the dressing again to recombine the ingredients, and pour it over the salad. Toss well. Add a handful each crumbled feta cheese, walnut hearts, and raisins/dried cranberries. Toss the salad gently.

Tip: If you're not in a rush to serve this salad, it's a good idea to allow it to rest for about 20 minutes before serving to give the flavors a chance to meld. Brussels sprouts won't wilt easily, and they can use all the flavor from the honey citrus dressing. If you're worried about the delicate baby arugula, you can toss it in just before serving.


What to serve with shaved Brussels sprout salad
This salad pairs with so many things! It's a colorful addition to your holiday table but it also works great for weeknight dinners lemon chicken.

For a special dinner or a holiday gathering, this festive salad makes the perfect addition to roast turkey breast, spatchcock chicken, or baked Cornish hen.

Serve this as a beautiful feast with sides like cinnamon roasted sweet potatoes, Greek potatoes, or roasted carrots. Apple strudel would be the perfect way to finish this dinner!
How to make Brussels sprout salad ahead of time
If you're short on time, you can absolutely prepare parts of this salad in advance. Here's how:
Prepare the Brussels sprouts the night before. To do so, trim, shred, and clean them. Dry them very well; I use a salad spinner and I also pat them dry using some paper towels. Save the Brussels sprouts in the fridge in a separate container overnight until you are ready to assemble the salad.
Make the honey-citrus dressing and save it in a tightly-closed mason jar in the fridge for the night. Give the dressing a good shake before using.
How to store leftovers
This recipe yields a lot of salad, especially for a side! Luckily, you can save leftovers for 2 days in the fridge in an airtight container.
More ways to use Brussels sprouts
Browse all Mediterranean recipes.

Visit Our Shop.
Shaved Brussels Sprouts Salad with Honey-Citrus Dressing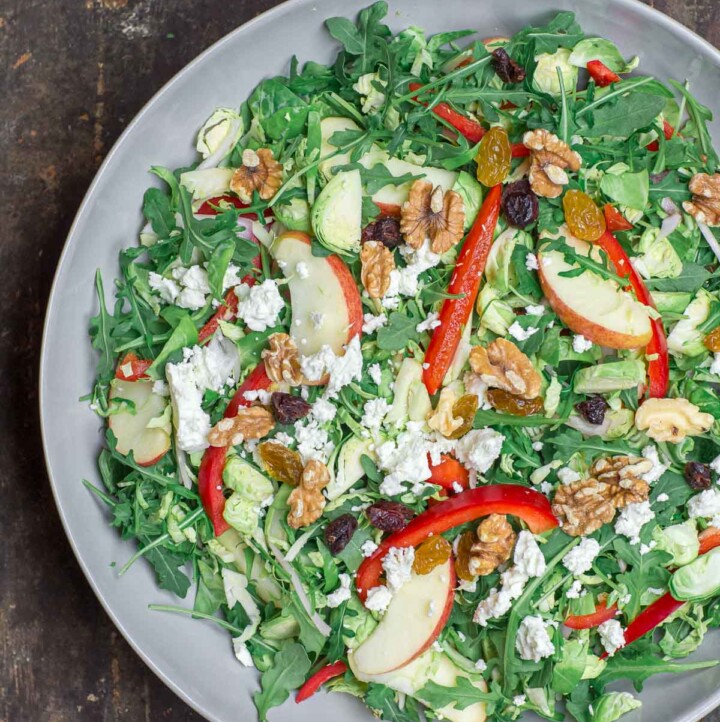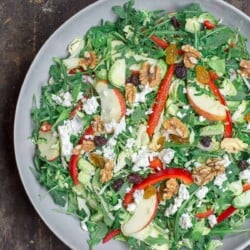 Meet your new favorite fall salad! Shaved Brussels sprouts combined with peppery arugula, crunchy bell peppers and sweet apples. To add a sweet, festive touch, we have dried cranberries and raisins, and a handful of nutty walnuts and a sprinkle of crumbled feta are the finishing touches. A simple honey-citrus dressing brings everything together.
Ingredients
1

pound

Brussels sprouts

6

ounces

baby arugula

1

red bell pepper,

cored and sliced into thin sticks

2

shallots,

peeled and thinly sliced

1

large apple,

halved and thinly sliced

Handful crumbled feta cheese

Handful walnut hearts

Handful raisins and/or dried cranberries
For Honey Citrus Dressing
⅓

cup

extra virgin olive oil

1

large lemon,

juice of

1 to 2

tablespoons

apple cider vinegar

1

tablespoon

honey,

more to your liking

1

garlic clove,

minced

Kosher salt

Black pepper

½

teaspoon

sumac,

optional
Instructions
Prepare the honey-citrus dressing. In a small bowl or mason jar, whisk together the olive oil, lemon juice, apple cider, honey, garlic, salt, pepper and sumac (if using.) Set aside for now.

Shave brussels sprouts. First, cut the stem and remove any bad leaves. Give the brussels sprouts a good rinse and dry. Now, to shave them, you can use a food processor fitted with a slicing attachment. Add the brussels sprouts and pulse until thinly sliced (you can also just use a knife to thinly slice brussels sprouts. Read the post above for more tips.)

Rinse shredded brussels sprouts and drain very well (use a salad spinner if you need to.)

Assemble the shaved brussels sprouts salad. Place shaved brussels sprouts in a large bowl. Add baby arugula, bell peppers, shallots, and apple slices. Give the dressing a little whisk and pour over the salad, mix to combine. Add feta cheese, walnut hearts, raisins and cranberries. Give the salad another gentle mix. Enjoy!
Notes
Make-ahead tip: You can trim, shred, rinse, and dry the Brussels sprouts a night in advance. Store it in an airtight container in the fridge. You can also make the dressing and keep it in a Mason jar. When you're ready to use it, give it a good shake to recombine all the ingredients.
For best flavor: Once you add the dressing, it's a good idea to let this salad rest for about 20 minutes before serving it. This allows the flavors to meld.
For a vegan option, omit the feta cheese.
Visit Our Shop for quality Mediterranean ingredients including extra virgin olive oils and spices.
Nutrition
Calories:
246.1
kcal
Carbohydrates:
23.9
g
Protein:
5.6
g
Fat:
16.5
g
Saturated Fat:
2.8
g
Polyunsaturated Fat:
3.4
g
Monounsaturated Fat:
9.4
g
Cholesterol:
5.6
mg
Sodium:
102.3
mg
Potassium:
592.4
mg
Fiber:
5.8
g
Sugar:
10.3
g
Vitamin A:
1911.6
IU
Vitamin C:
106
mg
Calcium:
125.5
mg
Iron:
2.2
mg