15-Minute baked salmon recipe, prepared Mediterranean-style with a delicious garlic cilantro sauce, tomatoes and lime. This easy baked salmon is a regular on the dinner rotation, and it's made a beautifully burnished entree next to things like grilled vegetables and Greek lemon rice and more (lots of ideas below). Be sure to grab my tips for how to bake salmon perfectly (no one likes overcooked salmon!) and watch the video tutorial below.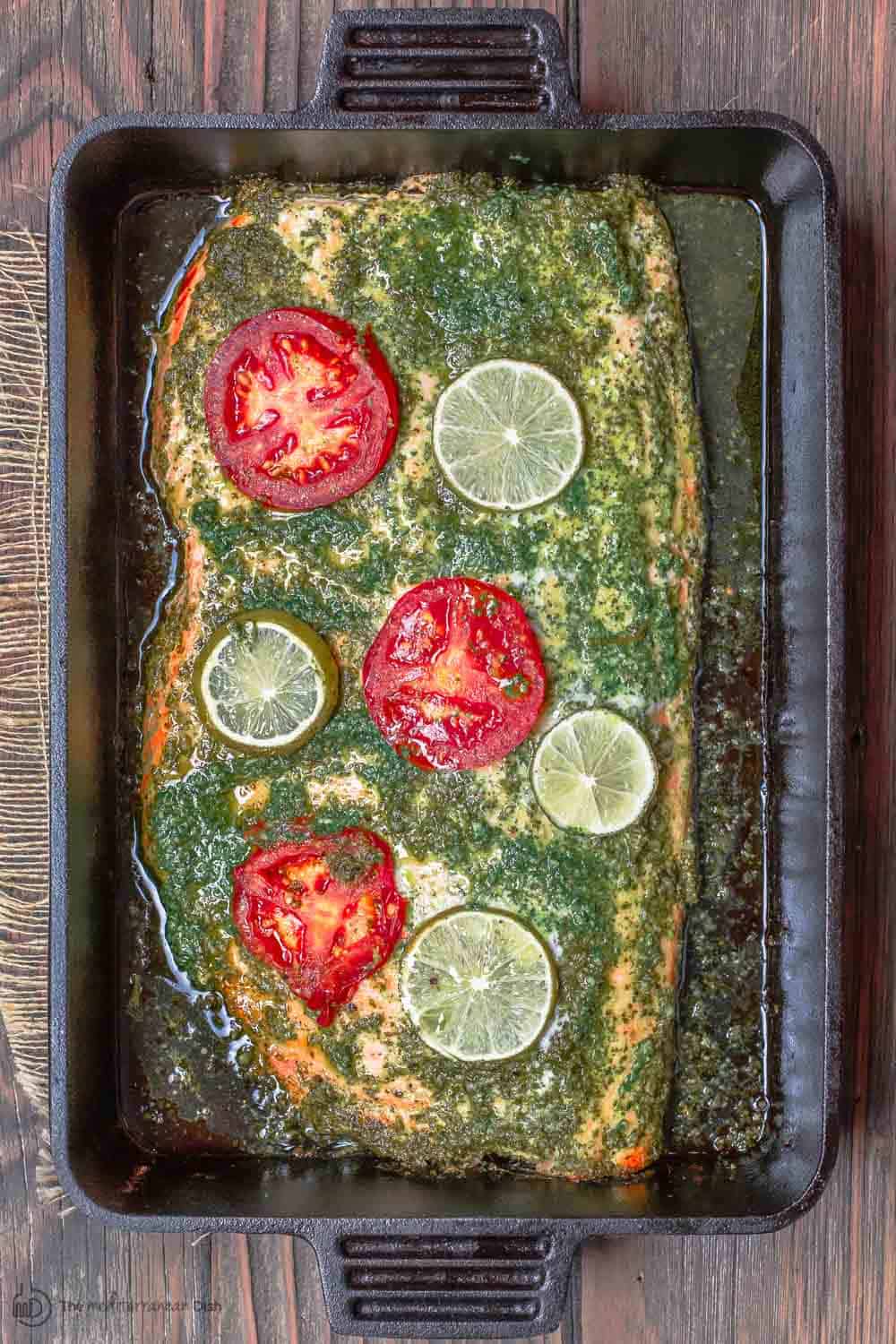 Easy Salmon Recipe, and the Secret is in the sauce
A meal that is simple for any night of the week, but fancy enough for special occasions? So few recipes can satisfy these two requirements at once, but I have to say, this easy baked salmon recipe absolutely does it. There is a reason it's a fan-favorite!
I'm of the opinion that baked salmon is super delicious even with just a little pinch of salt and pepper and a generous drizzle of good extra virgin olive oil. But, the secret to this good lookin' baked salmon recipe is in the garlic cilantro sauce. This flavor-packed sauce is made by blending loads of fresh cilantro with a little lemon juice and Private Reserve Greek extra virgin olive oil. All you need is a small food processor or blender. The sauce coats the salmon well and imparts great flavor in just the few minutes of baking. So good!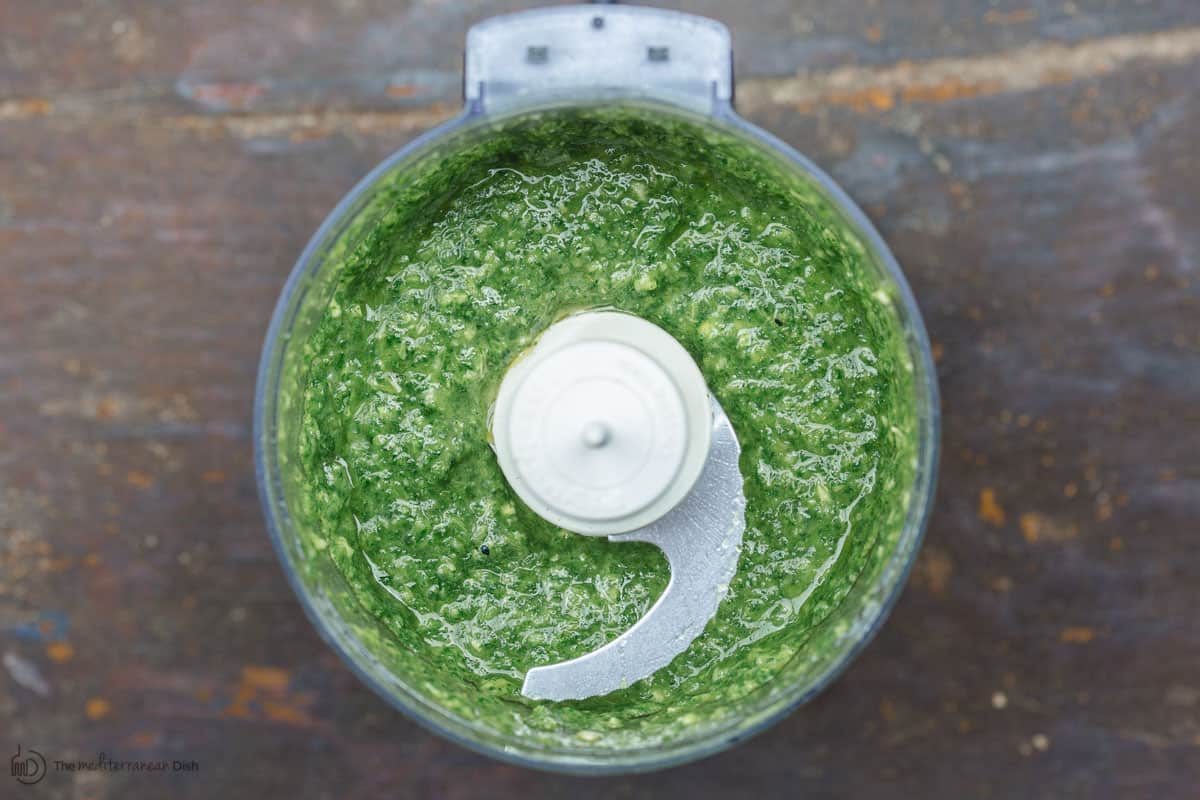 Not a fan of cilantro? Try your favorite herb...basil or mint will work well here!
We've got the flavor covered, but probably the trickier thing, and the thing that most people struggle with, is achieving perfectly baked salmon. Many--and I used to be one-- tend to over-cook salmon in the oven. These few tips below are worth considering.
Tips for How to Bake Salmon Perfectly
Succulent, perfectly baked salmon that is moist, tender, and flaky is not too hard to achieve. The one important thing to remember is to avoid overcooking it. Here are a few tips to help with that:
1. Bring salmon to room temperature. Simply set it on the counter for 15 to 20 minutes or so (depending on the size of your salmon). This will help it cook more evenly.
2. Even thicker salmon fillets will cook quickly. Heat your oven to 425 degrees F and set the salmon pan in the top half of the oven. Allow about 4 to 6 minutes of time per half inch of thickness (so if your salmon fillet is about 1-inch thick, allow 8 minutes of cooking time.) Salmon is ready when it turns a nice opaque pink. Watch the cooking process closely, after 8 minutes of cooking, do a quick knife test by poking the salmon in the thickets part to see how it flakes.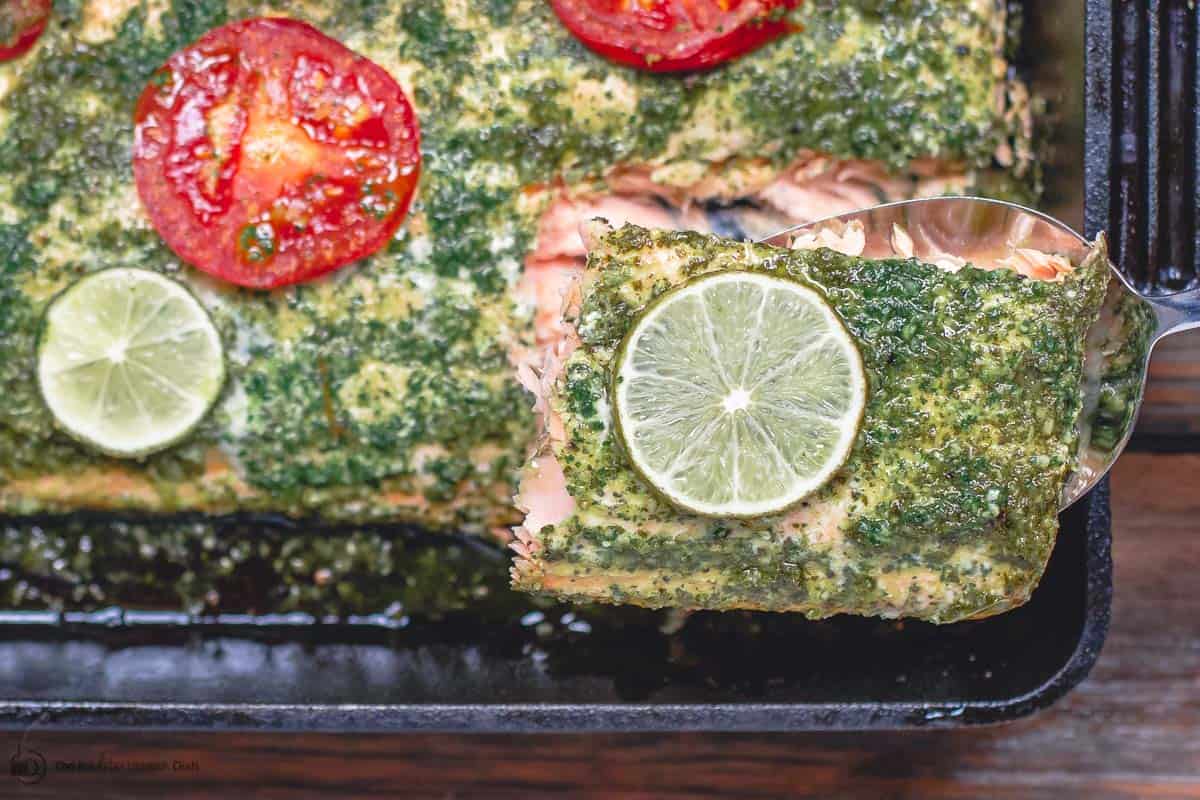 3. Take the guess work out, invest in an instant read thermometer like this one. Internal temperature of baked salmon should be anywhere between 125 degrees F to 140 degrees F, depending on how well-done you like it. Personally, I'll take my salmon out of the oven at 125 degrees F or 130 degrees F, and then I let it rest for 5 minutes or so as it will continue to finish cooking at that point.
4. One last thing to remember, wild salmon has less fat than farmed salmon, so it could dry out even more quickly.
What to serve with this Baked Salmon Recipe
This baked salmon recipe is super easy to pair with many Mediterranean sides and salads! I've mentioned grilled vegetables and Greek lemon rice at the top of this post, but this salmon works great next to Greek potatoes, Lebanese rice, or this barley and roasted vegetables. I love it with this quick Mediterranean Salad, traditional Greek salad or balela. If you want something fresh to start, Gazpacho soup is your ticket. And if you like, add a dip or a dollop of something special, Greek Tztaziki sauce or classic hummus!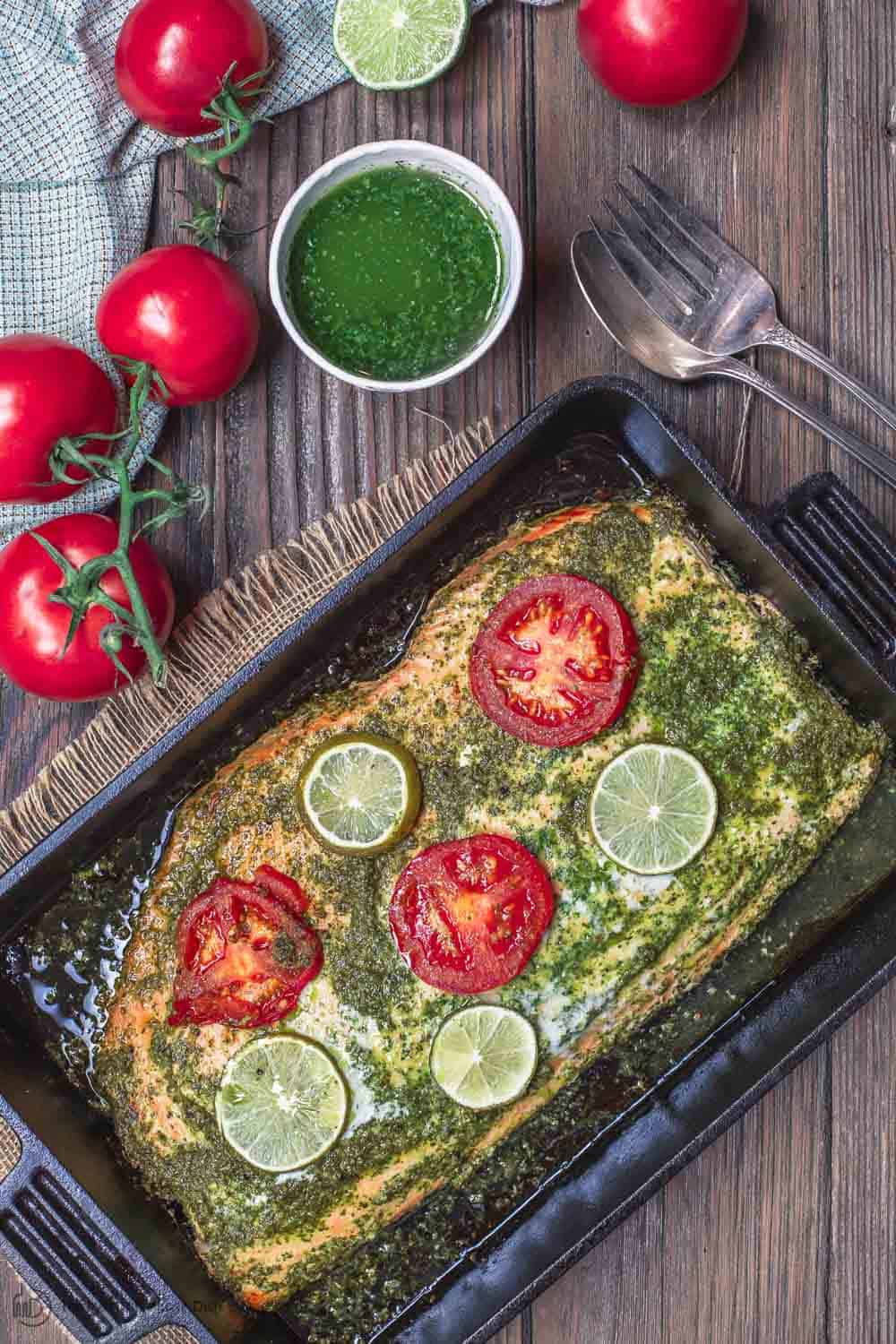 Watch the Video for How to Make this Baked Salmon Recipe:
Similar Recipes: Slow Roasted Salmon; One Pan Baked Halibut and Veggies; Steamed Salmon with Lemon and Herbs, Grilled Shrimp with Roasted Garlic Cilantro Sauce; Easy Seafood Paella
Craving more? Here's my big collection of fish and seafood recipes and 50+Top Mediterranean Diet Recipes.
JOIN MY FREE E-MAIL LIST for weekly meal plans and more!
Print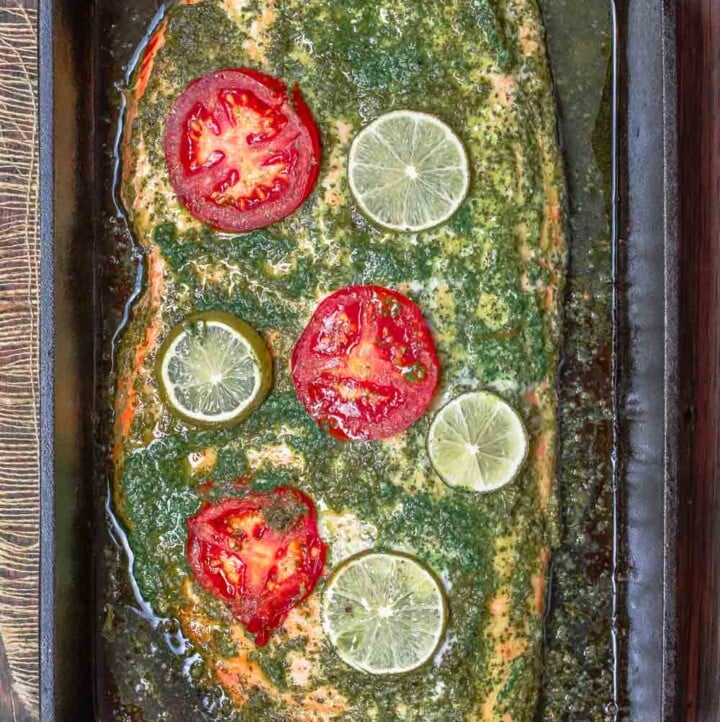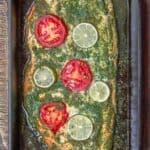 Baked Salmon Recipe with Garlic Cilantro Sauce
---
Description
Simple Baked Salmon Recipe, prepared Mediterranean-style with a tasty garlic-cilantro sauce, tomato and lime slices. Comes together in 15 minutes! Grab the tips and serving suggestions below.
---
For the Garlic Cilantro Sauce
4

to

6

garlic cloves, chopped
Salt

1

whole bunch fresh cilantro, stems trimmed (only remove about

1

inch of the stems)

½ cup

Private Reserve extra virgin olive oil

1

lime, juice of
For the Salmon
2

lb skinless salmon fillet
Salt and pepper

1

large tomato, sliced into rounds

½

lime, sliced into rounds
---
Instructions
Take salmon out of fridge and set at room temperature for 15 to 20 minutes or so. Meanwhile, preheat the oven to 425 degrees F.
In the bowl of a small food processor, add all the ingredients for the garlic cilantro sauce. Blend until everything is well combined into a sauce.
Place the salmon fillet in a lightly oiled baking pan like this one. Sprinkle lightly with salt and pepper. Now spoon the garlic-cilantro sauce on top of the salmon fillet and spread evenly to coat the salmon. (You will have extra garlic-cilantro sauce, pour it into a small bowl to serve next to the salmon.)
Arrange the tomato and lime slices on top of the salmon fillet.
Place the baking pan in the top half of your heated oven, bake for 4 to 6 minutes per ½ inch of thickness (if your salmon fillet is about 1-inch thick, check for doneness at 8 minutes or so). Test temprature with an instant read thermometer, and remove salmon from heat at somewhere between 125 degrees F and 130 degrees F, cover lightly with foil and let rest for another 5 to 8 minutes or so to finish cooking. Enjoy!
Notes
Cook's Tip: Perfectly baked salmon should turn a nice opaque pink in color and should be moist, tender and flaky. To avoid overcooking salmon, bring it to room temprature before baking (step #1) Watch the cooking process closely and check for doneness using an instant read thermometer. Salmon is ready when it's internal temperature reads between 125 degrees F and 140 degrees F. Here, I like to take it out at the 125 degrees F mark and let it rest for 5 to 8 minutes to finish cooking. A simple poke with a knife at the thickest part will also allow you to see the color and how flaky the fish is.
What to serve along? This salmon works well with many Mediterranean dishes like Lemon rice, Greek potatoes, simple Mediterranean salad, Tzatziki Sauce...(more ideas in the post above)
Leftovers? You can store leftover baked salmon in the fridge for 2 days. My preference is to eat the leftovers cold or at room temperature.
Recommended for this Recipe our Private Reserve Greek extra virgin olive oil (single estate. Hand-picked. Cold pressed. From organically grown and processed Koroneiki olives)
VISIT OUR SHOP for quality Mediterranean Ingredients
Prep Time:

7 mins

Cook Time:

8 mins

Category:

Entree

Method:

Baked

Cuisine:

Mediterranean
Keywords: Baked Salmon Recipe, Mediterranean Salmon, Easy Salmon Recipe, How to Bake Salmon
*This post first appeared on our site in 2016 and has been recently updated with new information and media for readers' benefit.