Perfectly tender roasted artichokes, prepared Mediterranean-style with olive oil, capers and a garlic vinaigrette.
Once you've learned a few simple tips to clean and prepare artichokes, you'll be making this roasted artichoke recipe all the time!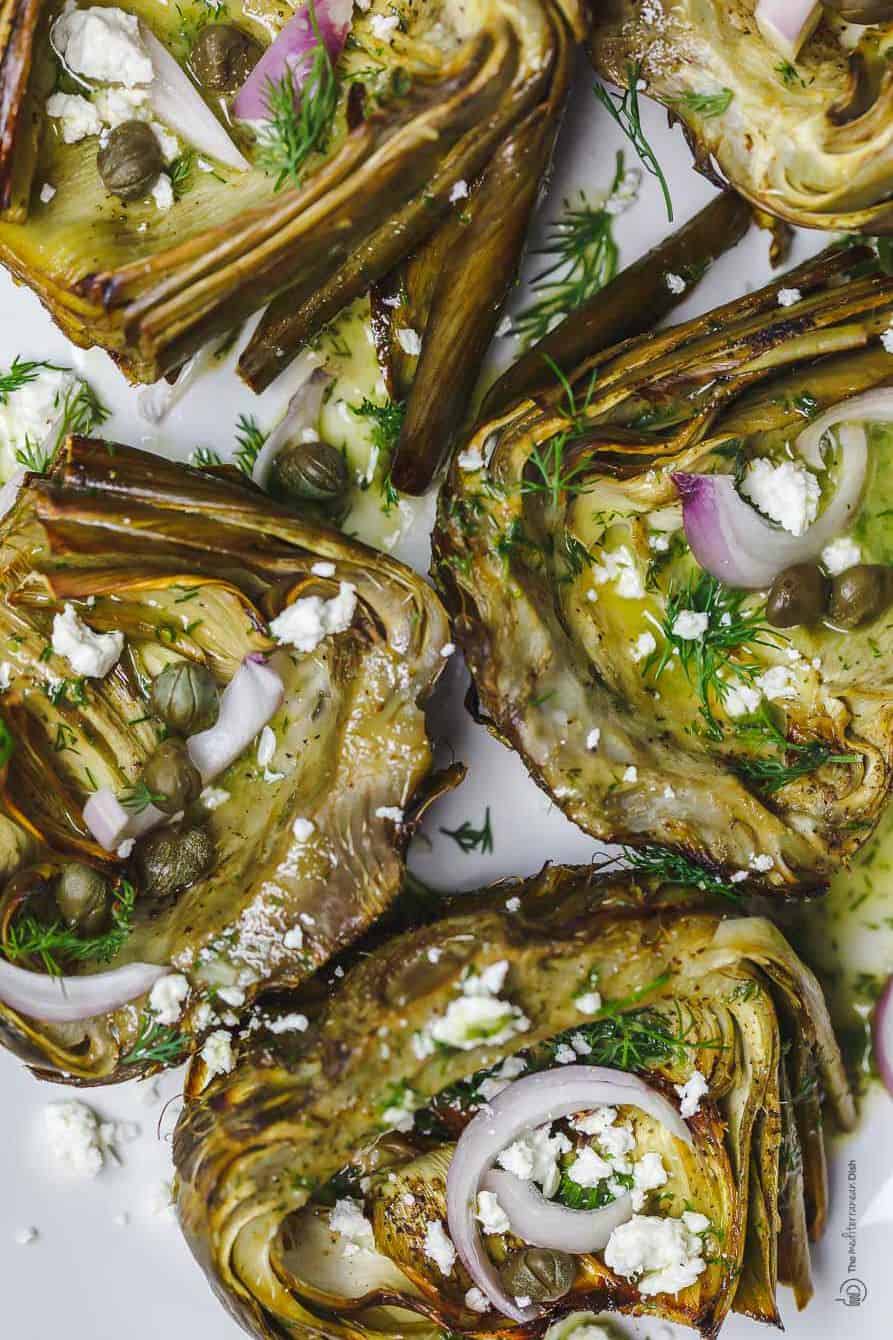 I always keep jars of marinated artichoke hearts in my pantry. They're convenient and can add a bit of something special to your pasta, salad, or even an egg casserole.
And I'm just as in love with beautiful fresh globe artichokes!
Artichokes are loaded with nutrition like vitamin C, fiber, and potassium, but we often overlook them because they can be intimidating to buy and cook. But they're actually not!
There are a few key steps (below) to prepare artichokes for cooking, but once you nail those, you're on your way to making the best artichoke recipe.
Artichoke recipe with a Mediterranean twist
These beautiful tender roasted artichokes are next-level delicious, thanks to bright Mediterranean flavors.
The flavor makers here include Greek extra virgin olive oil to aid the roasting, and then a tangy garlic and dill vinaigrette. I ended up using the garlic cloves that have been roasted right with the artichokes, win-win!
With little effort, this roasted artichoke recipe can make a special appetizer to start your dinner (I especially love this to start a lemony salmon dinner or chicken). Or, if you're short on time, you can opt for the canned variety, like with this canned roasted artichoke hearts recipe.
Let's cover a few important basics, first.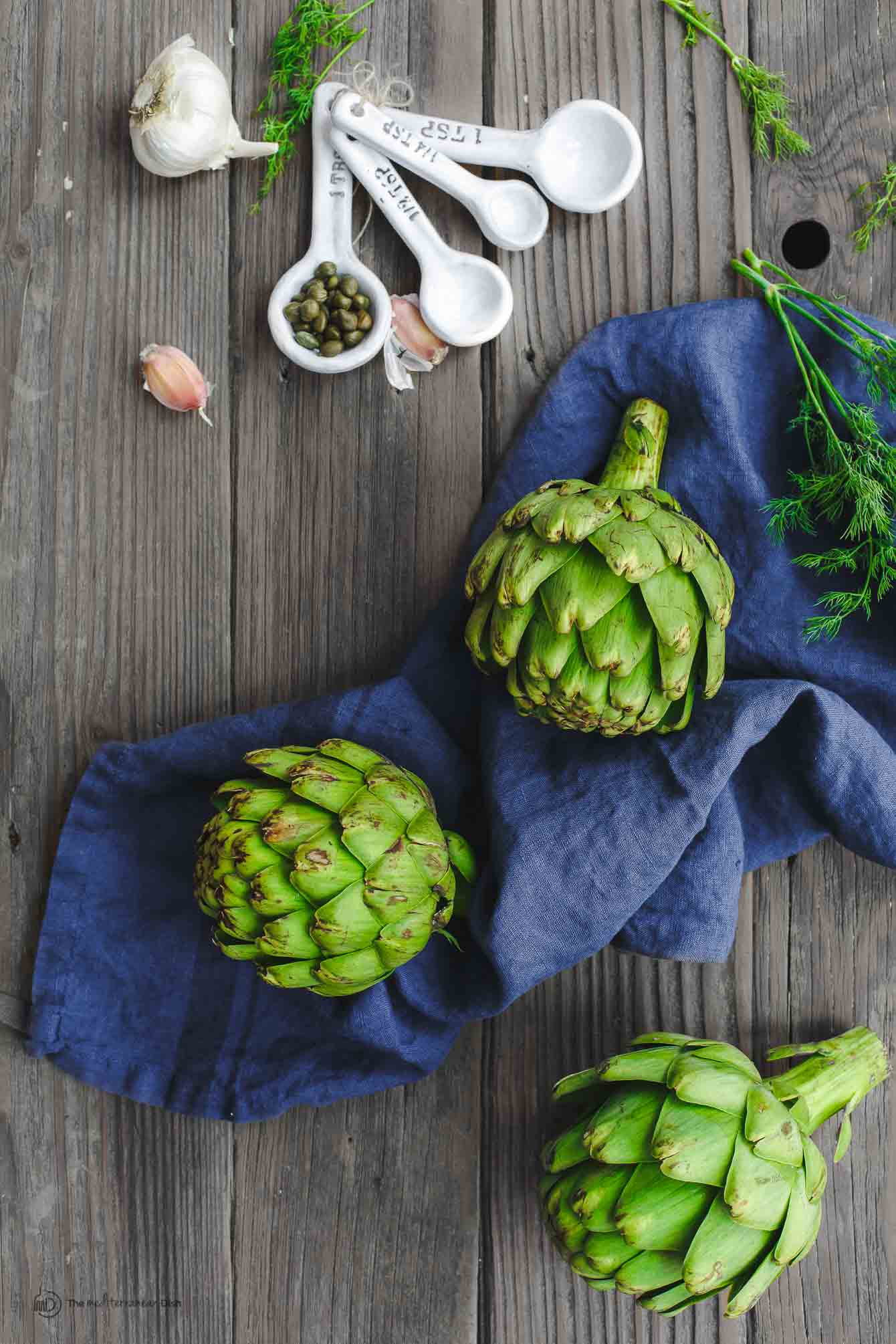 How to select artichokes?
Part of the issue many people run into is buying good fresh artichokes to begin with. Prime season for artichokes is from March to May and then again in October and November. Here are a few tips:
Select artichokes that are heavy for their size
Artichoke leaves should be deep in color and tightly gathered together (not spread out)
The size does not matter as far as taste or quality, but a smaller artichoke will cook more quickly
To test for freshness, give the artichoke a bit of a squeeze, it should make a squeaky noise like a brand new sneaker
What is the best way to cook artichokes?
There are a number of ways to cook artichokes. You can boil or steam them, cook them in the pressure cooker, or roast them. Many possibilities. What is the right artichoke recipe for you?
Personally, my favorite is roasted artichokes with a bit of extra virgin olive oil. Roasting in the oven allows the artichokes to develop some deep and nutty flavors. They are so delicate and delicious.
One thing makes all the difference: warp them in aluminum foil!
Wrapping the artichoke halves in foil helps the vegetable cells to release moisture and traps the steam so that keeps the leaves moist so the artichokes are cooked to tender perfection.
How to prepare artichokes for roasting?
For this baked artichoke recipe, there are a few simple steps to prepare the artichokes before roasting
First, cut the stem (some people peel it, so you can do that if you'd like to keep the stem on)
Remove the tough layers. Peel the outer layers off by hand until you reach the inner more tender layers (they're usually lighter in color)
Trim the sharp tips. Use a serrated knife to cut off about ¾ of an inch from the top of the artichoke. Use kitchen shears to trim off any pokey tips from the lower leaves.
Cut the artichoke in half lengthwise
Remove the fuzzy choke. Use a paring knife to remove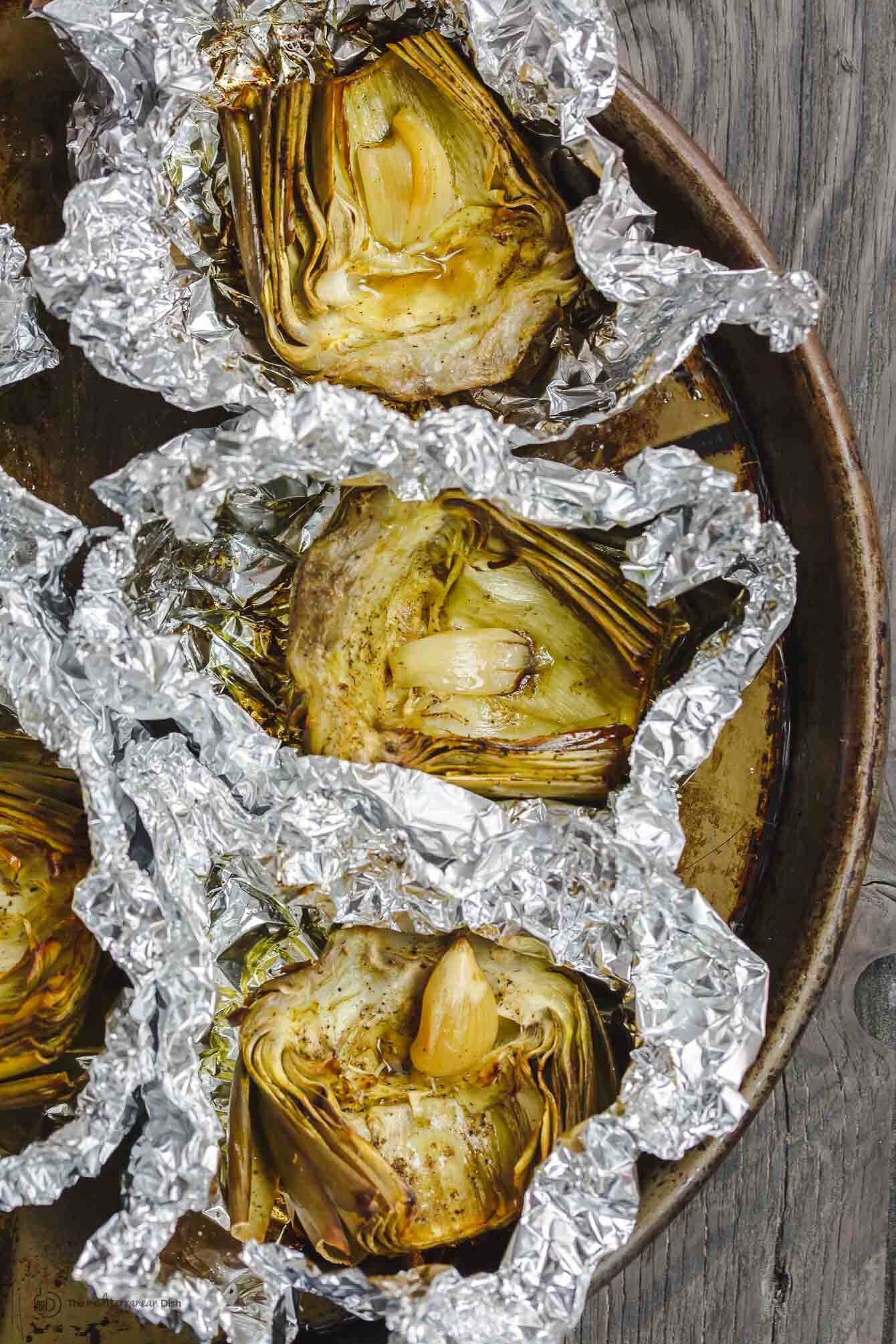 Once you've followed the steps to prepare them, what's left to make this roasted artichoke recipe is to season the artichoke hearts, place each in a large enough piece of aluminum foil, place a garlic clove in each half and drizzle a generous amount of extra virgin olive oil.
Be sure to wrap the foil packets around the artichokes well and then roast in the oven for about 40 minutes until perfectly tender.
That garlic you roasted along with the artichokes becomes a part of a tasty vinaigrette to finish the roasted artichokes.
I love adding some capers, shallots, and crumbled feta to complete this Mediterranean artichoke recipe.
How to eat roasted artichokes?
It may sound silly to talk about exactly how to eat roasted artichokes, but it's not as obvious just by looking at them.
The roasted artichoke leaves are edible, you must peel them off by hand and scrape them with your teeth to eat the tender parts and discard the remaining petal (they need to be cool enough to handle). If you need a dipping sauce, set some of the tasty roasted garlic and dill vinaigrette aside for that.
Roasted artichoke hearts are edible and you can use your fork and knife to cut through and enjoy.
You may also like
Easy Lemon Garlic Shrimp with Peas and Artichokes
Mediterranean Style Roasted Eggplant
Baked Zucchini with Thyme and Parmesan
50+ Top Mediterranean Diet Recipes. For all recipes, visit us here.
JOIN MY FREE E-MAIL LIST HERE. SHOP OUR ONLINE STORE FOR QUALITY OLIVE OILS, ALL-NATURAL SPICES AND MORE.
Print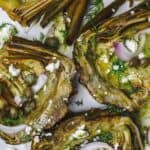 Mediterranean Roasted Artichoke Recipe
---
Description
Mediterranean roasted artichoke recipe with capers and roasted garlic-dill vinaigrette. Perfectly tender and
---
3

large globe artichokes

3 tsp

lemon juice
Salt and black pepper
Extra virgin olive oil (I used Private Reserve Greek extra virgin olive oil)

6

garlic cloves, peeled

1

small shallot, thinly sliced

1 tbsp

capers
Crumbled feta cheese to taste
For the Vinaigrette
Same

6

garlic cloves roasted earlier with the artichoke (see above ingredients)

½ cup

chopped fresh dill

¼ cup

fresh lemon juice

1 tsp

honey
Salt and Black Pepper
---
Instructions
Preheat oven to 400 degrees F.
To clean artichokes, first, cut off the stem/stalk. Peel off the tough outer layers by hand. When you reach the softer layers, use a serrated knife to cut off about ¾ inches from the top. Now, cut artichoke in half length-wise. Then, using a spoon, remove the fuzzy choke on the inside.
As you clean the inside of each artichoke half,

immediately

add ½ teaspoon lemon juice to cover the surface to prevent the artichoke from discoloring.
On a large baking sheet, place each artichoke half in a piece of lightly-oiled foil paper that is large enough to fold around.
Season artichokes with salt and pepper, and nestle 1 garlic clove in the center of each artichoke half. Drizzle generously with quality olive oil (it's okay if some of the olive oil pools in the center or overflows onto the foil). Close the foil around artichokes.
Roast in the 400 degrees F heated-oven for 40 minutes.
Carefully open the foil pouches using tongs. Remove the roasted garlic from the center of artichoke, and close the foils back until ready to serve. Let garlic cool.
In the bowl of a small food processor, add the roasted garlic with the remaining vinaigrette ingredients. Pulse until smooth.
Remove the artichokes from foil. Arrange on a serving platter, generously drizzle the roasted garlic-dill vinaigrette. Top with shallots, capers and crumbled feta cheese. Enjoy!
Prep Time:

20 mins

Cook Time:

40 mins

Category:

Side dish

Method:

Baked

Cuisine:

Mediterranean
Keywords: roasted artichokes, artichoke recipe, how to cook artichokes
This post originally appeared on The Mediterranean Dish in 2017 and has been recently updated with new information and media for readers' benefit. Enjoy!