This mustard potato salad gets a Mediterranean makeover with a bright dressing and the addition of fresh herbs and capers. Packed with flavor, and it's egg-free and far lighter on the calories!
Read through for important tips and watch the video below.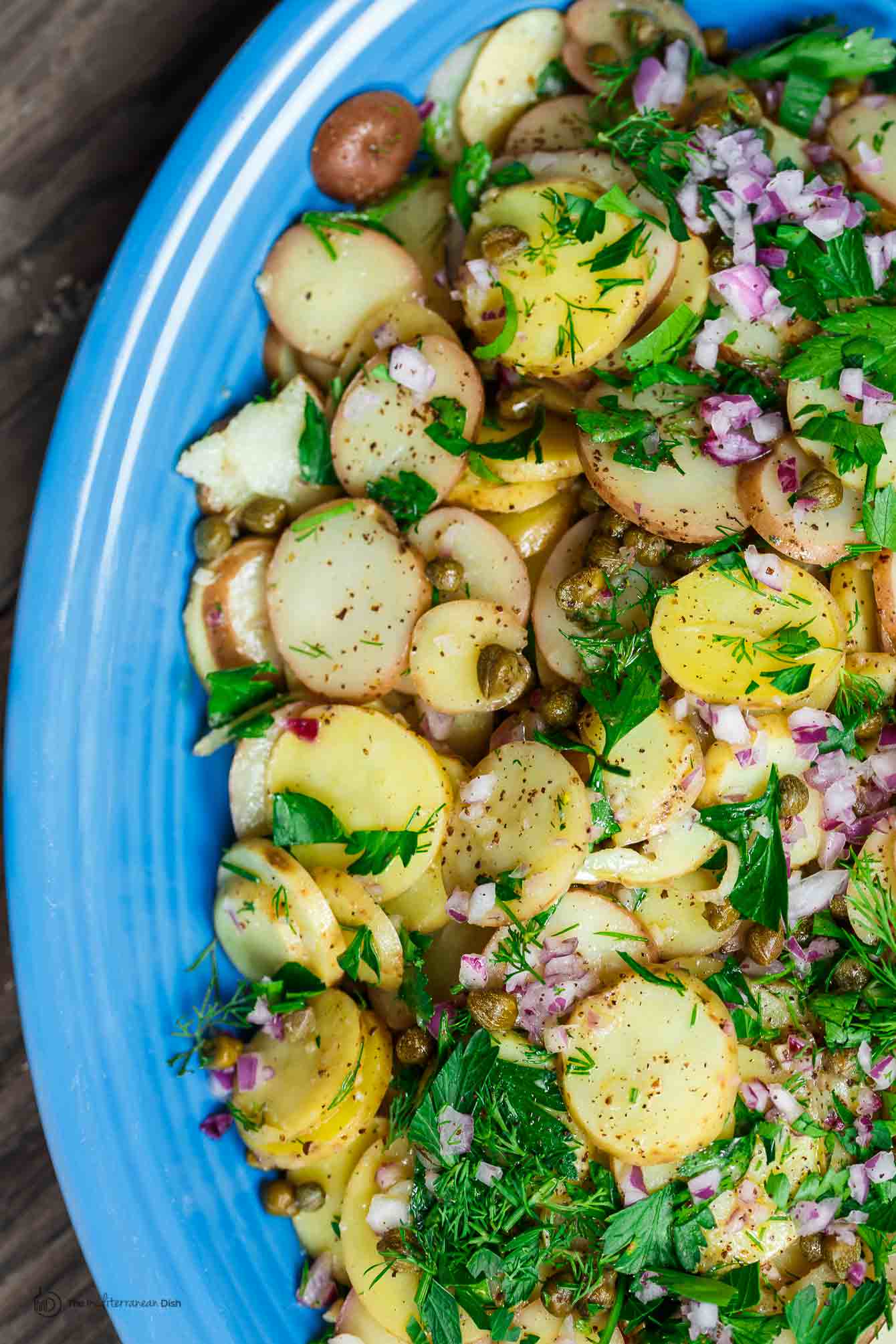 Every culture, from Greek to Italian and almost every household in between, has its own treasured potato salad recipe. Mine is this mustard dill potato salad.
What I'm proposing here is not the traditional potato salad, mashed with mustard, pickles, and hard broiled eggs, this one gets a bright Mediterranean makeover.
Like our Greek Potato Salad, it's a healthier option that swaps mayo for fresh flavor, thanks to the addition of fresh herbs (dill and parsley). Here, I add briny capers and a little bit of punchy chopped red onions. And you'll love the Dijon mustard dressing with good extra virgin olive oil and white wine vinegar.
Especially during the hot summer months, potato salad, caponata, and this tomato salad make a regular appearance as sides next to grilled whole chicken, pork souvlaki or kofta kebabs!
But there are many more ways to enjoy this potato salad. I can't wait for you to try it!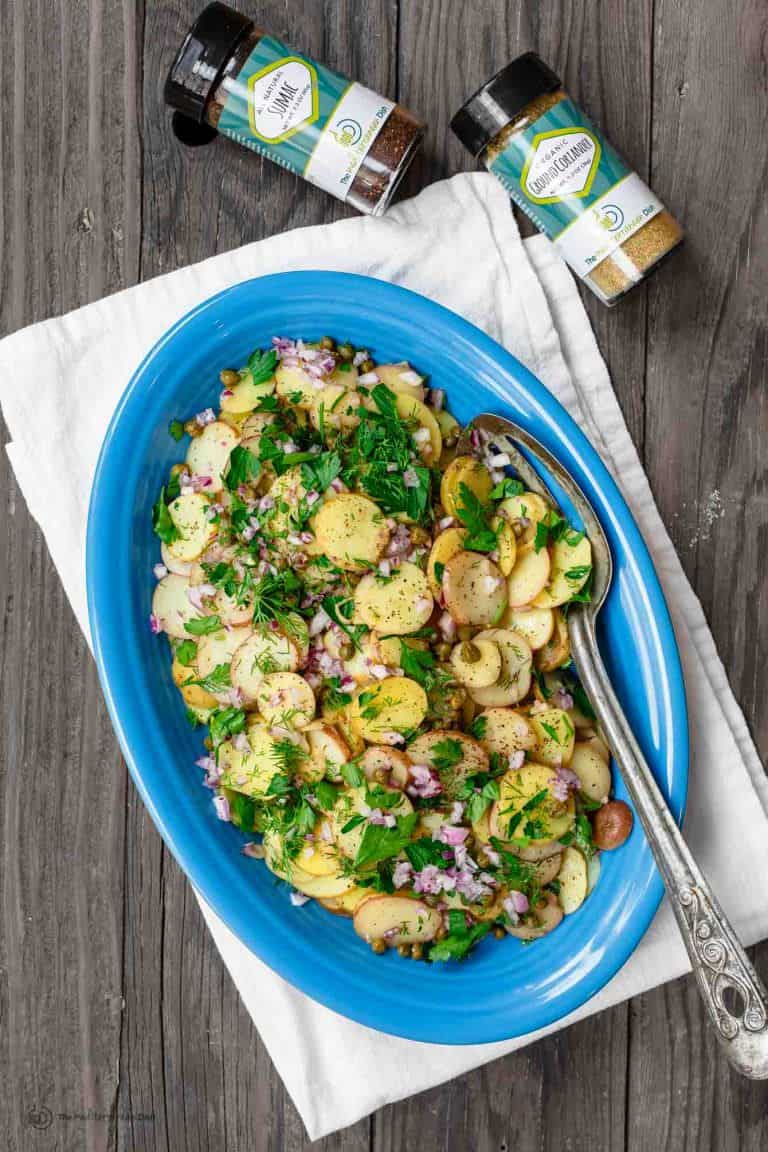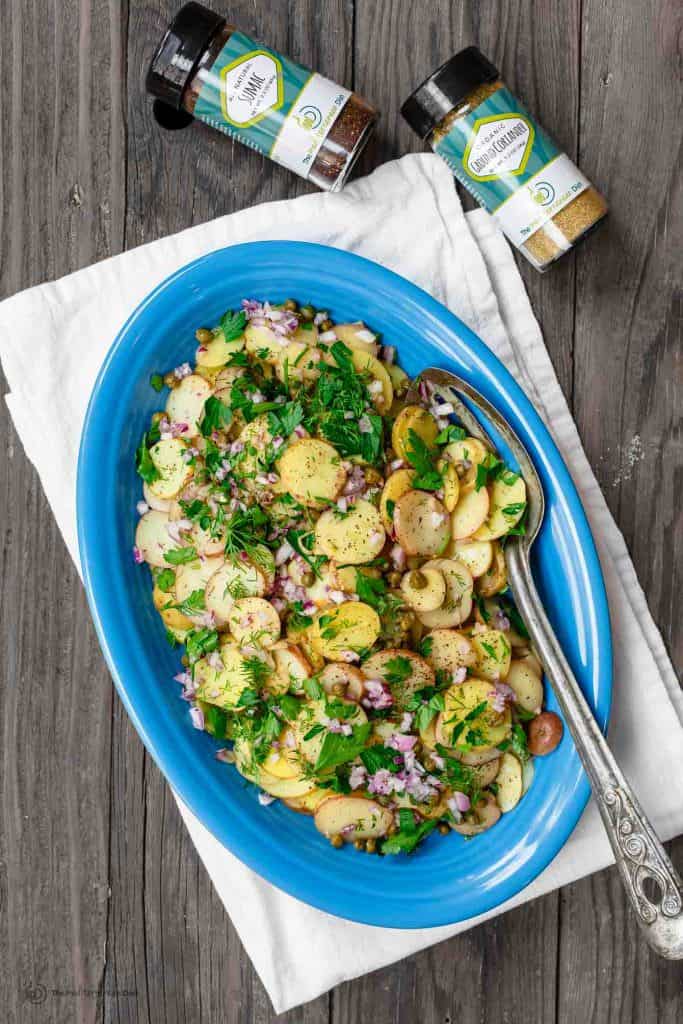 What kind of potatoes to use?
Waxy, thin-skinned potatoes, like new potatoes or red potatoes, are great for this mustard potato salad because they tend to have the least amount of starch, which allows them to hold their shape well. Plus, you don't have to peel them!
I also often use small gold potatoes (yukon gold potatoes) which are great all-purpose potatoes that have just a little bit more starch but will still hold their shape.
Russet potatoes are too thick-skinned and too starchy, which makes them the least favorite candidate for a potato salad recipe like this one.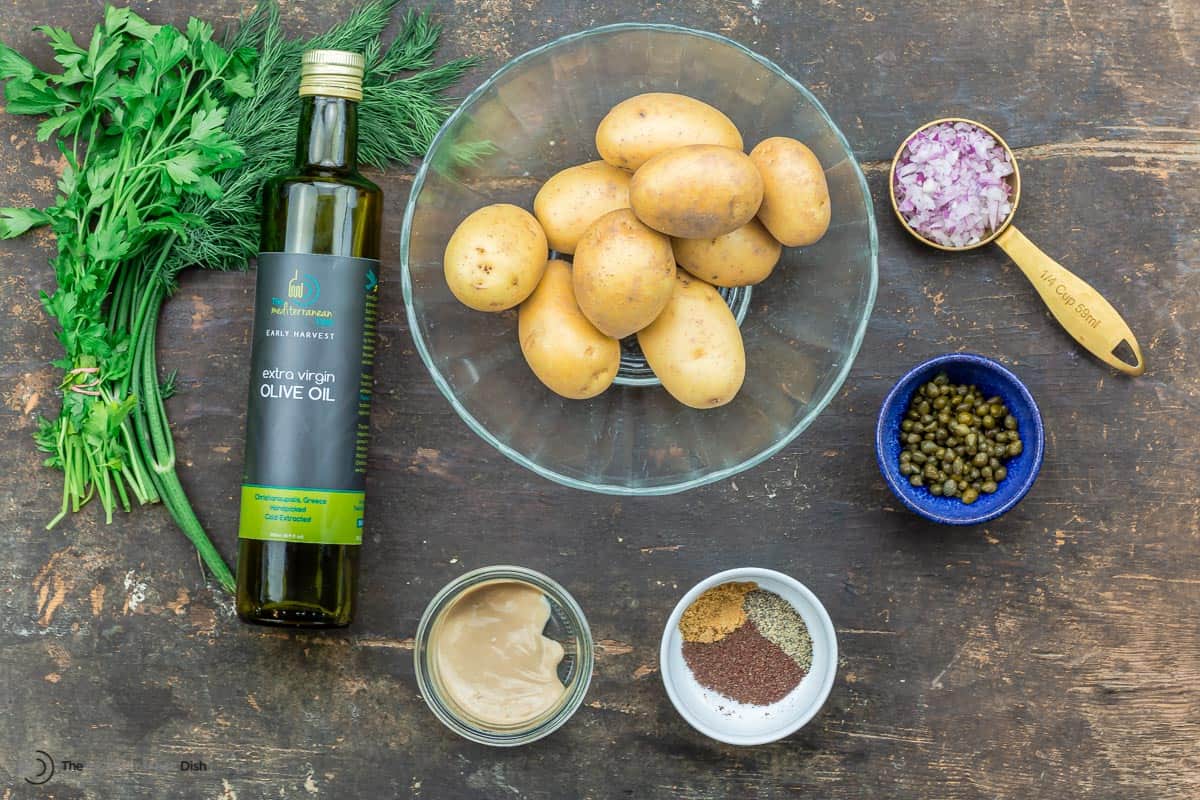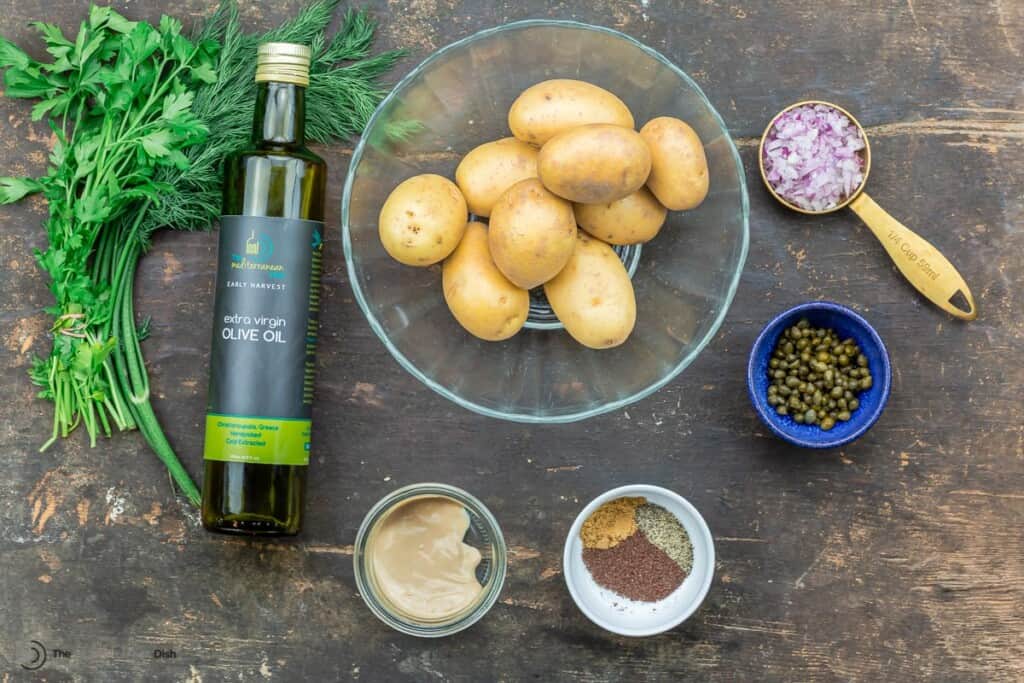 If you're here, you'd probably agree with me that the deli and store-bought stuff is just not what you want. To me, it's too heavy and soggy having sat in a pool of mayo for hours.
But sometimes, homemade potato salad can have it's issues too--bland, too mushy, not enough flavor.
But this mustard dill potato salad has all the magical qualities you're looking for: Holds its shape for gorgeous presentation; packed with flavor; and never heavy-tasting. Here is why...
Tips for the best potato salad
Choose the right potato. Like I said earlier, avoid super starchy, thick-skinned russet potatoes and go for new potatoes, red potatoes or small gold potatoes which will hold their shape better.
Slice the potatoes before cooking. If you cook the potatoes first, you won't be able to slice them neatly for the perfect presentation. Plus, thinly sliced potatoes will cook quickly (6 minutes or so)
Salt the water in which you cook the potatoes. This will help add flavor right from the start.
Opt for a lighter dressing than mayonnaise-heavy dressing. I used a homemade Dijon mustard dressing for potato salad with extra virgin olive oil and a good splash of white wine vinegar for extra tang. And if you really want to amp up the flavor, add some spice like coriander, sumac and a dash of black pepper.
Pour the dressing over the hot potato slices. Don't wait too long for the potatoes to cool; adding the dressing while their still somewhat hot will help them absorb flavor better.
Play up the flavor. The dressing may be sufficient for some, but I like to add herbs (dill and parsley) for added freshness and color. Most potato salad recipes add pickles, but I like capers for a little Mediterranean flare (either will add some salty and tangy touch here). And a little bit of chopped red onions (or shallots if you need something milder).
Allow the potato salad to rest before serving. Leave it at room temperature or refrigerate for 1 hour or longer so the flavors have a chance to meld. Be sure to bring it to room temperature before serving.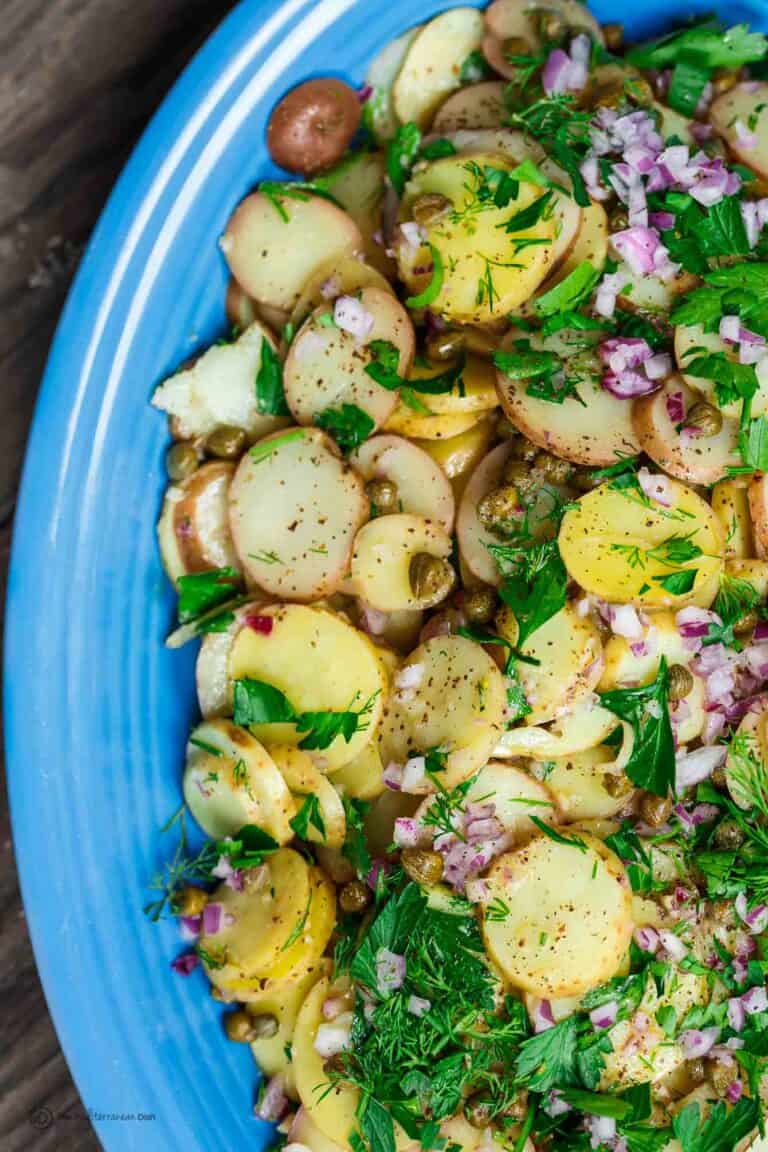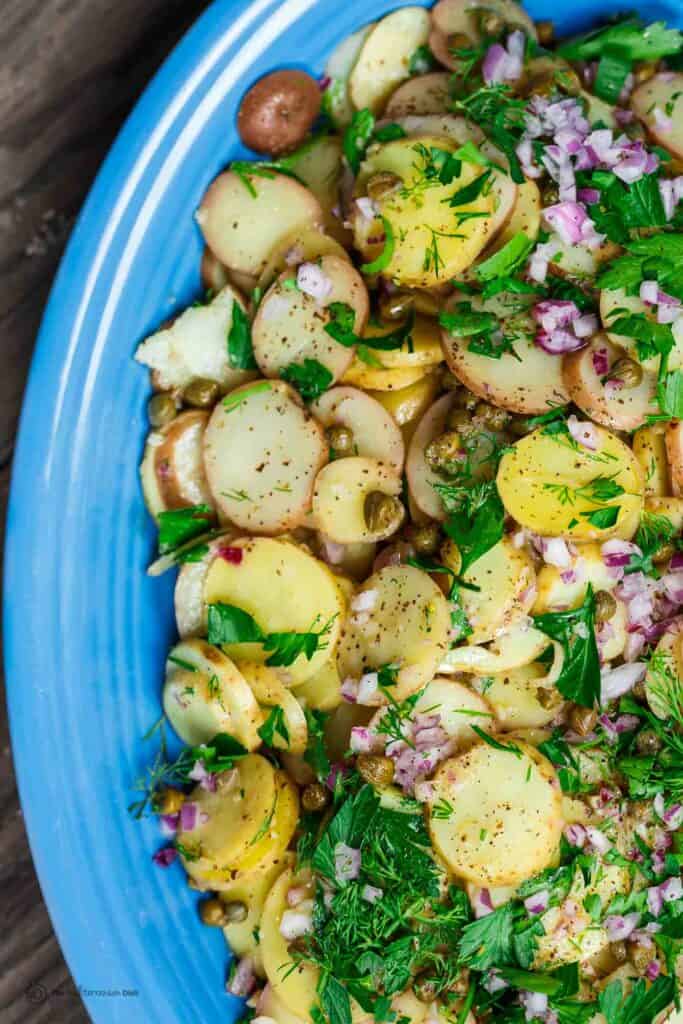 How to make mustard potato salad
Slice and cook the potatoes. I used a mandoline slicer like this one (affiliate link) to slice my potatoes thinly into rounds. Get them in a pot of water (salt the water generously) and boil, then lower the heat and cook until tender (about 6 minutes). Drain well.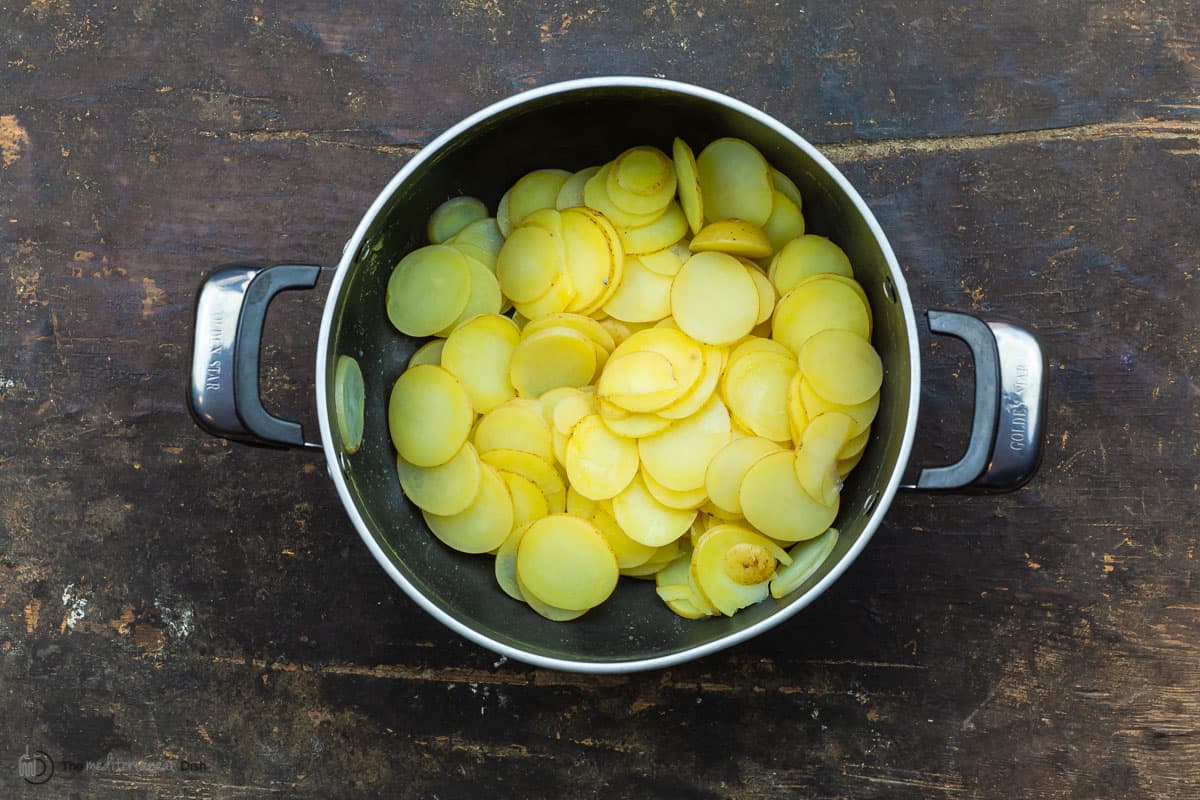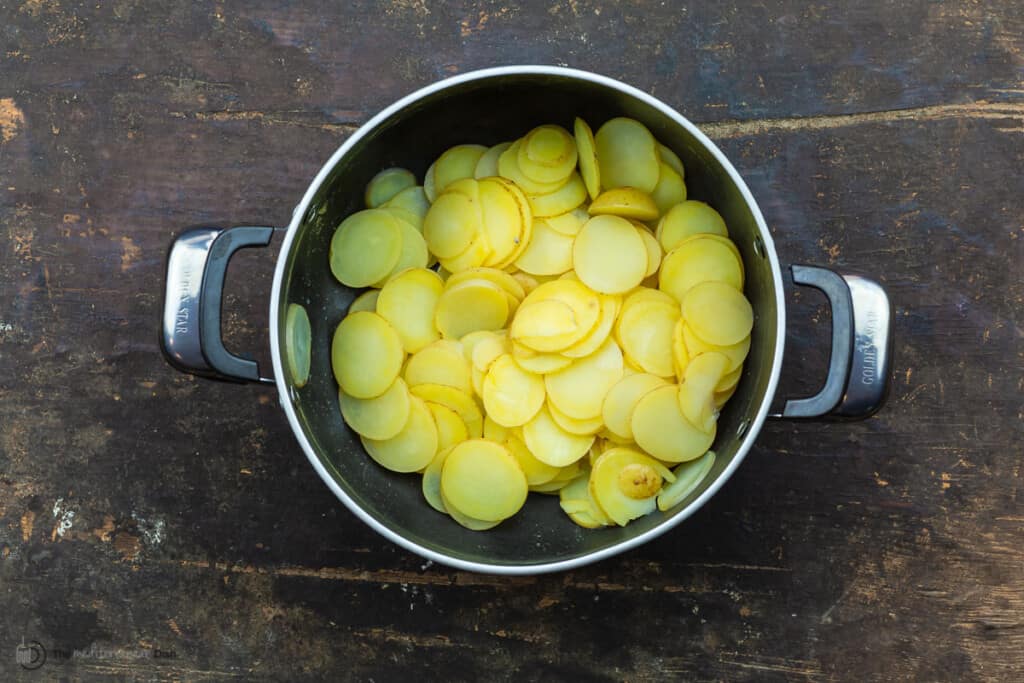 Make the dressing. Combine the olive oil, mustard, white wine vinegar and spices in a small bowl (or a measuring cup, which makes it easy to pour). Whisk well.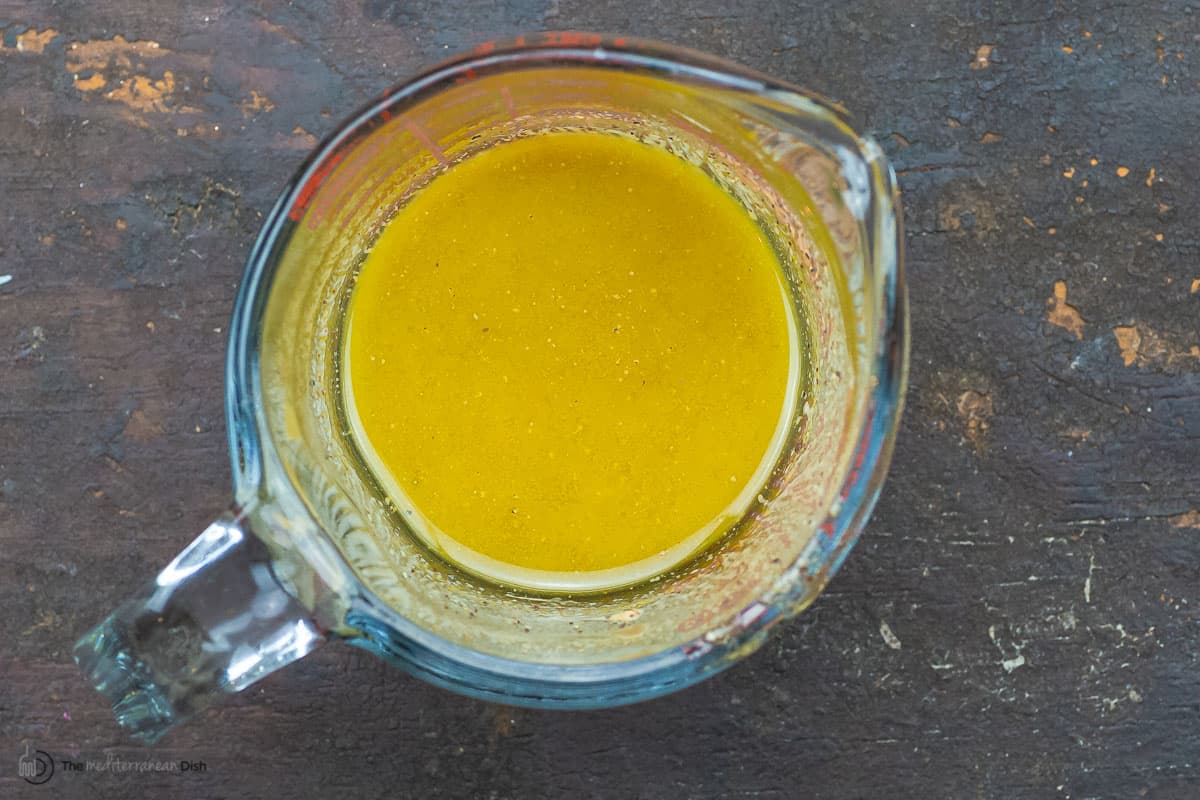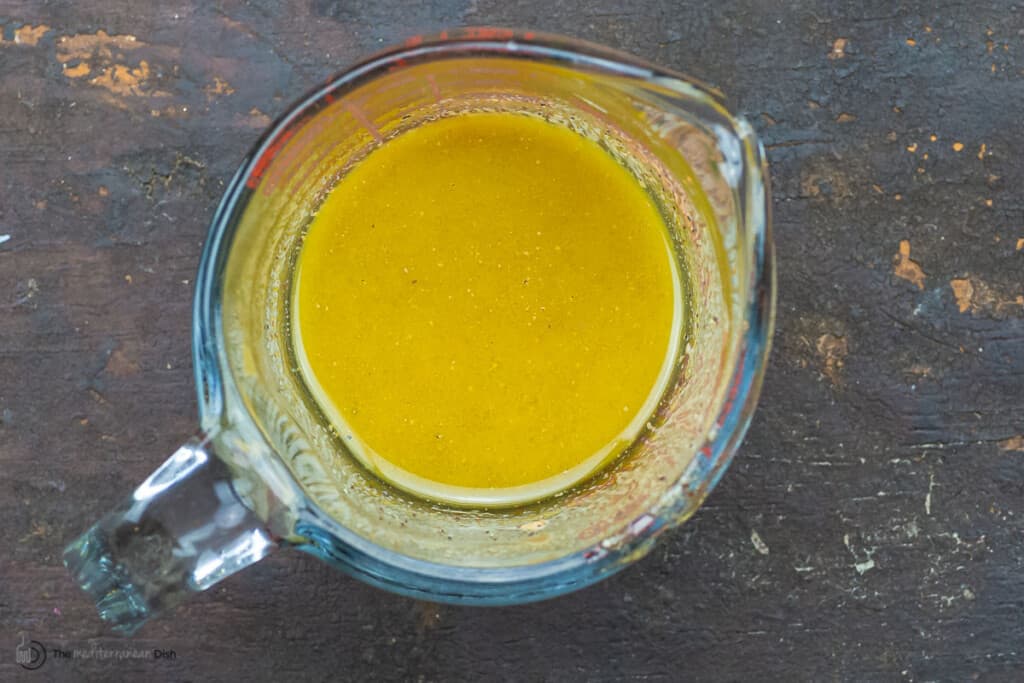 Pour dressing over the potatoes and toss gently.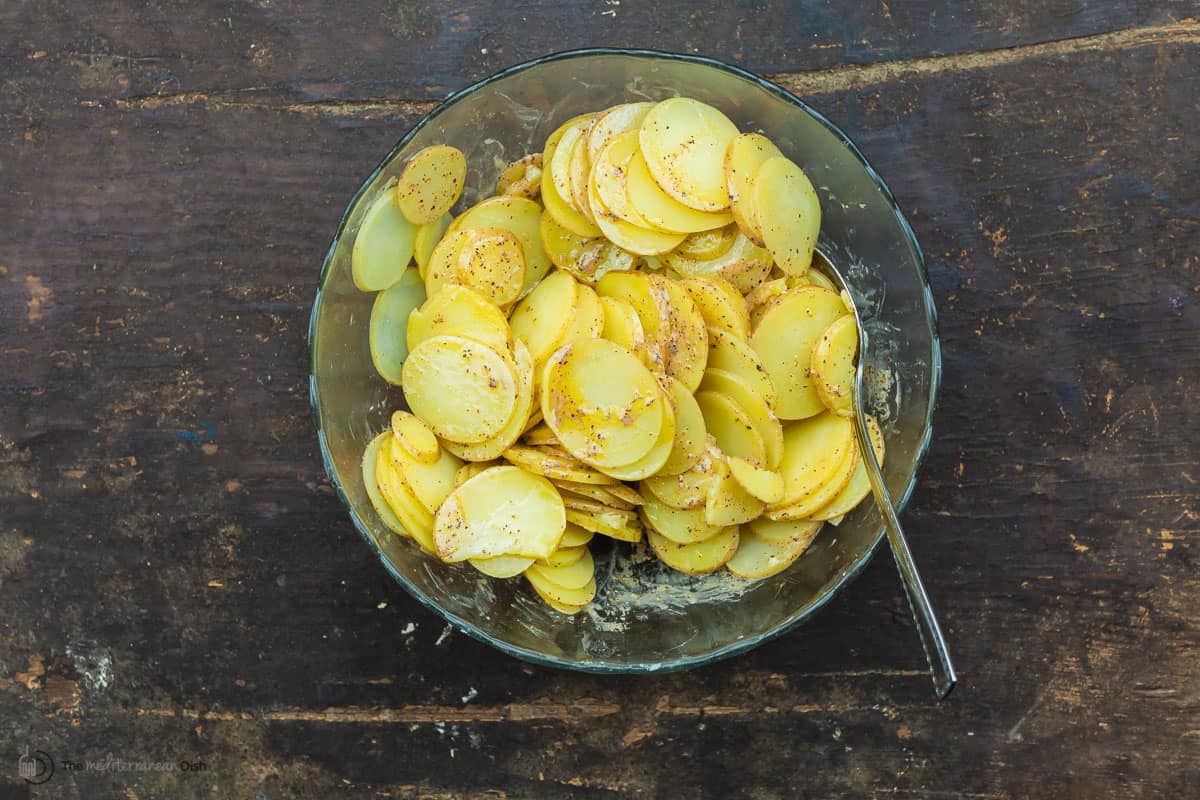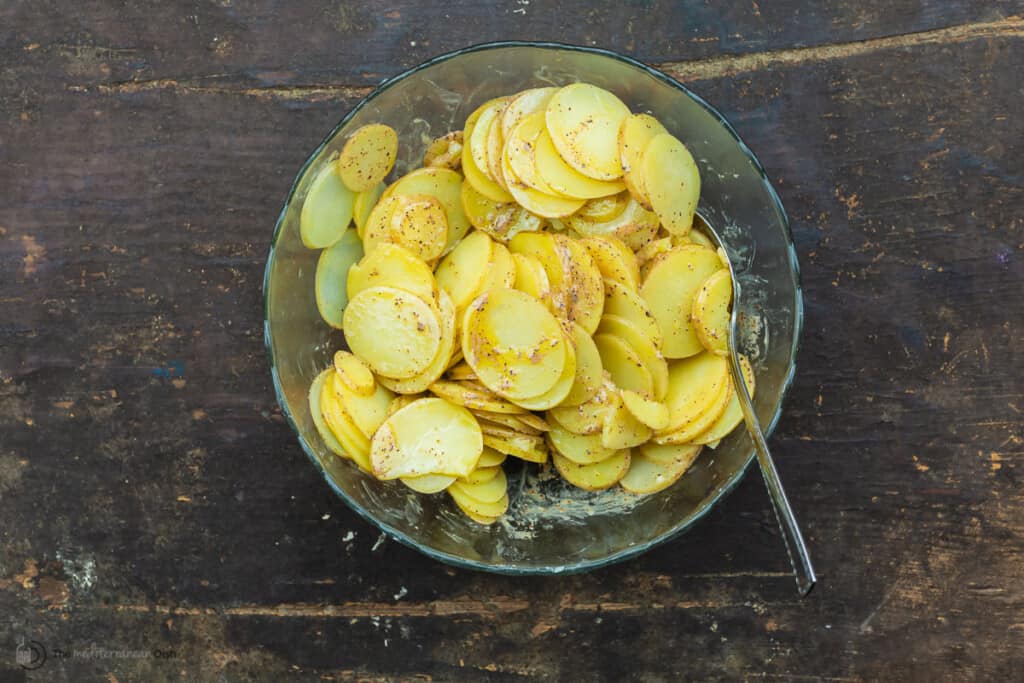 Add the rest of the ingredients. Throw in the capers, fresh herbs, and chopped onion. Toss gently to combine.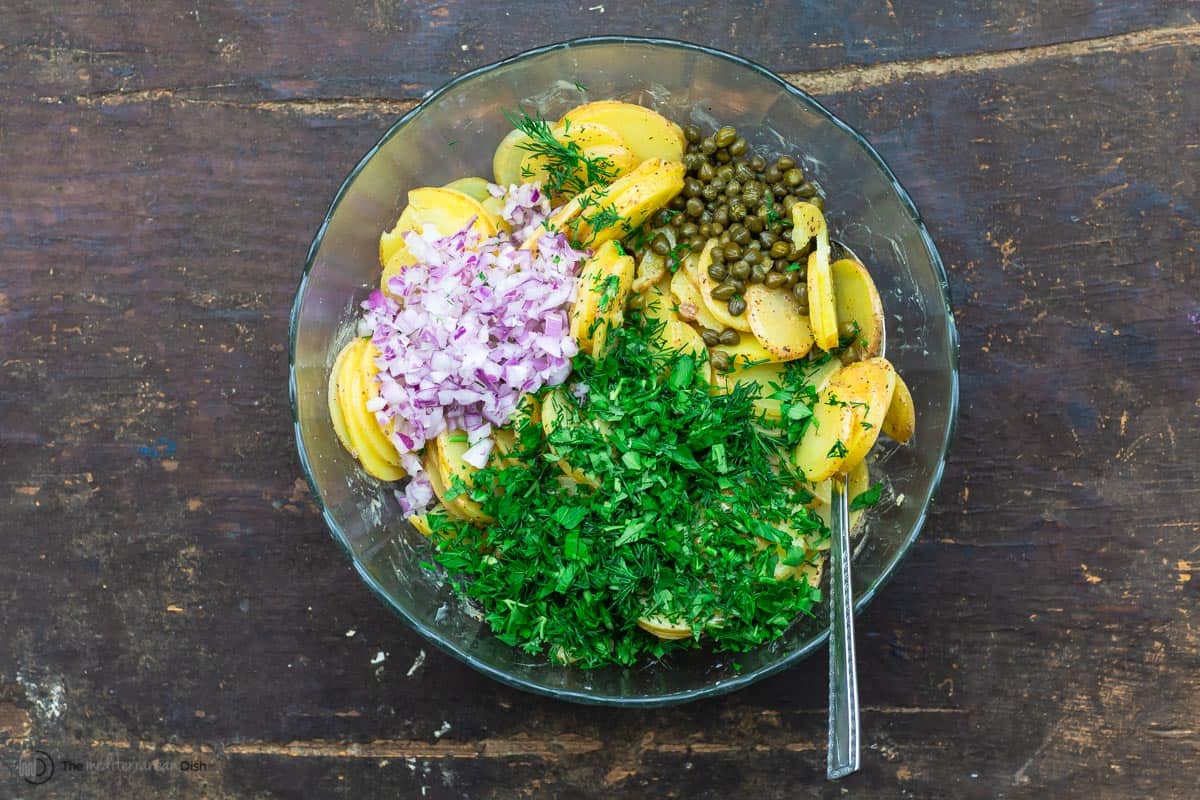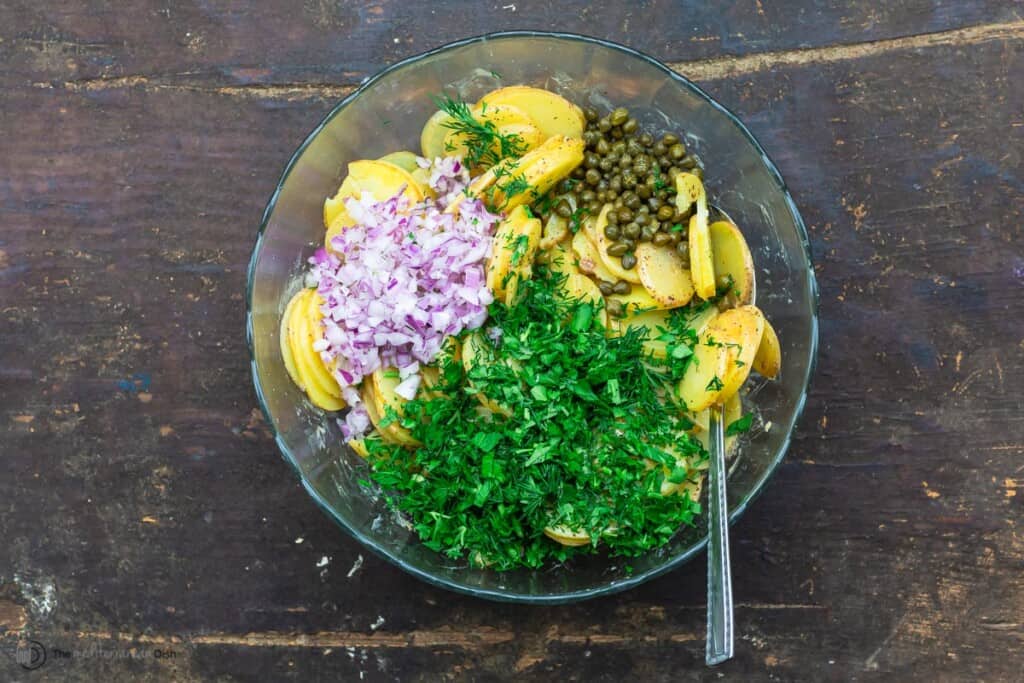 Stop. Don't eat the mustard potato salad yet. Allow some time for things to marinate and for the flavors to meld. If you like, chill for 30 minutes to 1 hour, but be sure to bring it to room temp before serving.
More comforting sides to try
Smashed Potatoes with Garlic and Za'atar
Roasted Cauliflower with Cumin and Lemon
For all recipes, visit us here. JOIN MY FREE E-MAIL LIST HERE.
Mustard Potato Salad, Mediterranean-Style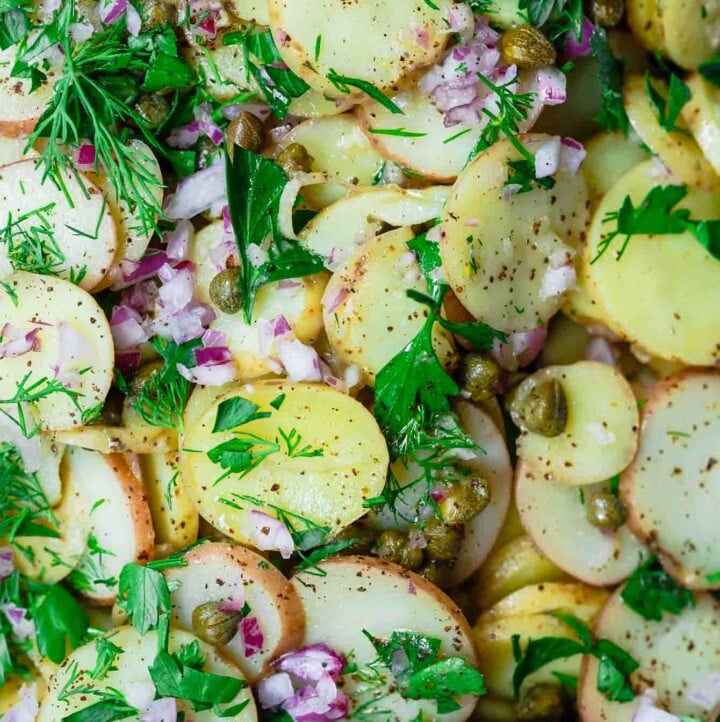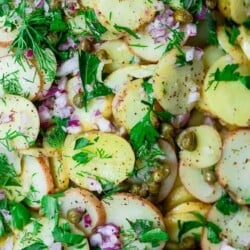 Mediterranean-style mustard potato salad with fresh dill, parsley, red onions and capers. The key to this potato salad is to dress the boiled potatoes while they're hot with the Dijon mustard dressing, this way, they will better absorb all the flavors. And for best results, allow the potato salad some time to marinate before serving.
Ingredients
1 ½

lb

small potatoes

such as new potatoes, Yukon gold potatoes, or red potatoes

Water

teaspoon

salt

¼

cup

chopped red onions

¼

cup

fresh chopped parsley

¼

cup

chopped dill

2

tablespoon

capers
Instructions
Wash and scrub the potatoes and dry them well. Slice potatoes thinly using a mandoline slicer. I used this slicer (affiliate link).

Place potatoes in a pot and add water to cover by 1 inch. Bring to a boil. Add salt. Turn the heat down and allow the potatoes to simmer for about 6 minutes or so until they're tender (you should be able to poke the potatoes with a fork).

Add vinaigrette ingredients to a small bowl and whisk until well-combined.

When the potatoes are ready, remove from heat and drain well. Place them in a large mixing bowl and immediately dress them with the Dijon mustard dressing. Gently toss to coat.

Add onions, fresh herbs, and capers. Toss gently to combine.

Transfer the potatoes to a serving platter. For best results, allow the potato salad some time to marinade before serving. You can refrigerate it for 1 hour or so but be sure to bring it to room temperature before serving.
Notes
Make-ahead instructions You can make this mustard potato salad ahead of time. Dress the potatoes with the vinaigrette but hold the onions, herbs and capers until later. Refrigerate up to 8 hours. Before serving, add the onions, herbs and capers and toss.
Leftovers can be stored in the fridge covered for 2 to 3 days or so.
Visit our Shop to browse quality Mediterranean ingredients including olive oils and all-natural spices used in this recipe.
Nutrition
Calories:
150.9
kcal
Carbohydrates:
15.8
g
Protein:
2
g
Fat:
7.2
g
Saturated Fat:
1.1
g
Potassium:
386.6
mg
Fiber:
2.2
g
Sugar:
0.9
g
Vitamin A:
271.3
IU
Vitamin C:
20.9
mg
Calcium:
15.8
mg
Iron:
1
mg
This post originally appeared on The Mediterranean Dish in 2017 and has been recently updated with new information and media for reader's benefit.