Super easy Mediterranean-style orzo recipe with zucchini and chickpeas in a tasty, chunky, garlicy tomato sauce! Fresh mint and toasted pine nuts are the perfect finish. I like to serve this as a simple vegan main, but it makes a great side to Garlic Dijon chicken; lemon chicken; lamb chops; or this tasty baked fish.
Step-by-step tutorial included below. Use whole wheat orzo, if you're on a more strict Mediterranean diet.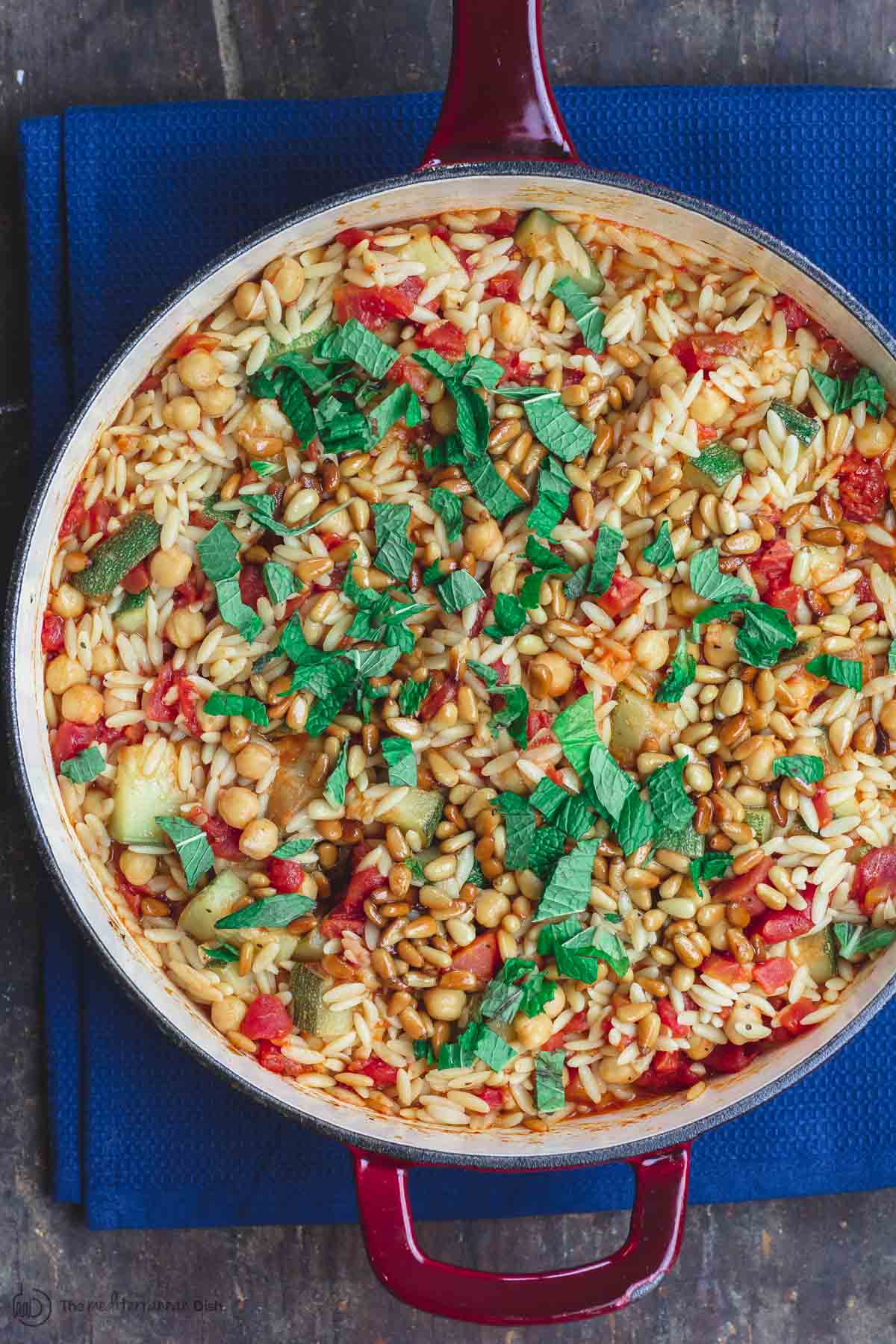 I remember the first time I made this recipe was totally on a whim and out of sheer need for a quick dinner. I had run out of time that day, and didn't have much in the fridge or pantry.
One giant zucchini from my friend Wendy's garden sat on the counter, and I decided it would have to be dinner. Rummaging through my pantry, I came out with some orzo pasta, a can of chickpeas, and some canned diced tomatoes. And so this easy vegetarian orzo recipe was born.
Like my creamy garlicky version, this delicious Mediterranean orzo recipe is perfect for a vegetarian main or side dish. And you'll see how easy it is to make in the step-by-step tutorial below.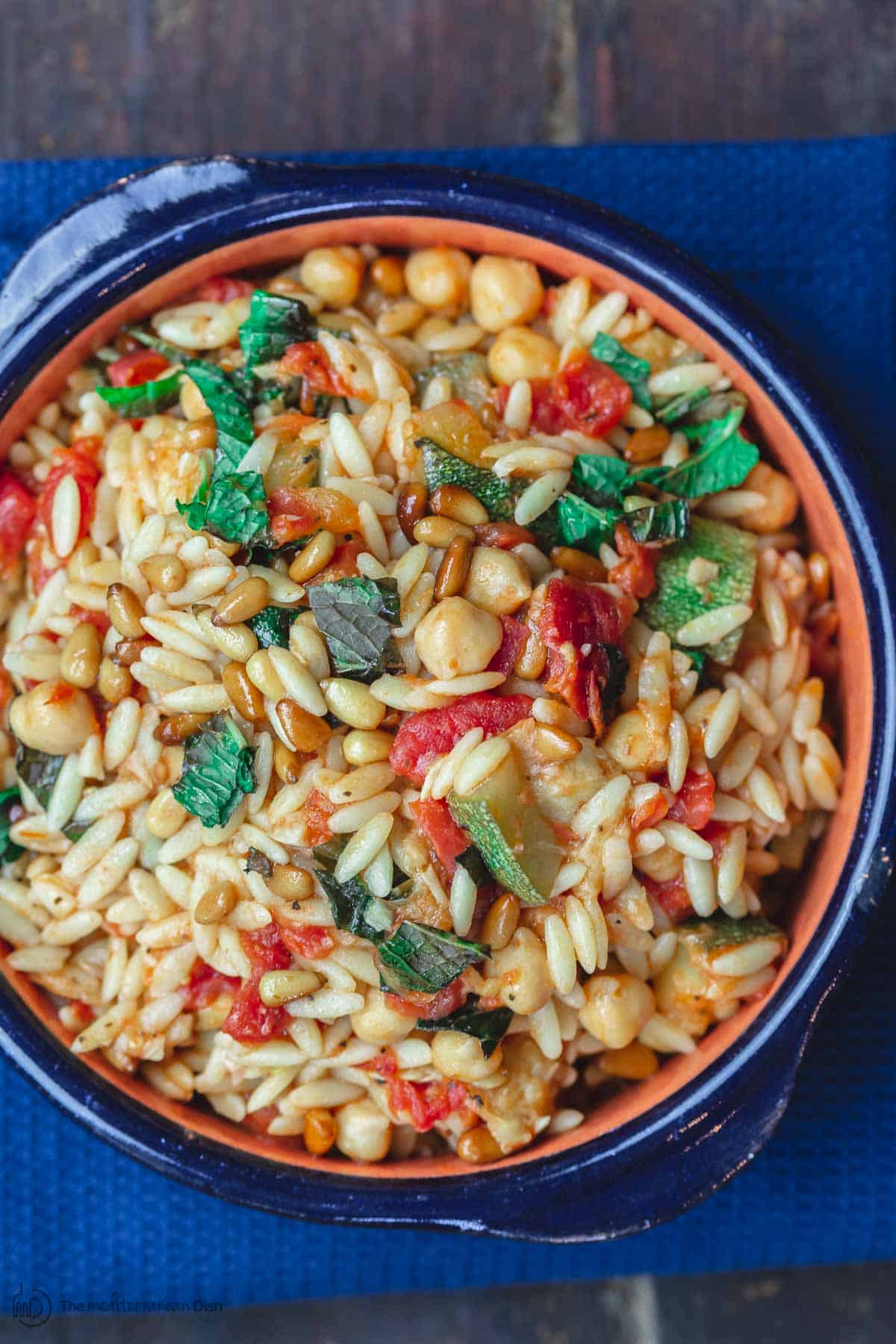 What is Orzo?
Maybe all pasta is deemed easy and family friendly, but for some reason, orzo pasta is one that totally seems to appease my family, and so I always add it to my shopping list.
If you're not familiar, orzo is a tiny rice-shaped pasta. Rice and orzo are not the same (if you're curious, check out the differences here). But, orzo is quick-cooking and super versatile, it can really be a life-saver in the kitchen. Here are just 3 orzo ideas for you, if you have not already seen them on the blog before...
Easy Orzo Recipes
1- Plain orzo makes the perfect bed to a saucy shrimp dish like this one.
2- Throw orzo in your soup the last few minutes of cooking; this Mediterranean shrimp orzo soup is a big fan favorite!
3- And if you want a hearty Greek-style dinner (the Yiayia-approved kind), make this easy baked chicken orzo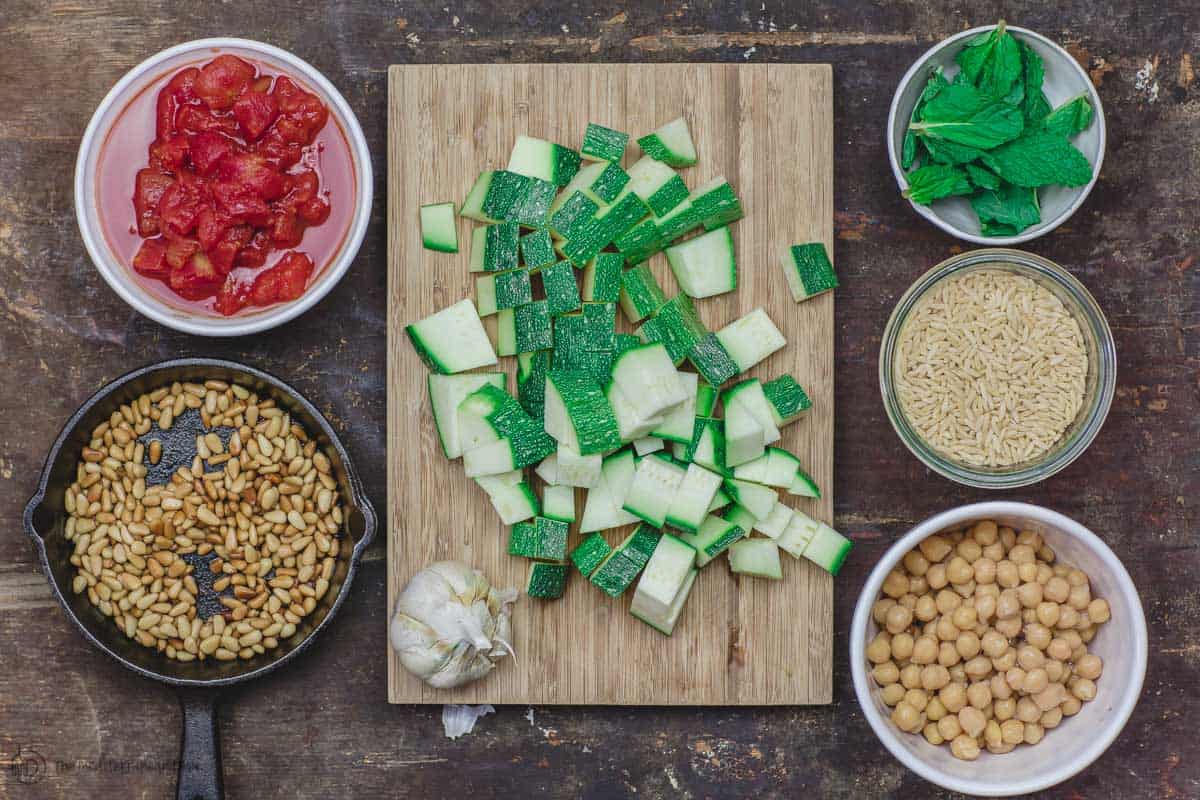 Mediterranean Orzo Recipe with Zucchini and Chickpeas
Any of the above orzo ideas are so worth trying! But today is all about this vegetarian orzo recipe with zucchini and chickpeas.
In this recipe, zucchini and chickpeas are cooked in a chunky, garlicy tomato sauce. Cooked orzo is added last-minute. We finish with a splash of lemon juice and a generous handful of fresh mint. If mint is not available to you, feel free to use parsley or basil, either will be great here.
I know I say in the recipe that toasted pine nuts are optional. They are expensive, but if you do have some, they totally add another layer of texture and nutty flavor that I really appreciate here.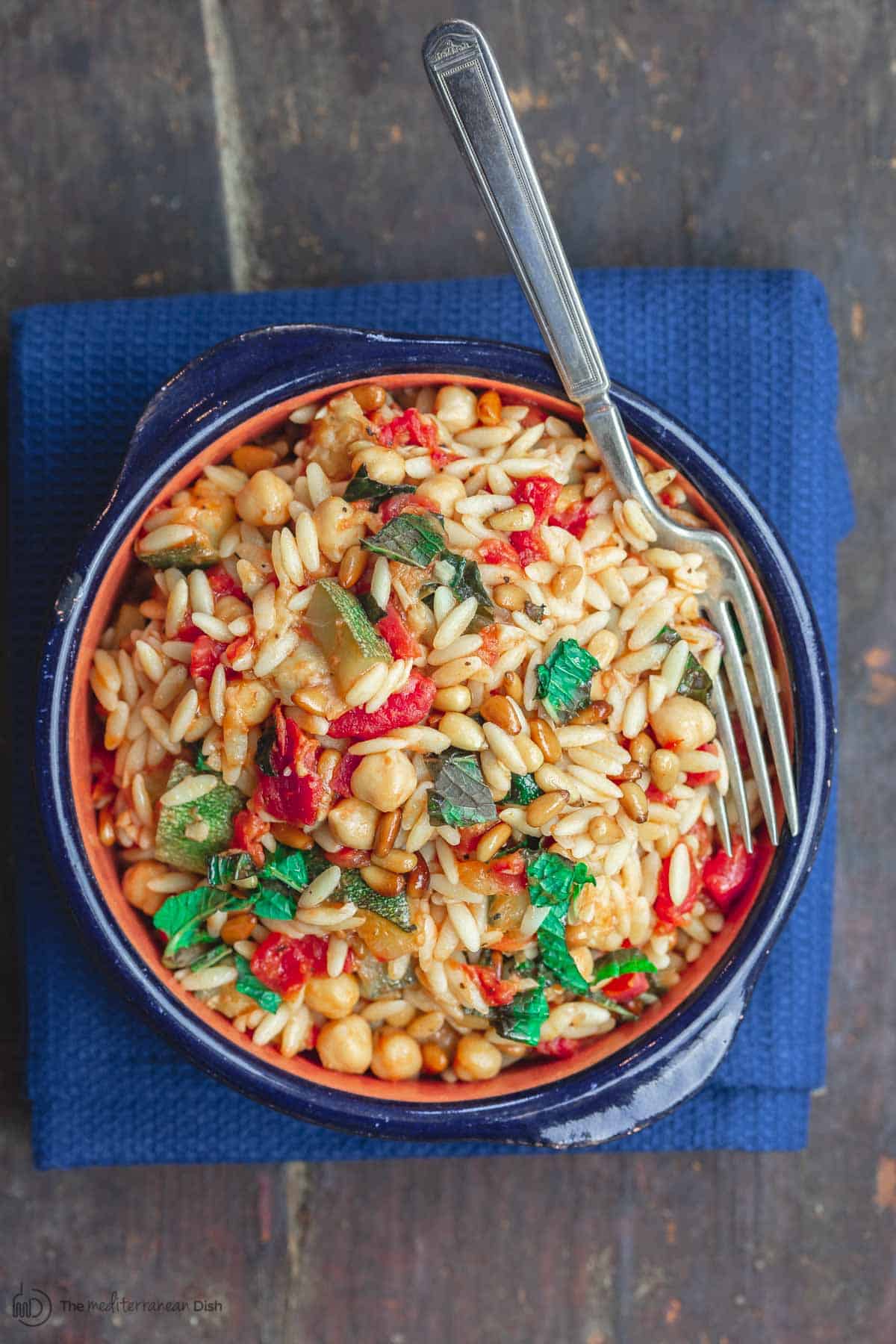 Step-by-Step for How to Make This Orzo Recipe
1. Start by making the pasta in salted boiling water according to package. Mine took about 9 minutes or so to cook. Reserve about ½ cup of the boiling water and drain the orzo. Set aside for now.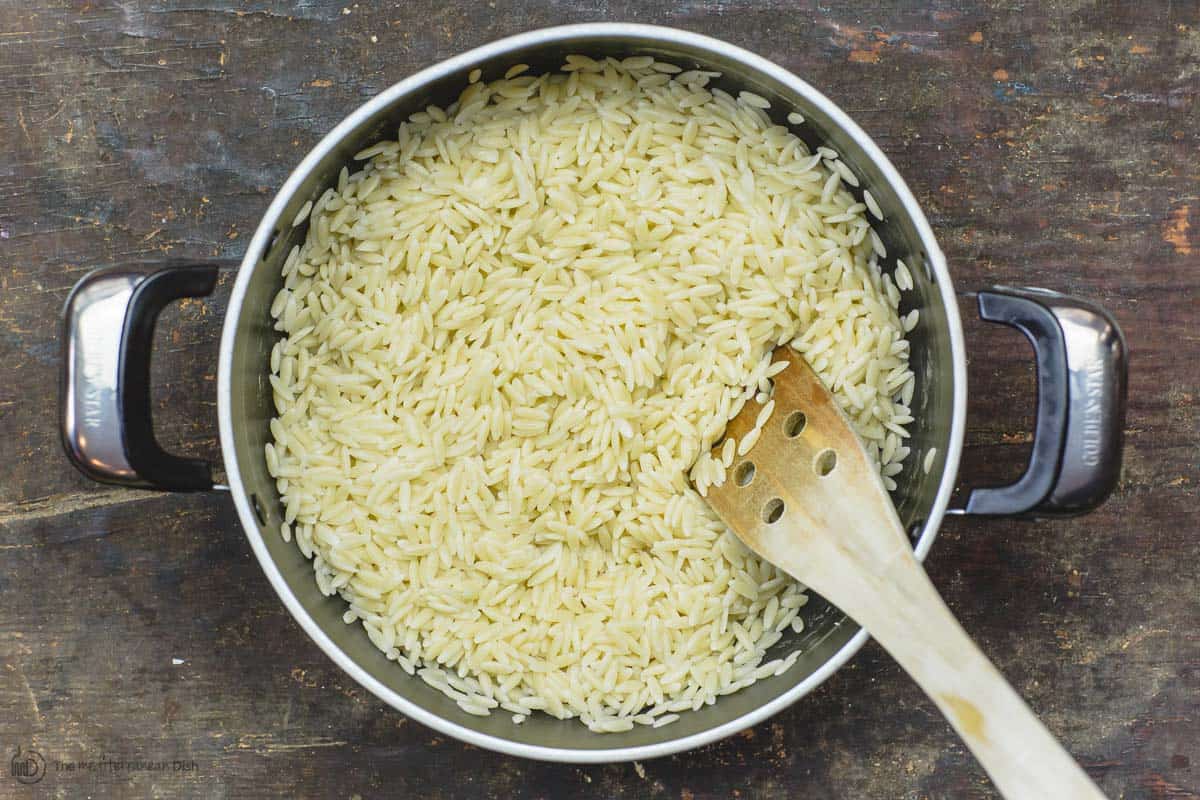 2. Saute zucchini in extra virgin olive oil for about 5 minutes or so until softened (a large braiser or deep heavy pan like this one works great!)
3. Add garlic (lots of it), tomatoes, chickpeas and spices (black pepper, paprika, coriander and cumin.) Add the little bit of pasta cooking water that you reserved earlier.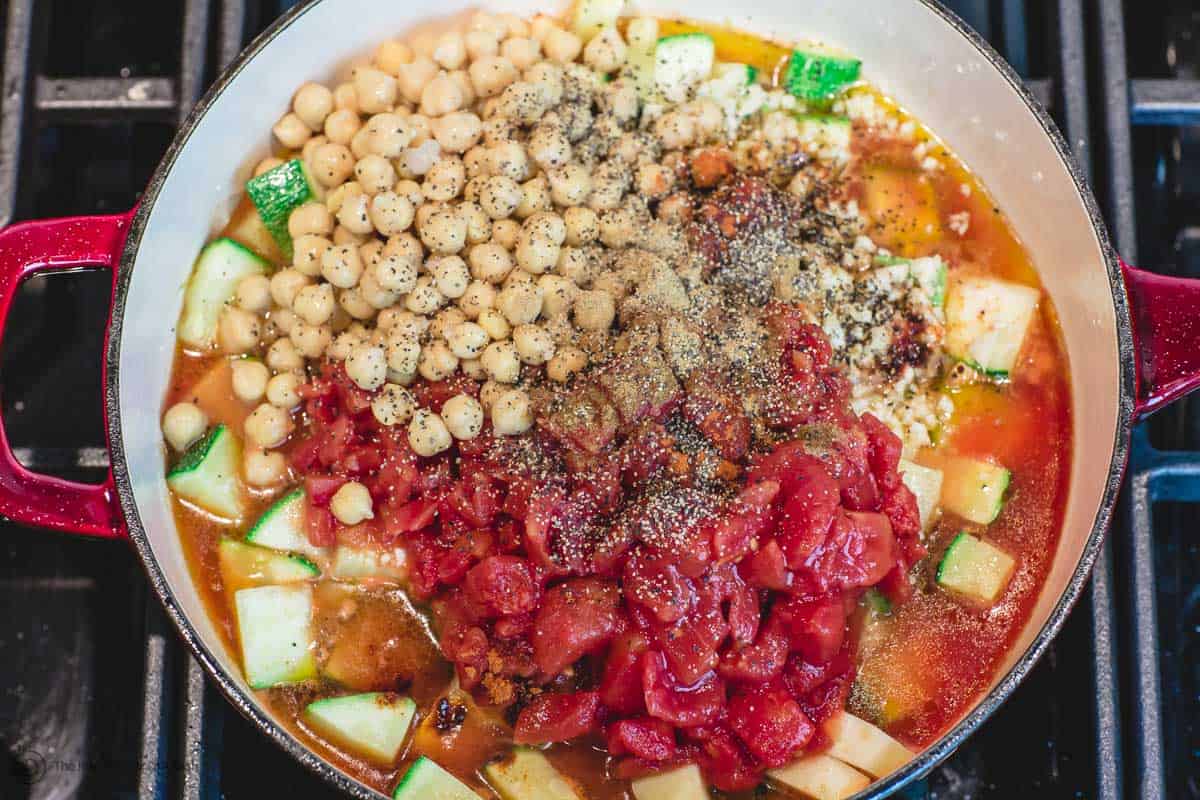 3. (continued) Bring to a boil for 5 minutes, then turn heat to low/medium-low, cover and let simmer for another 10 to 15 minutes or so. (You're looking for everything to soften and the flavors to develop.)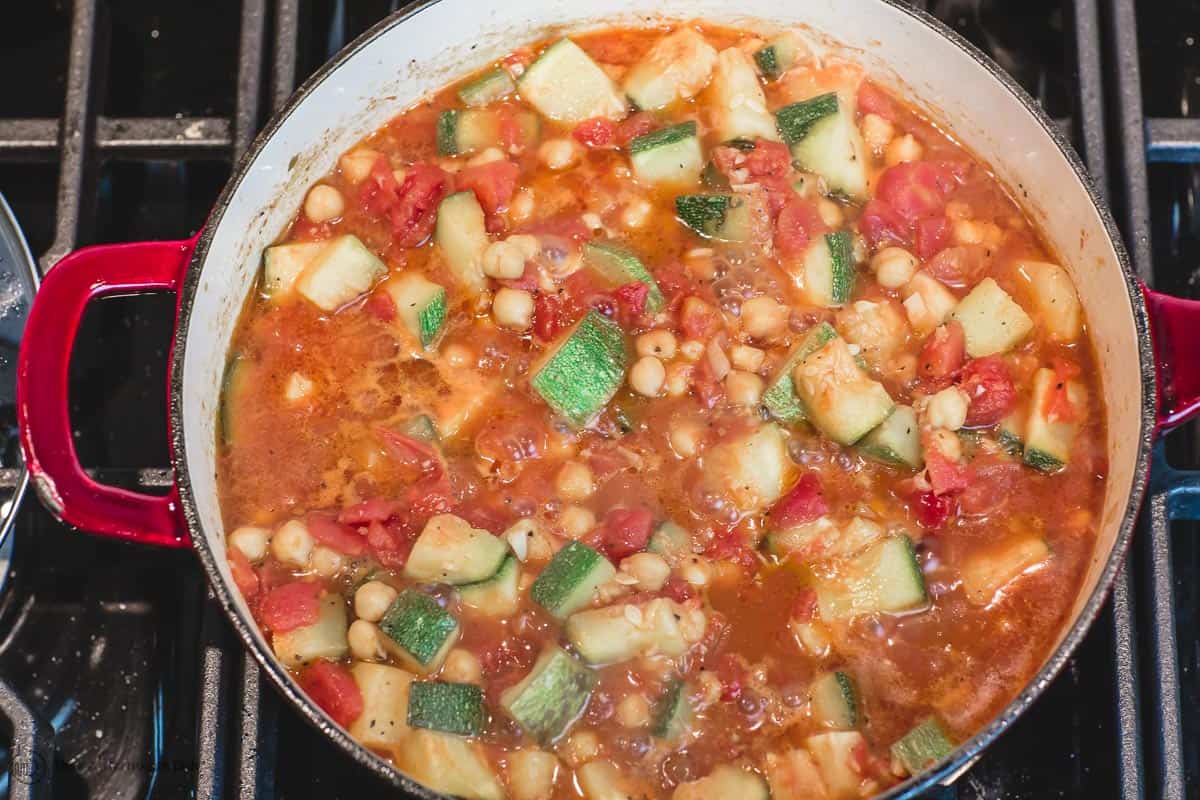 4. Add cooked pasta to the chunky mixture of zucchini, chickpeas and tomato sauce. Stir in lemon juice. Off heat, add fresh mint and, if you like, toasted pine nuts. Enjoy!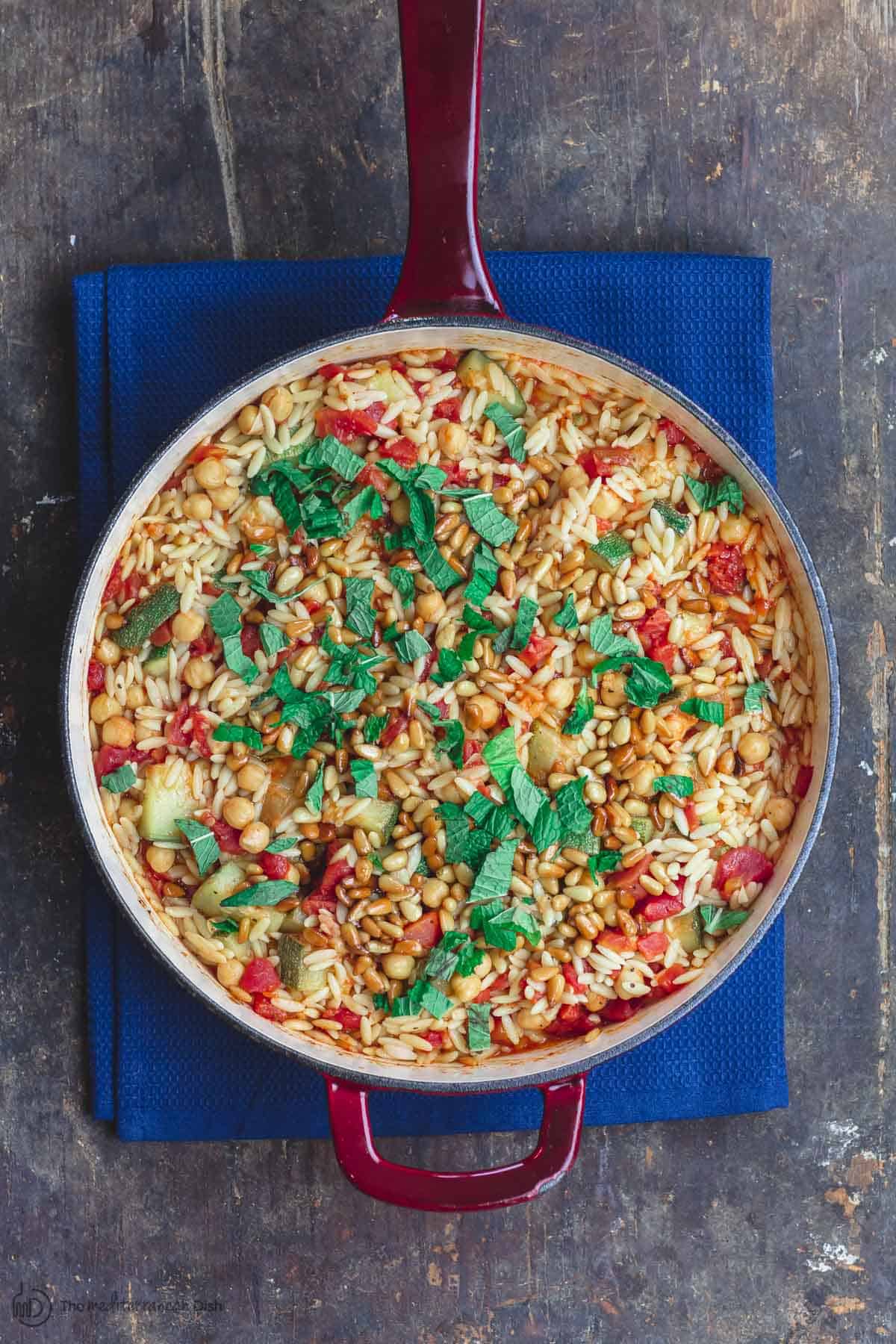 Related recipes to try
Mediterranean-Style Toasted Orzo with Parmesan and Sun-Dried Tomatoes
Baked Zucchini with Thyme and Parmesan
17 Chickpea Recipes that aren't Hummus
Browse all recipes here. Join my free e-mail list
Print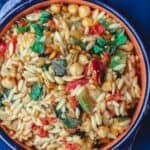 Easy Orzo Recipe with Zucchini and Chickpeas
---
Description
Super easy Mediterranean-style orzo recipe with zucchini and chickpeas in a tasty, garlicy, chunky tomato sauce. Fresh mint and toasted pine nuts are the perfect finishing touch. Serve this as a simple vegetarian main or as a side next to your favorite protein.
---
12 oz

orzo pasta
Salt
Extra virgin olive oil (I used Greek Private Reserve)

1

lb zucchini (about

3

medium zucchini), diced

10

to

12

garlic cloves, minced

28 oz

canned diced tomatoes (or

5

medium tomatoes, diced)

16 oz

canned chickpeas, drained and rinsed (or

2 cups

fully cooked chickpeas)
Black pepper

¾ tsp

sweet paprika

¾ tsp

ground coriander

½ tsp

cumin

10

fresh mint leaves, chopped
Juice of

1

lemon
Toasted pine nuts (I used more than ½ cup), optional
---
Instructions
Cook orzo pasta according to package instructions (I cooked mine in 3 qt salted boiling water for about 9 minutes). Drain, keeping about ½ cup of the cooking water. Set aside
In a large braiser or heavy pan like this one, heat 4 tbsp extra virgin olive oil over medium heat until shimmering but not smoking. Add zucchini; raise heat if needed and saute for about 5 minutes or so. Season with a little salt.
Now add garlic, diced tomatoes, chickpeas, and spices. Add the reserved pasta water. Stir to combine. Bring to a boil for 5 minutes, then lower heat, cover and let simmer for 10 to 15 minutes or so. (Occasionally check and stir together, making sure to add a little bit of liquid if needed.)
Uncover, stir in already cooked orzo pasta. Add lemon juice and stir again. Cook briefly until pasta is just warmed trough (a minute or 2.)
Remove from heat and stir in fresh mint. Top with lots of toasted pine nuts. Enjoy!
Notes
Cook's Tip for Leftovers: Let any leftovers cool before storing in the fridge in a tight-lid container. If properly refrigerated, this zucchini orzo dish will keep 3 to 4 days. You can enjoy it cold or at room temperature. You can also warm it up a little bit over medium-heat; add a little a tiny bit of water and break up the pasta, if needed, as it warms through.
Use whole wheat orzo pasta, if you are following a more strict Mediterranean diet.
Recommended for this Recipe: Our Private Reserve Greek extra virgin olive oil (from organically grown and processed Koroneiki olives). And from our spice collection: paprika, coriander, and cumin.
Visit our store to browse our spices, olive oils and bundles!
Prep Time:

10 mins

Cook Time:

25 mins

Category:

Sides

Method:

Stove Top

Cuisine:

Mediterranean
Keywords: Orzo recipe, Orzo with Vegetables, Vegetarian Orzo Recipe
*This recipe was recently updated with new information and media for readers' benefit. Enjoy!