Peaches practically dripping with sunshine yield to creamy goat cheese and the subtle bite of a Dijon vinaigrette in this peach salad recipe that embraces summer in every single bite! This colorful peach salad comes together in minutes and is certain to be a fan favorite in your home.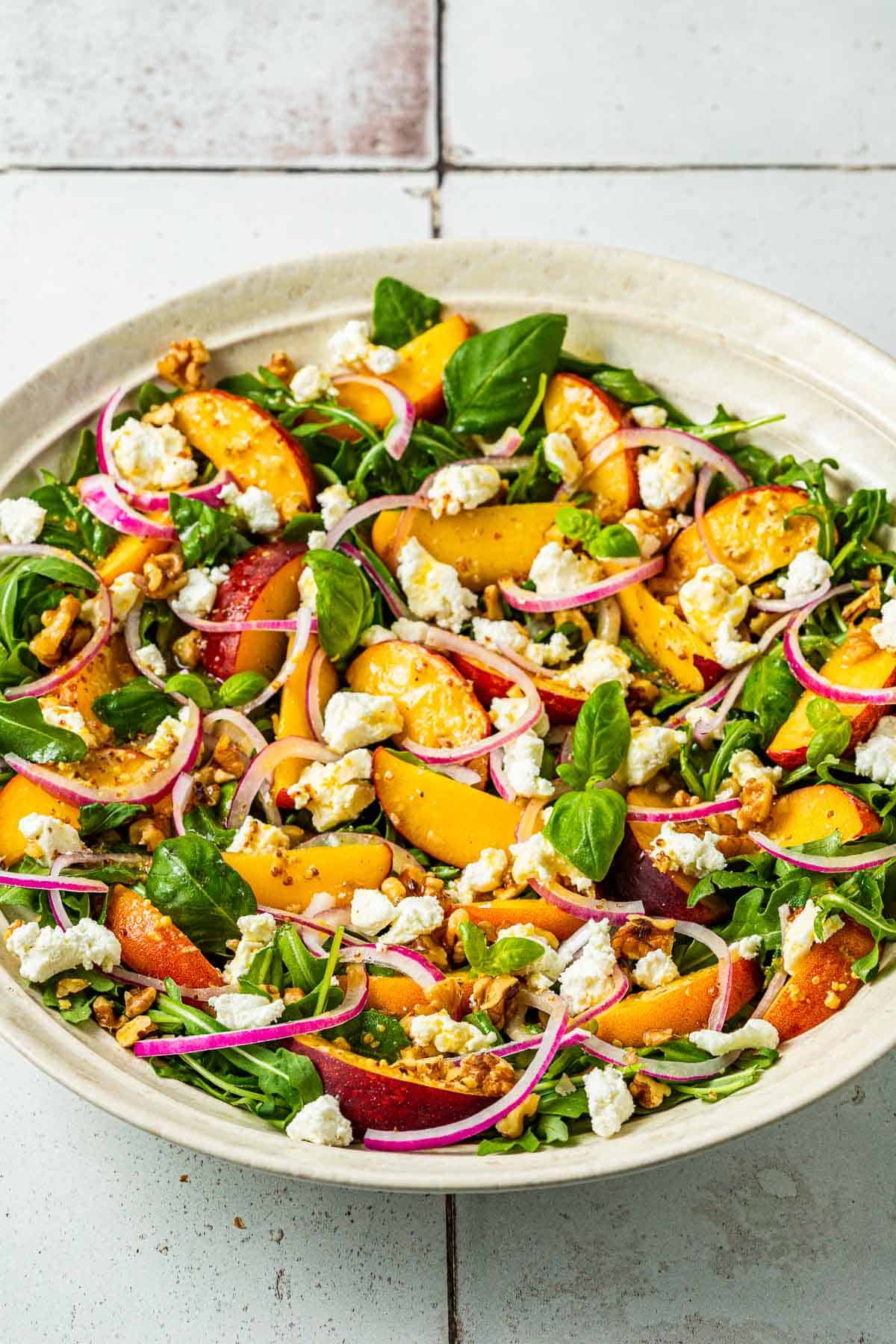 If summer in Italy were a food, it would be this peach salad. Like the Caprese or Panzanella, it celebrates the season's summer bounty, including aromatic basil and delicately sweet peaches.

An unlikely pairing? Perhaps, but once you try it I'm sure you'll fall in love with the sweet, tangy, and creamy combination that will have you dreaming of the Mediterranean.
Basil is an easy Italian ingredient to spot. As for peaches, well, Italy is one of the world's largest producers of the juicy stone fruit thanks to its mostly mild climate and mineral-rich soil.

Then there's the arugula that adds a touch of peppery spice. Finally, a crumbling of goat cheese hailing from the Piedmont region that's slightly pungent and blissfully buttery. Top it all off with a drizzle of lemon and honey vinaigrette and…benvenuto in Italia!
Table of Contents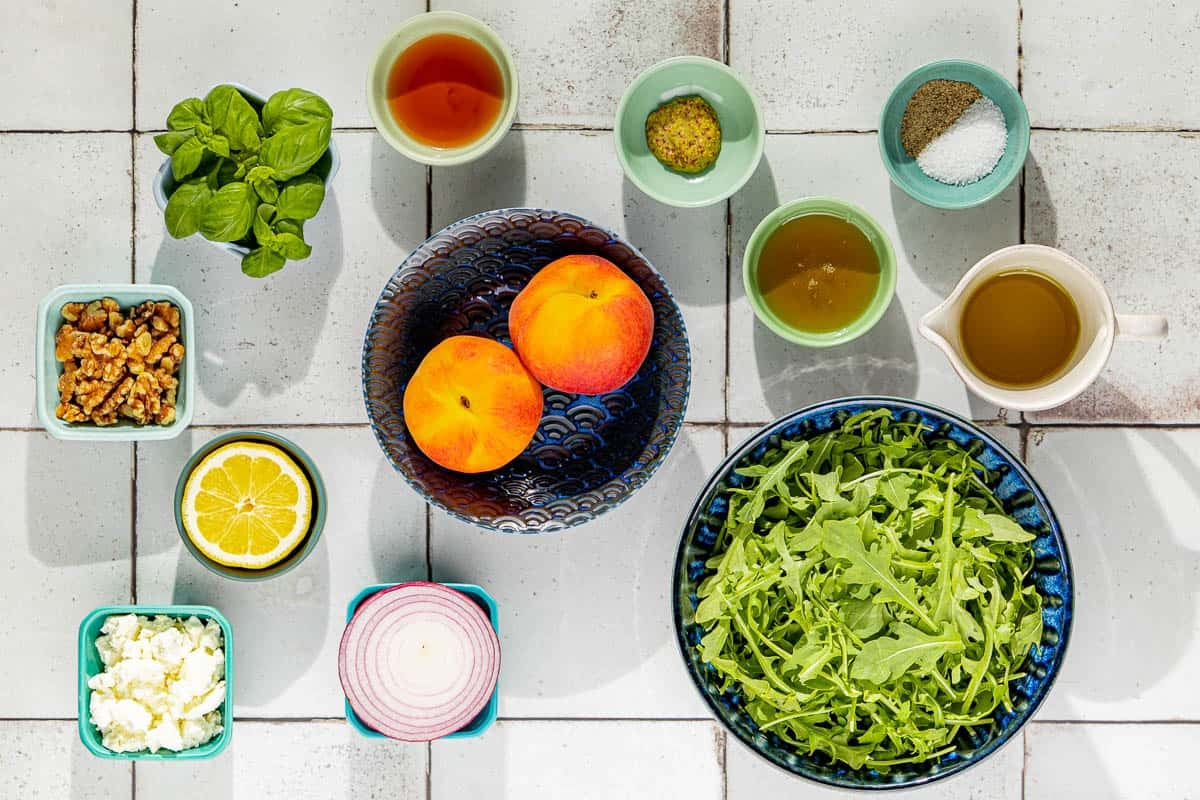 Peach Salad Ingredients
This peach salad recipe is best in the summertime when the peaches are juicy and the basil is vibrant. To make it, grab:
Arugula: Arugula is a green typically used in salads that's actually a weed from the mustard plant family, Brassicaceae. It has a bitter, peppery flavor that really stands out against the sweeter ingredients in this recipe.
Basil: Genovese basil is probably the most well-known Italian basil. You'll see it on pizzas, in pasta sauces, and most famously pesto. It's also used as a green in salads where its notes of mint and clove are most noticeable. Any large-leaf sweet basil will also work.
Peaches: This fleshy stone fruit is available in a variety of colors and textures. This salad recipe calls for yellow peaches with a sweet, medium-firm flesh.
Onion: Red onions are perfect for enjoying raw since they are milder than other varieties and have a subtly sweet taste. And it just so happens that their magenta hue adds a stunning pop of color to this salad.
Goat cheese: Any goat cheese you have on hand will do, and chevre is commonly found in well-stocked supermarkets, but I love Tronchetto di Capra, a goat cheese from the Piedmont region of Italy. Its relatively brief aging tones down the pungent aroma while creating a buttery texture that adds a creaminess to this salad and brings out the sweetness in the peaches.
Walnuts: Walnuts are a fairly mild nut so substitutions are welcome but I wouldn't leave this element out because it adds a pleasant crunch.
Vinaigrette: The lemon and honey dressing mimics and enhances the tartness in the cheese and arugula and the sweetness of the peaches. Dijon mustard adds a touch of spice while acting as an emulsifier that encourages the extra virgin olive oil and red wine vinegar to stay together. Salt and black pepper enhance the flavor.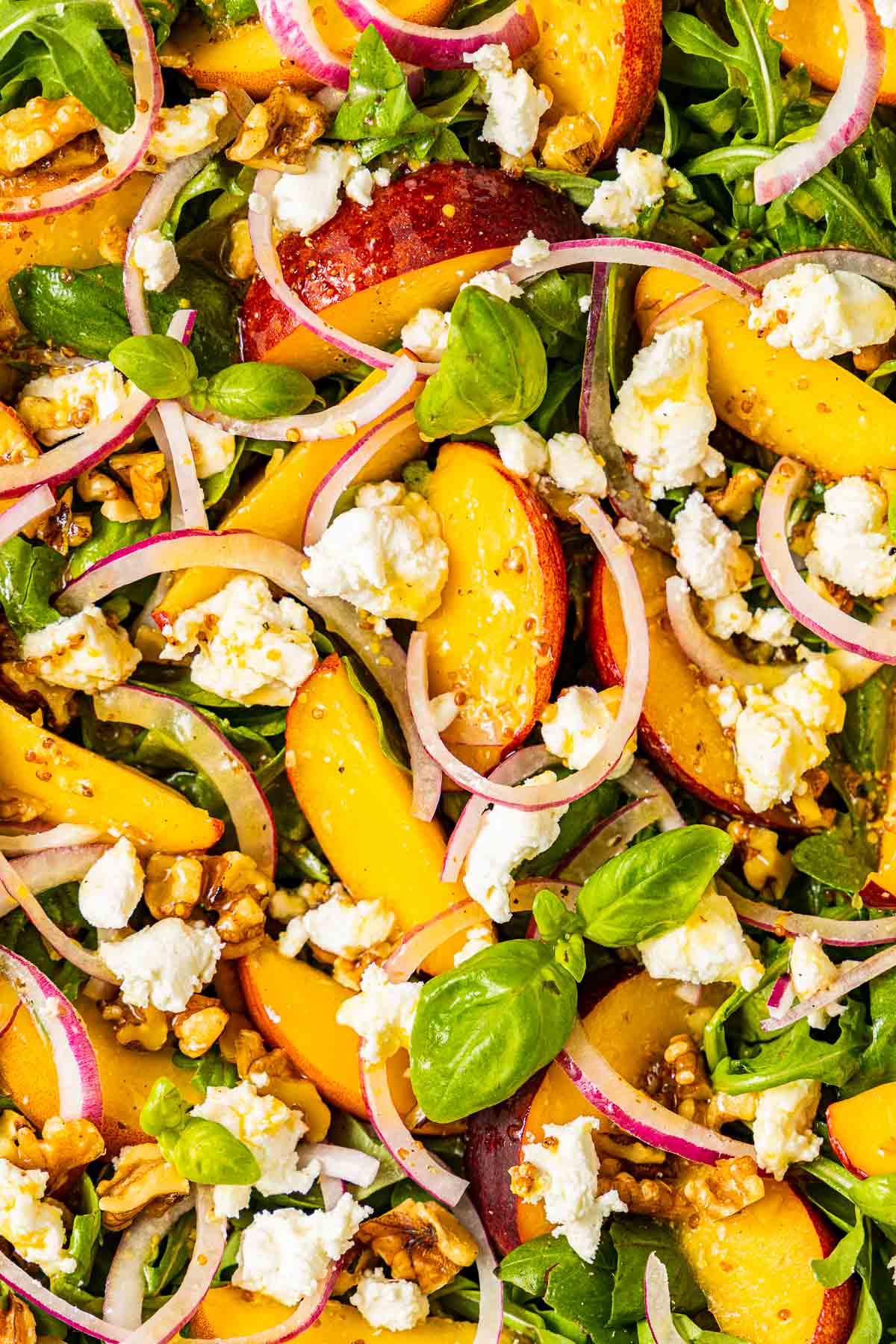 How To Make Peach Salad
This peach salad comes together in under 20 minutes and tastes best right after it's made. Throw this easy recipe together right before you're ready to enjoy it. To make this peach salad recipe:
Make the vinaigrette dressing: This is an easy, yet delicious vinaigrette dressing. The key is to whisk the ingredients until fully combined and emulsified. Whisk together 2 tablespoons lemon juice, 1 tablespoon red wine vinegar, 6 tablespoons olive oil, 1 teaspoon Dijon, and 2 tablespoons honey. Season with ½ teaspoon of kosher salt and black pepper to taste.
Prepare the peaches and onion: Slice 2 ripe yellow peaches, discarding their pits. For the onion, remove the skin and cut it in half. Save one half for another use, like Focaccia Sandwiches. Slice the second half lengthwise into ¼-inch thick slices.
Arrange the arugula and basil: Spread 2 packed cups of arugula into a shallow serving platter. Layer in ¼ loosely packed cup of basil.
Top the greens: Evenly arrange the peaches and onions over top. Crumble on 2 tablespoons of goat cheese, and sprinkle with ¼ cup of chopped walnuts.
Add the dressing: When ready to serve, lightly dress the salad with the vinaigrette dressing, tossing gently. Or, dress each serving individually.
Taste and serve: Since everyone's tastes differ, taste the dressed salad and adjust where needed. An extra sprinkling of salt or a drizzle of honey can make all the difference. Once dressed, serve immediately.
How to Cut a Peach
To cut a peach, hold it so that the stem is pointing upwards. Insert a paring knife into the flesh at the center until you hit the stone. Turn the peach in a circle, stopping when you reach your original cut entry point. Gently pull the peach apart, twisting gently, if needed.
To remove the stone from the peach, pinch the pit with your thumb and index finger and pull it out. To slice the peach, use a small spoon to scrape away any stone remnants. Turn it so the center is faced down and, using a small, sharp knife, make even, lengthwise cuts, about ¼ to ½ inches each.
Peach Salad Variations
Peaches and basil are the stars of this dish so I recommend you give them a try if they're in season. Depending on the time of year and what you have on hand, you may need to substitute here and there to make a similar deliciously sweet and savory salad. Here are a few ideas:
Substitutes for arugula: Radicchio, dandelion greens, and endive all have a similar peppery flavor profile. For a more mild substitute, baby spinach works well.
Substitutes for the peaches: Ripe melon, such as Tuscan-style cantaloupe, offers a similar sweet and fleshy taste.
Substitutes for the Tronchetto di Capra: Any mild goat cheese or even feta cheese would pair well with the other ingredients. If you prefer a less tangy cheese, burrata cheese is a delicious choice.
Substitutes for the walnuts: Pine nuts, pecans, or almonds are similarly crunchy and buttery.
Add richness: For an extra layer of creaminess, try topping the salad with a few slices of ripe avocado.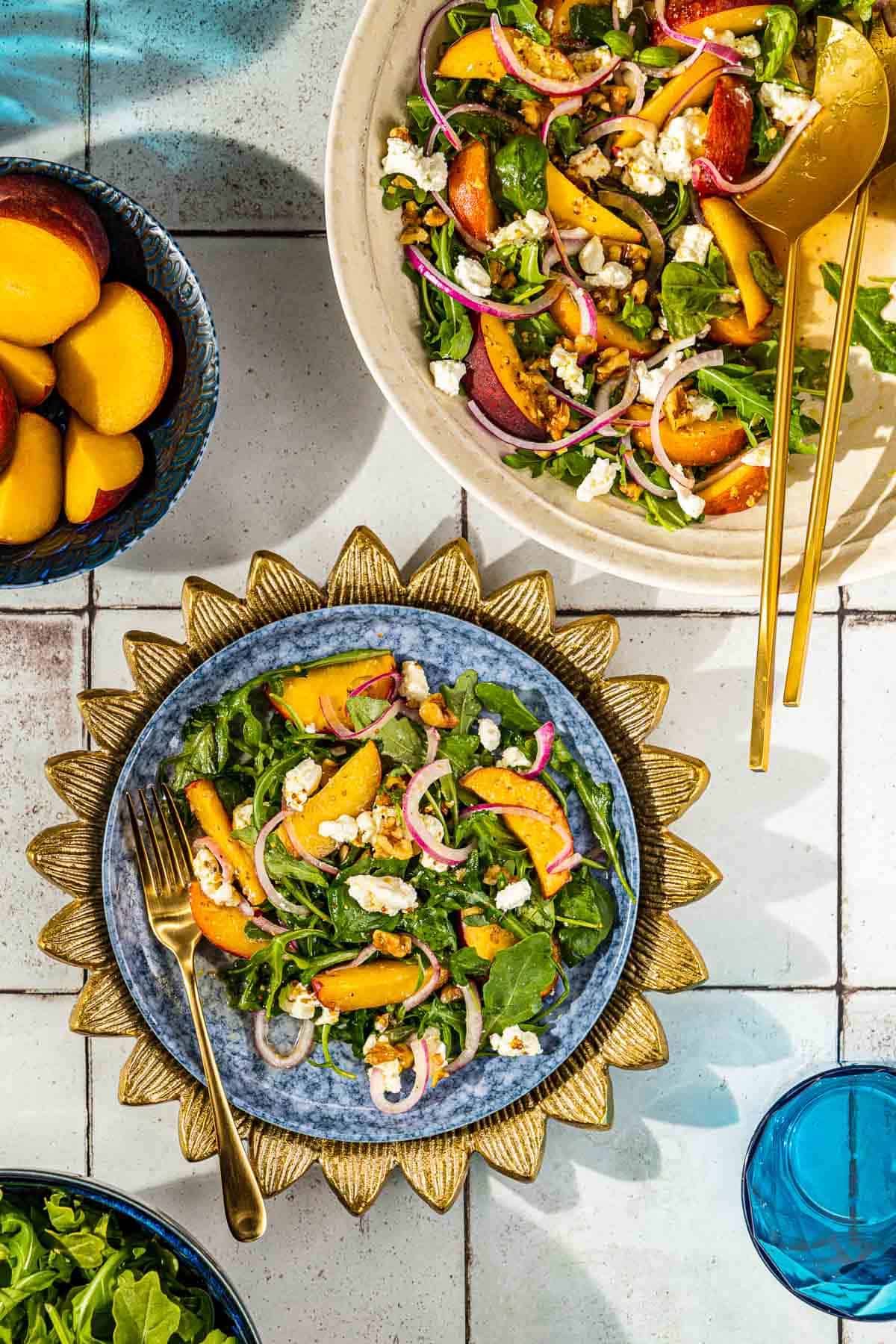 Making Ahead
This salad is best served immediately after you make it. Luckily it comes together within minutes! To get ahead, prepare the vinaigrette dressing up to 3 days in advance. Keep refrigerated in an airtight container and let sit at room temperature for 15-20 minutes before using.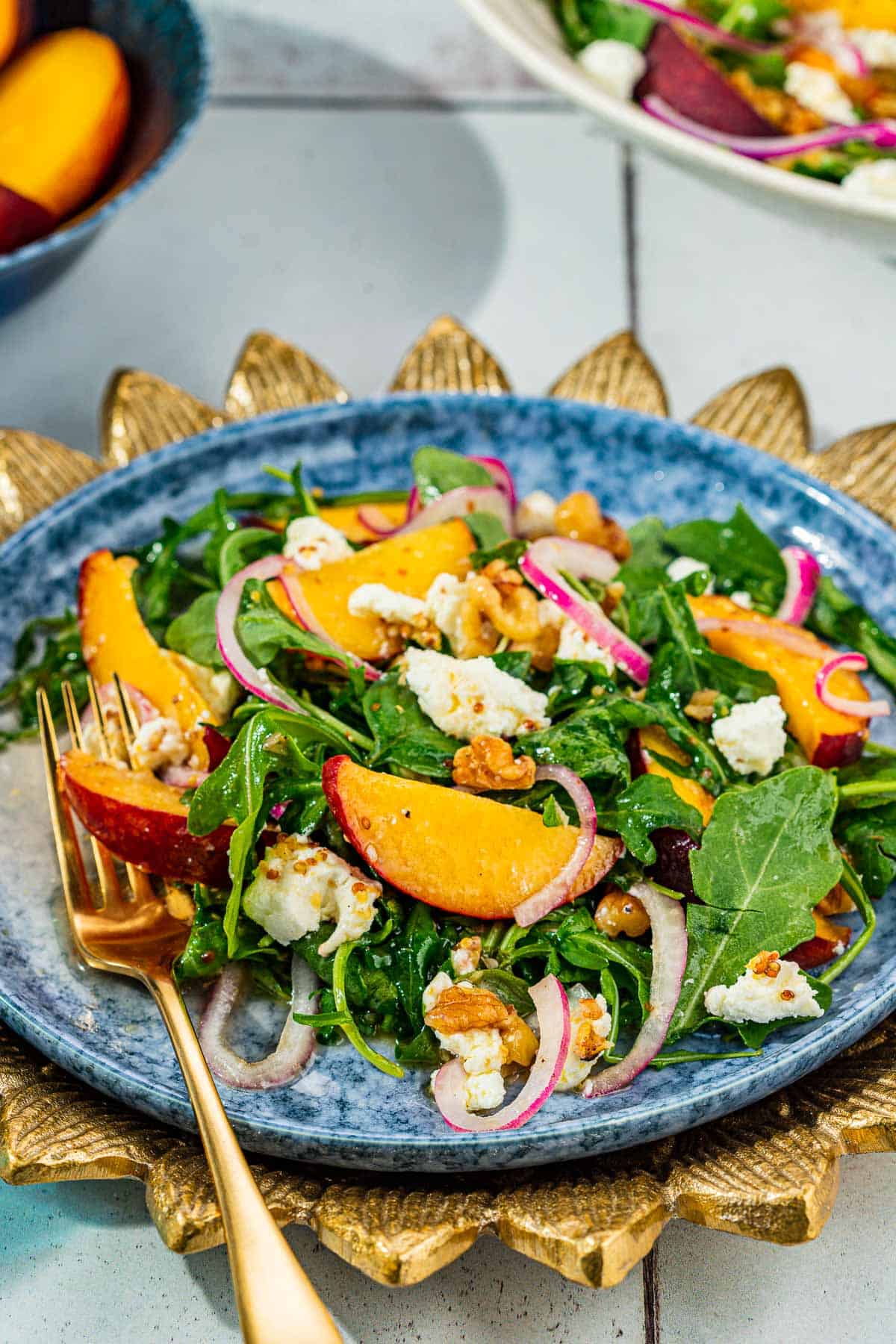 What To Serve With Peach Salad
This peach salad has so many flavors and textures that it really is a light meal in itself. However, it's not particularly filling so a carb would help round it out.

Some of our favorite choices include freshly baked focaccia drizzled with olive oil, our easy lemon pasta, or this northern Italian chickpea pancake.
Sweet and Savory Summer Salad Recipes
Browse all Mediterranean recipes.
Visit Our Shop
Bundle and Save!
Four of our best-selling signature olive oils, perfect for everyday use.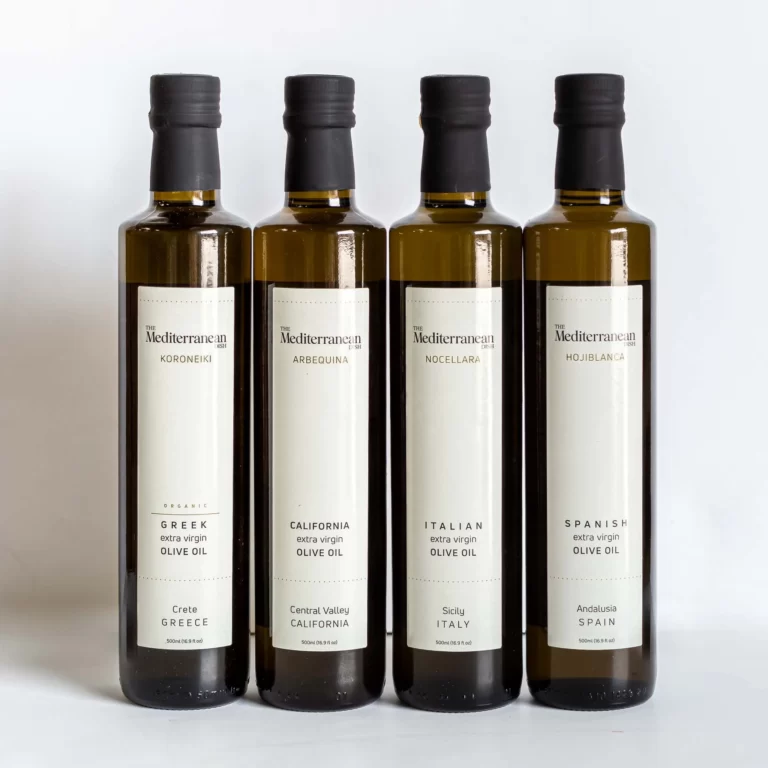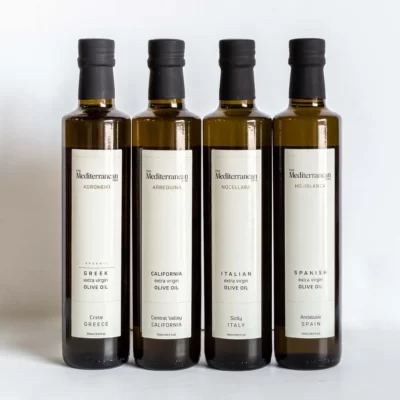 Peach Salad with Basil and Goat Cheese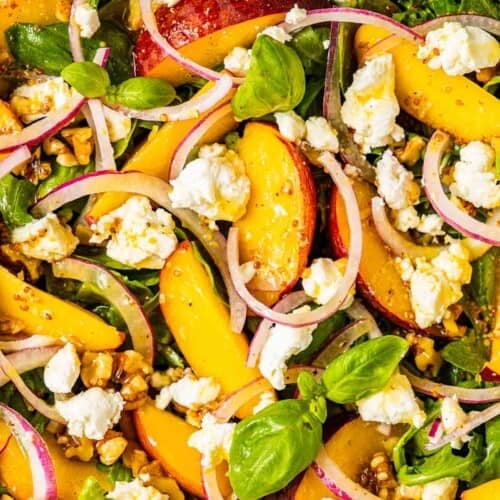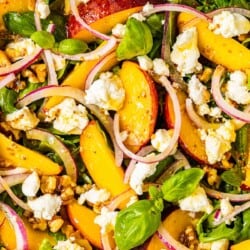 Juicy sweet peaches, tangy goat cheese, savory onions, crunchy walnuts, and fragrant arugula come together for a simple summer salad recipe that's layered with so much delicious flavor and texture.
Ingredients
2

ripe yellow peaches,

sliced

½

small red onion,

thinly sliced

2

firmly packed cups arugula

¼

loosely packed cup basil leaves

2

tablespoons

Tronchetto di Capra cheese

or other mild goat cheese, crumbled

¼

cup

walnuts,

roughly chopped
For the dressing:
2

tablespoons

lemon juice

1

tablespoon

red wine vinegar

6

tablespoons

extra virgin olive oil

1

teaspoon

Dijon mustard

2

tablespoons

honey

½

teaspoon

kosher salt

Black pepper,

to taste
Instructions
Make the vinaigrette. In a small bowl, whisk together the lemon juice, vinegar, olive oil, Dijon mustard, honey, salt, and pepper. Set aside.

Layer the greens. Layer the arugula and basil in a shallow serving bowl or platter.

Add the remaining ingredients. Evenly arrange the peaches, onions, goat cheese, and walnuts over top.

Finish and serve. Dress the salad to taste. Enjoy immediately.
Nutrition
Calories:
326.8
kcal
Carbohydrates:
19.5
g
Protein:
3.7
g
Fat:
27.6
g
Saturated Fat:
4.4
g
Polyunsaturated Fat:
5.8
g
Monounsaturated Fat:
16.4
g
Cholesterol:
3.2
mg
Sodium:
344.6
mg
Potassium:
203.8
mg
Fiber:
2.1
g
Sugar:
16.2
g
Vitamin A:
636.3
IU
Vitamin C:
8.9
mg
Calcium:
44.3
mg
Iron:
1
mg