With only three ingredients and no cooking, this prosciutto and melon appetizer is one of the easiest, amazingly delicious summer dish! You can make it in about 5 to 10 minutes, and you'll love the flavor combination of sweet, ripe cantaloupe and salty prosciutto ham. And the presentation is company-worthy!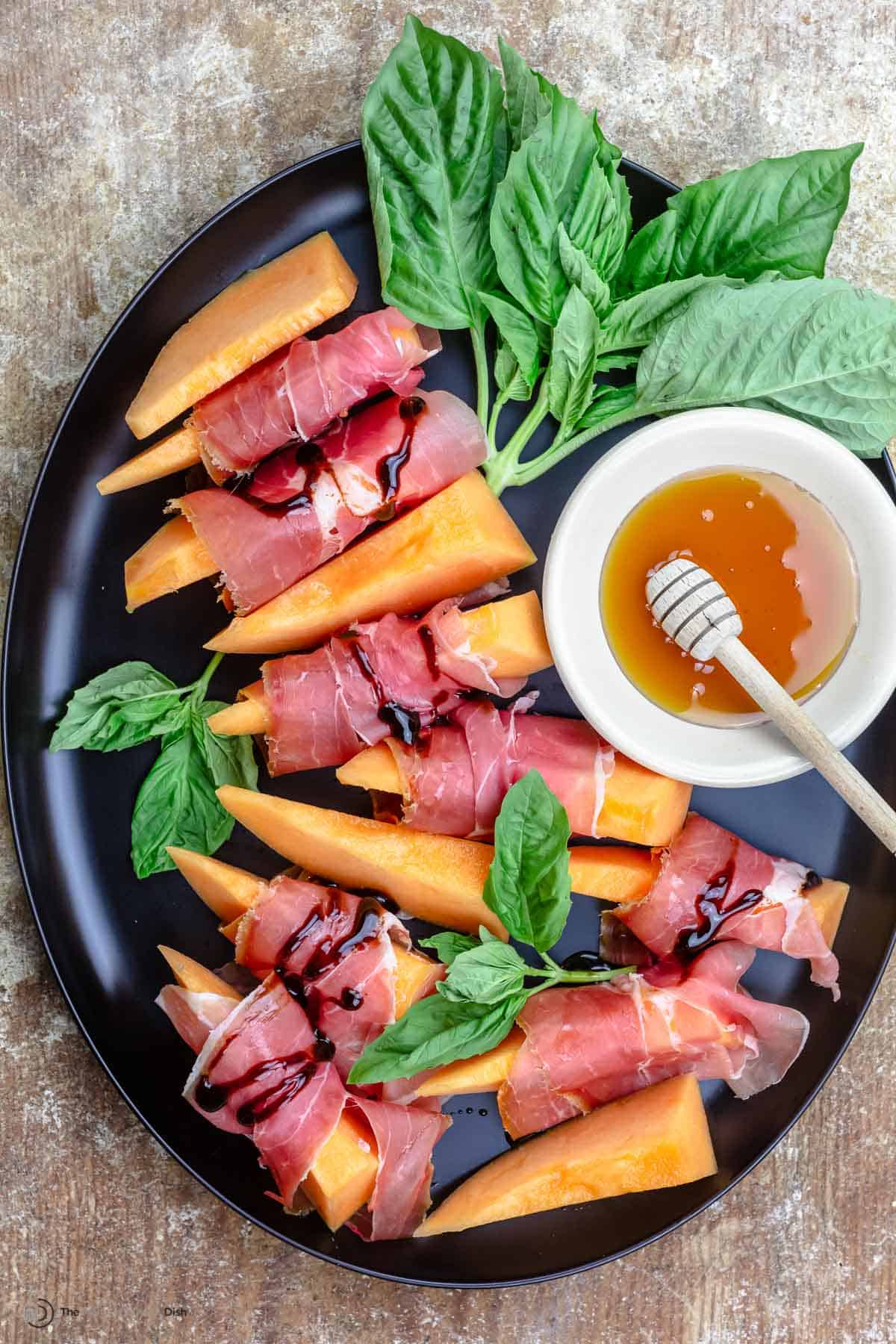 As someone who develops recipes for a living, some of my favorite things to eat are not exactly "recipes." They are more ideas than recipes, but they are too delicious not to share. Things like a mezze platter with white bean hummus, fresh veggies, and pita chips; antipasti skewers with mozzarella and olives; or even something much simpler like this prosciutto and melon, all fall under that category of delicious ideas worth sharing.
The Italians call it prosciutto e melone, an idea that's been around some 3000 years! And you'll love the mouthwatering combination of flavors that requires zero cooking and literally 3 ingredients to make (4 with fresh herb garnish).
So today, we talk about prosciutto e melone, a mouthwatering combo that requires no-cooking and literally three ingredients and a little garnish.
What fruit goes best with prosciutto?
People of the Mediterranean, and I will say particularly in Italy, have been pairing sweet, perfectly ripe fruit with salty, cured meats for quite some time. Figs, pairs, apples, and melons (or cantaloupe) are among the fruits that pair very well with prosciutto. I went with sweet, ripe cantaloupes this time.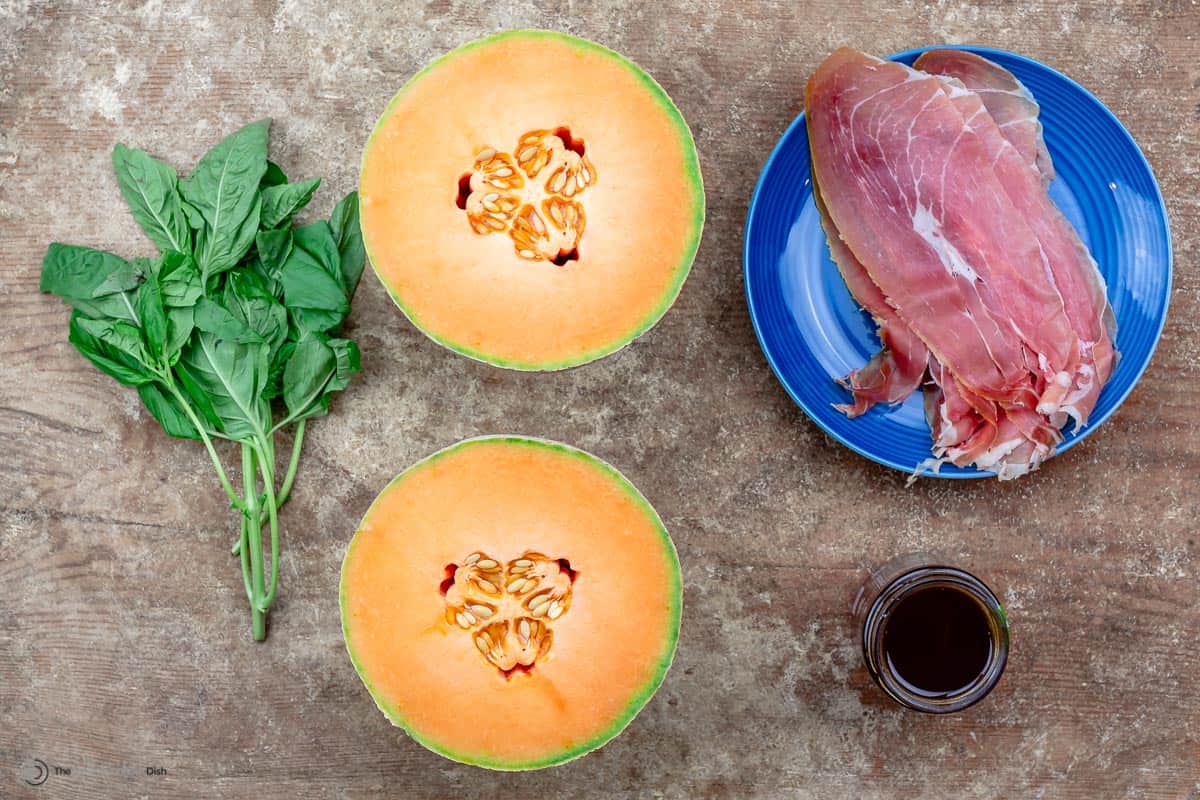 What you'll need
You only need a handful of ingredients to make this refreshing summer appetizer, and you can even consider it a melon and prosciutto salad, really. Here's what you'll need:
One cantaloupe
Prosciutto (Italian dry-cured ham)
Balsamic glaze or quality honey for drizzling (I used this Greek Honey)
Optional fresh herb garnish, I used basil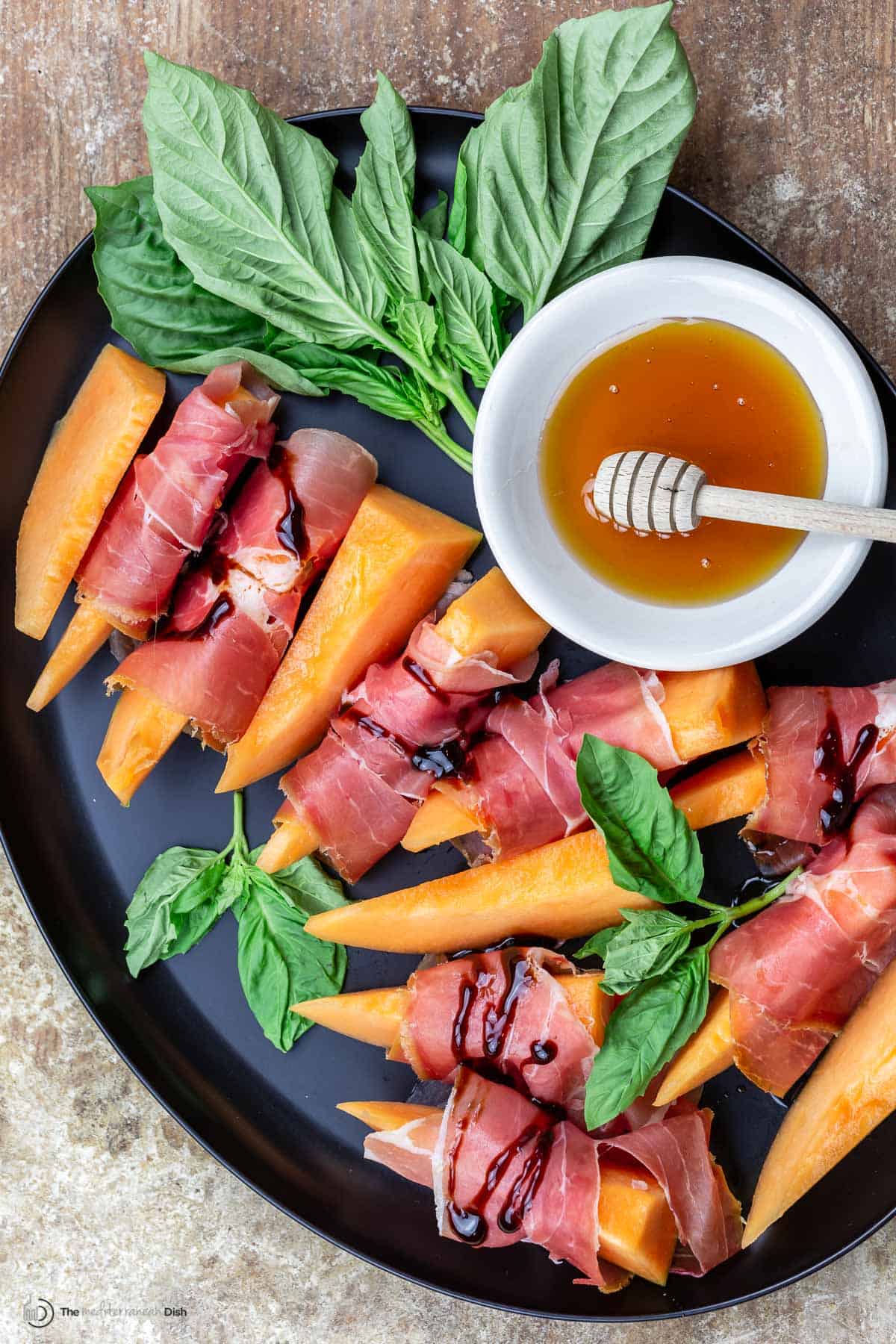 How to select a cantaloupe or melon?
For this recipe, it's important to select a cantaloupe that is perfectly ripe and sweet. Here are a few tips:
Look for tan cantaloupe with light green lines across it. Avoid any with brown of soft spots.
The melon should be firm (not too soft or too hard).
Smell the melon at the stem, it should smell sweet and fragrant. If you can't smell the cantaloupe, it is not ripe enough. And if there is any hint of an unpleasant smell, the cantaloupe is over-ripe.
If you don't plan to use the melon right away, you can go for one that is less ripe so that it has a chance to ripen in the few days before you plan to use it.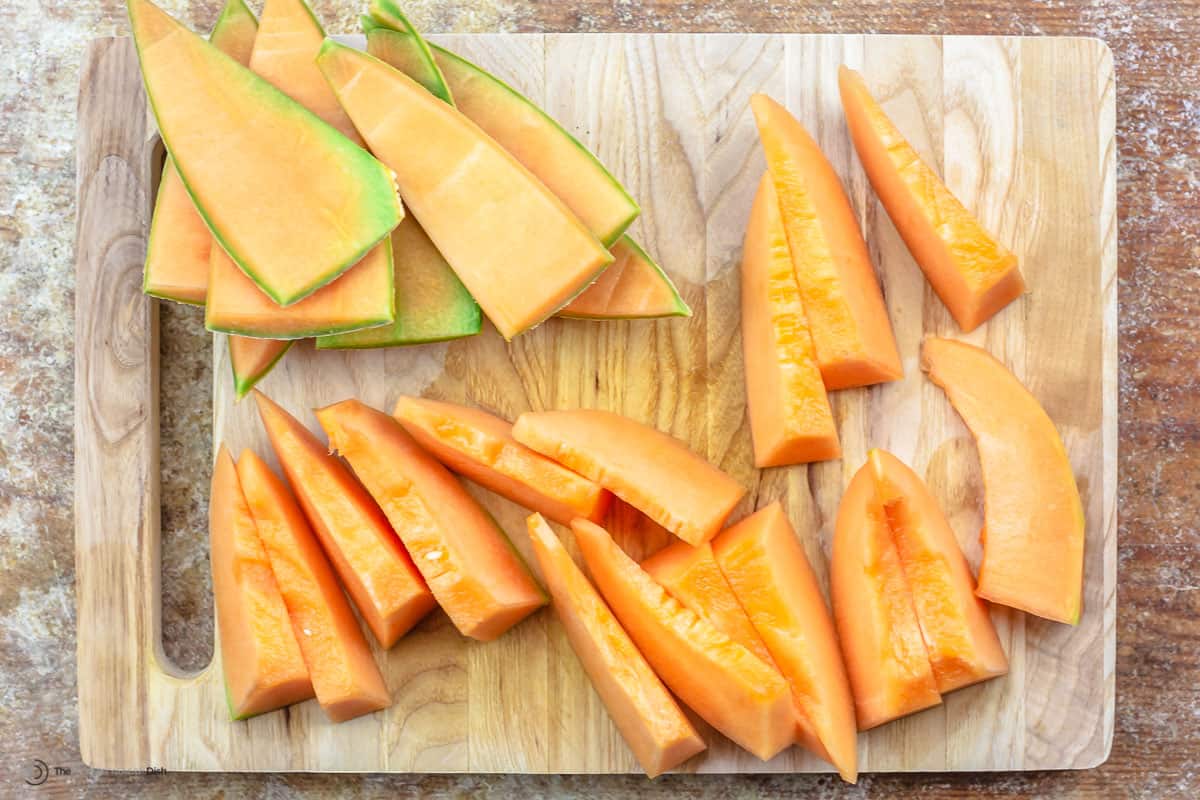 How to make prosciutto wrapped melon?
Once you've selected your perfect melon, this appetizer is easy to make in a few simple steps.
First, after seeding the melon, you'll cut it into wedges and peel them. Then you'll wrap the melon wedges each with a thin slice of prosciutto and arrange them on a platter. I like to drizzle honey and balsamic glaze on some of the cantaloupe wedges. Add a handful of fresh basil, and if you have a little more honey, serve it in a small bowl so that everyone is free to add more as they wish.
To serve
I like to serve melon and prosciutto as a starter with an Italian-style cocktail, like a Negroni or Limoncello Spritz. or even a composed salad on a large platter with basil leaves and more honey in a separate bowl to allow everyone to add as they please.
You can make this a little bit ahead and keep it chilled for an hour or two, but do take it out of the fridge 10 to 15 minutes before you plan to serve it.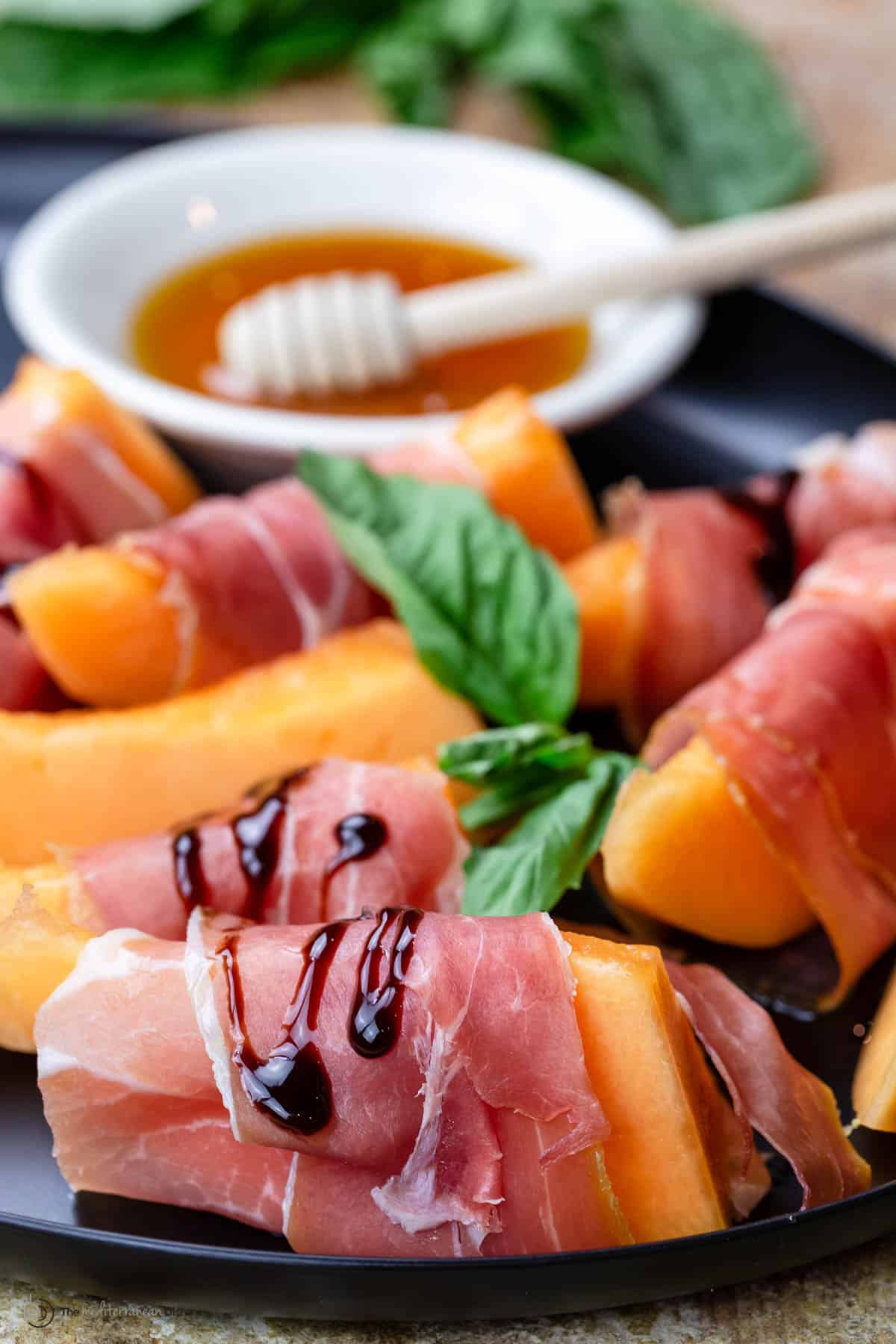 You may also like
Browse more Italian-inspired recipes. Browse all Mediterranean recipes.
Prosciutto and Melon (Prosciutto e Melone)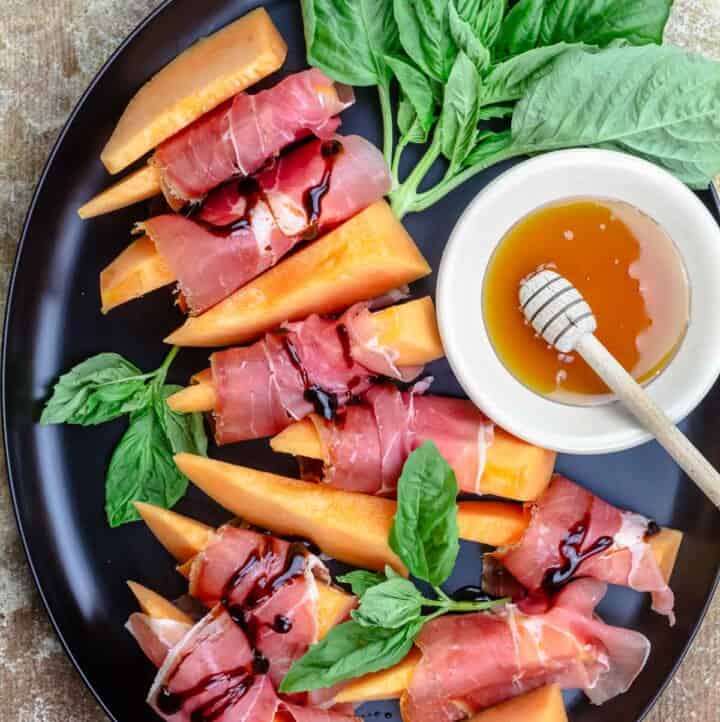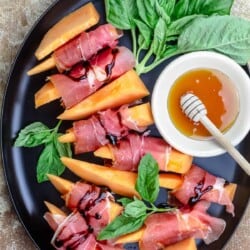 Ready in 5 to 10 minutes! With only three ingredients and no-cooking required, this prosciutto wrapped melon is one easy and amazingly delicious summer dish! You'll love the flavor combination of sweet, ripe cantaloupe and salty prosciutto ham.
Ingredients
1

Cantaloupe

4 to 5

ounces

Prosciutto di Parma,

thinly sliced

2

tablespoon

honey or balsamic glaze,

more to your liking (I used this Greek honey)

Basil leaves for garnish,

optional
Instructions
Prepare the cantaloupe and cut it into wedges. I find it easier to peel the cantaloupe, once you cut it. So, first, cut the cantaloupe in half. Using a spoon, remove the seeds. Then cut each half into wedges and peel them. 

Wrap the prosciutto around the cantaloupe wedges and arrange them on a serving platter (left some wedges without prosciutto, since I had more cantaloupe to use up).

Drizzle a little bit of balsamic glaze or quality honey (or both, if you like) If using, arrange a few basil leaves on the platter. I loved the addition of fresh basil leaves for a pop of color and freshness, but this is totally optional. 

Serve immediately or chill for a few hours until ready to serve.
Notes
You can try the same idea with other fruit such as ripe figs, pairs or peaches.
Visit Our Shop for quality Mediterranean ingredients including olive oils, Greek honey, spices and more!
Nutrition
Calories:
65.7
kcal
Carbohydrates:
6.8
g
Protein:
1.6
g
Saturated Fat:
1.3
g
Trans Fat:
0.1
g
Cholesterol:
6.2
mg
Sodium:
70.1
mg
Potassium:
143.4
mg
Fiber:
0.4
g
Sugar:
6.5
g
Vitamin A:
1559.2
IU
Vitamin C:
16.9
mg
Calcium:
4.8
mg
Iron:
0.1
mg