Got game day on your mind? Here are 11 easy and crazy good Mediterranean game day recipes! Be sure to prepare double the amount, these are flavor-packed party recipes that will have everyone coming back for seconds!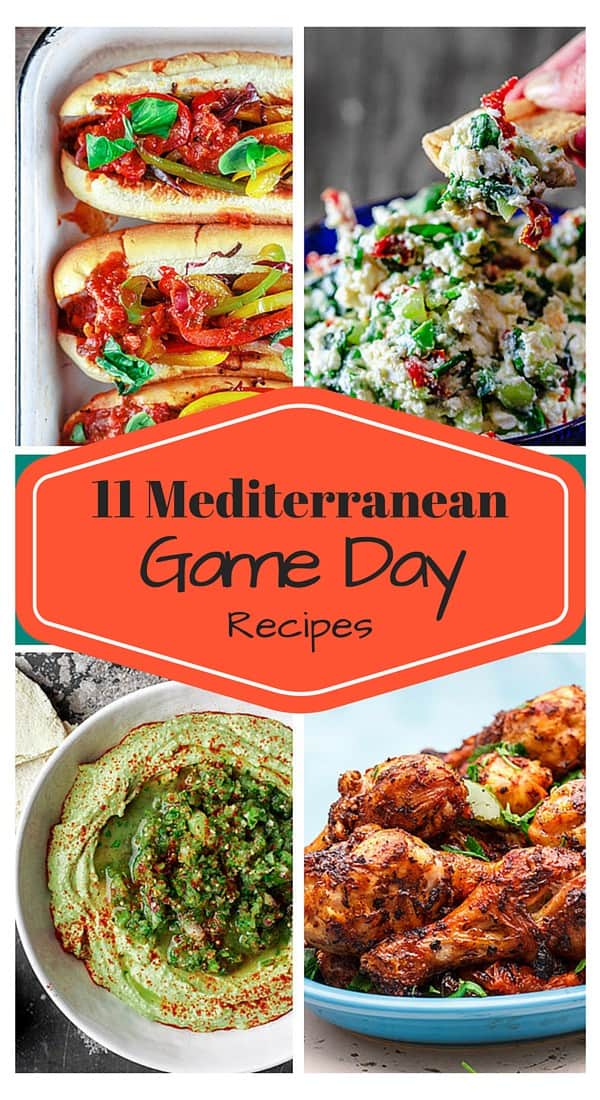 Maybe you're a big football fan. Or maybe, you're more like me, someone who sees game day as an excuse to enjoy your favorite party food! There are certainly lots of small plates and party appetizers here on the blog, but today, I'm sticking with 11 casual, easy, healthy (mostly), and satisfying game day recipes. Game day food, Mediterranean style! Here we go
11 Mediterranean Game Day Recipes:
First, Mediterranean dips
Last-Minute Feta Cheese Dip with crunchy cucumbers, chives, basil, sun-dried tomatoes...You can literally put this together 5 minutes before your guests arrive. Or prepare the ingredients earlier and simply combine them in your favorite bowl when you're ready.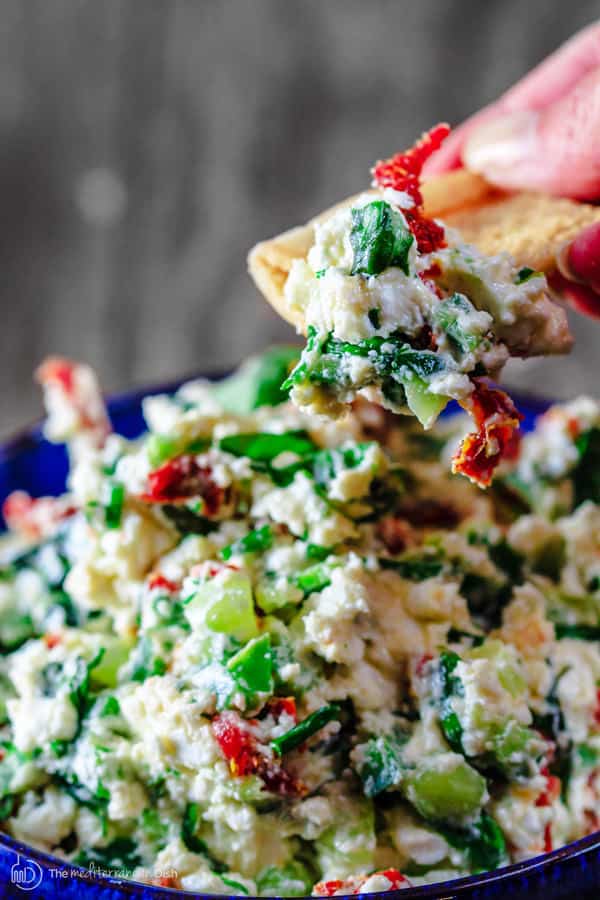 Creamy avocado hummus and fresh tomattillo salsa verde. Two recipes in one! You can serve the hummus topped with the salsa, or keep them separate! Either way, this is perfect game day food!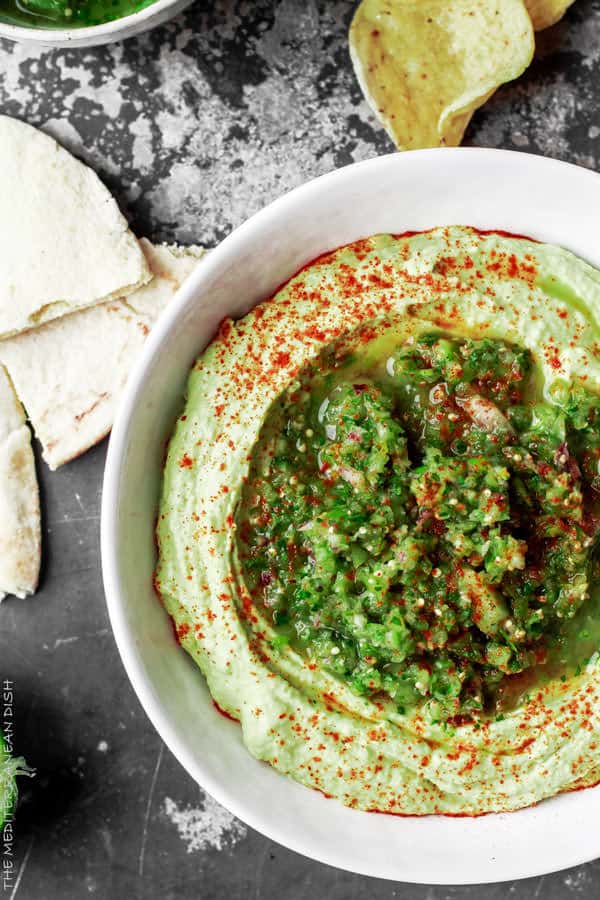 Baba Ganoush. A creamy, flavor-packed dip of roasted eggplant with tahini, yogurt and a little garlic. You can make this recipe a couple of days in advance, refrigerate in a tight-lid container.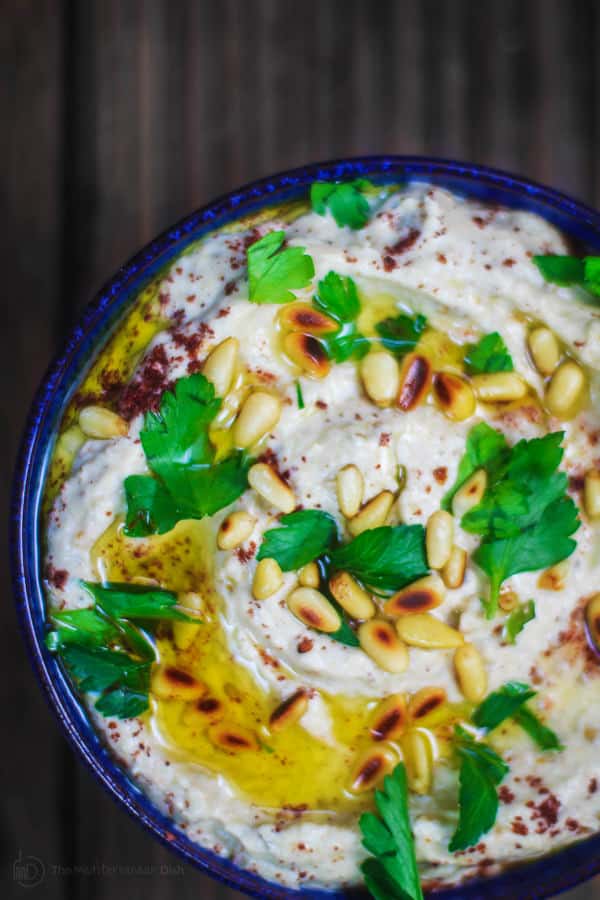 And an oldie-but-goodie is this roasted red pepper hummus. I add jalapeno for a little kick. So good!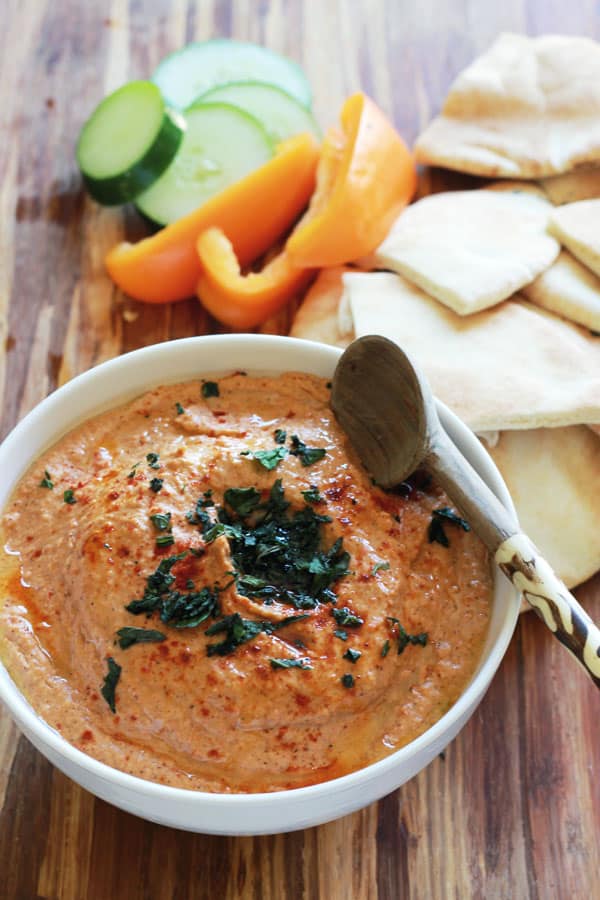 And for something meaty...
If you plan to fire-up the grill, I say ditch those small chicken wings and try my spicy chicken drumsticks with garlic and harissa or these authentic Mediterranean-spiced chicken kabobs. In both chicken recipes, you can marinate the chicken two days in advance; refrigerate in a tight-lid container. Grill when your guests arrive; it's like tailgating at home!
Spicy chicken drumsticks with garlic and harissa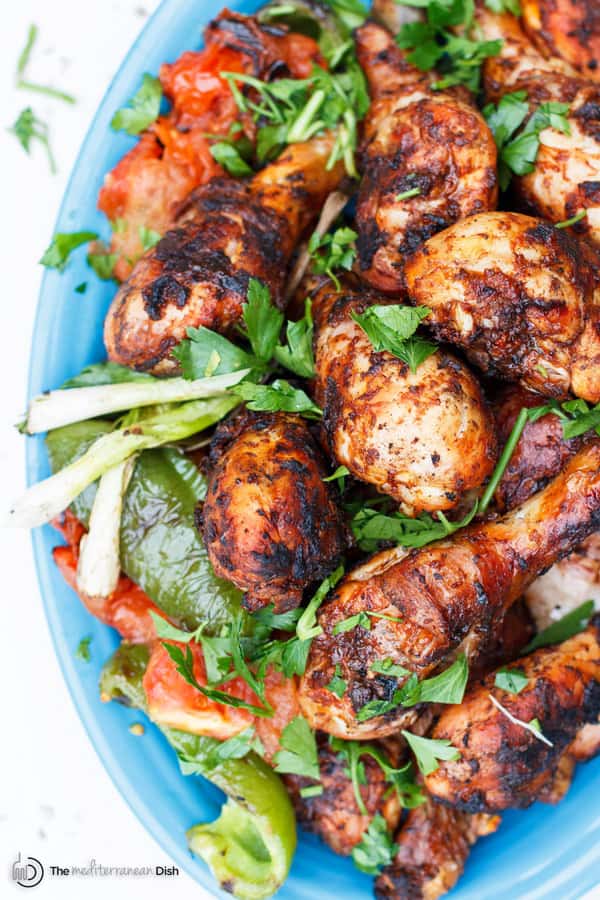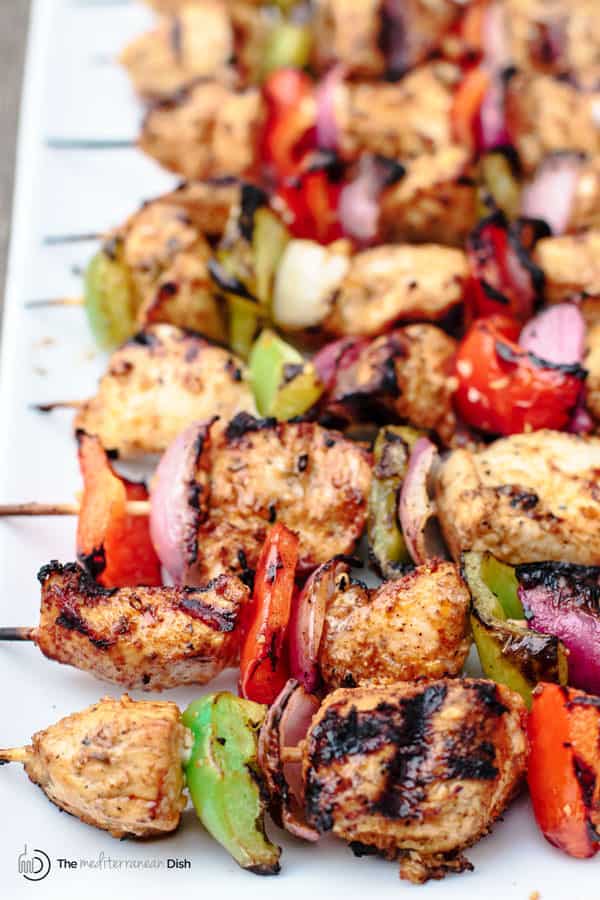 Game day sliders anyone? Try these chicken shawarma sliders! Chicken shawarma is the epidome of eastern Mediterranean street food, but it's so easy to make at home! Chicken slices marinated overnight, or up to two days, then simply roasted for 20 minutes on a large baking sheet. See the chicken shawarma recipe here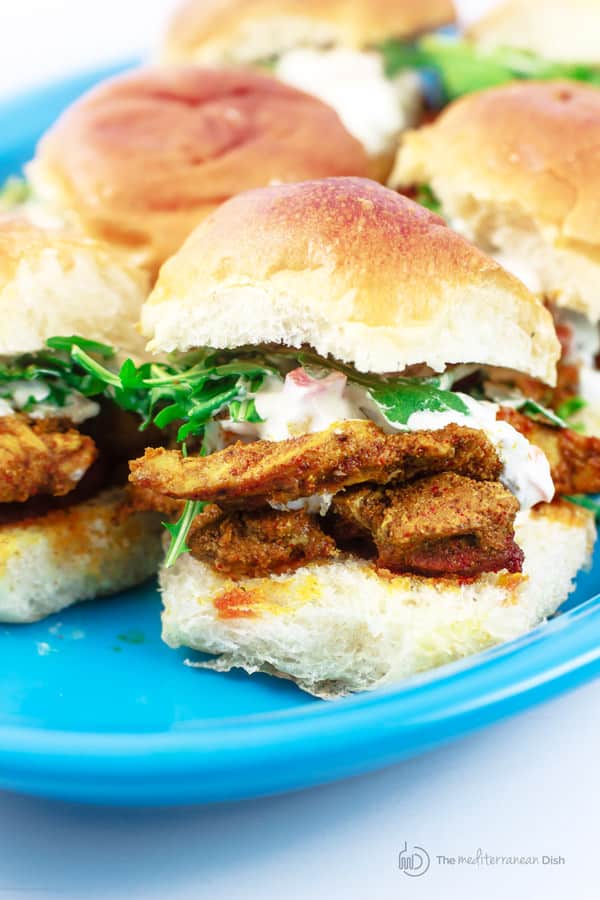 Or this hearty game day sandwich loaded with Italian Sausage, onions, peppers and sauce!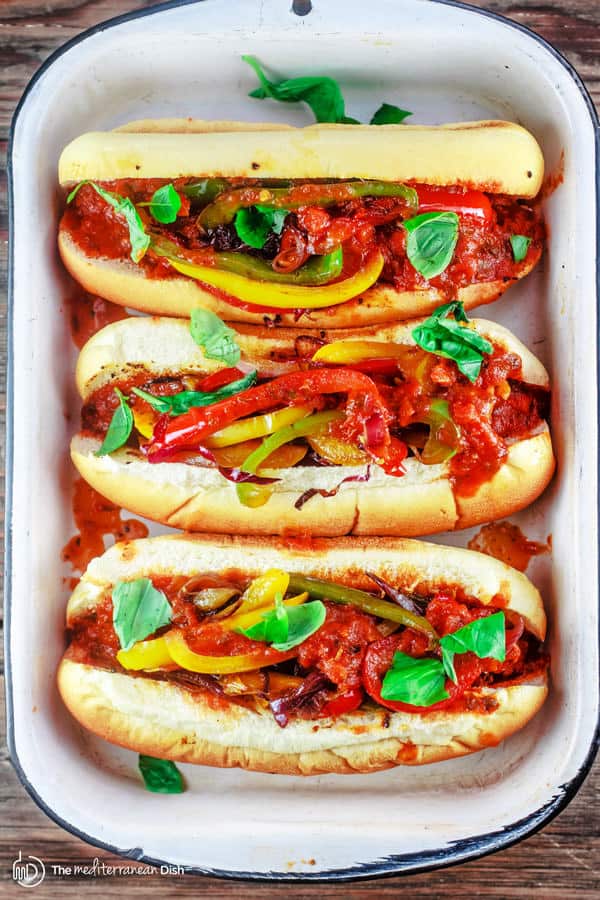 A little party skewer goes a long way! My favorite are these easy Antipasto Skewers. You can totally make them your own!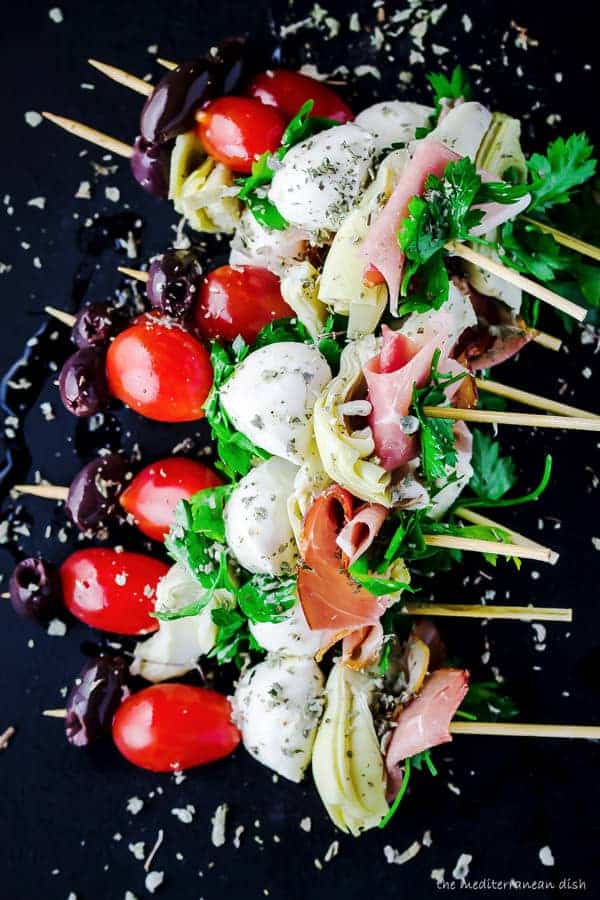 Many of us like to add a little pizza to the party. Here's one that's healthy and ready in less than 10 minutes: Mediterranean shrimp pizza with FlatOut Bread.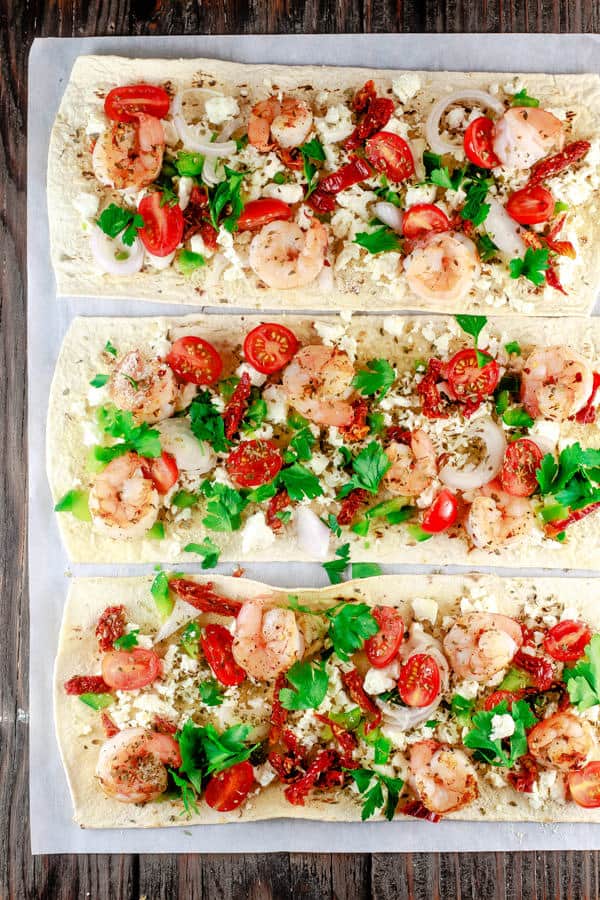 And another healthy party food is my favorite Mediterranean tuna salad. Serve it with pita chips or on top of tomato slices!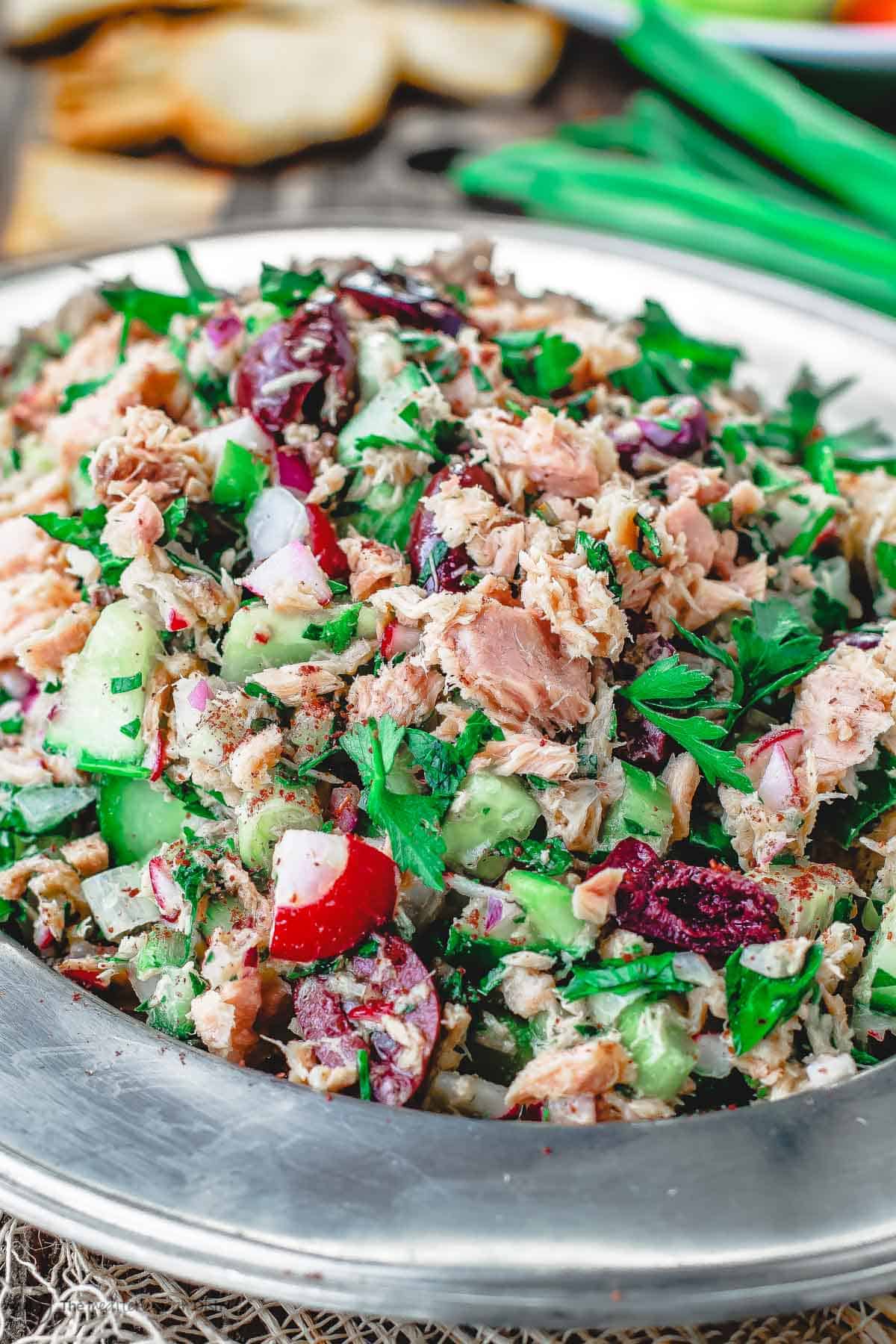 And check out other game-day dips and recipes from blogger friends. Part of Food Networks #ComfortFoodFeast series. Here they are:
Feed Me Phoebe: Healthy French Onion Dip with Leeks and Shallots
The Heritage Cook: Chipotle Black Bean Dip
Creative Culinary: Kahlua, Walnut and Brown Sugar Baked Brie
Dishing with Divya: Boiled Peanuts Hummus
In Jennie's Kitchen: Hummus, 4 Ways
Dishin & Dishes: Individual Nachos with Pico De Gallo
The Mom 100: Warm Jalapeno Popper Dip
Healthy Eats: 5 Lower-Fat Dips for Game Day
Napa Farmhouse 1885: Artichoke & Olive Dip
Red or Green: BBQ Dip With Roasted Vegetables
Taste with the Eyes: Favorite Dish on the Super Bowl Buffet, Guaranteed
FN Dish: 6 Game-Day Favorites That Are Even Better As Dips