This healthy, satisfying Mediterranean lentil salad recipe with spinach, crunchy vegetables, and a zippy lime dressing is the ultimate power bowl! It's loaded with nutrition, easy to make, and it's even better the next day!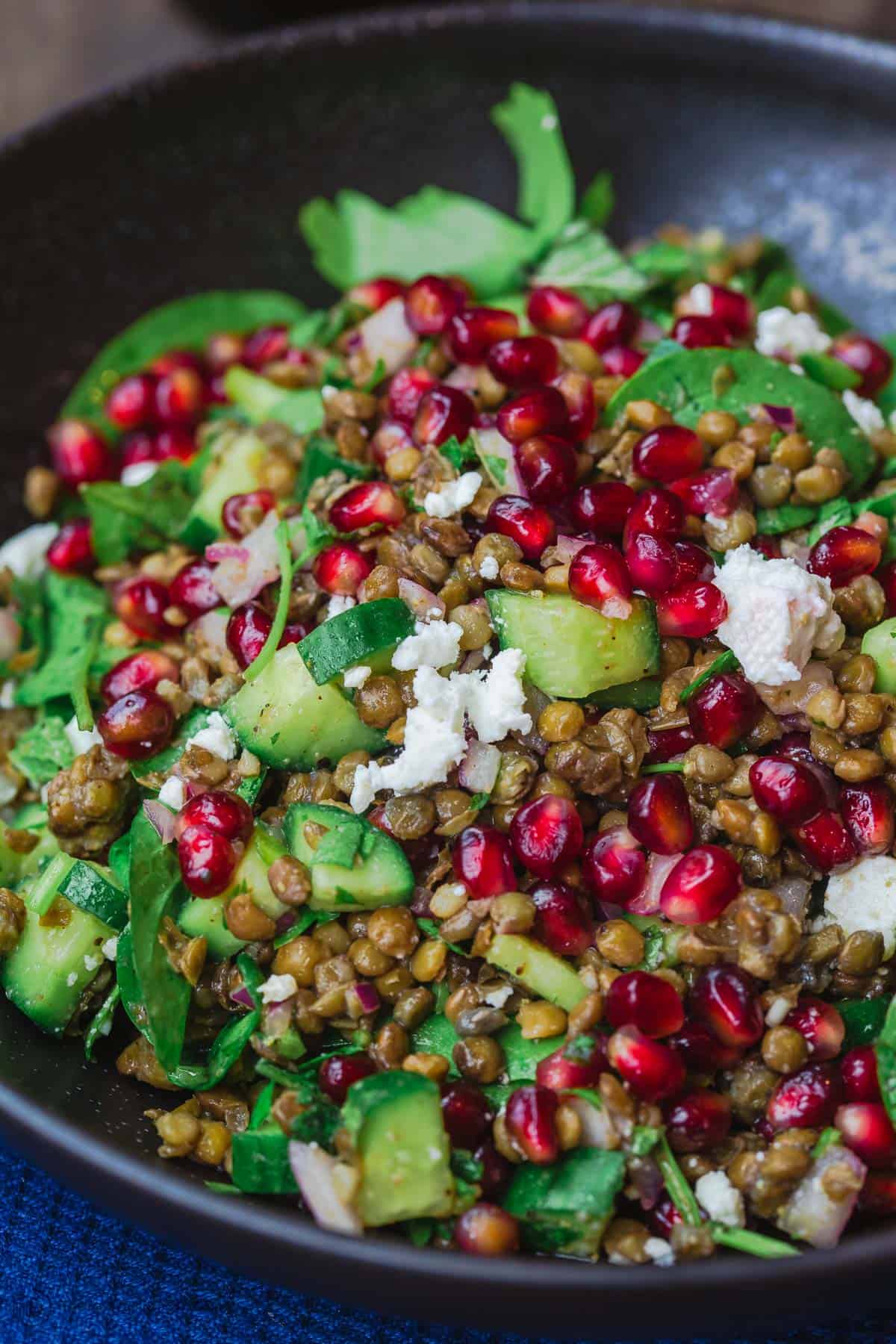 Lentils are an essential ingredient in my Mediterranean pantry. They are hearty, satisfying, and loaded with good-for-you nutrition--from plant-based protein, to iron, fiber, antioxidants and more!
But, aside from the fact that they are a food powerhouse, lentils are super easy to use. They don't require a whole lot of planning or soaking overnight, and they cook pretty quickly.
You can catch me reaching for a bag of lentils any night of the week to make a warm-your-belly vegan lentil soup, or my favorite lentils and rice dish Mujadara, or go for something a bit brighter with our Lentil Salad With Roasted Eggplant And Pomegranate Dressing. Or a version of today's healthy lentil salad recipe, tossed with greens, crunchy veggies, and a bright lime dressing!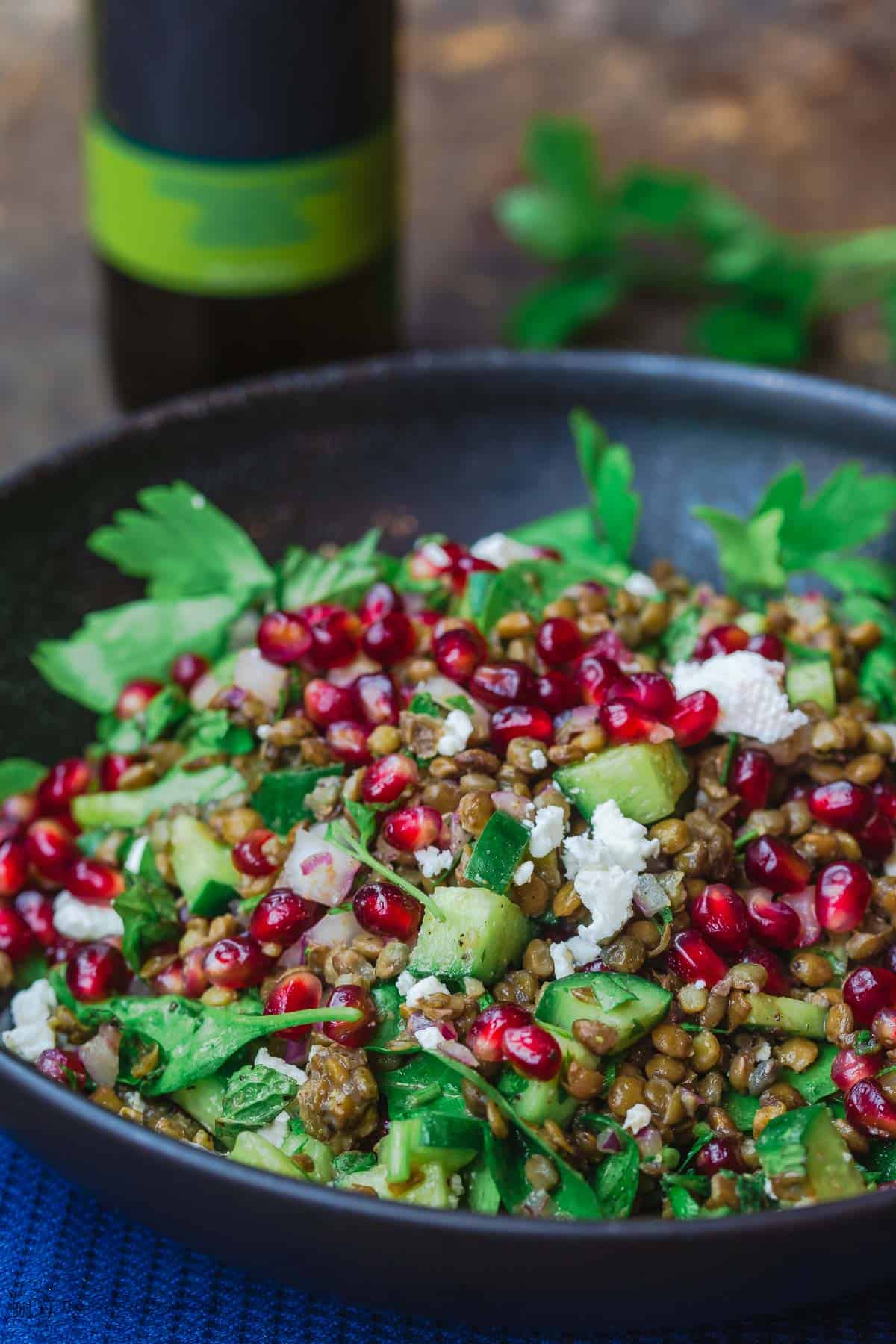 What kind of lentils are best for lentil salad?
There are about a dozen lentil varieties. For salad, it is best to use a firm variety such as green lentils or black lentils--that can hold their shape after cooking. I do not recommend using yellow or red split lentils for this salad because they dissolve when cooking and are perfect for something like a creamy red lentil soup.
In this recipe, I use dry all-natural green lentils, which are heaty and have a mild and pleasant peppery flavor that's well-complimented by the vegetables and dressings in this salads. They take a little longer to cook, but even as they get nice and tender, they don't lose their shape and turn mushy.
Another great option for this salad is dry all-natural black beluga lentils. They're quick-cooking and have a nice creamy texture and earthy, deep flavor.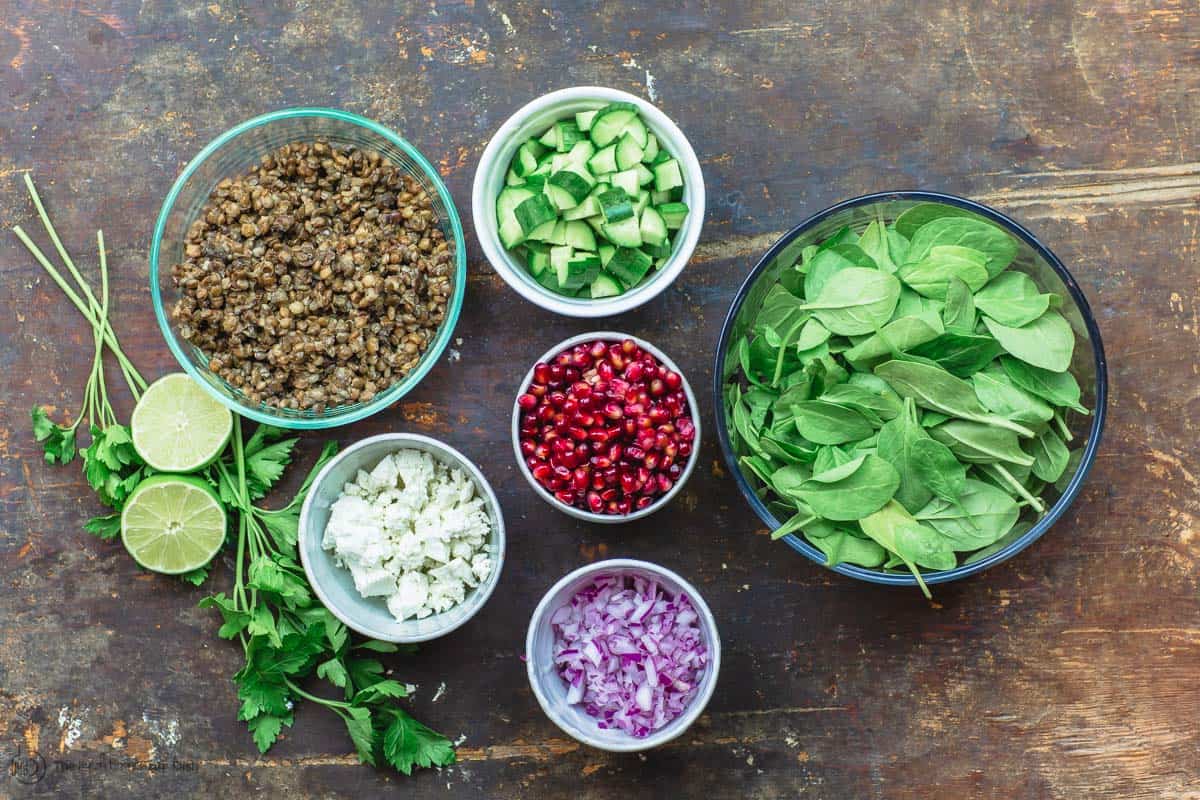 How to cook lentils for salad?
Lentils do not require soaking and you can cook them for this salad one night in advance, just drain and keep them in the fridge until you're ready to use. To cook 1 cup of dry lentils (green or black), you'll need 3 cups of water. Here is how to cook lentils for this salad:
Start with 1 cup dry green lentils or black lentils
Rinse the lentils well and drain
In a saucepan, combine the lentils with 3 cups of water
Bring to a rapid simmer over high heat, then lower the heat to medium-low, cover and let the lentils simmer anywhere from 20 to 45 minutes. (Black lentils will cook in 20 to 25 minutes, while green lentils will cook anywhere from 35 to 45 minutes)
When the lentils are tender and fully cooked, drain well and allow them to cool a bit. Then either store them in the fridge overnight or toss them in this Mediterranean salad and chill for later.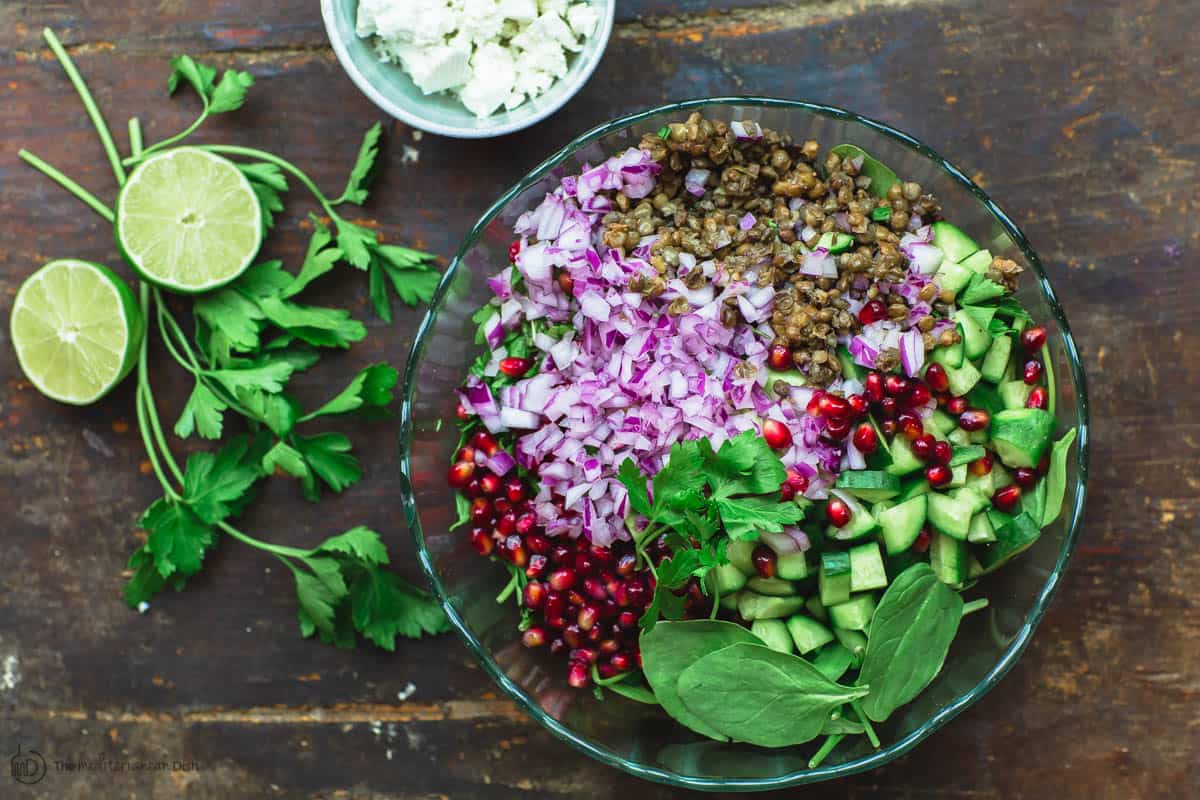 Mediterranean lentil salad: How to make it
This lentil salad recipe takes on some crunchy veggies and bold Mediterranean flavors you'll love!
Once cooked to tender perfection, drain the lentils and combine them in a mixing bowl with the rest of the ingredients--crunchy cucumbers, onions, and a large handful of leafy greens (baby spinach or kale are great options here).
When pomegranates are in season, I love to add a good cup of pomegranate seeds (arils)--the sweet, tangy, juicy pomegranate seeds add a little something unexpected and delightful.
The simple lentil salad dressing is made by whisking fresh lime juice, extra virgin olive oil, Kosher salt, and a dash of cumin and allspice (you can play with the spices to your liking as well, but the warm flavors work really well with the hearty lentils.)
One of my favorite things to add on top is some crumbled creamy feta, but if you're going for a vegan lentil salad, you can simply omit the cheese.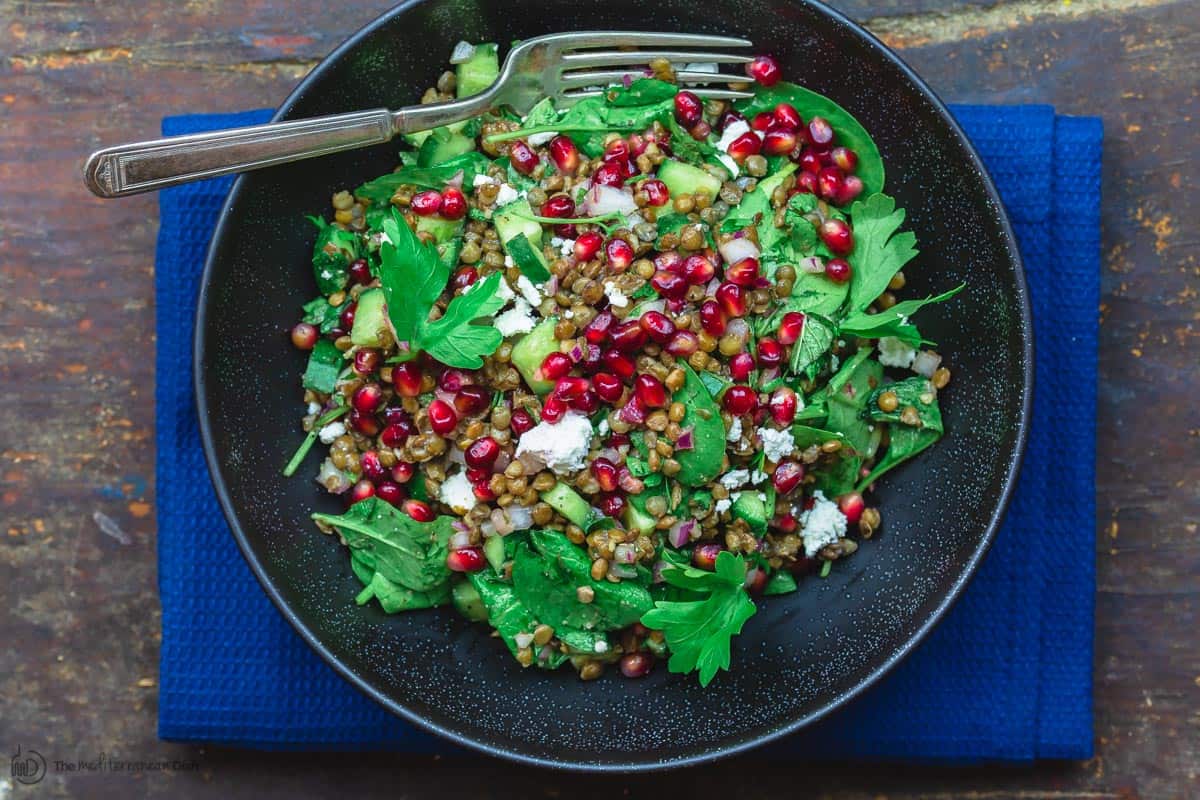 Ways to serve this salad
I love how versatile this simple green lentil salad is!
Because it's so hearty, it can totally stand alone as a meal. I've served it for lunch with just a side of challah or crusty bread. It also makes a great side next to:
Browse our collection of Greek recipes or top Mediterranean diet recipes.
Or all Mediterranean recipes. JOIN MY FREE E-MAIL LIST for weekly meal plans and more!
Mediterranean Power Lentil Salad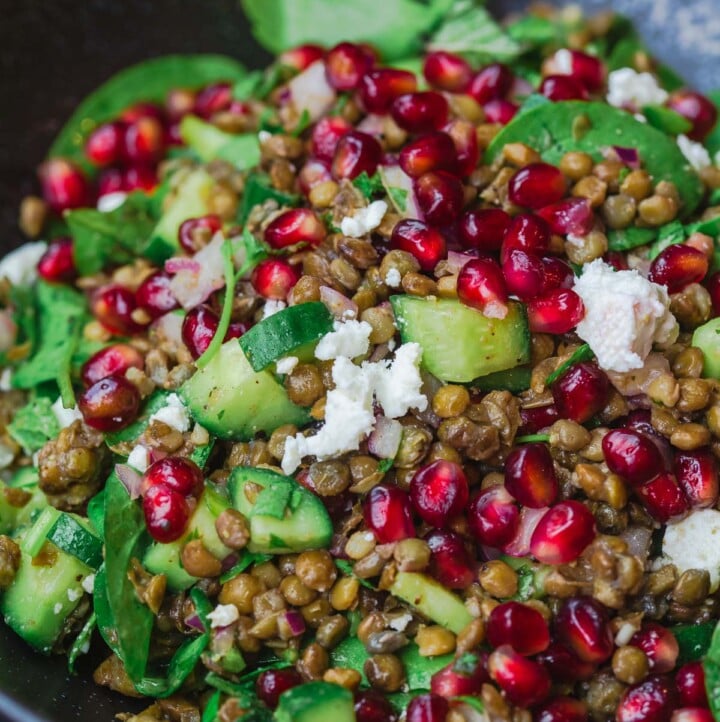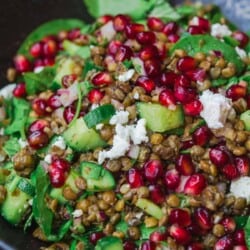 This healthy, satisfying Mediterranean lentil salad recipe with spinach, crunchy veggies, and a zippy lime dressing, is the ultimate power bowl! It's easy to make and even better the next day. Add pomegranate seeds (arils) when in season, or leave them out. Keep it vegan or add a sprinkle of creamy feta.
Ingredients
1

cup

dry green lentils or black lentils

Seeds of 1 pomegranate

Water

Kosher salt

1

small red onion

chopped

¾

English cucumber

small diced or chopped (about 2 ½ cups)

2 to 3

cups

baby spinach

or other leafy green of choice

1

cup

chopped fresh parsley

Crumbled feta cheese for garnish
Instructions
Cook the lentils. In a saucepan, combine lentils with 3 cups of water and pinch of kosher salt. Bring to a boil. Cover, and lower heat to medium-low. Let simmer until the lentils are fully tender (anywhere from 25 to 45 minutes depending on the kind of lentils used). Be sure to check and add water if lentils seem too dry during the cooking process (they should absorb a lot of the water. Drain and set aside to cool.

In a large mixing bowl, combine cooked lentils with chopped onions, cucumbers, baby spinach, parsley, and pomegranate seeds (arils.) Give everything a gentle toss.

Make the dressing. In a small bowl or measuring cup, whisk together the lime dressing ingredients. Pour the dressing over the lentil salad and toss to combine. Add a sprinkle of feta cheese to finish.

Allow a few minutes for the flavors to meld before serving.
Notes
Make-ahead tip: You can cook the lentils the night before. Drain and refrigerate in a tight-lid glass container until ready to use.
For best flavor: allow the lentil salad to sit for just a few minutes to soak up the flavors of the lime dressing.
Visit Our Online Shop to browse Mediterranean ingredients, including lentils, Greek extra virgin olive oils, and spices!
Nutrition
Calories:
127.6
kcal
Carbohydrates:
5
g
Protein:
0.9
g
Saturated Fat:
1.7
g
Sodium:
15.3
mg
Potassium:
172.3
mg
Fiber:
0.8
g
Vitamin A:
1819.5
IU
Vitamin C:
18.3
mg
Calcium:
32.8
mg
Iron:
1.3
mg
*This post originally appeared on The Mediterranean Dish in 2015 and has recently been updated with new information and media for readers' benefit. Enjoy!