This easy beet hummus is bright in flavor and color. Hints of sweetness from the beets, tangy lemon, garlic, and warm spices are blended together for a healthy nutrient-packed dip great for an appetizer or snack to share! The hot pink color makes it a real showstopper. Kick it up a notch by garnishing with salty feta and fresh parsley.
Watch my video below and check out the tips for the creamiest red beet hummus ever!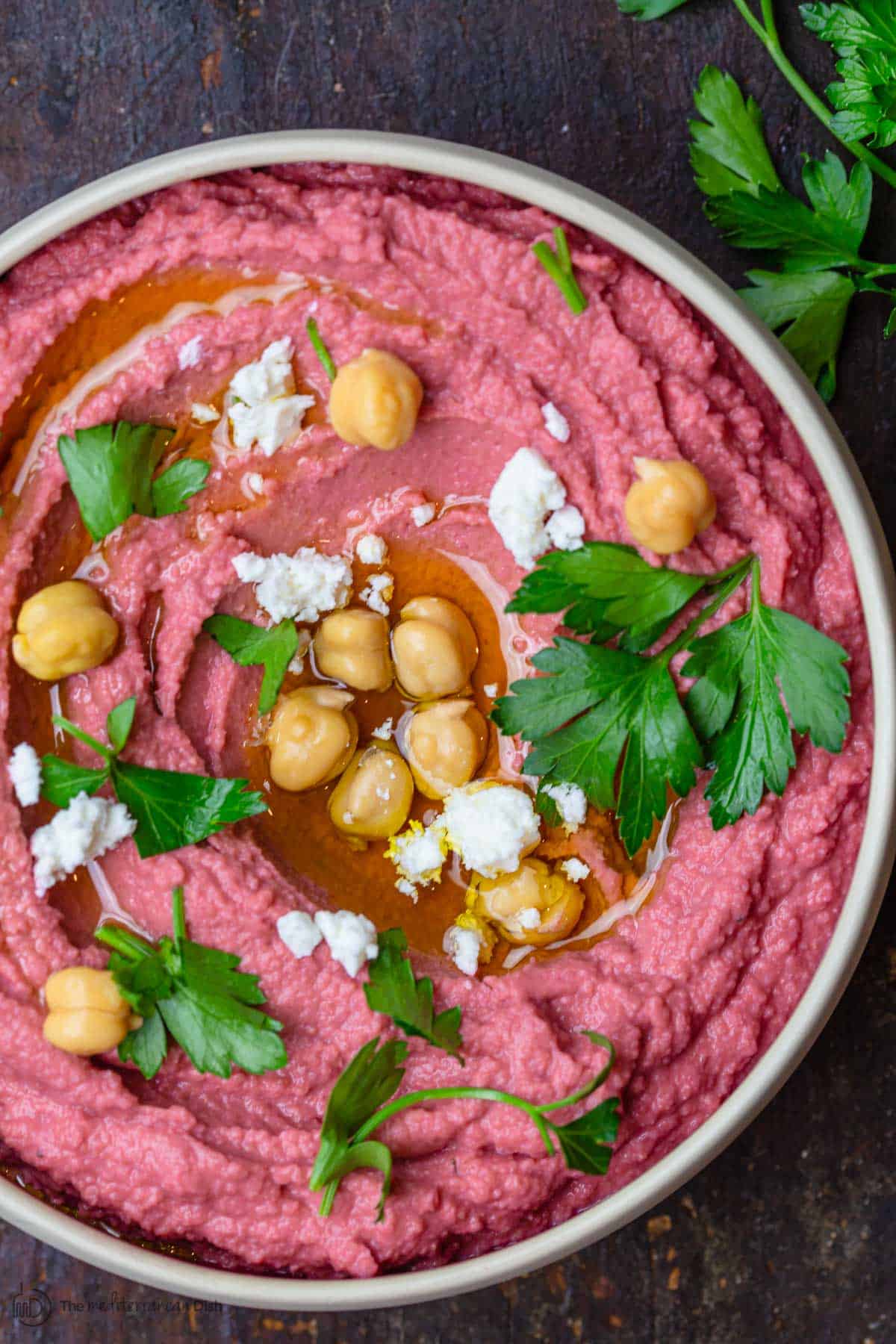 Hummus kinda runs in my blood. I will eat it for breakfast, lunch or dinner (gimme some hummus and a side of tabouli or Shirazi salad and I'm all set!)
Hummus is a Mediterranean diet staple and for good reason. It's packed with fiber, vitamins, and minerals and can be flavored in so many different and fun ways. The options are truly endless with hummus: eat it plain or make an epic layered dip with spiced meet and beautiful veggies! Mix it up with roasted red peppers, avocados, or even beets.
What I love about This Beet Hummus...
Clearly this beet hummus recipe is special, due to its stunning hot pink color from the beets! Who doesn't want to eat festive hot pink hummus that tastes delicious and also good for you?!
Here's the real draw for me though. The beets provide a slightly sweet and earthy flavor that pairs oh-so perfectly with bright lemon, fresh garlic, nutty tahini, and bold spices like cumin, coriander, and sumac.
Best part? I took a shortcut by using quality canned beets and canned chickpeas, which cut my work by a lot!
If you are looking for a flavorful dip, but also want a snack that is packed full of nutrition, you will want to make this easy beet hummus ASAP!
Is Beetroot Hummus Good for You?
If you're wondering if beet hummus is good for you, the short answer is YES! Beet hummus is made from 2 all-star ingredients, chickpeas and beets, both of which have some wonderful benefits. For this reason, beet hummus may be one of the healthiest dips you can make and here is why.
Earlier, I spent time talking about the awesome benefits of chickpeas and 17 awesome ways to use them.
Chickpeas contain a lot of plant-based protein, fiber, and healthy carbs. They can help manage weight, aid digestion, are heart healthy, and can help reduce cholesterol levels naturally.
Beets too have some great benefits; they are low in calories yet loaded with nutrition. Beets have high levels of vitamins and minerals like:
Fiber

Vitamin C

Folate vitamin B6

Magnesium
Beets can help keep your blood pressure normal, fight inflammation, improve digestion, support brain health, and can even help fight some types of cancers.
The great thing about beets is when they are cooked, they have a slight sweetness and mild, earthly flavor that isn't too overpowering.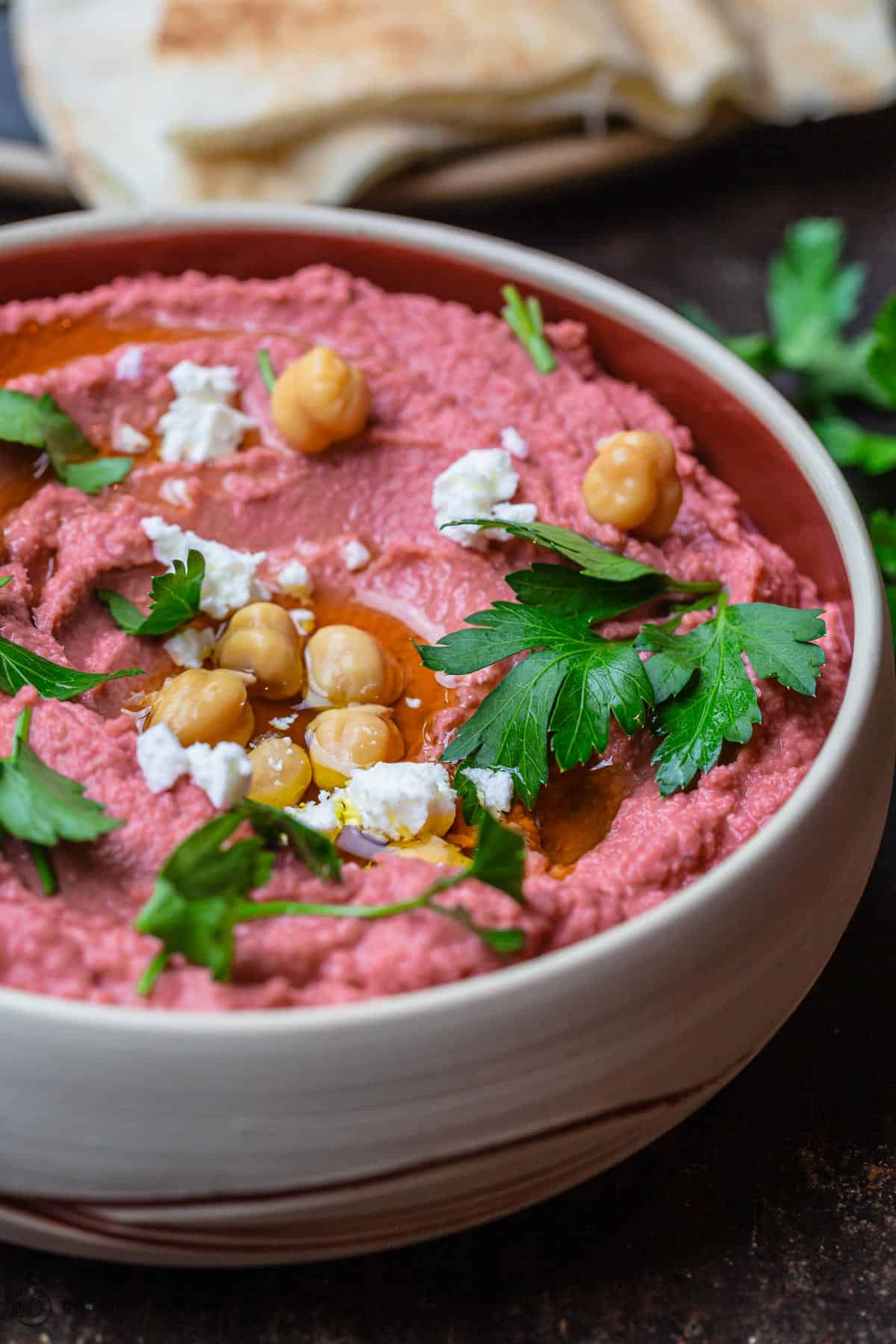 What Do Beets Taste Like?
Beets…most people think they either love or hate them. The taste of beets depends on the way they are prepared. A raw beet is going to taste earthy and have a stronger flavor (many people think a raw beet tastes like dirt.) But a raw beet still has a sweetness to it.
A cooked or roasted beet will have a milder, sweeter flavor, and will have less of that earthy and dirt-like taste. This is because the cooking process draws out the natural sugars and mellows out the flavor, while turning beets nice and tender.
The great thing is that beets do come ready in cans as well. So if you're not up for cooking or roasting your beets just to make hummus, you can go ahead and use my shortcut: canned beets! They work wonderfully!
What You Need to Make This Beet Hummus Recipe
This is an easy beet hummus recipe, which means there is no fuss and no messiness from using raw beets. Canned chickpeas and canned beets are just as healthy as their raw counterparts but make your life a whole lot easier and cleanup is a breeze.
Chickpeas: The base of hummus is traditionally made with chickpeas, which are hearty and neutral in flavor. I did not cook my chickpeas from scratch like I do in this classic hummus recipe, instead, I took a major shortcut by using quality canned chickpeas.
Beets: You can use already cooked of canned beets for this recipe. Like I said earlier, I went ahead and used canned beets--easy and mess-free! Canned beets are already cooked and sweet and you can simply drain the beets and dump them into your food processor with the chickpeas and the rest!
Tahini Paste: Tahini paste is ground sesame seeds and it brings the ultimate nutty flavor in hummus we all know and love. I used Soom Tahini brand (affiliate link.)
Citrus: My citrus of choice for all sorts of dips is fresh lemon juice. Lemon juice gives this beet hummus a bright and tangy kick, balancing the sweetness of the beets.
Garlic: A small clove of raw garlic gives the hummus a pop and great depth of flavor.
Spices: You can play with the spices to your liking, but I highly recommend this combination: Cumin, sumac, and coriander which are warm and rich with flavor and will bring this beet and chickpea hummus to the next level.
How to Make Beet Hummus
Making this beet and chickpea hummus is ridiculously easy. It's a matter of blending the ingredients in a food processor or your favorite blender (affiliate link.)
Step 1: Add ingredients to food your food processor
Add the canned chickpeas, canned beets, tahini, garlic clove, and lemon juice to the food processor. Season with salt to taste and spices (if you are adding them.) You can throw in your peeled garlic clove whole.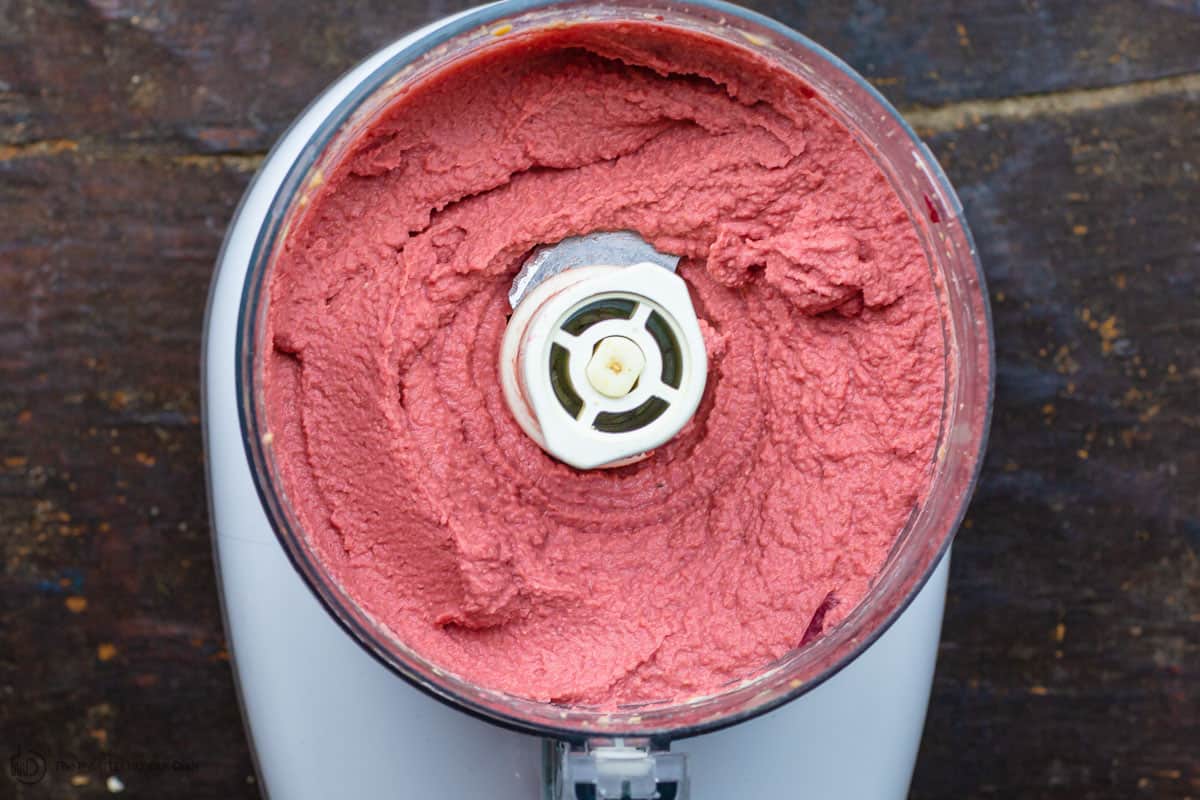 Step 2: Run the food processor and add ice
For a few seconds, run the food processor. While it is running, add the 2 ice cubes. The addition of the ice makes this hummus fluffy and creamy!
Step 3: Taste test and check consistency
At this point you are almost done! Now is the time to take a taste to make sure you have enough salt, spices, and lemon juice. If you want more of anything, add it now. Also check the consistency of your hummus. If you find it's too thick, turn the food processor back on and add another ice cube while it runs.
Step 4: Transfer to a Serving Bowl and Add Finishing Touches
And just like that you are done! Transfer your gorgeous pink hummus to a pretty serving bowl. Drizzle with a generous amount of extra virgin olive oil (EVOO,) sprinkle on fresh chopped parsley for a pop of green color, and top with feta. The addition of olive oil, feta, and parsley are optional, but make this beet hummus even tastier.
Serve with pita wedges, homemade pita chips, or fresh sliced veggies. Carrots, peppers, celery, zucchini sticks, and cucumbers are all great options.
A Few Last Tips for Creamier Beet Hummus
1. Remove Chickpea Skins for Smoother Hummus
Although you don't need to do this step, if you want extra smooth hummus, remove the skins from the chickpeas. It truly does make a difference in texture!
To do this, place the chickpeas in hot water and add 1 ½ teaspoons of baking soda. Let them rinse under cold water, while gently rubbing the skins off the chickpeas. Discard skin.
2. Add Ice Cubes While Blending
Although it may sound a little funny, adding ice while your hummus is blending helps to whip the hummus and adds an even creamier texture. The ice also help to loosen the hummus, so it is not overly thick. If you have added your 2 ice cubes and still think the hummus is too thick, add another ice cube or two to loosen it up.
3. Let Food Processor Run for a Bit
Again, to get a super smooth and creamy finish to this beet hummus, let the hummus whip in the food processor for a good few minutes (you can go as long as 4 minutes or till you reach your desired texture.) This will ensure you are getting all of the bits and chunks from the beets, chickpeas, and garlic blended up well.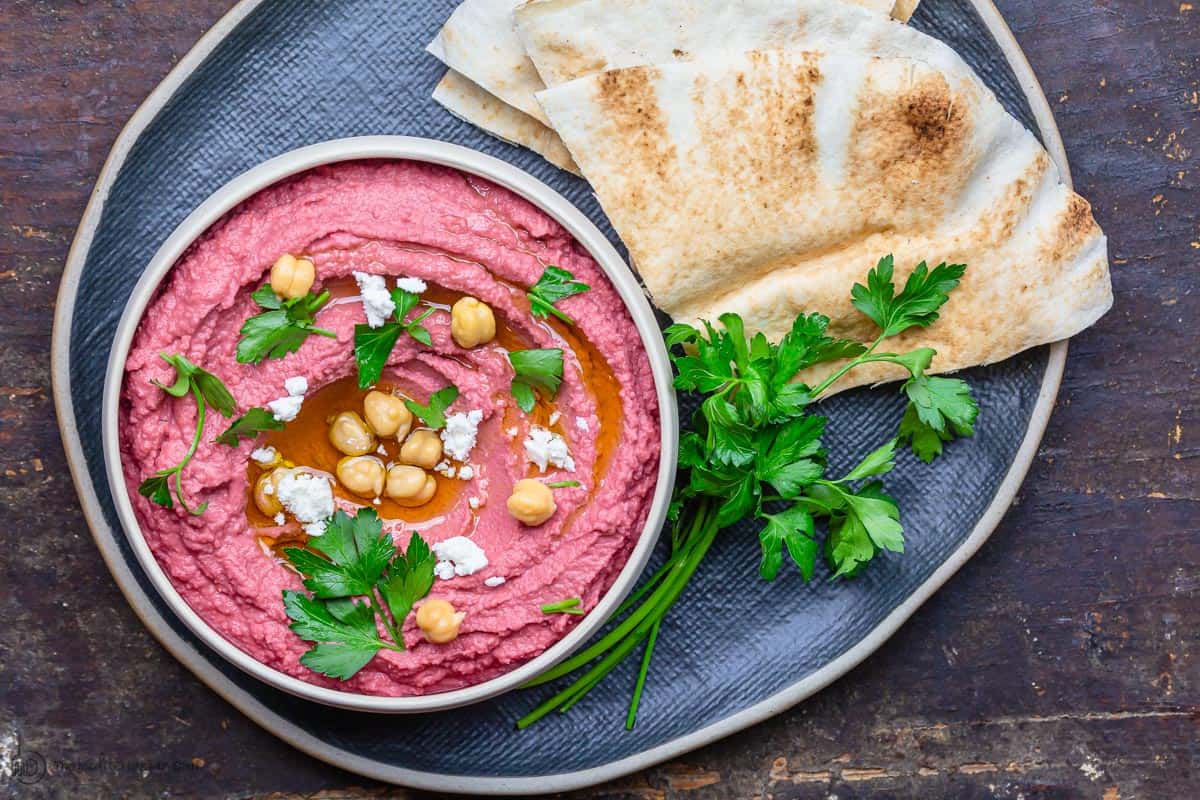 Can I make this beet hummus recipe using raw beets?
If you have the time and don't mind a little work, you can start with 1 large beet or 2 small beets for this recipe. You do have to cook them and let them cool completely before using them.
Tip: Use a pair of kitchen disposable gloves to handle the beets; they tend to die your hands pink!
Here is how to Cook or Roast Beets:
Preheat oven to 400 degrees F.

Peel skin from beets with a peeler.

Cut beets into wedges and place on a baking sheet with a good drizzle of olive oil. Toss to coat.

Spread the beets on a baking sheet in one layer so they can cook evenly in the oven.

Roast until beets are fork-tender (anywhere from 20 to 45 minutes depending on how you sliced them.)

Cool roasted beets completely before using in the beet hummus recipe
For making the beet hummus, make sure your beets are fully cooled before adding them to your hummus.
Leftovers?
If you have leftover beet hummus, you can store the dip in an airtight container in the fridge for 3 to 4 days.
You can also freezer your red beet hummus and thaw in the fridge when you want to snack on it again!
Check out more tasty dip recipes here!
Watch the Video for How to Make this Easy Beet Hummus Recipe:
If you love beets, check out my orange beet salad and this warm roasted beet and kale salad.
OUR ONLINE SHOP FOR QUALITY OLIVE OILS, ALL-NATURAL SPICES AND MORE
Print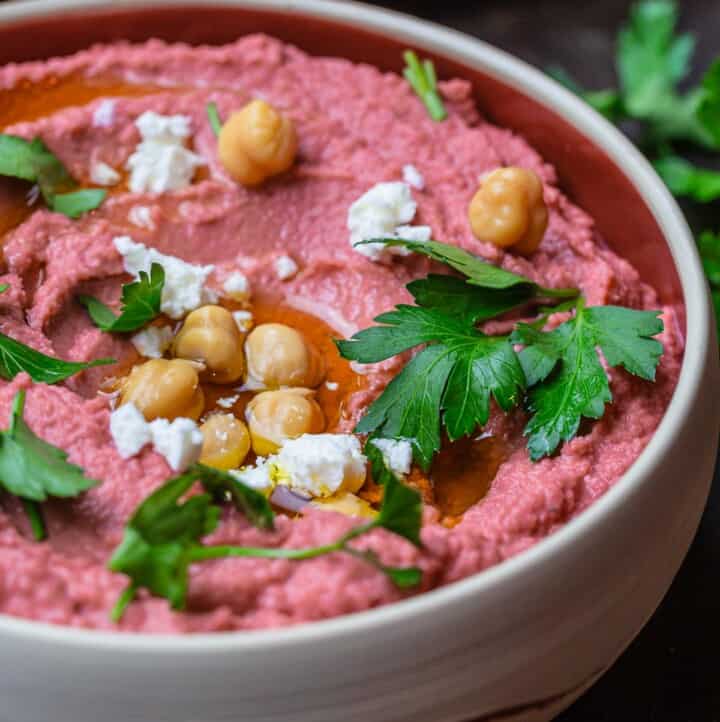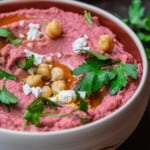 Creamy Beet Hummus
---
Description
This easy beet hummus is bright in flavor and color. Hints of sweetness from the beets, tangy lemon, garlic, and warm spices are blended together for a healthy nutrient-packed dip great for an appetizer or snack to share! The hot pink color makes it a real showstopper. Kick it up a notch by adding a little salty feta.
Be sure to read the complete post for more tips and information.
---
2 cups

cooked chickpeas (or from can), remove skins for a more smooth finish

15 oz

canned beets, drained (or

8 oz

fully cooked and cooled beets)

3 tbsp

tahini paste

1

small garlic clove
Juice of

½

lemon, more if needed
Kosher salt

2

ice cubes, more if needed
Extra virgin olive oil (I used Early Harvest Greek extra Virgin Olive Oil
Garnish (optional): feta cheese and parsley
To Serve
---
Instructions
In the large bowl of a food processor fitted with blade, place chickpeas, cooked beets, tahini, garlic, lemon juice. Season with salt and spices.
Run processor for a bit, and while it's running, add 2 ice cubes (this helps whip the beet hummus to a nice creamy consistency.)
Taste and adjust seasonings to your liking. Run processor again if the hummus is too thick yet, adding a little more ice as it runs (you can let it run for 4 minutes or so until you reach your desired creamy texture.)
Transfer beet hummus to a bowl. Drizzle extra virgin olive oil. Sprinkle feta and parsley on top. Serve with pita wedges or homemade pita chips and veggies for dipping.
Prep Time:

10 mins

Category:

Appetizer

Method:

Blend

Cuisine:

Mediterranean
Keywords: Beet Hummus, Beet and Chickpea Hummus