Harissa is a North African red chile paste or sauce made of a few simple ingredients including chiles, garlic, olive oil, citrus and a few warm spices.
This versatile harissa recipe is slightly sweet, smoky, tangy, and just enough spicy but not too hot. Make it ahead and use in many ways! Be sure to watch the video below.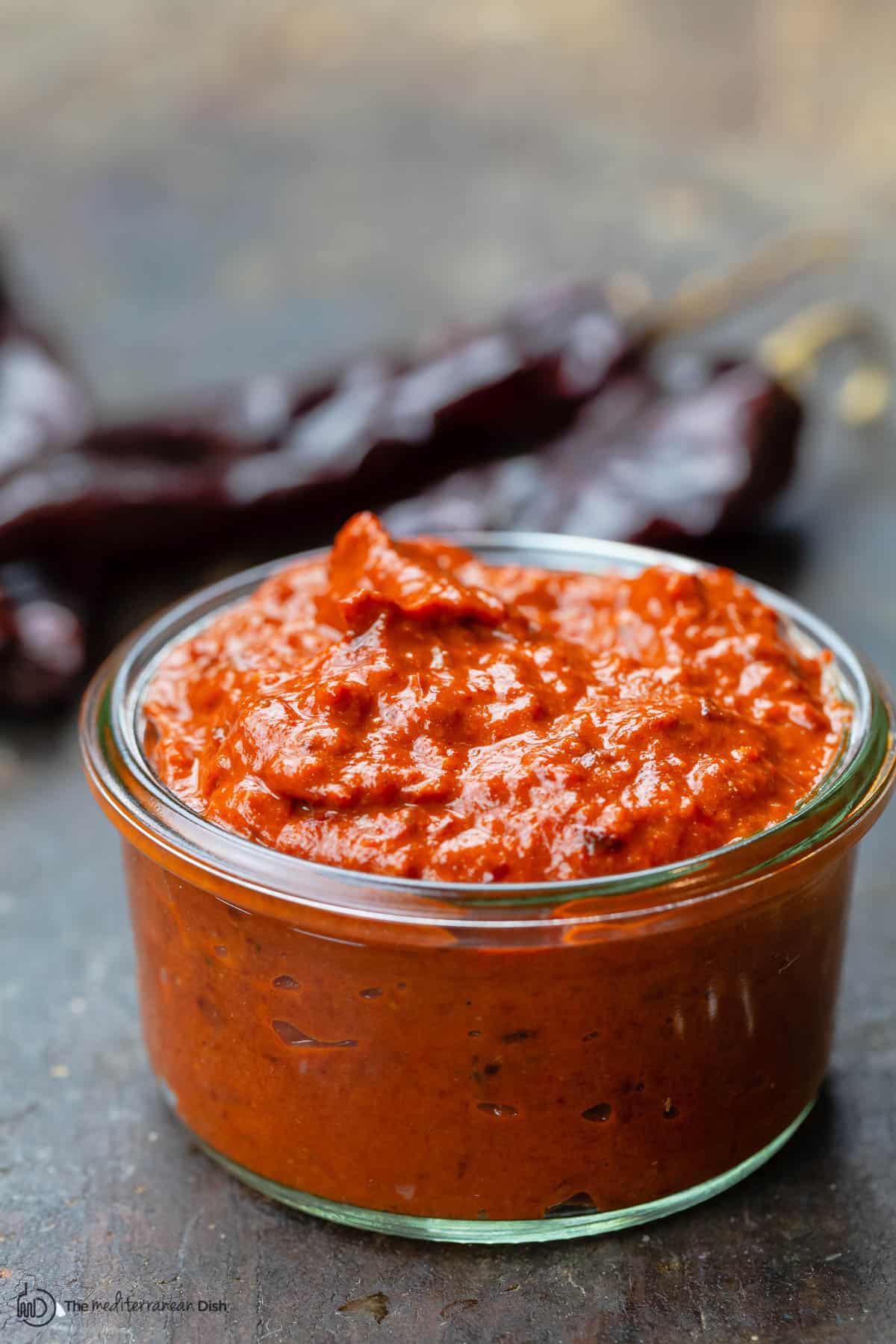 You've seen me use harissa spice blend in different recipes, but today we're going to chat about harissa sauce! This, along with my earlier toum garlic sauce, belong under versatile Mediterranean dips and condiments you'll find yourself using over and over again!
What is harissa?
I've heard people describe harissa as the ketchup or sriracha of North Africa and the Middle East.
It may be a red condiment that is as popular as ketchup because of the many way it is used and enjoyed. But comparing the two does not do harissa justice. Harissa is much more complex in flavor and all together addictive!
Originally from Tunisia, harissa is a chile sauce or paste typically made of dry red chiles, garlic, citrus, extra virgin olive oil and a few warm spices including cumin, coriander and caraway seeds.
And although you can find it at specialty grocery stores sold in jars or tins, homemade harissa is a completely different experience.
What does it taste like? This harissa sauce recipe is mild with just enough kick, sweet, smoky, and a little bit tangy. Absolutely addictive!
Making harissa at home is easier than most people think; be sure to watch the video below.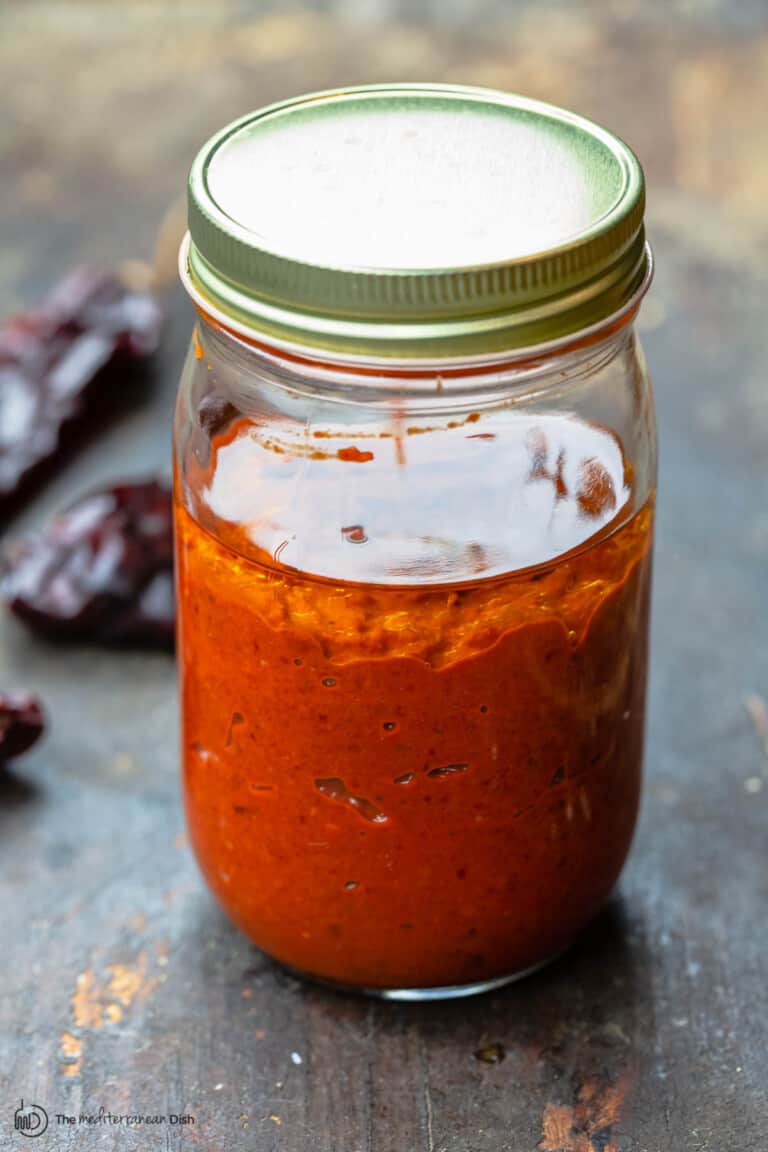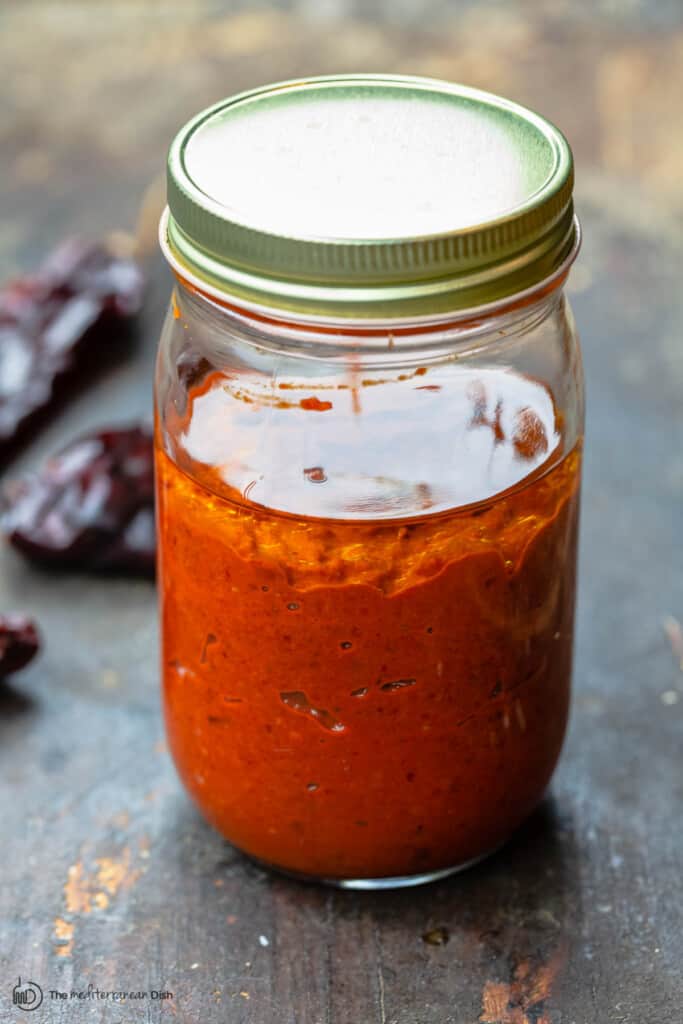 What kind of chiles to use for harissa?
Each batch of homemade harissa sauce may taste slightly different than the other, depending on the kind of chiles used. And as a result, some can be fairly hot, while others are mild.
You can pretty much make harissa out of any dried red chile according to your own personal heat index.
Because I like to control the heat factor in my harissa paste, I like the idea of using New Mexico chiles, which are milder but offer enough of a kick (Cookbook author Paula Wolfert believes that Gujaillo and New Mexico chiles are closest to the peppers of Nabeul and Gabès in Tunisia).
You can absolutely use a combination of chile peppers. Need more heat? Add a couple of de arbol peppers. If you like a bit of smokiness, add chipotle chile.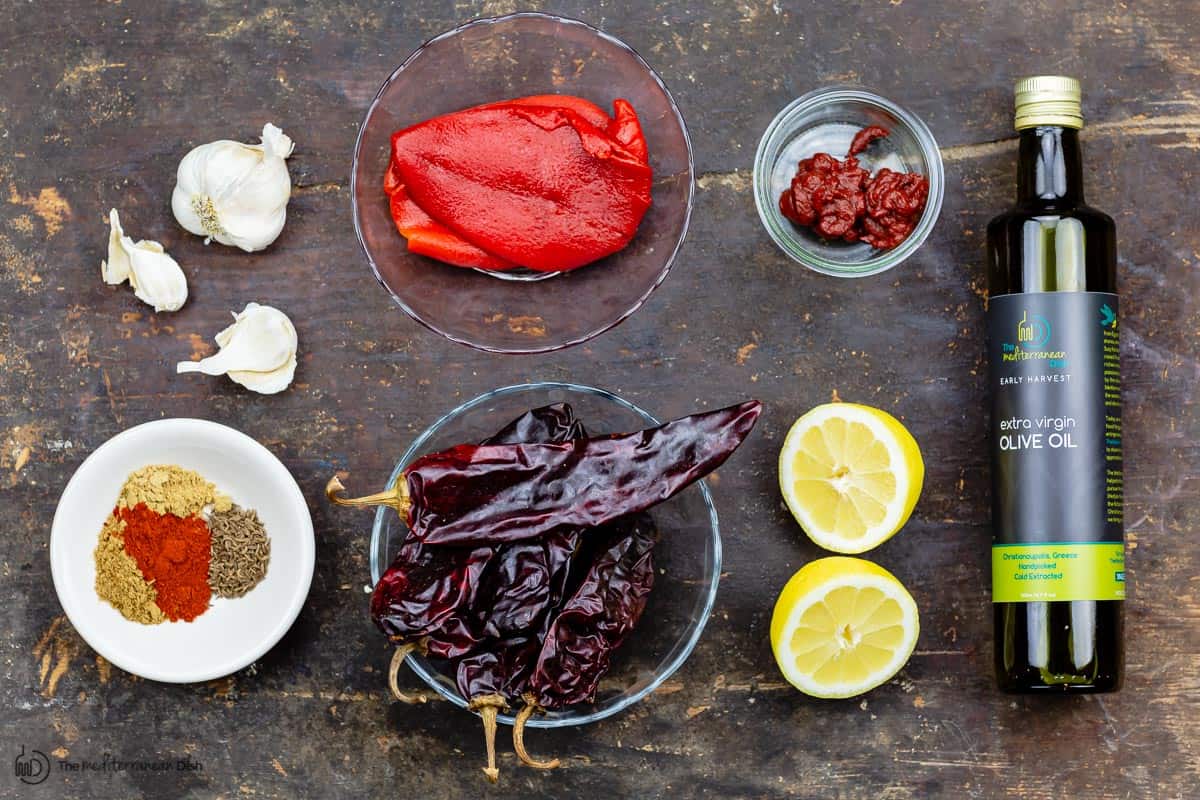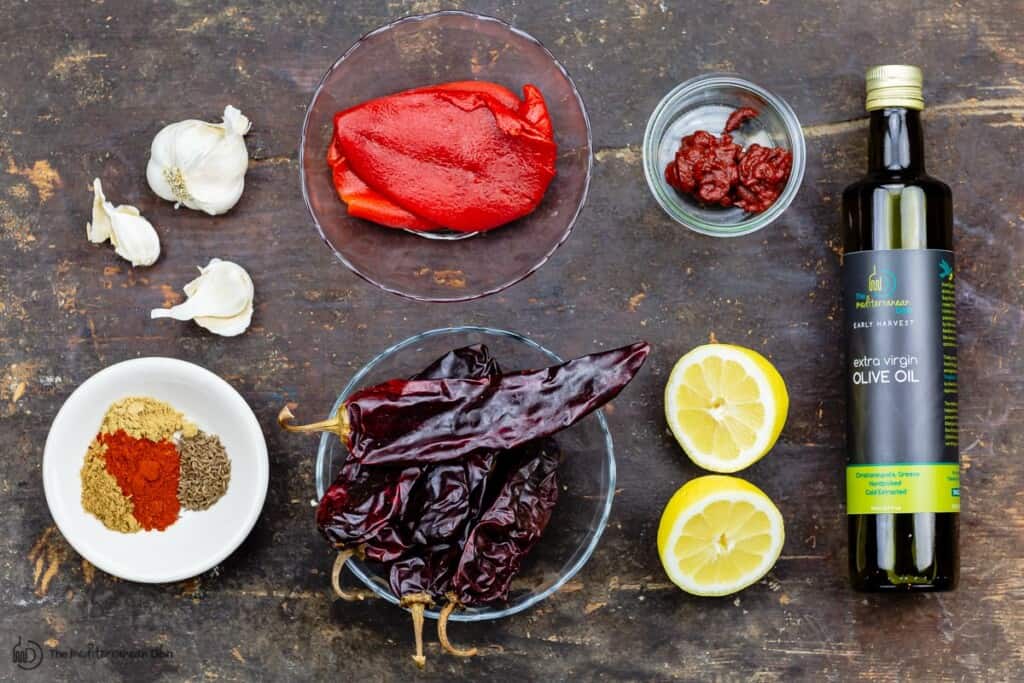 What you need to make it:
When I tested my harissa paste recipe, it was important for me to find the perfect balance of spicy, sweet, smoky, and tangy all in one red chile paste, and the following ingredients did just that:
Dry red chiles (7 whole chiles). I prefer New Mexico chiles or Guajillo chiles which are milder (this allows me to add more heat as needed).
Roasted red peppers (6 ounces or 2 large roasted red peppers). Jarred peppers will work here, just drain them well. These will add sweetness and also support the texture of the harissa paste.
Tomato paste (2 tablespoons or so) for the umami factor.
Fresh garlic cloves. I usually use 4 cloves, but if you enjoy more garlic, go for it!
Spices. A combination of North African flavors from 2 teaspoons each coriander and cumin; 1 teaspoon caraway seeds toasted and ground (use a mortar and pestle, grinder, or food processor); 1 teaspoon smoked paprika (this adds depth and smokiness without adding more spice). I also use a pinch of cayenne pepper; start with ½ teaspoon and go from there.
Kosher salt
Citrus. Juice of 1 large lemon (do not skip this as it adds brightness and rounds out flavor).
Extra virgin olive oil. This is drizzled into the food processor as the rest of the ingredients are mixing together. Use a quality EVOO that you enjoy; I used Early Harvest Greek EVOO.
How to make harissa
Making harissa at home could not be simpler!
First, you'll soak the dry red chiles (whatever combination of chile peppers you selected) in hot water to rehydrate. If you don't rehydrate them, you can't exactly turn them into paste.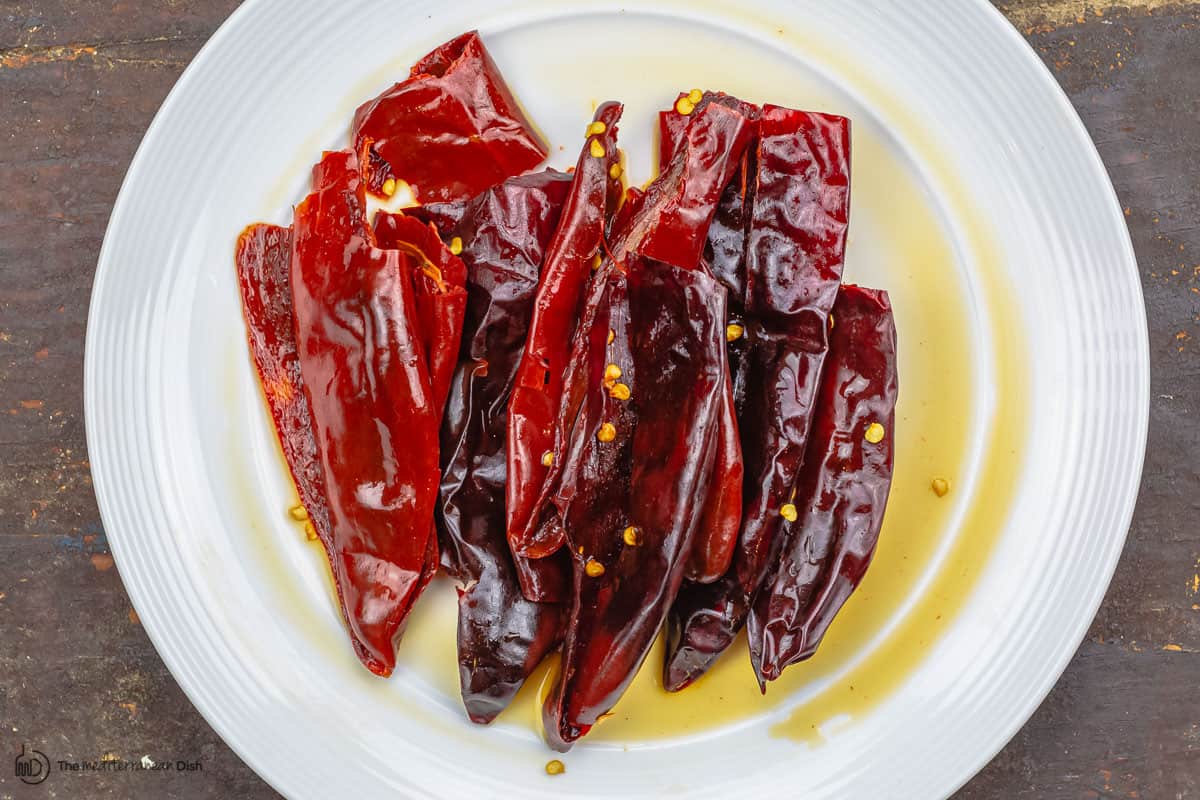 From there, seed the chiles and blend them in a food processor with the roasted red peppers, garlic, tomato paste, spices, and lemon juice.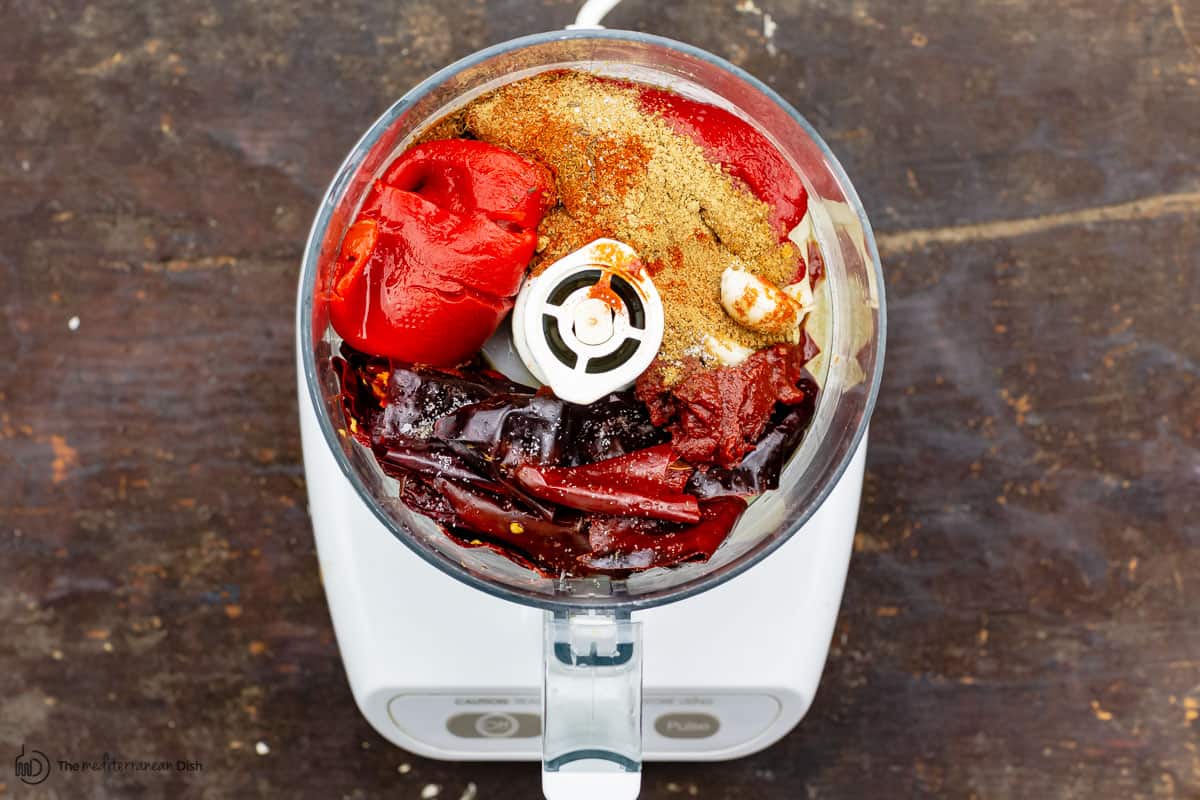 Drizzle the extra virgin olive oil as the ingredients are mixing until you arrive at a beautiful, slightly chunky paste. That's it!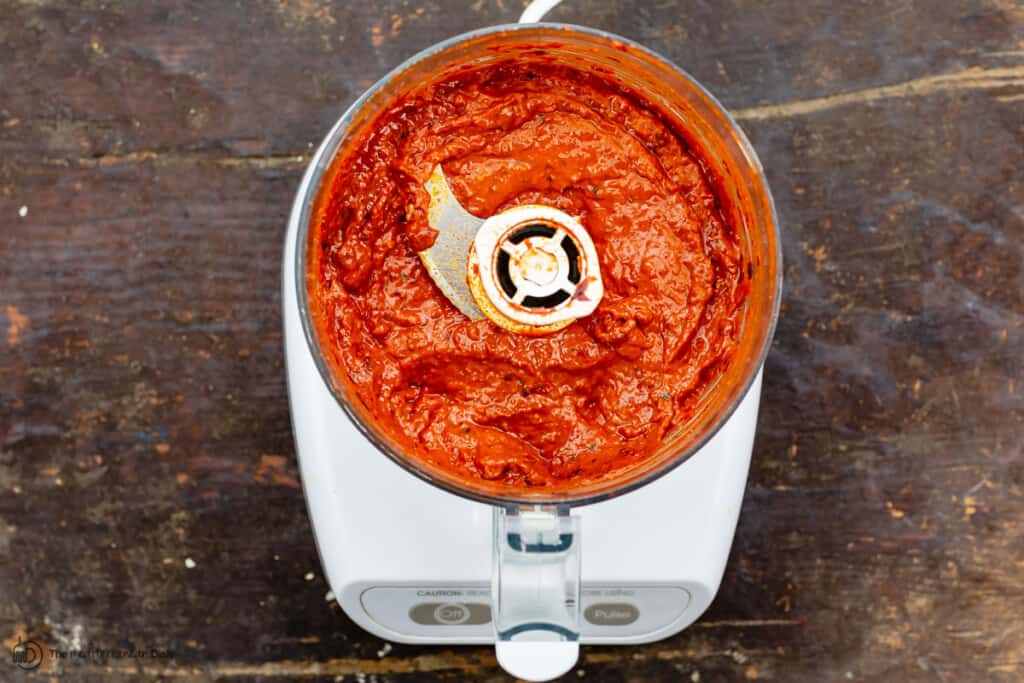 It's even better the next day!
You can use harissa sauce as soon as you make it, but if you refrigerate it and use it the next day or two, the flavors will meld well and create a much deeper chile paste you'll love!
Storage
I like to store my homemade harissa in the fridge in a tight lid mason jar. Adding a drizzle of extra virgin olive oil on top will help seal it well. It typically lasts 2 to 3 weeks in the fridge.
You can also freeze it for later use (about a month or so).
Ways to use harissa
Once you make harissa paste at home, you'll find yourself using it in many different ways. Here are a few ideas:
Browse all recipes here. Join my free e-mail list
Easy Harissa Recipe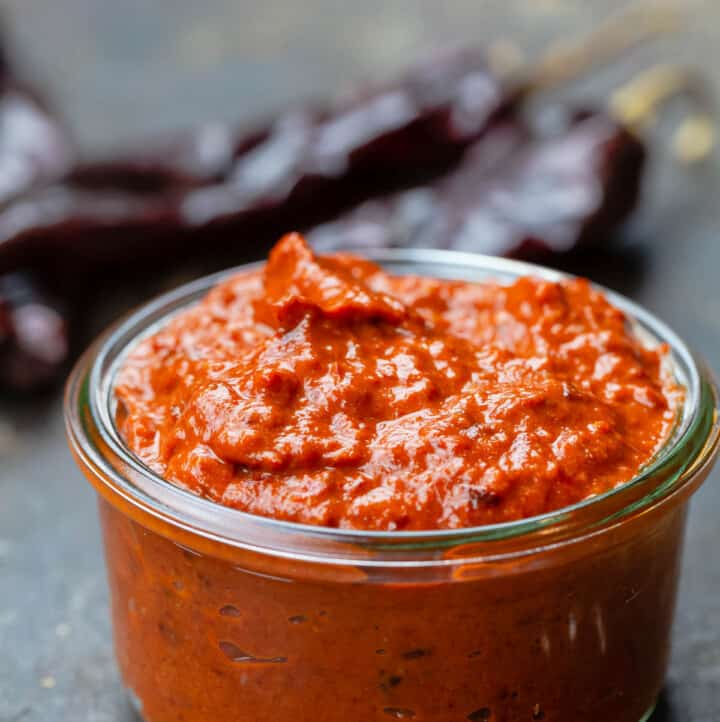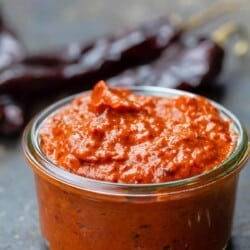 Ingredients
7

Dried New Mexico Chiles or Guajillo Chiles,

or a combination of dried New Mexico Chiles and another kind of dried hot chiles such as de arbol or chipotle chiles

6

oz

jarred roasted red peppers,

drained rinsed, and dried (2 large peppers)

2

tablespoon

tomato paste

4

large garlic cloves,

peeled

1

teaspoon

caraway seeds,

toasted and ground (use a mortar and pestle, grinder or food processor)

2

teaspoon

ground coriander

2

teaspoon

ground cumin

1

teaspoon

smoked paprika

½

teaspoon

cayenne pepper

Kosher salt

Juice of 1 large lemon,

2 tablespoon fresh lemon juice

2

tablespoon

quality extra virgin olive oil,

more for later
Instructions
Soak and prepare the dried chiles. Place the dried chiles in a heat-safe bowl and cover with hot water. Set aside for 30 minutes until the chiles are tender and re-hydrated. Drain the chiles and remove the stems and seeds.

Combine chiles with the remaining ingredients. Transfer the chiles to the bowl of a large food processor fitted with a blade. Add the tomato paste, roasted red peppers, garlic, ground caraway seeds, coriander, cumin, smoked paprika, cayenne (if using), and a large pinch of kosher salt. Add fresh lemon juice.

Make the harissa paste. Run the food processor, and while it's running, drizzle the extra virgin olive oil from the top opening. Stop the processor to scrape down the sides and run again until you reach the desired paste-like texture. Taste and adjust seasonings to your liking (remember that harissa paste will deepen in flavor as it sits in the fridge over the next day or two).

Store. Transfer the harissa paste to a clean mason jar. Cover with a very thin layer of extra virgin olive oil, then cover the jar with its lid tightly and refrigerate.
Notes
This recipe makes about 1 ½ cups of harissa paste. A serving size is 2 tablespoons.
Cook's Tip: You can use this homemade harissa paste as soon as you make it, but for best flavor allow it at least 1 to 2 days in the fridge.
Storage: Homemade harissa can last in the fridge for 2 to 3 weeks, properly stored in a covered mason jar and the top the harissa paste covered with a thin layer of extra virgin olive oil. You can use a little bit of the harissa paste at a time, but be sure to add a bit more extra virgin olive oil to cover the top before storing in the fridge again.
Can you freeze it? Yes! You can freeze harissa paste for up to 1 month or so. Best to freeze individual smaller portions.
Visit Our Shop to browse quality Mediterranean ingredients, including spices and extra virgin olive oil used in this recipe.
Nutrition
Serving:
2
tablespoon
Calories:
13.4
kcal
Carbohydrates:
0.6
g
Protein:
0.1
g
Fat:
1.3
g
Saturated Fat:
0.2
g
Sodium:
11
mg
Potassium:
20.3
mg
Fiber:
0.2
g
Sugar:
0.2
g
Vitamin A:
79.1
IU
Vitamin C:
0.3
mg
Calcium:
3.7
mg
Iron:
0.2
mg