If you thought rice is a benign, boring side dish, this Hashweh Lebanese Rice will change your mind! Adorned with meat, toasted nuts and raisins. And loaded with flavors from aromatics and warm Middle Eastern Spices. Hashweh makes a glorious holiday side dish, but it can be the star dish any day of the week.
See serving suggestions, and be sure to view the video tutorial for how to make hashweh.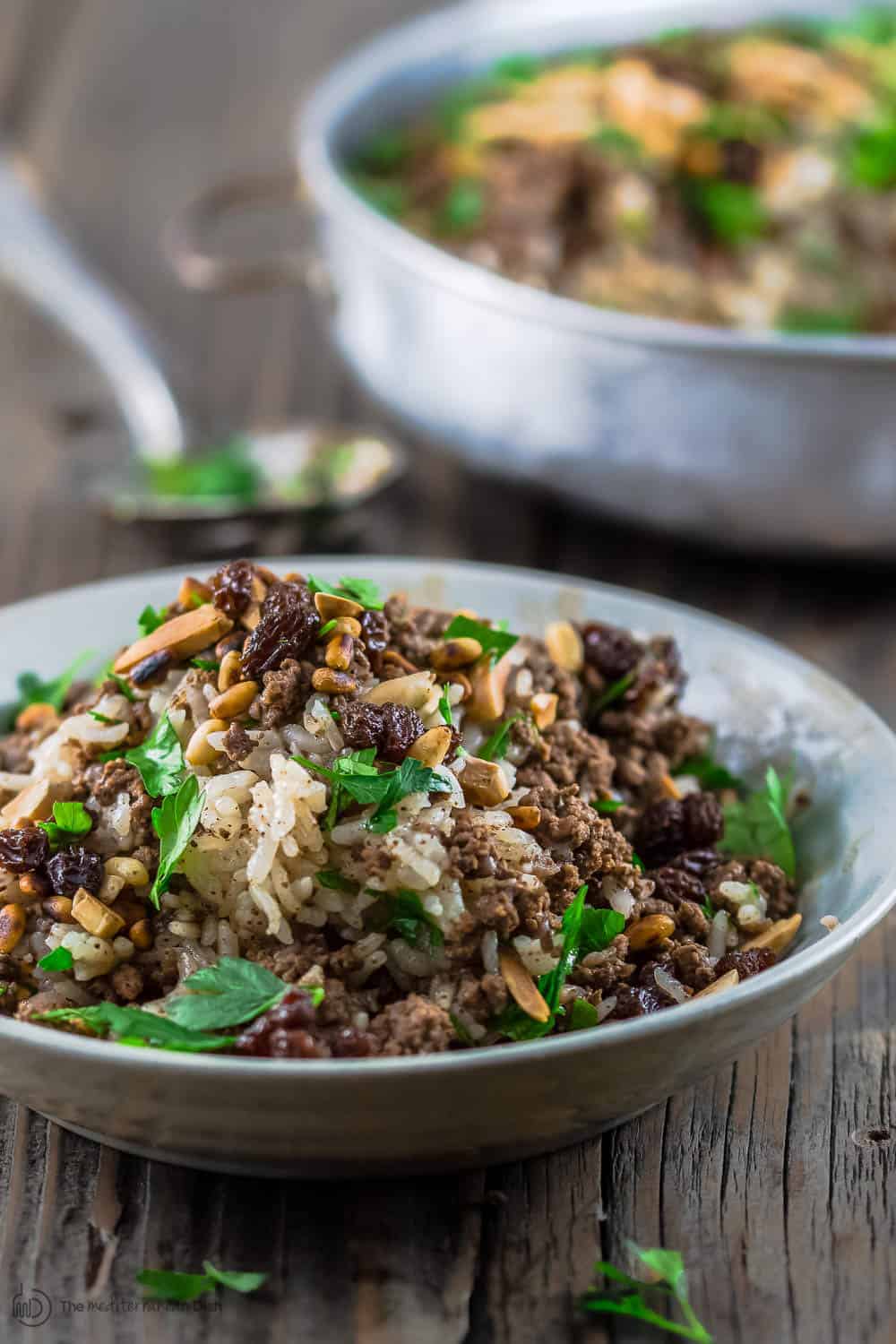 What is Hashweh?
In our household, this Lebanese rice has been lovingly named, "dirty rice." It is more properly known throughout the Middle East as hashweh, which literally means stuffing or stuffed.
Hashweh is a one-pot rice dish, loaded with ground or minced beef (or lamb), lots of toasted nuts and dried fruit like raisins. It is anything but bland. Expect layers of flavor in each bite, thanks to aromatics and warm Middle Eastern spices like cinnamon and allspice.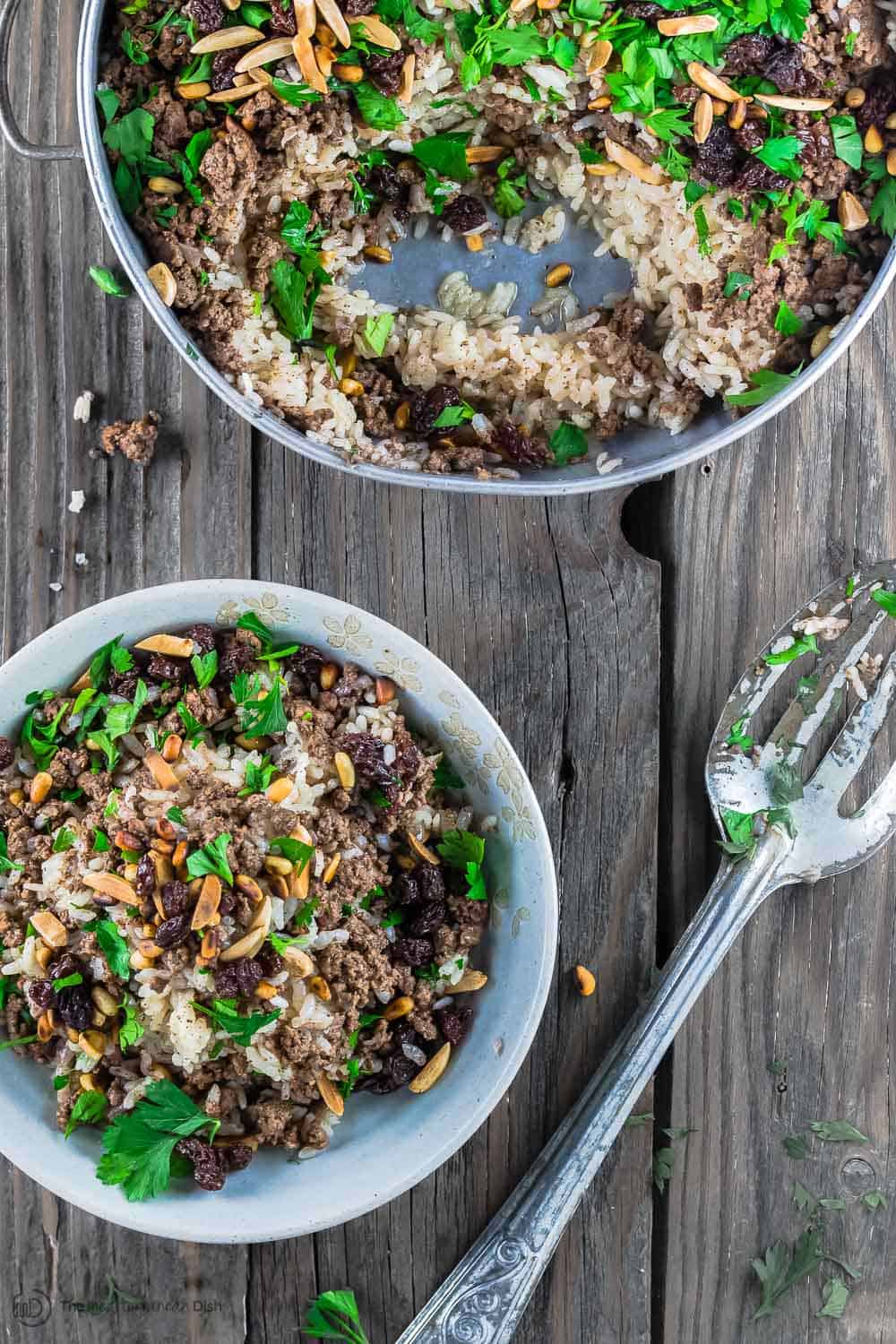 So as you can see, this loaded Lebanese rice is anything but an average "stuffing" to be tucked in or added as a side. Sure, it can be that. And it's a must holiday side dish for me (think Thanksgiving and Christmas.)
But it can easily be the main star on any given night, don't you agree?
How to Make Hashweh
(be sure to also watch the video tutorial below)
Hashweh is really simple to make. It takes only a few simple steps and a couple of pro tips:
1- A very important first step is to rinse and soak the rice in water for a few minutes. This helps get rid of excess starch so the rice is not sticky. It also allows the rice to cook more quickly and evenly (you end up using less water in cooking than you see in typical rice dishes.)
2- The cooking process for hashweh begin with browning the meat (you can use ground beef or lamb), along with aromatics and warm spices. We are layering flavors from the very start!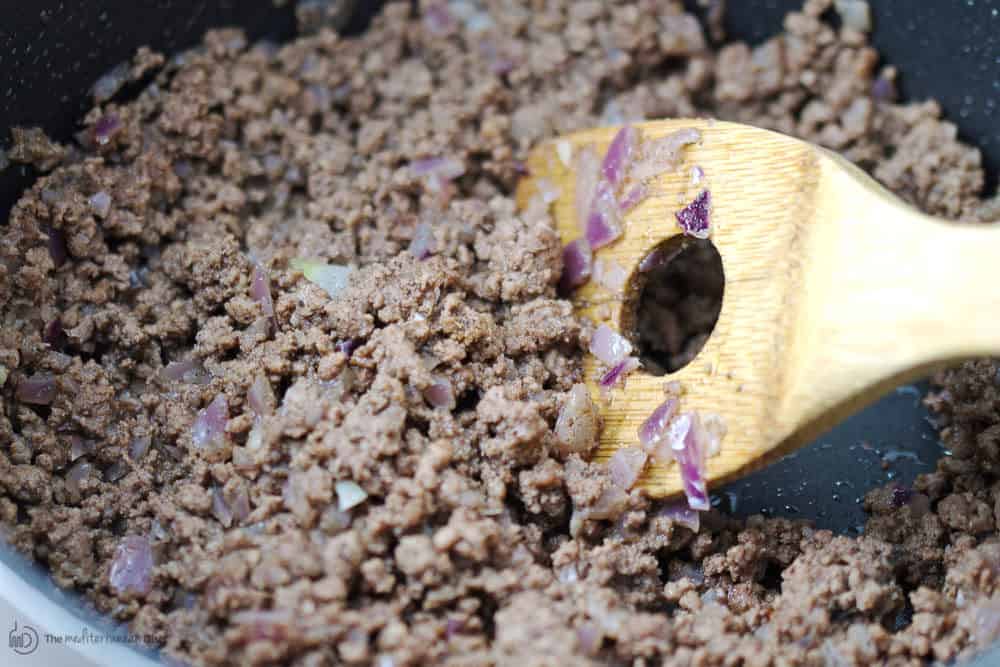 3- Once the meat is fully cooked, we add our drained rice right on top (all in one pot). We also make sure to add a little more of the same spices to carry the flavors through. Water and a drizzle of extra virgin olive oil are the last couple ingredients to add. Bring to a boil until the water reduces by a lot. Then cover and cook.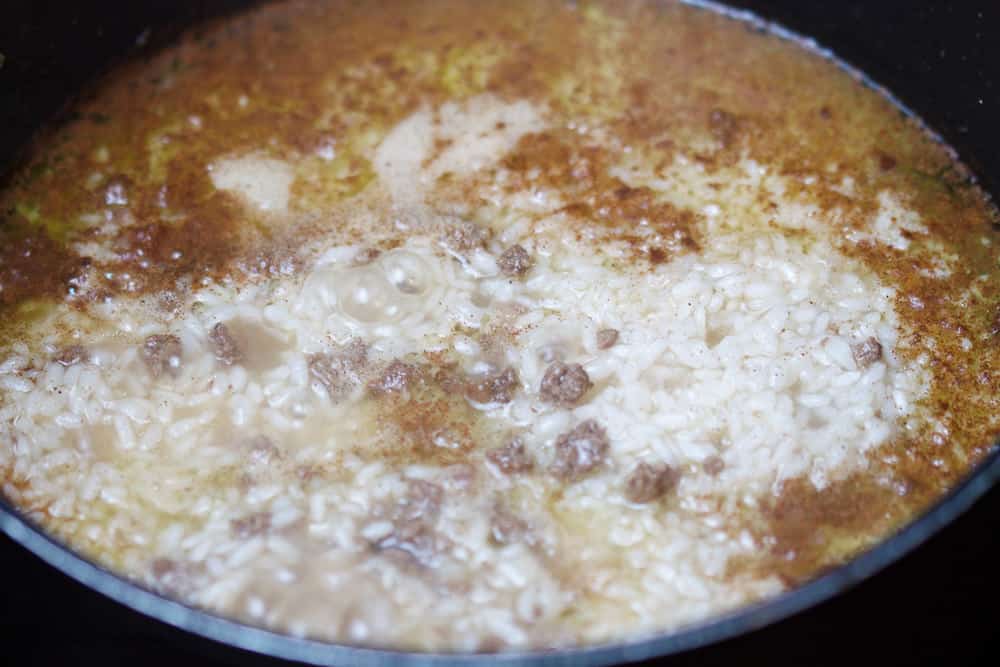 4- Important tip, once the hashweh rice is fully cooked through, the best thing you can do to it is to leave it covered and undisturbed for a few minutes before uncovering it. This is important for texture and flavor.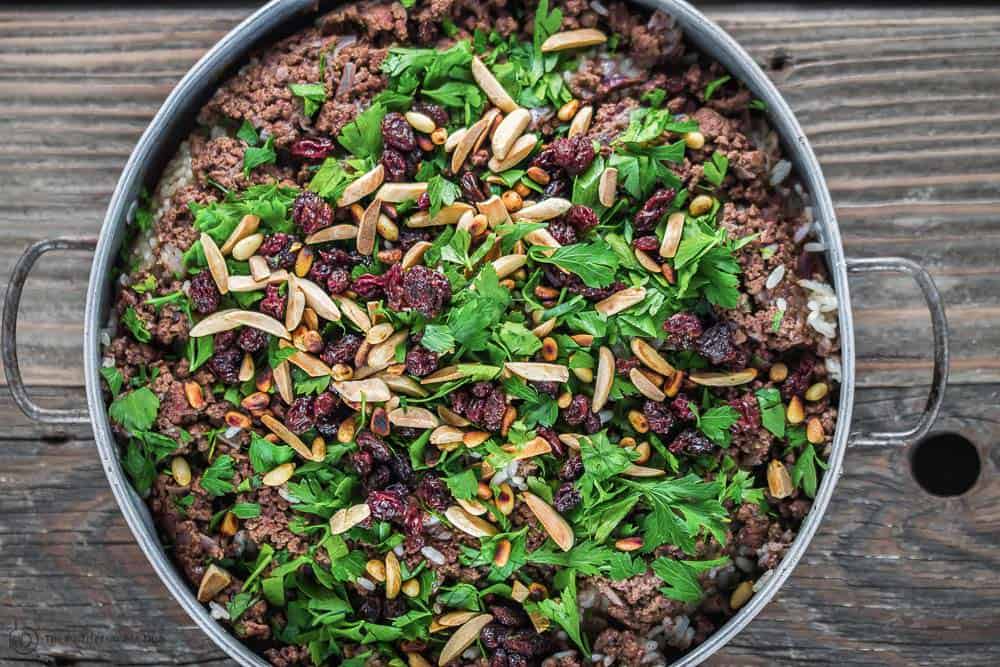 5- To serve the hashweh rice, simply turn it onto a plate (watch my video below to see how I do it), then add all the beautifully toasted nuts and raisins, maybe a little parsley for garnish. Glorious!
What to serve with Hashweh Lebanese Rice?
Sure, this gorgeous Lebanese rice makes a great side dish. And I do often serve it as a gluten-free stuffing alternative for Thanksgiving! But, I have no shame serving it as a main course with a couple of yummy sides.
I like to turn hashweh Lebanese rice into dinner bowls with a side salad like this chickpea salad or fattoush and a little creamy roasted garlic hummus! The kind of dinner bowl equal in awesomeness to these Greek Keftedes dinner bowls or this Lebanese Fatteh!
Watch the Video Below for How to Make Hashweh Lebanese Rice:
You may also like
Golden Rice Pilaf with Peas and Carrots
See more Mediterranean Recipes. JOIN MY FREE E-MAIL LIST.
Print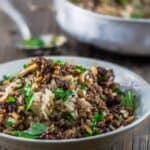 Loaded Lebanese Rice: Hashweh
---
Description
This Lebanese rice pilaf called hashweh is not your ordinary rice. Loaded with lean ground beef, toasted nuts, raisins. Seasoned to perfection! See step-by-step photos below the recipe
---
1 ½ cups

medium grain rice
Olive oil

1

small red onion, finely chopped

1

lb lean ground beef or lean ground lamb

1 ¾ tsp

ground allspice, divided

½ tsp

minced garlic

¾ tsp

ground cloves, divided

¾ tsp

ground cinnamon, divided
salt and pepper

½ cup

fresh parsley leaves, roughly chopped

⅓

to

½

cup pine nuts, toasted

⅓

to

½

cup slivered almonds, toasted

½ cup

dark raisins
---
Instructions
Soak the rice in cold water for 15 minutes or until you are easily able to break one grain of rice between your thumb and index fingers. When ready, drain well.
Meanwhile, heat 1 tablespoon of olive oil in a heavy cooking pot. Add chopped red onions, cook on medium-high heat briefly, then add the ground beef. Season the meat mixture with 1 ¼ teaspoon allspice, minced garlic, ½ teaspoon ground cloves, ½ teaspoon ground cinnamon, salt and pepper. Toss together to combine. Cook until the meat is fully browned (8-10 minutes). Drain.
Top the meat with rice. Season the rice with a little salt and the remainder of the allspice, ground cloves and cinnamon. Add 2 ½ cups of water and 1 tablespoon of olive oil to cover the rice.
Turn heat to high and bring the liquid to a rolling boil. Let boil until the liquid has significantly reduced (see picture below).
Now turn heat to low and cover; let cook for 20 minutes or until moisture has completely been absorbed and the rice is no longer hard nor sticky. Remove from heat and set aside for 10 minutes.
Uncover the rice pot and place a large round serving platter on the opening of the rice pot. Carefully flip the pot contents onto the platter so that the meat layer now tops the rice.
Garnish with parsley, toasted pine nuts, almonds and raisins. Enjoy.
Notes
Pro Tips: Be sure to watch the video tutorial above this recipe. A couple of important of tips to remember: 1) before you do anything, make sure to rinse the rice well and let it soak for a few minutes.This will ensure the rice is not sticky and that it will cook quickly and evenly. 2) When the hashweh is ready, leave it covered and undisturbed for a few minutes before serving. Again, this ensures texture but also flavor.
Recommended for this Recipe All-natural ground allspice and Private Reserve Greek extra virgin olive oil (from organically grown and processed Koroeniki olives)
SAVE! Try our Ultimate Mediterranean Spice Bundle, or create your own 6-pack or 3-pack of fresh, all-natural and organic spices!
Prep Time:

20 mins

Cook Time:

30 mins

Category:

Side dish/entree

Cuisine:

Lebanese
Keywords: Hashweh, Hashweh Rice, Lebanese Rice Recipe, Rice Pilaf
More Recipes to Try
Egyptian Koshari: Rice and Lentils
*This post was originally published in 2014 and has been updated for readers benefit.