Perfectly ripe tomatoes, hearty Italian bread, and a tangy vinaigrette make this easy panzanella salad! Drying and toasting the bread with a little olive oil in the oven gives you the best texture. Check out more tips on how to make this delicious summer salad recipe!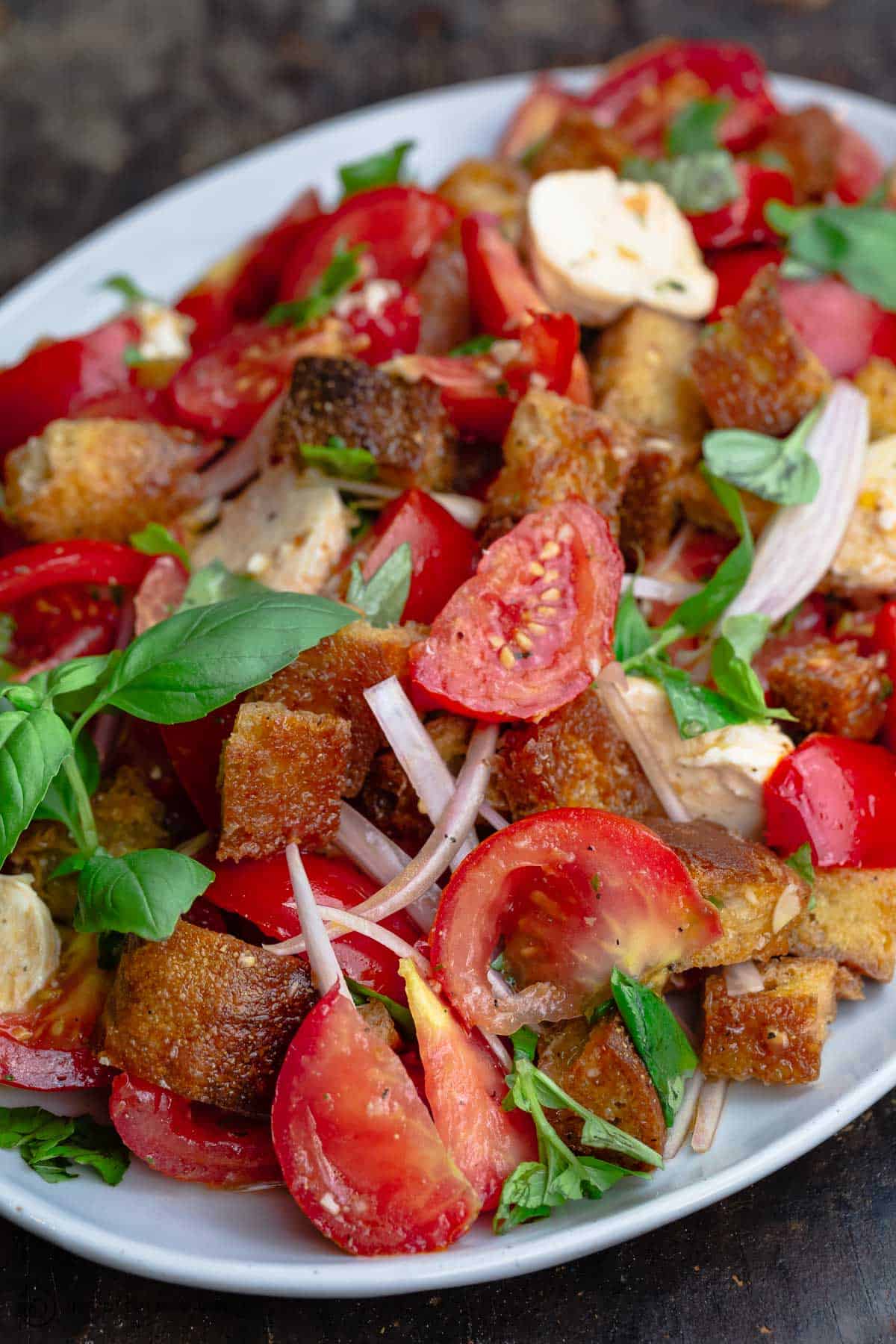 A classic Tuscan bread salad, panzanella is made of ripe tomatoes, dried Italian bread, and a simple tangy dressing. But for something so simple as bread and tomatoes, panzanella salad is one surprisingly complex and delightful summer dish, and one of my favorite things to make with tomatoes.
As much as tomatoes seem like the star of this salad, my Italian friends will say that panzanella is not another tomato salad with some bread croutons; it's a bread salad that can be made with tomatoes or any other vegetables (although I stick with the classic tomatoes in this panzanella recipe).
The idea of bread salads is a familiar thing in different parts of the Mediterranean (if you've had my fattoush salad, you know it's another delicious example that gives leftover bread--in this case, pita--a new life). And beyond salads, in Mediterranean cooking, you'll find other ways to use up some bread in soups like gazpacho and ribollita, to sweet like sopapillas and endless bread puddings and more.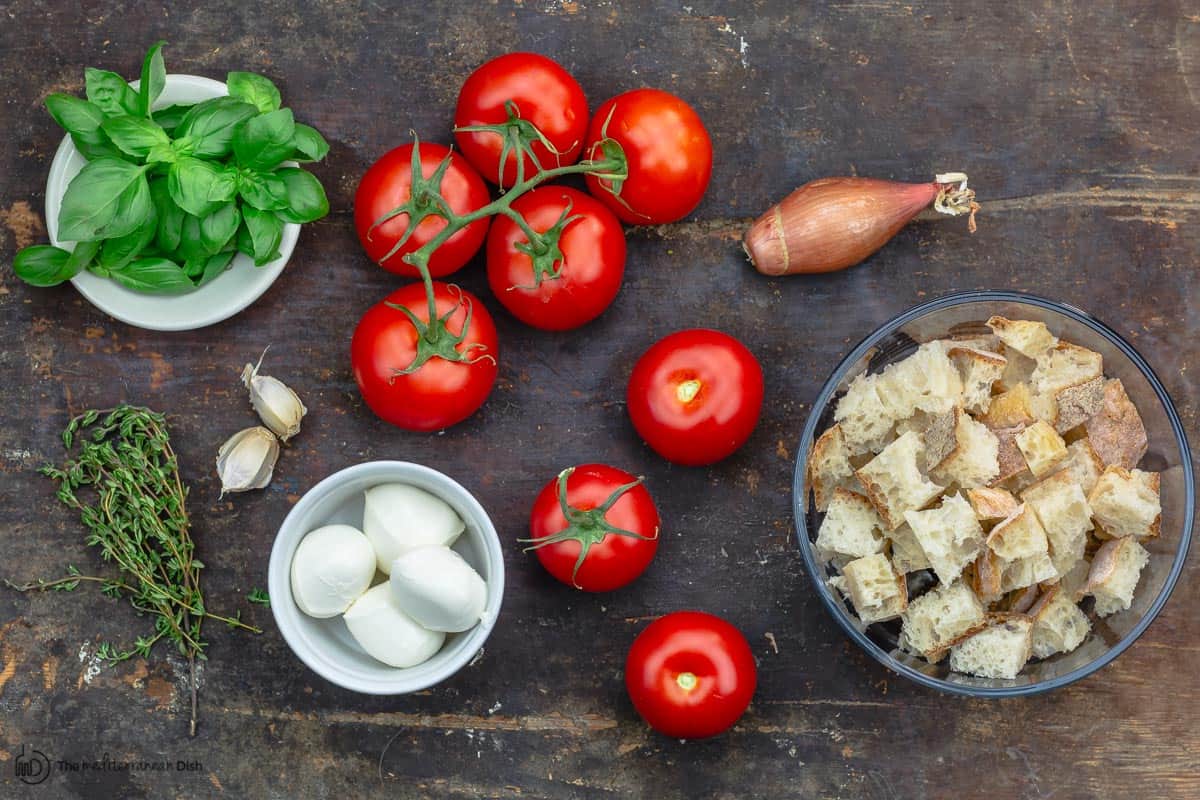 So, about traditional panzanella
The Guardian points out that as with other peasant dishes born of necessity, from Florence down to Rome, there are endless variations of this salad, but the non-negotiable is hefty day-old country bread. Prepared the traditional way, this salad will always start with stale bread that's soaked in water for about 15 minutes or so, then wrung out and cut up or crumbled by hand to be tossed with vegetables (whatever is in season), extra virgin olive oil, and red wine vinegar.
But after tinkering a few times, I give you my favorite version of panzanella (mine does have mozzeralla), and I'm excited to share some tips that have made all the difference for me.
Dry and toast your bread for panzanella!
The best bread for this salad is a crusty loaf with a dense, chewy center and a good crunchy crust that allows it to sit in the dressing without falling apart and getting too soggy. Try Italian country bread or ciabatta, and if you remember, tear the bread up and allow it to sit uncovered for a few hours or overnight so that it will dry and harden. And before you make the salad, go ahead and toss the bread in some good extra virgin olive oil and toast it in the oven for a few minutes until it crisps in some parts but remains somewhat chewy too.
By drying your bread and toasting it first, it will absorb the delicious dressing and will become soft and delicious without getting too soggy.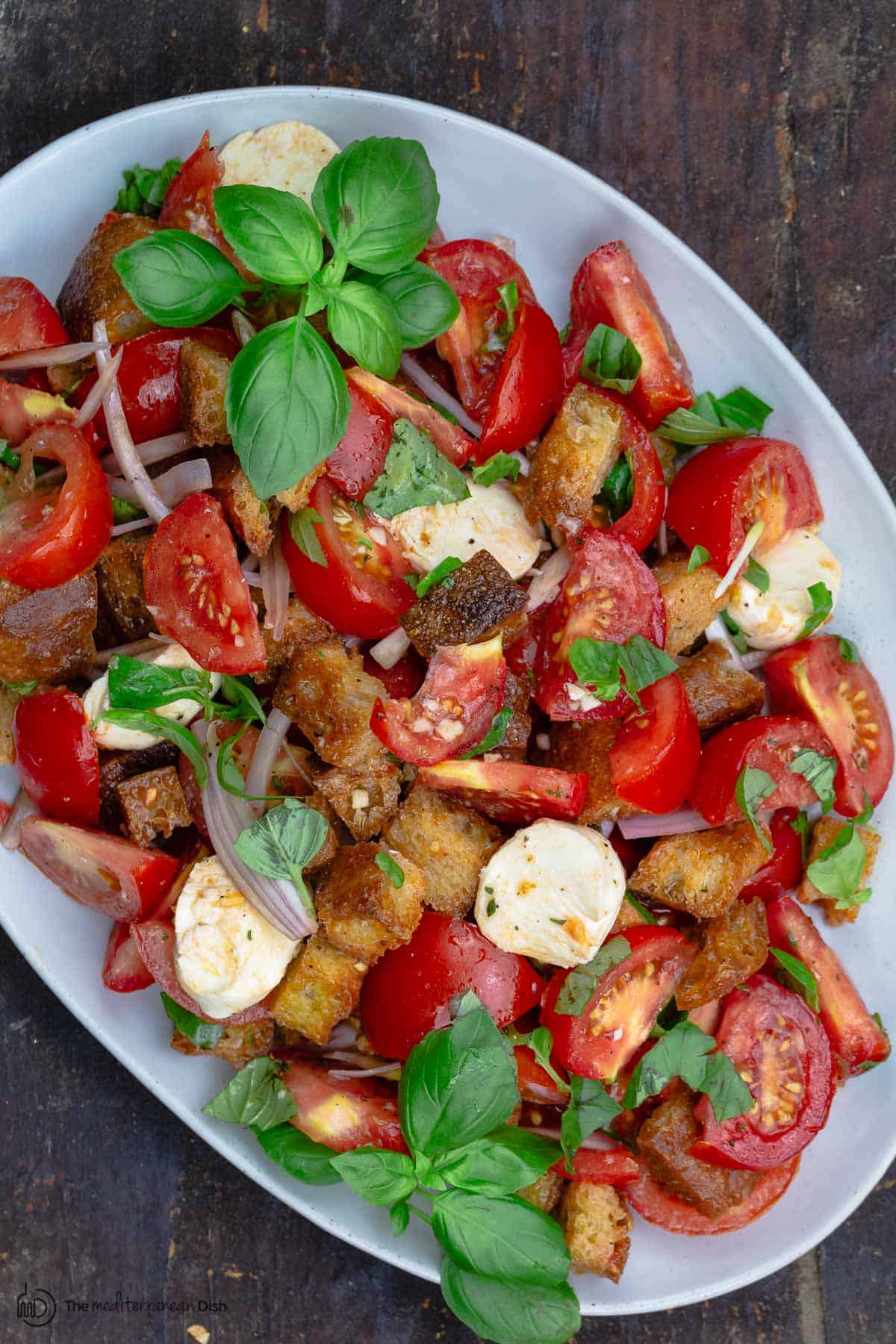 Use plump ripe tomatoes
Although you can use cucumbers or other garden veggies that are in season, I'm all about a simple tomato panzanella. Look for perfectly ripened tomatoes that are plump and heavy for their size. They should be firm with some give, and the skin should be tight without blemishes. As far as what kind of tomatoes to use, in this recipe, I used vine ripe tomatoes but when colorful heirloom tomatoes are in season, that's what I like to use. If you choose to use small tomatoes like cherry tomatoes or grape tomatoes, for example, be sure to cut the them in half, because if you keep them whole, you miss out on their juice which is an important part of the tasty dressing.
Salt your tomatoes first
Should you salt your tomatoes first? In this recipe, I highly recommend that you slice and salt your tomatoes before you make the salad. This only takes about 15 minutes or so for the salt to draw out the juices of the tomatoes. This intensifies the flavor of the tomatoes and gives you some delicious liquid to use in making the dressing! And it's convenient, since you work on toasting your bread while the tomatoes are sitting in the colander.
The dressing
A traditional panzanella recipe will call for the simplest of dressings made of good extra virgin olive oil and red wine vinegar. The dressing in this salad is kicked up a couple of notches with the addition of fresh garlic, thyme, and a small squeeze of Dijon mustard. And don't forget, use the tomato juice you created from salting the tomatoes.
How to make panzanella salad
Dry and toast the bread. If you have the time, tear the bread up and spread it on a large baking sheet leaving it for a few hours or overnight to dry. When you're ready, toss the bread with a bit of good olive oil and stick in the oven for 10 to 15 minutes at 400°F until the edges get somewhat crispy (you still need the bread to be chewy).



Salt the tomatoes. Slice up your tomatoes and put them in a colander and sprinkle with a large pinch of kosher salt. Toss them gently and let them sit for 10 to 15 minutes while the bread is toasting.



Make the dressing. In the same big bowl with the tomato juice, add ¼ cup red wine vinegar, ½ cup of good extra virgin olive oil, fresh garlic (1 to 2 minced cloves), fresh thyme, and a squeeze of Dijon mustard. Season with kosher salt and whisk to combine.



Combine the tomatoes, bread, and dressing. Add the tomatoes, toasted bread cubes, shallots, fresh basil, and mozzarella to the bowl with the dressing. Toss gently to combine.


Serve. Allow a few minutes, then transfer the salad to a serving plates or a large platter and serve!
Let the salad sit for 30 minutes before serving!
Once you mix the salad, allow it to sit for a few minutes so the flavors meld and the bread can soak up a good bit of the dressing. How long? Some recipes will allow panzanella salad to sit for up to 4 hours before serving. But if you're like me, and you don't love a terribly soggy panzanella, then 20 to 30 minutes will do the trick. The bread will absorb the dressing and develop some good flavor without disintegrating and turning into mush.
Serve it with
Serve this sunny Tuscan bread salad during the warmer months when tomatoes are in season. It's lovely to enjoy on BBQ night with anything from grilled chicken to salmon kabobs. It's also a great starter to a fun Italian menu with anything including sundried tomato pasta, eggplant parmesan, chicken pesto, or Fish of your choice.
Panzanella can also be the perfect summer salad for your next BBQ with things like chicken kabobs, lamb burgers, or grilled shrimp.
Other tomato salads to try
You may also enjoy 50+ Top Mediterranean diet recipes. For all recipes, visit us here.
Simple Tomato Panzanella Recipe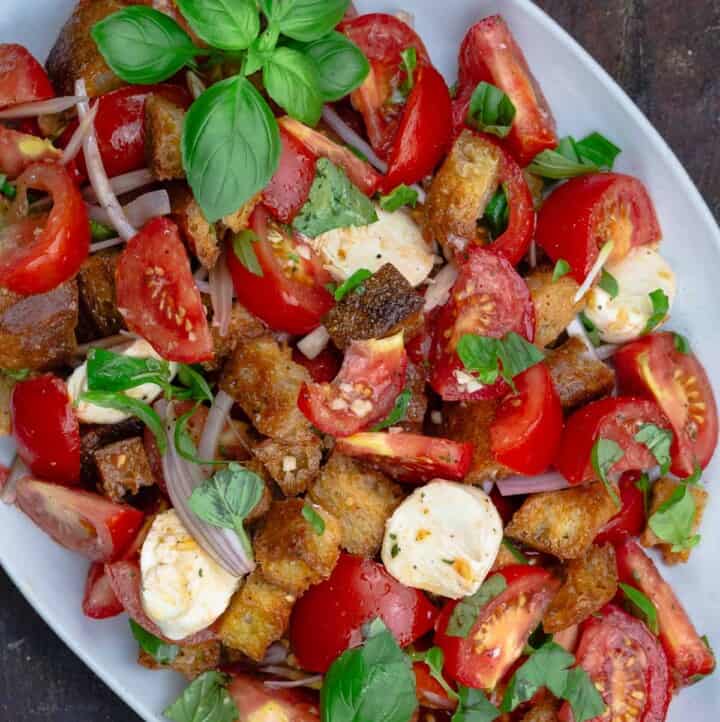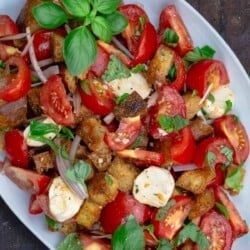 Panzanella salad with hearty Italian bread, tomatoes, shallots and basil, tossed in a light and tangy dressing. If you like, add fresh mozzarella cheese. Toasting the bread in the oven for a few minutes produces the best texture. How long you allow your panzanella salad to sit is up to you, I find 30 minutes to be a good amount of time for the flavors to meld and for the bread to soak just enough of the dressing without getting too soggy.
Equipment
Mixing bowl

Sheet pan for toasting bread
Ingredients
5

oz

or ½ loaf of a rustic Italian bread (I used Ciabatta)

cut into 1-inch cubes

Kosher salt

2 ¼

lb

ripe tomatoes

I used vine ripe tomatoes, cut into small wedges or cubes

¼

cup

red wine vinegar

2

garlic cloves

minced

½

teaspoon

Dijon mustard

1

teaspoon

fesh thyme

optional

Black pepper

2

Small shallots

peeled and thinly sliced

½

cup

packed fresh basil

torn

4

oz

fresh baby mozzarella

optional (more to your liking)
Instructions
Heat the oven to 400 degrees F.

In a large mixing bowl, combine bread cubes with large drizzle of extra virgin olive oil and a generous pinch of kosher salt. Toss to make sure the bread is well coated (save the bowl for later use). Spread the bread cubes on a sheet pan and bake in heated oven for about 10 minutes or until golden (the edges should get crisp, while the bread gains some color and crisp but remains still a bit chewy).

Place a large colander over the same mixing bowl. Place the tomatoes in the colander and sprinkle with kosher salt. Toss briefly with your hand. Set aside for a few minutes to allow the tomatoes to release their juices in the mixing bowl.

When ready, move the colander with the tomatoes to the sink for now, and use the mixing bowl with the tomato juice to make the dressing. Add red wine, ½ cup extra virgin olive oil, garlic cloves, Dijon mustard, thyme, and a large pinch of black pepper. Whisk to combine.

Add the tomatoes, bread cubes, shallots, basil and mozzarella (if using) to the mixing bowl and toss to coat with the dressing. Allow the salad to sit for 20 to 30 minutes before serving.

Give the salad a gentle toss and transfer to a serving platter. Garnish with a few more fresh basil leaves, if you like.
Notes
Cook's Tip: It helps to cut the bread into cubes ahead of time and leave it out to dry for a few hours. Still, do not skip toasting the bread in the oven for a few minutes, this makes a big difference in texture and helps keep the salad from getting too soggy.
Dressing variation: You can pair down the dressing if you prefer something simpler. A bit of extra virgin olive oil and red wine vinegar is essential, the rest is up to you.
What kind of tomatoes to use? Any kind of tomatoes will work in tomato panzanella. I used vine ripe tomatoes here, but I love using an assortment of colorful heirloom tomatoes when they're in season. If you use small cherry or grape tomatoes, be sure to still cut them in halves to be able to use their juice in the dressing.
Visit Our Online Shop to browse quality Mediterranean ingredients including extra virgin olive oils and all-natural and organic spices and more!
Nutrition
Calories:
82.3
kcal
Carbohydrates:
7.1
g
Protein:
5
g
Fat:
4.4
g
Saturated Fat:
1.4
g
Potassium:
409
mg
Fiber:
2.1
g
Vitamin A:
1538.2
IU
Vitamin C:
24.5
mg
Calcium:
89.9
mg
Iron:
0.6
mg
*This post first appeared on The Mediterranean Dish in 2020 and has been updated with new information for readers' benefit.