This easy Greek-style baked cod recipe has quickly become a regular on my dinner rotation! A handful of Mediterranean spices, plus a mixture of lemon juice, olive oil, and garlic, give it glorious flavors! Be sure to watch the video below and grab my tips for what to serve along and how to store leftovers.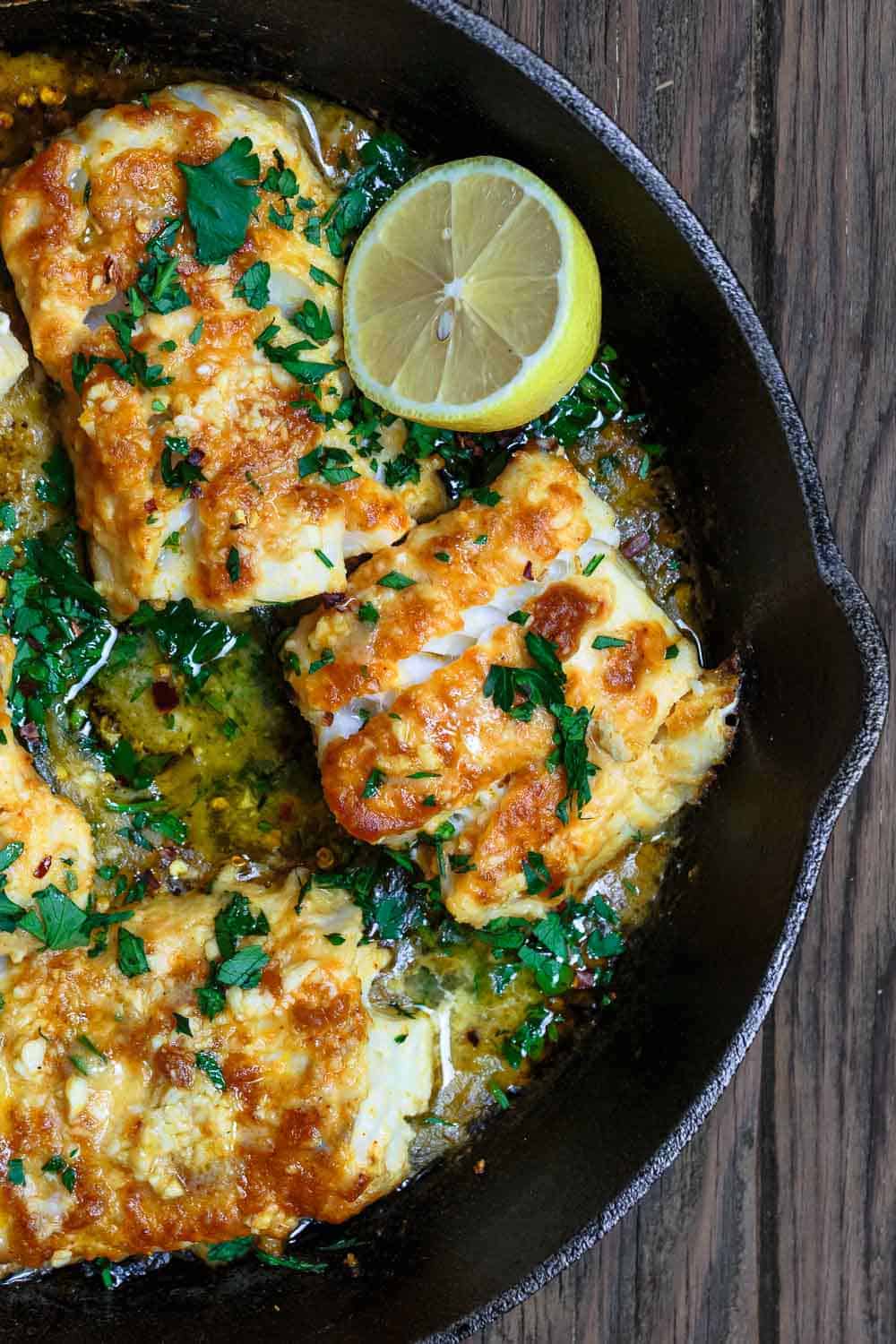 Following the Mediterranean diet, fish is kinda essential for my family. It's about the one food that shows up on the menu twice every week.
Sometimes, our fish dinners go far--as far as a fish stew from Sicily or an Egyptian-inspired fish Shakshuka cooked in a tasty tomato sauce. But more often than not, I opt for something simple like steamed salmon or today's baked cod recipe with lemon and garlic.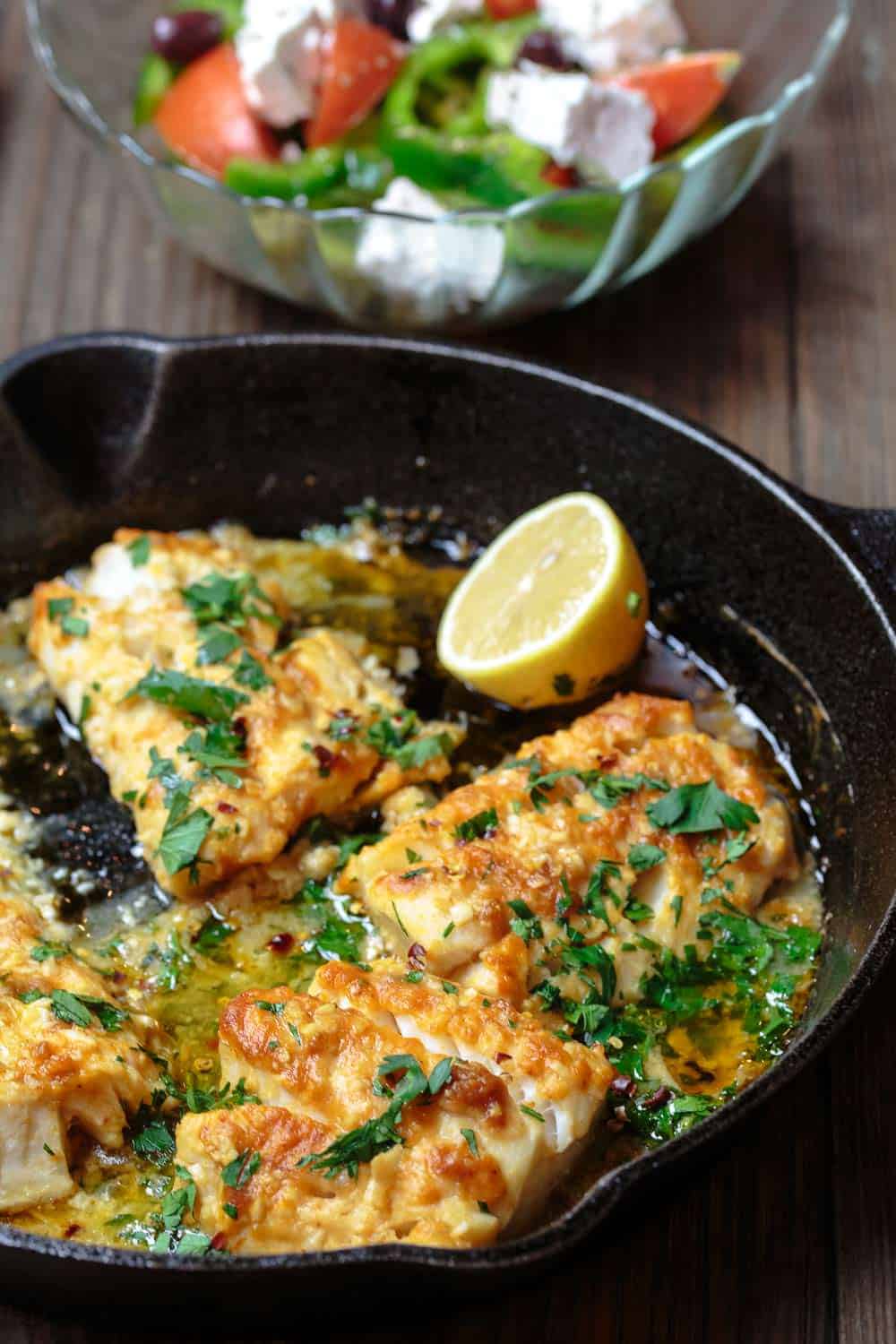 Why this Cod Recipe Works?
Cod fillet is a beautiful thing. It's easy to cook, and because it's a mild-tasting fish, the ways to give it glorious flavor are endless.
This baked cod recipe takes on a bit of a Greek twist. The cod is lightly coated with a spiced flour mixture with coriander, paprika, and cumin. Quickly seared, then baked with lemon juice, Greek olive oil, and lots of minced garlic.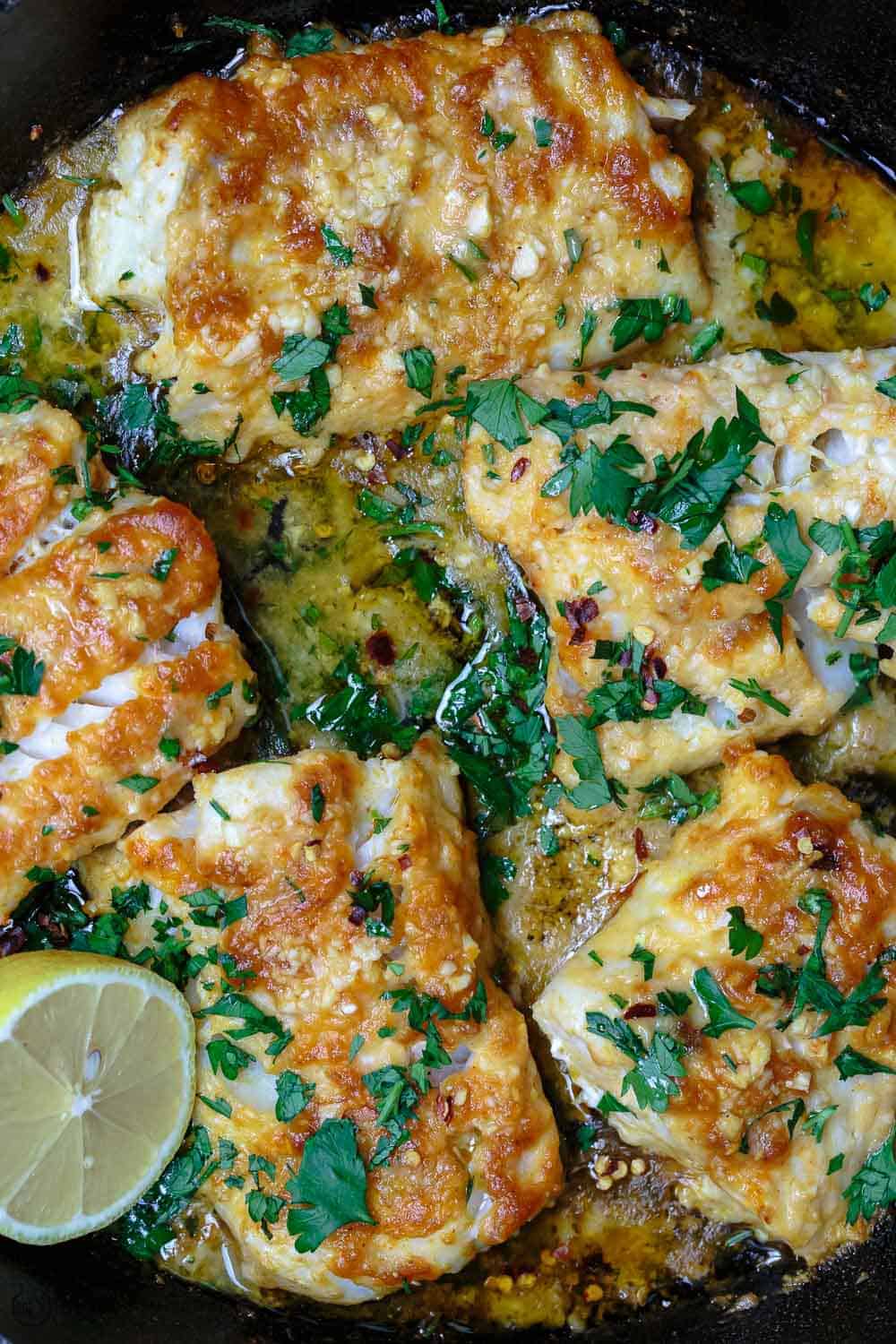 What to serve with this baked cod recipe?
It feels like I'm always recommending this Lebanese rice with vermicelli, but it makes the perfect bed for this lemony baked cod. Keep the Greek theme going by adding a side of traditional Greek salad. Or, for a heartier salad option, try this Mediterranean chickpea salad with eggplant.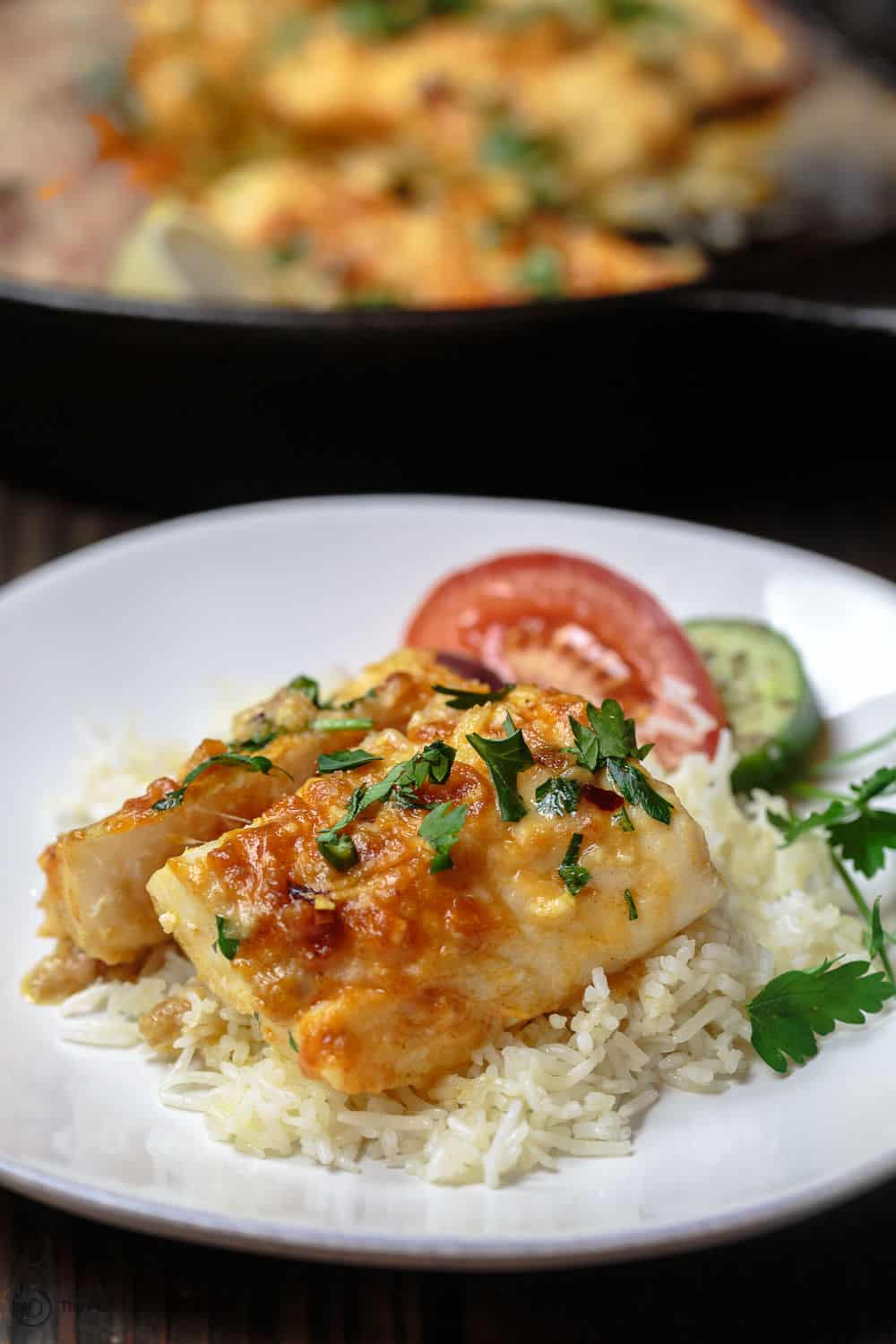 Can I refrigerate or freeze leftover cooked fish?
When I make this baked cod recipe, I don't typically have leftovers. And as with all fish recipes, it is best eaten fresh on the day it is cooked, particularly because often times the fish was already frozen before it was cooked.
But, a reader recently asked this relevant question as she cooks for fewer people. Depending on how fresh the fish was to begin with, you can store the leftovers either in the fridge or even in the freezer. First, cool the fish a bit, but don't leave it in room temperature for more than 1 hour before refrigerating or freezing.
Arrange the cod in a shallow glass container with a tight lid and refrigerate for up to 2days. If you need to warm it up, simply use a medium-heated oven until just warmed through (there is always a chance the fish will be overcooked when you warm it up again).
Generally, cooked fish can be frozen for up to 1 month. My personal preference is not to freeze it, I do feel that the texture of the fish changes a little.
You may also like: Easy Seafood Paella; Mediterranean Whole Snapper with Garlic and Veggies; Grilled Shrimp with Roasted Garlic Cilantro Sauce; Greek Chicken and Potatoes.
Craving more? Check out more fish recipes. You may also like our to browse top Mediterranean diet recipes.
Visit our shop to browse quality Mediterranean ingredients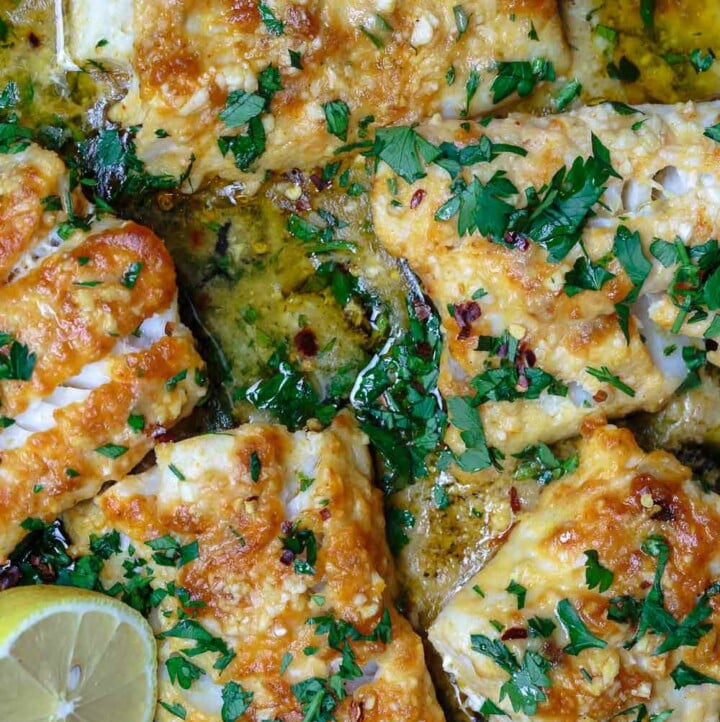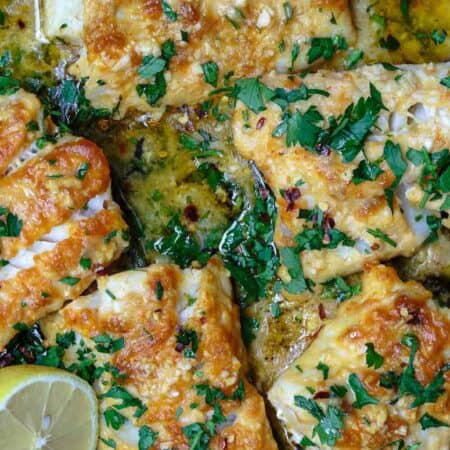 Mediterranean Baked Cod Recipe with Lemon and Garlic
Best baked cod recipe out there! Prepared Greek style with a few spices and a mixture of lemon juice, olive oil and lots of garlic. Bakes in 15 mins!
Ingredients
1.5

lb

Cod fillet pieces,

4-6 pieces

5

garlic cloves,

peeled and minced

¼

cup

chopped fresh parsley leaves
Instructions
Preheat oven to 400 degrees F.

Mix lemon juice, olive oil, and melted butter in a shallow bowl. Set aside

In another shallow bowl, mix all-purpose flour, spices, salt and pepper. Set next to the lemon juice mixture.

Pat fish fillet dry. Dip fish in the lemon juice mixture then dip in the flour mixture. Shake off excess flour. Reserve the lemon juice mixture for later.

Heat 2 tbsp olive oil in a cast iron skillet over medium-high heat (watch the oil to be sure it is shimmering but not smoking). Add fish and sear on each side to give it some color, but do not fully cook (about a couple minutes on each side) Remove from heat.

To the remaining lemon juice mixture, add the minced garlic and mix. Drizzle all over the fish fillets.

Bake in the heated oven for until it begins to flake easily with a fork (10 minutes should do it, but begin checking earlier). Remove from heat and sprinkle chopped parsley. Serve immediately.
Notes
Serving suggestions: Serve immediately with Lebanese rice

and this

Mediterranean chickpea salad

or

traditional Greek salad.

Cook's Tip: This recipe has been edited adding step #5 to achieve more color. Be sure to use a fish spatula to carefully turn the fish in the skillet.
Leftover Storage: If you have any leftovers, let the fish cool a bit, then arrange in a shallow glass container with a tight lid. You can refrigerate for 2 to 3 days, or freeze for up to one month. My personal preference is not to freeze fish as, sometimes, the texture does change.
Visit our shop to browse quality Mediterranean ingredients including olive oils and spices.
Nutrition
Calories:
311.8
kcal
Carbohydrates:
8
g
Protein:
25.5
g
Fat:
19.8
g
Saturated Fat:
5
g
Cholesterol:
70.6
mg
Sodium:
466.1
mg
Potassium:
611.1
mg
Fiber:
1.1
g
Vitamin A:
594.9
IU
Vitamin C:
14.1
mg
Calcium:
40.8
mg
Iron:
1.5
mg