Potato salad doesn't need mayonnaise to be delicious, and this no mayo Greek Potato salad recipe is living proof! With the right potatoes and an easy yet bold Greek-style vinaigrette, you'll make a healthy potato salad with a wonderfully herbaceous flavor in just 30 minutes.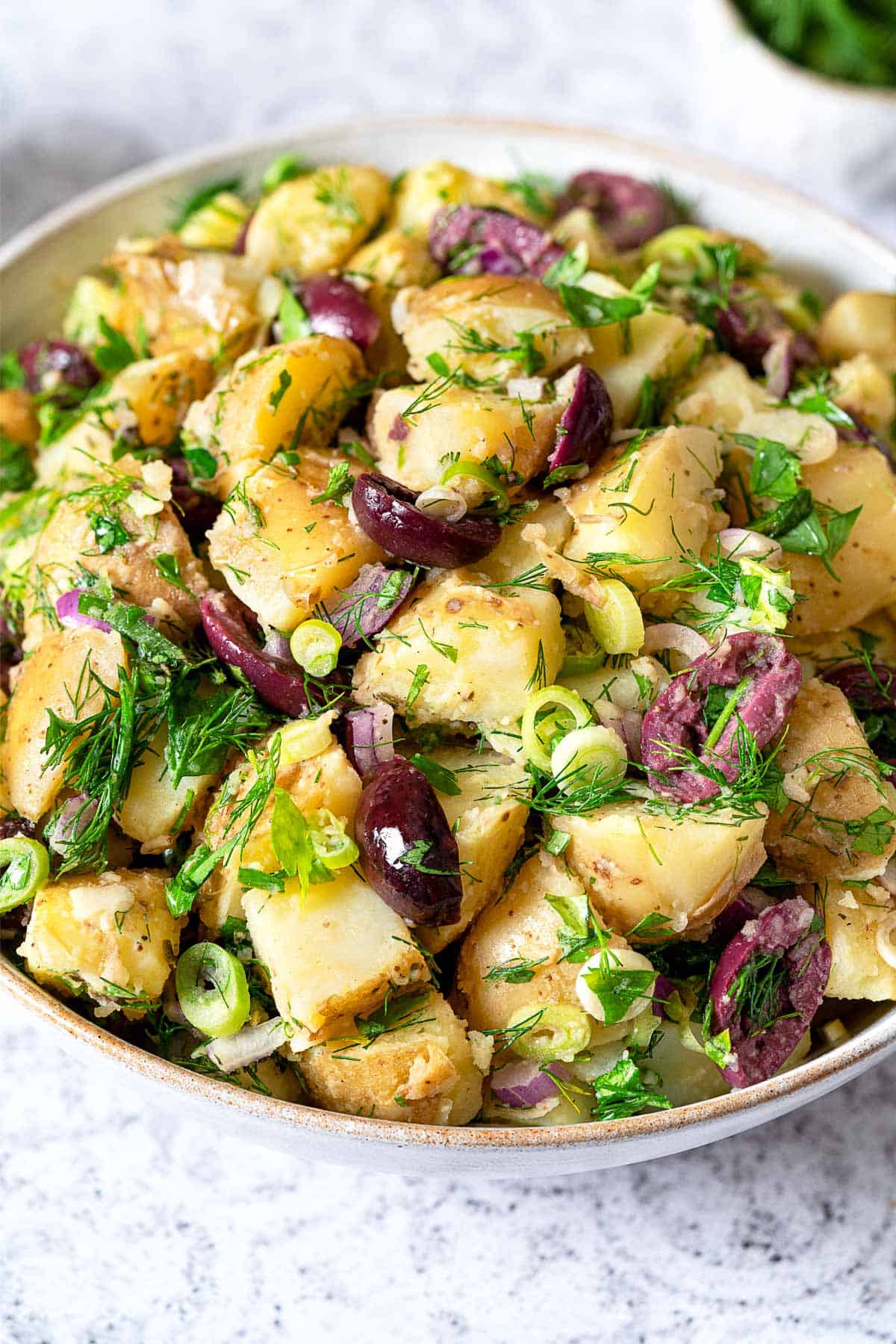 With the season of outdoor gatherings in full swing, I often look for side dishes to pair with grilled meats like swordfish and chicken wings or kebabs. Or, keep things traditional, nutritious, and flavorful with classic Pork Souvlaki. I find myself craving a delicious and healthy version of a classic, like this Greek potato salad recipe!
Greek potato salad is dairy-free, vegan, and naturally gluten-free side dish. A lighter version of traditional potato salad, it's perfect to enjoy during the warm summer months. Serve at your next barbeque or backyard gathering!
Table of Contents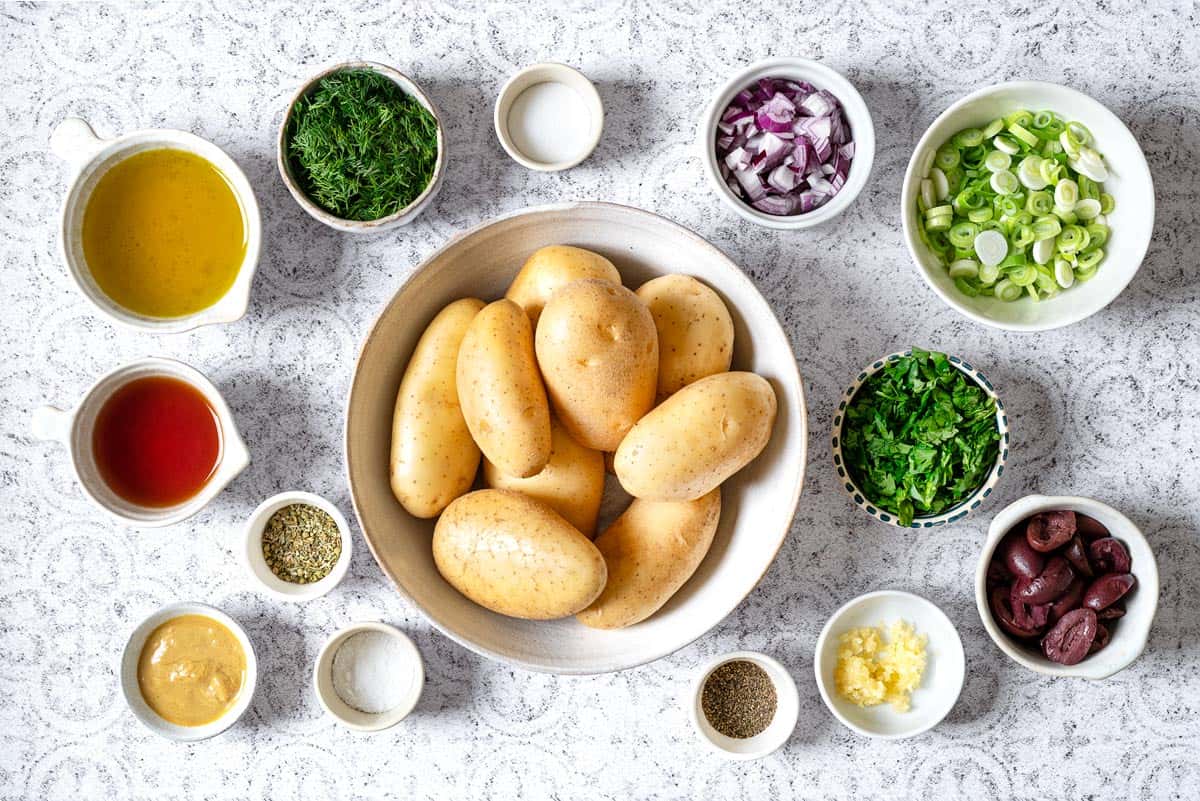 Ingredients for Greek Potato Salad
The ingredients for this refreshing and healthy no mayo potato salad are simple and easy to find. What's more, this recipe is so versatile. You can easily substitute many of these ingredients with what you have available.
Potatoes: I use yellow potatoes like Yukon Golds, but small red or fingerling potatoes would also work well. Make sure to check the smallest potatoes as they boil as the cooking times vary.
Onions: Red and green onions bring mild sweetness and depth of flavor. You can substitute them with shallot and chives.
Fresh herbs: Flat leaf parsley and fresh dill bright light, fresh flavor to the creamy potatoes.
Olives: You can typically find nice olives in the prepared foods section of your grocery store. Pitted Greek Kalamata olives are best for this recipe as they add a slightly tangy, rich flavor. You can substitute with a similar high quality olive if necessary.
Extra virgin olive oil: Olive oil is a major flavor component of the vinaigrette. Use the best, smoothest finishing olive oil you have, or find our favorite Greek olive oils at our shop.
Red wine vinegar: The acidity of wine vinegar brightens the flavor of the potatoes.
Mustard: A good quality (Dijon-style) prepared mustard adds a peppery flavor and helps the vinaigrette emulsify.
Dried oregano: I like Greek oregano, as it has a deeper flavor and is very aromatic.
Garlic: Finely minced (see tips in our how to mince garlic guide) or pressed garlic brings boldness to the vinaigrette.
Sea salt and freshly ground pepper: Seasonings enhance the potato salad's flavor. Always adjust as needed to suit your preferences.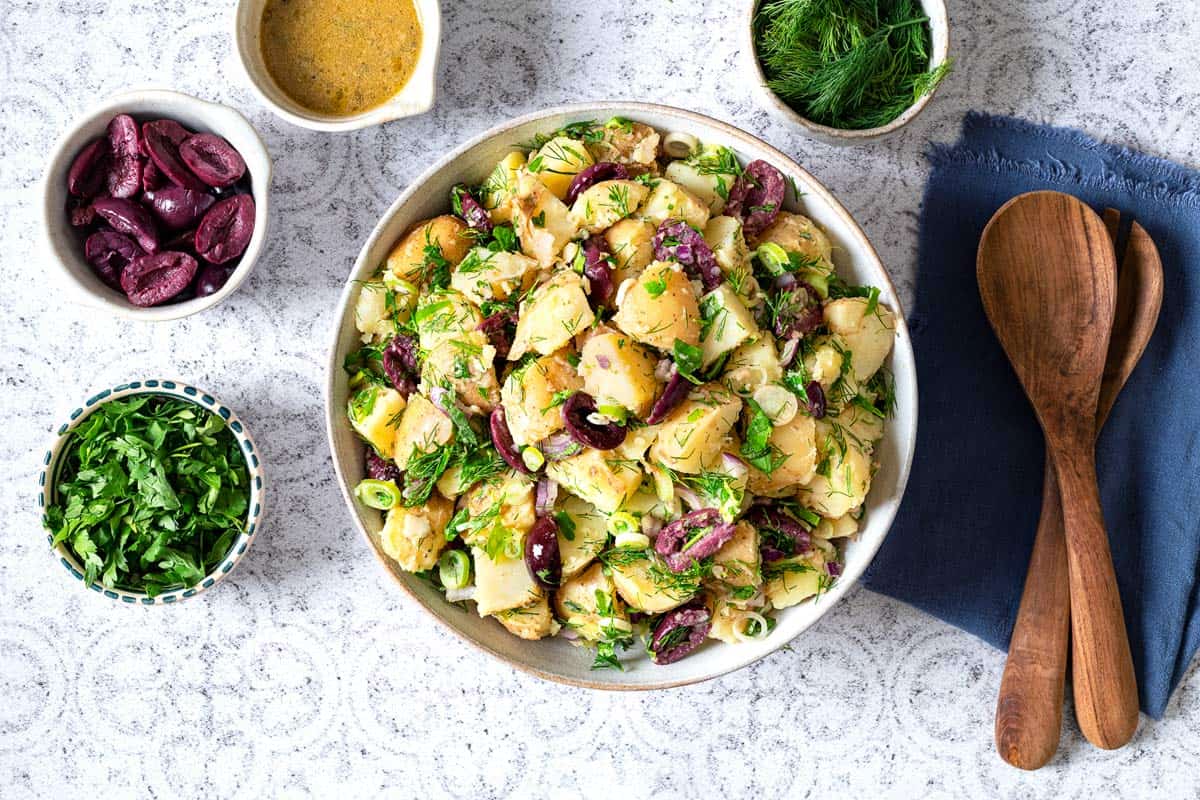 How to Make Greek Potato Salad
There is nothing difficult or tricky about preparing this Greek potato salad. As an added bonus, it's ready in just 30 minutes. Here are the steps:
Ready the potatoes: Bring a large pot of water to a boil. Scrub 3 pounds of small yellow potatoes. Once the water is boiling, add the potatoes and 1 tablespoon of salt and lower the heat to a simmer. Simmer until tender, then drain and allow to slightly cool.
Make the easy vinaigrette: While the potatoes cook, make the dressing. In a medium mixing bowl, add ¼ cup red wine vinegar, 2 teaspoons Dijon mustard, 1 ½ teaspoon dried oregano, and 2 minced garlic cloves. Season with 1 ½ teaspoons of salt and ¼ teaspoon of black pepper. Whisk to combine. Slowly drizzle in ½ cup of olive oil while whisking to emulsify.
Peel and slice the potatoes: When the potatoes are cool enough to handle, peel them with a paring knife or metal spoon or leave them as-is. Slice into bite-sized pieces.
Combine: Place the potatoes in a serving bowl. Add ½ cup each of chopped parsley, dill, and halved Kalamata olives. Add the vinaigrette and toss gently to combine.
Serve: Taste and adjust the seasoning. Serve warm or at room temperature. Or, cover and store in your refrigerator for up to 3 days. Allow the potato salad to come to room temperature before serving.
Variations and Substitutions
This versatile recipe can be tweaked according to your taste preferences and what you have on hand. Here are some ways to mix it up:
Potatoes: To add more color to your potato salad, use a mix of potatoes. Boil both yellow and small red potatoes and keep their skins on. As long as they are about the same size they should cook at the same rate, but taste and adjust accordingly.
Acidity: Instead of vinegar, you can use fresh lemon juice to add a citrusy flavor.
For more intense flavor: Add a tablespoon of rinsed small capers. They will add tang and a briny flavor to the salad.
Fresh herbs: Minced fresh chives and cilantro also go very well with this salad.
Tips: How to Make the Best Greek Potato Salad
This no mayo potato salad is simple and essentially foolproof. Here are some tips to ensure you make the best potato salad every time:
Use the right kind of potato. Go for waxy potatoes, are they have a creamy interior, thin skin, and are low in starch. This means they keep their shape as they boil. Waxy potato varieties include yellow, Yukon gold, red, and fingerling. Starchy potatoes, like russet, have a thick, dark skin and a fluffy interior that will not hold its shape as they boil. These potatoes are best for baking or mashed potatoes.
Prevent oxidation.If your potatoes are larger and you need to cut them in pieces or you decide to peel them before cooking, place them in a bowl of cold water to avoid oxidation (browning).
Cook until just tender. Watch the potatoes closely as the cook. They should be fork tender, but not fall apart at the end of their cooking time. This will make a classic potato salad, rather than mashed potatoes.
Season and dress the potatoes while they're still hot. This is a good way to ensure they will absorb the vinaigrette nicely and become very flavorful.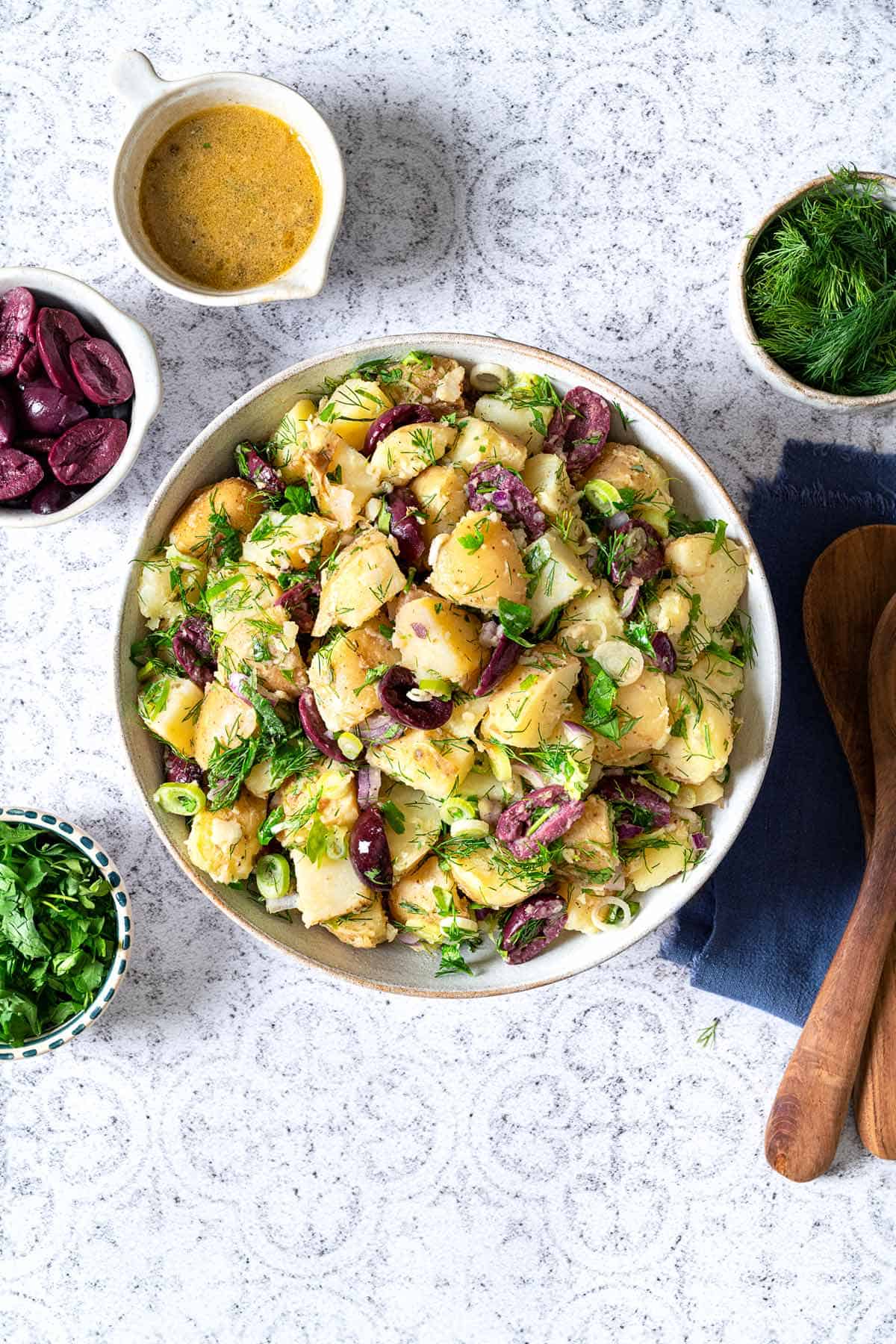 What to Serve with Greek Potato Salad
This delicious and healthy potato salad can be served at room temperature or warm. It makes a great side dish for picnics, barbeques, and potlucks.
Serve with your favorite barbeque meats. Grilled chicken, steak, ribs, sausages, or lamb burgers or kebabs would be classic and delicious. The light potato salad would also pair well with grilled fish like shrimp, salmon, swordfish or cod.
This dairy-free, vegan dish is also perfect as part of a vegetarian spread. Serve with coleslaw, baked beans, corn on the cob, pasta salad and of course, the Greek kidney bean salad.
No Mayo, Full Flavor Side Dishes
Browse all Mediterranean recipes.
Visit Our Shop
Bundle and Save!
Four of our best-selling signature olive oils, perfect for everyday use.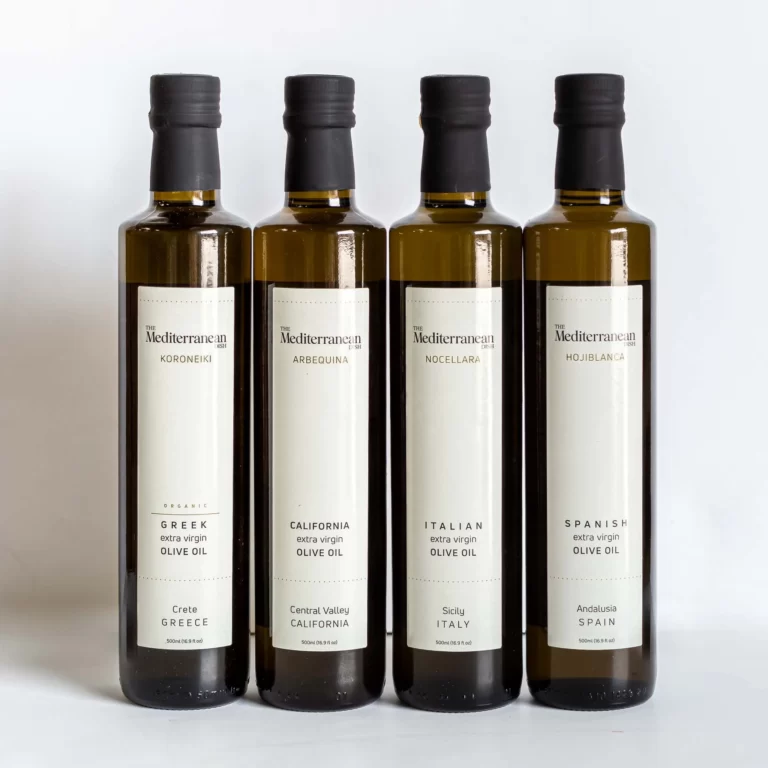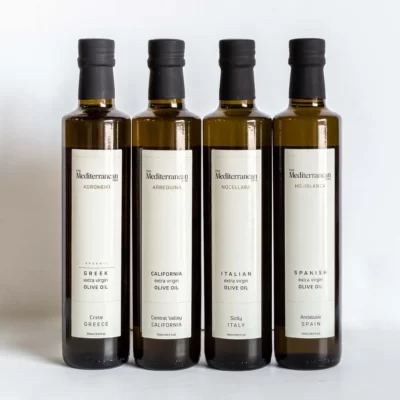 Greek Potato Salad (No Mayo!)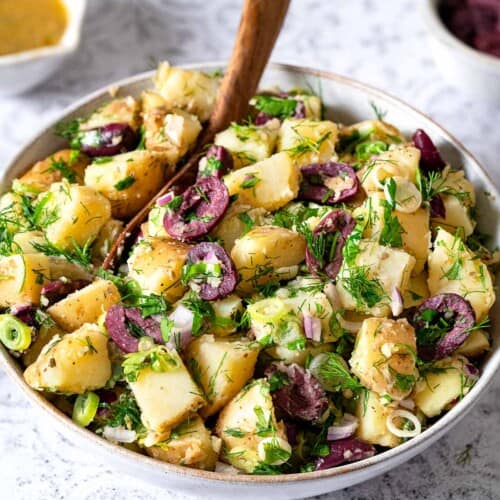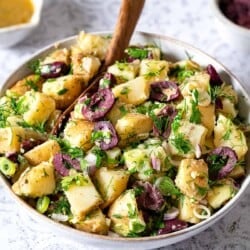 Potato salad doesn't need mayonnaise to be delicious, and this Greek Potato Salad recipe is living proof! With the right potatoes and an easy yet bold Greek-style vinaigrette, you'll make a healthy, no mayo potato salad with a wonderfully herbaceous flavor in just 30 minutes.
Ingredients
For the Potato Salad:
3

pounds

small yellow potatoes,

scrubbed

1

tablespoon

salt

½

cup

chopped red onions or shallots

(about 1 small red onion)

3

green onions,

trimmed and thinly sliced (white part and green part)

½

cup

chopped Italian parsley leaves

½

cup

chopped dill

½

cup

Kalamata olives,

pitted and halved
For the Vinaigrette:
¼

cup

red wine vinegar

2

teaspoon

Dijon mustard

1 ½

teaspoons

dried oregano

2

garlic cloves,

pressed or finely minced

1 ½

teaspoon

sea salt

¼

teaspoon

black pepper

½

cup

extra virgin olive oil
Instructions
Boil the potatoes: Bring a large pot of water to a boil. Add the (unpeeled) potatoes and one tablespoon of salt. Reduce the heat to maintain an active simmer. Simmer the potatoes until they are fork tender when poked, about 15-20 minutes (the time will depend on their size). If the potatoes vary in size, remove in batches, starting with the smallest, until they are all cooked through.

Make the vinaigrette: In a small bowl, whisk together the vinegar, mustard, oregano, garlic, salt, and pepper. Slowly drizzle in the olive oil, while still whisking, until all ingredients are well combined.

Cool: Gently drain the cooked potatoes and set aside until just cool enough to handle.

Peel and slice: Using a paring knife or metal spoon, peel the potatoes by scraping off the skin (or leave the skin on if you prefer). Cut the potatoes into 1-inch cubes, and place them in a large bowl.

Combine: Add the red and green onions, parsley, dill, and olives. Whisk the vinaigrette one more time, then pour it over the potatoes. Gently toss to combine. Adjust the seasoning if necessary.

Serve: Serve while still slightly warm or at room temperature.
Notes
Leftovers of this mayo-free salad can be stored in the refrigerator (covered well) for 2-3 days. Remove from the refrigerator for at least half an hour before eating. If the salad looks a little dry, drizzle with some more olive oil, stir gently and serve!
Boil the potatoes until just fork tender and no more. You want them to maintain their shape when sliced.
Visit our shop to browse quality Mediterranean ingredients including olive oils, honey, jams and spices.
Nutrition
Calories:
275.1
kcal
Carbohydrates:
32.4
g
Protein:
4.1
g
Fat:
15.1
g
Saturated Fat:
2.1
g
Polyunsaturated Fat:
1.6
g
Monounsaturated Fat:
10.9
g
Sodium:
1469.8
mg
Potassium:
802.9
mg
Fiber:
4.7
g
Sugar:
2
g
Vitamin A:
631.9
IU
Vitamin C:
42.9
mg
Calcium:
51.4
mg
Iron:
2.2
mg