Take your weeknight side dish game up a notch with batata harra, Middle Eastern spicy potatoes! Fluffy potatoes, fresh herbs, lime juice, and spices give you a mouthwatering skillet potato dish you will add to your regular rotation.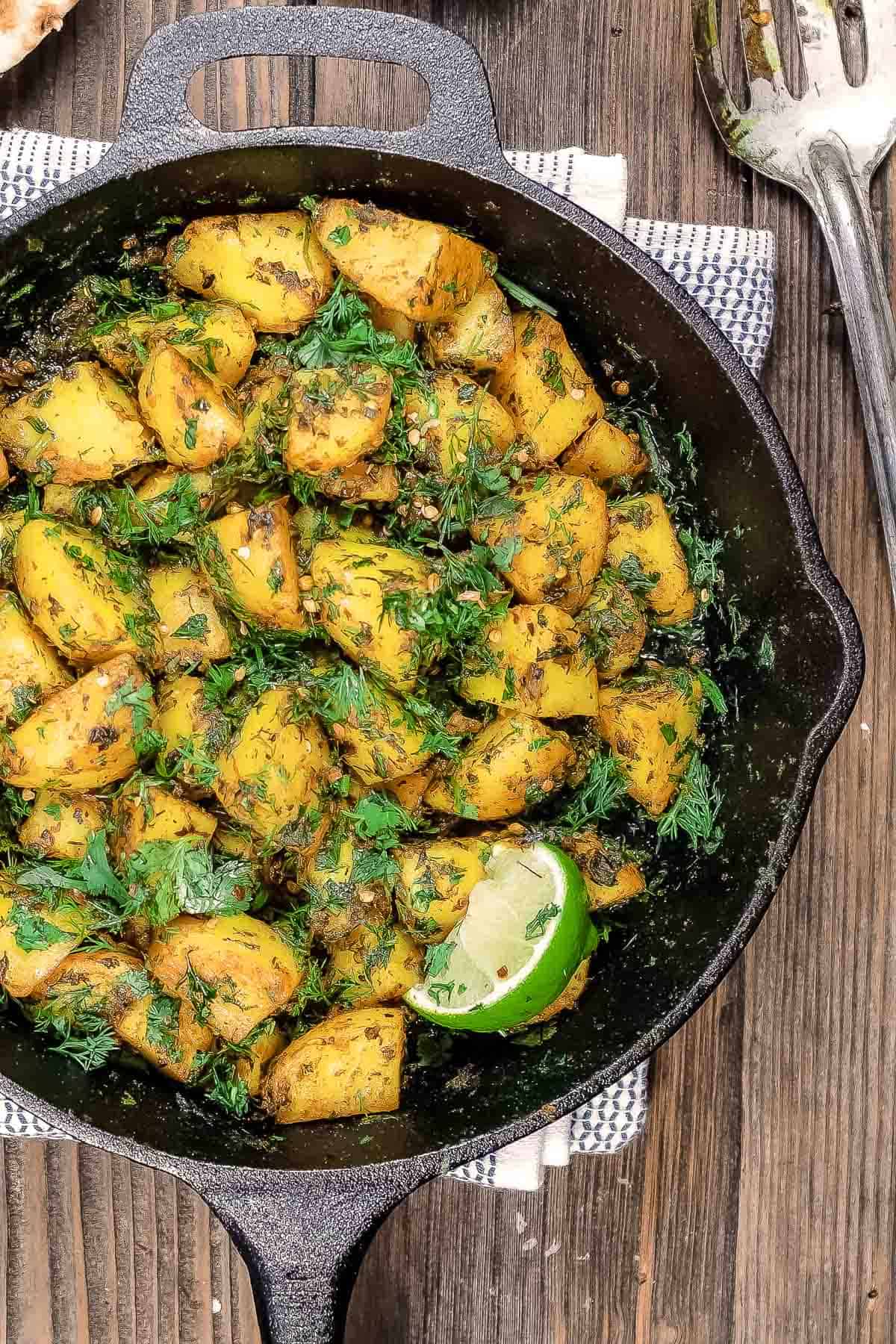 If you haven't tried batata harra yet, you are in for a treat! These quick Middle Eastern skillet potatoes pack tons of flavor from garlic, fresh herbs, and a unique mix of warm spices like turmeric and coriander seeds, which give them plenty of earthy flavor. A splash of lime juice adds a little extra brightness.
Potatoes are so easy to have fun with, because you can eat them in various different forms. And whether they're whipped into a garlicky dip, sliced into wedges and roasted, or piled with colorful toppings and baked, potatoes are the ultimate chameleon, seamlessly blending in with whatever flavors we cook them in.
These skillet potatoes are yet more proof that potatoes can do anything, and in this recipe, we turn up the heat with red pepper flakes. These vegan, gluten free spicy potatoes are versatile, flavorful, and so quick to make – they come together in 25 minutes or less! Simply boil them, saute with herbs and spices, and serve!
What is batata harra?
Batata harra translates from Arabic to "spicy potatoes", and it is a popular Middle Eastern potato dish. In some countries, batata harra is extremely spicy, thanks to the addition of harissa paste or harissa spice blend.
But in places like Egypt, where I grew up, you'll find these skillet potatoes to be subtly spicy with just a sprinkle of crushed red pepper flakes, relying more on garlic, fresh herbs, and warm spices like turmeric for flavor.
You can think of batata harra as being similar to the popular Spanish tapa patatas bravas, which are fried potatoes smothered in a spicy sauce. I always look for ways to make our food as healthy as possible, so while many batata harra recipes call for frying, I boiled mine then sautéed them in a little olive oil.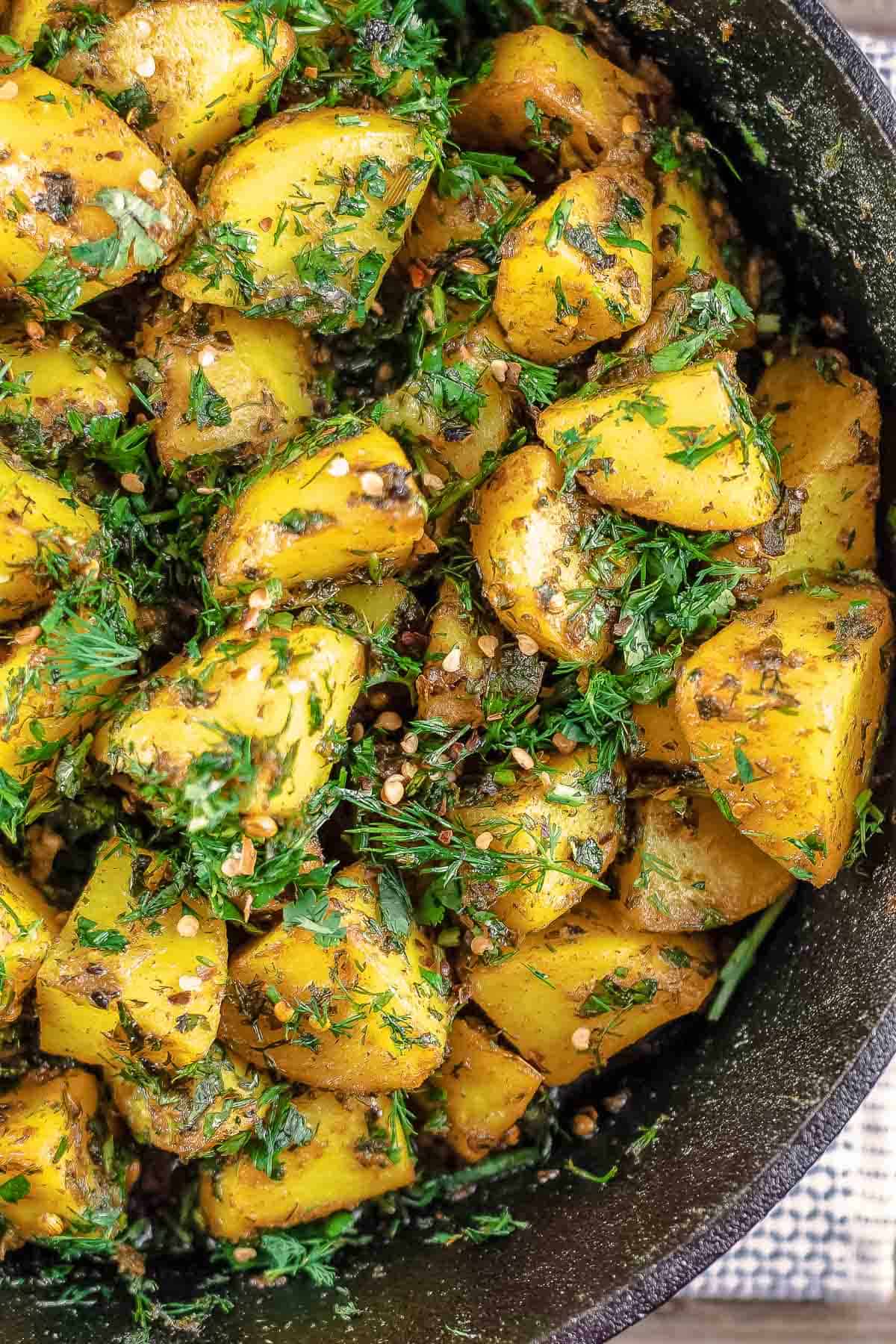 Ingredients for spicy potatoes
Batata harra comes together with potatoes, spices, and fresh herbs. Here's what you'll need to make it:
Potatoes: You'll need 6 medium-sized potatoes. Medium-sized potatoes should fit comfortably in the palm of your hand.
Extra virgin olive oil: You'll need a few tablespoons of good EVOO to saute the potatoes, spices, and herbs.
Spices: Garlic, coriander seeds (or ground coriander), crushed red pepper flakes, and ground turmeric give these spicy potatoes the right amount of warmth and heat.
Lime juice: Fresh lime juice brightens up the flavors in this skillet potato dish.
Fresh herbs: You'll need chopped cilantro leaves, flat-leaf parsley leaves, and dill.
What are the best potatoes to use in batata harra?
Yukon gold potatoes are my favorite potato to use in this turmeric potatoes recipe. They are creamy and fluffy when cooked, but still hold their shape.
All-purpose potatoes are the best for batata harra, because they have a medium amount of both starch and water, meaning they are suited to most kinds of preparation. Starchy varieties like russet potatoes and waxy kinds like fingerlings or red potatoes don't have quite the right texture for this recipe.
Cut the potatoes into small bite-sized chunks after they're boiled, so using whole baby potatoes wouldn't be much of a shortcut, since you'd likely need to cut them into smaller pieces anyway.
How to make batata harra
Boil 6 medium-sized gold potatoes. Simply peel the potatoes and boil them whole until they are fork tender, but not completely cooked through. (They will have a few minutes in the skillet to finish cooking.)



Cut the potatoes. Drain the potatoes or scoop them out of the water carefully using a slotted spoon. Place them on a cutting board and allow them to cool for a few minutes then cut the potatoes into bite-sized cubes. Set them aside.



Sauté the spices. Warm extra virgin olive oil in a large skillet over medium heat until shimmering. Add 2 minced garlic cloves, 1 teaspoon red pepper flakes, and 2 teaspoons coriander seeds. Cook for a couple of minutes before adding 2 teaspoons turmeric powder. If you decide to use 1 teaspoon coriander powder instead of seeds, add them here as well. Pour in the juice of 1 lime.



Add the potatoes to the skillet. Toss well to coat them in the spices, then add a cup each chopped cilantro leaves, parsley leaves, and dill. Sprinkle some kosher salt and black pepper to taste, and allow the potatoes to cook for a few more minutes until completely tender. Once cooked, remove the batata harra from the heat and sprinkle with a bit more red pepper flakes if you want a bit more heat. You can also add more fresh herbs.


Different ways to make batata harra
Potatoes not only adopt the flavors they are paired with, but they also lend themselves to different cooking methods. I prefer to boil and saute them, but feel free to experiment with your own technique.
Boiling method: This is my favorite way to prepare batata harra. I use significantly less oil than the double-fry method, and I save time by boiling the potatoes instead of roasting them.
Double-fry method: Start by deep frying the potatoes without any seasoning, and then move them to a skillet with just a little oil to finish cooking them with herbs and spices.
Roasting method: Roast the potatoes with some kosher salt and extra virgin olive oil until completely cooked (crispy on the outside, fluffy on the inside), and then quickly toss them up with herbs and spices while hot.
Ways to adjust the heat
Batata harra can be as spicy or as mild as you want it to be. My recipe, while subtly spicy, is on the milder side for this skillet potatoes dish. To tone down the heat further, cut the amount of red pepper flakes from 1 teaspoon to ½ teaspoon.
If you want more heat, you have a few options:
Add a little cayenne pepper (up to 1 teaspoon in addition to the red pepper flakes)
Note that both harissa powder and paste are a blend of several different spices. The flavor is much more complex than red pepper flakes or cayenne pepper alone.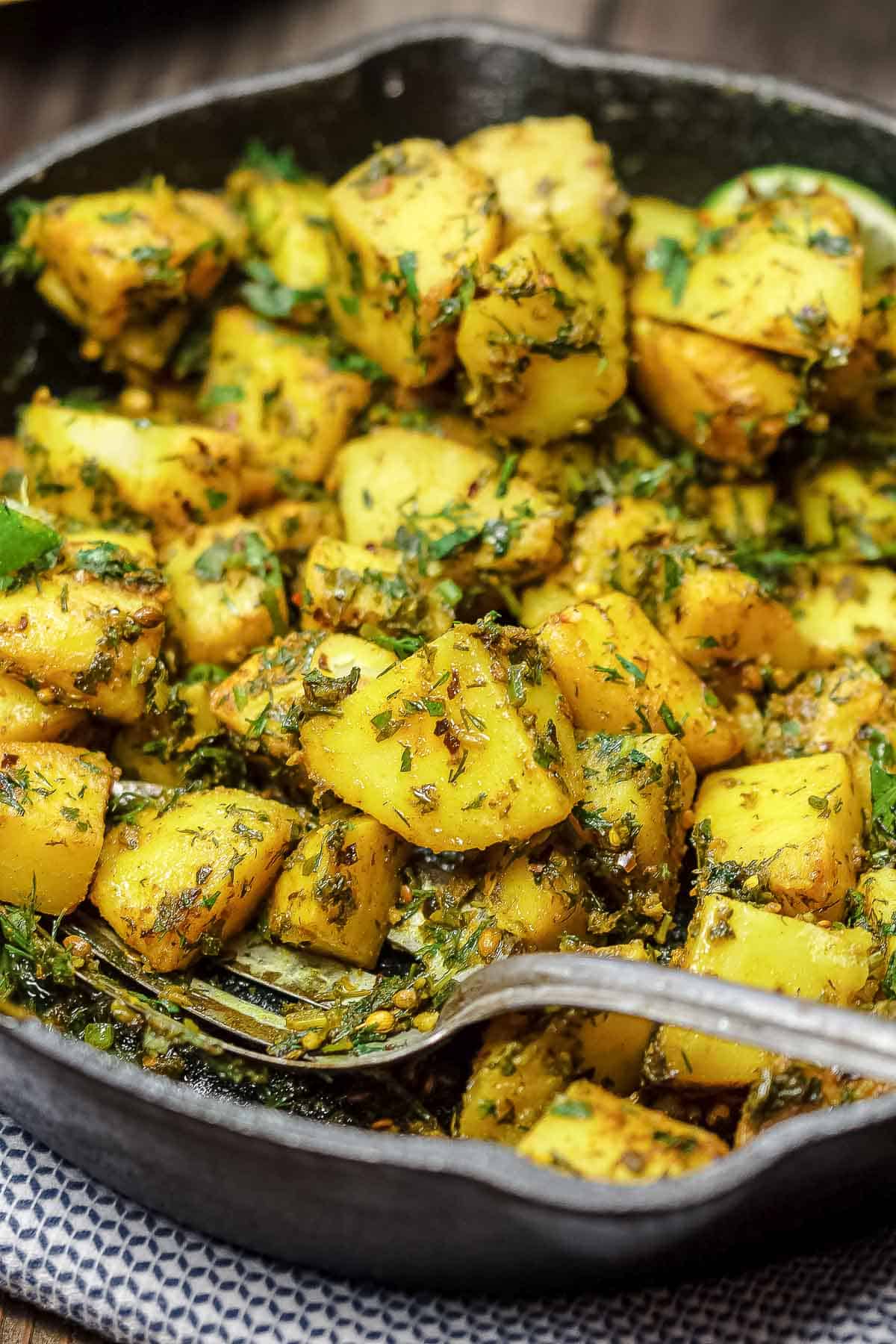 Ingredient swaps and substitutions
Potatoes: My preference in this recipe is Yukon gold potatoes, but another all-purpose potato would be a good option.
Herbs: I used one of my favorite herb trios: parsley, cilantro, and dill. But you don't have to use all 3! If you don't like cilantro, for example, simply skip it and use more parsley.
What to serve with batata harra
I like to serve these turmeric potatoes as a simple side dish. It goes well with many meat dishes including baked kofta, chicken souvlaki, or even pan-seared trout. It can be served hot or at room temperature. A dollop of Greek yogurt or tzatziki are great cooling elements to tone down the heat!
If you're up for a big mezze feast, definitely add these skillet potatoes next to other small dishes like:
How to store leftovers
Batata harra doesn't last long in my household, so I usually don't have leftovers! But leftover spicy potatoes will keep in an airtight container in the refrigerator for up to 4 days.
Serve leftovers and room temperature, or reheat in a skillet over medium heat with a little extra virgin olive oil for a few minutes until warm.
More potato recipes to try
Browse all Mediterranean recipes.

Visit Our Shop.
Batata Harra: Middle Eastern Spicy Potatoes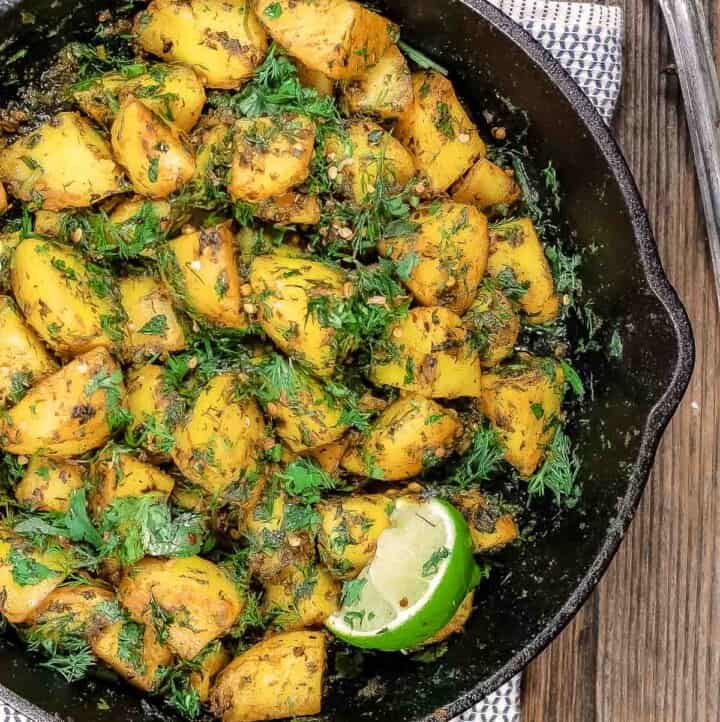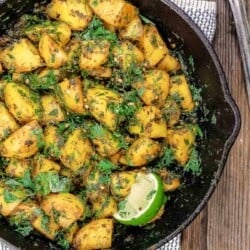 Easy vegan, gluten-free skillet potatoes prepared Middle Eastern-style with garlic, warm spices like turmeric, fresh herbs and a splash of lime juice! It's called batata harra, and it's ready in just 25 minutes, too! The best potatoes to use are all-purpose potatoes like Yukon gold potatoes. Serve these turmeric potatoes as a hearty side alongside baked kofta or pan-seared trout.
Ingredients
6

medium-sized gold potatoes

peeled

Water

2

garlic cloves,

minced

2

teaspoons

coriander seeds or a little more than 1 teaspoon ground coriander

1

teaspoon

crushed red pepper flakes,

more for later

2

teaspoon

ground turmeric

1

lime,

juice of

1

cup

chopped fresh cilantro leaves

1

cup

chopped fresh parsley leaves

1

cup

chopped fresh dill

Kosher salt and black pepper
Instructions
Peel the potatoes and place them in a large pot with enough water to cover them. Bring to a boil, and let them cook in the boiling water for 10 minutes or so. The potatoes should be cooked through but still firm.

Drain the potatoes and let them cool briefly. Cut the potatoes in smaller bite-size cubes or pieces.

Heat the olive oil in a cast-iron skillet on medium. Stir in the garlic, red pepper flakes and coriander seeds. Cook for 2-3 minutes then add the turmeric and the lime juice.

Toss in the potatoes, and mix well to coat. Add ½ of the fresh cilantro, parsley and fresh dill. Cook for 4 more minutes. Add salt and black pepper to your taste.

Remove from heat and top with more red pepper flakes and the remaining fresh herbs. You can serve this potato salad warm or at room temperature.
Notes
Best potatoes to use: An all-purpose potato like Yukon gold potatoes is my preference.
How to adjust the heat: For a less spicy option, simply use less red pepper flakes. For more heat, add some cayenne pepper, harissa powder, or harissa paste.
Serving ideas: Serve batata harra as a side next to chicken souvlaki or pan-seared trout. Or, as part of a mezze feast with hummus, couscous salad, and roasted eggplant.
How to store and reheat leftovers: Leftover potatoes will keep in an airtight container for up to 4 days. Enjoy leftovers at room temperature, or reheat in a skillet with some olive oil until warmed through.
Visit our Shop to browse quality Mediterranean ingredients including extra virgin olive oils, organic spices, and more!
Nutrition
Calories:
210.5
kcal
Carbohydrates:
33.4
g
Protein:
4.4
g
Fat:
7.6
g
Saturated Fat:
1.1
g
Polyunsaturated Fat:
0.9
g
Monounsaturated Fat:
5.3
g
Sodium:
125.2
mg
Potassium:
890.1
mg
Fiber:
5.2
g
Sugar:
1.7
g
Vitamin A:
1734.8
IU
Vitamin C:
58
mg
Calcium:
65
mg
Iron:
3.1
mg
* This post has been recently updated with new information and media for readers' benefit.