Muhmmara is a Middle Eastern walnut and roasted red pepper dip that's all sorts of savory, sweet, slightly smoky, and just enough spicy! It is almost a cousin to Spanish romesco sauce. This muhammara recipe is easy to make, and I love serving it with warm pita as part of a Mezze platter, spread it on your sandwiches, or scoop it on top of grilled chicken or fish.
A couple of things make all the difference. Be sure to read through and watch my video below.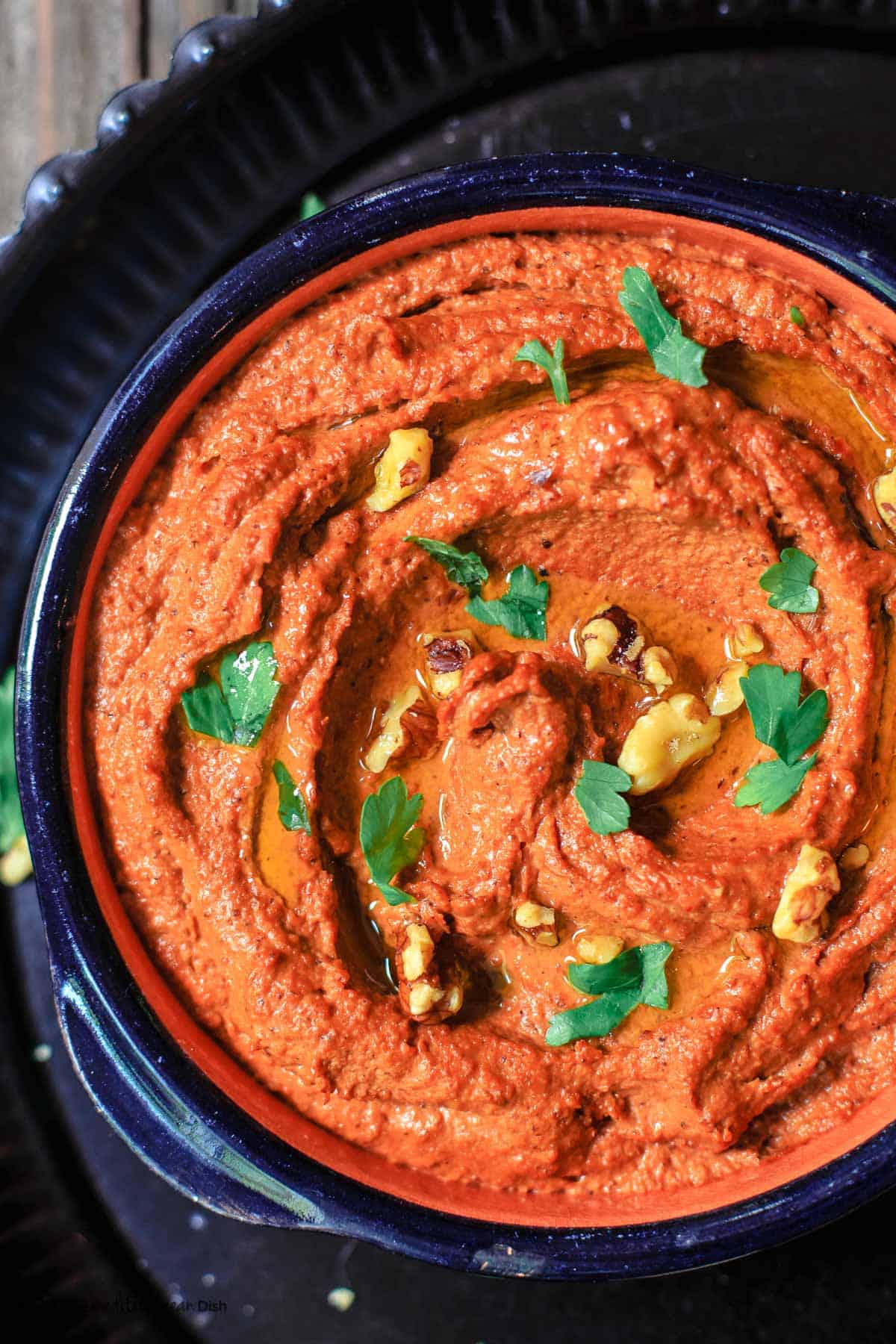 My love for muhammara began a few years ago. I was raving to a friend about roasted red pepper hummus when she asked, "have you tried muhammara yet?"
She got me going on a muhammara hunt!
I have tried all sorts of it and have been playing around and perfecting this homemade muhammara recipe, which is now a constant on my table.
This is a different kind of red pepper dip--next level delicious. If you're a fan of flavorful dips and spreads to serve with your veggies or pita, you'll want to give this one a try. Leftover muhammara is great to spread on your sandwiches or serve with chicken or fish.
What is Muhmmara (or Mouhammara)?
Muhmmara is a hearty walnut and roasted red pepper dip or spread that's all sorts of savory, sweet, slightly smoky, and just enough spicy!
The word muhammara is from the Arabic word ahmar, which literally means red. This red dip, originally from the Syrian city of Aleppo, this delicious dip made its way from the heart of the Levant to many parts of the world including Europe and the U.S. You may have even seen muhammara jars at the grocery store--word to the wise, make your own!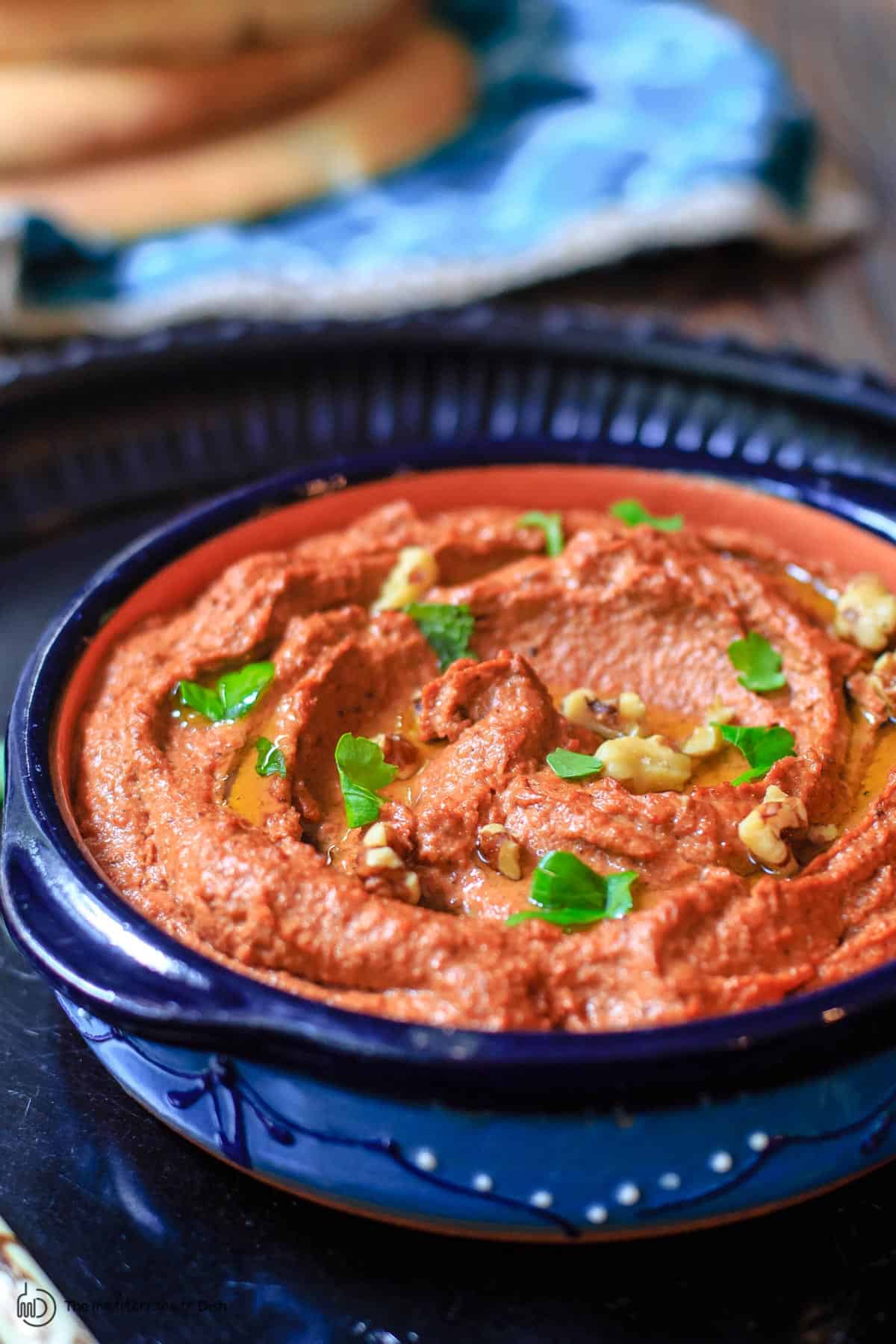 What's in this Muhammara recipe?
To get our heads around just how different and exciting this roasted red pepper dip is, let's walk through the ingredients and what they each bring:
Roasted red peppers- I roast my own here, but you can use store-bought jars of roasted red peppers
Walnuts (shelled)
Bread crumbs- this adds heft and texture giving muhammara a rustic finish
Pomegranate Molasses- adds a certain acidity, tang and sweetness. In a pinch you can substitute with a mixture of lemon juice and honey.
Aleppo pepper- distinctly Syrian chili pepper flakes from Aleppo. It is fairly mild and has the sweetness and roundness of the best sun-dried tomatoes you'll try. Aleppo pepper is also slightly spicy, the heat will build slowly leaving a fruity flavor. Find Aleppo pepper at our online shop here.
Other flavor makers (this will vary somewhat from one recipe to another): tomato paste (I like this for added depth and color), garlic, and sumac (for extra tang), and a little cayenne pepper for more spice.
The more you make muhammara the more you'll adjust the spices to your liking. If you enjoy hot dips, you can absolutely kick the Aleppo pepper and cayenne up a couple notches.
What can I substitute for Aleppo chili pepper
I'm such a big fan of the sweet, tangy, and just enough spicy Aleppo pepper flakes. You've seen me use it in chicken kofta, shrimp and rice, white bean salad, and even on baked eggs. And it's a key element in muhammara.
Some say you can substitute Aleppo pepper for a bit of ancho chile pepper mixed with a pinch of salt and some cayenne. I cannot personally vouch for how close a substitution that will be.
(Note: check our online shop for all-natural Aleppo-Style Pepper).
What to serve with muhammara?
You will typically find muhammara served as a mezze dish with other dips like baba ganoush and hummus, of course. I also like to add a salad like tabouli, fattoush, or chickpea salad.
Storage
Muhammara will keep in the fridge anywhere from 4 days to one week, if properly stored. Some say you can freeze it, but I haven't personally tried that, we've always been able to wipe that bowl clean!
My father, who has been to Aleppo, Syria some years ago, speaks of the hospitable culture and the vibrant flavors of the city. I believe this muhammara recipe is just a tiny taste of that.
You may also enjoy our collection of Mediterranean diet recipes. For all recipes, visit us here.
JOIN MY FREE E-MAIL LIST HERE. SHOP OUR ONLINE STORE FOR QUALITY OLIVE OILS, ALL-NATURAL SPICES AND MORE.
Muhammara Recipe (Roasted Red Pepper Dip)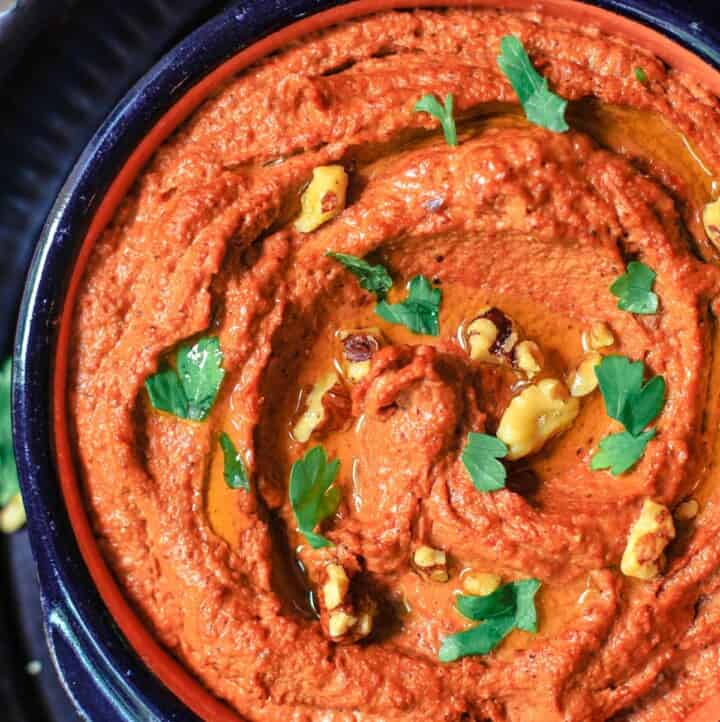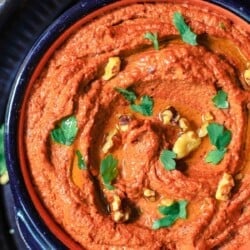 Muhammara (roasted red pepper and walnut dip) makes the perfect addition to the mezze table next to other favorites like baba ganoush or hummus. Serve it with warm pita bread or pita chips. For a shortcut, feel free to use roasted red peppers from a jar if you don't have time to roast your own peppers.
Ingredients
2

red bell peppers

¼

lb

shelled toasted walnuts

1

garlic clove

roughly chopped

2 ½

tablespoon

tomato paste

¾

cup

bread crumbs

2

tablespoon

pomegranate molasses

1

teaspoon

Aleppo pepper

½

teaspoon

sugar

1

teaspoon

sumac

½

teaspoon

salt

½

teaspoon

cayenne pepper

optional
Instructions
Preheat the oven to 425 degrees F.

Brush the bell peppers with 1 tablespoon of olive oil, and place in a lightly oiled oven-safe pan or cast-iron skillet. Roast the peppers in the 425 degrees F heated oven for 30 minutes or so, turning them over once or twice.

Remove from the oven and place the peppers in a bowl. Cover with plastic wrap for a few minutes. This traps the steam from the roasted peppers, making them easy to peel. When cool enough to handle, simply peel the peppers, remove the seeds and slice the peppers into small strips.

Now in the bowl of a large food processor, combine the roasted red pepper strips with 3 tablespoon extra virgin olive oil, garlic, walnuts, tomato paste, bread crumbs, pomegranate molasses, Aleppo pepper, sugar, sumac, salt and cayenne. Blend into a smooth paste.

Transfer to a serving bowl. You may cover the muhammara and refrigerate, but be sure to bring the dip to room temperature before serving.

When ready to serve, top the dip with a drizzle of extra virgin olive oil, and garnish with a little more walnuts and fresh parsley, if you like. Serve with pita bread or pita chips. Enjoy!
Notes
Storage: You can refrigerate muhammara in a tight-lid container for 4 days and up to one week. A thin layer of extra virgin olive oil to cover the top of the dip will help preserve it.
Visit our Online Shop to browse quality Mediterranean ingredients including all-natural and organic spices, extra virgin olive oil and more.
Nutrition
Calories:
201
kcal
Carbohydrates:
21.5
g
Protein:
5.5
g
Fat:
22.6
g
Saturated Fat:
2.6
g
Potassium:
267.6
mg
Fiber:
3.1
g
Vitamin A:
1511.8
IU
Vitamin C:
52.5
mg
Calcium:
48.4
mg
Iron:
1.7
mg
This post originally appeared on The Mediterranean Dish in 2016 and has been updated with new information and media for readers' benefit