Grilled chicken legs with the best garlicky harissa marinade! Warm spices and plenty of citrus give these grilled chicken drumsticks a decidedly Mediterranean twist. So easy and delicious.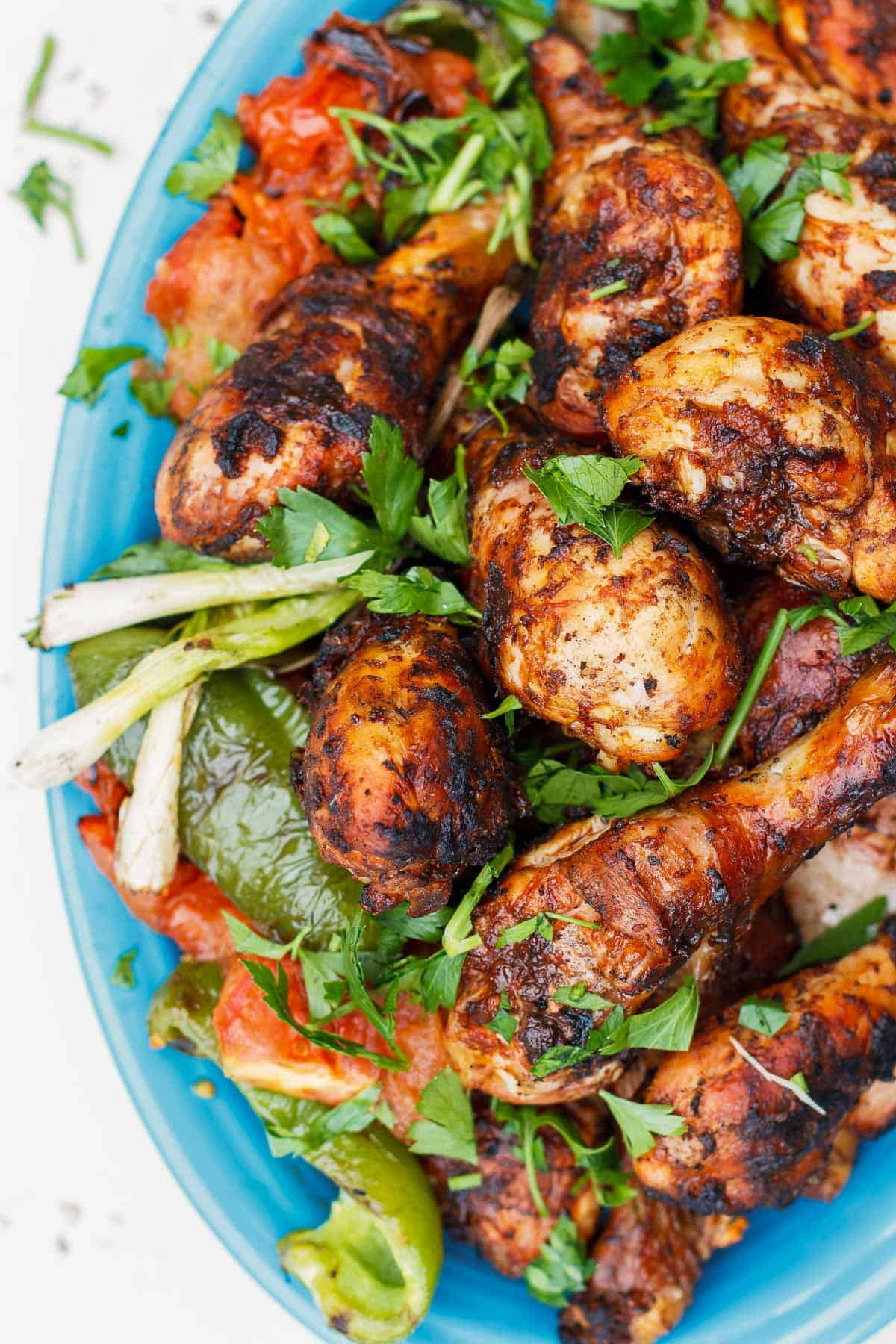 Next-level grilled chicken drumsticks!
Few foods are as well-loved as chicken cooked over an open flame. But today's grilled chicken drumsticks recipe is next-level delicious, thanks to a bold and appropriately spicy garlic and harissa marinade!
I'm no stranger to using harissa on chicken thighs and even salmon–the spicy Tunisian paste made with chile peppers and warm spices including cumin, coriander, and caraway does wonders to elevate flavor!
For today's grilled chicken legs, you can make my harissa paste recipe or, if you're short on time, buy a quality jar of it via our online shop to make the marinade. Combined with loads of garlic, lime juice, and a few robust spices, harissa makes an exceptional red marinade for chicken legs that will have you coming back for more.

Let's talk marinade, how to grill chicken legs perfectly, and more!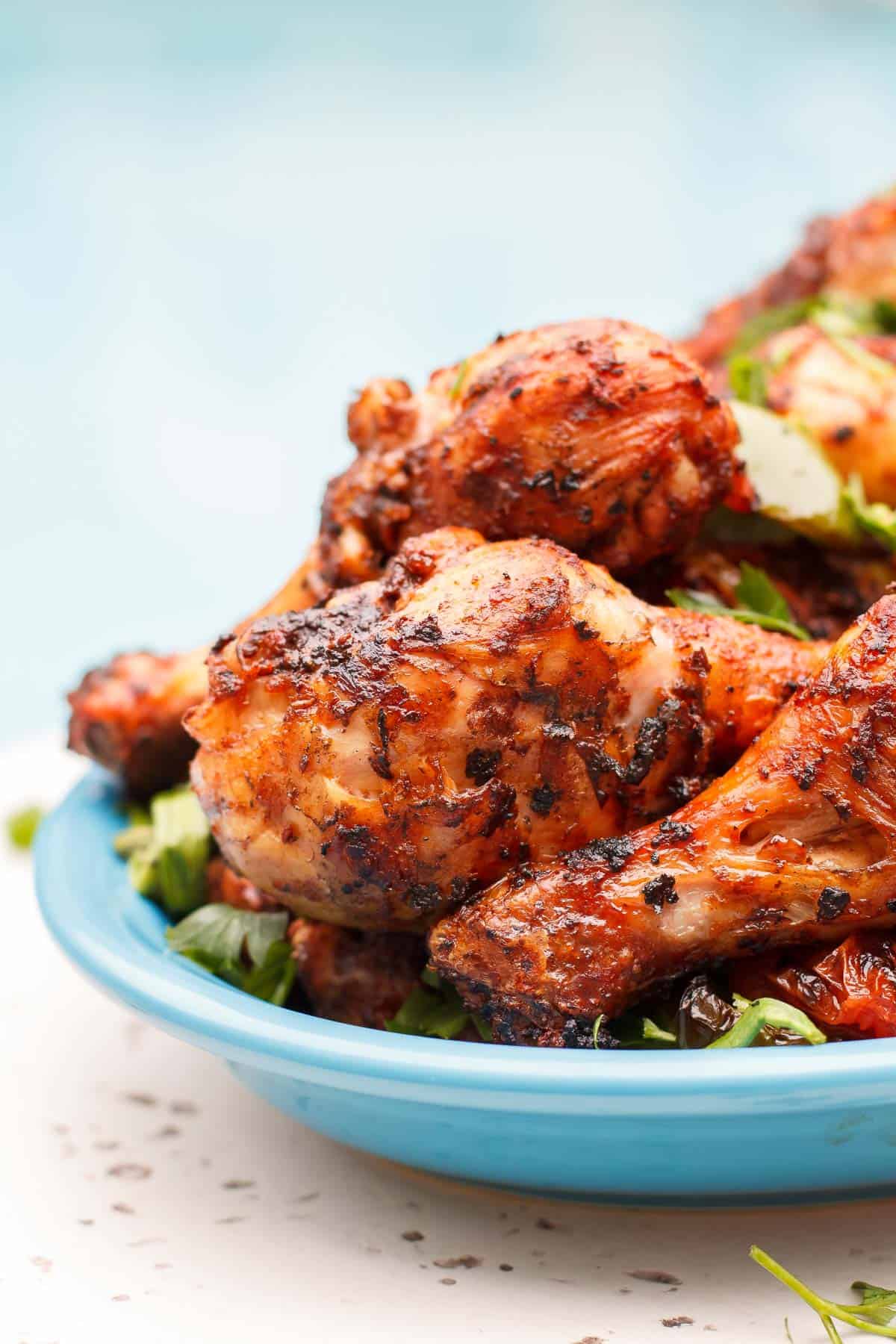 What you need for the chicken marinade
Anytime you have a chance to marinate your chicken ahead of time for 2 to 4 hours, or even for just 30 minutes, do it! It makes a difference in infusing the chicken with flavor and in gently tenderizing it. And when your Mediterranean chicken marinade is made of harissa paste, loads of garlic, and a few spices, you just can't go wrong! Here is what you need for the marinade:
Garlic - You need a whopping 15 cloves, peeled and roughly chopped. Don't worry about being too precise: The garlic gets tossed into the food processor along with the other marinade ingredients.
Harissa paste - Made with chiles, garlic, bell peppers, and more, harissa is simply packed with flavor! You can either use homemade or quality store-bought harissa paste; both will work very well!
Herbs and spices - Warm nutmeg, tart sumac, and earthy dried thyme play up the Eastern Mediterranean vibes even more.
Lime or lemon juice - Citrus is an important component of this marinade, because the acidity helps to tenderize the chicken legs.
Extra virgin olive oil - Olive oil helps to transfer fat-soluble flavors into the chicken, as some flavors will not penetrate the meat without the aid of a cooking fat.
How to grill chicken drumsticks?
For juicy, grilled chicken legs, cook them on a medium-heated grill for about 30 to 40 minutes, leaving the grill covered, and turning the chicken over every 7 minutes or so. And for the best flavor, budget some time to marinate the drumsticks before grilling. It's worth it!
How make grilled chicken legs
Here are the steps for how to make this chicken recipe, I've included photos for my visual learners (the print-friendly recipe with ingredient measurements is just below):
Make the marinade. In a food processor, blend 15 cloves roughly chopped garlic, 6 tablespoons harissa paste, 1 teaspoon nutmeg, 1 ½ teaspoons sumac, 1 teaspoon dried thyme, fresh lime juice (either 2 large limes or lemons), and 4 tablespoons olive oil.



Marinate the chicken legs. Pat chicken dry (20 drumsticks) and season with kosher salt and black pepper. Apply the spice rub to the chicken, making sure to also get under the skin. Do not discard the remaining marinade. Place the chicken in a jumbo zip-top bag and pour the remaining marinade on top. Seal the bag and massage the chicken so it's well-coated in the harissa-garlic marinade. Refrigerate for 2 to 4 hours or overnight.



Grill. Heat an outdoor grill to medium. A gas or charcoal grill is fine. Grill the drumsticks, covered, for 35-40 minutes or until well done (they should have an internal temperature of 165 degrees F). As they grill, turn the chicken legs every 7-8 minutes or so using tongs. Once cooked, arrange the grilled chicken on a large serving platter and enjoy with some sides (ideas below!).


How long to grill chicken legs?
Like I mentioned earlier, over medium heat, bone-in chicken legs will take anywhere from 30 to 40 minutes to cook through. Be sure to cover the grill so the drumsticks cook on the inside as well without the outside becoming burned. Chicken drumsticks are fully cooked when the juices run clear (not bloody or pink) or when the internal temperature is 165 degree F when measured with a meat thermometer near the bone.
What to serve along
I like to serve this chicken drumsticks recipe with grilled watermelon or simple roasted carrots. And you can't go wrong with a salad, like a red cabbage salad, no-mayo potato salad, kidney bean and cilantro salad, or couscous salad.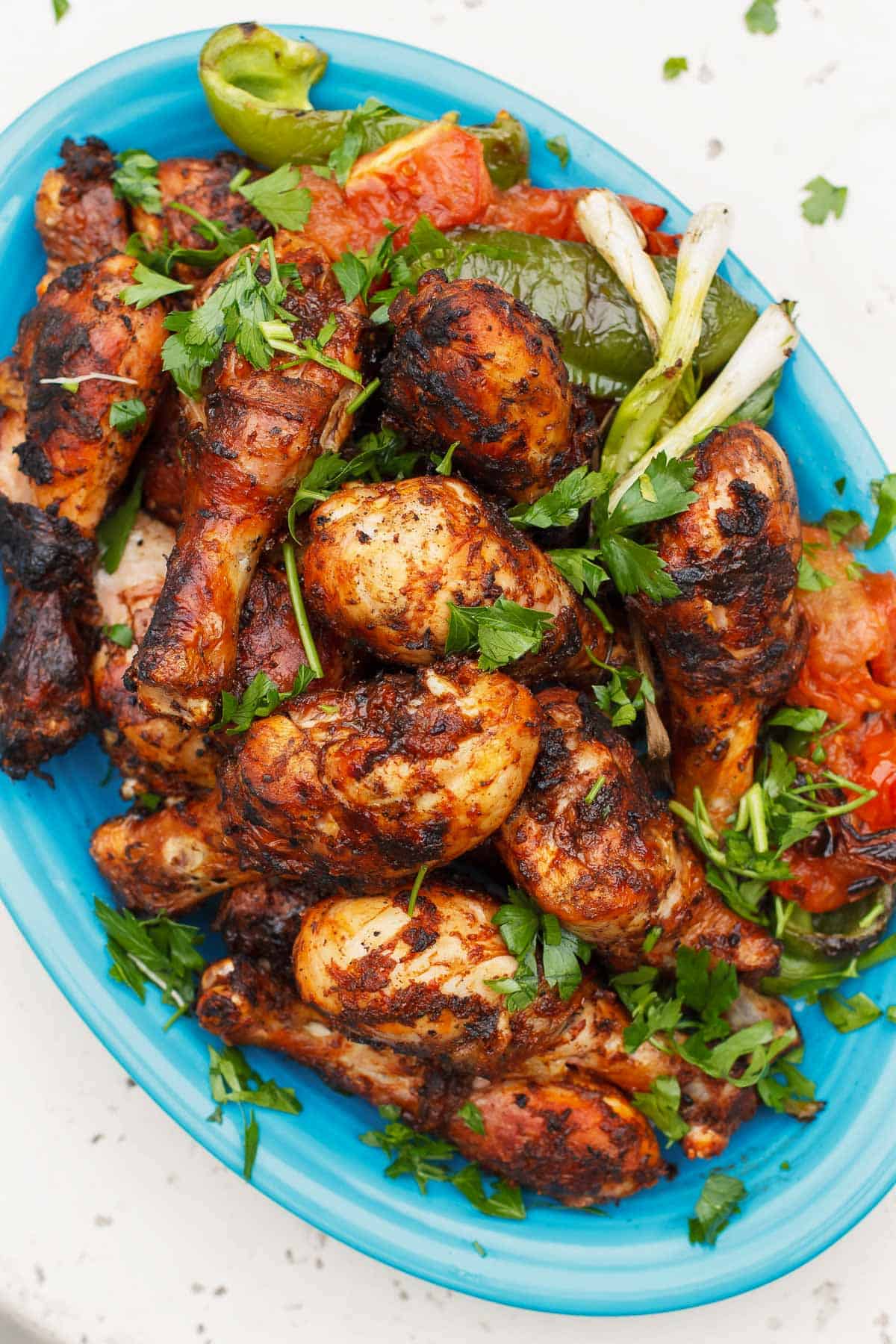 Leftovers and storage
Store leftover grilled chicken drumsticks in an airtight container in the refrigerator for up to 4 days. Reheat them in a skillet over medium heat (perhaps with a little olive oil) until warmed through.
More grilled chicken recipes
Next-Level Grilled Chicken Legs (Best Marinade)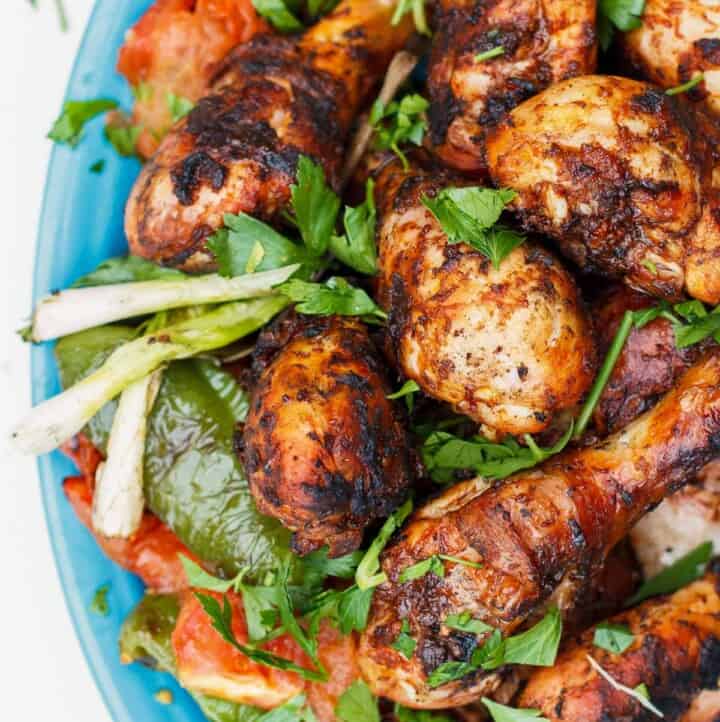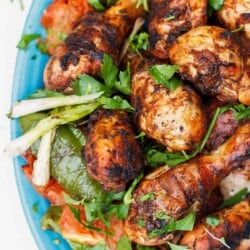 Ingredients
15

garlic cloves,

peeled, roughly chopped

6

tablespoon

harissa paste

1 ½

teaspoom

sumac

1

teaspoon

dried thyme

2

large limes or lemons,

juice of

20

large chicken drumsticks

Salt and pepper

1

large red onion,

sliced
Instructions
To make the garlic-harissa marinade, in a food processor, blend the chopped garlic, harissa paste, nutmeg, sumac, thyme, lime juice and olive oil.

Pat the chicken drumsticks dry and season lightly with salt and pepper.

Now apply the garlic-harissa marinade to the chicken drumsticks, particularly underneath the skin. Do not discard the remaining marinade.

Place the chicken drumsticks with the sliced onions in a large jumbo kitchen bag with a seal. Pour the extra marinade on top. Seal the bag shut and massage the contents so that the chicken is well covered in the garlic-harissa marinade.

Refrigerate for four hours or overnight.

When ready, heat an outdoor grill to medium. Grill the drumsticks on medium heat, covered, for 35-40 minutes or until well done. As they grill, turn the drumsticks every 7-8 minutes.
Notes
Marinating tip: If you have the time, chicken should be marinated in the refrigerator for 2 to 4 hours or overnight before grilling. If not, try letting the chicken sit in the marinade for around 30 minutes.
If you choose to substitute harissa with a different chili paste, select one that does not have sweet undertones. You want to go spicy-tangy for this recipe. And of course, if you prefer a less spicy drumstick, reduce the amount of harissa or chili paste to your taste.
What to serve along? Try grilled chicken drumsticks with

grilled watermelon

,

simple

roasted carrots

,

no-mayo potato salad

,

kidney bean salad

, or

couscous salad

.

How to store leftovers: Leftover chicken legs will keep in an airtight container in the fridge for up to 4 days.

Reheat in a skillet over medium heat (maybe with a little olive oil) until warmed through.

Visit Our Shop to browse quality Mediterranean ingredients including olive oils, honey, spices, and more. You can find quality harissa paste there, too!
Nutrition
Calories:
315
kcal
Carbohydrates:
6
g
Protein:
27.4
g
Fat:
19.8
g
Saturated Fat:
4.6
g
Polyunsaturated Fat:
3.6
g
Monounsaturated Fat:
9.7
g
Trans Fat:
0.1
g
Cholesterol:
139.3
mg
Sodium:
396
mg
Potassium:
420.3
mg
Fiber:
1
g
Sugar:
2
g
Vitamin A:
142.2
IU
Vitamin C:
7.6
mg
Calcium:
34.4
mg
Iron:
1.4
mg
*This post first appeared on The Mediterranean Dish in 2015 and has been recently updated with new information and media for readers' benefit.