Crisp lettuce is the star of this simple lettuce salad recipe with the easiest lemon dressing and a good sprinkle of Parmesan cheese. You'll be making this easy salad recipe over and over! It comes together in just 5 minutes.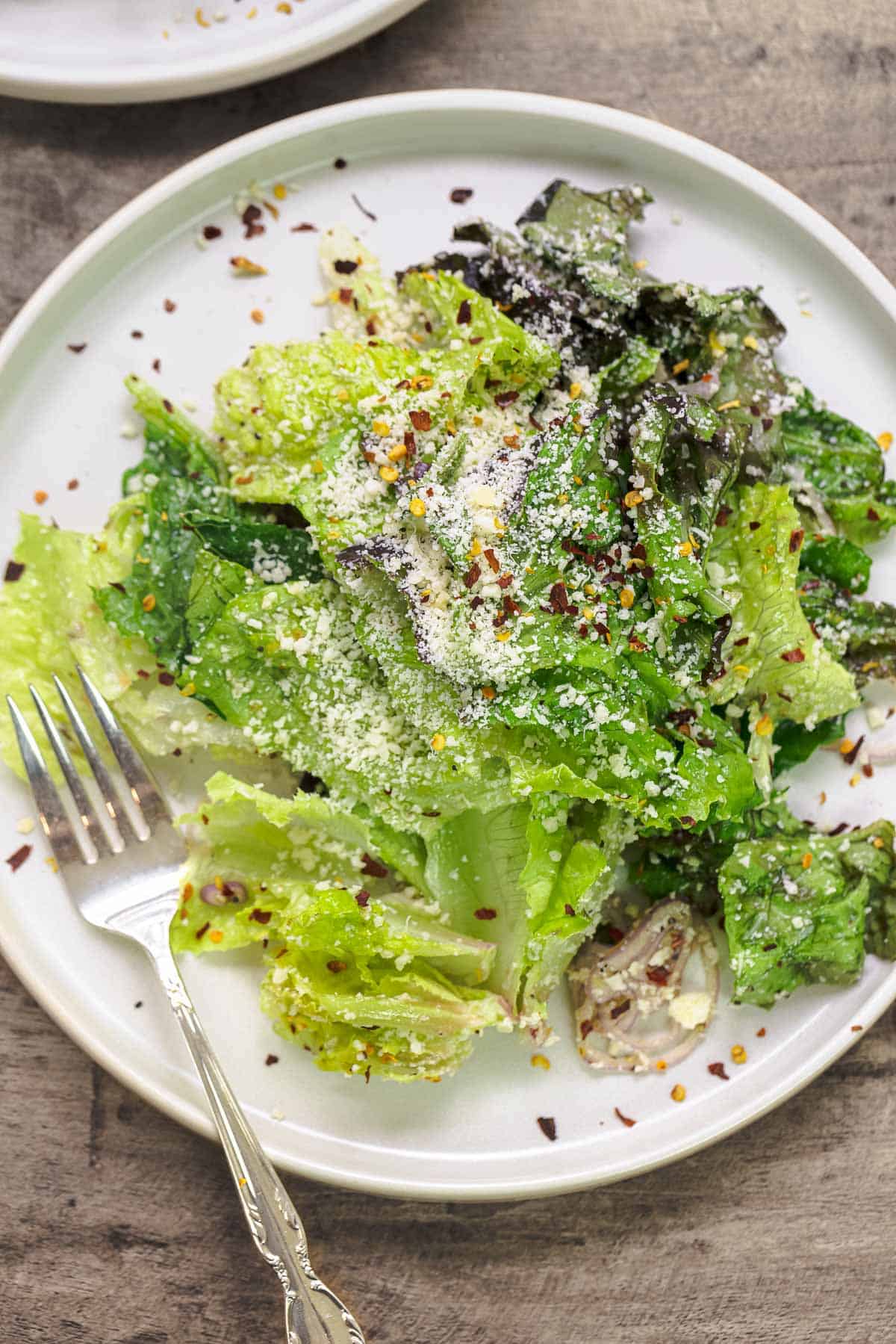 Wondering what you can make with lots of lettuce? This simple lettuce salad with Parmesan and lemon is a must-try! It takes just 5 minutes and 7 ingredients including the dressing!
Serve it as a side, or use this easy lettuce salad as a bed for some grilled fish. Or, make a healthy protein-packed meal with chicken salad or chicken kabobs. Serve with shrimp like garlic-parmesan shrimp or shrimp skewers for a dinner that comes together in under 20 minutes. Heck, for a no-cook meal, you can even crumble some tuna on top!
What is the best lettuce for salad?
For something like this lettuce and Parmesan salad, try to use a crispy lettuce such as Romaine or red leaf lettuce (I used both to give me a little variety and good texture). You can also throw in some frisée lettuce, Belgian endive, or arugula, but be sure to start with Romaine lettuce and fill in with the rest.
When buying your lettuce, look for crisp, bright-colored leaves, and avoid anything that looks dry or wilted. Some spotting or small holes are common, particularly if you're buying organic lettuce that's been grown without the use of sprays.
Ingredients for this lettuce salad recipe
Lettuce - I used hearts of romaine lettuce and red leaf lettuce. As I mentioned above, any lettuce would work, but I like the varied textures and colors of the romaine and red leaf lettuce.
Shallots, thinly sliced - For mild sharpness, sweetness, and great crunch. For bolder flavor, use thinly sliced red onions.
Lemon zest - You'll need the zest of 2 lemons. Save the juice to season the salad.
Dressing - Lemon juice and extra virgin olive oil form one of the most basic salad dressings, with bright flavor from the lemon juice and a hint of pepperiness from the olive oil. I used our Spanish Hojiblanca EVOO because it is pungent, fruity, and ever so subtly bitter.
Parmesan cheese - Some freshly grated Parmesan cheese adds some sharpness and nuttiness to the romaine lettuce salad. If you like tangier, sharper flavor, crumbled feta cheese would work as well.
Crushed red pepper flakes or Aleppo-style pepper (optional) - Red pepper flakes add subtle heat. For an even milder option, try Aleppo-style pepper, which is more sweet than spicy. Or, simply omit if you don't like heat!
How to make this lettuce salad
Quick and easy leaf lettuce salad is perfect when you need something tasty but are short on time. Here's how you make it:
Prepare the lettuce. Chop 1 to 2 hearts of romaine and 1 bundle of red leaf lettuce, and rinse and drain it very well. I recommend using a salad spinner to get rid of excess moisture. You can also give the lettuce a good shake. Pat dry thoroughly. If you have time, wrap the lettuce in paper towels and refrigerate for a little bit. This helps it crisp up.
Make the lettuce salad. Grab a large salad bowl and add the lettuce, 2 thinly sliced shallots, and the zest of 2 lemons. Keep the lemons! You need them for the next step.



Add the salad dressing. Season the salad with kosher salt, black pepper, the juice of 2 lemons, and ¼ cup extra virgin olive oil. Toss to combine.
Add finishing touches and serve. Sprinkle 1 cup finely grated Parmesan cheese and some red pepper flakes (optional) and toss again. Serve and enjoy!
Serve immediately!
Lettuce can start to wilt pretty fast after it's dressed, so this is the kind of salad I like to serve immediately. I love to pair this with my creamy sausage tortellini soup for an easy soup and salad dinner. If you're serving this for a dinner party and want to dress it up a little, add a garnish of fried lemon.

Leftovers will keep for up to 2 days in the fridge, but the lettuce will not look its best and the salad will taste soggy. In my house, this easy salad is devoured within minutes, so no issue with leftover soggy lettuce.
More easy salad recipes
Browse all Mediterranean recipes

Visit Our Shop
Lemon Parmesan Lettuce Salad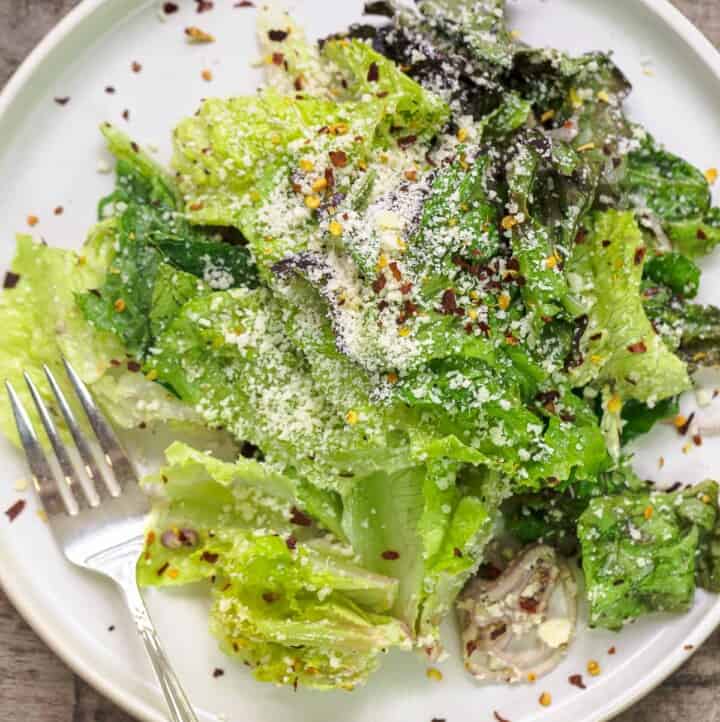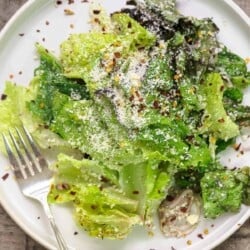 5 minutes is all it takes to make this easy lettuce salad with lemon and Parmesan. I used romaine and red leaf lettuce in this recipe because their color and texture works well. You could also throw in some arugula or frisée lettuce, but use romaine as the base. I love serving this as a side or as a bed for a simply prepared fish, chicken, or grilled lamb. (Be sure to check out the ideas up in my post).
Ingredients
1 to 2

hearts of romaine lettuce

1

bundle red leaf lettuce

2

shallots,

thinly sliced

2

lemons,

zested and juiced

¼

cup

extra virgin olive oil

Kosher salt and black pepper

Crushed red pepper flakes,

or Aleppo pepper for a milder taste

1

cup

finely grated parmesan cheese
Instructions
Chop the lettuce and put it in your salad spinner or a large bowl, rinse and drain very well. Pat the lettuce dry (if you have the time you can wrap the lettuce in paper towels and refrigerate briefly to help it crisp up).

Add the lettuce, shallots, and lemon zest to a bowl.

Season with kosher salt, black pepper, lemon juice, and olive oil. Toss to combine.

Add the Parmesan cheese and red pepper flakes (optional) and toss again. Serve.
Notes
Lettuce options for this salad: Look for crispy lettuce like Romaine and red leaf lettuce. You could also add frisée lettuce, Belgian endive, or arugula but be sure to start with Romaine lettuce and fill in with the rest.
Enjoy immediately! This is not the kind of salad to make ahead as the lettuce wilts quickly once dressed. Leftovers will keep in the fridge for up to 2 days, but the salad will be soggy and not very appetizing. If you're serving fewer people, you can cut the ingredient list in half.
Visit Our Shop for quality Mediterranean ingredients including extra virgin olive oils and spices.
Nutrition
Calories:
169.4
kcal
Carbohydrates:
7.4
g
Protein:
5.8
g
Fat:
13.8
g
Saturated Fat:
3.8
g
Polyunsaturated Fat:
1.2
g
Monounsaturated Fat:
7.6
g
Cholesterol:
14.5
mg
Sodium:
392
mg
Potassium:
155.1
mg
Fiber:
1.7
g
Sugar:
1.8
g
Vitamin A:
1805.3
IU
Vitamin C:
20.5
mg
Calcium:
166.2
mg
Iron:
0.6
mg