Middle Eastern stuffed eggplant with spiced ground beef, bulgur and pine nuts. This hearty eggplant dish can stand on its own as a one-pan meal with a side salad and warmed pita bread. But it won't hurt to serve it as a side dish on special occasions!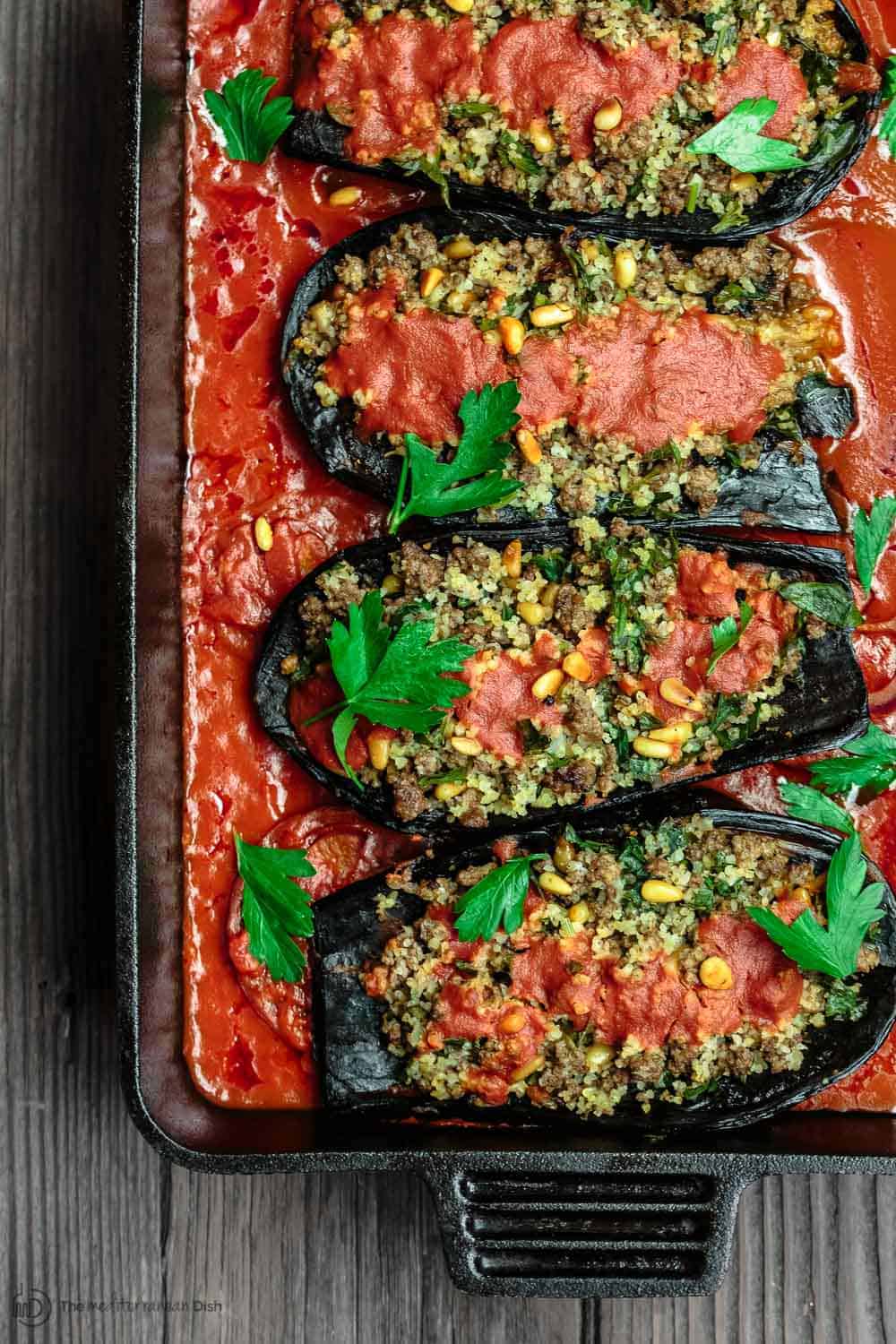 In many parts of the Middle East, this stuffed eggplant dish is referred to as Sheikh Mahshi, which means "stuffed sheikh-style."
Sheikh is a title given to the head of a tribe or household-- someone of higher wisdom and esteem. So what does this have to do with stuffed eggplant?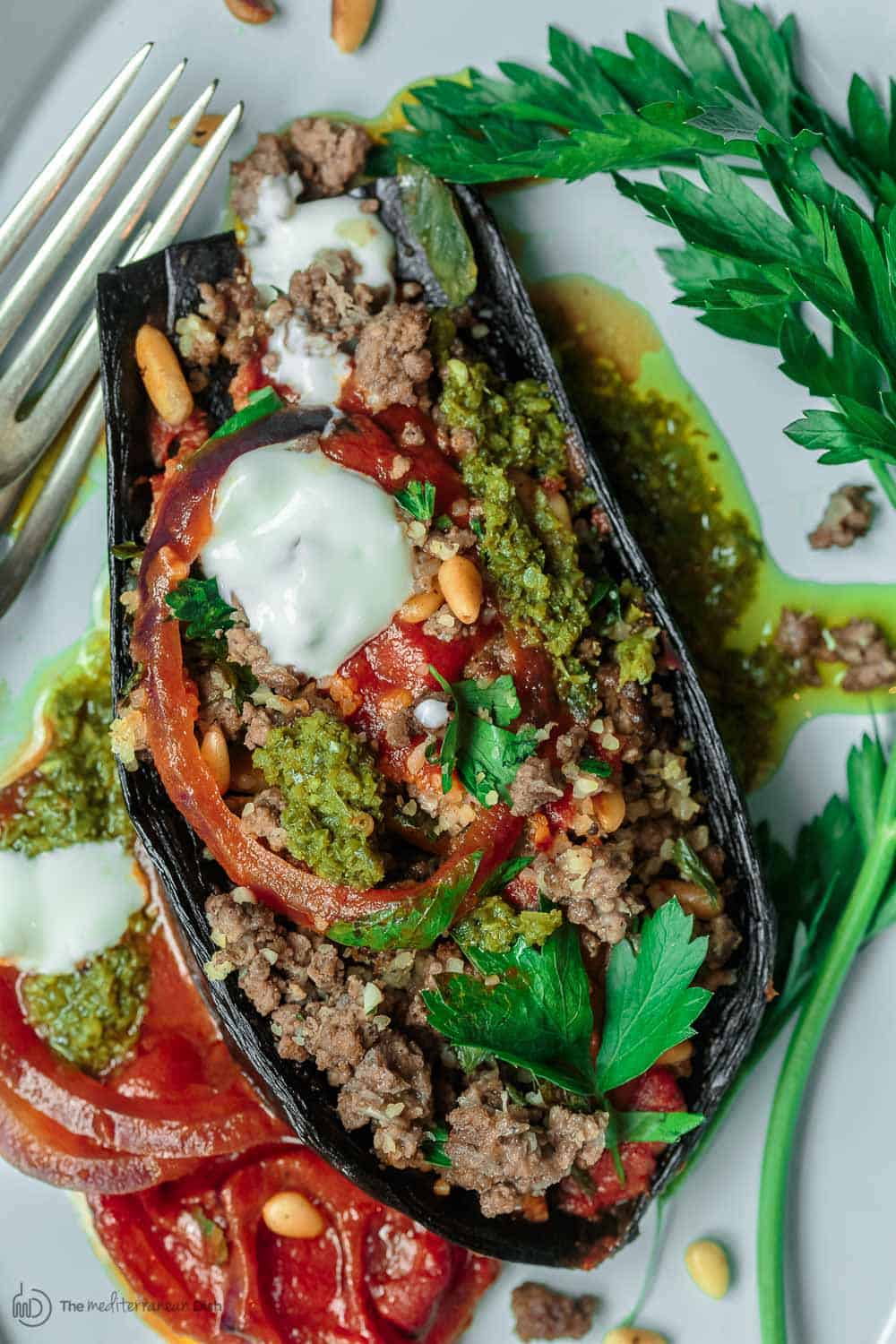 This particular stuffed eggplant recipe is thought of as the star of all stuffed dishes. One that's often reserved for honored guests, it's delicate and tasty that it's deemed,"fit for a sheikh."
Here's the gist. Perfectly roasted eggplant halves serve as boats for a fragrant stuffing mixture of spiced meat, fine bulgur, and pine nuts. The stuffed eggplant boats are then baked briefly in tomato sauce. (By the way, if you're interested in learning more about bulgur wheat and how to cook it, check out my post all about it for simple tips and tricks!)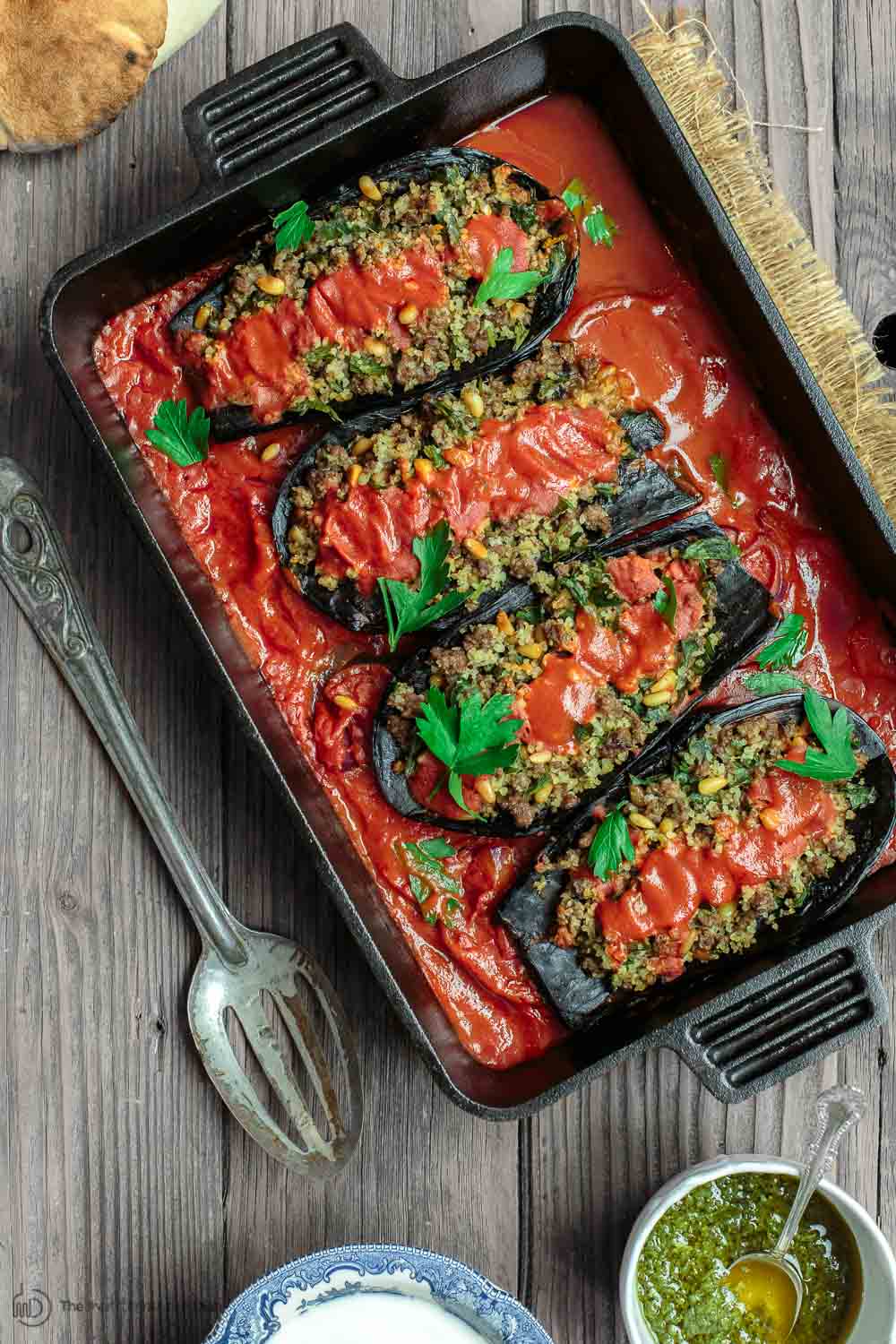 What to serve with Sheik Mahshi Stuffed Eggplant
You can serve this stuffed eggplant as side dish, but it can stand all on its own as a one-pan meal. I like to top the finished eggplants with a little sauce like spicy zhoug or homemade Tzatziki sauce. Even plain yogurt will do well to compliment the saucy stuffed eggplant. All that's needed is some warm pita bread and a side of zesty fresh salad like fattoush, simple chopped salad, or even this herbed tomato salad.
Print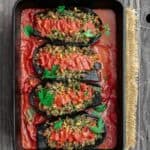 Stuffed Baby Eggplant with Spiced Ground Beef, Bulgur and Pine Nuts
---
Description
All-star stuffed eggplant recipe with a Middle Eastern twist. Roasted eggplant stuffed with a fragrant mixture of spiced meat, fine bulgur and pine nuts.
---
2

large eggplants, stems removed, halved
Salt
Private Reserve extra virgin olive oil

1

medium yellow onion, shredded (about

½ cup

packed shredded yellow onion)

2

large garlic clove, chopped

¾

lb lean ground beef (you can use ground turkey or lamb as well)

1 tsp

ground allspice, divided

1 tsp

ground cinnamon, divided

¼ cup

extra fine bulgur, soaked in ¼ cup hot water for 10 minutes then drained (bulgur must be extra fine)

½ cup

packed chopped fresh parsley

¼ cup

toasted pine nuts

1

15 oz can tomato sauce

1 cup

water

1

red onion, sliced into rings
Topping suggestions (optional)
---
Instructions
Preheat oven to 425 degrees F.
Place the eggplant, flesh side up, on a large tray. Sprinkle flesh with salt and set aside for 20 minutes so that the eggplant "sweats" its bitter juices. Over the sink, gently squeeze the eggplant to extract bitter juices. Wipe dry.
Line a baking sheet with foil and lightly oil. Cut 3 slits or shallow lines into the eggplant flesh, then brush generously with olive oil. Lay on the prepared tray, flesh-side down. Drizzle more extra virgin olive oil on top. Roast in heated oven for 30 minutes or until flesh is tender and deeply browned (but not burned).
While eggplant is roasting, make the meat stuffing mixture. In a large heavy skillet, heat 2 tablespoon extra virgin olive oil. Add ground beef, onions and garlic. Brown beef mixture over medium-high heat until fully cooked through. Season the meat mixture with salt and pepper, ½ teaspoon allspice, and ½ teaspoon ground cinnamon. Remove from heat. Squeeze any excess water out of bulgur, then add to the meat mixture. Add chopped parsley and pine nuts. Give the mixture a good stir. Taste and adjust salt if needed (do not over-salt, especially if using salted tomato sauce later)
When eggplant is ready, remove from oven and set aside briefly. Lower oven temperature to 375 degrees F.
In a small bowl, mix the tomato sauce, water, and remainder of cinnamon and allspice.
Place red onion slices on the bottom of a casserole dish like this one; top with ½ the tomato sauce mixture. Arrange the roasted eggplant on top.
With the back of a spoon, gently push the eggplant flesh down to make room for the meat stuffing mixture. Spoon the meat stuffing mixture to fill the eggplant cavities you created. Top with the remainder of the tomato sauce mixture.
Cover the casserole dish with foil. Bake in the 375 degrees F heated-oven for 20 to 25 minutes.
Serve warm topped with your choice of Zhoug, Greek Tzataziki, or plain yogurt. Don't forget some warm pita bread or your choice of crusty bread to sop up the goodness!
Prep Time:

20 mins

Cook Time:

45 mins

Category:

Entree

Cuisine:

Middle Eastern
Keywords: stuffed eggplant, eggplant recipe, stuffed eggplant recipe, roasted eggplant recipe, easy eggplant recipe
More Recipes to Try
Moussaka: Greek Eggplant Casserole
Baked Rigatoni with Eggplant and Tomato
Egyptian Vegan Stew with Peas and Carrots
Avgolemono: Greek Lemon Chicken Soup
Mediterranean Vegan Wraps with Roasted Cauliflower