Want to take your chicken dinner game to a whole new level of tender, succulent, and delicious?! The secret is in the marinade! I have the best chicken marinade recipe for you today. Made of whole milk yogurt, citrus, extra virgin olive oil, and loads of Mediterranean flavors from garlic, fresh herbs, and spices. This yogurt chicken marinade is easy to make and super versatile.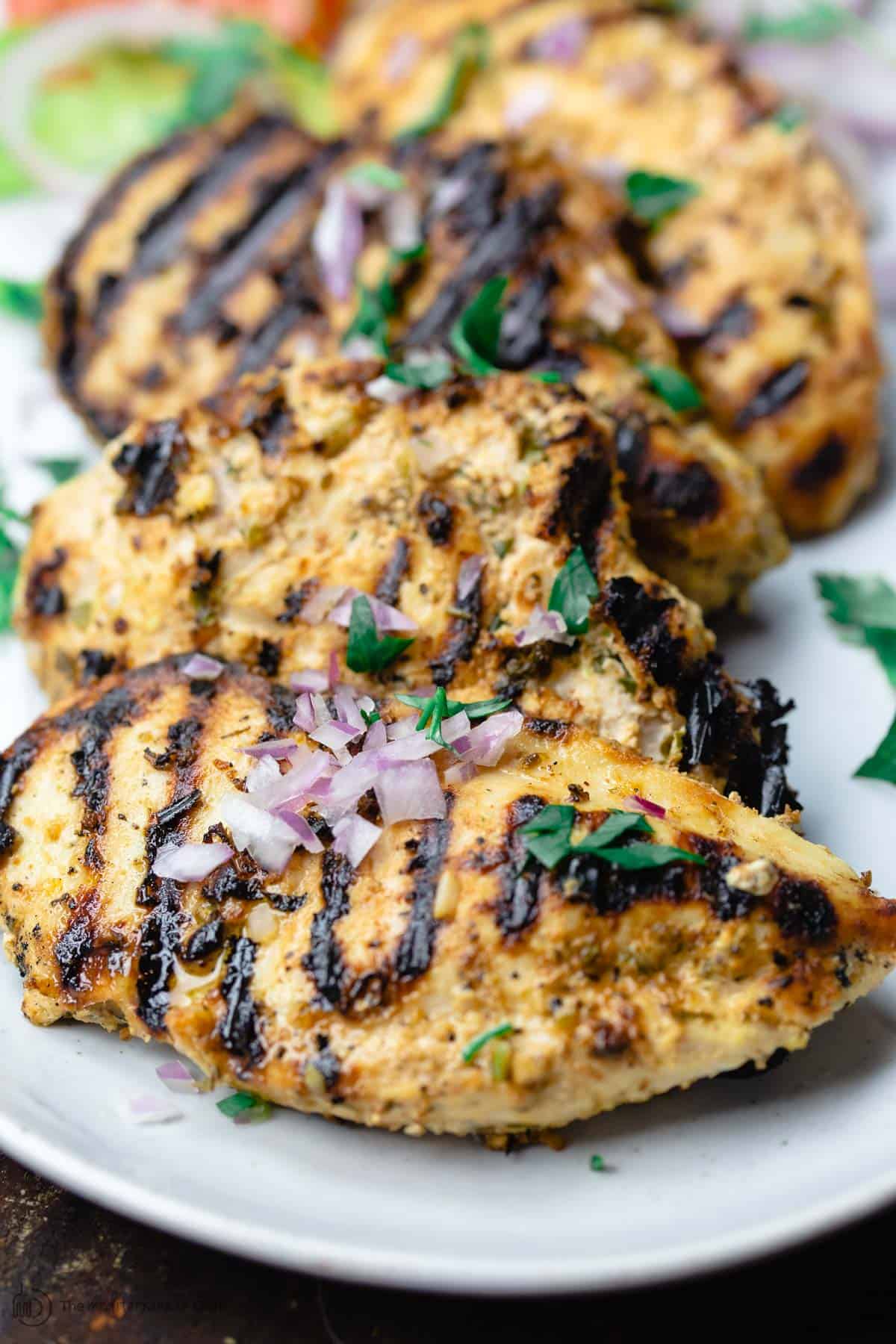 Chicken is a convenient, budget-friendly ingredient for many of us.
Every home cook has a couple go-to chicken recipes in her arsenal. But one can easily fall into a rut, making the same chicken dinner over and over.
And when it comes to chicken breasts, for example, many run into issues--not enough flavor, or way too dry (Confession: dry chicken breast is my biggest enemy because it can totally taste and feel like pressed sawdust!)
Time to foolproof the chicken dinner and take it to a whole new level of delicious...
The key to succulent, extra tender, flavor-packed chicken is in the marinade! And as far as good chicken marinades go, one secret ingredient makes a big difference: creamy whole milk yogurt.
You'll love how versatile this chicken marinade is. It's great for boneless chicken breasts (that's what I used in today's recipe and the video below). But you can use it on any cut of chicken you like.
For quick weeknight dinners--chicken gyros, for example--I often cook my yogurt-marinated chicken in a pan. But if you feel like grilling, or even baking, that will work too.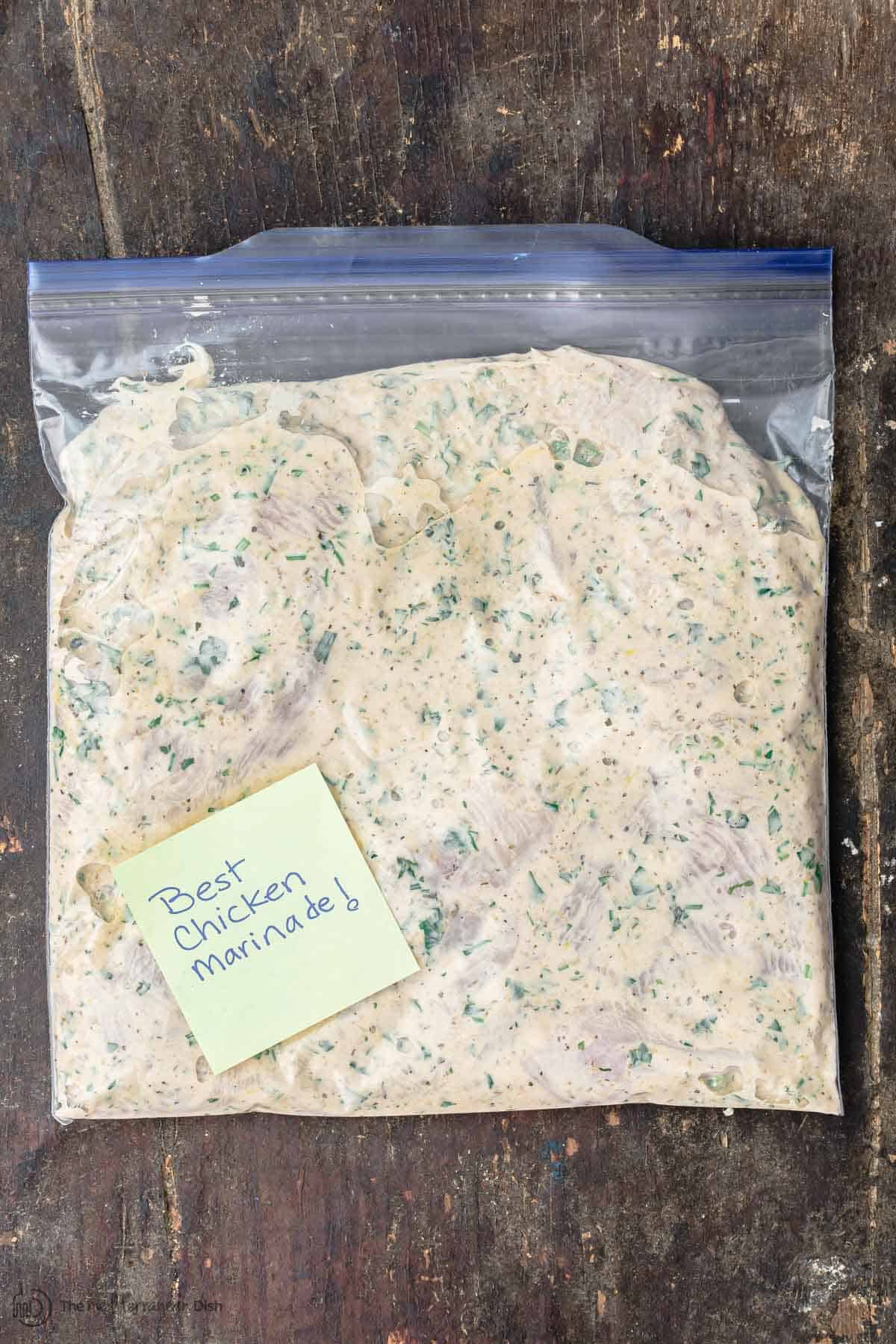 Why use Yogurt in Chicken Marinade?
With both meat and chicken (especially with chicken breasts), the job of a marinade is to tenderize, while adding flavor.
And, if you've been intimated or not sure where to start with marinades, yogurt is the answer.
Creamy, tangy yogurt acts as a great flavor carrier to all sort of herbs and seasonings. More importantly, because of its lactic acid and calcium content, yogurt works very gently to break down proteins so that the meat is super tender and juicy.
So, with a yogurt marinade, as opposed to a highly acidic or vinegar-based marinade, you don't have to worry about chicken breasts getting tough or turning rubbery!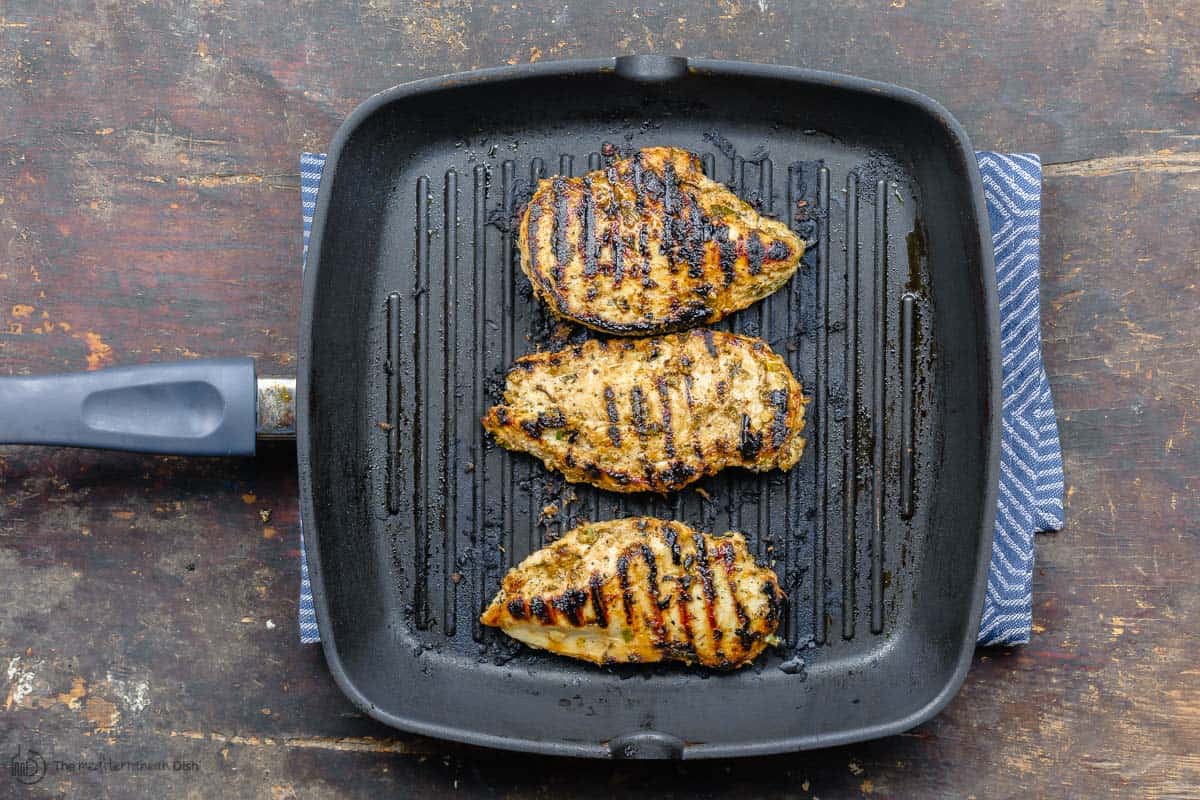 What's in the BEST Chicken Marinade Recipe?
Let's talk marinade magic! My chicken marinade has it all, plus it's as easy as 1, 2, 3. Here's what's in it:
1. Marinade base: quality whole milk yogurt. I use 1 ½ cups of Stonyfield organic whole milk yogurt (link) from pasture-raised cows. This delicious creamy yogurt is a go-to for me. I love it in marinades, sauces, and I also use it in making my famous Labneh cheese (basically, the best homemade cream cheese!)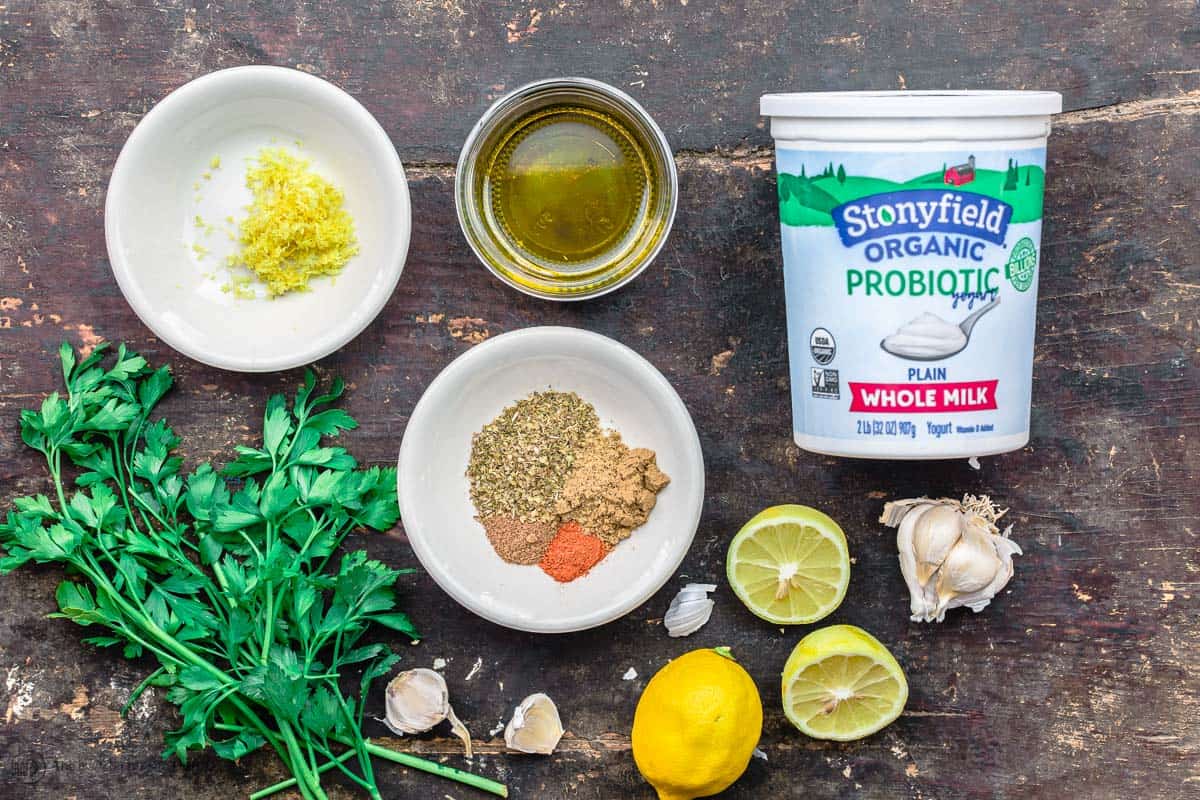 2. Citrus and Extra Virgin Olive Oil. These two support the yogurt in building the marinade base. For the citrus, I like to add juice of 2 citrus fruits (lemon or lime will work) and zest of 1 citrus fruit for extra punch.
3. Flavor Makers: Garlic, Spices, and Fresh Herbs. This is a bit of a Greek chicken marinade. As you can expect, loads of fresh garlic (the start of every good thing, in my opinion). Then we have oregano, dried mint and a foursome of warm spices: cumin, coriander, paprika, and nutmeg (just a pinch.) Finally, a generous portion of fresh parsley.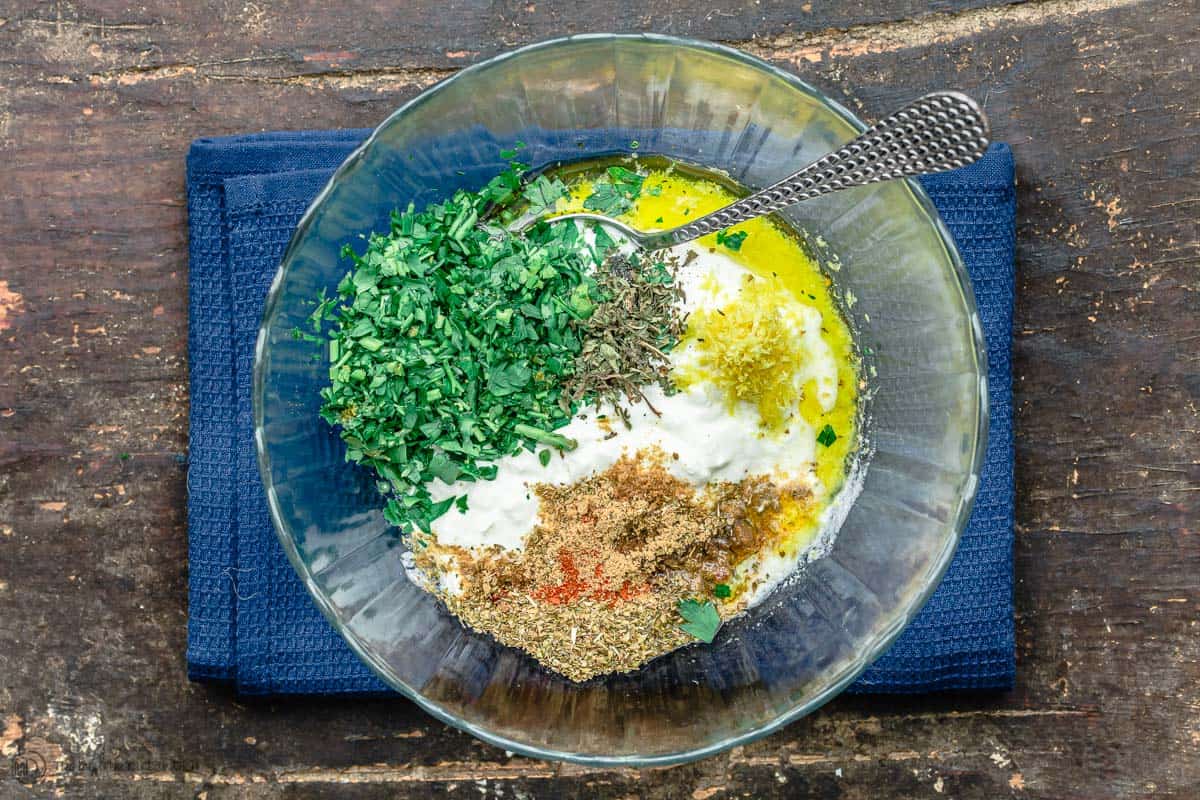 Make this marinade your own!
You can change up the combination of herbs and spices to your liking.
Start with the yogurt marinade base: whole milk yogurt, citrus, and extra virgin olive oil. From there, whisk in the combination of spices and fresh herbs you like
For example, if you have fresh basil or mint, use them instead of parsley. Remember, the finer you chop the fresh herbs, the more flavor they will impart to the marinade.
Want to give your chicken an Italian twist, try some fresh thyme and maybe a little rosemary. Going for a Moroccan vibe? Try a bit of Harissa or Ras El Hanout?
A lot of my Southern friends love heat. If that's you, feel free to adapt the yogurt marinade recipe by adding cayenne or Cajun spice instead.
You get the idea. Don't fall into a rut. Change things up whenever you need to!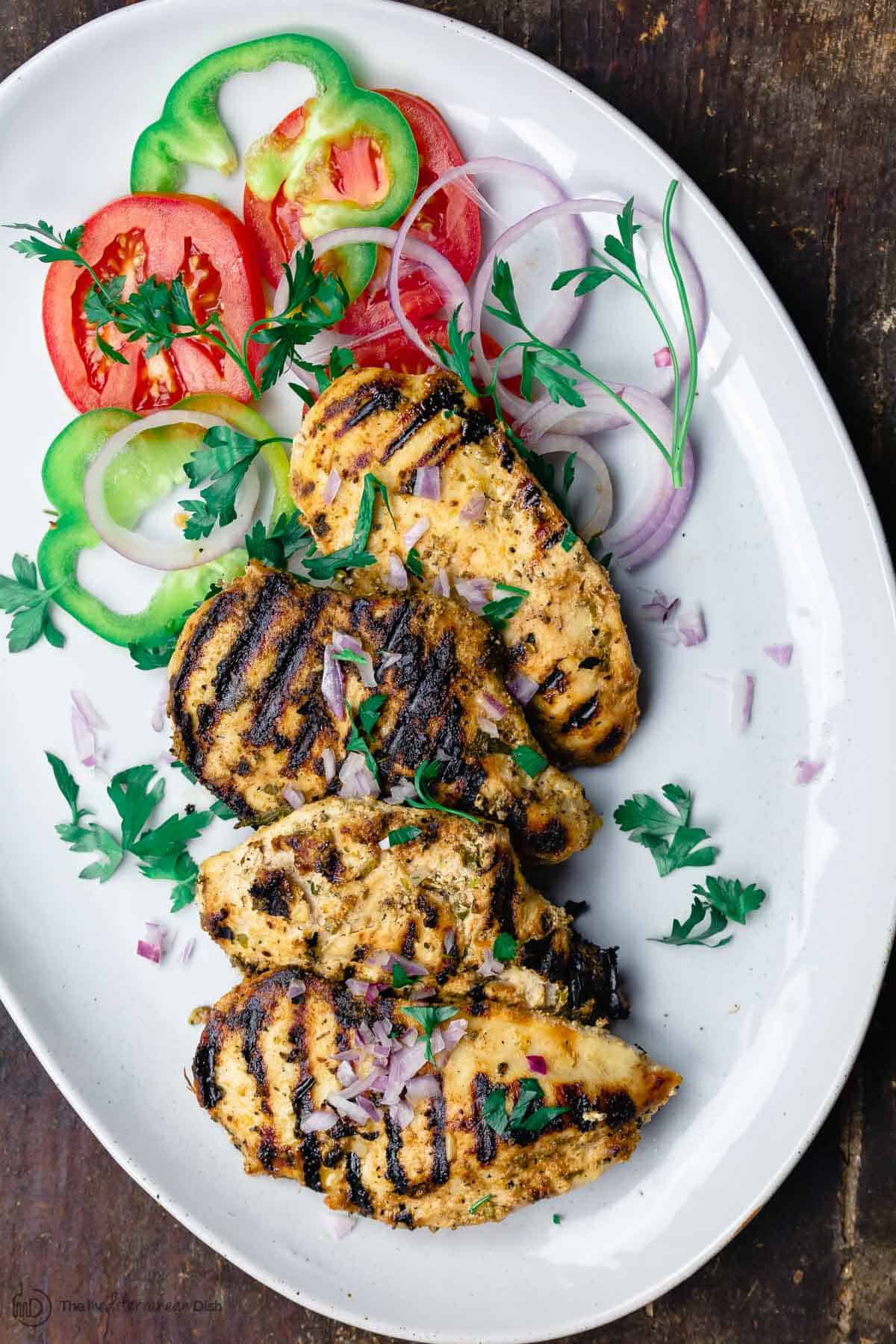 How Long Can You Marinate Chicken?
The beauty of this chicken marinade is that it's yogurt-based, which means it will work to tenderize the chicken in about 15 to 30 minutes. But, it's safe to marinate your chicken in it for a few hours or overnight, which I highly recommend if you're after big flavor.
What to Serve Along Yogurt Marinated Chicken?
There are lots of Mediterranean sides and salads that will work perfectly with yogurt marinated chicken! A few ideas:
Sides: pan fried brussels sprouts, baked zucchini sticks, Italian roasted veggies, and Greek lemon rice
Salads: Greek Salad, Balela Salad, 3-Ingredient Mediterranean Salad, or Tabouli
Dips: Toum Garlic Sauce, Classic Hummus, or Tztaziki (if you feel like more yogurt)
Watch the Video for How to Make this Chicken Marinade:
More Easy Chicken Recipes to Try:
Best Homemade Chicken Shawarma
Print
BEST Chicken Marinade Recipe (W/ Video)
---
Description
Ready to take your chicken dinner to a whole new level of delicious? The secret to tender, succulent, flavor packed chicken is in this yogurt chicken marinade. Made with whole milk yogurt, citrus, and extra virgin olive oil, with loads of Mediterranean flavors from garlic, spices, and fresh herbs.
---
For Marinade
1 ½ cup

Stonyfield Organic Whole Milk Yogurt
Juice of

2

lemons
Zest of

1

lemon

¼ cup

Extra virgin olive oil (I used Private Reserve Greek olive oil)

10

to

12

garlic cloves, minced

2 tsp

Dry Oregano

2 tsp

Dry mint

1 tsp

Cumin

1 tsp

Coriander

1 tsp

Paprika

½ tsp

Nutmeg
Kosher salt and black pepper
Large handful fresh parsley, chopped
For Chicken
1 ½

lb boneless chicken breast cutlets (see notes)
---
Instructions
Prepare the yogurt marinade. Place yogurt, lemon juice, lemon zest and extra virgin olive oil in a mixing bowl or large measuring cup like this one. Add garlic, dried oregano and mint, cumin, coriander, paprika, and nutmeg. Season with kosher salt and black pepper to taste (a large pinch to your liking). Finally, add in fresh chopped parsley.
Give everything a good whisk or mix until the marinade is well combined.
Marinate the chicken. Place chicken pieces in large (gallon size) zip-top bag. Pour the marinade on top. Zip the bag shut. Massage the bag so that the chicken is well-coated with the marinade. Place the bag on a baking sheet so that the chicken sits flat in a single layer in the bag. Refrigerate for 2 hours or overnight (if you don't have the time, even 30 minutes will make a difference.)
When ready, remove chicken from the bag, and before you cook it, give it just a bit of a shake to remove excess marinade. You have several options for cooking. In this recipe, I pan-seared the chicken (but you can grill or bake as well.)
Pan-cooked chicken cutlets: Heat 2 to 3 tablespoon extra virgin olive oil in a non-stick skillet over medium-high until shimmering but not smoking. Add chicken tenders to the pan (make sure to shake off any excess marinade before adding chicken to the pan.) Cook on one side undisturbed for 5 minutes until browned. Using a pair of tongs, turn chicken over and cook on other side for another 5 minutes or until chicken is done.
For grilled chicken breast cutlets: Heat an outdoor grill to medium-high and be sure to oil the grates very well. Grill chicken for 5 minutes on one side, then turn over and cook another 3 to 5 minutes or until chicken is fully done (internal temperature should register 165 degrees F.)
For baked chicken breast cutlets: Heat oven to 400 degrees F. Brush a baking dish with some extra virgin olive oil (make sure there is enough oil so the chicken does not stick.) Arrange chicken in one single layer (do not crowd.) Cover the baking dish tightly with foil and bake for 10 minutes covered, then uncover and bake another 8 to 10 minutes or so. Watch carefully. This can take less or more time depending on the thickness of your chicken breast cutlets. Remove from heat. Let chicken breasts rest (cover with foil or another pan) for 5 minutes or so.
Notes
Watch the video just above this recipe to see how I make my yogurt marinated chicken
Cook's Tip #1: This marinade will work for 1 ½ to 2 lb chicken pieces of your choice, I used chicken breast here, but bone-in chicken will work as well. Cooking instructions above are meant for chicken breast cutlets, however.
Cook's Tip #2: if you have the time, do allow chicken to marinate in the fridge for a few hours or overnight. The lactic acid and calcium in the yogurt will gently break down protein in the meat to help tenderize it, while the minced garlic, spices and fresh herbs work to infuse the chicken with so much flavor.
Prepare-Ahead Instructions: You can make the actual yogurt marinade 2 nights in advance. Keep the marinade refrigerated, preferably, in a tight-lid glass container until ready to use. You can use it to marinade chicken for a few hours or overnight.
Nutrition information is based on yogurt marinate only. It will change depending on what cut of chicken you add. If you add 1 ½ lb boneless, skinless chicken, it will be 257 calories per serving (6 servings)
Visit our Online Shop for our olive oils and all natural and organic spice collections.
Prep Time:

10 mins

Cook Time:

10 mins

Category:

Entree

Method:

Mixed

Cuisine:

Mediterranean
Keywords: Best chicken marinade, yogurt marinade, chicken breast recipe, easy chicken