Here is the perfect opportunity to get your Greek on! Greek Briam takes roasted vegetables to a whole new level of delicious. You need just a few simple pantry ingredients: potatoes, zucchini, red onions, and tomatoes. But the Greek flavors from spices, fresh garlic, parsley and a generous drizzle of excellent EVOO make all the difference. Plus, this recipe is text-book Mediterranean diet. Vegan. Zero Cholesterol. Low Carb. Gluten Free. All the good stuff!
Be sure to see the video, step-by-step photos and tips below for foolproof results.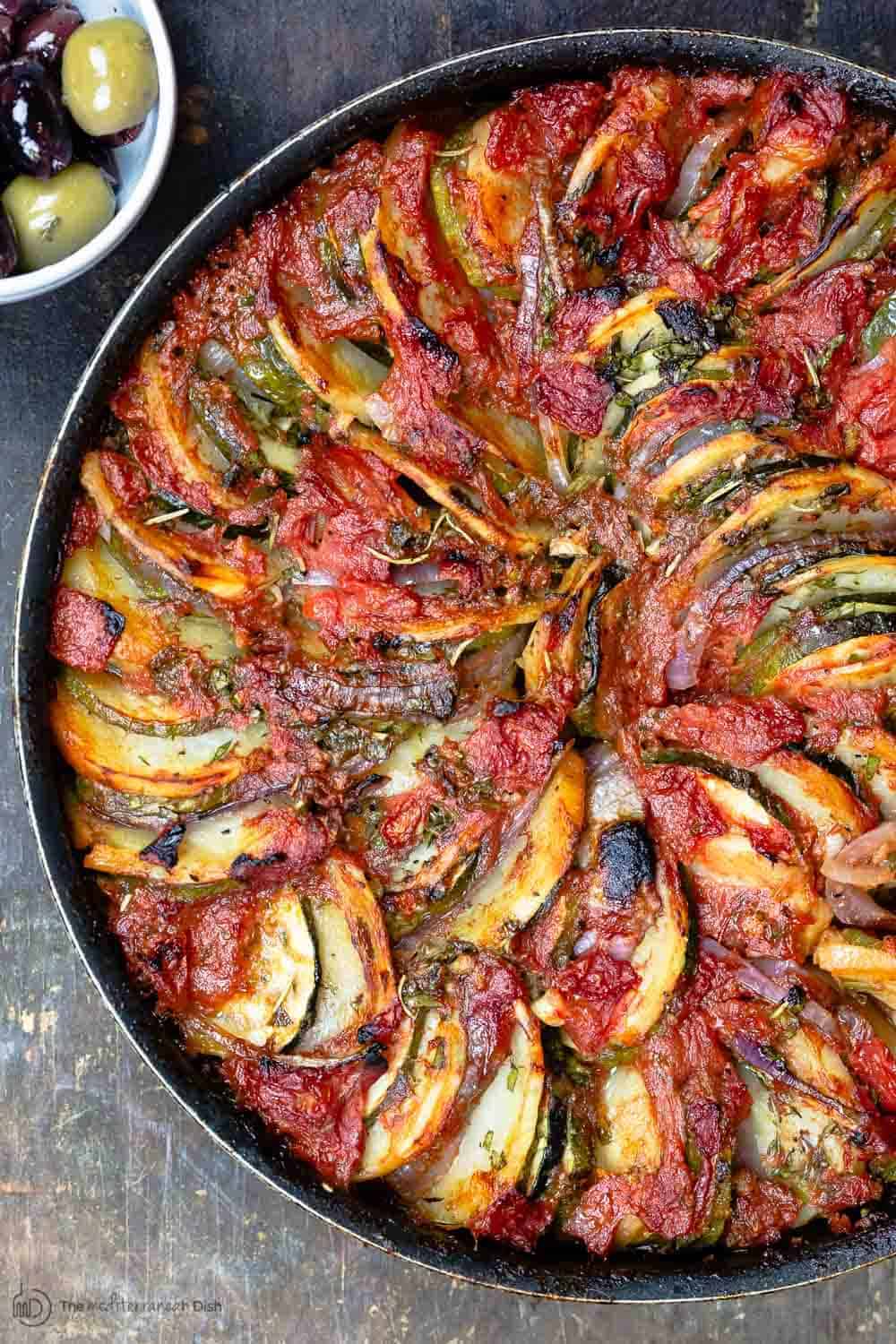 My first experience with briam was more than 10 years ago at a restaurant on the island of Patmos. We asked the owners, an older Greek couple, to surprise us with their best homemade dish. And we were served humble bowls of briam with assorted warm bread, and a side of tasty feta. Absolutely delightful!
That's the thing about Greek cooking that I absolutely adore, you can take a few simple ingredients and turn them into a feast!
What is Briam?
Briam is basically roasted vegetables, the Greek way. Thin roasted vegetable casserole, typically starring, potatoes, zucchini, red onions, and tomatoes. If you want to get fancy, add eggplant or bell peppers. The flavor profile is simple--oregano, a dash of piney rosemary (my personal touch), parsley, and fresh garlic.
But, pulling this vegetable casserole together is, no surprise, a generous drizzle of quality extra virgin olive oil. Looking for that deeper, complex and rich peppery taste, I reached for my Early Harvest Greek extra virgin olive oil from organically grown and processed koroneiki olives. If you haven't tried it yet, you simply must! (Check out all the info on Early Harvest EVOO here.)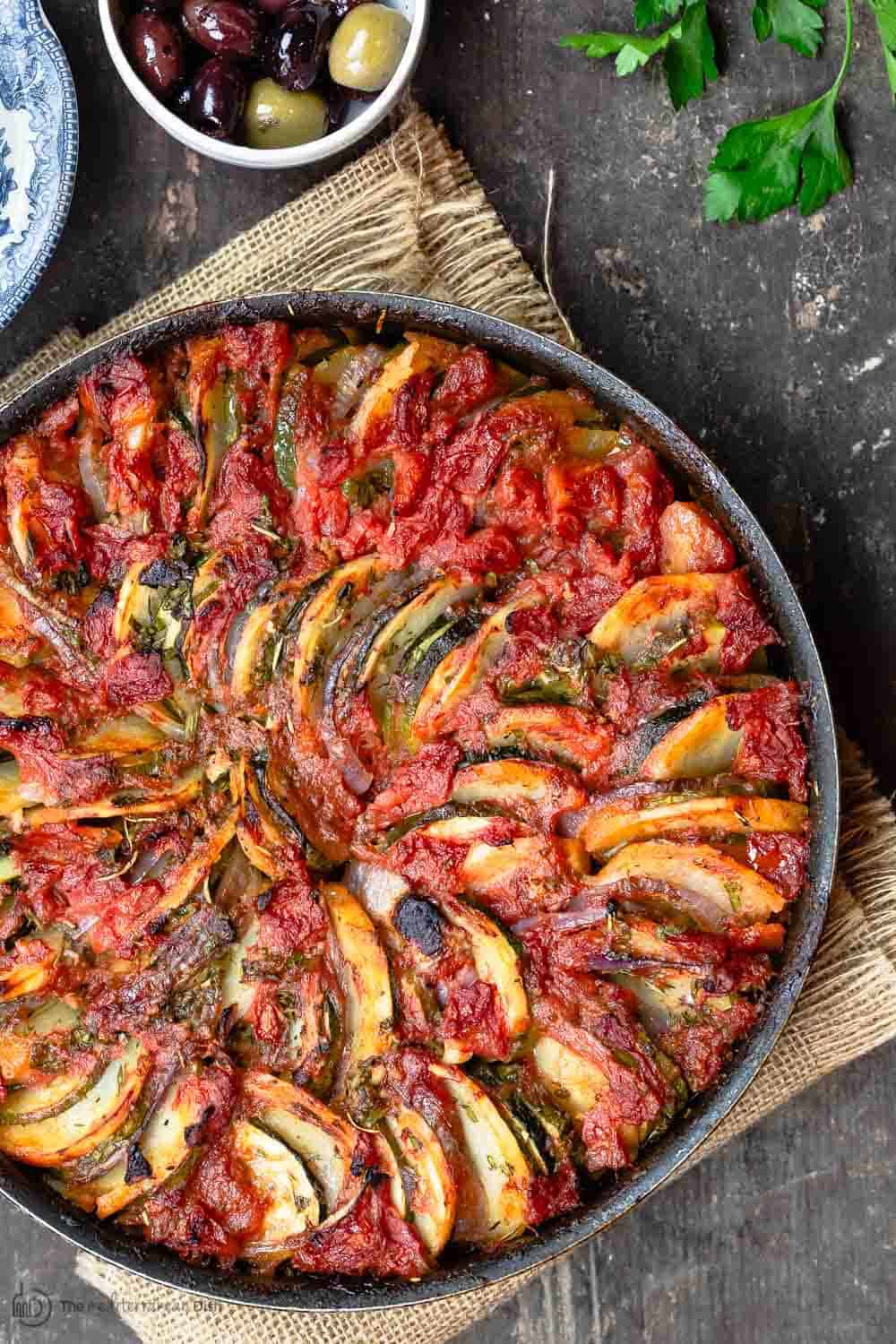 How to Make Briam: Greek Roasted Vegetables
Really, briam is easy to make.And I'll say this off the bat, if you don't feel like arranging the vegetables beautifully in round rows, you can just just arrange them flat on your large baking pan and call it good. But here is how I make it...
1. First, be sure the veggies are thinly sliced so that they cook well and evenly. My red onion was quiet large, so I cut it in half first before slicing.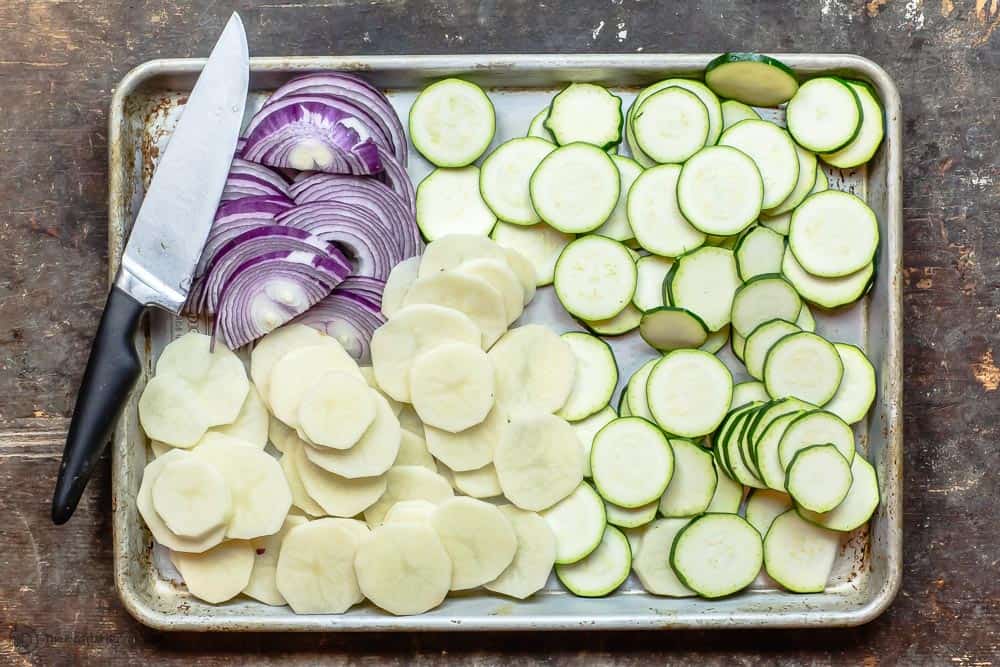 2. To ensure great flavor, I like to toss the vegetables (potatoes and zucchini) in a large mixing bowl with all my flavor makers: salt, pepper, spices, fresh parsley, garlic and a super generous amount of my quality EVOO. Make sure everything is well coated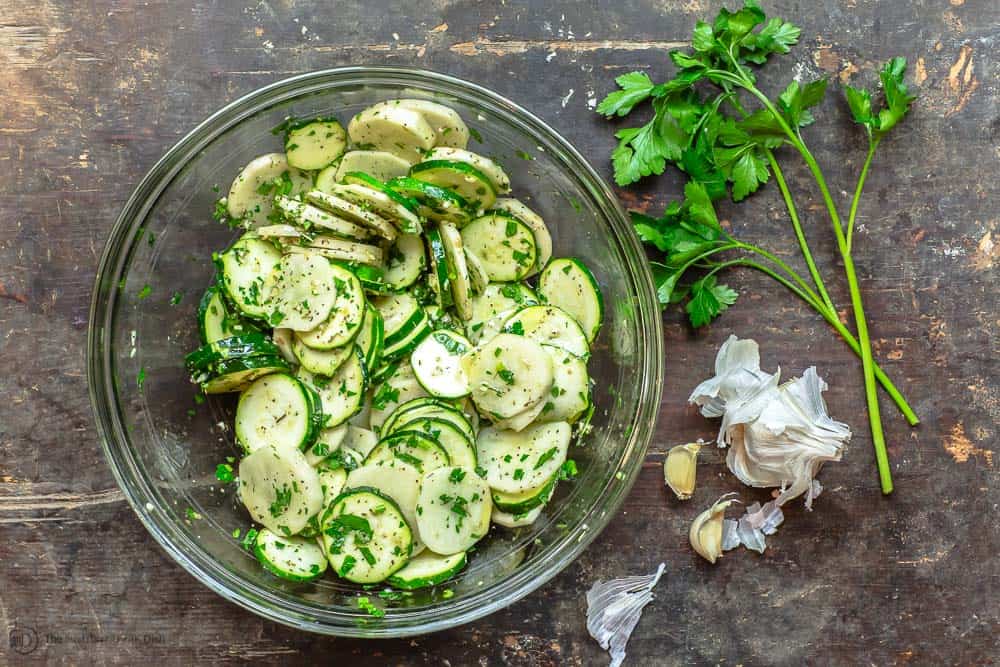 3. Grab a round baking pan or oven-safe skillet (this one I used is 11 inches round). Pour diced tomatoes from a can on bottom, then assemble the veggies in rows going around the perimeter of the pan, alternating until you fill the pan and there are no veggies left.
Remember, if you don't have the time to arrange the veggies this way, totally skip and simply spread them on top of the tomato layer and go from there (it will look more like this casserole.) And can also use a large au gratin dish or a rectangular baking dish instead of a round pan.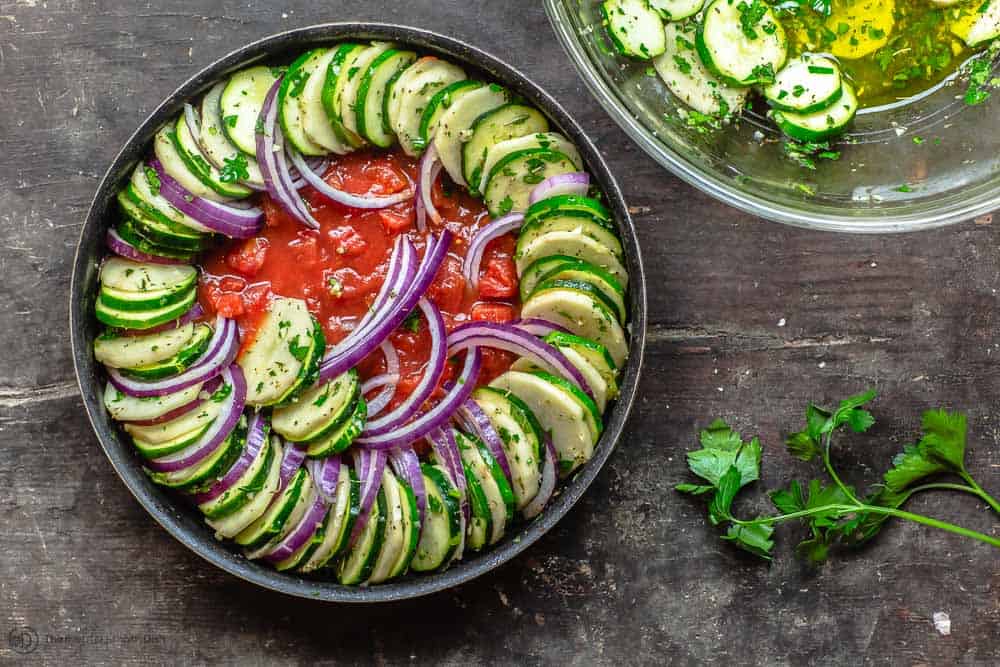 3. Once you have the veggies assembled in the pan, if you have any of that yummy olive oil-garlic mixture left in the mixing bowl, pour that all over the veggies, then finish with more tomatoes. And all that's left to do is cover this beauty up with some foil (tent the foil so it doesn't touch the veggies) and place in the hot oven.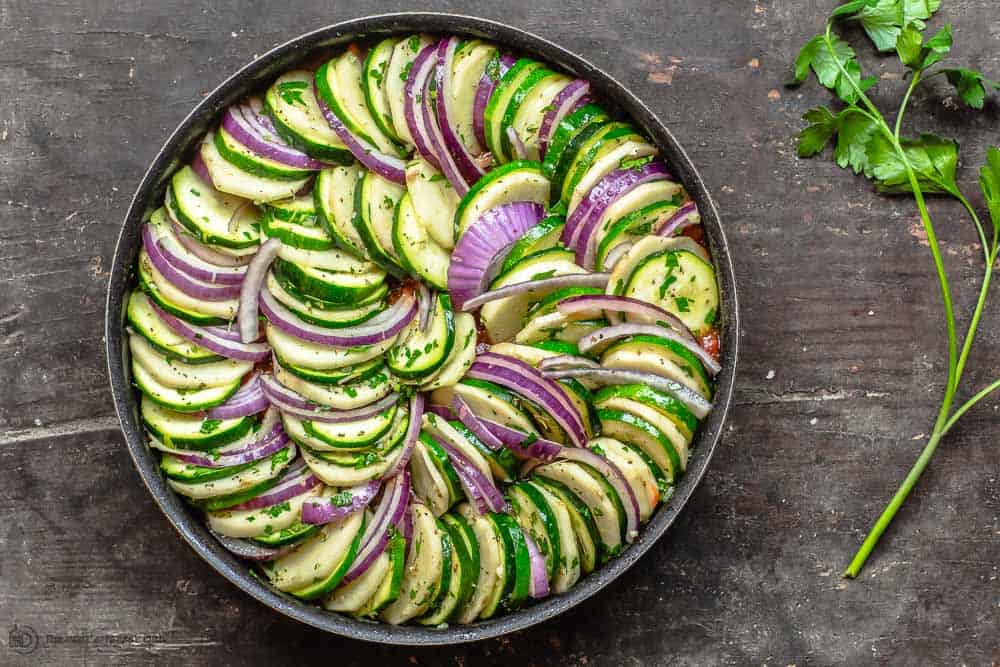 4. This is kinda of a long roast...the first part, the veggies will be covered, then we uncover and let them roast until we lose the liquid, the veggies cook to tender perfection...I love it when they're nicely charred (if you need to, you can put the pan under the broiler for a bit. I didn't need to do that.)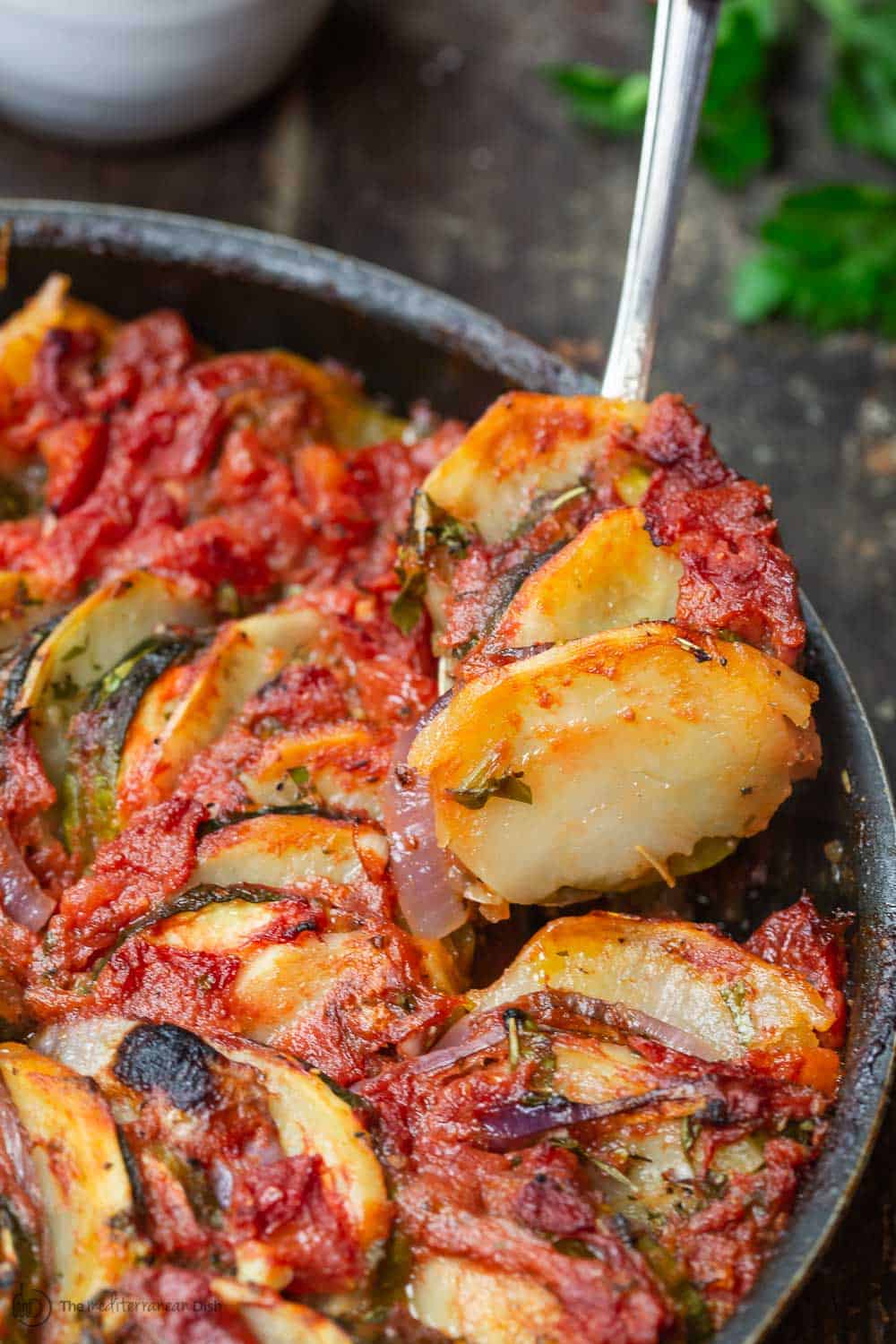 What to Serve Along
As a main vegan course, these Greek roasted vegetables will easily feed a family of four. Nothing much is needed than a warm piece of your favorite bread or a bed of rice or your favorite grain to sop up all the goodness. You can do as they would in Greece and add a side of great feta and some olives. A small starter like roasted garlic hummus would not hurt.
If you're serving a larger dinner, you can serve briam as a side dish next to roast chicken, lamb or even fish.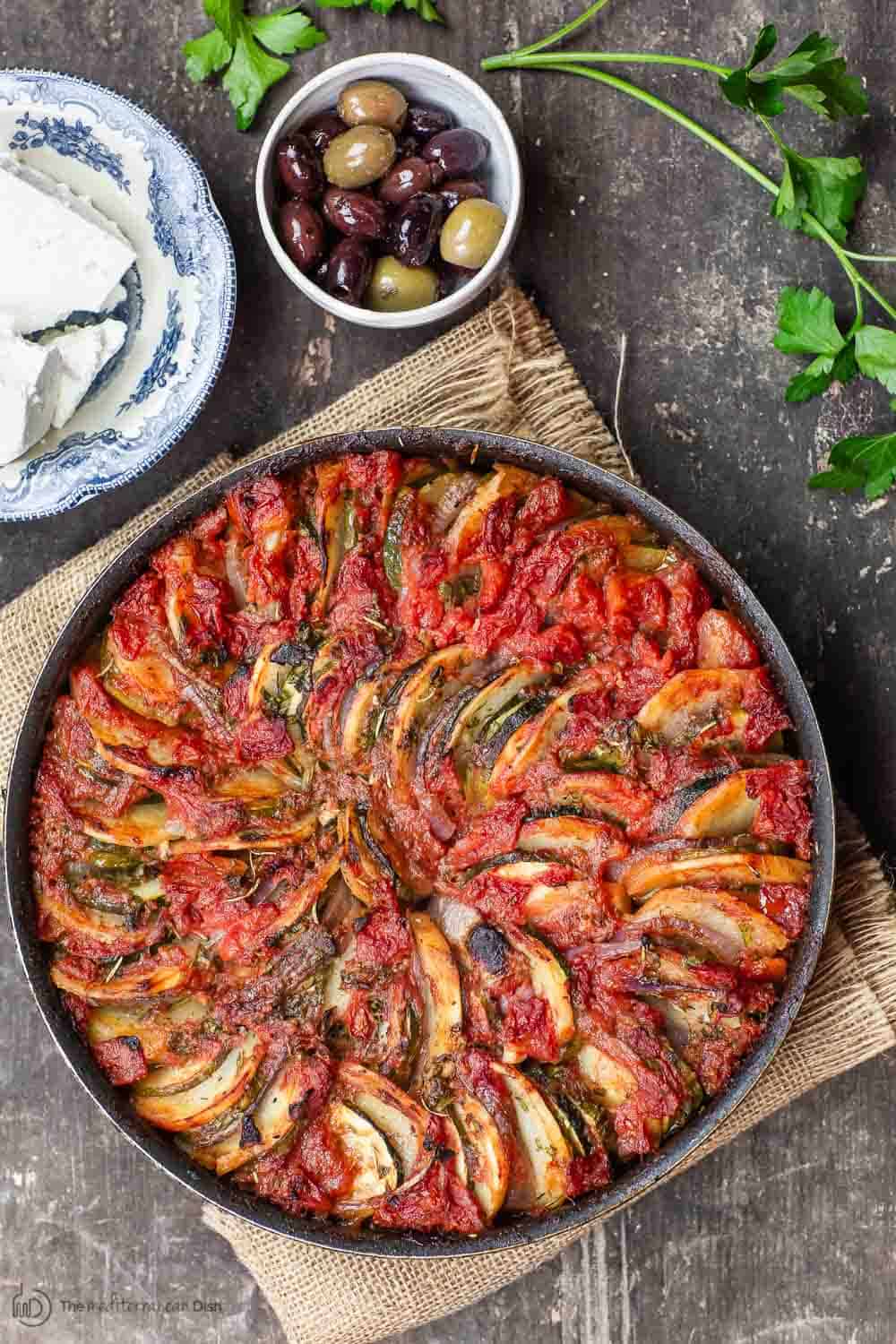 How to Store Leftovers
You can prepare this briam one night in advance. Let briam cool completely before storing. Cover tightly and store in the fridge. When ready, warm it up in a medium-heated oven (add a little bit of water and cover the briam to heat, if needed) You can also prepare this recipe all the way and freeze for later use. Thaw out in the fridge overnight and heat in medium-heated oven same as instructed above.
Watch Video Tutorial for Briam: Greek Roasted Vegetables
Print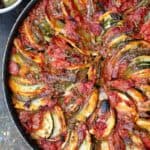 Briam: Traditional Greek Roasted Vegetables
---
Description
Briam is simple and absolutely delicious roasted vegetables, prepared Greek style. Potatoes, Zucchini, and Red onions tossed in a mixture of EVOO, garlic, parsley and spices, then roasted in saucy diced tomatoes. This is a healthy, vegan, text-book Mediterranean diet dish that can stand as a main course or served next to other entrees. See tips and suggestions in the notes.
---
1 ¼

lb/ 570 g gold potatoes (about

3

medium-size potatoes), peeled and thinly sliced into rounds (about ⅛-inch thick)

1 ¼

lb/ 570 g zucchini squash (

2

to

3

zucchini), thinly sliced into rounds (about ¼-inch thick)
Salt and pepper

2 tsp

/ 3.6 g dried oregano
scant

1 tsp

/1.2 g dried rosemary

½ cup

/ 35 g chopped fresh parsley

4

garlic cloves, minced
Early Harvest Greek extra virgin olive oil

1

28-oz/ 794 g canned diced tomatoes with juice (no-salt added organic tomatoes are recommended)

1

large red onion or 2 smaller red onions, thinly sliced into rounds (if large, you'll want to cut the onion in half first, and then slice)
---
Instructions
Preheat oven to 400 degrees F. Place a rack in the middle.
Place sliced potatoes and zucchini in a large mixing bowl. Season with kosher salt, pepper, oregano, and rosemary. Add fresh parsley, garlic, and a generous drizzle extra virgin olive oil. Toss to make sure the vegetables are well coated with the EVOO and spices.
Grab a large round pan on skillet (I used an 11-inch oven safe pan. See notes for more options.) Pour ½ of the canned diced tomatoes in and spread to cover the bottom of the pan.
Arrange the seasoned potatoes, zucchini, and sliced onions in the pan in rows (simply going around the shape of the pan and alternating.)
If you have any of the extra virgin olive oil and garlic mixture left in the mixing bowl, pour that all over the veggies, then top with the remaining diced tomatoes from your can.
Cover the pan with foil (tent foil a bit so it is not touching the veggies). Bake in 400 degrees F heated-oven for 45 minutes. Take pan out briefly to carefully remove foil, then place back in oven, uncovered, and roast for another 30-40 minutes or until the veggies are soft and charred and most of the liquid has evaporated. (ovens do vary, so pay attention and check as needed.)
Remove from oven. Serve warm or at room temperature with an added generous drizzle of extra virgin olive oil. (see suggestions for to serve along.)
Notes
Cook's Tip: If you don't feel like arranging the vegetables neatly in round rows, you can use a large au gratin dish like this one or a large and deep rectangular baking dish like this one. Pour ½ the tomatoes in the baking dish to cover the bottom as instructed, then simply spread the vegetables flat in the dish and top with the EVOO mixture and remainder of the tomatoes. Cover and follow instructions from here. It will look more like this casserole.
What to Serve Along: To serve briam as the main vegan course, simply serve it crusty or whole wheat pita bread, rice or grain of your choice. Greeks often add a hearty piece of feta and some olives to go along. And to start the meal, I often add a bowl of Roasted Garlic Hummus. If you're serving a larger dinner, you serve briam as a side dish next to roast chicken, lamb or even fish.
Leftovers Storing and Reheating Instructions: You can prepare this briam one night in advance. Let briam cool completely before storing. Cover tightly and store in the fridge. When ready, warm it up in a medium-heated oven (add a little bit of water and cover the briam to heat.) You can also prepare this recipe all the way and freeze for later use. Thaw out in the fridge overnight and heat in medium-heated oven same as instructed above.
Recommended for this Recipe: For best taste, use our Early Harvest or Private Reserve, both from organically grown and processed Koroeniki olives. And from our organic spice collection: rosemary.
SAVE! Try our Greek EVOO Bundle
Prep Time:

20 minutes

Cook Time:

75 minutes

Category:

Entree/Side Dish

Method:

Roasted

Cuisine:

Greek
Keywords: Briam, Roasted Vegetables, Vegetable Casserole
More Recipes to Try
Italian Oven Roasted Vegetables
Smoky Loaded Eggplant Dip: Baba Ganoush