Lemon rosemary chicken is infused with fresh, zesty flavor thanks to the use of lemons, rosemary, and a drizzle of extra virgin olive oil. Juicy, tender, and ready in just over 20 minutes, it's a busy cook's dream!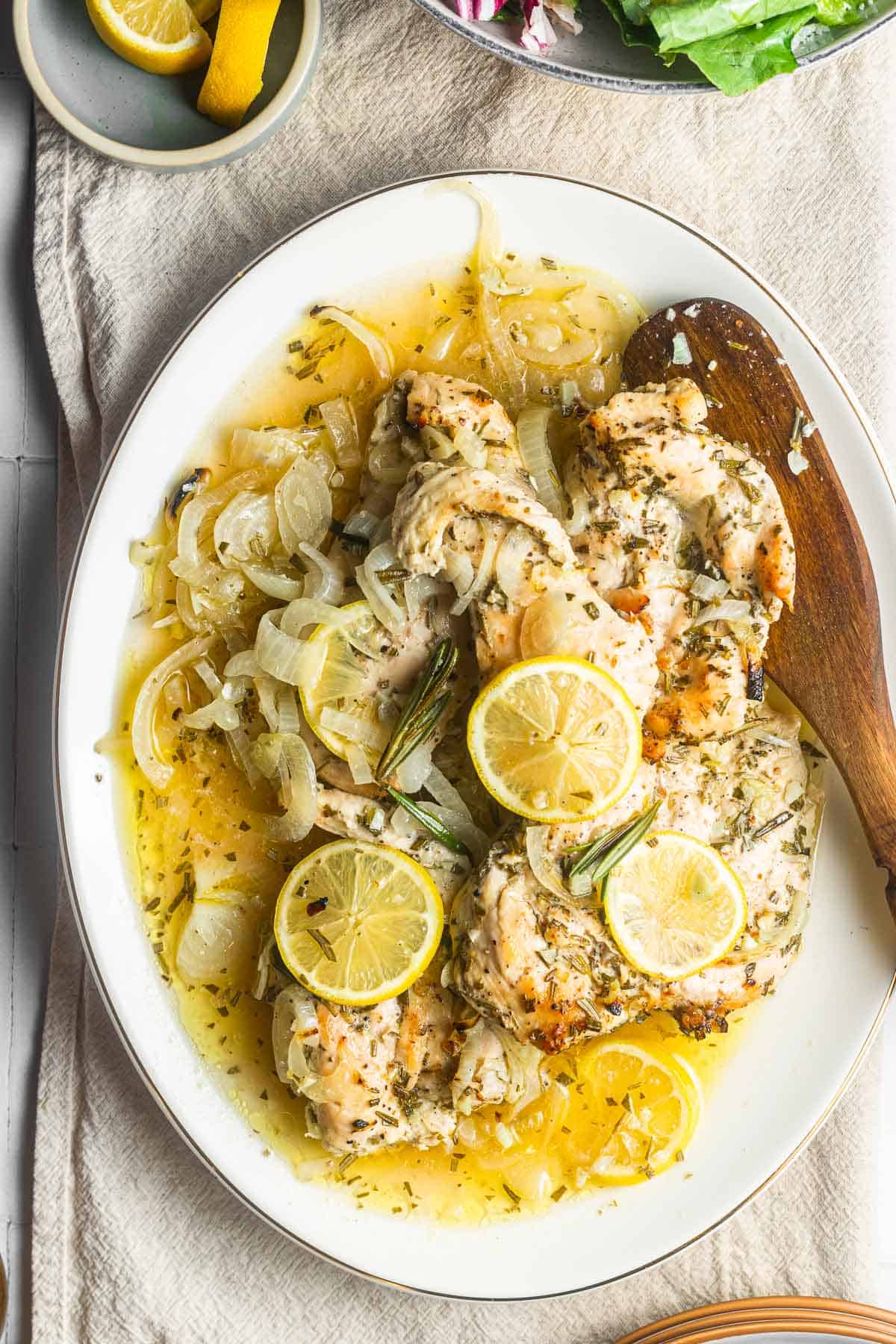 There's nothing more reliable than a good chicken recipe when you're not sure what to make for dinner! Whether you're serving Italian-style skillet chicken, 20-minute mushroom chicken, or easy chicken caprese, there's always an option that's guaranteed to hit the spot.

My most recent obsession is this lemon rosemary chicken recipe! Juicy, tender, and so delicious, it comes together in a single baking dish with just a handful of ingredients and is the easiest dinner you'll ever make.

Even better, the light, savory flavor pairs perfectly with all your favorite sides (I especially love a delicate pea salad with feta and mint for this one)! That means you can dress it up for a fancy dinner party, or keep things simple for an easy weeknight meal. No matter how you serve it, you really can't go wrong!
Table of Contents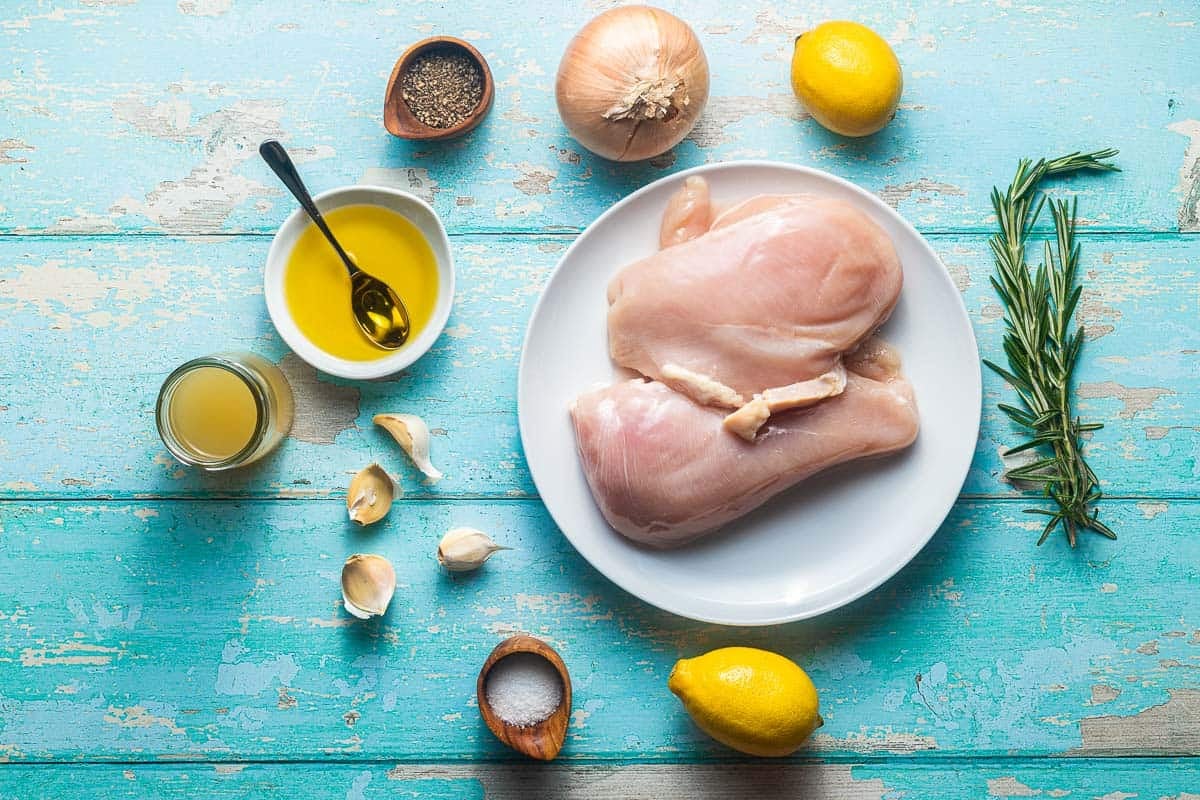 Simple Ingredients You Need
This lemon rosemary chicken is insanely flavorful and unbelievably moist thanks to fresh produce, herbs, spices, and broth. Here are the specifics of everything required to make this recipe:
Chicken: You'll need 1 ½ pounds of boneless skinless chicken breast. For me, that equals about 3 large breasts, but how many you need will depend on their size. Don't worry if your chicken is extra large! We'll be slicing it into cutlets.
Seasoning: Kosher salt, black pepper, and fresh rosemary create an amazing balance of flavors that are refreshing and savory. If needed, you could substitute 2 teaspoons of dried rosemary instead.
Extra virgin olive oil: This helps the seasonings stick to the chicken and keeps them moist while adding a boost of healthy fats.
Lemons: Say goodbye to bland chicken! Not only does the lemon juice help flavor the poultry, but its acidity also acts as a tenderizer, making this dish vibrant and juicy.
Chicken broth: Used to infuse moisture.
Garlic: There's nothing like fresh garlic rubbed onto baked chicken!
Yellow onion: 1 medium yellow onion is all you'll need. You could also use sweet onions or white onions. I would stay away from red onions, though. They will turn your chicken gray.
How to Make Lemon Rosemary Chicken
One of the best things about lemon rosemary chicken is that it's so easy. Once the chicken is sliced and seasoned, the oven does the heavy lifting!
Make chicken cutlets. Slice your chicken breasts in half to create thin cutlets for quick, easy baking. Woohoo!
Season the chicken. Use paper towels to pat the chicken dry, and season both sides generously with salt and pepper. Then, place them in a 9x13 baking dish, and toss them with the olive oil marinade. Place the sliced onions on top, and mix the ingredients again, making sure everything is well coated.
Bake. Use a large piece of foil, and use it to cover the chicken. Just make sure it isn't actually touching the poultry. Then, bake it on the middle rack of your oven for 10 minutes before removing the foil and continuing to bake. Remove the chicken from the oven once it reaches an internal temperature of 160°F.
Rest the chicken. Once you have removed the chicken from the oven, cover it again, and let it rest until the internal temperature has risen to 165°F. This allows for the juices to redistribute, creating a truly drool-worthy dish!
More Amazing Baked Chicken Recipes
Can't get enough chicken in your life? Me either! Once you get the hang of making juicy baked chicken you'll make it on repeat.
When cranberries are in season my Baked Cranberry Chicken recipe is a go-to and it looks so festive around the holidays. Easy Turmeric Chicken adds a bit of sunshine when the days are cold or rainy and, well, Italian Baked Chicken Breasts are good anytime!
If you're more of a thigh person, I've got you covered with my recipe for the Juiciest Baked Chicken Thighs!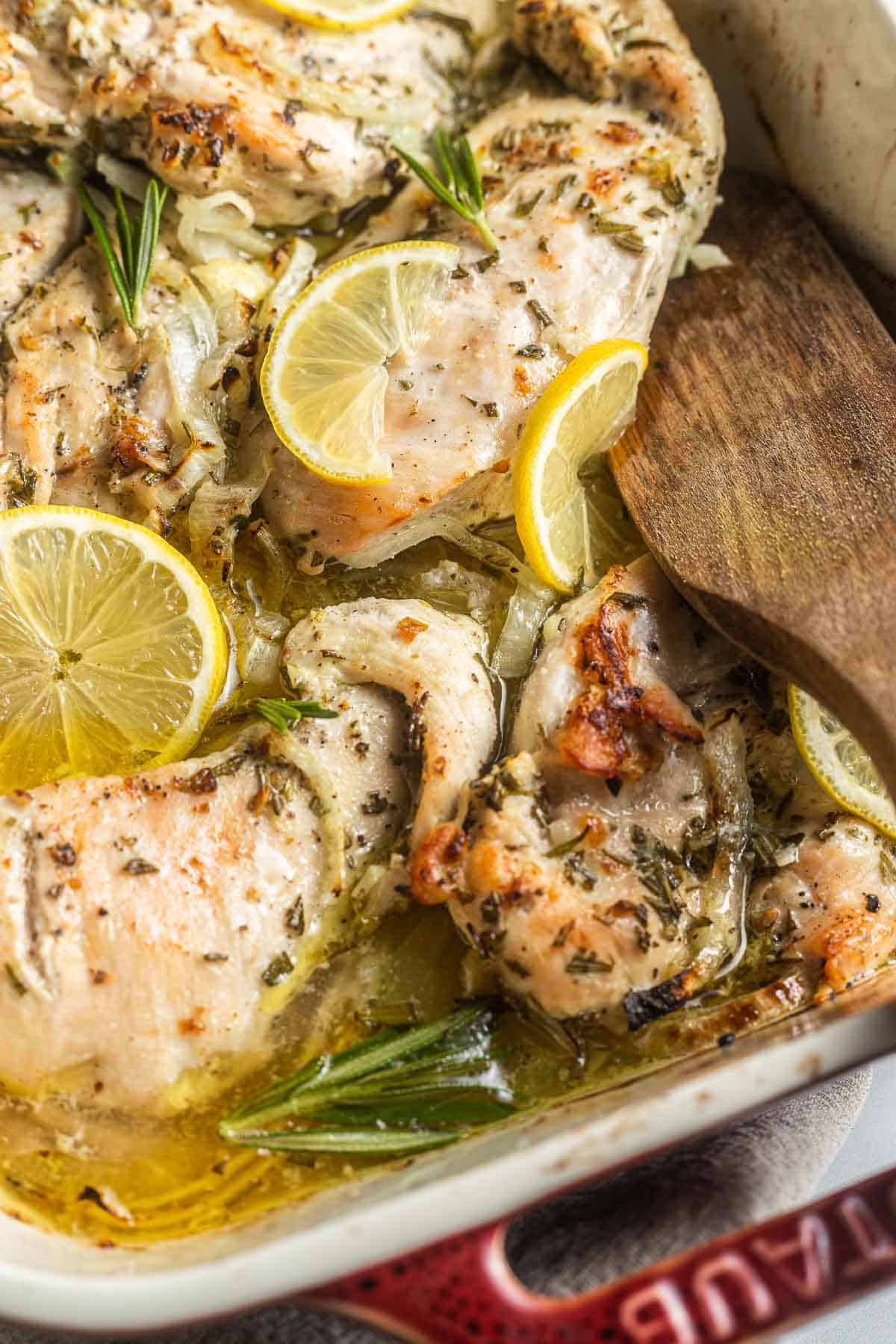 What is a Chicken Cutlet?
A chicken cutlet is simply a chicken breast that has been sliced in half horizontally to create two thin pieces instead of a single large one. As a result, the chicken cooks more quickly and is less likely to dry out.
How to Make Chicken Cutlets from Chicken Breasts
You can find pre-sliced chicken cutlets in the poultry section of most grocery stores, but they usually cost an arm and a leg. Luckily, they're super easy to make at home with regular chicken breasts! Just follow the steps below:
Place the chicken breast flat on a clean cutting board.
Place your non-dominant hand on top to hold it in place.
Using a sharp knife, cut the breast horizontally from the thick end to the thin end into ½-inch thin pieces.
If needed, cover the cutlets with plastic wrap, and use a kitchen mallet to pound them out and make them thinner.
Tips for Juicy Chicken Cutlets
No one wants tough, dry chicken. Here are some tips so your chicken comes out perfect every time:
Slice the chicken breasts into thinner cutlets. Chicken breasts can be thick and uneven. However, by slicing them into thinner cutlets, you can create evenly sized pieces that cook quickly and more evenly, preventing them from drying out. Plus, it's a great way to stretch your chicken breasts to feed more people!
Cover the chicken breasts while baking. When you cover the pan with foil, you will trap the steam, which will help cook the chicken from the inside first. Then uncover for the last 10 minutes or so of baking allowing the chicken to gain color and flavor without drying out.
Allow baked chicken breasts to rest before serving. Take your baked chicken out of the oven when its internal temperature reaches 160°F. Then, cover the baking dish with foil, and let the chicken rest for 5 to 10 minutes or until the temperature rises to 165°F. This will help lock in and redistribute its natural juices, keeping it tender.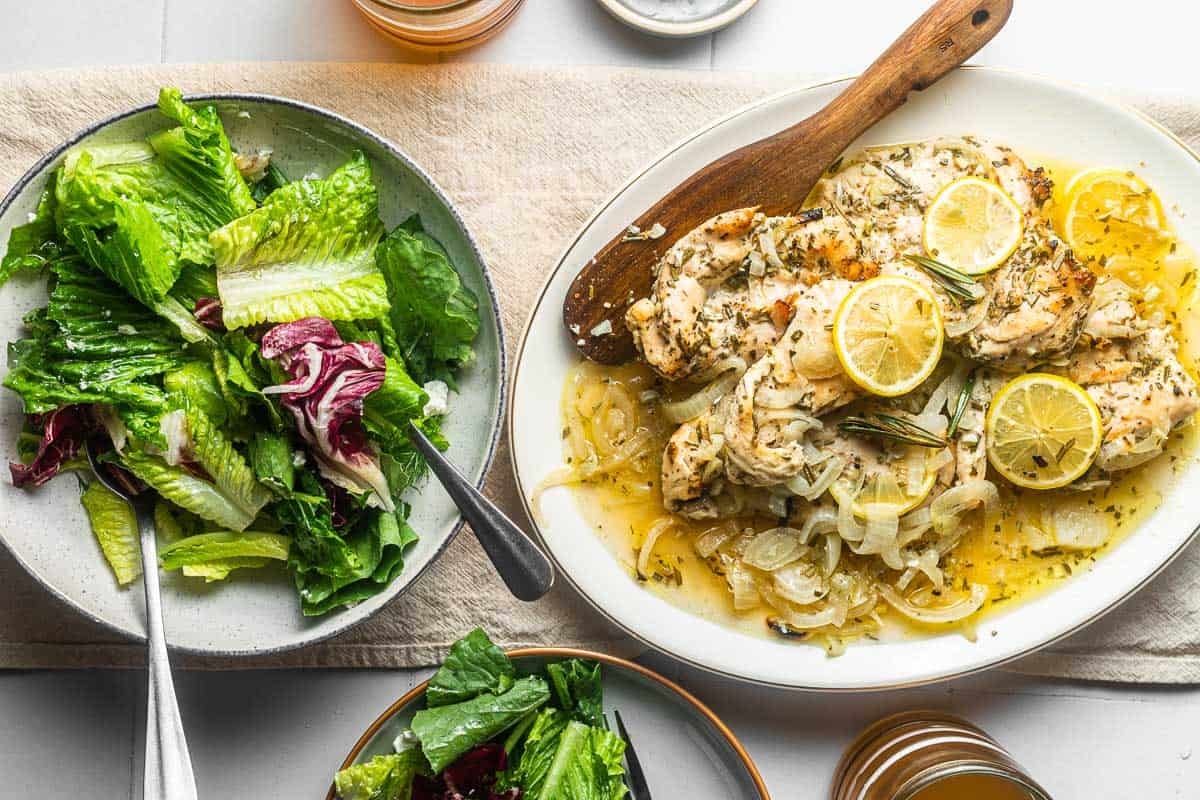 What to Serve with Lemon Rosemary Chicken
This lemon rosemary chicken is a super versatile dish that pairs amazingly with all your favorite sides. For a healthy meal, I like to serve it with nutritious options like blanched asparagus, baked zucchini, and crispy lemon roasted broccoli.
Then, for a well-rounded dinner, I usually whip up basmati rice or crispy smashed potatoes as well. If you wanted to go all out with multiple courses, you could even serve a light salad as an appetizer! Some of my favorites include radicchio salad and traditional Greek salad.
Don't forget dessert, either! Top off your chicken with a slice of baklava cheesecake or frozen yogurt. Yum!
More Great Chicken Recipes
Browse all Mediterranean recipes.

Visit Our Shop.
Arbequina - California Extra Virgin Olive Oil
An EVOO of mild intensity, boasting flavor notes of tropical fruits and ripe bananas. It's produced in California and made exclusively from Arbequina olives, an olive native to the northeastern region of Spain.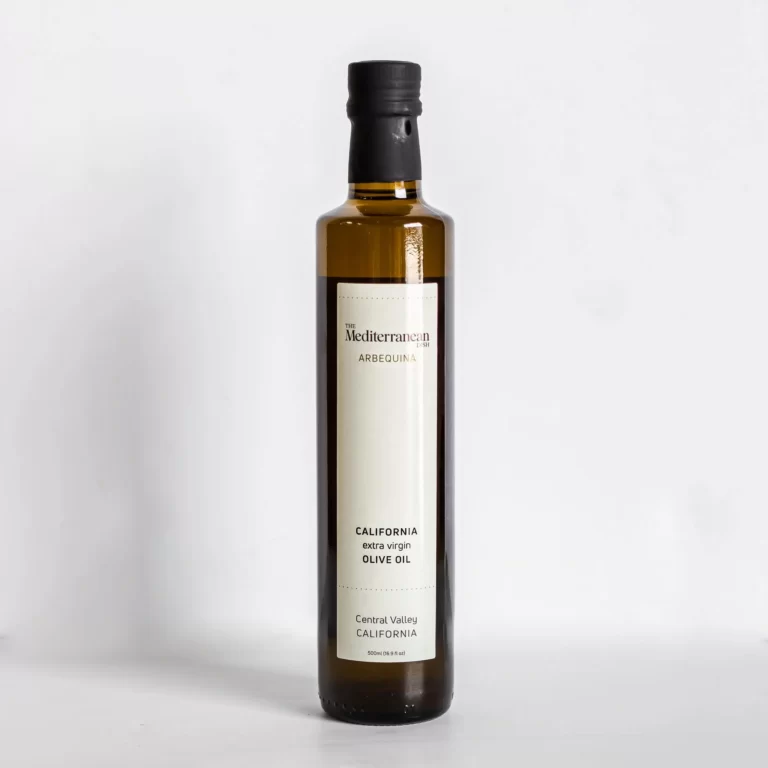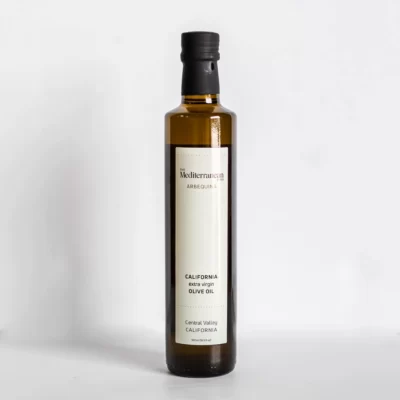 Lemon Rosemary Chicken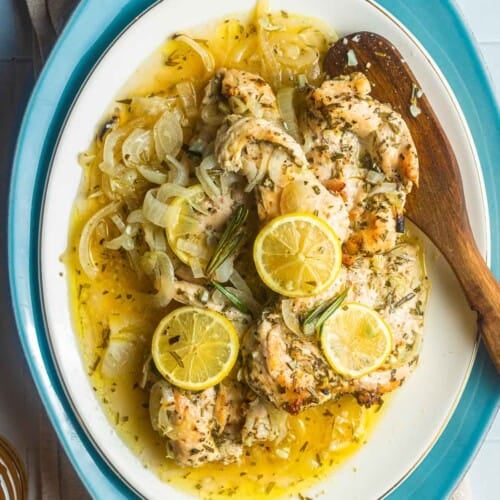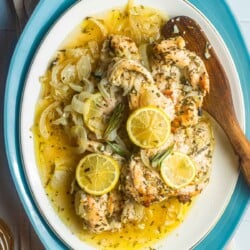 Whip up this easy lemon rosemary chicken recipe with minimal ingredients in just 20 minutes for the most flavorful, juicy chicken recipe you'll ever taste!
Ingredients
1 ½

pounds

boneless skinless chicken breasts,

about 3 chicken breasts

Kosher salt

Black pepper

2

lemons,

divided

¼

cup

chicken broth

2

tablespoons

chopped fresh rosemary

4

large garlic cloves,

minced

1

medium yellow onion,

halved and sliced (half moons)
Instructions
Prep the oven: Preheat the oven to 400°F and position a rack in the middle.

Slice the breasts into cutlets: Place the chicken breast flat on a cutting board and position your non-dominant hand on top to hold it firmly. Using a sharp knife, in your dominant hand, carefully slice the chicken breast horizontally starting with the thicker end and all the way through to the thin end. You should end up with two thinner cutlets for each chicken breast half. If the cutlets still need to flatten a bit, cover with plastic wrap and pound with a kitchen mallet (optional).

Dry and season the chicken: Pat the chicken breast cutlets dry and season with kosher salt and black pepper on both sides.

Prepare the baking dish: In a 9x13 baking dish, add about 3 tablespoons extra virgin olive oil, juice of 1 lemon (leave the second lemon for later), chicken broth, rosemary, and the minced garlic. Mix to combine.

Add the chicken cutlets: Add the chicken breast cutlets to the baking dish and toss to coat with the olive oil and garlic mixture, then add the onion slices and toss again. Cover the baking dish with a large piece of foil, making sure the foil is not touching the chicken.

Bake: Place the covered dish on the middle rack of your heated oven for 10 minutes, then carefully remove the foil and return the baking dish back to the oven for another 10 to 15 minutes or until the chicken is fully cooked and is no longer pink in the middle. Remove the chicken from the oven when the internal temperature reaches 160°F. Cover and let rest for another 5 minutes and the chicken will come up to 165°F. Cut half of the remaining lemon into slices to garnish the chicken. Squeeze the juice from the other half over the chicken and it's ready to eat!
Notes
Visit our shop to browse quality Mediterranean ingredients including olive oils, honey, jams and spices.
Chicken cutlets: It's easy to cut chicken breasts into cutlets, but you can just as easily ask your butcher to do it for you if you'd prefer.
Rosemary: I prefer fresh rosemary in this baked chicken recipe, but you can use dried if that's what you have on hand. Just substitute 1 tablespoon fresh rosemary for 1 teaspoon dried.
Nutrition
Calories:
151.5
kcal
Carbohydrates:
5.9
g
Protein:
24.9
g
Fat:
3.1
g
Saturated Fat:
0.7
g
Polyunsaturated Fat:
0.5
g
Monounsaturated Fat:
0.9
g
Trans Fat:
0.01
g
Cholesterol:
72.8
mg
Sodium:
169.8
mg
Potassium:
510.3
mg
Fiber:
1.5
g
Sugar:
1.7
g
Vitamin A:
62.2
IU
Vitamin C:
22.6
mg
Calcium:
25.4
mg
Iron:
0.8
mg